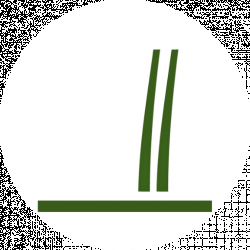 Latest posts by Turf and Till Team
(see all)
Are you looking for the best tine attachment? Well, look no more. In this guide, we will help you find the best tool that increases the versatility of your machine.
A suitable tine attachment is designed to be a seamless fit for most front tine contraptions and can be used to do a variety of jobs.
From beautifying your lawn with sharp and trim edges along flower beds to improving your planting beds, the versatility of a quick mounting kit is yours to enjoy.
You don't have to worry about buying a front tine tiller or cultivator that has all the features you need, with these attachments you will get to do more for less. Unfortunately, there are many kinds of attachments to consider, thus choosing the best is a daunting task.
Continue reading this guide to learn more about the best front tine attachment options for you.
What are the different types of front tine attachments?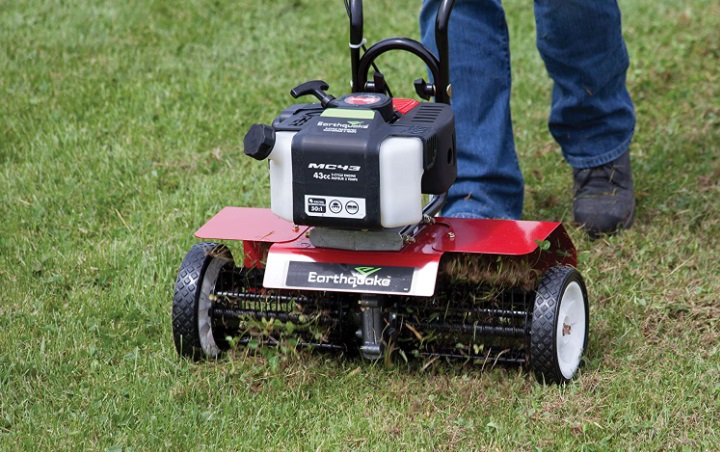 For the uninitiated, the world of gardening machines can often be puzzling. It gets even more confusing if you dive into the types of attachments that can be added to the machines.
In this section, we hope to acquaint you with all the known types of front tine attachments that you can buy. Also, we will highlight the specific application of each type we mention.
Here's a rundown of the different types you can find on the market.
Border edger
Border edger attachments help to get a perfectly-polished lawn. It's the ideal attachment kit for gardeners who have a keen eye for detail.
One of the most striking features of a perfect garden is a finely trimmed and manicured edge. Border edgers will cut a sharp and crisp edge around the lawn especially where the flower garden meets the turf.
Crevice cleaner
Nothing is as annoying as weeds or grass that have grown in places that are difficult to reach such as cracks on pavements. A crevice cleaner is particularly handy for these situations. With this attachment, you no longer need to use a weed killer to get rid of the unwanted plants.
It quickly cuts the weeds or removes dirt and debris from hard to access places by using a durable steel bristle brush. It comes with an optional wheel set attachment that can fit either side of the axle.
Hiller and furrower
Furrower attachments are a great addition to tillers and cultivators. What they do is help to prepare the planting beds. It's easier to dig straight lines through the bed where you can plant a neat row of flowers or grass.
Planting in a straight line assists the gardener by leaving plenty of room to weed and to inspect the progress of the lawn. The Hiller on the other hand pushes the dug soil on either side of the line.
Aerator
Aerating the lawn is necessary if you want to have a pristine lawn. For this, you need a kit that does the job easily such as an aerator attachment.
It achieves its purpose by cutting into the ground on your lawn, opening the soil to allow easy absorption of oxygen, water, and nutrients. With this accessory, you won't need to get a separate machine that is specific to lawn aerating functions.
Wheelset
Wheelsets make it easy to move the tiller around the lawn or on hard ground like pavements. You have the choice of to roll or carry the tiller to where you want to start the work.
Wheelsets are particularly useful and go hand in hand when you're using a crevice cleaner or border edger attachments by adding stability. The wheels can adjust to different height levels and the process of fitment or removal is quick and easy.
Kickstand
Kickstand attachments enable you to park your tiller or cultivator just like you would with a bicycle. Not all front tine tillers come with this feature therefore most gardeners find it convenient to equip their machines with this addition.
It's easier to park the tiller in an upright position to refuel or when making simple repairs. Also, instead of leaning it against the wall when storing the machine, a kickstand helps to store it upright.
Dethatcher
This attachment takes care of weeds and finger-grasses which can be a major problem for lawns. When plants like crabgrass die, they end forming a layer of thatch between the turfgrass and the soil. When these thatch layers accumulate too much, they prevent proper aeration.
This is why attachments like front tine dethatchers come in handy. Designers have made them easy to attach to the tiller as well as to remove it when not needed.
What factors should you consider when buying a front tine attachment?
There are a variety of reasons why gardeners buy front tine attachments. Regardless of your reason, it must be stressful as you scout for a new attachment.
To be able to get the best attachment that will serve you for a long time and according to your purpose, here's everything you need to know to make an informed decision.
Purpose
You need to ask yourself the question, what do I need the attachment for? It's important to choose the right one for the right job.
There are many different types for various job applications. Identifying your needs will make it easier to sift through the options by focusing on key features that make them stand out.
Build quality and reliability
Compromise on quality is not one of the things an enthusiastic gardener will take lightly. You need a product that will not easily break when exposed to the rigors of gardening duties.
When the search for reliable front tine tiller attachment becomes complicated, you can always rely on the established big brands. However, keep an eye open as they also produce the occasional dud.
Compatibility
Every front tine tiller has variations in the design applied by the manufacturer. It's for this reason that the attachment kits are not a guaranteed fit for every front tine model out there.
You may directly inquire from your dealer the list of compatible attachments or you can search for ones that can be adjusted to be a universal fit for just about every model.  
Price
Everyone has a budget, but that doesn't necessarily mean the cheaper the better. After all, if you purchase an attachment that isn't reliable or doesn't fully meet your needs, you'll end up regretting your decision having destroyed your budget.
Review the prices and select the one that falls within your set features. Compare the extra features should more than one choice be within your reach and select the one that will offer more of the desirable qualities.
Maintenance
Some of the attachments require a little bit of extra maintenance to keep them in good working condition. Regular maintenance is a general requirement for all gardening tools.
However, you don't want to be spending too much of your time taking care of the equipment. After all, they're outdoor tools and will in time suffer from the inevitable wear and tear.
6 Best Front Tine Attachments
As you've seen there are many different types of front tine attachments. In the same breath, there are many more factors to consider.
It's for this reason that we've put a list of the best front tine attachments for gardeners. Read on to find out why these picks are worthy to buy.
#6. Mantis 9222 wheelset Attachment
The Mantis 9222 wheelset has quickly become the go-to choice for most gardeners. Mantis has dug into their years of expertise to craft a product that is made of the highest quality materials to develop the 9222.
It is designed to effortlessly fit in and out of the tiller to afford you the option of rolling it out of the shed instead of carrying it. The wheels can be adjusted to six different height levels to suit the requirements of the user.
Having the option to attach wheels to your front tine tiller makes it easy to conduct repairs or add fuel without having to find something to stand the tiller upright.
Another great advantage is the wheels will protect the tiller when storing by giving stability for protection from accidental slips when you prop it against a wall. 
Pros
The wheels make moving the tiller easy

It's easy to fit

Tilling becomes a less tedious activity
Cons
The wheels can be a bit wobbly

Not guaranteed to fit other tiller models except for mantis
#5. Husqvarna 954040001 Furrow Opener 10"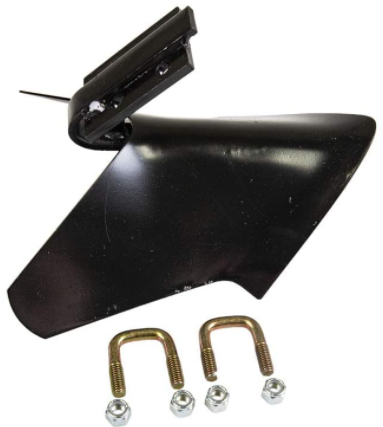 If you need to make rows in your garden, you can't get a better tool than this Husqvarna 10-inch furrower opener. Husqvarna is a renowned brand that manufactures a whole range of power and gardening tools.
You will benefit from years of experience gained from in-depth research and development to make products that can meet user needs. This product from the company will meet the demands of any gardener who needs a reliable tool.
Furrowing is a method of producing pristine gardens and for that, you require an attachment that will be able to make uniform furrows with minimal effort. If build quality and design is your main concern, this is the furrower attachment for your front tine tiller.
Pros
It makes neat and uniform rows

Build quality is one of the best

It will plow through wet soil

Easy to install and remove
Cons
The bolts attached to the depth gauge are known to slip off
#4. Mantis 8222 Crevice Cleaner Attachment Kit
The Mantis 8222 is an excellent kit for clearing debris in paths and driveways. Sometimes, small weeds, grasses, and other plants may grow in tight spaces or cracks on the pathways.
Getting them out manually may take a lot of time. To save yourself from all the back-breaking works of digging them out by hand, an attachment kit designed for this purpose is most recommended.
A cylindrical steel bristle brush on the Mantis 8222 will squeeze through the cracks and hard to reach places, tearing up all the unwanted plants as well as clearing any debris left in place. 
Pros
Saves hours of time and tiresome work

The bristles are strong and will withstand prolonged use

Fits on either side of the wheel axle that comes with the attachment kit

Works great for paths and driveways
Cons
It may not work with all front tine models

The equipped wheel is not very stable
#3. Earthquake DK43 Dethatcher Attachment Kit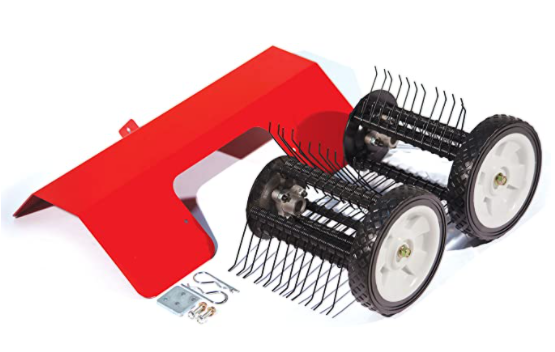 Every gardener knows that a heavy layer of thatch is not good for the lawn. Not only does it prevent the grass from getting enough sunlight but also hinders the absorption of fertilizers and water.
To control the problem, regular dethatching is required to maintain a healthy lawn. The Earthquake DK43 attachment kit is one of the best at doing the job quickly and efficiently.
It will turn your mini front tine tiller into a dethatcher that does the job professionally. The manufacturer has done a good job at creating a kit that's easy to use and doesn't take a lot of time to assemble and install. User reviews are a testament to how great this attachment kit is compared to its competitors.
Pros
Light and easy to operate

Pulls up thatch without destroying the existing lawn

Materials used for construction are sturdy and durable
Cons
A bit expensive for an attachment

Requires a few tools to install
#2. Earthquake 15073 Border-Edger Attachment Kit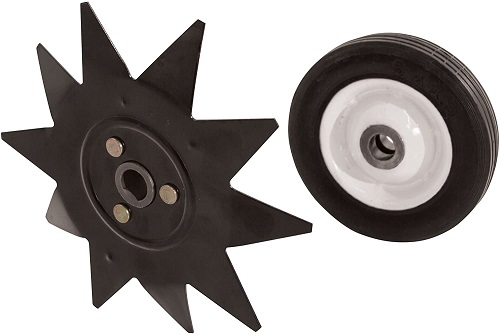 Earthquakes Border-Edger kit is an important tool if you need to create a visual barrier between your garden and the lawn. Edges help to create the manicured look that enables the aesthetic appeal of your garden to stand out. Once mowing and weeding are done, it's a necessary step to keep the weeds away.
The Earthquake has a blade that cuts through the edge of the borders you want to create. The blade height is adjustable so that you can vary how deep you want the cut.
If you already have a tiller, you don't need to get a purpose-built border-edger. Get this attachment kit and get the same quality of neatly defined lines.
Pros
A great product for the price

Good quality bearings on the wheel

Installation takes only a few minutes

The blade can be installed on either side of the wheel
Cons
Not easy to operate as you have to find the edge by hand

It bounces a lot as you cut through

Twice the cost of most manual edgers
#1. Aeroller Lawn Aerator Attachment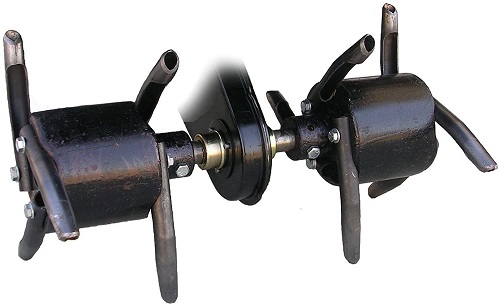 The Aeroller lawn aerator is probably one of the best attachments you invest in for your garden. It features a patented design that uses cast iron rollers to provide the weight required to penetrate the hard soil.
This also prevents excessive tine penetration that may destroy the lawn. However, it has only 12 tines which may require twice as many passes compared to most commercial aerators.
You're assured of longevity when you use this attachment because the steel tines are heat-treated to ensure durability and wear resistance. For what it's worth, the Aeroller lawn aerator attachment can do the job of a commercial version considering it's half the size. It achieves this because the weight-per-tine is about the same as commercial aerators.
Pros
The aerator attachments fit into the tiller smoothly

It will work even on very wet ground

Attachment doesn't take up a lot of storage space

Patented iron cast rollers design

All the installation parts come packed in the boxes they are delivered in
Cons
The tines get clogged easily without a protective spray

Requires twice as many passes as commercial aerators

It's shipped in 2 separate boxes that may cause delays in shipping
FAQs
Question: Do the attachments come with engines?
Answer: No, they don't. These attachments are additional kits designed to perform extra tasks that a complete front tine tiller on its own can't. 

Some of the attachments will replace the rototiller after the tines have been removed. Others will perform alongside the rototillers.
Question: Are all front tine attachments universal?
Answer: Unfortunately, they're not. While some attachments can fit many different models according to their sizes, others are designed to only fit certain models.

These are usually OEM attachments made to only fit the manufacturer's front tine tillers or cultivators. Make sure you enquire about fitment compatibility before you make the purchase.
Question: Can you buy a front tine tiller already kitted with an attachment?
Answer: It's possible but that's not always the norm. There are different types of attachments for various kinds of jobs and it's for this reason that manufacturers design them to fit most tiller models.
Attachments are optional extras to help you do certain jobs and it's advised that should you want one, you buy it separately from the tiller. That way, if you have no use for it, you can store it away until you require it again.
Question: What is the cost of front tine tiller attachments?
Answer: The cost will vary with each type of attachment. Simple ones like crevice cleaners, wheel-sets, and border-edger kits will cost anywhere between 40 dollars to 70 dollars. For a good aerator, expect to spend just above 100 dollars. The price will often be dictated by the quality of the attachment and the reputation of the manufacturer.
Conclusion
We hope this guide helps you find the perfect attachment for your front tine tiller. From all our suggestions, the Aeroller lawn aerator attachment is our top pick.
It's a favorite among dedicated gardeners who like to have effective lawn aeration. The patented design makes it a rare product that gets the work done with minimal effort. Compared to commercial aerators, this is pound for pound just as good.
The other attachments we have listed are just as good in their own right. We have selected our top pick only because the job it does is one of the most important for maintaining beautiful lawns.
The rest of the picks will do the perfect job for you in their respective categories. You cannot go wrong with any of them. Well, folks, that's the end of it. We hope through this guide you have learned a bit more about front tine attachments. Use this knowledge the next time you want to buy an attachment kit for your tiller.