Do you know how to find the best leaf blowers? You must have a lot of leaves on driveways, lawn, walk, roof, especially a time like now, which is common with anyone.
Nothing can let you have a leaf in the right place at the right time than the best leaf blower. Now that leaf removal is your top priority this autumn, we are glad to walk with you through this journey of getting the best leaf blower.
This article will give you a list of the best leaf blowers in the market and other details. 
Before we let you know some of the best leaf blowers you can have, let us take you through some of the things you need to consider while buying a leaf blower. It will put you in a better position when it comes to getting the best out of the list.
Factors To Consider When Buying The Best Leaf Blower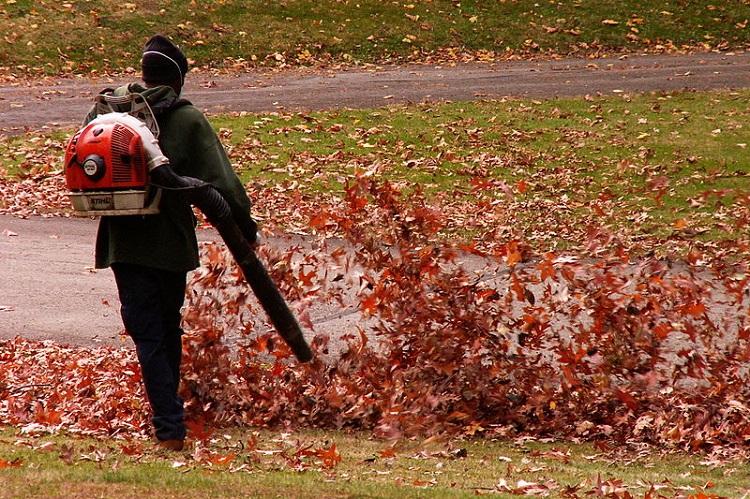 The type of power
The type of power that the leaf blower uses is a crucial factor to consider. Ensure that the leaf blower you buy has a balance of two things, including the cubic feet per minute and the miles per hour.
These two are of great essence, and equally important to note that first-time buyers make the mistake of thinking that leaf blowers with more incredible MPH will translate to more power. However, that's not factual, and the bitter truth is that you need to understand the outlined terms in the following paragraph.
MPH refers to the speed of air when leaving the leaf blower. This is one way to measure the effectiveness of the device. It merely implies its ability to blow air faster, which translates to its capability in blowing leaves as well as massive objects.
Leaf blower noise level
The level of noise a leaf blower may be making during mowing can significantly influence the mower you choose. Also, the choice you make would be determined by the people who live around you.
For instance, it is good to use the quieter leaf mowers for residential purposes to avoid problems with people living around complaining of noise disturbance. Notably, you don't want to have someone woken you by the noise from the leaf mower you are using and get into a quarrel.
So it is a good idea to know that the electric leaf mowers are quiet, gas-powered leaf blowers are loud, and the more powerful the motor, the more noise your leaf blower would make.
However, the noise produced by your leaf mower won't matter until those quiet hours, and this will apply mostly to early risers. If you are an early riser, consider going for the quieter leaf mower to avoid problems with people around you.
Leaf mower fuel type
It is crucial to know the type of fuel the mower of your choice uses. There are three types of fuels for leaf blowers: the battery, the corded, and the gas.
Each of the three gets the job done but considering the nature of the job one tends to do, one or more might be suitable and most ideal. When we talk of first-time leaf blower buyers, the battery-operated devices always lock. They simply involve clicking the battery into the machine and squeezing the trigger. 
Motor maintenance might be a thing of the past or once in a while but of course, depending on the device you choose. A corded leaf blower is another type of blower to consider; they are regarded as a middle device between battery operated and gas-operated. 
Corded leaf blowers are more powerful, and you don't need to get worried about the battery or gas. One thing that appears as the shortcoming but its strength is the cord. It makes it robust and, at the same time, limits the distance you can operate it because you will go as far as the cable can reach. 
Finally, we have the gar operated leaf mowers. It is another tool that can be intimidating, but if you have used it before and have mastered the art, you can comfortably use it effectively.
It is one of the powerful blowers but calls for a lot of care to maintain without forgetting the loudest noise it makes. Don't forget that you need gas and oil (for lubricating the engine) in specific ratios for your blower to operate. However, the percentage varies depending on the size of the tank.
Backpack or handheld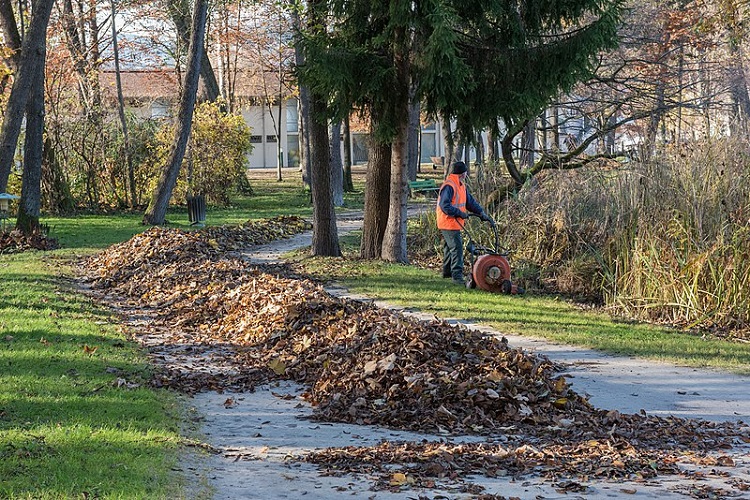 A leaf blower is either used while at the back or handheld. When you have a backpack model, you will likely go for longer sessions without burning out and maybe be less tired when you are done.
The backpack also allows you to stop blowing leaves to move the gas grill and some other things that might be on the way without having to set the blower down or off. 
Notably, the backpack models are bulkier and may take more storage space. On the other hand, handheld models are smaller, lighter in weight, and the probability to maneuver in tighter spaces is high.
Vacuum features
In the spirit of relieving yourself of a lot of complicated tasks, it is pretty much possible to have a leaf blower that is designed with a vacuum kit, currently readily available in several outlets.
These vacuum kits are easy to attach and generally made of a viable suction funnel and a collection of shoulder strap bags. When combined, they facilitate quick vacuuming and collection of various leaves, light debris, and grass clippings.
It becomes easier to dispose of the collected materials without reaching out to a wheelbarrow with such a mechanism, hence saving you time.
Why Buy A Leaf Blower?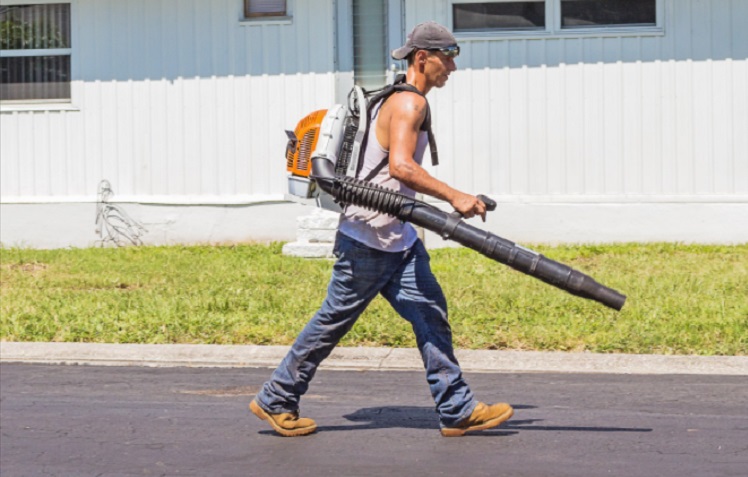 Try to think of the unpleasant look caused by the fallen leaves in your garden after winter. You can see, but it has not yet crossed your mind that you can go out there with your brush to clean up the mess.
But did you know that with a leaf blower, that's less than a more comfortable job? In fact, it is as easy as walking out there and blowing them into one convenient pile and scooping them up quickly to the right place or even burning them up. 
Purchase of a leaf blower is essential, especially during the autumn when it is presumed as the fantastic season only just before those flaming colored leaves start coming down from the trees onto the well-maintained lawns and the business of blowing them off begins immediately.
There are pretty much more reasons why we should buy a leaf mower, apart from the usual leaf blowing to keep our lawn and home gardens clean. We also need leaf blowers to eliminate even the thin layers that reduce lights, causing the grass to turn into yellow color and even encourage the disease, which mainly causes patches in the spring.
Leaves also harbor diseases and can infect plants, and if left to turn into a brown mush, leaves can make patios, paths and become slippery and dangerous.
How We Test The Leaf Blowers To Determine The Best Ones
Our engineers test leaf blowers by roping off the standardized area of grass and dump bag upon bag or leaves within the boundary. 
We assign each leaf blower an assignment depending on its nature. For the backpack blowers and the handheld blowers, get an area with more leaves and, of course, extensive coverage since both are meant for large yards and professional landscaping crews.
We take the time taken by every blower to clear the pile and how thorough they move leaves. Some of these tools struggle to move leaves at the bottom of the leaves embedded within the grass.
A-List Of The Best Leaf Blowers
Greenworks 24252 40V 150 MPH variable speed cordless leaf blower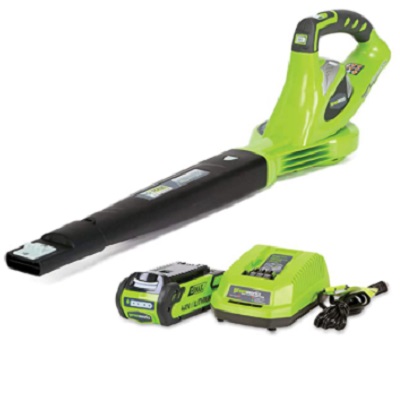 This is a battery-powered electric leaf blower and is far the lightest, quietest, and easy to store. However, if you compare the battery-powered leaf blowers with the gas-powered leaf blowers, they are not all that powerful, and this makes them the best for blowing small yards and driveways.
But here, shopping becomes a daunting task. Not every other battery-powered leaf blower comes with a charger. Ensure the charger is included in the total price to avoid the disappointment of finding a charger for some models. 
However, our favorite pick, the Greenworks, comes with a charger, and it is affordable with free shipping from Amazon prime members. It is a 40 volts and 2.0 AMP hour lithium-ion battery that can provide more power and longer run time. 
For maximum speed, it is equipped with a variable speed motor with a speed of 150 MPH. It is lightweight and designed in such a way that users find it easier to control the unit. Besides, this blower comes with an extension tube used to increase reach and the blower's efficiency.
Features and specifications
Lightweight for easier control

Variable speed motor for a maximum speed of 150 MPH

40 Volts 2.0 AMP hour lithium-ion battery for more power and longer run time

Extension tube for reach and blower efficiency
Pros
Portability and easy storage

Easy to use

Ability to maneuver

Wind speed up to 150 PMH

Variable rates with 6-speed selections

Smooth operation and less noise

One charge delivers commanding power
Cons
A battery may be difficult to find and expensive
Black+Decker electric leaf blower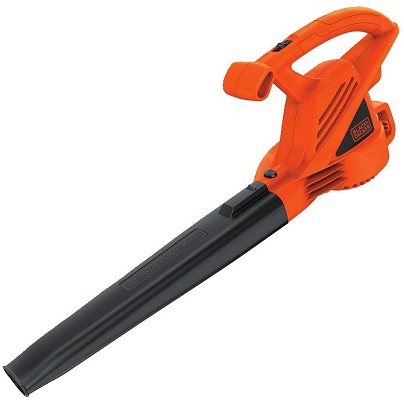 Black Decker LB700 corded leaf blower is designed with a 7 AMP motor that makes it robust and efficient when blowing. With the speed of up to 180MPH/180 CFM, it can blow up leaves and other debris faster and easier. The leaf blower is also fitted with a built-in cord to prevent frustrations and interruptions during the cleanup. 
It is also designed with a lightweight for portability purposes at only 4.4 lbs for easy handling. In the package, you will have the LB700 7amp blower and one blow tube. 
Black Decker LB700, a corded leaf blower, weighs 4.7 pounds. Warranty is not directly given on the product but can be requested from customer services. It is also a free shipping product if you are an Amazon prime member. It is quite affordable and will last for a long time provided you maintain it well and up to the standard.
Features and specifications
7 AMP blowers

Moves up to Speed of up to 180 MPH for robust and efficient blowing performance

It weighs 4.4 lbs for more comfortable and increased portability

Built-in cord retention that prevents frustrations and interruptions

Airspeed of up to 180 mph and includes a one LB700 7 AMP blower and a blow tube
Pros
Portability and easier storage

High drying power

Ability to maneuver

Easy to handle and use
Cons
The package may not come with a cord
Sun Joe SBJ597E Leaf Blower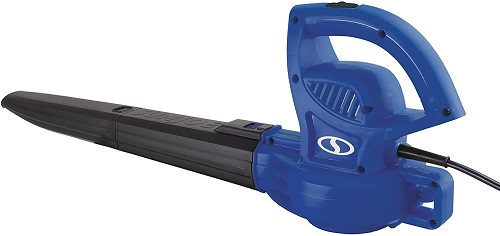 It doesn't have to be a big blower to get the work done, with this small leaf blower fitted with dynamos 6 amp motor gives a powerful 155 mph punch.
It is undoubtedly the right gadget for light-duty and household applications, including sweeping, porches, patios, walkways, decks and garages, and even light snow. 
Even if you are blowing a distance from where you store the blower, you will find it easier to take it back due to its lightweight, small, and compatible size. It is small enough to stow away quickly and easily in the car tank, desk box, or even broom closet.
Features and specifications
Powerful 6 AMP motor

Easy to store and use

Lightweight design making it portable

No-load speed of 14,000 RPM

Weighs 3.9 lbs

Air maximum speed of 155 MPH

Versatile blower for cleaning sweeping patios, decks, garage, and driveways

Rated voltage 120 volts and 60 HZ
Pros
Easy to store

The lightweight enhances portability.

Ability to maneuver

Value of money

Cheap and affordable

Produces sufficient power to get work done
Cons
May lack power cord in some countries
Toro 51585 power sweep electric leaf blower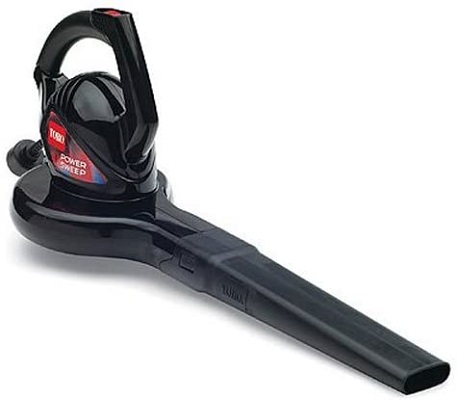 Toro 51585 leaf blower is a lightweight blower weighing only 4.7 pounds, making it easy to store and carry around. It is an electric-powered blower that can get work done within a short time while maintaining efficiency.
This is the perfect leaf blower ideal for clearing leaves and other light debris that may be on your driveways, sidewalks, and decks. It has the capability of producing a rugged airspeed of up to 160 MPH at 155 CFM. Toro 51585 leaf blower is designed in such a way that any person can use and operate it.
Following a 7.0A motor fitted in the blower, it can produce airspeed up to 160 MPH within a minimum speed of 130 MPH. Such a high pace might worry you, but you can control it according to one needs with the two-speed air control.
The control switch is strategically located on the handle and automatically falls under your thumb, making it easy for you to trace it even without looking at it.
With the low airspeed, you can control and operate it in tighter spaces while in a high-speed setting avails power for you in ensuring you get the job done. Additionally, Toro 51585 leaf blower is UL listed and comes with a two-year warranty from the manufacturer.
Features and specifications
Lightweight blower Weighing 4.7 pounds

Ability to produce a rugged airspeed of 160 MPH

Fitted with two airspeeds for greater versatility

Handheld leaf blower

Perfect for household applications, including clearing leaves and debris
Pros
Lightweight making it easy to carry around

Easy to use and store

High drying power

Ability to maneuver
Cons
May find it challenging to get some of its spare parts

It may be illegal to operate in some countries
BLACK+DECKER LSW221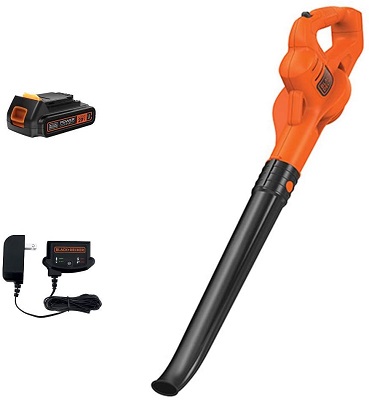 Black Decker lithium sweeper is a battery-operated leaf blower and weighs 3.7 pounds. It is powerful enough to enable the user to clear debris quickly from hard surfaces like driveways, decks, and garages. Air speeds of 130 miles per hour make it ideal for blowing even some of the lightweight debris. 
It can operate on a 20 volts maximum 1.5 ampere-hours lithium-ion battery that can hold a charge for up to one year and six months.
You don't have to worry about the blower's portability since it is lightweight and makes less noise, with a noise rating of 61. Its maximum initial battery charge without the workload reads 20 volts, while the standard voltage is 18 volts.
Among the components included in the package are LSW221 20 V MAX Lithium-ion cordless sweeper, one LBXR20 2OV MAX Lithium battery, one charger, and one blow tube. Check out the main differences between a sweeper and a bagger here.
Features and specifications
Lightweight with low noise design

Airspeed of 130 miles per hour

Operates on a 20v 1.5 ampere-hour lithium-ion battery

Efficiently clear leaves and other debris
Pros
Portable and easy to store

Durable and long-lasting

Ability to maneuver

Designed for quiet operations

A lightweight design reduces fatigue.

Clears debris quickly from hard surfaces

Give users great value for their money.

High drying power

Made of high-quality material that produces enough power
Cons
Battery life may significantly reduce and become crappy if you charge frequently
DeWalt DCE100B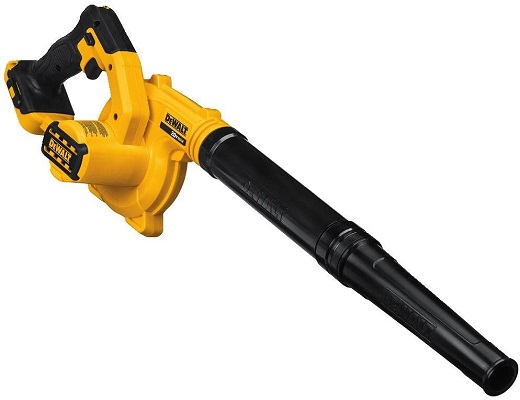 This is another battery-powered leaf blower worth trying if you mean blowing and taking leaves and other debris to the right place. 
It is a lightweight tool, and you don't have to worry about portability as it weighs only 2.5 pounds. The lightweight feature, compact design, and elaborated manual make it easier to use even with first-time buyers. This blower generates an AIR speed of 135 miles per hour and a maximum airflow at 100 CFM. 
Fitted with a three-speed variable speed switch, users have the freedom to control this blower while in use. Also, the variable speed trigger allows users to make adjustments to the blowing power.
One of the features that make this leaf blower a fantastic tool is the trigger lock-on that is well fitted to make sure users are relieved of the fatigue.
Despite all the positive things about this blower, something that doesn't please me is that you have to buy the battery and the charger separately. If you buy directly from the manufacturer, you will pay zero amounts for shipping.
Feature and specifications
Fitted with three variable speed switch for controlling

A lightweight and compact design allows for adjustment.

Battery and chargers are sold separately.

Maximum airflow is at 100CFM.

AIR speed is 135 MPH
Pros
Easy to use

Ability to maneuver

Portable due to the lightweight design

Variable speed switch for freedom of controlling

Trigger lock-on that reduces users' fatigue

May keep cutting-out if there is an issue with the battery
How To Maintain Your Leaf Blower?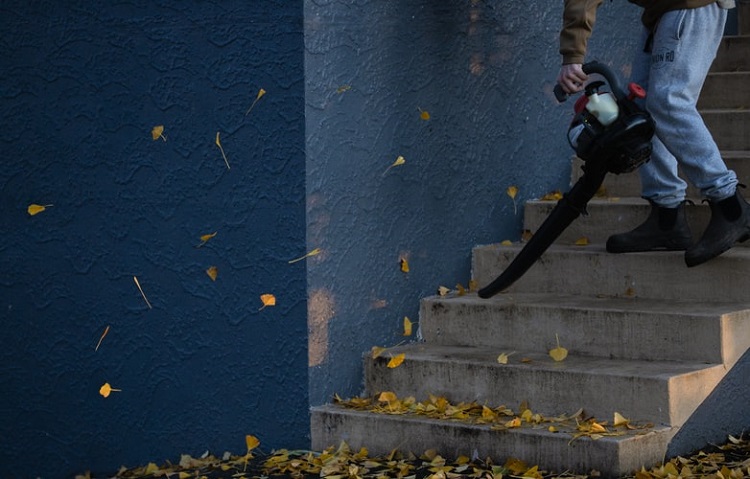 Although a leaf blower's uses and applications vary in different seasons, it will probably have no help during the winter season. During the inactive season, that's where most of us fail. Like any other tool, the leaf blower needs to be attended to as far as cleaning and maintenance are concerned.
You need to do several things to keep your device protected and safe while not using it. If you tend to store it in your garage or nearby, running your leaf blower once every month would be a thing worth your time. By doing this in a well-vented area, you exercise the motor and the carburetor.
If you are thinking of storing the latter in a place where you will have limited access to it, here are some tips to help you keep it safe and protected.
Using a fuel stabilizer, mix any fuel left in the fuel tank with it, and then empty the tank making sure you have removed maximum fuels from the tank as much as you can. The fuel stabilizer will help in keeping the oil for a long time without it going bad.
With the stabilizer fuel in the engine running, keep it running for two minutes or so and dump it into a container. It will help in coating the interior of the motor. Restart the blower until it gets rid of any fuel that remains in the engine.
Finally, choke the blower- a simple of getting any little drops of the fuel that might be remaining in the engine. When you realize that you cannot get to start it, you are done, and you can safely keep your blower until next time.
FAQs
Question: How do I choose a leaf blower?
Answer: When choosing a leaf blower, there are things you need to know. Firstly, a leaf blower with higher CFM will enable you to move many leaves at a go, while a high MPH will allow you to blow away wet leaves and other debris.

If you are not sure, go for a blower with a higher CFM. All the same, go for the device that feels balanced in your hands and moves and adjusts easily.
Question: How many CFM do you need for a leaf mower?
Answer: It all depends on the size of the space you want to blow. Generally, electric leaf blowers have their CFM ranging from 200 to 400. If you have an acre of land or more, you most likely need a leaf blower with CFM ranging from 400 to 700. Notably, these blowers are noisier and more powerful, and they can handle both dry and wet leaves. 
Question: Should I go for a leaf blower or vacuum?
Answer: Going for the leaf blower would be such an informed decision. This is because leaf blowers come with one advantage, and the speed at which they can move leaves and clean up a yard full of leaves is faster than a rake. Vacuums are also quicker, but they collect leaves around rather than move them slows the whole process.
Question: What is more critical in a leaf blower, CFM, or MPH?
Answer: If you want to move more leaves, we recommend leaf blowers with higher CFM, not an MPH. CFM is all about power and not speed, while MPH stands for miles per hour and tells how fast the air moves when it gets out of the nozzle.
Question: What time can you start using a leaf blower?
Answer: The best time to blow off your leaf would be any time, starting from 9 AM up to 7 PM. There are some cities with bylaws that dictate how early one can use motorized yard tools and equipment.

If you realize that your blower is making too much noise, you can update it and reduce the noise resulting from worn parts. This way, your will neighbor will be at peace with you. Newer models have significantly reduced noise and, in fact, have in the built mechanism for noise reduction.
Conclusion
From the list of the best leaf blowers we have discussed above, one out of the six stood out from the other. This is none other than the Greenworks variable speed cordless leaf blower.
It has emerged as the best following its outstanding, distinct, and unique features that include the lightweight design, quietest and easy to store, comes with a charger. It is affordable with free shipping from Amazon prime members. Forty volts and 2.0 AMP hour lithium-ion batteries can provide more power and longer run time. 
For maximum speed, it is equipped with a variable speed motor with a speed of 150 MPH. It is lightweight and designed in such a way that users find it easier to control the unit. Also, this blower comes with an extension tube used to increase reach and the blower's efficiency.
Continue reading related leaf blower guides and reviews: