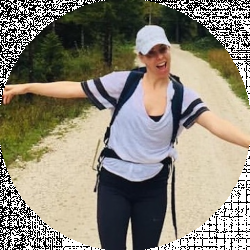 Latest posts by Jodie Chiffey
(see all)
Are you sick of having a messy yard? Is it constantly covered in leaves and grass cuttings? If this all applies to you, then you need to get yourself a Craftsman Leaf Blower. It will remove debris efficiently without causing more mess.
However, it can be difficult to determine the right one for you with so many Craftsman leaf blowers to choose from. So to help, this guide will cover all of the main factors to consider when buying a leaf blower and review some of the best Craftsman leaf blowers on the market.
Factors to Consider Before Buying a Leaf Blower
There are lots of different leaf blowers available. Craftsman products are some of the best, but you still need to pick a leaf blower that will suit you.
These are some of the factors to consider before choosing a leaf blower.
Size and How Comfortable Is It to Use
You'll want a leaf blower that is big enough to cover large areas of your yard at a time. If you get one with a smaller nozzle, it likely won't clear enough of your lawn, which means you'll be using it for a long time.
You'll also need it to be a size that is comfortable for you. If it is too large, you will struggle to carry it properly, and you don't want to hurt yourself in the process of using it. If you're using it for short periods, don't worry about straps. That should only come into consideration if you're using it for long periods of time.
Petrol Leaf Blowers sometimes come with a backpack which will make carrying the blower easier.
Power Supply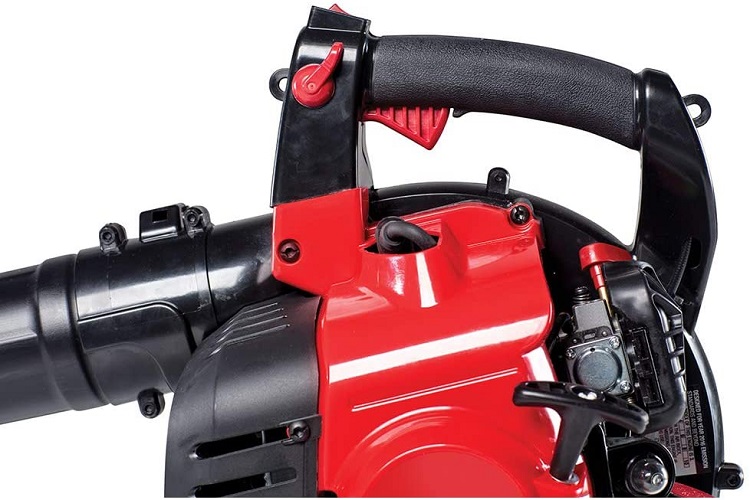 You can either have an electric or petrol-fuelled leaf blower. Each product has positives and negatives.
Electric leaf blowers often aren't used for larger yards due to the lack of power. Instead, they are usually wired, which means you can use the blower indefinitely. But the wire does also restrict movement when using it. There are cordless options, but that means you need to recharge it.
They are cheaper most of the time when compared to petrol blowers. Electric blowers are also lighter than gas petrol-powered options. But that lack of power is a deal-breaker for some people.
Petrol fuelled leaf blowers are more expensive, but they do hold a lot more power than alternatives. This is why they are used for larger yards. But it will speed the process up for smaller yards. They also don't restrict movement because they are always cordless.
You will need to refill the blowers, resulting in more costs, but if you're looking for something powerful that will make the process more efficient, using petrol machines is the way to go.
Easy Storage
Leaf blowers are often bulky and difficult to store. This is a smaller issue, but you never know you'll need more space in your storage area. Some leaf blowers will come with easy storage features; others require you to make a second purchase to store them conveniently.
Vacuum Add-on
It isn't 100% necessary to have a vacuum attachment with your leaf blower, but it's always handy to have. It means you can clear your lawn using one tool. The vacuum will pick up the debris you've gathered and store it in a bag for you to clean.
MPH and CFM Quality
Air Volume is measured in CFM (Cubic Feet per Minute). This is how much air will pass through the nozzle of the leaf blower. The higher the cubic feet, the more of your garden you'll be able to clean at a time.
AirSpeed is measured at MPH (Miles per Hour). This is measuring the power of the air being pushed through the nozzle. A lower speed is great for cleaning delicate areas such as flower beds. The higher speeds are great for cleaning large areas quickly.
Petrol fuelled leaf blowers will often have more airspeed than electrically powered ones.
Selection Criteria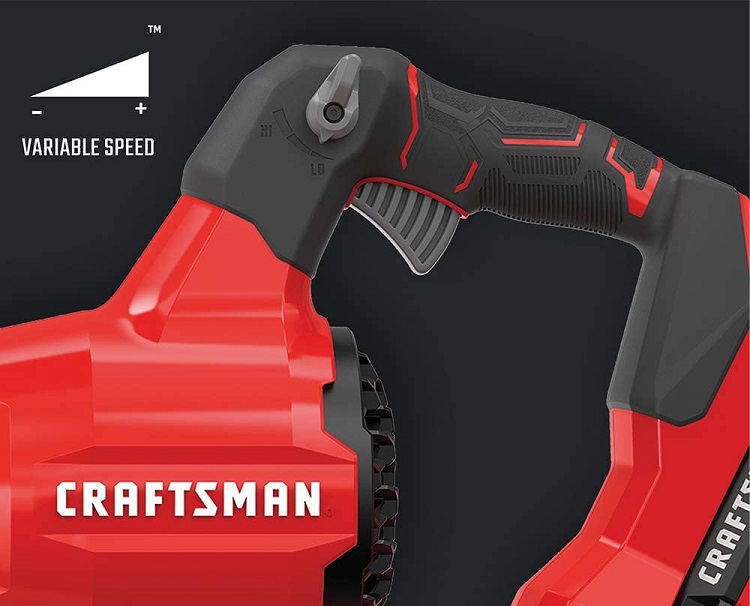 There are plenty of leaf blowers available, so many that it can be difficult to pick the right one. But there are a few things that you need in a leaf blower as a minimum. This means we can whittle the list down and just pick from the best of the best.
CFM and MPH Minimum
The CFM of your leaf blower should at least be 400. The higher the CFM, the better, as it will let you clean your yard faster.
MPH isn't as crucial, and sometimes it's best to go for the product with the lower MPH. But the minimum speed should be 90MPH. A speed of 90 is a great baseline, but if you can get one that's just a bit higher, it's always helpful. The speed is almost always adjustable on leaf blowers.
Comfortability Minimum
If the tool you're looking at isn't light enough to easily carry, i.e., it isn't 10lb or less, I recommend getting something with shoulder support, especially if you're planning on using this tool for extended periods of time.
Cost Efficiency
Craftsman leaf blowers are some of the best price-wise on the market. Battery and corded leaf blowers are usually the cheapest. Gas blowers will also cost a lot more money to refuel as well. However, gas leaf blowers often perform at a higher standard. The maximum base price for a leaf blower should be 500 dollars. This doesn't include any postage costs.
The 5 Best Craftsman Leaf Blowers
BP510 51 CC 2-Cycle Gas Backpack Leaf Blower

This gas-powered leaf blower is an excellent choice to clear your yard. It keeps your comfort in mind. It has adjustable straps for your shoulders with extra padding and an adjustable strap for your chest. This makes a machine that can be used with ease by anybody.
The airspeed can go up to 220 MPH, and it has an air volume of 600 CFM. It also has an incredibly powerful engine that will help clear your yard efficiently without creating a further mess.
Features and Specifications
200 MPH airspeed
Powerful 51 CC engine displacement
2-Cycle engine type
An Air volume of 600 CFM
Reduced vibration
Straps and backpack to improve comfortability
Easy to start
Tube storage strap which makes it easier to store
Pros
Powerful engine making the clearing process more efficient
Comfortable to use
Fast airspeed
Large air volume making it easier to clean your lawn
Compact storage
Reduced vibration
Cons
9 AMP Corded Axial Blower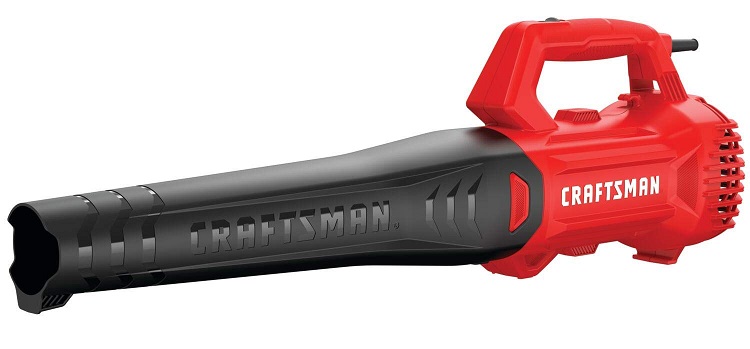 This is one of the best electric powered leaf blowers on the market. It has a powerful motor with a wind speed of 140 MPH, which competes with some petrol-fuelled blowers. In addition, it has an air volume of 450 CFM.
The nozzle scrapper will help remove debris that's causing you a lot of trouble. You can switch between 2 speeds that will help clear debris from more important areas such as flower beds.
A downside is the cord attached that restricts movement massively, but the power and spread could make the job easier when compared to using other leaf blowers. It's also a light blower that makes it easier to use for long periods of time.
Features and Specifications
Airspeed up to 140 MPH
Air volume of 450 CFM
9 AMPS
2-Speed switch
Nozzle scrapper
Cord to supply power
Pros
Light and easy to use
Powerful airspeed for an electric blower
Large air volume for an electric blower
2-Speed switch to clean difficult areas such as flower beds without causing issues
Can remove tough debris with nozzle scrapper
Cons
The cord makes it difficult to move
Not as much airspeed as petrol-fuelled blowers
27CC, 2-Cycle Full-Crank Engine Gas Leaf Blower/Vacuum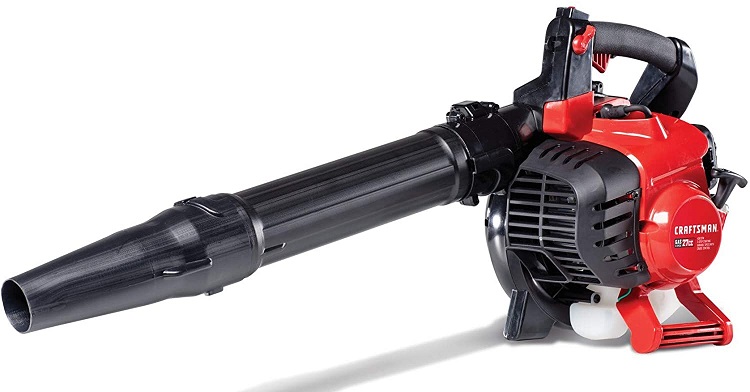 This leaf blower has been designed to completely clean your garden with one easy to use the tool. It's also got a vacuum attachment that makes it easier to clean your yard.
The airspeed can go up to 205 MPH, and the air volume is 450 CFM. This makes it an incredibly powerful tool that you can use to clean large parts of your garden at a time.
It's got a 3-step easy start: prime, choke and pull. It's a simple design that makes it one of the easiest to use blowers available on the market.
It's also incredibly lightweight for a gas leaf blower, making it easy to carry. It's unlikely to cause strain on your body.
Features and Specifications
Powerful 27CC, 2-cycle, full-crank engine
Air volume 450 CFM
Airspeed 205 MPH
Comfort over-mold handle reduces vibration
Vacuum kit
Bushel bag
Easy pull start
74 DBA
Pros
The blower and vacuum combination makes it easier to clean your yard
Lightweight
Reduced vibration
Easy to start
Powerful airspeed
Cons
Less air volume when compared to other gas blowers and vacuums
Not cost-efficient
Craftsman V60 Cordless Leaf Blower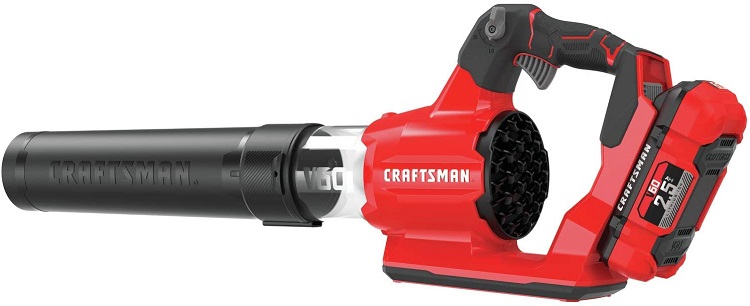 The V60 Cordless Axial Blower comes with a 2.5 Ah battery that will help clean 14 of an acre of yard work. This blower will deliver up to 600 CFM and 110MPH. This is lower than most of our other suggestions, but it's cordless and electrically powered.
You can easily switch between two settings. One setting focuses on power, helping you clean your yard faster if you're in a rush. The other setting will give you more battery power, which is useful in larger areas that you'll need more time to clean properly.
If you're finding it difficult to store, you can buy the VERSATRACK, which is sold separately. This will let you easily store the leaf blower, leaving you with more space for other tools.
Features and Specifications
600 CFM
110 MPH
Lightweight
60 Volt 2.5 Ah battery
Cruise control that allows more control over power
Cordless
Rechargeable battery
Pros
It weighs less than 10lb, making it easy to maneuver
60 Volt 2.5 Ah Battery gives the leaf blower more runtime
Cruise Control will give you more control over the power of the leaf blower.
Rechargeable battery
600 CFM is a lot for such a lightweight tool
Compatible with VERSATRACK storage systems
Cons
110 MPH isn't a lot of power for an electric leaf blower
12 AMP Corded Handheld Jobsite Leaf Blower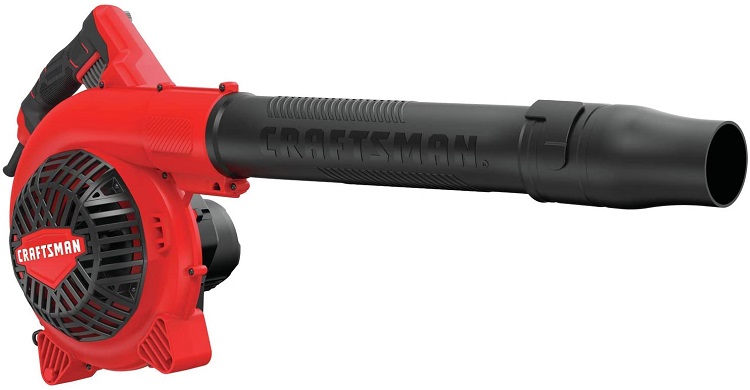 When you use this leaf blower, the debris in your yard won't stand a chance. This is an extremely powerful leaf blower, especially for one that's cord powered. You'll be removing debris at a speed of 180 MPH. And it's spread across your yard with a CFM of 410. The speed trigger with cruise control will let you easily change how the speed of the airflow.
Features and Specifications
410 CFM
180 MPH
Corded
12 AMPS
Speed trigger with cruise control
Lightweight
Pros
High speed for an electric leaf blower
It weighs less than 10lb making it easier to carry
Speed trigger gives you control over the power
410 CFM will spread across enough of your yard to quickly clear debris
Cons
Corded gives you less maneuverability
Frequently Asked Questions
Question: Should I Get Electric or Petrol?
Answer: An electric leaf blower is better for the environment, and it's cheaper to keep fuelled than petrol blowers. However, it does often come with the downside of being underpowered. Making it more difficult to clean your lawn efficiently. Wired leaf blowers also restrict movement when cleaning.

Petrol fuelled blowers are often more expensive. It costs a lot to keep it constantly fueled, but it does provide more power. They are often heavier, so it's important to get one that comes with shoulder support. Petrol leaf blowers do release smoke, which is a negative that doesn't affect electric leaf blowers.
Question: Do Craftsman Products Have a Lifetime Warranty?
Answer: Craftsman leaf blowers have a 3-year limited warranty. This covers any leaf blowers that become unusable at the fault of the company. It doesn't cover accidental damage that occurs. Other craftsman products hold different warranties, and this is just the one applied to leaf blowers and a few other tools.
Question: How Useful are Leaf Blowers
Answer: Professionals most commonly use leaf blowers. This is because it makes the job faster and easier for them. But this doesn't mean it doesn't come in handy for the everyday lawn owner.

Getting rid of debris is a tedious process when you're about to plant new grass or flowers. So speeding the process up for yourself using a leaf blower is a great idea.
Question: What's More Important, MPH Or CFM?
Answer: When you're looking for a leaf blower, you'll want to prioritize CFM. MPH is great, but a larger CFM will help you remove more debris at a time. On the other hand, MPH is just the speed the air moves at, and sometimes higher speeds can be detrimental for your lawn.
Question: Is Craftsman a Good Brand?
Answer: Craftsmans is a great brand. They're popular due to how durable their tools are. They offer a wide range of products, and they're best known for their power tools. But you can always trust them to deliver excellent quality garden care products.
Our Final Verdict
I've reviewed many great Craftsman leaf blowers, but there are two that stand out in their own categories. I recommend you get these two, but if you prefer any of the others, you'll be making an excellent choice.
Best Electric Leaf Blower – V60 Cordless Leaf Blower: This cordless leaf blower is one of the best on the market. The battery will easily be enough for you to clean your yard. And even if it's not, the battery is quick to recharge. It doesn't have as much speed, but the air volume easily makes up for that.
Best Petrol Leaf Blower – 27CC, 2-Cycle Full-Crank Engine Gas Leaf Blower/Vac: This petrol leaf blower has been designed to completely clean your garden with one easy to use tool. The airspeed will go up to 205 MPH, and the air volume is 450 CFM. The 3-step easy start makes it simple to use. It's so light that it doesn't require any kind of shoulder support to carry, which is rare for a petrol leaf blower. The vacuum attachment makes cleaning your yard a much faster process, and it's all available through an easy to use the tool.
If you're interested in getting more products that will make cleaning your yard easier, I recommend this article on the best troy bilt edgers.