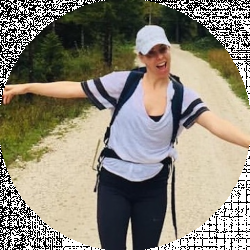 Latest posts by Jodie Chiffey
(see all)
You don't need a cultivator tool to perform simple gardening tasks like preparing a garden bed or removing weeds since you can use some of the best cultivator attachments to complete any gardening task that involves loosening or aerating the soil.
In most cases, these attachments are made for specific multi-attachments systems, although some models are designed as add-ons for trimmers. That's why your options will be reduced to cultivator attachments that are compatible with a powerhead or trimmer you have.
Despite this, finding the cultivator attachment for your gardening tools can be difficult if you don't have the right information.
So, in this guide to the best cultivator attachments, I am going to provide you with the information you need to choose a cultivator attachment and suggest several models that might be compatible with your power head or trimmer.
Go through our guide to the best brush cutter attachments for trimmers to find out more about these accessories.
At a Glance – The 5 Best Cultivator Attachments
Selection criteria
The gardening tool you have will determine which attachments you can use since pairing a cultivator attachment with a lawn tiller, or a lawnmower isn't possible.
Furthermore, most brands design these accessories for one or more of their powerhead models, and only a few options are compatible with gardening tools produced by several different brands.
Although part compatibility was one of the most important criteria I used during the selection process, it wasn't the only one. Here are some of the criteria that helped me pick the best cultivator attachments for this article.
Maximum tilling depth and width – Most models I included in this article allow their users to adjust the tilling width and choose the depth at which they want to till the soil.
Build quality – I only considered cultivator attachments that have steel tines and shafts. All models I featured in this article are durable, and you won't have to replace them often.
Read our cultivator vs. tiller comparison to learn more about the differences between these gardening tools.
What is a powerhead tool?
A multi-attachment system is a tool that allows its users to switch between multiple attachments as they move from one gardening task to another. The so-called powerheads support a variety of attachments, including pole saws, different types of trimmers, brush cutters, or leaf blowers.
The versatility of multi-attachment systems makes them a great addition to a homeowner's toolset, but you should keep in mind that they are best suited for small-scale projects.
Hence, most cultivator attachments for power heads can't offer more than 10-inches of tilling width, which limits the maximum size of raised rows you can create with them. Multi-attachment systems usually don't have powerful motors, so you shouldn't expect high-speed performances from them.
Cultivator attachments are also available for some trimmer models, so you must check if the model you're interested in is designed for a powerhead or a trimmer. Check out our edger vs trimmer comparison for more information about the features of either of these tools.
Characteristics of cultivator attachments
The largest difference between cultivator attachments is the coupling mechanism since models designed for power head tools and trimmers have different coupling mechanisms. Aside from this component, most cultivator attachments have similar characteristics.
These accessories are equipped with two or four tines, and they allow you to choose the tilling width. Some models can have anti-vibration shafts that reduce hand fatigue even while working on dry and hard patches of soil.
The length of the connecting pole varies from model to model, but most cultivator attachments are between 30 and 40 inches long. Hence, these accessories allow you to remain in a comfortable position while using a trimmer or a power head.
A cultivator attachment can also have a gearbox that prevents power and torque output oscillations, but this isn't a standard feature on all models. Go through our lawn equipment guide if you're searching for the tools and accessories that can help you keep your lawn in perfect condition.
The most common cultivator attachment applications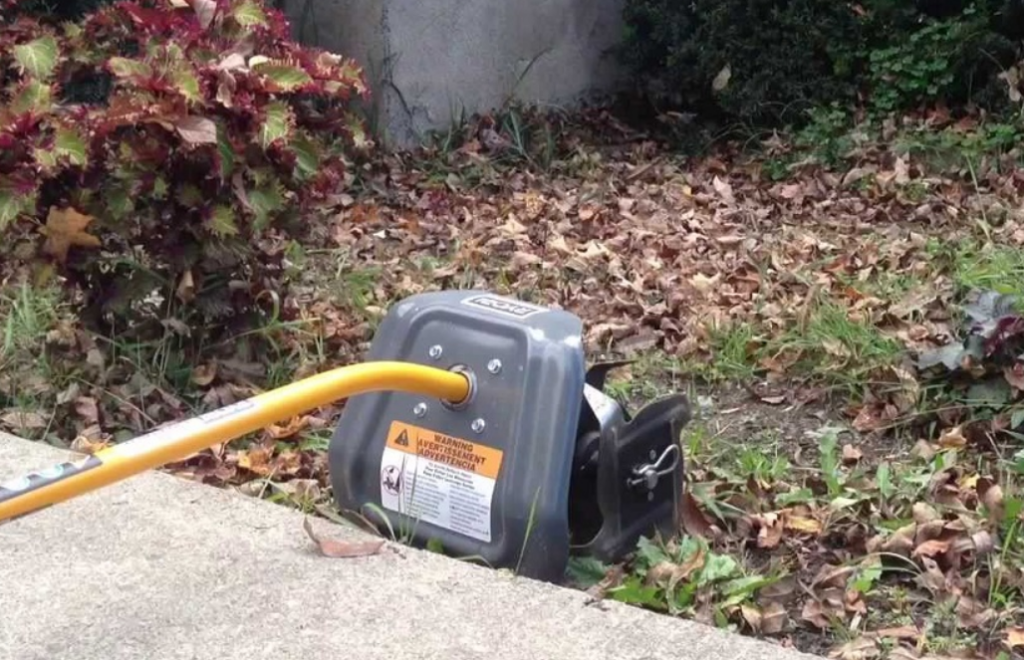 A cultivator attachment offers all functionalities of gas cultivators, although on a smaller scale. These accessories can serve as a replacement for garden cultivators, especially if you're not planning to cultivate large portions of your courtyard.
You can use a cultivator attachment to perform the following tasks:
Remove weeds – These attachments allow you to remove weeds from your lawn quickly. The relatively narrow tine width enables you to treat the affected patch of the lawn without damaging the grass.
Preparing a garden bed – This is by far the most common application of cultivator attachments. The accessory allows the user to create an even raised row suitable for sowing different types of plants.
Soil fertilization – You can add fertilizer to the soil you're loosening with a cultivator attachment. Doing so will make it easier to mix the fertilizer with the soil and eliminate the need to perform these two tasks separately.
Browse through our guide to the best Ryobi cultivators to learn more about the brand's models.
Are cultivator attachments a better option than cultivators?
Powerheads offer more versatility than most gardening tools because they allow the user to change an attachment whenever they want to perform a different gardening task.
When paired with the right attachment, these multi-purpose tools can trim hedges, cut branches, create lawn edges or cultivate the soil. Multi-attachment systems don't offer sufficient power output for demanding gardening tasks.
In addition, the tilling width of cultivator attachments is limited to 10 inches and they're not an ideal solution for large gardens. A cultivator that runs on batteries or gas offers more power and tilling width than cultivator attachments and allows you to cultivate large areas of your courtyard.
That's why a cultivator might be a better option for homeowners who need a powerful tool that can loosen hard soil. A cultivator attachment for trimmers or power heads can be a good choice for novice gardeners who value the tool's versatility more than its performance capabilities.
Check out our guide to the best front tine attachments to find accessories you can mount on your cultivator or tiller.
The most important factors to consider while choosing a cultivator attachment
A limited range of available options makes the process of selecting a cultivator attachment relatively simple. Nonetheless, you still have to pay attention to several factors to get the right accessory for your gardening tool.
I've shortlisted some of the factors that can make the cultivator attachment process smoother and quicker, so let's take a quick look at them.
Attachment compatibility
These attachments are available for trimmers and power heads, so the model you choose must be compatible with the tool you have. Also, you can choose between cultivator attachments designed for a specific model and those that fit on multi-attachments systems produced by different brands.
Checking if the tool is compatible with an attachment you'd like to get is easy because most brands include this information in the product description.
The weight and size of the attachment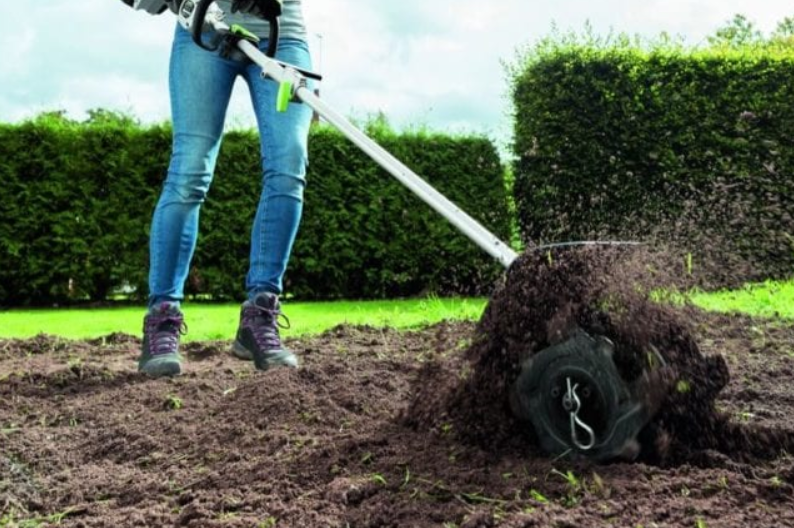 Some cultivator attachments can add quite a bit of weight to a powerhead or a trimmer, and you should consider lighter options if they're available. This component can add more than 10lbs of weight to your tool, which can make controlling it more difficult.
The length of cultivator attachments spans from 30 to 40 inches, so in most cases, you won't be in an uncomfortable position while loosening the soil and mixing it with fertilizer.
Maximum tilling width and depth
This is the most important parameter you need to check before buying a cultivator attachment. Most models allow you to set the tilling width in the range from 6 to 9 inches, while their maximum tilling depth is usually around 4 inches.
This information isn't always included in the product description, and you may have to do some additional research to find the attachment's specifications list.
The build quality
Aside from making sure that attachment's tines are made of a durable material that won't give in after several months of use in harsh conditions, you also have to check if the part's shaft can withstand heavy-duty usage.
Getting a cultivator attachment equipped with a shaft that absorbs vibrations will lower the amount of stress a power head is taking and enable you to put in less effort in controlling the tool.
Price and warranty
You will have to spend between $100 and $300 to get a cultivator attachment for your trimer or power head. However, you can get a new Ryobi or a Troy Bilt garden cultivator in the same price range, which makes these accessories expensive.
Most brands offer two or three-year limited warranties for their cultivator attachments that allow you to repair or replace this part for free if it gets damaged.
The advantages of cultivator attachments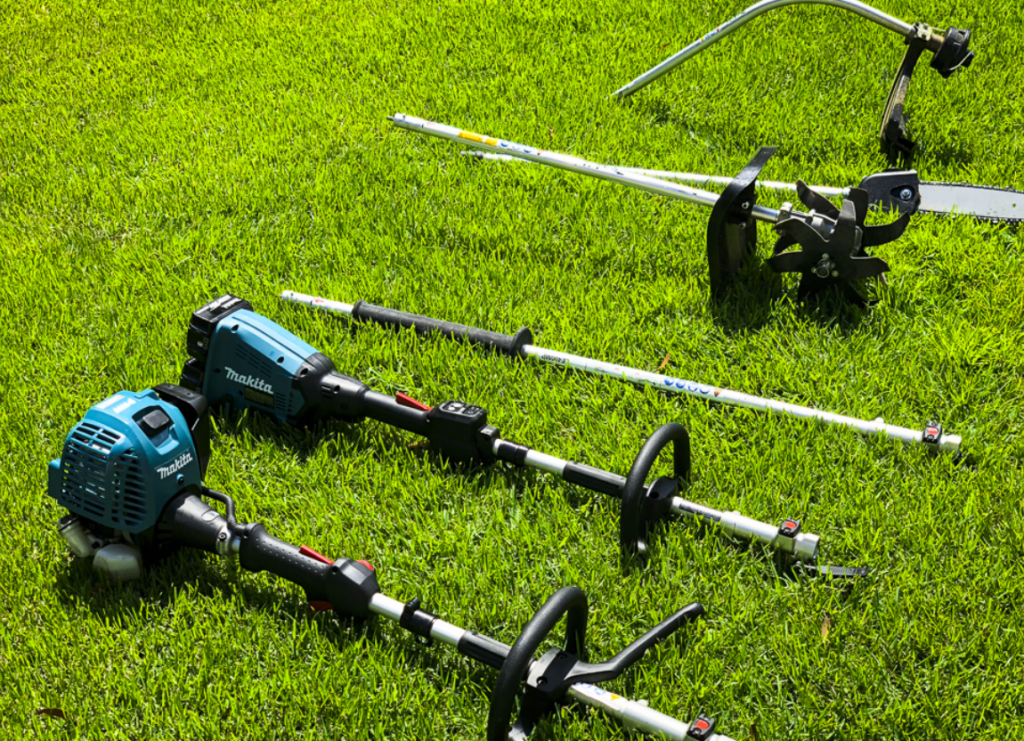 Quick installation process
Mounting a cultivator attachment on a power head or a trimmer doesn't take more than a few seconds. These accessories come with a powerful coupling mechanism that creates a strong connection between the tool and the attachment.
Replaces tillers and cultivators
You don't have to buy a gardening tiller or cultivator if you want to create a small garden bed or aerate the soil on your lawn. These accessories allow their users to adjust the tilling width and depth to the requirements of the project they're working on.
Durable construction
Tines and shafts of cultivator attachments are made of steel, and it is difficult to damage them even if you're using the accessory to loosen hard soil.
The disadvantage of cultivator attachments
High price
A cultivator attachment is almost as expensive as the tool it is compatible with, and you may have to spend more than $200 to get this accessory.
Top 5 cultivator attachments
Makita KR401MP – The best cultivator attachment for Makita Couple Shaft Power Heads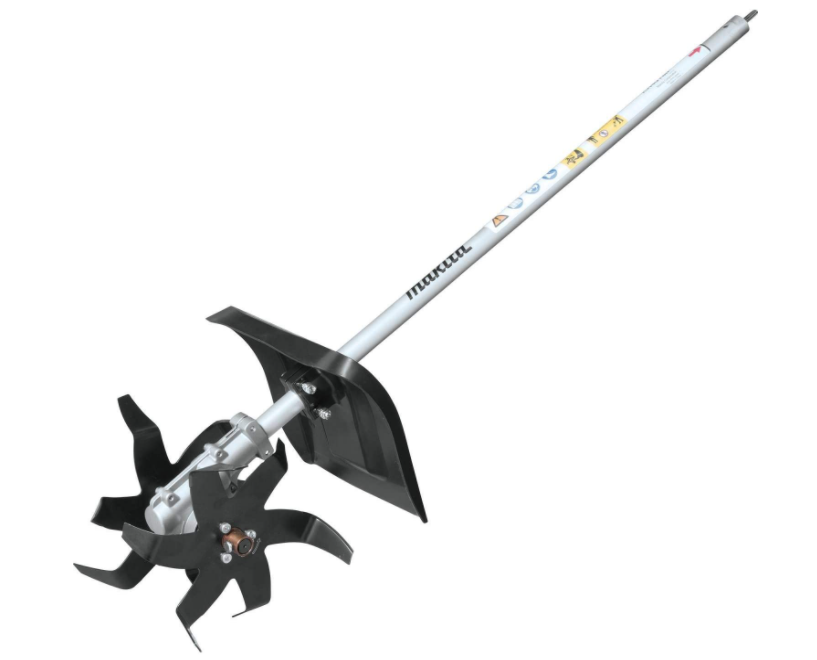 The Makita KR401MP extends the range of tasks you can perform with Makita couple shaft power heads equipped with brushless and 4-stroke engines. The attachment is 43-inches long and it allows you to remain in a comfortable position while loosening the soil.
Its tine width is just 9 inches, so you won't have too much trouble maneuvering the tool in tight spaces. This cultivator attachment features a steel blade that has 6 tines that can aerate the soil or remove weeds effortlessly.
The KR401MP weighs 11lbs, so you might experience fatigue if you're using the power head for several hours.
Pros
Low vibration level
Sturdy and durable
Excellent performance in tight spaces
Strong coupling mechanism
Cons
Compatible with a handful of power heads
Tilling width isn't adjustable
Trimmer Plus TPG720 – The most versatile cultivator attachment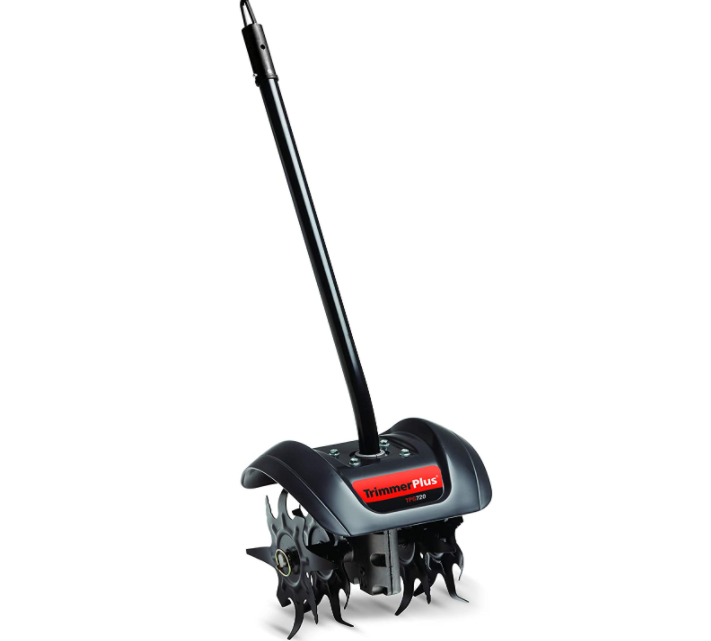 Owners of Troy Built, Ryobi, Bolen, or Craftsman multi-attachment systems should consider getting the Trimmer Plus TPG720. Even though the accessory is compatible with a wide range of multi-attachment systems, you still have to check if you can use it with the power head model you have.
This attachment has four steel tines that minimize the amount of effort you have to invest in loosening soil. The tilling width is adjustable, and you can choose how wide the rows you create are going to be. The TPG720 features a 40:1 gearbox that keeps the tool's torque and power outputs at the same level.
Pros
Compatible with power heads produced by different brands
Altering tilling width is easy
Features a poly guard that protects the operator from dirt and debris
2-year warranty
Cons
Controlling the attachment can be difficult
Struggles to dig through thick grass
Poulan Pro PP2000T – The most affordable cultivator attachment for powerheads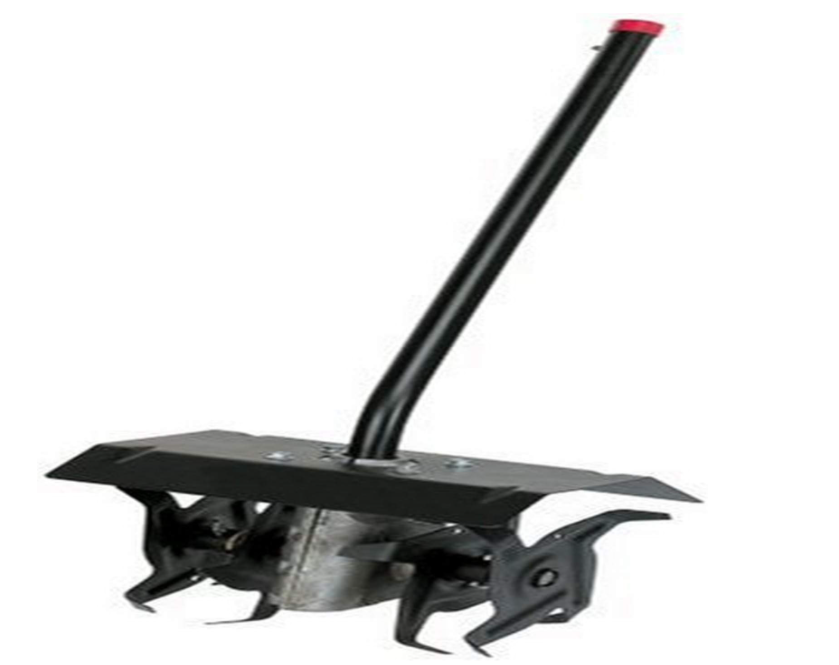 Even though it is among the least expensive cultivator attachments on the market, the Poulan Pro PP2000T still has plenty to offer. This accessory is compatible with multi-attachment systems produced by John Deere, Weed Eater, or Ryobi.
The PP2000T has four 8-inch tines, and it allows you to set the tilling width in the range between six and nine inches. Its gearbox wears out quickly and it often struggles to keep the power or torque output at the same level.
This attachment is designed for simple gardening tasks and you shouldn't try to use it on demanding projects.
Pros
Lightweight and easy to use
Adjustable tilling width and depth
Affordable price
Works with a wide range of power heads
Cons
Gearbox wears out quickly
Not for heavy-duty tasks
EGO Power Plus CTA9500 – The best cultivator attachment for EGO Power Plus powerhead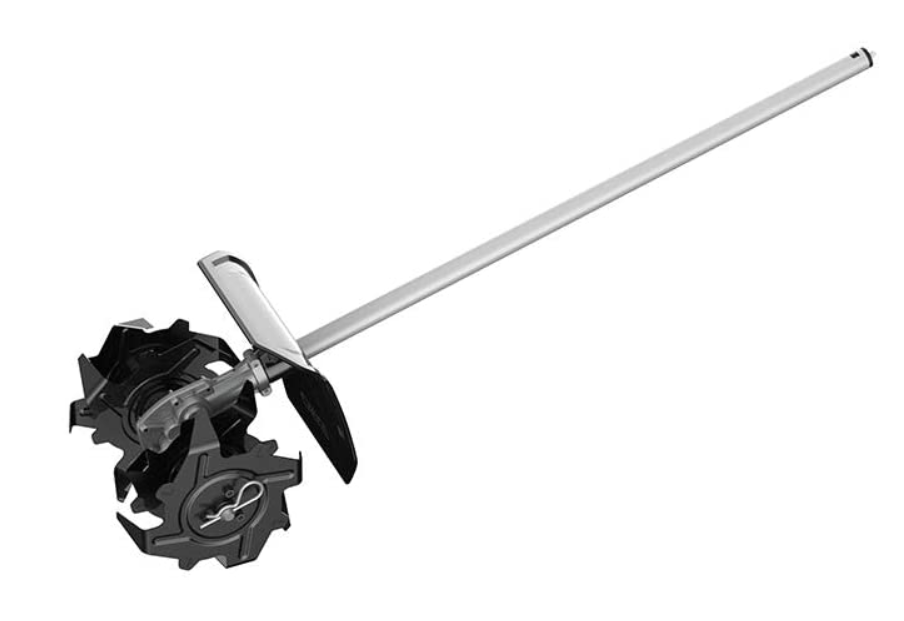 The weather-resistant construction prevents the corrosion of the EGO Power Plus CTA9500's components even if you use it in humid weather conditions. This cultivator attachment has steel tines that can cut through hard and soft ground with the same level of efficiency.
Moreover, its maximum tilling width is 9.5 inches but you can lower it to 8 inches if you want to create narrower rows. The attachment features a large safety guard that protects the user from dirt, dust, or rocks.
This cultivator attachment is designed for the EGO Power Plus PH1400 power head and you cannot install it on any other multi-attachment system.
Pros
High-quality components
The coupling mechanism keeps the attachment firmly in place
Equipped with a steel shaft
Not prone to corrosion
Cons
Fits just one power head
Heavy and difficult to handle
Ryobi Expand-It – The cultivator attachment for Ryobi trimmers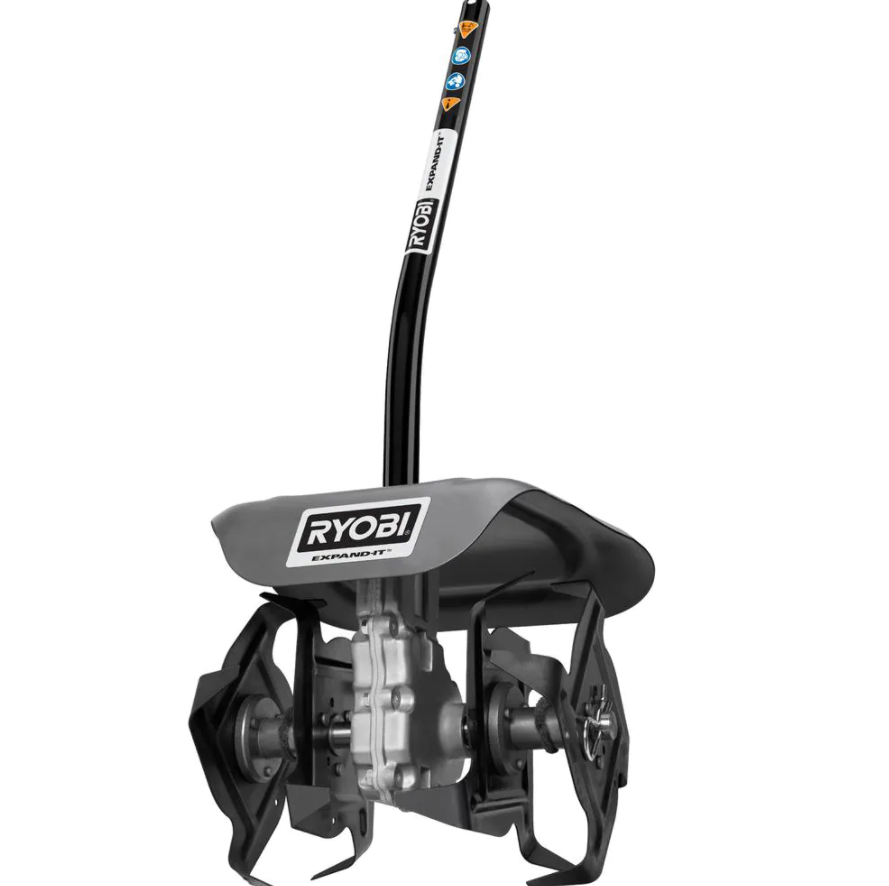 Owners of Ryobi string trimmers can get the Ryobi Expand-It cultivator attachment if they need a tool they can use to create medium-sized garden beds. The attachment features four tines, and its tilling width spans from 7 to 10 inches, while the maximum tilling depth is approximately 8 inches.
This attachment is 30-inches long, so staying in a comfortable position while using the trimmer isn't always possible. Ryobi offers a 3-year warranty for the Expand-It cultivator attachment that covers defects of all components.
Pros
Simple mounting process
Easy to maneuver
Features 10-inch steel tines
Long warranty period
Cons
The product is too light to cultivate hard soil
Checking the attachment's compatibility can be difficult
Frequently asked questions about cultivator attachments
Question: Do I have to water the soil before using a cultivator attachment?
Answer: No, but watering the ground may make it easier to loosen and cultivate the soil.
Question: How to clean a cultivator attachment?
Answer: Keeping a cultivator attachment clean isn't difficult as you just have to remove the soil from its tines after each use.
Question: Can I replace tines on cultivator attachments?
Answer: Yes, but finding the replacement part can be difficult.
Question: Do cultivator attachments break down often?
Answer: No, but the gearbox on some models can fail after just a few tilling sessions.
My verdict: How to which cultivator attachment is the best option for your multi-attachment system?
A multi-attachment system replaces a myriad of gardening tools, so instead of buying a pole saw or a hedge trimmer, you can get an attachment compatible with the powerhead you have.
Cultivator attachment is just one of the accessories you can use to create a new garden bed or remove weeds from your lawn. I recommend getting the Makita KR401MP or EGO Power Plus CTA9500 if you already have a powerhead produced by one of these brands.
A model like the Trimmer Plus TPG720 might be a great option if you want to avoid dealing with compatibility issues but you shouldn't expect too much from this model in terms of performance.
Which cultivator attachment are you going to choose? Let me know in the comments or continue reading our guide to the best Honda tillers if you need a tool that can move through hard soil effortlessly.