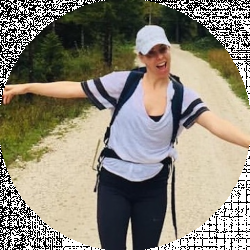 Latest posts by Jodie Chiffey
(see all)
Honda is one of the most reliable power equipment brands on the market famous for creating some of the best pieces of lawn and gardening equipment ever made. In this guide, I will focus on the best Honda tillers that can help you cultivate a flowerbed or get rid of lawn weeds.
Honda produces several types of tillers, so ultimately, the purpose of using this tool will determine which model you should pick. Depending on their type and power output, tillers can be suitable for small and large tilling projects.
So, in this guide to the best Honda tillers, I am going to walk you through the brand's models you can use to till an entire field or just a small portion of your backyard and supply you with information that will help you to pick the right model for you.
Read our disc harrow vs tiller comparison if you're struggling to understand the differences between these tools.
At a Glance – The 4 Best Honda Tillers
Selection Criteria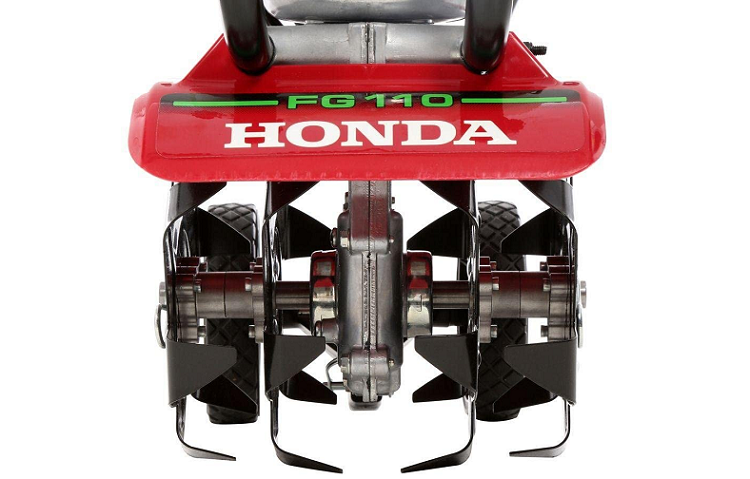 Honda offers only a handful of tillers at the moment, so you won't have a large selection of models at your disposal if you opt to get a tiller made by this brand. Each of the brand's tillers is stacked with features that maximize its performance and user convenience.
Hence, choosing one model over the other can be difficult since all Honda's tillers have plenty to offer. Aside from the tiller's features, I used several other parameters while selecting the models I included in this article, so let's take a closer look at them.
Maximum tilling width – How wide the rows you create with a tiller are going to depend on the distance between the tines. That's why I selected models that offer both narrow and wide tilling widths.
Tine position – The position of the tiller's tines affects the tool's efficiency. In this article, you're going to find models that have front, mid and rear tines so that you can choose the option that best fits your tilling needs.
Go through our guide to the best front tine attachments if you're looking for an upgrade for your tiller.
Honda Brand Overview
Honda produced its first gardening power tool more than a half-century ago, and it continues to upgrade its product line with lawnmowers, trimmers, and tillers that are stacked with advanced features.
The brand's tillers are designed primarily for residential use, although some rear-tine models can also be effective in commercial settings. In addition, all Honda's tillers, regardless of their type, are equipped with powerful engines that allow the tool to move through hard soil.
The brand's models produce loam-grade soil in a single pass, even when you're breaking new ground due to the configuration of their tines.
Moreover, all tillers the brand currently offers come with adjustable depth bars that restrict forward motion and ensure smooth movement over hard patches of soil.
Honda has more than 2,000 dealerships in the United States, so you won't have too much trouble finding replacement parts for your tiller regardless of where in the country you live.
Browse through our guide to the best lawn equipment if you want to learn more about the tools you're going to need to keep your lawn in great condition.
Types of Honda Tillers
Tines on tillers are usually positioned on the tool's front or rear end. Models with tines located in the middle are not so common, but they offer the best of both worlds since they're easy to maneuver like front-tine tillers and provide plenty of power like rear-tine tillers.
Let's take a look at the types of tillers Honda offers.
Front-Tine Tillers
The brand currently offers just one tiller that has tines at its front end. This model is compact, lightweight, and easy to use. These tools don't offer a lot of tilling widths, which makes them suitable for small gardening tasks.
Mid-Tine Tillers
A powerful engine and a high degree of maneuverability are some of the key characteristics of mid-tine tillers. These tools are larger, heavier, and more powerful than front-tine tillers, but they're still primarily used for aerating or amending the soil.
Rear-Tine Tillers
In case you're searching for a tiller suitable for large projects, then rear-tine models are the right choice for you because they're larger and heavier than other types of tillers. You won't have a lot of options at your disposal because Honda has only one rear-tine tiller model.
Go through our cultivator vs tiller comparison to find out more about the differences between these tools.
Reasons to Choose a Honda Tiller
Besides the brand's reputation that vouches for the quality of all its products, getting a Honda tiller may make it easier to prepare your lawn and garden for the spring. All brand's models have powerful engines that can rotate tines at speeds up to 220rpm.
The durability of these tillers is yet another reason why they're so popular among homeowners since their components don't break down often. Moreover, Honda offers a limited lifetime tine warranty for some of its tiller models.
The brand produces tools that perform well in tight or vast spaces, so you can choose the option that best fits the requirements of your project. Controls on all models are easy to reach, which enables you to increase or decrease the throttle and move the tine adjustment lever effortlessly.
Read our guide to the best Ryobi cultivators to explore alternatives to Honda tillers.
Applications of Honda Tillers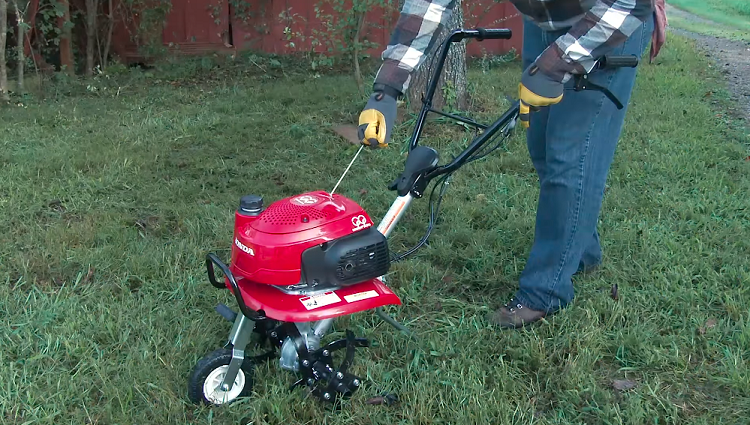 Tillers are versatile tools that can be used to edge a lawn, prepare an elevated flowerbed or aerate the soil. Honda's tillers don't perform equally well in all contexts, so a larger mid-tine model may not be a great choice if you want to till near plants.
On the other hand, a mini front-tine model shouldn't be your first choice if you want to aerate a large portion of your courtyard. The brand also manufactures a variety of accessories that allow you to perform activities such as thatching or digging.
These accessories are compatible with specific models and you cannot mount them on all brand's tillers. Hence, you must get a model that is compatible with an edger or a dethatcher if you want to use your tiller for either of these purposes.
Check out our Mantis tiller review for more information about this remarkably powerful tiller.
The Most Important Factors to Consider While Choosing a Honda Tiller
Contextual factors like the size of the tilling area or the soil composition are some of the primary concerns homeowners have while choosing a tiller. However, you also have to pay close attention to the tiller's features while trying to decide if it is a suitable option for you.
Checking the tiller's size and weight might be useful when trying to determine if the specific model is difficult to move or if it occupies a lot of storage space. Let's take a look at some of the factors that can assist you during the process of choosing a Honda tiller.
Engine Model and Power Output
All of the brand's tillers are equipped with Honda engines from the GX series that is highly regarded among landscaping professionals. These engines don't have the same power outputs, and consequently, the maximum tine speed these tools can offer depends on the engine a specific model uses.
Going through the engine's properties can help you determine if the tiller you're interested in is powerful enough to churn through the soil in your courtyard. Keep in mind that the fuel tank size also depends on the model, while the tool's maximum runtime depends on how much fuel it can hold.
Tilling Width
Tillers produced by Honda allow you to create rows that are between 9 and 26 inches wide in a single pass. Hence, the amount of time you're going to spend tilling your lawn or garden depends on the model's tilling width.
As a general rule of thumb, you should opt for wider models if you want to amend or aerate large areas or narrow models if you're planning to till in tight spaces or around objects you can't move. The maximum tilling depth on Honda's tillers is between 5 and 6 inches.
Tiller Type
Depending on where the tiller's tines are located, you can choose from front, mid, and rear tine Honda tillers. The front-tine models are lightweight, compact, and easy to move, but their tilling capacity is limited.
The brand's mid-tine models can till through different terrains because their engines are located directly above the tines, which improves their balance while moving over uneven surfaces. Tillers located at the back are best suited for heavy-duty tasks performed in large areas.
Vibration Level and Ease of Use
All controls on Honda's tillers are within arm's reach, and you can easily switch off the engine, adjust the throttle or tine height. Moreover, Honda GX engines generate only a moderate vibration, reducing hand fatigue during long tilling sessions.
Also, the low vibration level extends the engine's life and makes a tiller more durable. The maneuverability of these tools often depends on their size, so you should opt for one of the brand's smaller models if you need a tiller you can use in tight spaces.
Price and Warranty
The duration of the warranty period varies from 24 to 36 months, depending on the model you choose. What's more, some models come with a limited lifetime tine warranty that enables you to replace a tine if you break it.
The price of Honda's tillers spans from $400 to almost $3,000, which enables you to choose the option that best fits your budget.
The Advantages of Honda Tillers
Powerful and Fuel-Efficient Engines
All Honda tillers have 4-stroke GX-series engines that supply the tool with sufficient power to churn through different types of soils. What's more, you won't have to spend a lot of fuel during the tilling process since the fuel consumption of Honda's tillers is marginal.
Durable Components
Although they are aimed mostly for residential use, Honda's tillers feature commercial-grade components. The air filters or transmission systems on these tillers protect the engine and maximize its efficiency.
Smooth Motion Regardless of the Terrain
Brand's tillers come with an adjustable depth bar that limits the tool's forward motion and prevents it from skipping a portion of the soil. You don't need previous experience to adjust a depth bar or use any of Honda's tillers.
The Disadvantages of Honda Tillers
More Expensive Than its Competitors
The quality of the components and remarkable performance capabilities come at a steep price, so unless you're planning to use a tiller frequently, renting a Honda tiller is a more economical option.
Top 4 Honda Tillers
Honda FC600 – The Best Honda Tiller for Wide-Row Garden Layouts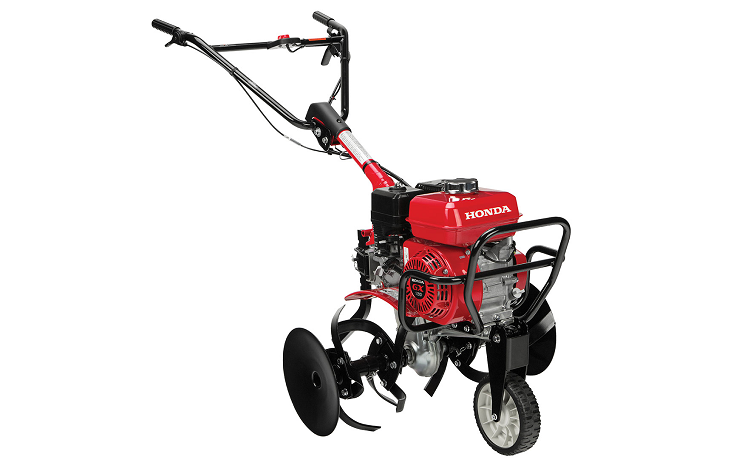 With the 26-inch tilling width and 13-inch tine diameter, the Honda FC600 is one of the brand's widest tillers. The tool's width allows you to create wide-row layouts in your garden or aerate the soil in large areas.
The FC600 is equipped with the OHV GX160 163cc displacement engine that features a dual-element air filter that protects it from dust particles. This tiller has a chain and gear transmission, but it only has a 1-forward transmission speed. The maximum speed at which the tool's tines can rotate is limited to 84rpm.
Pros
2.5qt fuel tank
Reinforced handlebars and engine bed
Low noise and vibration levels
3-year commercial and residential warranty
Cons
It doesn't perform well in tight spaces
This tiller weighs 128lbs
Honda FC220 – The Most Maneuverable Honda Tiller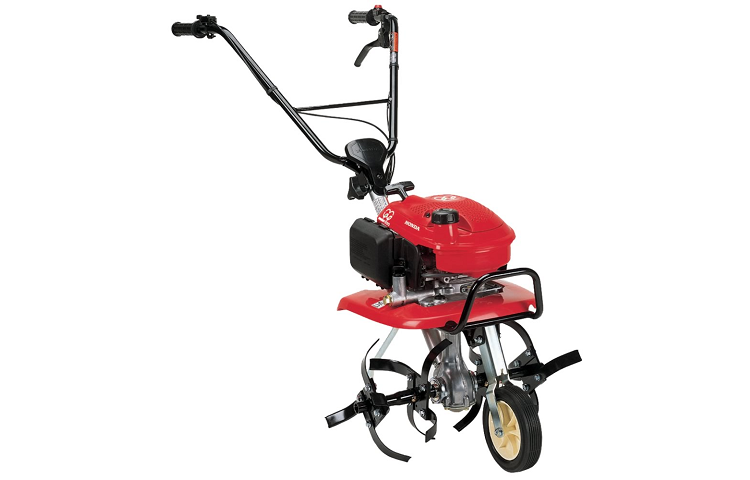 The option to remove outer tines and change the tilling width from 21-inches to 12-inches enables you to use the Honda FC220 in tight and open spaces. This model has a GXV57 57cc engine that can rotate tines at 138rpm at its full capacity.
The dry paper air filter keeps impurities away from the engine, while the adjustable depth bar allows you to control the tiller's speed and tilling depth. The FC220 has a gear drive transmission system and a 1-forward transmission speed.
This tiller weighs just 53lbs, and it features a retractable transport wheel that makes it easier to bring the tool to the location at which you want to use it.
Pros
Adjusting the tilling width is easy.
The handle can be set in three different positions
Compact and lightweight design
It doesn't need a lot of storage space
Cons
Not the best option for large projects
Air filters aren't reusable
Honda FG110 – The Best Honda Tiller for Gardening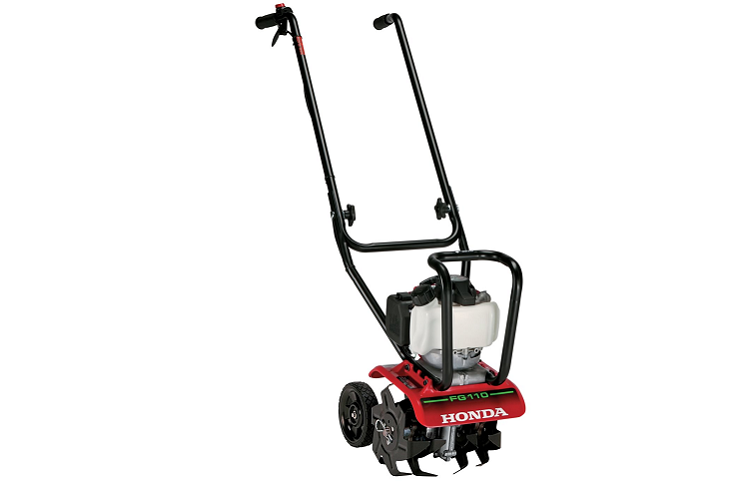 The Honda FG110 ships fully assembled, and you can start using it as soon as you unpack it. The model has foldable handles that reduce the amount of space it occupies when it's not in use and a pair of tires that enable you to move the tool smoothly while tilling.
The 4-stroke Honda GX25 engine can rotate the tool's 8-inch wide tines at the maximum speed of 294rpm. The tiller utilizes the worm gear transmission system, and it has just one transmission speed.
Optionally you can get a dethatcher, edger, aerator, and digging tines accessories if you want to extend the tiller's range of applications.
Pros
Controls are easy to reach
High tine speed
Low fuel consumption
Lifetime warranty on tine damage
Cons
Offers only 9-inches of tilling width
It doesn't perform well on hard soil
Honda FRC800 – The best Honda Tiller for Breaking New Ground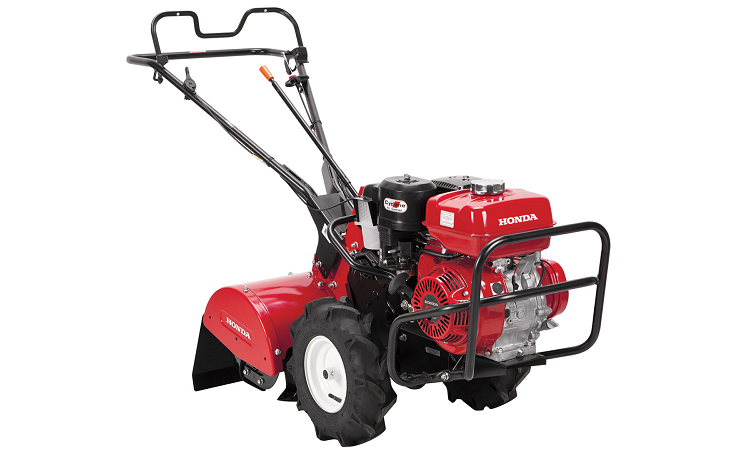 Even though it is designed for tilling large areas, the Honda FRC800 offers only 20 inches of tilling width. Despite this, the FRC800 is still the brand's most powerful tiller that churns through soil even under challenging conditions.
This Honda's model has a 4-stroke GX240, 270cc engine that can generate tine speeds of up to 225rpm. In addition, the FRC800 has 3-forward and 1-reverse speeds, which allows you to adjust its current tine speed to the task you're performing.
This tiller is equipped with side tine shields that allow you to use the tool near fences or other objects you keep in your backyard without any risk of damaging them.
Pros
Large fuel tank
Highly efficient dual-element cyclone air filter
4 handlebar height positions
The reverse lock-out feature prevents tines from moving in reverse
Cons
Heavy and difficult to maneuver
This model costs almost $3,000
Frequently Asked Questions About Honda Tillers
Question: What Type of Fuel do Honda Tillers Use?
Answer: All Honda tillers utilize gasoline engines that run on regular unleaded gas.
Question: How Long do Honda Tillers Last?
Answer: Tillers produced by Honda can last for more than a decade if maintained properly.
Question: How often do I have to change the oil on Honda tillers?
Answer: The frequency at which you have to replace oil on a Honda tiller depends on how often you're using the tool. You should change oil at least after every 50 hours of use.
Question: Can I Leave Gas in the Tiller's Fuel Tank?
Answer: Yes, you can, but you should keep in mind that the fuel might start to deteriorate even after two weeks in the tank. That's why it is best to avoid leaving gasoline in the tiler's fuel tank for more than a few days.
My Verdict: How to Know Which Honda Tiller is Right for You?
A powerful engine, easily accessible controls, adjustable handles, and sturdy tines are some of the characteristics a reliable tiller should have. Models produced by Honda are among the best on the market as they provide a perfect combination of convenience and tilling power.
I recommend choosing either the Honda FC220 or the Honda FC600 because they are easy to transport and maneuver, and at the same time, they perform well on challenging terrains.
A front-tine mini tiller like the Honda FG110 might be a good option for you if you need a tool that will enable you to prepare your garden for the spring season. Which Honda tiller are you going to choose?
Let me know in the comments or continue reading our Troy Bilt Super Bronco review if you're still considering alternatives to Honda tillers.