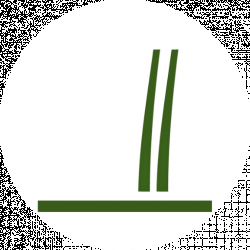 Latest posts by Turf and Till Team
(see all)
Ever used a Troy Bilt Super Bronco Tiller in your garden? Troy Bilt Super Bronco Tiller sources its power from the engine. Furthermore, it has pneumatic wheels that can rotate on any terrain without a challenge.
It has counter-rotating tines that move in the opposite direction of the wheels' motion. Keep reading to understand this product from a wider angle.
Troy Bilt Super Bronco Tiller Buying Guide 
When you lack adequate facts to aid your shopping for Troy Bilt Super Bronco Tiller, it can be stressful and confusing.
Proper research is a requirement from highly reliable sources; this article is inclusive. This section provides the buyer with unbiased and genuine information from a broader perspective before making a purchase decision. Here are specific elements that you cannot attempt to overlook: 
Power
The level of hardiness in soils may differ from one section to the next. Your engine will get through quite easily if the soil is soft.
However, if it is hard, then the machine can struggle to refine it to the desired level. Ensure your device has the capacity to handle all situations effortlessly. 
Investing your money into a device that can produce better results in hard and soft soils never hurts. A powerful engine can influence the spinning speed of the tine. As a result, a reliable engine allows you to complete your tasks within a short period.  
Tilling Width
Every user would want to do simple tasks by using a reliable lawn tiller. Such explains why you prefer a tiller to a hoe. In that regard, please pay attention to the tilling width as it determines the number of rounds you have to move to complete your work. 
Consider settling for larger tilling widths since they cover more space in a single run. If you settle for a tiller with a smaller tilling width, then be ready to make more runs in a similar field. In case your financial capacity is high, then we recommend that you go for a larger alternative. 
Torque
Torque is a critical area that depends upon gears and the engine. A more powerful engine is reliable to offer reliable torque.
You can check (cc) or displacement ratings as a way of determining the amount of torque to handle any torque. Nevertheless, different devices will get tasks done. However, power and torque determine the period you will consume to finish your assignments. 
Tilling Depth
Depth is another aspect that every potential buyer should never belittle. One should know how deep the tines can go and determine if that is right for you.
Another important factor is to know the different levels of depth a device can accommodate. Such a design allows one to toggle depth and cater to various seed types you wish to plant. For example, some seeds can perform well under a 3-inch depth while others prefer slightly deeper rows ranging to 6 inches. 
Dimensions and Weight 
Tillers are devices that operate by regular movements from the storage to the garden. As such, it does not harm if the appliance is lightweight.
In the same vein, dimensions affect the tilling width. Nevertheless, if the lawn equipment has larger dimensions, then it implies that one must set aside more space to accommodate its size when storing.
Handles
You can operate a tiller with either one or two hands. Some options support a two-handed grip. However, comfort comes into play as you might be using such a tiller for a longer time.
We advise that you settle for the one with ergonomic grips to enhance comfort when using it for whatever period. 
Tiller Wheels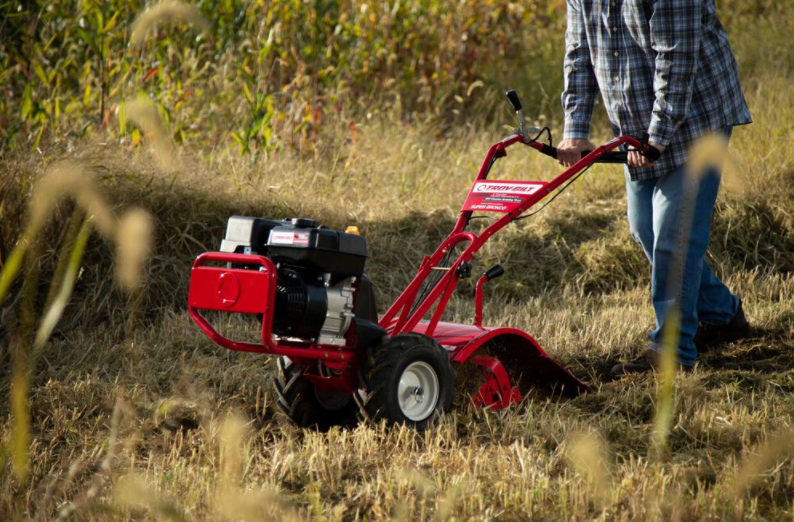 The Tiller wheel should be sizable and offer good traction to facilitate effortless movement. For our case, go for pneumatic wheels, airless and durable to withstand any mechanical stresses in your garden.
Furthermore, they should offer a higher sense of maneuverability in tight gardens.
Tine Rotational Style
Bronco is a powerful device that supports a counter-rotational style. As such, it means that the tines move in the opposite direction against the wheel and enable the tiller to dig deeper and faster. Such a design makes it suitable for working in hard-packed soils under challenging conditions.
Counterweight
It can be enjoyable if your tool remains balanced whenever you use it. In that regard, you require a counterweight feature to overcome any jerking or any unnecessary movements when using the device. 
Durability
The lifespan of any tiller machine depends upon the type of materials used for construction. Troy Bilt Super Bronco Tiller enjoys high-quality carbon steel to promote strength and stability.
Such corrosive and rust-resistant materials will not wear out easily; hence serve you for a longer duration before performing any repairs or replacement. 
Warranty
Ensure you read and understand the terms in the manufacturer's warranty. For this option, it has a 2-year limited warranty. Unluckily, it cannot be ideal for commercial use since it has a 90-day coverage. 
Review of Troy Bilt Super Bronco Tiller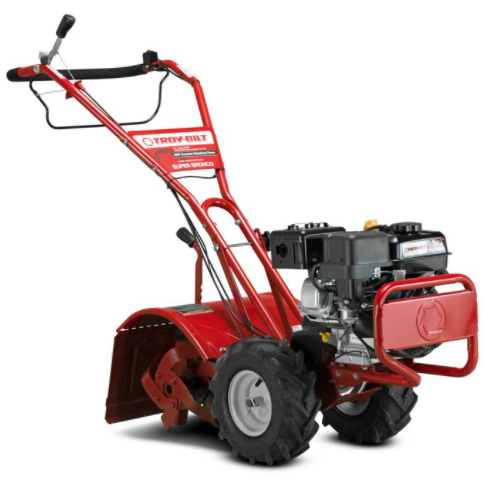 Troy Bilt Super bronco tiller consists of an efficient mechanism to breakdown hard-packed soils. Boasting of 16-inch tilling width, Bronco remains a suitable option for large gardens.
A 208 cc engine is reliable to offer enough power for turning over large chunks of soil. With a well-balanced design, one can guide it literally with a single hand. 
This device has an elaborate gear transmission system featuring one forward speed to assist the tiller in the proper movement of the soil.
Remarkably, there is a reverse gear for handling around uneven terrain effortlessly. For greater flexibility, the designer made it with a one-inch handle. 
Finally, there are 13-inch pneumatic tires with enhanced traction to ensure stability. One can use this tiller to prepare areas for seeding or mixing compost into your soil. 
Specifications of Troy Bilt Super Bronco Tiller
Displacement: 208cc

Shields: Rear Tine shield

Grips: Foam grip

Shipping weight: 170 pounds

Wheels: Pneumatic (11 inches by 4 inches) 

Warranty: 2-year limited warranty

Tine Rotation direction: Counter-rotating 

Starter type: Recoil starter 

Tilling width: 16 inches

Tilling depth: 6 inches

Oil: 20oz 10W30

Speed: One forward/one reverse

Bumper: N/A

Transmission: Cast iron

Handle: Adjustable loop
Features
208cc* Troy-Bilt engine

14 inches tilling width

10 inches tine diameter

Counter-rotating tines for greater control and easy use

13 inches AG tires for greater maneuverability

2-year limited warranty
Pros
Greater power with counter-rotating tines to breakthrough hard-packed soils easily

Wider one-inch handles offer greater stability

14-inch tilling width is suitable for any garden size 

13-inch pneumatic tires enhance stability and good traction

208cc engine offers adequate power to turn large amounts of soil
Cons
Tires struggle on a wet ground

Reported case of tires tending to slip out of the rim

Requires a large storage space 
Best Alternative for Troy Bilt Super Bronco Tiller 
Troy-Bilt Pony Tine Tiller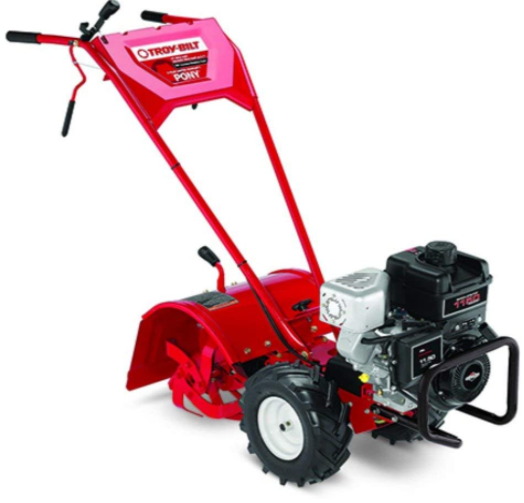 It is another Troy machine that offers variable features to remain a great competitor to Troy Bilt Super Bronco tiller. This option provides a 250cc engine for heavy-duty performance by supplying enough power for your tines to efficiently prepare garden soils. Although it has a 16-inch tilling width, this tiller offers an extended tilling depth of up to 7 inches. 
Another issue that you can expect from this tiller is one forward speed option with a power reverse option. Its engine uses an electric start, which happens to be less strenuous than a recoil option. This electric start helps your engine to start as you begin your lawn job effortlessly. 
Finally, this product has forward rotated 12-inch tines to help in slicing and turning the ground. It also has durable 13-inch AG wheels plus an installed bumper for smoother operations. 
Specifications
250 cc displacement

12-inch tilling diameter 

16-inch tilling width 

13-inch AG pneumatic tires 

Two-year limited warranty and a lifetime warranty on transmission

Protective front bumper

One forward speed

Standard electric start
Pros
Electric start ensures effortless engine cranking before beginning your tasks

Protective front bumper assists in preventing projectiles from power hence enhancing personal safety

A powerful engine that is reliable for tilling and soil preparations in different seasons

Durable 13-ich AG pneumatic wheels provide good traction and stability during your tilling actions

16-inch tilling width ensures that you cover few runs before your complete your tasks than smaller options
Cons
One backward speed and one forward momentum tends to be a little overwhelming

Tilling width is relatively small 

Highly-priced that similar models
Champion 100380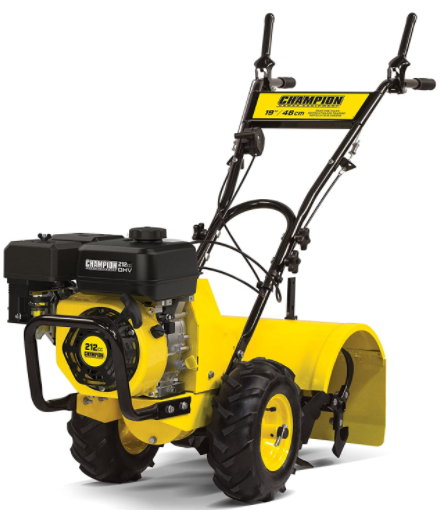 The Champion 100380 stands out from other tillers as it has self-propelled wheels that can move on uneven terrain easily.
As a result, many users find it a breeze to use since one can accomplish more in a short period. A 212cc engine gives impressive power to facilitate all your operations. 
This tiller is under the control of a recoil starter and a gear-driven system that complements its engine's efforts. With a 19 inch tilling width, you can manage a few runs on your garden before completing your tasks. 
This tiller boasts four heavy-duty 13.5 inch hardened steel tines featuring dual-rotation tilling to tackle the toughest soil conditions effortlessly. This device enjoys the certifications of EPA, and it is compliant with CARB. Another additional benefit that comes with this package is a two-year warranty. 
Specification
212cc engine displacement

19-inch tilling width 

8-inch tilling width

13-inch self-propelled with 

2-year limited warranty

Gear-driven transmission

CRAB compliant and EPA certified

Recoil starter

Low oil shut-off sensor

Holds 0.9 gallons of gasoline 

0.6-quart oil capacity

Easy- to-adjust depth gauge 
Pros 
Extended tilling width ensures that you cover more space at ago and reduce the number of runs while tilling your garden

Self-propelled wheels allow one to walk behind and give direction making this device to be user-friendly

Powered by a reliable 212cc four-stroke engine with gear-driven transmission to offer an exceptional service

Heavy-duty hardened steel tines have dual rotational tilling to handle the toughest soil condition with little effort

An ergonomic handle with a soft grip provides a high sense of comfort as you use them for a longer period. 
Cons
Tires tend to break rim beads during shaper turns 

A limited 2-year warranty does not cover certain aspects 
Troy-Bilt Horse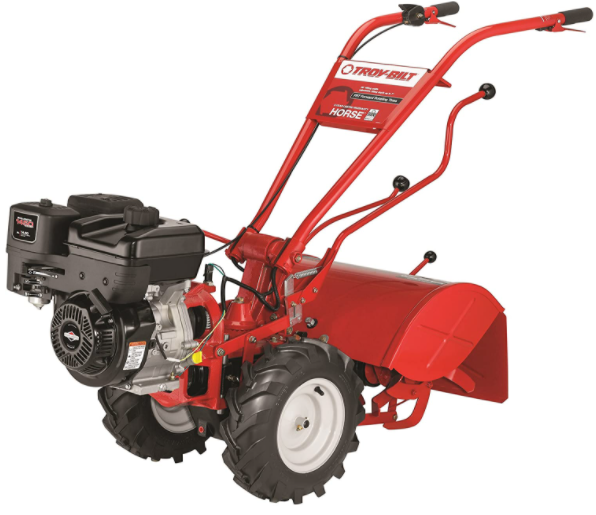 Troy-Bilt Horse is a customizable tool that accepts optional adjustments to serve different purposes. However, it can still perform optimally on its basic functions.
It uses a 306cc engine, which supplies plenty of power to serve your garden weekly. Additionally, this product has a recoil starter, which prompts you to do a little tug before starting. 
This device has large wheels necessary to handle rough terrain easily. At 20 inch tilling width, it can cover large areas to perform few runs while tilling your plot. This tool can still achieve a 7-inch depth to overturn complex solid particles and break them into a usable form. 
Speed is a critical thing that one must get excited about. For example, there is a setting to select the types of speed of the kind of soil.
Furthermore, it has shields to protect the user from any items that come from the ground to compromise your safety. Typically, it is an easily operate machine that supports the one-hand operation. 
Specification
16-inch tilling width

7-inch tilling depth

Forward rotating 12 inches Bono tines 

13 inches by 5 inches wheels

Two-year limited warranty and a lifetime transmission

Protective front bumper

Seven tilling speeds

Standard electric start 

One-hand operation

306 cc Troy-Bilt engine
Pros
Large, durable wheels with great traction to run on the uneven surface easily

Wide tilling capacity ensures that you complete your assignments in due time 

Powerful engines provide enough energy to serve other systems efficiently

Variable tilling height accommodates different needs of seeds

Seven different tilling speeds to suit your preferences 
Cons
Has wide dimensions hence consuming a lot of storage space

This device is slightly costly in our list
EARTHQUAKE Victory Tiller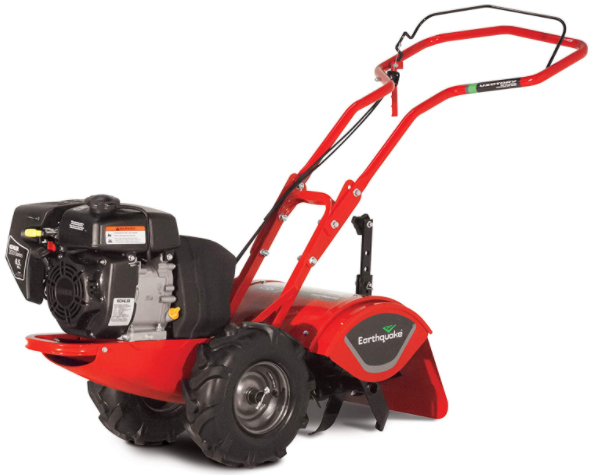 Earthquake is a super product that promotes one-hand operations, although two-hand functions give you much stability.
This product outperforms other alternatives with regards to tilling depths. One of its downsides is that it uses a 196cc capacity engine, which slows its performance, unlike other models in this write-up. 
One positive aspect concerning this tiller is it uses airless wheels. One does not need to worry about threats of puncturing and inflating them. With two available speed controls, you can apply them according to your needs. 
Nevertheless, this tiller is still reliable to use in small gardens. It comes with a price advantage, although one must top it up to get additional accessories to improve its functionality. Engine features enjoy a two-year warranty, while other parts attract a five-year warranty. 
Specifications
196cc engine displacement

16-inch tilling width

10-inch tilling depth

Counter-rotating tines 

13.5 inches by 5.4 inches width

Five-year warranty on the product and a two-year limited warranty on the engine

Single hands control through sod

Airless wheels 

Two speeds

Bronze gear drive transmission
Pros
Durable airless tires give one the convenience of overcoming general challenges such as punctures

Allows one to operate it with a single hand beside its reliable capacity to till your garden efficiently

Ergonomic handle provides balance and stability as you maneuver in different rows

Durable material construction involving cast iron plus a bronze gear drive transmission

A five-year warranty of most components and a two-year warranty on the engine
Cons
Although the engine is high-quality, some components may give out similar quality

Has the smallest engine capacity with limited power
FAQs 
Question: Are Troy Bilt Super Bronco Tillers worth? 
Answer: Yes, Troy Bilt Super broncos offer superior quality and exceptional performance in your garden. They have great features, such as a powerful engine to supply energy to different parts. A wider tilling to cover more space for a single run. Durable pneumatic wheels that cruise uneven surfaces without breaking. 
Question: How can I locate the model number on my Troy Bilt Super bronco tiller? 
Answer: You can spot the model number on the tine housing. Normally, the model number starts with 21. If unsure about it, it is vital to consult the supplier to indicate it before purchasing. 
Question: Which kind of oil does a Troy Tiller accommodate?
Answer: You can fill it with a top-quality SAE 10W-30 oil with an SJ API rating. Such oil keeps it running for peak performance at any temperature and prevents any damages when there are deficiencies. 
Question: How do I tell the manufacturing year of my Troy Bilt Tiller? 
Answer: The date code is usually eight digits long. The last two numbers indicate the last two digits of the year. For example, 99 means that 1999. The next two numbers show the month that the manufacturer developed it. For instance, 06 means June. 
Conclusion
Troy Bilt Super Bronco tiller is a dependable product to meet your lawn needs. Having a 16-inch tilling width makes it suitable for any size garden.
A 208cc engine provides plenty of power for turning large amounts of soil. The power reverse feature allows for flexible handling around rocks and different obstacles.