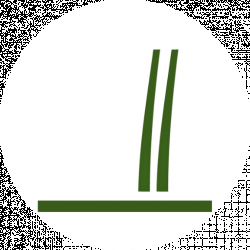 Latest posts by Turf and Till Team
(see all)
Are you looking for the best flail mower for a compact tractor? A flail mower is such a useful tool when it comes to doing agriculture.
As compact tractors tend to be versatile, they are mostly used by farmers, estate owners, and landscapers to work on large, tough pieces of ground. With this tool, you can deal with tough heavy grass or shrubs by utilizing the Power Take-Off system of a compact Tractor. 
In fact, there are several things you ought to know before you decide on buying one. In this article, we will be giving you every detail concerning the best flail mowers to facilitate informed decision making. However, before embarking on some of the best flail mowers for a compact tractor, let's look at some of the factors to consider.
Factors To Consider When Picking A Flail Mower For A Compact Tractor
It is essential to keep in mind that standard PTO tractor mounted flail mowers are designed to be located behind the tractor and use less than 40 PTO to perform their tasks.
They come in various designs and sizes; hence you should consider the following factors when choosing the right flail mower.
Standard or offset flail mowers 
Standard Flail Mowers usually come attached at the behind center of a tractor while an offset flail mower is positioned off-center.
This means that the difference between the two is seen in the offset flail mower's ability to access the hard to reach places while still being towed behind a tractor.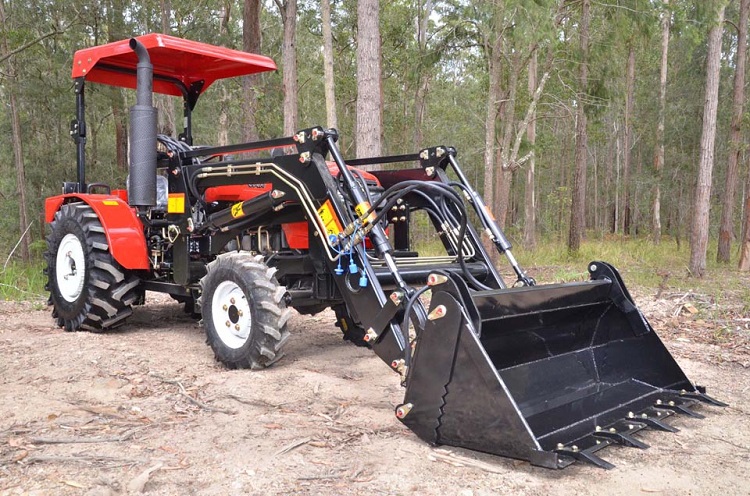 On the other hand, the standard flail is incapable of being this flexible due to its rigid position. Therefore, when focusing on clearing inaccessible areas, it is advisable to go for offset flail mowers. 
Clearance  
If you plan to clear tough grass and short shrubs in your farm or garden, go for smaller mowers with a width range of between 47 -60 inches. However, large pieces of ground, such as a real estate job site, a wider flail mower will be suitable for maximum efficiency.
Knife count
This refers to the number of blades on a flail mower. Should you be planning to use your flail mower for mulching and leave no remains for clean-up, choose a mower with a high knife-count.
When cutting thick grass, a small knife count flail can get the job done effectively. However, a higher knife count will be required for tall vegetation to speed up the cutting process and reduce the wearing out of knives due to overuse.  
The weight of the flail blade 
The weight of the flail blade will affect the speed of operation hence an essential factor when picking a flail mower. For tasks that require a high-speed operation, a lighter flail mower is the best choice as it is easy to operate.
However, should you try to use the same mower on ground conditions, you will notice that the mower tends to strain and be unstable. Hence, go for heavier mowers should you be working on rough terrains. 
Operator safety
An important aspect to check also is the safety the machine guarantees when performing tasks. An offset flail mower is considered safe to use in ditches, slopes, and hills. It minimizes the chances of the attachment getting stuck somewhere and destabilizing the wheels, which can result in a rollover.
The Best Flail Mower For Compact Tractors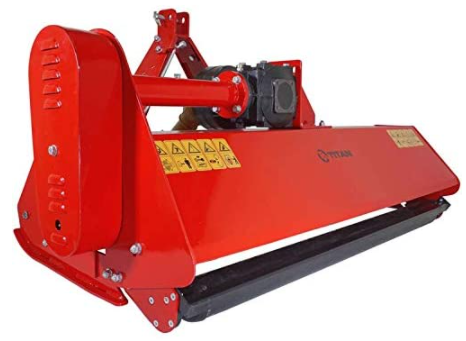 The Titan 72″ is not only the best flail mower because of its large width but also its beastly power that sets it apart from its other counterparts when it comes to undertaking challenging tasks. Powered by a 50HP tractor, running on a three belt power transmission, this machine is a real powerhouse.
The solid and sharp hammer flails give an excellent finish cut to any grass. Additionally, the Titan 72″ comes with a 16″ offset slide that makes cutting near tree-lines, roadsides, and ditches safe with a tractor. 
The Titan flail mower also has reversible Y-blades that can be flipped around should one side become dull, saving on sharpening time.
The reverse rotor rotation also enables the drum to spin in the opposite direction of the tractor wheels, allowing the blades to sheer vegetation right off and finely chop any residual grass.
The mower uses a category one 3-point hitch and is powered by a PTO shaft with a heavy-duty gearbox. The whole system works efficiently to ensure that there is a smooth performance even in rough and challenging terrain.
Titan 72 Specs 
540 rpm PTO Turning Speed 

Forged hammer flails

Category 1hitch

16 inches of slide distance (8″ in either direction -left and right )

3point Offset hitch mount

72″ working width

14″blade swing

45-55HP power requirements 

701 lbs in weight
Titan 72 Pros 
Very powerful and easy to use

Dealers have very responsive customer care 

Its enclosed body protects the blades from dust and debris build-up

The forged harmed flails perform maximum mulching hence solving all your mowing problems
Titan 72 Cons
Very heavy hence cannot be moved around without mechanical assistance should there be a breakdown.
2. Titan 48″3Point Flail Mower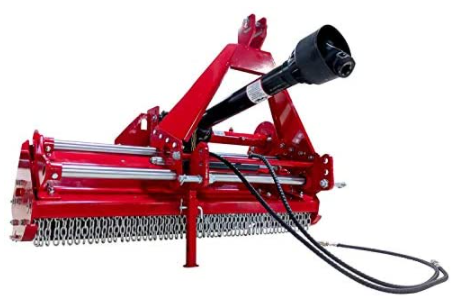 Even though this flail mower comes in a smaller size compared to the 72″Titan, its updated version is very affordable and performs tasks incredibly.
The Titan 48″ is truly a beast with a hydraulic side shift and a full 6′ cutting width. Another impressive feature of this Titan flail is its 16″ hydraulic slide offset that allows mowing under fences and hard to reach areas. It also has a remarkable non -slip 3belt power transmission system. 
With the help of a 50 HP tractor and a PTI connection, powering through 3″ thick thickets is as far as ABC for the Titan 48″. A very easy to set up 3point category one connection also makes it the right choice for new users. 
Titan 48 Specs
30-40 HP tractor power 

48″ working width 

593 lbs in weight 

3point Cat 1 Hitch PTO connection 
Titan 48 Pros
The lightweight of this flail mower makes it fast hence efficient in performance.

Retailing at $2099, the product is relatively affordable to new buyers 
Titan 48 Cons
Its small width makes it unsuitable for use with large tracts of land as one has to go for many trips to get work done, especially when mowing grass
3. Nova Tractor ATV Pull Behind Flail Mower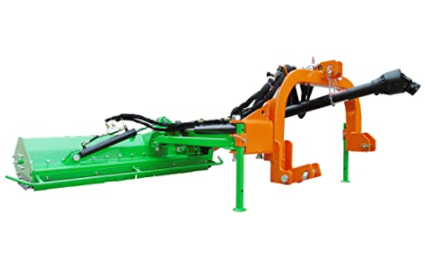 This Flail Mower does not require any PTO connection hence always referred to as the stand-alone Nova Tractor ATV. It is gas-powered and can be used with an ATV or a truck.
Hooking it up is very simple since it lacks the usual 3 point connections. Therefore, this model proves to be powerful and quite reliable.
Having a 57″ working width, it functions best in both small and big yards. It uses the Briggs & Stratton XR2100 engine, which transmits excellent power to ensure all bushes and grass is destroyed. The biggest perk of purchasing this mower is the flexibility it comes with.
That is, allowing one to use even without having a tractor. Using a three belt drive system coupled with an impressively performing clutch, 100% of the power is evenly distributed to the flail shaft. A non-slip technology is also applied to the system to prevent incidents of power loss.
Nova Tractor ATV Specs
3200 RPM speed

580 pounds in weight

420cc Briggs & Stratton engine

1.725 gallons of fuel capacity
Nova Tractor ATV Pros 
Very easy to clean and maintain

With proper maintenance, this flail is extra durable

It can be used without connecting to a tractor

It is a perfect choice for cutting long grass due to its high cutting speed
Nova Tractor ATV Cons
Can be quite heavy if you decide to carry it when in use
4. Farmer Helper 60″ Field Flail Mower 20 HP FH-EF155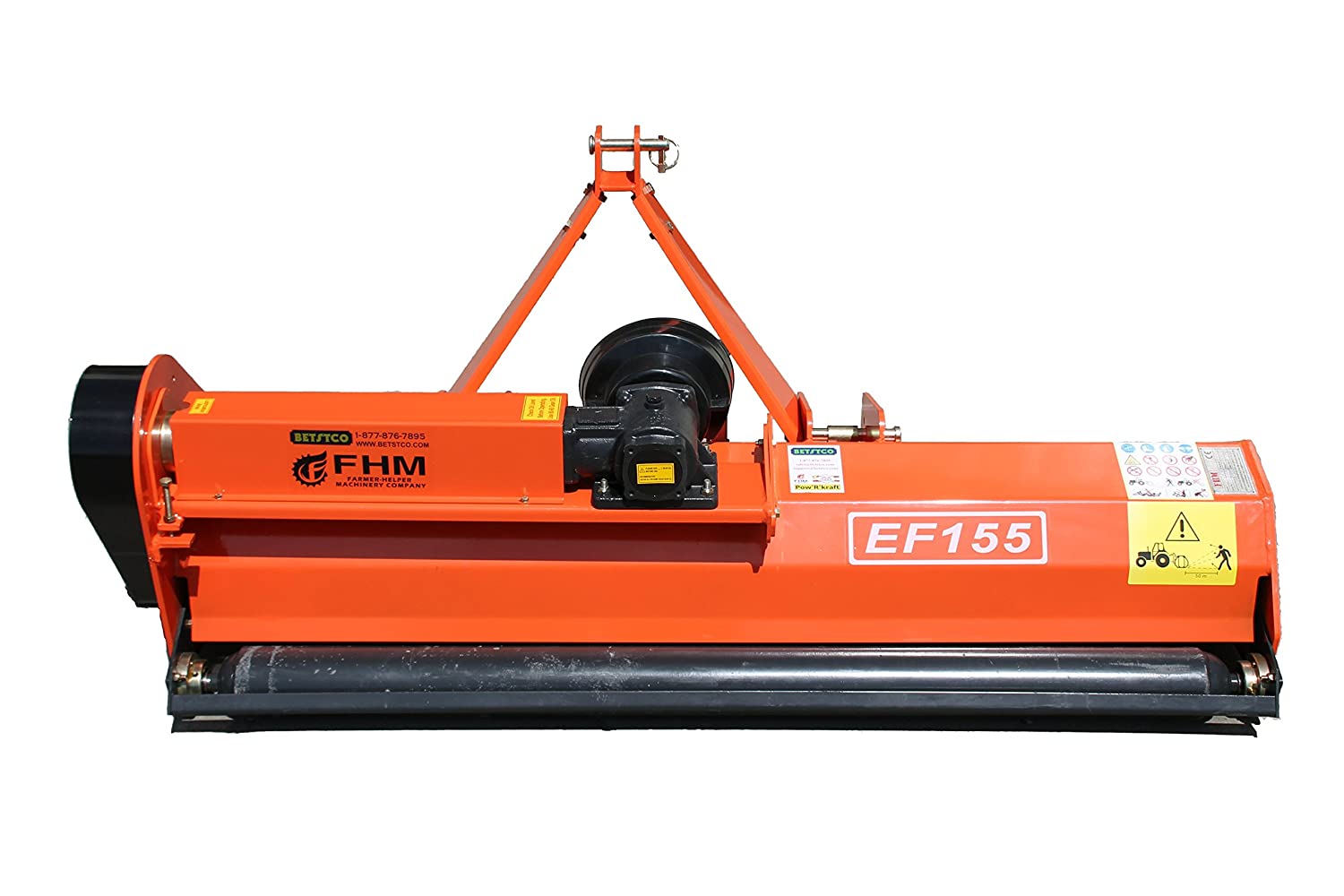 The Farmer Helper Mower has a 60″ working width and hence the name. This mower is quite affordable and assures durability as the year's pass.
Its lightweight design makes it suitable for small acreage, and even though it doesn't cut cleans as a rotary mower. Its 54Y blades last longer than a rotary, hence providing a long-lasting solution for all your mowing solutions on small areas.
A downside aspect of this mower is that it is not adequately built for use in large fields. The greatest perk of this mower on the other hand is pocket friendly especially if you are not looking to spend a lot on mowing machines.
It is also built to last hence sparing you the cost of going back to the market for a replacement. Just like other models, it also offers an adjustable cutting height which varies from 0" to 6". For safety purposes, it is advisable to take the fail higher when working on uneven ground. 
Farmer Helper EF155 Specs 
60″working width

527 lbs in weight

Reversible Y-blades

28-45 HP power

PTO attachment system
Farmer Helper EF155 Pros
Very cost-effective

Lightweight hence simple to maneuver.

Very suitable for residential use.

Steel plate body enhances its strength and durability

Easy to inspect and clean under the mower hence allowing easy maintenance

Reversible allow continual use by just flipping after one side has worn out.
Farmer Helper EF155 Cons 
Long assembling process 

Cannot be used as an ATV flail mower
5. Farmer Helper 60″ 28HP FH-EF175

This model is light-duty equipment suitable for mowing over thick grass, small saplings, and bushes with optimum ease. Therefore, it is ideal for use on road edges and medium-density fields.
It consists of reversible ultra-sharp Y flails offering an excellent finish cut. It also offers a wide range of cutting heights, adjustable between 0″ and 6″. This means you can use it to cut tall bushes and bring them down to slash short grass.
The EF 175 reverse spin motor enables easy grass shearing and back toss over the drum for enhanced cutting. Apart from its well-built features, the machine is also cost-effective, being a Chinese product. 
Farmer Helper EF175 Specs 
60″ working width 

28-48 HP tractor power 

PTO attachment system 

3-point Category 1 hitch mount 

500lbs in weight 
Farmer Helper EF175 Pros
A great choice of entry-level flail

Cost-effective 

A very sturdy and stable body 

It helps to avoid excessive grass tearing hence maintains a good lawn appearance 
Farmer Helper EF175 Cons
Not very suitable for heavy-duty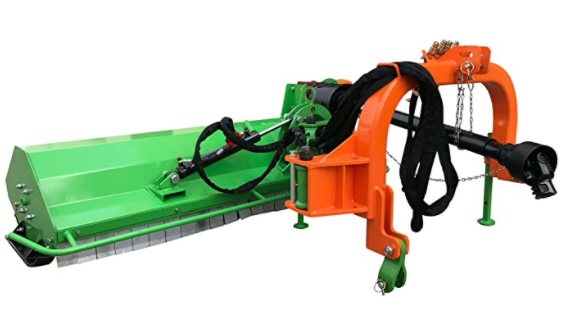 This mower is best suited for hills, fence hedges due to its ability to mow 60 degrees and 90 degrees. It has a 43″ hydraulic side shift, which allows it to access tough spots while still maintaining the safety of the tractor. 
When using a 60 HP tractor, it is witnessed to give spectacular results. Another amazing trait of this medium duty mower is its ability to traverse through weeds, saplings, and bushes with great ease.
In addition to the perks that come with the Novo Tractor68", we find the debris flaps under the flail mower acting as a cover against escaping rocks hence minimizing noise level.
Normally, the PTO shaft spins at 540 RPMs. However, when attached to the power take-off shaft, the shaft spins at 2200 RPMs.
This middle Duty Ditch Bank Flail Mower is made of a powdered tough steel frame which enables it to be resistant to any weather hence can handle the toughest of conditions, proving its durability.
Nova Tractor 68 Specs 
540rpms PTO shaft

4:1 transmission ratio 

68″ working width 

45-60HP tractor power

Skid plates

Heavy-duty hammer flails 
Nova Tractor 68 Pros
Has debris flaps on its bottom to reduce noise by preventing escaping rocks from hitting the blades. 

No stalling or locking up at all.

A built-in hydraulic offset system 
Nova Tractor 68 Cons
Has a lot of assembling work

The cuts achieved by this mower are not as good as those of Y- Y-shaped mower blades
7. Farmer Helper Flail Mower 33″ 15HP FH-EF85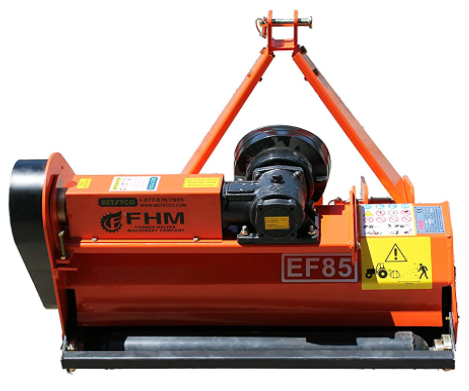 This is a budget-friendly flail mower that comes with a smaller width than other models, saving both on purchase and storage costs. It has a solid cutting shaft and 30 long-lasting Y blades that are embedded in overlapping positions making slashing shrubs effortless and preventing grass stragglers.
It is therefore suitable for weeding on the farm.  This mower is also equipped with a shear bolt PTO shaft which uses a standard spline PTO commonly found in many lightweight tractors.
The mower is equipped with both a 3 point category 1 connection and two right offset points. For this cheap model, it is very unlikely to find a hydraulic offset as is seen in the other models. Therefore, be ready to sweat when working with this mower as it requires manual labor to perform tasks.
The blades can be reached through a handy back opening which facilitates maintenance and also presents an exit for debris when cutting.
It is also worth noting that the mower`s blades are completely reversible and are made of hardened steel that is sharpenable hence can always be returned to their original sharpness after every mowing session. Weighing only285 pounds the Mower 33" can be moved or rotated manually towards the preferred direction.
Farmer Helper EF85 Specs
33″working width 

285 pounds of weight

30Y flails

3-point category one connection 
Farmer Helper EF85 Pros
Very cost-efficient 

Durable 

Fully reversible Y shaped blades that are sharpened.

Very simple to maintain.

A lightweight body that makes it easy to move towards different directions manually.
Farmer Helper EF85 Cons 
Not easy to assemble 

Not suitable for heavy-duty performance 

Light and unstable in bad terrain 
If you are looking for a better-finished cut than the brush mower, the EF series flail mower is the real deal. It is a weed and a grass mower that provides a smooth and better finish than a brush mower but not like the rotary mower.
You will find it most useful to cut grass on uneven ground, high grass, weeds, brush (as a brush cutter), and small saplings. This flair mower model is better suited for acreage not exceeding ten acres.
Notably, this model will not throw grass but instead cuts finely and leaves the cutting on the ground, making it the best option in situations where you could cause damage by throwing debris all over.
The EF 175 requires at least a 24-25 PTO horsepower, an overall width of 72 inches, a cutting width of 68 inches, Weight of 527 lbs. It also uses standard reversible Y-shaped blades.
These blades are staggered, leaving no gap in the mowing area, helping in achieving even cutting results. It has a hinged rear gate that allows for easy inspection, cleaning, blade changing, and general maintenance of the machine.
Farmer Helper EF175 Features
Reversible Y shaped blades with precise blade overlap

Three-point connection with two right offset positions

PTO driven

It comes with the standard 3 Pt category
Farmer Helper EF175 Pros
The blades get special testing before they are released in the market to ensure their quality is not compromised.

The powder paints used on the frame of the mower gives it a water-proof and damp-proof quality

Durable and long-lasting due to the reducing effects of wear and tear

Easy and flexible height adjustments abilities
Farmer Helper EF175 Cons
Its lightweight body cannot allow it to mow in rough and thick bushes as the risk of getting stuck in thickets.
FAQs
Question: Which is the best working width for flail mowers? 
Answer: It is advisable to go for a small working width if you work on an area with tight corners and slopes. However, if you are working on large patches of fields, bigger working width is suitable for maximum efficiency.
Question: How can you ensure proper maintenance of your Flail mower? 
Answer: Always make sure the oil in the gearbox is full at least once every 3months a year.  Service it frequently if it is a heavy-duty flail mower. Also, remember to grease rotating components regularly. 
Question: Can you cut hay with a flail mower?
Answer: Yes, a flail mower sometimes is used to cut hay for quicker drying. With a sickle bar or even disc mower, you'll do a much better job. However, it is a challenge to type, keeping the hog blades sharp as the heavy blades hack the hay and knock off leaves, and it produces short pieces of hay one may find difficult to rake or bale.
Question: How much horsepower does it take to run a flail mower?
Answer: Flail mowers mounted on most PTO tractors require a minimum of 20 to 60 HP, considering the mower's size. One more thing to consider is the mower's width that can range approximately from 47 inches on smaller mowers to 83 inches wide on the larger mowers.
Question: Is a flail mower better than a brush hog?
Answer: Both a flail mower and a brush hog do a considerable great job. However, brush hog is quicker compared to flail mower in cutting weeds and tall grass.
Question: What is the difference between a flail mower and a mulcher?
Answer: A flail mower is used to maintain the places you would otherwise bush hog with a rotary mower whilst a mulcher is commonly used to clean areas with good-sized trees or stumps.
Question: How durable are flail mowers? 
Answer: As long as you maintain your machine well, it can last you up to 20 years or even more. 
Recommendation 
Out of that list we have provided above, one flail mower that really stands out from the rest is the Titan 72″. The facts that make it stand includes its large width, its beastly power that sets it apart from its other counterparts.
When it comes to undertaking challenging tasks, a 50 HP tractor running on a three belt power transmission, the solid and sharp hammer flails giving it an excellent finish cut to any grass.
The 16″ offset slide makes cutting near tree-lines, roadsides, and ditches safe. The reversible Y-blades that can be flipped around should one side become dull, saving on sharpening time and the reverse rotor rotation that enables the drum to spin in the opposite direction of the tractor wheels, allowing the blades to sheer vegetation right off and finely chop any residual grass.
However, if you are shopping on a budget, The Farmer Helper Flail Mower will be a better choice.
Conclusion: Finding the Best Flail Mower for Compact Tractors
A flail mower is a machine worth investing in should you be a full-time frame or even a real estate property developer.
Even for your regular large scale mowing, this equipment comes in handy to give you an excellent finish cut on that overgrown lawn and clear weeds.
The choice you make when buying a flail mower depends on the terrain, area of work, the cost of purchasing, the size of the working width, the type of the Flail mower in terms of a standard offset model, and other individual preferences. 
Further Reading on Mowing Equipment & Tractor Attachments: