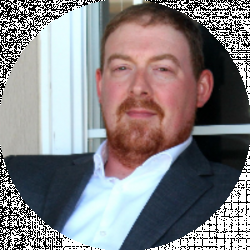 Latest posts by Justin Caldwell
(see all)
Not all yards are the same, which means not everyone needs the same mower. For example, if someone owns a few acres of land, they would look pretty silly mowing it with a push mower.
On the flip side, someone mowing their lawn in the suburbs might get some strange looks if they're using a big riding mower to get the job done.
If you're in the market for a new mower, it's important to know what features you need. While features you want are important, they're as critical as what you need to have to get your lawn mowed quickly and efficiently. Fortunately for you, we've created a guide to help you choose the right mower.
What to Look For in a Mower
There's plenty to consider before you buy a new mower. We're going to go through them, one by one. Some you may consider must-haves while others might be nice-to-have. Either way, it's a good idea to know what you want before you head to the closest dealer and buy the first shiny mower you see.
Push or Ride?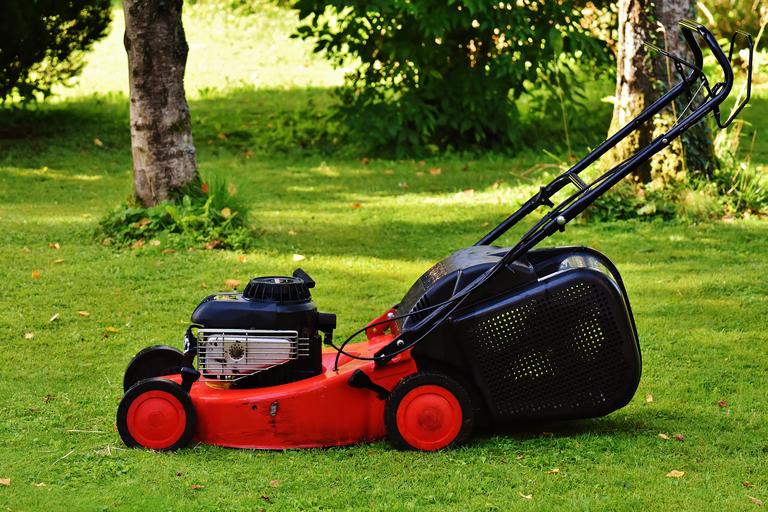 One of the first decisions you'll need to make is whether you want a walk-behind mower or one that you ride. If you live in the suburbs, you probably want a walk-behind unless you own more than a quarter of an acre. If you own a larger lot than that, you'll want a riding lawn mower so it doesn't take you half a day to get your lawn mowed.
For the most part, you'll be hard-pressed to find someone who is willing to cut more than ¼ of an acre with a push behind. I mean, would you?
But maybe your yard falls on the border between a push mower and a riding mower. If that's the case, maybe a better question would be, how much time do you want to spend mowing your lawn each week? Make your decision accordingly.
If you do own a larger lawn, you'll probably want a riding mower to get the job one. However, once you get up past two acres, you'll want to invest in a heavy-duty mower. For those lawns under two acres, a light-duty or zero-turn mower should get the job done.
Push mowers
Let's start with push mowers, since they offer a wide range of options, much in the same way that cars offer plenty of choices and features.
You're going to want to look for different features in your push mower then you will with a riding mower, so let's break down all the major components you'll want to consider before making your purchase.
Front and wheel-rear drive
Think about it like this, you can put forth the effort of pushing the mower, or you can let the mower push itself. Self-propelled mowers make things a lot easier when you have to mow hills or when you're bagging.
If you do have a lot of hills, you'll be thankful you bought yourself a self-propelled mower when you're going uphill in the middle of the summer.
Mowers with front-wheel drive are ideal if your lawn is mostly level. With this type of mower, you'll be able to quickly zip around your yard, easily avoid obstacles, and pivot in and out of corners.
There are plenty of options when it comes to front-wheel-drive mowers. Some people like the Yard Machine, while others might go with a Troy-Bilt. These are solid and reliable mowers that are simple to use.
Back-wheel drive mowers are perfect if your lawn requires sidehill or uphill mowing. These are best for hilly yards since the tires won't lose traction when you're pushing the mower up the hill. There are plenty of back-wheel drive mowers on the market, ranging from simple and easy to more complex and feature-rich.
One type of push mower that doesn't get a lot of attention is an all-wheel-drive mower. These are great for yards that have steep hills or rough ground. If this is you, you'll be surprised at how much easier an all-wheel-drive mower makes cutting your lawn.
Husqvarna makes some great AWD mowers that have plenty of power for addressing even the most rugged terrain.
Functionality
When I say functionality, I mean what does the mower do with the grass once it has been cut. Does it mulch it, bag it, or kick it out of the rear or the side of the mower? Those are questions you want to ask yourself before you make a final decision.
For example, a dual-function push mower will bag and mulch your clippings. Typically you want to mulch your grass since it puts clippings that are rich in nitrogen right back into your lawn. However, if your grass is tall, it may cause more stress for your lawn than you intend.
Along those same lines, a three-function mower will bag, mulch, and discharge clippings. If you're regularly mowing areas that have tall weeds, you might want to search for a mower that includes side discharging. These are perfect if you're unable to get to your lawn every week. Set your deck to the highest option, then cut down your lawn in stages.
Deck lever
We've only just begun to talk about mower features, but there are some features that are more common than others. There are plenty of things you discover on the spec list of a typical mower.
For example, nearly every push mower you encounter is going to have a deck lever. It could have one, two, or four levers that allow you to adjust the height of your mower's deck.
Personally, I prefer a walk-behind that has two levers. This is because one lever typically adds weight to the mower and it requires you to maintain the linkage on a regular basis.
On the other hand, four levers mean you have to spend additional time getting everything at just the right height. While four levers are usually the standard, personally I like mowers that just have two.
Ground speed control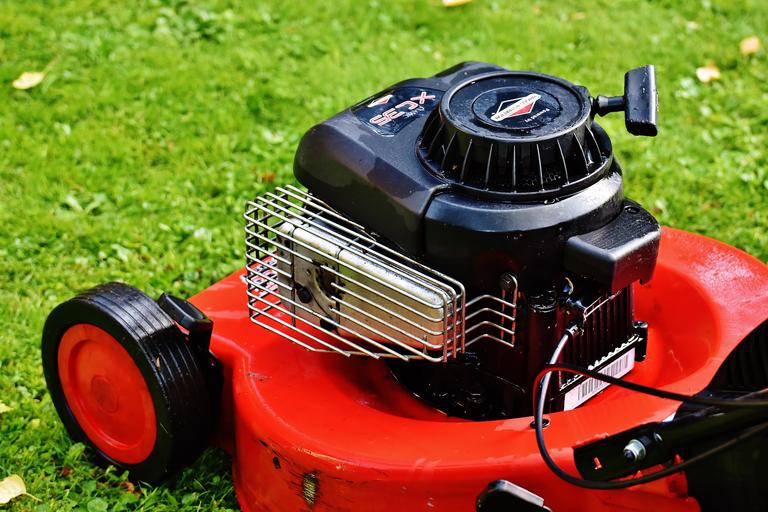 Another common feature you'll find on a lot of mowers is its ground speed control. Unfortunately, there's no way to test these out. If you want a mower with ground speed control, you'll probably have to buy or borrow one. Most mowers have the controller built somewhere into the handle.
The further you press the controller forward, the faster your mower will go. Other mowers might have a separate lever that you squeeze. When you squeeze the lever, the ground speed increases, so be ready to keep up with your mower when you do so.
Transmission type
For the most part, push-behind mowers come with one of three types of transmissions. The most expensive, yet smoothest transmissions are called hydrostatic.
This transmission pushes hydraulic fluid past a spinning impeller and down into an output shaft. All of this controls the ground speed of your mower.
Middle of the line mowers use a pulley-and-belt system that moves power from the output shaft in the engine and redirects it to a gearbox located at the rear or front axle.
While this design varies from manufacturer to manufacturer, they all work the same way. Plus, the pulley-and-belt system is easy to repair and maintain.
One last transmission you might find in a push mower is a friction disc. These transmissions aren't usually up to the day in and day out rigors that lawnmowers suffer, so you aren't likely to find one very often. While they are dependable, they aren't built for heavy-duty purposes.
Engine sizes
The size of the engine you buy really depends on how much power and torque you'll need. For example, if you are going to be mowing down tall weeds and grass, you'll want a larger engine. Plus, a push mower with a more powerful engine aids in propelling the mower uphill more effectively.
Push mower engines range from cheap to very expensive, and vary anywhere from overhead-valve to traditional side-valve designs. Bear in mind that you get what you pay for. Cheaper engines won't provide the durability, efficiency, or quality that more expensive engines offer.
Rear-wheel size
Most walk-behind mowers have rear wheels that are larger than the front ones. This design makes the mower easier to move if you're cutting rough ground or high grass.
The most common rear-wheel sizes will be 11 or 12-inches. Anything much bigger than that will more than likely cause additional problems.
Wheel type
Speaking of wheels, you want to be sure you choose a wheel type that's easier to push. Ball-bearing wheels, for example, are easier to handle on level terrain than bushing-type wheels.
This is especially true if you plan on bagging your clippings. As your bag gets heavier, you want to have wheels that can easily handle the workload.
Blade-brake clutch
Higher-end push behinds offer a blade-brake clutch. This feature allows you to let off the control handle without turning off the engine.
As a result, if you encounter an obstacle you want to quickly move out of your way, you can pause your mowing, move it, then continue on your merry way. This is all done without the need to stop and then restart your mower.
Continue reading our guide on how to find the best lawn mower replacement blades.
Vertical Storage
Mower manufacturers are becoming more innovative in the way their mowers are stored. For example, some mowers have a vertical-storage design.
With this type of design, you can fold the handle all the way down, then tip your mower back. This gives you the option to store your mower vertically in your garage or shed.
Front caster wheels
If you're into landscaping and your front or back yard is elaborately decorated, you might consider a mower with front caster wheels. With these types of wheels, you can easily maneuver and pivot around obstacles and landscaping. However, if you don't have a very smooth yard, you may want to go another route.
Mowox and Cub Cadet both offer mowers that have front caster wheels. But make sure your ground doesn't have a lot of hills and bumps because these wheels aren't designed to track on uneven land.
Check out our Cub Cadet SC 500 HW Lawn Mower Review.
Wash-out fittings
When you're done mowing your lawn, you may want to clean off your mower. Many mowers allow you to do this through wash-out fittings, which enable you to connect your hose and wash off excess clippings, dirt, and grime.
Mowers with clean decks last longer since they don't accumulate lawn chemicals and moisture often found in grass. These are factors that lead to corrosion in your lawnmower.
You don't have to have a wash-out fitting for your lawnmower to keep it clean, but it does help. Without this feature, you might want to get under your lawnmower a few times a year and remove all the dirt and grime with a putty knife or under-deck scraper.
Wide decks
You can also find push mowers that have wider decks than a typical walk-behind. Usually, these decks range from 28-33 inches, which means you can cut your yard faster than with a 22-inch option.
These mowers are available from a variety of manufacturers, and many include options that offer front caster wheels.
Electric push-behind mowers
Last on our list of push-behind mowers are electric mowers. These are ideal if you have a very small yard. Think yards less than 5,000 square feet.
You'll also want to ensure that the grass is usually long, as electric mowers have more trouble with higher lawns. When choosing an electric mower, there are a few things you may want to remember:
Electric mowers that don't have cords usually have smaller decks. These are in the 19-20 inch range, although you can find a few that have 21-inch decks. As a result, it'll take you longer to mow your lawn.
Gas engines tend to be more powerful than their electric counterparts. If your grass is tall, thick, or wet, your electric mower may struggle to get it cut. For intermediate grass and lawn conditions, your cordless mower should get the job done.
The bigger your lawn, the more charging or battery power you'll need. Run time on your electric mower will vary depending on your lawn's conditions, your mowing habits, and the size of your lawn. If you have the budget, you should consider purchasing additional batteries so you can get the job done without rushing.
Riding Mowers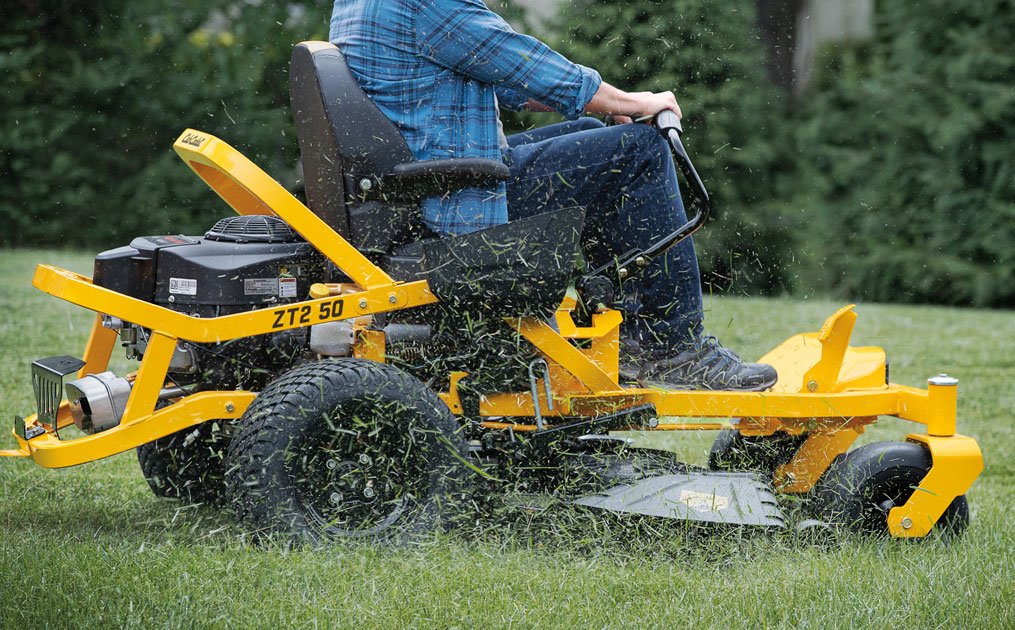 If you have the budget and your lawn is big enough, a riding mower is what you want. Look, push behind mowers are good mowers, especially if you have a smaller yard. But if your goal is efficiency and speed, a riding mower is your best bet.
For the most part, riding lawn mowers come in three options: lawn tractors, rear-engine mowers, and zero-turn radius mowers. Let's take a closer look at each of these types of riding mowers.
Lawn Tractors
A lot of people with larger yards begin with a lawn tractor. These mowers have a front-mounted engine and a steering wheel to tell your tractor where to go. You'll likely find that these mowers feel and look familiar.
The size of the engines on lawn tractors usually fall in the range of 18-25 horsepower. Most entry-level riding lawn mowers have a single-cylinder that can be upgraded to a V twin. Some of the top of the line models come with electronic fuel injectors.
Lawn tractor transmissions are usually lever-operated, especially when you're looking at entry-level models. The next step up is continuously variable transmissions or CVTs.
These are operated by a hand lever that allows you to shift on the go. You'll spend a bit more money upfront, but you're getting a high-quality transmission with your riding lawnmower.
But what you really want to know is how quickly and efficiently these lawnmowers will cut your lawn, right? Well, much better and faster than your pushmower, that's for sure. Decks on these riding lawnmowers are available between 42 and 54 inches.
To get an idea of what you need, divide the size of the deck by 12. This will give you a good idea of how much acreage the mower can handle.
For example, a deck size of 48 inches is great for a lawn of up to 4 acres. That's a lot of yard for a residential mower, but a front engine mower could handle it. Still, that's about the max you want to go when it comes to mowing a yard with a residential riding lawnmower.
Rear-engine mowers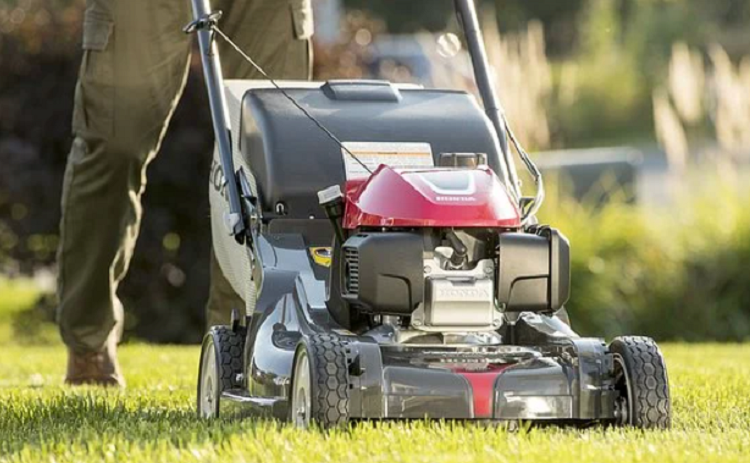 If you have a lawn that's too big for a push mower but not quite big enough for a tractor, then you might consider a rear-engine mower. The majority of these types of mowers are powered by a sing-cylinder engine, which is available from 344 to 380 cc. Engines this big will usually get you roughly 10 to 11 horsepower.
Rear-engine mowers typically use a CVT shift on the go transmission. One of the most common types of rear-engine mowers on the market is Snapper. These mowers are reliable and have stood the test of time, so if you think this is the type of mower you need for your yard, they might be a good place to start.
You'll find that deck sizes range from 30-33 inches, along with a manual lever that allows you to adjust the height of the deck up and down as needed. Of course, since you're getting a smaller mower with a smaller deck, you should also have no trouble finding a smaller price tag.
Zero-turn mowers
It wasn't until the past few decades that zero-turn lawn mowers have started becoming a popular trend among homeowners.
To be fair, these mowers can be somewhat intimidating at first, but once you get used to them, they provide plenty of speed and easy steering. These mowers are powered by dual-hydrostatic transmissions and controlled by the use of a joystick or bar.
Zero-turn engine sizes range from 452 to 700 cubic centimeters and can provide you with between 12 and 25 horsepower. These mowers offer either a single cylinder or a V-twin commercial grade transmission.
You'll find deck sizes that range between 32 and 60 inches, which means these powerful mowers can cut a lot of grass in a short amount of time. Zero-turn decks are usually more heavy-duty than other residential mowers and can be adjusted vertically with a manual lever or foot pedal.
Of course, these high-powered mowers come at a price, which means they are usually the most expensive options on the market. However, you don't have to spend all your money to get a decent zero-turn mower. If you do your research, you can find a solid, well-built mower with great performance for a decent price.
FAQs
Question: When is the best time to buy a new lawnmower?
Answer: Usually, the best time to buy your lawnmower is during early Spring, like April or May, or toward the end of the mowing season, like September or October. The most common school of that is that the best time to make a purchase is when the weather begins to turn cooler and you don't need to mow your lawn as often.
Question: How long should my lawnmower last?
Answer: Most lawnmowers are going to last you between 8 and 10 years, so long as you properly care and maintain them. A poorly maintained lawnmower might last you half that time. However, keep in mind that some mowers aren't measured in years, but in the number of hours used.
Question: How often should I mow my lawn?
Answer: For the most part, you'll want to mow your yard every week when the weather is nice. However, there are some lawns that may need to be cut multiple times a week depending on how quickly the grass grows. Other yards may only need mowing every few weeks. When you do mow, remember not to cut off any more than 1/3rd of the grass height. Doing so may wind up harming your yard.
Question: Does mowing frequently thicken my grass?
Answer: Regularly mowing your lawn will actually help make your grass grow thicker. That's because each blade tip behaves as a hormone that prevents horizontal growth. Cutting your lawn removes these tips and allows the grass to spread out and grow thicker close to its roots.
Conclusion
Finding the best lawn mower for your yard is going to depend a lot on what you need. Do you have a big yard? You might want a riding mower. Do you have a lot of obstacles and a smaller yard?
A push-behind might be the way for you to go. At the end of the day, you'll need to decide what works best for you.
Read More: