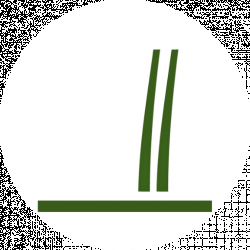 Latest posts by Turf and Till Team
(see all)
If you are new to the world of air filters, it can be such a daunting task to search for the right air filter for your mower. Nowadays, there are seas of options in the market, and getting the right fit can prove to be an unending task. However, this article provides some insights into the best air filters you can choose from today. 
Factors to Consider When Purchasing an Air Filter for a Lawn Mower
Cover of the air filter
Air filters come with covers. These covers play very crucial roles in preventing the hot air from being sucked from the engine of a lawn mower.
The air filter should therefore have a cover that is easy to remove. However, the air filter should always be covered firmly especially when the mower is in use. If it is not covered, the hot air may get sucked, a condition that may alter the way the machine is functioning.
Besides, the air filter may fall off if it is left uncovered. Such an incident may allow debris and dust to clog the engine; something that would interfere with the way it functions.
Cost
It is always imperative to consider the cost of the air filter before you purchase one. Some air filters can be quite expensive. However, some options are worth considering. This way, you can either save money or get good value for your money.
There are several air filter brands you can research on and compare with the high-end brands. These can be comparatively cheaper and you can land on an air filter that is durable and efficient.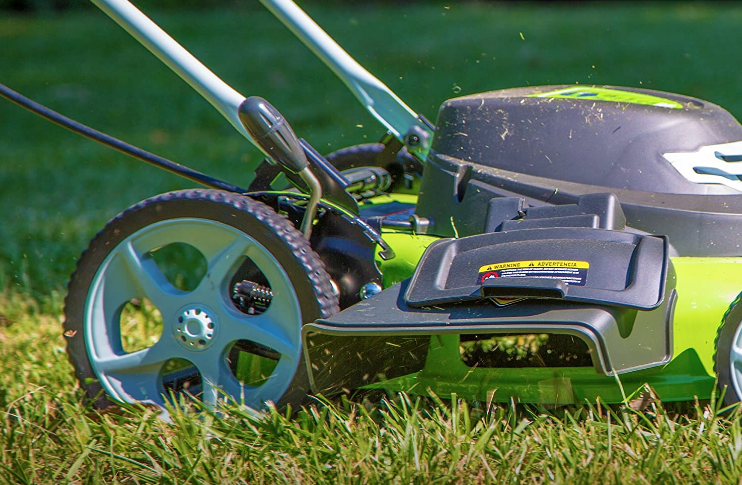 Durability
The air filter you choose for your lawnmower should be durable. A resilient air filter will withstand dust and debris, and keep your machine running smoothly for a longer time. Air filters are meant to be changed once per season. 
This is valid if you do not have a very large yard. However, it will need to be changed regularly if the yard is large. If your air filter is durable, then 300 hours of mowing will be fine before it gets replaced.
The model and size
Many people make mistakes when ordering their air filters. If your measurements are not correct, you may order an air filter that does not fit properly or it will be hard to fix it all together.
It is important to know the model of your lawnmower and the right side of the air filter before you make a purchase. 
Top Five Best Air Filters for Lawnmowers
Briggs & Stratton 491588S Flat Air Filter Cartridge – B0011WP4Q6

Lawn mowing can be such an exciting experience especially if your machine is working effectively. However, when the air filter is not doing its intended purpose, it can turn out to be an awful experience. To avoid this, ensure you have replaced the air filters with Briggs & Stratton 491588S flat air filter cartridge, which can be applied widely. It is one of the best air filters which, once it has been replaced, enables the lawnmower to roar back to life immediately. 
Briggs and Stratton Cartridge can be installed within a matter of minutes since it comes with a manual that is easy to follow. If you have never replaced air filters before, it will provide you with fresh and tempting reasons to become the best in replacing them. A skill here and a skill there and you will be an expert in changing the air filters.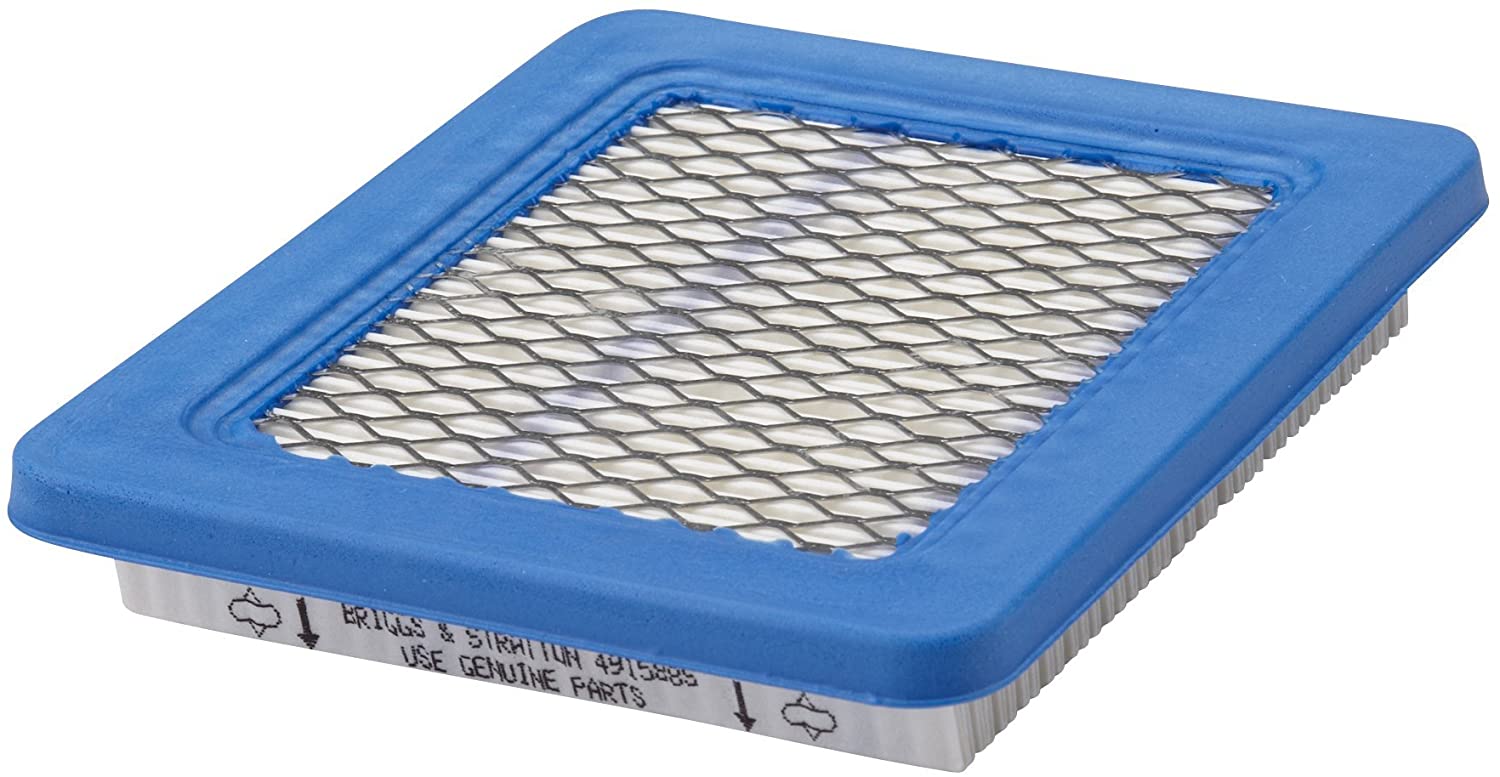 The quality of this air filter is undebatable. It is one of the best you will find on the market. You will not have a reason to worry about engine malfunction once you replace the air filter.
The filter paper design is durable. This, coupled with the metal mesh design, are great qualities that will improve the efficiency of the machine. You will mow the grass even in the dusty environment and the filters will be perfect in providing fresh air all through. 
If you are one of those people who hate waiting for long periods to have your package delivered, this package is for you. The shopping experience for Briggs & Stratton Air Filter Cartridge is awesome. It is easy to shop and place an order and once you are through, it takes the shortest time to reach you.
To top it all, it is compatible with several Briggs Stratton models and it comes as a pack of 5 pieces. It is a product for people who love the quality, efficiency, timely delivery, and great customer support. 
Briggs & Stratton Air Filter Cartridge is worth looking out for. However, when purchasing your air filter, ensure you have ordered from the Briggs & Stratton website since many generic air filters are available for sale. 
Pros
The quality of the air filters is good.

It is cost-friendly.

Easy to install.

Holds up well.

It is efficient and easy to maintain.
Cons
There are several generic items in the market for the same product
It can be depressing to search for an air filter for an old lawn mower that has served you for decades. In most cases, the air filters commonly found in the market will not fit; something that may make you decide to buy a new one.
The good news is that the Hipa air filter has been known to be an efficient replacement for air filters in the old machines. These air filters have been tested and proven to be among the best in the market today.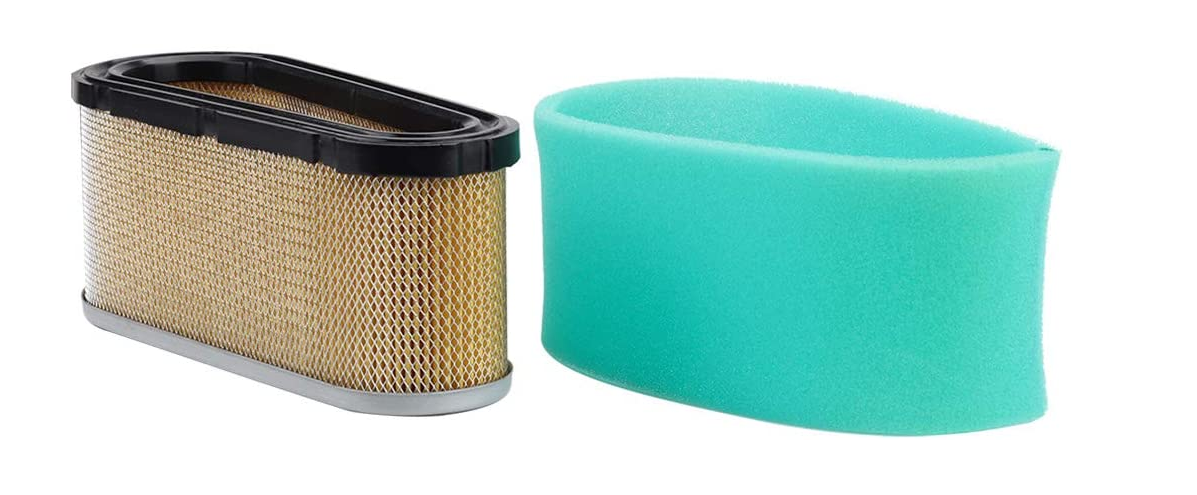 To start with, its quality is good. Once it is replaced, your lawnmower will work efficiently for a long time before getting the filters replaced again. This makes the lawn mowing exciting, with the machine roaring to life and being efficient in its work. Besides, the installation of the filters is easy.
Once your order arrives, it will take a few minutes to replace the inefficient air filters and the job will commence as if the machine was new. Also, once you have ordered the right size, the air filter will fit perfectly. This will enhance its performance and the engine will be kept away from debris and dust. 
Hipa air filter delivers on its promises. Aside from its ability to ensure the lawnmower runs smoothly, it is compatible with many machine models. All you have to do is get the right size for your machine and everything else will fall into place.
For instance, the price for the air filter is competitive. You are assured of good quality at a cheaper price. Also, once you have ordered, it is delivered just in time for you to mow the grass and have your garden looking magnificent. 
However, you should ensure you have ordered the right size which will be the perfect fit for your machine. If not measured carefully, you might get the wrong size which can be very disappointing. All in all, the Hipa air filter is an air filter that you should not bat an eye on when purchasing due to its excellent performance. 
Pros
It is cost-friendly.

Its performance is excellent.

Easy to replace.

Its quality is good.

It fits well.
Cons
The wrong size will not fit
Buckbock Air Filter Kit – B075Q63L88

The air filters for a lawnmower should be changed often. However, some people do not know this and when the machine fails to work abruptly, it is rendered useless. It is essential to have the air filters of your lawnmower replaced often.
When the time is ripe for this, ensure you have purchased a Buckbock air filter kit for your lawnmower. It is one of the best air filters on the market today. 
If you are worried that your machine will not have a perfect fit, then you should try the Buckbock air filter kit. It is known to be compatible with many models including BS 794422, 795115, 797008, 695547, 697634, 697014, 697776, 698083, and 697153. It is best for machines such as M147489, M149171, and GY20573. For such, you can easily find a replacement.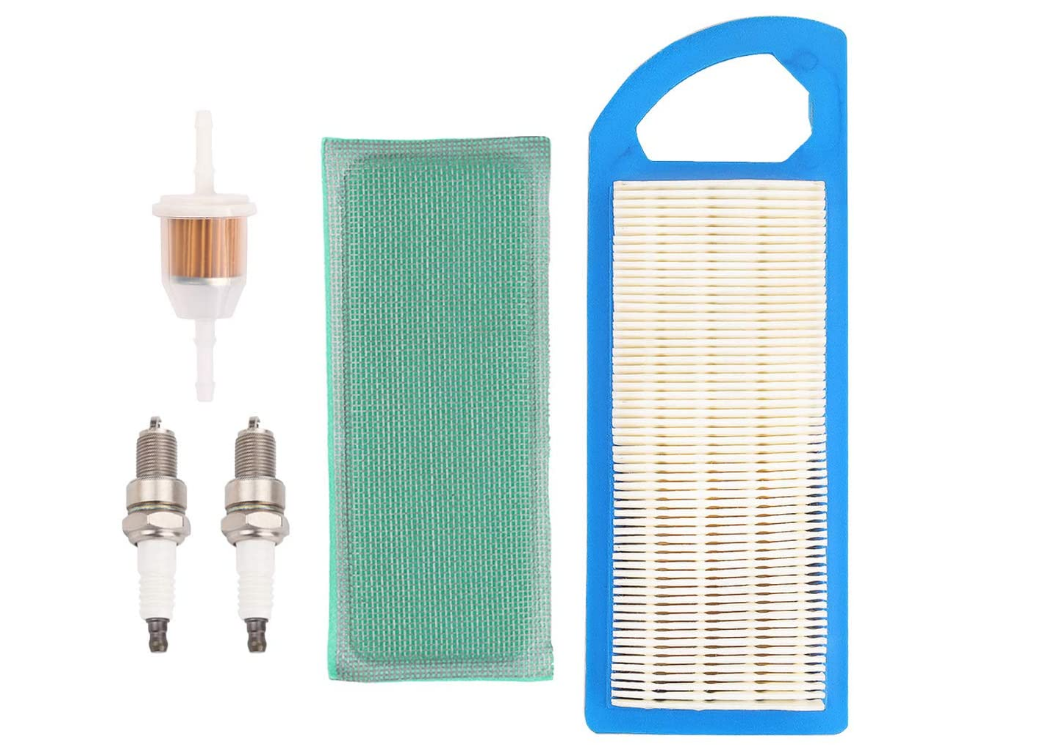 Buckbock air filter kit can fit in the categories of the high-end air filters in terms of quality and efficiency. It comes at competitive prices and it can compete with the high-quality air filters which are highly-priced. It is made with the finest materials for durability. Once it has been installed, you can use your lawnmower for a long time before you replace it. 
The waiting period for some products is long and it defeats their purpose. However, once you place an order for a Buckbock air filter kit, it takes a very short time to reach you. The grass is therefore mowed on time and the impressions for your garden will in most cases be good. Nothing beats a well-manicured lawn. It is attractive from far and it provides the right environment for anyone around it. 
Additionally, the installation process for the air filter is easy. It takes a short time especially if you are experienced but if you are not, it will take a few minutes and the machine will be roaring back to life as soon as you start it. Also, it comes with an additional pre-filter for all the efficiency your machine requires to work. However, if the air filter is not fit perfectly, it may lead to machine malfunction.
Pros
It is easy to install. 

Provides value for money.

It is made of good quality material.

It is accompanied by a pre-filter.

Provides the right replacement for a used lawnmower. 
Cons
Some sellers provide generic air filters for this model therefore it is easy to get a counterfeit product
HEYZLASS 10 Pack 491588S Air Filter – B07475J3X3

It is possible to become a professional in lawn mowing. This is mostly made possible by the efficiency of the machine you are using. A lawnmower that is inefficient will make it boring to work with. The inefficiency of a machine may be a result of an air filter.
Therefore, it is advisable to change the air filters regularly. While at it, make sure you have chosen HEYZLASS 10 pack 491588S air filter. This is one of the air filters that makes the lawnmower to be such an invaluable machine. 
HEYZLASS 10 Pack 491588S air filters can be applied widely. For instance, it is compatible with air filters for a pressure washer, Briggs Stratton machines, among others. Aside from this, its quality is good compared to others with higher prices.
This means you can replace your OEM air filter with this paper design and the lawnmower will be as efficient as when it is new. It is an invaluable tool that keeps the dirt at bay and lengthens its life since it takes time to dirty up.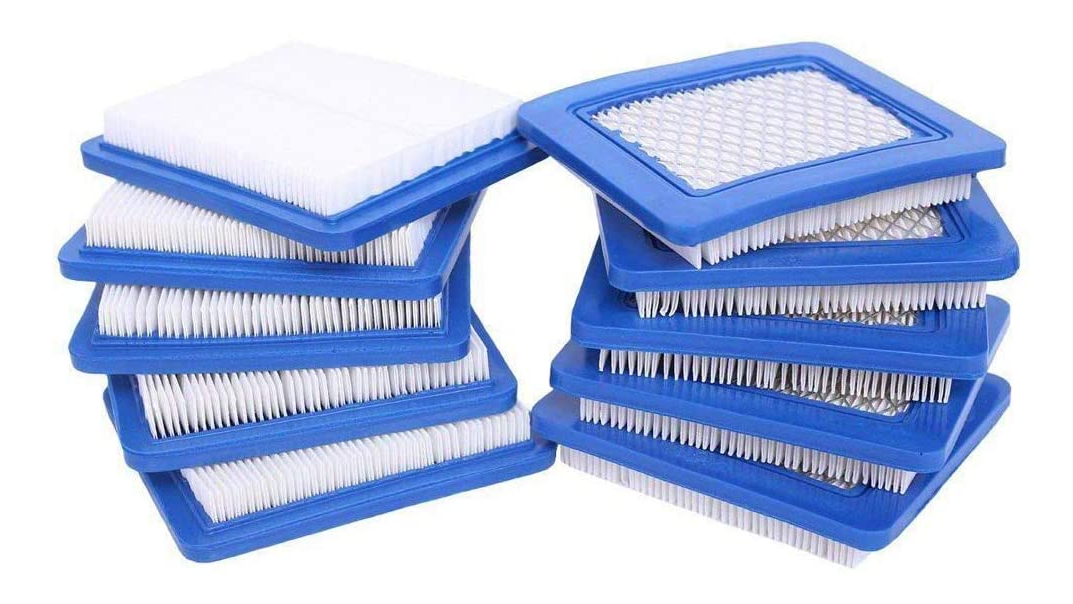 If your lawnmower stops functioning abruptly, the engine may not be the problem but the air filter. If the air filter is not preventing the debris and dust from passing through, a replacement should be done immediately.
HEYZLASS 10 pack 491588S air filter replaces the OEM perfectly. It also comes as a pack of ten air filters for prolonged usage. This means you will have plenty at hand for later use. 
HEYZLASS 10 Pack 491588S air filter is a package you should possess and keep within reach. It is quite affordable and exceeds the expectation of the buyers. Therefore, instead of buying one at a similar price, you will get 10; just enough pieces to use for a long time.
Shopping for the HEYZLASS 10 pack 491588S air filter is easy. Once you have placed your order, it does not take long before your package gets delivered. It is a product that I can recommend to others. 
Pros
The price is affordable.

The quality is good.

Comes as a packet with 10 pieces.

Great value for money.

Takes time to get dirty.

Fits nicely.
Cons
They cannot be cleaned with water like OEM filters since they get wrinkled which decreases their efficacy
Harbot Pack of 2 36905 Air Filter – B076KVC49M

One of the most important aspects of a product is its quality. People will go to greater lengths to get high-quality products. Some of those products have prices that are highly exaggerated. However, it is possible to get a good quality product which is priced fairly.
One of those products is Harbot pack of 2 36905 air filters. If you want to replace the air filter of your lawnmower, Harbot pack of 2 36905 air filter is the right choice for you. 
Harbot air filter comes as a pack of two for the price of a single filter. This means you get to enjoy an extra air filter even though you had only coughed up money for a single product. This saves you some extra money for other uses. 
The quality of this air filter is also undebatable. Durability and many days of usage are guaranteed. This durable product increases the efficiency of your machine and makes it work smoothly; an act that will make you enjoy even as you mow.
The descriptions of this product are clear and concise. Even for new buyers, the descriptions are assets that light the way for them to know what is best for their mowers. The shipping is also unmatched; once you have placed your order, the delivery is timely. Long gone are the days you had to wait for months to get the item. It is all different these days.
There are a variety of models that Harbot packs of 2 36905 air filters fit. These include TVS115, TVS120, OVRM65, OVRM105, LEV100, LEV115, and LEV120. Therefore, most of the lawn mowers are covered. 
Although the quality is good, it cannot be compared to that of the original air filter that the lawnmower comes with. Nevertheless, it similarly performs its functions and fits perfectly. This is a product that is worth considering if your machine ever malfunctions at some point. It may require an air filter replacement so that it can commence its work as usual. 
Pros
It fits perfectly. 

Comes as a double pack for the price of one.

Its value is good.

It takes less time to ship.

It does its intended work perfectly.

Cost-efficient.

It is durable.

Takes less time to replace.
Cons
Its durability cannot be compared to that of the original air filters that the lawnmower comes with.

It is a bit higher in height than most air filters.
FAQ's for the Best Lawn Mower Air Filter
Question: How can the lawn mower's air filter be changed?
Answer: The engines of the lawnmowers differ from one to the other according to their brand. The brand engine should be determined first before you embark on changing the air filter. The engines or products are usually accompanied by a manual that provides guidelines on how to replace the air filter correctly. You will also get information on the correct replacement for the air filter.
Question: Why does the engine of the land mower fail to start?
Answer: If an engine fails to start, the failure can be associated with several issues. These include oil that has deteriorated, a fuel that has overstayed, a dirty spark plug or air filter, among others. The engine comes with a manual that guides on how to troubleshoot to restore its functions. These include replacing the fuel if it is stale, filling the fuel tank in case the tank is empty, replacing the plug, the kill switch, or the air filter, among others. 
Question: Can the air filter be cleaned?
Answer: The air filters differ from one model of a lawnmower to the other and it is a rule of thumb that they shield the engine from both debris and dust. While some can be cleaned, others will have to be replaced especially if they are paper air filters. The lawnmower should not be on during cleaning. The cord of the spark plug should also be off since it can be a source of accidents during cleaning. The next step involves removing the housing of the air filter. Place the air filter in hot, soapy water to get rid of any dirt or debris during this time and once it is clean, rinse it and ensure the water is drained well. You can use some motor oil on the air filter. Put it back to its original place and cover it firmly. 
Recommendations
The market provides a wide range of air filters for lawnmowers. Going through each of them is not an easy task. However, this article provides you with some of the best options found in the market. For instance, Briggs & Stratton 491588S flat air filter cartridge is one of them.
It will fit into most of the lawnmowers. Also, its quality is unmatched. Hipa 496894S 496894 493909 Air Filter for 12.5-17 HP 5053K with 272403S 272403 Pre Filter Craftsman John Deere Lawn Mower is also another air filter that performs excellently once it has been replaced. 
Surfing through the internet to choose one of these air filters which have been mentioned in this article will be a great idea since they have been chosen among the best. However, I would recommend HEYZLASS 10 Pack 491588S air filter.
This filter stands out among the others. From its good quality to its affordability and the fact that it comes as a pack of ten, this pack is one that exceeds expectations. The 10 pieces will serve you long enough and save you some bucks.