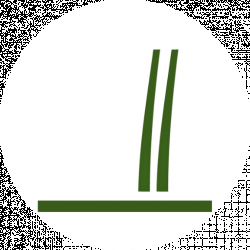 Latest posts by Turf and Till Team
(see all)
Are you experiencing challenges in deciding the best way to have your grass trimmed? If so, it's time to purchase a mower.
Before making a buying decision, you must get more information about mowers. When you are keen on quality, it becomes easy picking the right one. A wrong mower can kill your joy on a sunny day. However, if you own the right mower, you can have the pleasure of cutting the lawn at any time.
If you need a lawnmower but are not sure of the features you want, do not worry. Our best mower guide covers you in the market.
Make sure to use this guide when selecting the right product. The buying guide will help you make the right decision in choosing the best. Since mowers can help in multiple ways, it's essential to read the article to understand the need to get one.
Buying Guide for Lawn Mowers
Rake Guard
Before the clipped grasses go under the mower to meet the cutting blade, they are held by the rake. A rake guard's presence ensures a better and cleaner mulch since the grass will be perpendicular to the cutter. When purchasing a lawnmower, ensure you get one that will give you good results.
Mulching
You need to have a way of discharging the grass clippings after mowing. Instead of or throwing it or collecting it in a bag, the presence of a mulcher allows you to mulch the grass, and in turn, improve the soil quality.
The shape of the Deck 
The shape of the deck is essential in ensuring the grass clippings circulate well around the ground. The circular clipping gives a clean mower discharge and a pleasant mulching performance.
Cutting Height
The feature allows you to regulate the mower wheels' height, making it possible to cut short and tall grass without problems. The adjustable cutting height is useful when cutting long grass and adjusting the front wheels higher. Afterward, you can swiftly readjust the deck to be of even level for a beautiful and clean finish.
Deck Washer
Grass usually gets stuck in mowers after use; hence the need for regular cleaning ensures a long mowers' prolonged lifespan. Ensuring the same can be a challenge, especially if the mower doesn't have a component that instantly connects to a garden hose for cleaning. Make sure to get one that will make it easy for you to clean and hence extended operations.
Troy Bilt TB210 Mower Review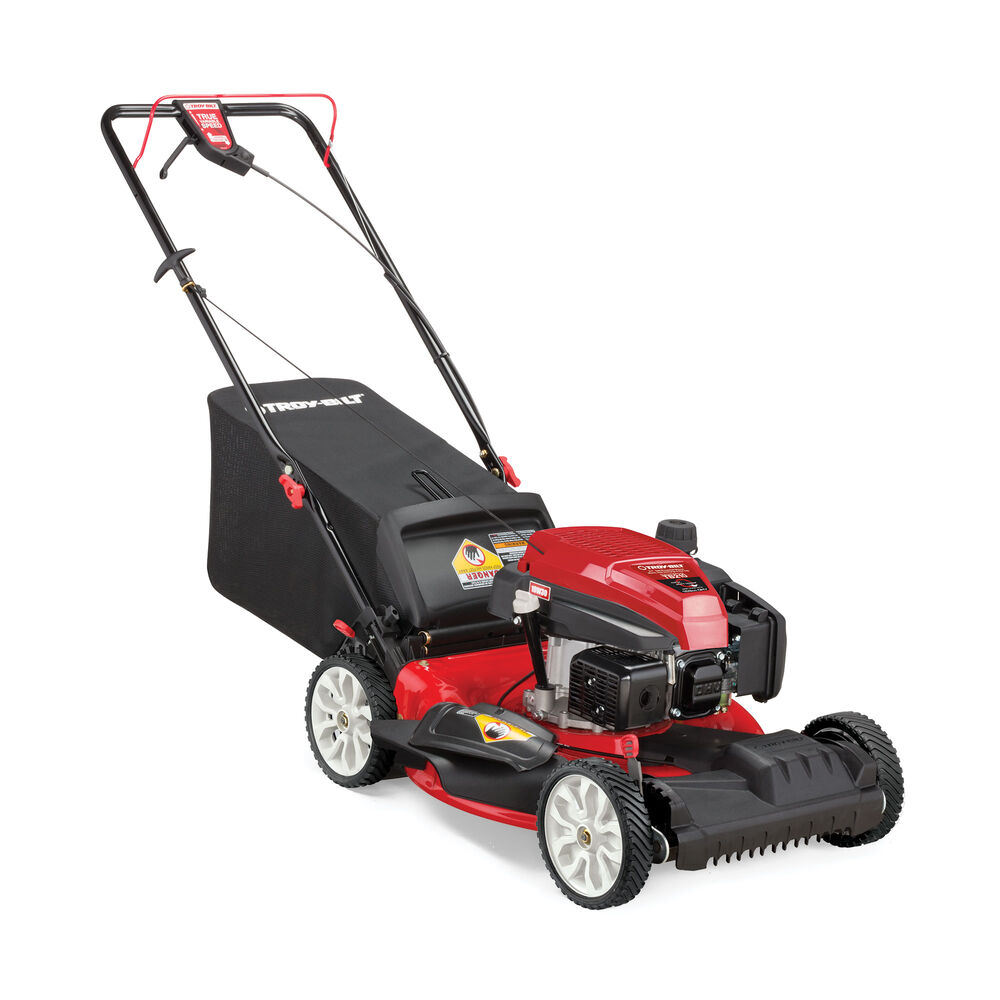 Specifications
Handle style – adjustable

Discharge type – rear bag or 3 in 1 discharge mulch

Displacement – 159cc

Grass bag capacity – 1.9 bushel

Fuel capacity -1.3qt

Warranty – 2 years

Starting system – recoil

Adjustment of deck height – 6 position

Range of cutting height – 6 settings;1.25-3.75″

Shipping weight – 90 lbs

Speed control – variable

Drive system- Forward

Wheels – 8" front and rear

Deck – traction cutting system, 21"

Engine – troy-built 159 series
Troy Bilt TB210 Features
Troy-Bilt TB210 is a 21″self-propelled gas lawnmower. It has a front-wheel for easy traction and a mulching capability, hence best for residential areas. It can cut the grass and leave it on the ground as mulch. If you do not want any mulch, you can collect the clippings in a side discharge or a grass catcher bag.
The Troy Bilt TB210 varies in speed and has a self-propelled design, making it easy to push the mower around the lawn. As the blade spins, a belt and pulley deliver power to the front wheels as the blade spins, allowing for faster turns and better control.
Its engine is designed in a way that you do not have to change the oil. The instruction is given in a trademark check. It's easy to maintain the deck after mowing due to the presence of a wash adaptor.  You need to attach a garden hose, and you can rinse the clippings from the deck. Some of its features are:
3 in 1 Output
Despite the plans you have for the grass clippings, the self-propelled mower is best for keeping up with your needs. The mower offers 3-in-1 functionality, ensuring that you can mulch or bag your clippings with the side discharge function, hence meeting your needs.
The Engine
The Troy Bilt TB210 provides reliable performance, a classy finish, giving a durable engine a complete automatic choke installed in it.
Front-Wheel Drive
The unique feature of Troy Bilt TB210 is the front-wheel drive. As compared to other self-propulsion mowers with all-wheel drive or a rear wheel, the feature enables you to quickly turn the mower by raising it on its back wheel if there is motor resistance. 
Handle Starter
Troy Bilt TB210 starter can be found midway up the handlebar, making it a lot easier to use than bending down to the motor to pull the cord in other unconventional mowers.
Other features include:
A 159cc OHV engine powers Troy Bilt TB210

This push lawn mower is perfect for mowing small to medium-sized yards

The mower is lightweight with a 21" steel deck

Presence of a dual-lever, which is an adjustment for comfort while mowing

Comes with It comes1-inch wheels, which offers control while mowing
Troy-Bilt TB210 Maintenance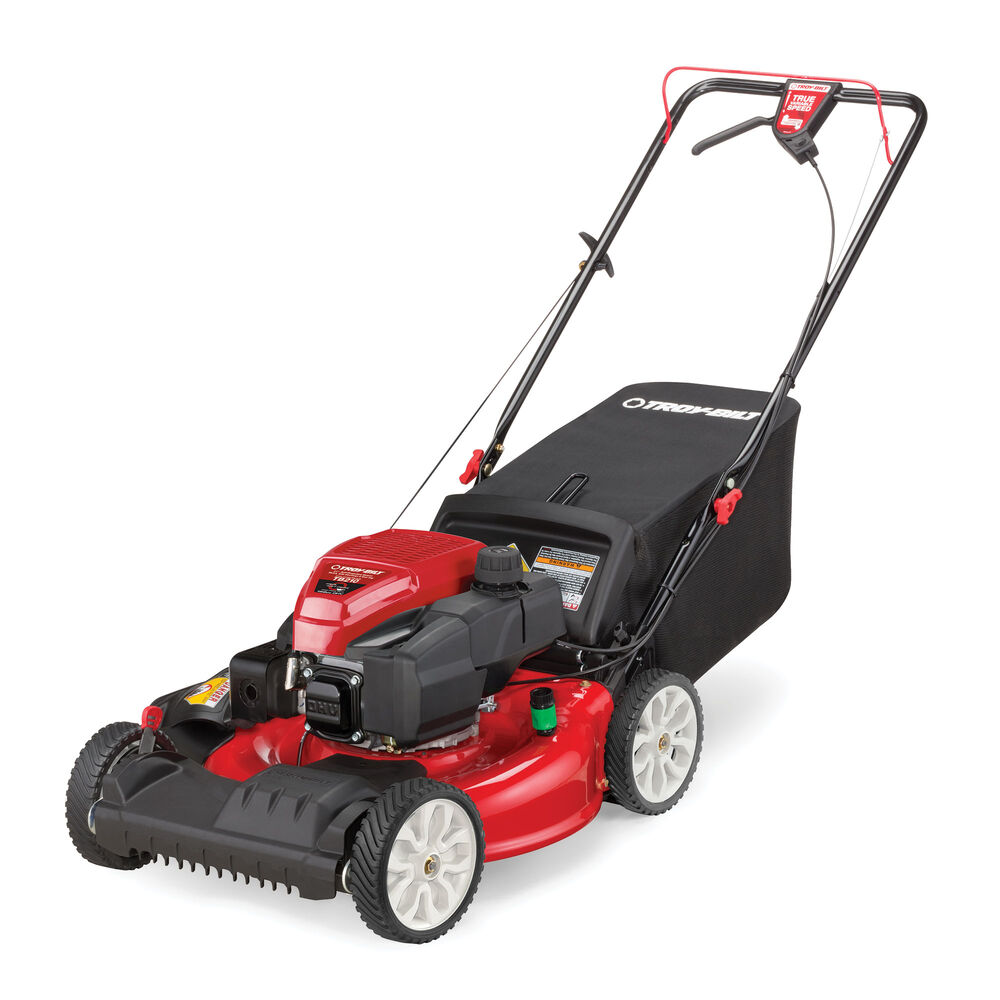 Apart from gas refills and the standard oil changes, keeping your lawnmower ready for the next session may not be easy. Make sure to get off the grass clippings from your mower using a water hose, and it is ready for subsequent use. Before you flip over your mower for maintenance, you should make sure the motor isn't running when you are replacing or checking the blades.
The model that includes an integrated system for washing is the best because you connect it to the water hose, and the entire deck will be cleaned, even without flipping it over. 
Troy-Bilt TB210 Performance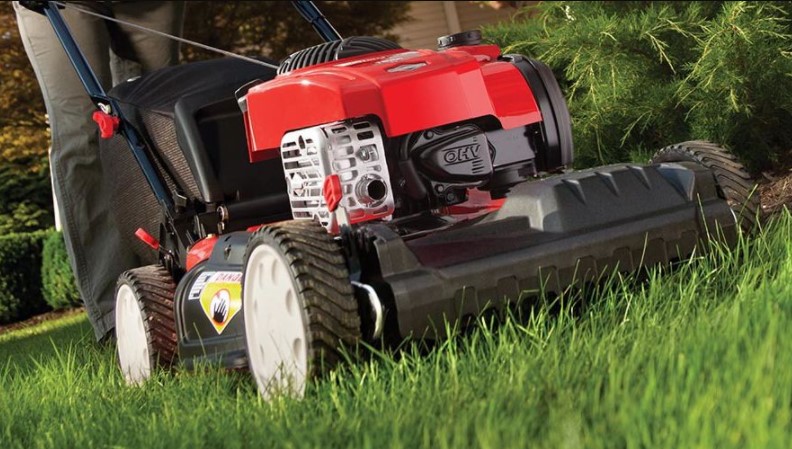 Convenience in your operations when using a mower is essential. You need a mower that will allow you to move according to your speed when mowing.
Lawnmowers with a pull cord that runs the motor are the effective choice. The motor gives you speed options since you can adjust the engine according to your pace. Troy Bilt TB210 is the best mower and is convenient when you want to mow the lawn at different speeds.
Pros
Easy and fast and assembly

Efficient and reliable H

onda engine

Lightweight product

Easy to start; 

The powerful engine ensures the ease of starting; hence, no effort is required to turn it on. 

It has a convertible 3-in-1design

It has a mulcher and a side chute for discharge

Has a rear It has with a capacity of 1.9 bushels
Cons
Has no prime lever or choker 
Why purchase Troy Bilt TB210 Lawnmower
With Troy Bilt TB210, you are assured of achieving Precision cuts. The cuts will give your lawn a landscaped look that is attractive and classy. Therefore, you may consider it as a necessity and not a luxury. 
Imagine the hustle of having to cut the grass manually; ensuring it is well kept after every two weeks! You will be required to use too much effort. Therefore, think of owning Troy-Bilt TB210 to reduce that Effort.
If you have either a large or small lawn, you need to have a mower to ensure that your yard is well kept all the time. There are various options in the market, and if you are lucky enough to get Troy Bilt TB210, you will be better placed.
Many people do not cut the grass in their lawns due to lack of time for the same. Having a Troy-Bilt TB210 mower will help you forget about the time due to its effectiveness in terms of time and quality, even when you have busy schedules. 
When you outsource a mower, you may experience some challenges if the owner needs to use it.  Owning a mower ensures a well-kept yard all through, unless in cases of mechanical damage.
Alternatives to Troy Bilt TB210
You have the freedom to choose the next best alternative if Troy Bilt TB210 is not available in the market or if you find its price a bit higher than the other brands. Here are some of the lawn mowers you may consider buying as alternatives.
Troy Bilt TB380XP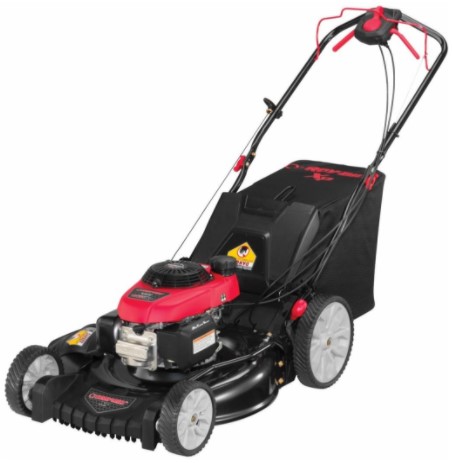 This product has a Rear Wheel Drive and is a Self-Propelled Mower. The engine is very powerful; it is a 160cc OHC Honda engine, making it best for large yards.
Troy-Bilt TB380XP is resistant to rust due to the presence of a steel cutting deck. It has a cutting traction system, which rakes the clipped grass upwards to prevent it from clumping. The grass clippings can be expelled from the side discharge, into the rear catch bag, or at the bottom as mulch. 
The presence of an adjustable dual lever gives you various options for cutting the grass. Troy-Bilt TB380XP handles are adjustable and designed so that you can mow standing straight, whether you are tall or short.
This lawnmower has 8-inches front wheels and 11-inches larger rear wheels that are durable and with sturdy treads. Therefore, you shouldn't worry about its functioning despite the terrain since your mower is well-equipped. 
Troy-Bilt TB380 XP is built with high-quality materials and is simple to operate for a mid-range mower. This well-designed and the sturdy mower is the favorite alternative among owners. If you want an excellent 21-inch lawnmower, Troy-Bilt TB380XP should be your next best alternative to Troy-Bilt TB210.
Troy Bilt TB260 XP
Troy-Bilt TB260 XP is a self-propelled mower with 8-inch front and rear wheels. The wheels feature an S-wave tread pattern, which provides maximum traction. The front wheel is equipped with dual lever controls, making maneuvering easy and with less effort.
The 149cc Troy-Bilt uses a recoil starter and is easy to start due to an auto choke feature. The cutting deck measures 21″ and has six positions, providing a cutting height that ranges between 1.25 to 3.75 inches.
This lawnmower is also resistant to rust since it is made of steel material; hence you are assured of prolonged services, unless of other mechanical issues. Troy-Bilt TB260 XP allows clippings to be mulched with an integrated mulch plug and bagged in the 1.9-bushel bag or discharged through the side chute.
This product features a trademarked SpaceSavr design, allowing the lawnmower to be stored flat under a shelf or a tool bench or in a vertical position against the wall. For stability during storage, Troy-Bilt TB260 XP has a rear clip that functions as a kickstand when the mower is stored vertically.
It is an excellent mower available at a reasonable price. It has a 3-year warranty, hence the best alternative to Troy-Bilt TB210 if it is your first mower or if you want to replace the old one. You cannot go wrong with Troy-Bilt TB260 XP.
Troy-Bilt TB130 XP Lawn Mower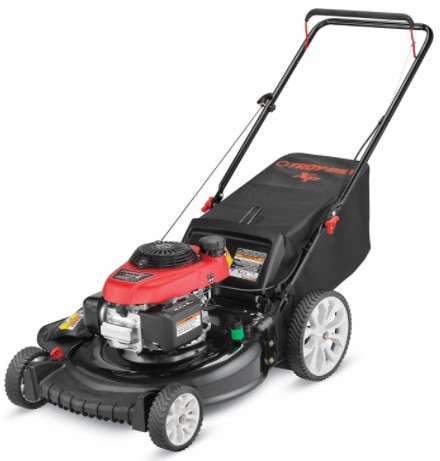 Troy-Bilt TB130 XP is powered by an OHV Honda choke engine, which packs enough power for you to tackle the tough lawns. It has 7-inch front wheels and rear wheels that are 11-inch  to provide a lot of stability and traction for uneven terrain and hills.
The TB130 XP mower features an adjustable dual lever, which gives plenty of choices depending on the grass's height. The grass clipping is discharged through the side chute, can be mulched for nutrients addition back to your yard, or can be collected in the bushel rear bag.
It has a TriAction system of cutting, consisting of an asymmetrical deck, a rake bumper, and a specialized blade. All these unique features work together to give an even and clean-cut, leaving your yard looking groomed.
Troy-Bilt TB170 XP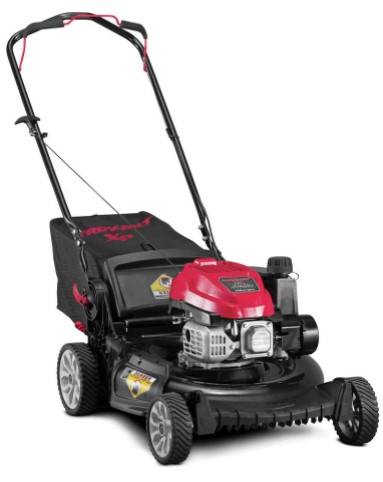 Troy-Bilt TB170 XP features a design that allows the mower to be folded for easy storage against a wall in a vertical position.
Its engine has an auto-choke, which eases the start. The mower features a deck wash port and a 21-inch deck made from steel for easy clean-up. The presence of a 6-deck position dual-lever height gives you several choices to mow your lawn as you like.
The options for grass clipping management are mulching side discharge and a rear bushel dust bag. The push mower has a 7-inch and 8-inch front and rear wheels with a 2-wave tread pattern that helps the TB170 XP maneuver even over uneven terrain.
FAQs
Question: How Frequently Should I Change the Oil?
Answer: According to the instruction manual, you must change the oil after every 25 hours of use. In most cases, the best time for changing it is once a year, although that depends on the usage.
Question: Does Troy Bilt TB210 Have a Manufacturer's Warranty?
Answer: Yes, it has a two-year warranty as long as you buy the product from an accredited seller.
Question: What Engine Type Does Troy Bilt TB210 Have?
Answer: The Troy Bilt TB210 type has a Honda 159CC engine.
Question: Where Can I Get Troy Bilt TB210 Gas Mowers and Alternatives Near Me?
Answer: Troy-Bilt gas lawn mowers and their alternatives are available online at TroyBilt.com, Amazon, among other local dealers.
Question: Who Sells the Troy Bilt Spare Parts?
Answer: Troy-Bilt products, including push gas mowers, trimmers, and ride-on mowers, are available at the Troy Bilt store online. There are also a good number of local stores across the United States.
Question: What Oil Is Best for Use in Troy Bilt Push Mower?
Answer: Troy-Bilt gas mowers are powered using 4-stroke engines. Therefore, any standard type of SAE-5W30 oil is safe for use in these devices. Make sure not to mix gasoline with oil to prevent the engine from damaging.
Recommendation
Purchasing a lawn mower is a great decision. Therefore, your today's choice can bring a difference to your home. You can also choose to have the lawnmower with you for a long time, depending on the selection made.
Make sure you familiarize yourself with the buyer's guide to learn what to consider before shopping. It will ensure you make the right decision for your unique needs.
Many gas lawn mowers need frequent maintenance than electric mowers, although the latter is still more powerful. Whether you decide to purchase a Troy-Bilt TB210 lawn mower or its next best alternative, Make sure that you choose one that will meet your expectations and fulfill the needs.
Conclusion
Troy Bilt TB210 is a perfect choice if you have a small or medium-sized lawn. The front and back wheels of the mower ensures optimal performance without technical glitches. The mower shapes your lawn in a way that does not require frequent correctional mowing and easily cuts through the grass on the yard without choking.
The maintenance of TB210 is easy and can be kept in great shape throughout the year. The 2-year warranty ensures you get full support from the manufacturer, in case you experience challenges in its operations within the time covered, without having to spend an extra cost.
Read More: