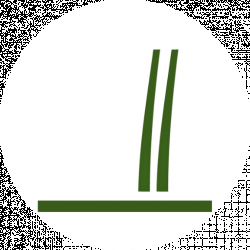 Latest posts by Turf and Till Team
(see all)
Are you looking for a full review of Troy Bilt TB200? We have combined our efforts, time, and a lot of resources in ensuring we deliver and avail of the troy Bilt tb200 review. It is with no doubt lawn mower is a useful machine when it comes to mowing.
This is one of the tools or types of equipment you need to keep if you do garden kinds of stuff. You must be seeking to own one, and maybe this is the reason why you are here. Perhaps you want to know every bit of every feature that Troy Bilt's lawn mower is the subject.
This article will be looking at everything you need to know to keep you familiar with this device. However, before we jump to that, it would be nice to know factors you need to consider to ensure that you purchase the right machines and the perfect one. Here are some of the factors
Factors To Consider When Buying Troy Bilt TB200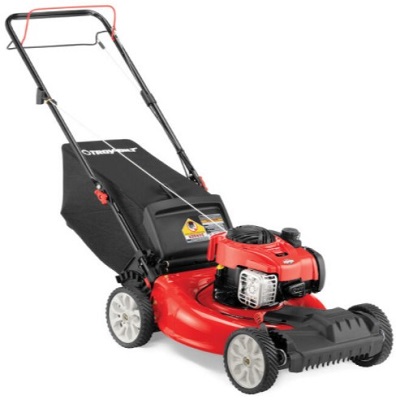 If you are looking for a new lawnmower, what should you look for? Perhaps you have not purchased a lawnmower, and the most surprising thing; things have changed, and it is not business as usual.
Whatever you considered the last time you bought a lawnmower, it is probably not what people feel nowadays. The following are the things to consider when purchasing a lawnmower.
Position Of Operation
It is vital for you and your crew first to determine the operations positions of the lawn you want. You need to be comfortable while on duty, and this will call for the right lawnmower for you and your crew as far as the operation's position is concerned.
There are those you can operate while standing, sited or even walk. If you are planning to use your mower in a tight place, consider Troy Bilt TB200. It has the capability, and it's a walk-behind lawnmower.
What The Cutting Width Task To Be Done?
The second factor you should consider is the task your machine will be doing. Will it be doing just mowing, or are there other tasks you will be subjecting your mower? If you can answer this, then getting the right mower will be as easy as you read this.
Troy Bilt TB 200 comes with bagging capabilities and has several compatible attachments that can help you attach accessories for different tasks.
Troy Bilt TB 200 comes with the capability to cut at different lengths, and this is why you need to think about the cutting length before buying one.
It is worth noting that smaller mower decks are agile and compact while large mower decks mow faster and more. Before you buy, it is important to think about any width restriction like the storage space, trailers, and even trees that might be the place where mowing will be taking place.
Discharge Taste And Preference
How would you like to discharge your grass after cutting? Depending on the situation, you may have a preference to discharge grass.
Consider the property or the place you will be mowing. For a quality outside discharge while for government and roadside mowing, consider rear discharge. Regardless of your needs, troy Bilt TB210 will be a solid match.
Fuel Preference
Fuel preference is the most critical factor because if you don't have the right fuel, you won't operate the machine. It is always right to get a mower that you can fuel efficiently without difficulties.
Remember, fuel preference also is crucial to your overall operating cost, productivity and efficiency. Troy Bilt TB200 is a gas-operated machine, and you should never worry about buying it since it is a self-propelled gas lawnmower.
Power And Engine Type
Not every other lawnmower is fitted with an engine that is effective and can get work done faster. You need to have a mower equipped with one of the most useful engines that you can trust.
A good engine is the center of the best mower, and a good engine will translate to quality work done with less effort and less fatigue. The Troy Bilt TB200 is fitted with a high-performing Briggs and Stratton engine. This engine features a prime N pull E-Z starting system to ensure easy and reliable starting and comes with a single drive system.
Cutting Quality
When you are buying a lawnmower, consider the quality of the cut by every lawnmower. Different mowers will offer you various quality cuts depending on their individual quality. 
Check on the level, the height adjustment, and the blades as they contribute significantly to the cut's quality. Troy Bilt TB200 is always on point when it comes to the quality of the cut.  It has been designed with a lot of attention directed to cutting quality.
Ease Of Use
You don't have the whole time globally, which tells you that you should find everything you do simple and easy to operate.  You don't have to get a mower that will take you the whole decade to master the art of operating and using it. It should be easy. 
Features should be comfy and convenient with a one-step process of working, if possible.  Troy Bilt TB200 poses is easy to operate, thanks to its single-speed drive system, among other features.
Troy Bilt TB200 Full Review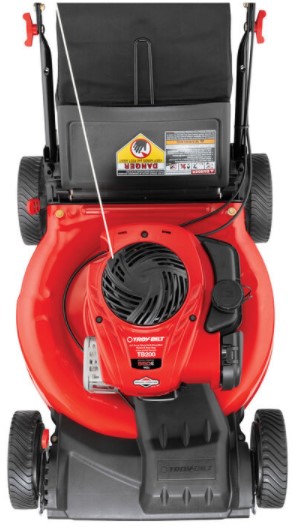 Engine And System
Troy Bilt TB200 lawn mower is robustly powered by the 140cc Briggs and Stratton 550ex series engine combined with single front-wheel drive transmission for easier and straightforward operation.
If you are the kind of person who loves mowing while standing, this is your thing. It's a walk-behind mower with various features, including the mulching and the rear bag for disposing of the cuttings for precise and quality work.
With troy Bilt TB200, you will get to enjoy the TrioAction cutting system that includes a rake bumper for lifting grass upright.
Control 
Troy Bilt TB200 lawn mower is designed with special blades to ensure finer mulching and a symmetrical deck to facilitate fine grad flow to eliminate clumping. Attached to the mower's upper hand, you will need to depress and squeeze it when operating the unit and release it when you want to stop the engine. 
Take care not to bypass the blade control because it's a safety device. You will be able to engage the drive using the drive control and adjust the cutting height using the height cutting lever. It has two levers, one found on the right side of the wheel and the other on the left side.
The two should be at the same level for them to cut uniformly. The manufacturer of the Troy Bilt TB200 knows that you can't run away from getting the mower dirty.
This way, they design the mower with a deck equipped with a water port on the surface as part of the washing system. You can use this deck washer for thorough rinsing in removing the grass clippings.
Performance
The quality cut is not just achieved by cutting the grass at the same level only but also by having the grass disposed of or in the right place.
Troy Bilt TB 200 can discharge the grass from the side, making it ideal for mowing residential homes. However, it doesn't mean that Troy Bilt TB200 can't do mulching.
If you want to mulch the grass, you need to remove the grass catcher to allow the rear discharge door to close the rear opening of the mower. You are advised not to cut the wet grass if you want to have effective mulching, but instead, you can use the bag catcher to bag the grass clippings.
Features And Specifications
Rear bag for collecting grass clippings for easier clean up or composting

It comes with a side discharge and a built-in clip for attaching the handle when not in use

Deck wash port for connecting the deck water hose for cleaning of the grass clippings under the deck

The Advanced TriAction cutting system features a bumper used in lifting the grass upright, a unique designed blade for finer mulching, and an asymmetric deck for supergrass flow

Dual-lever with six-position height adjustments makes it easy to adjust cutting heights from 1.25-in to 3.75-in high.

Single-speed front-wheel drive for faster completion of the job

Two years limited warranty

Bottom bail speed control

Prime N Pull E-Z starting system
Pros
Easy to use and assemble

It's portable due to its lightweight design.

Ability to maneuver even in tight places

Best for simple yard and healthy hands

Gets work done faster due to the strong Briggs engine

Easy to clean due to the wash port

Mulch perfectly

Can cut through tall grasses

Good on hills and terrain

Easy to start with the single drive system
Cons
Made of too much plastic

It may not last for long.

Fitted with cheap wheels that may need regular replacements

An alternative for the Troy Bilt TB200 lawn mower
Alternatives For The Troy Bilt TB200 Lawn Mower
Honda HRX217K4HYA HRX Series Lawn Mowers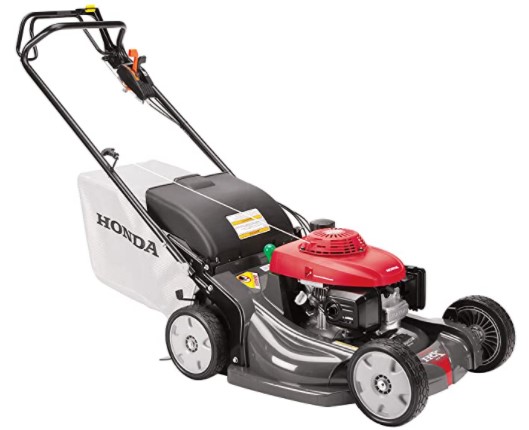 Honda HRX217K4HYA HRX Series Lawn Mowers is powered by a Honda GCV auto choke engine that uses an HRX cruise transmission and an infinite speed control with a comfortable level between 0 to 4 MPG. With the Roto stop blade clutch, you got the freedom to either start or stop the blades even with the engine running.
It also has a micro-cut twin blade system that uses four cutting surfaces to offer ultra-fine clippings. If you are poor in maintaining machines and tools, this would be the perfect choice for you since it's rust-resistant, it doesn't dent or corrode. The three-position folding handles make it easier to store. It is a machine that is EPA and CARB compliant.
When you buy this device, you get to enjoy five years of warranty. This mower is fitted with seven different mowing heights, and variable speed controls for different cutting heights. 
It can do the mulching, bagging, discharging and leaf shredding.  It is also portable, following its lightweight design.
Continue reading our full guide on how to find the best Honda Tillers or check out our Honda HRX217VKA Review.
Features
Automatic choke

HRX cruise control

Honda GCV auto choke engine

Speed control

Lightweight
Pros
Cut grass into small clippings and fill the bag up.

Easy to use

Quiet and smooth

Quite fast to start

Pretty powerful due to the robust engine

Solid construction that is fit and finishes

It does mulching well.

Durable and long-lasting
Cons
It might seem too pricey for someone.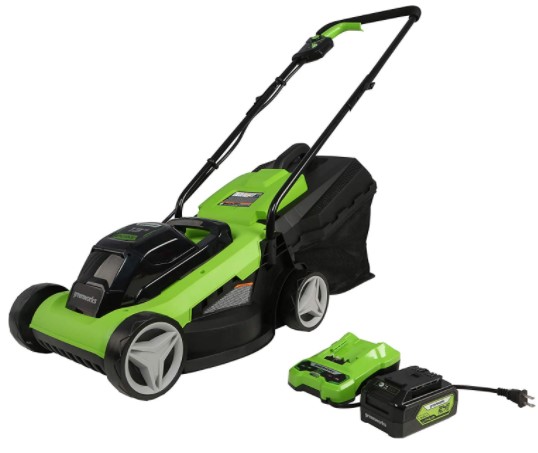 GreenWorks has been delivering battery-powered lawnmowers with excellent performance in every voltage range from 24 to 82 volts.
This particular mower uses a 24 volts lithium battery that provides 20% more power and 35% more running time while delivering fade-free power without any memory loss even when charging. This outdoor power equipment can tackle up to 1/4acre with available 1.5 Ah,2Ah, and 4Ah batteries.
You will realize that USB ports are integrated into the BAG7, BAG708, and BAG709 batteries. With such integration, it becomes easier to carry around and can be used in phone charging and other compatible electronic devices. It also comes with a three-year battery to protect your investment.
Features
Provides 20% more power for a run time while delivering fade-free power with no memory loss

Up to 35minutes run time

Rust resistance and lightweight design

2 – in – 1 features that offer mulching and rear bagging abilities

USB port that charge most of the electronic devices, including phones and tablets

Three years battery for protection of your investment
 Pros
Easy to use

Portability following its lightweight design

Easy to assemble

Easy to maneuver

Relative quiet

Durable and long-lasting

Can charge other electronic accessories like phone and tablets
Cons
May fail to last for long if not maintained well
Lawn-Boy 17734 21-Inch 6.5 Self Propelled Lawn Mower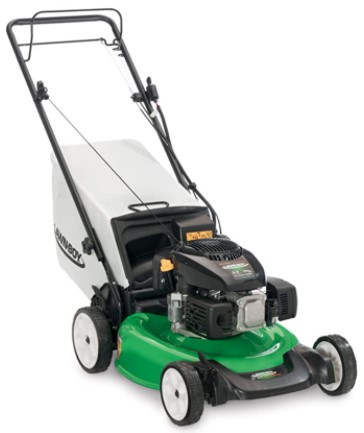 This mower is designed to make your mowing start with ease. Its engine starts with just turning a key with rear-wheel drive self-propelled, providing enough power for increased traction and controlling all mowing conditions.
This Kohler EXT engine proudly brings new lawn care to a new level, with the commercial features delivering uncompromising performance and the operator-centric design offering user-friendly maintenance.
With the durable, lightweight 2-inch steel deck, the mower can mulch and offer a superior cut. You also get to easily adjust the deck's height at two different points for quick customization of your preference height. It has a large bag that easily holds more grass clippings while letting you empty it quickly.
It is also versatile enough as it allows you to choose between mulching, bagging, and side discharging.  The quality of the latter is something unbeatable since you are given a whooping three-year warranty guaranteeing you that it will last for long and if otherwise, you can get it repaired for free or replaced.
Features
Kohler XTC OHV engine

Fitted with electric start

Self-propelled

Tri cut system

Two-point different height cut

Large bag capacity

3 in 1 discharge capability

Three years warranty

Two-year worry warranty
Pros
It starts with the first time every time with the first pull

Tackles every point of the lawn perfectly

Easy to take the bag on and off

Works great as vacuum
It works quietly

Mulches perfectly 

Tremendous and powerful Kohler engine
Cons
Has trouble moving very thick grass
FAQs
Question: Why does my Troy Bilt tb200 won't start?
Answer: The most likely cause of your mower not starting is due to the wrong fuel. It happens when oil gets stuck on the carburetor float bowl with some ingredients in the oil evaporating, leaving a sticker, thicker residue in its wake.
Question: What kind of oil does a troy Bilt tb200 take?
Answer: SAE-5w30 motor oil is the safest for your Troy Bilt tb200 lawn mower and works best in a wide range of temperatures.
Question: Why is Troy Bilt TB200 turning over but not starting?
Answer: It might be because of a loose, dirty, or disconnected part of your lawnmower. You can check it, clean it, and then reconnect it tightly.

It might also be a dirty air filter, and you need to clean or replace it. Besides, it might even be a result of the fuel not reaching the engine. You can tap the side of the carburetor to make the gas flow. If it doesn't still work, you may need to get a new fuel filler.
Question: How do you clean the carburetor of a Troy Bilt lawn mower?
Answer: Spray down the throat of the carburetor and around the throttle plate using the carburetor cleaner. You can either work with the throttle manually or by the lever control based on the engine model to loosen debris deposits. If you find it necessary, you can spray again with the carburetor cleaner spray.
Conclusion: Is the Troy Bilt TB200 Worth it?
Troy Bilt TB200 lawn mower is one of the loved and embraced mower following its unique features. These include a robust and powerful 140cc Briggs and Stratton 550ex series engine combine with single front-wheel drive transmission for easier and straightforward operation, the mulching capability, and the rear bag for disposing of the cuttings for precise and quality work, and the TrioAction cutting system that includes a rake bumper for lifting grass upright.
It also boasts of the special blades to ensure finer mulching and a symmetrical deck to facilitate adequate grass flow to eliminate clumping, and the two levers, one found on the right side of the wheel and the other on the left side, maintained at the same level for them to cut uniformly.
It is a lawnmower that will never disappoint as far the grass cutting is concerned.