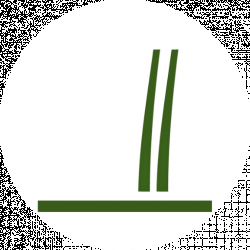 Latest posts by Turf and Till Team
(see all)
Thinking of buying a new Troy-Bilt flex system? You will be pleased to know that a piece of lawn equipment, powered by a single-engine, and is adaptable to undertake different jobs, exists to make all your yard routine tasks easy.
This system will enable you to fit several types of attachments to cover just about every other job you normally encounter in your yard.
You will be able to clean surfaces with a pressure washer, mow the lawn, pump water and blow away leaves from a single machine. All you have to do is fit an attachment that has been designed for the task you want to achieve.
What is Troy Bilt Flex?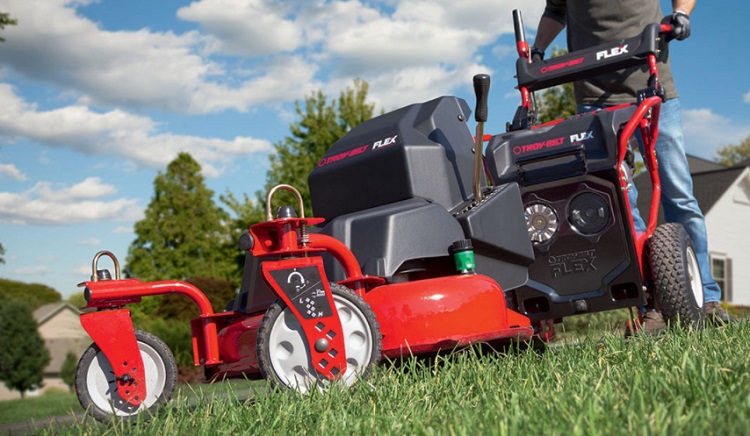 The Troy-Bilt Flex is an all-in-one machine that allows for the attachment of different machines used in yard maintenance.
At its core, the Flex has a single-engine that provides the power needed to run a host of attachments. Each attachment is sold separately and you get to choose only the ones you need and waive the ones you think you think will not be useful.
The only thing you buy is the engine that will power the unit and the structure to house the different attachments. What you end up with is a multi-function machine that will address two of the most common concerns customers have with yard care systems, that is price and storage space.
How Do You Choose Troy-Bilt Flex Accessories?
With an extensive range of Troy-Bilt flex attachments, from water pumps, leaf blowers, and lawnmowers, the options are many for different tasks you do in the yard.
Each of these Flex options has been adapted to suit specific working conditions and users. Before buying one, you should ask yourself a few questions about how they work and which one you will need. The answers will help you select the appropriate type of attachment for your Troy-Bilt Flex.
Type of job
The first factor to consider is the type of job you wish to do with the machine. As we have already mentioned, each Flex attachment is designed for a specific task.
These include jobs such as blowing leaves, mowing the grass, pumping water, shredding waste, and clearing snow. While you may buy all these attachments, sometimes you may need only one or two of the options. This is why identifying which jobs in your yard are of the utmost priority will hasten your decision-making process.
Kind of User
How often you do maintenance work on the yard should influence your choice of the accessories you would like to add. This is because some of the tasks you undertake are seasonal. That means for many months at a time, the attachment will remain idle until it's required again.
For example, if you reside in an area that only snows for 2 months each year, investing in a snow thrower makes sense only if you deal with huge amounts of snow during that period.
You will be much better off going for a tool like a lawnmower attachment because you might have much more need for it to trim the grass during the warmer months.
Storage Space
Storage space can be a very important determinant of the number or type of attachment you can get. You need sufficient space to safely store any of the tools when you're not using or keeping them for the next job.
Some of the Flex attachments do take up quite a bit of space and you're bound to have trouble squeezing them into small or packed garages. Alternatively, If you have more than enough space, you can get most of the accessories you need.
Yard Size
 The size of your yard will determine the amount of yard maintenance works you will often undertake. Suburban homes are usually in much smaller lots when compared to rural homes.
The space left for the yard may not be sufficient enough to require some of the Flex options. Rural homes, however, are usually spacious with plenty of room for grass and trees. For this, acquiring attachments such as lawnmower and leaf blower makes sense.
Budget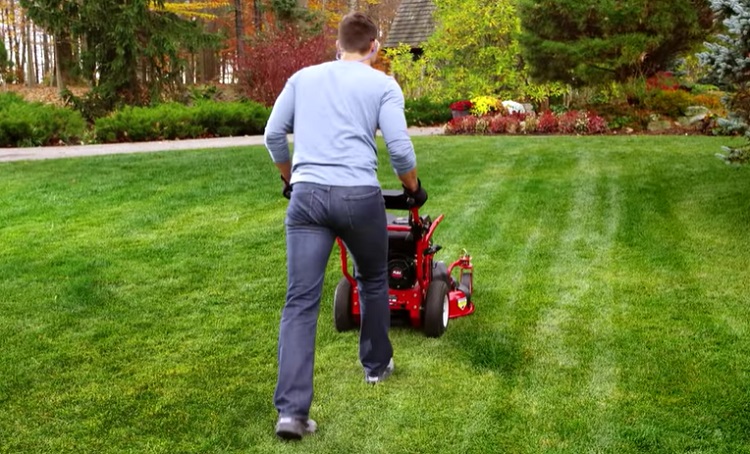 Everyone desires to own the complete set of attachments for the Troy-Bilt Flex. But that's not always possible due to budget constraints.
Most of the time, you will be forced to pick a few that are urgently required for your work. Therefore, you need to set your priorities right and assess your options if the budget is of concern.
Start with what you need the most keeping in mind that you can always go back and consider the other options you had left out. However, if your budget is unlimited, you can equip your machine with the full set of attachments available.
Maintenance
Maintenance of equipment as specialized as the Troy-Bilt Flex requires a lot of care. The level of care is amplified if you own more than the extras that are offered for attachment.
It is important to make sure your machine is ready for any busy work ahead. Simple maintenance procedures to enhance the life and reliability of the equipment include maintaining the air filter, inspecting spark plugs, and other components that are crucial in running the machine.
Key Features of The Troy-Bilt Flex
Troy-Bilt made quite the impression when they introduced the Flex Power Base, with a seriously impressive list of attachable accessories and a great design to go with it. There are a host of different attachments to choose from, so we thought it would be useful to take you through some of the desirable features that come with the Troy-Bilt Flex.
Maximizes storage:

Flex attachments are smaller than the other single-purpose yard equipment machines. Because the attachment deck can be separated from the power base, it's easy to find storage even in the most confined of spaces. The manufacturer claims that the Flex system can reduce your garage storage space by up to 60% because there is only one engine to store.

Lower operating cost:

Thanks to the unique design that utilizes only one engine, maintenance costs are lower in comparison to having multiple types of equipment, each with its own engine. It is easy to schedule service and you won't have to worry about keeping a list of different spare parts.

Save money:

The Flex lets you do a variety of yard chores using the multi-function attachment. Instead of spending a lot of money buying several single-purpose pieces of equipment, the Flex will offer you the versatility of doing most of the jobs while running a single power source.

Saves time:

An easier maintenance schedule ensures that the machine will always be ready for work whenever it's required. And you won't need any pre-warming routine of the engine before using any of the attachments in a colder climate. This is because the Flex Power Base is fitted with a dial that controls warm weather and cold weather operation.
Troy-Bilt Flex Options
If you have decided on a new Troy-Bilt Flex system, then there are multiple option packs available to kit your new equipment.
In this section, we will help you understand the options by breaking them down. Many of these options have a specific set of functions to make easy work of any yard care task. Here's our easy-to-understand guide to help you learn more about them.
Flex Pressure Washer Attachment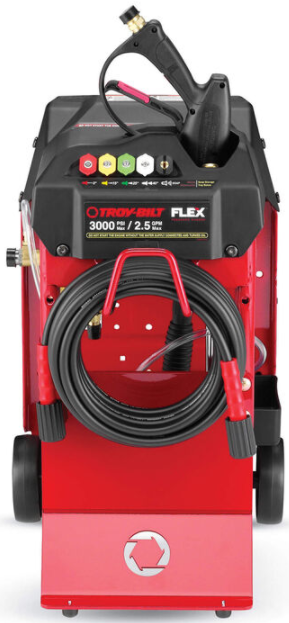 The pressure washer is equipped with everything found on an independent pressure washer. As usual, you will find a hose, gun, pressure washer nozzles, and a tank for putting detergent.
All the accessories that come with the pressure washer are conveniently stored on top of the machine for easy reach whenever you need it. You have the option of using the machine with a pressure washer detergent or doing without.
The washer is capable of spraying water through the nozzle at up to 3,000 PSI which makes a wide range of cleaning jobs easy.
It's fitted with 5 different nozzles, each one color-coded to aid in identification. If you need to reach surfaces that are high above your reach or clean all sides of a car without moving the machine, a 40-foot flexible horse will make it easy for you.
Features
Up to 3,000 PSI of water pressure

Up to 2.5 gallons per minute of water flow rate

40-foot horse for easy reach and access
Pros
It's very powerful

Can clean many types of surfaces

Variety of nozzle sizes for each task

Easy to set up
Cons
Not easy to move the machine around
Flex Wide-Area Mower Bagger
Collecting the waste after mowing your lawn can take a lot of time will leave you feeling tired. It might even be harder work than pushing the mower around.
A mower bagger will ease most of your concerns and this attachment from Troy-Bilt certainly fits the bill. It's designed to work alongside the Flex mower attachment to ensure your lawn is not only neatly mowed but also nothing that can ruin the finish is left behind.
The bagger is made from durable material that guarantees a long life from the time your purchase it. As is customary with Flex attachments, it doesn't take a lot of storage space when you don't need it.
Features
1.95-bushel capacity

Fits Flex wide area mower

Easy to assemble and fit
Pros
Very easy to empty the bag

It can be attached quickly

Made from durable material
Cons
Grass waste doesn't evenly distribute in the bag

The size of the bag is small, they will have to be emptied often
Flex Wide-Area Mower Attachment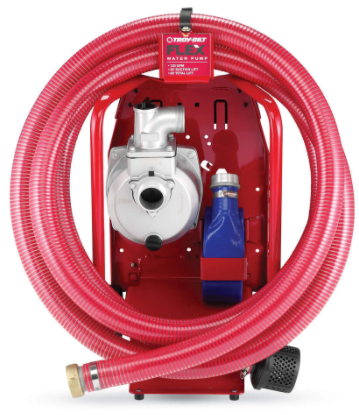 The Flex wide-area mower attachment is a part of a whole new approach to yard maintenance. It offers an enhanced cut quality using its unique twin blade technology that leaves behind a superior finish.
The mower deck is 28-inches wide meaning you'll need fewer passes to mow the lawn if you compare it to most mowers which fall within the 21-inch mark.
The caster wheels that power the machine are pneumatic. What this means is instead of solid plastic wheels that come with many self-propelled mowers, this one uses rubber wheels that have air.
The front wheels spin freely to give you the ability to maneuver the machine and make tight turns. You can lock the wheels should you wish for better control when using the mower in difficult terrain.
Features
Mulch, discharge, or bag grass clippings capabilities

Wide 28-inch cutting deck

7-inch caster wheels for

360° maneuverability
Pros
Solid build quality

Wide cutting area

Twin blades for superior cutting

Selector lever that allows you to choose the cutting depth
Cons
You may need ear cups to protect your ears from the noise

The lever that controls wheel speed may take some time to understand
Flex Water Pump Attachment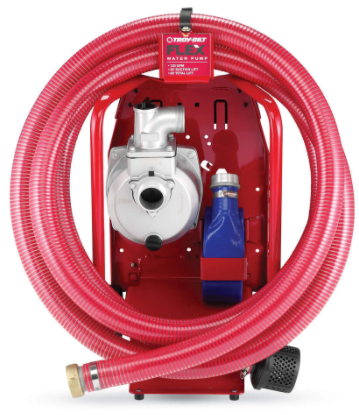 At its core, the Flex water pump is designed to move large amounts of water from one reservoir to another. One thing you factor you cannot avoid when shopping for a water pump is the flow rate.
With a 120 gallons per minute maximum water flow rate, this high-performance water pump is sure to solve most of your water transfer needs.
This multi-function water pump can be used for filling up your backyard swimming pool or any tanks around the house. Unfortunately, it has been designed for use only with water that doesn't have debris or any corrosive chemicals. Doing so will reduce the lifespan of the Flex water pump.
Features
Up to 120 gallons per minute of water flow rate

20-foot reinforced suction hose
Pros
The controls are user-friendly

It's lightweight and compact

Very easy to store
Cons
It only works best for outdoor use
Flex Chipper Shredder Attachment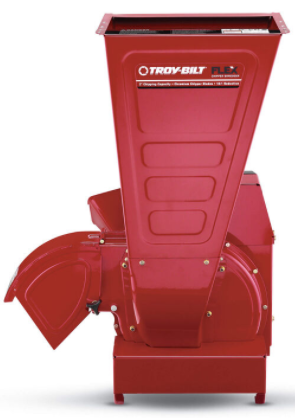 If you need to dispose of tree branches or shrubs on your property then this Flex attachment should be on your radar. This is a dual-use machine that can cut branches into smaller pieces or shred them into organic material that you can use as mulch.
Few stand-alone chipper shredders work as well as this Flex model. It's lightweight for the power it packs and will allow it to dump in and shred plenty of tree and shrub waste.
If you have a small yard and would prefer having a multi-purpose engine like the Flex power base, then this is the tool for you.
Features
Drop-in hopper and dedicated chipper chute

Steel impeller

Two hardened-chromium steel plates

12 replaceable steel flail knives
Pros
Easy to operate

Chipping and shredding capabilities

A versatile engine that powers the attachment
Cons
No collection bag

It does not work well with large branches
Flex Leaf Blower Attachment
Large yards need a powerful engine that can generate a high operational speed to clear leaves with the force of a hurricane.
The Flex leaf blower can manage up to 1000 cubic feet per minute of maximum air volume which is near twice as much as most hand-held blowers can manage. Because it's attached to an engine that supplies the power, it's one of the most superior leaf blowers you can have in your shed.
While not as lightweight as the backpack design of the smaller residential blowers, this unit will generate the airspeed necessary to handle most of the work around the yard. From leaves to other debris lying about in the driveway, you will enjoy the versatility of this machine.
Features
Airflow up to 1000 cubic feet per minute

Airspeed up to 150 miles per hour

Front or side air stream

0°-15° adjustable airflow direction
Pros
Variable air speed control

High airspeed of up to 150 MPH

A large fuel tank that powers the attachment

Compact design for easy storage
Cons
Not easy to move the whole unit around

Too powerful for most residential needs
The Best Alternative to Troy-Bilt Flex
Stihl KombiSystem
With the Stihl KombiSystem, you're in total control of most of the landscape maintenance jobs. It has a suite of attachments to keep your lawn looking good all year round.
You can undertake tasks such as cultivating, bed edging, aerating, dethatching and many other important yard care maintenance works.
All of these attachments are powered by an efficient handheld Kombimotor. The handle is ergonomically designed for maximum comfort and to make it easy to replace any of the attachments.
Features
Anti-vibration system

Quick-release coupling

Electronic ignition module
Pros
Low emission engine

Lightweight design makes it easier to carry

Multiple attachment options 
Cons
The engine is not very powerful

Can only handle light yard duties
Echo Pro-Attachment Series
The Echo Pro-Attachment Series has you covered for most of the residential yard care duties. This multi-tool equipment can trim, blow, prune, edge, and cultivate from a single power source.
The only alterations you make is to change the attachment to suit the specific job you want it to perform. Each accessory can be changed easily by fitting and tightening the attachment to the engine.
Features
ES-Start system

Commercial grade air filter

Quick change coupler
Pros
Wide range of attachment kits

Competitively priced in comparison to other multi-task systems

Extendable attachments to reach into difficult spaces
Cons
The power source is prone to bad starts

Only fits Echo-branded attachments
Ego Power Multi-Head System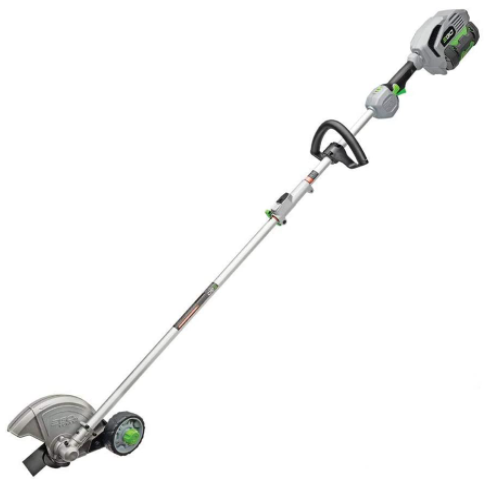 Do you ever wish for a cordless electric multi-task yard tool? Wish no more because the Ego Power Multi-Head System is the answer to all of your problems.
Ego is one of the largest manufacturers of cordless tools that take a new route from the common gas-powered tools. The PH1400 battery power source is the heartbeat of the Ego Multi-Head system. It features the industry-leading ARC Lithium battery technology for superior performance and long-lasting run time.
Features
56V ARC Lithium battery technology

Efficient brushless motor

Multi-part compatibility
Pros
Water-resistant construction

High and low-speed selector

Battery cells dissipate any residual heat

User friendly with easy controls
Cons
Can only do light residential duties

Needs recharging every time the battery runs out
FAQs
Question: Can you buy the Troy-Bilt Flex with all the attachments?
Answer: Yes, you can. All the attachments can be bought at a go and the manufacturer has priced all of them such that you will end spending less money to buy all the options available. It costs more to purchase stand-alone tools for all the functions the Flex does.
Question: Is there an electric version of the Troy-Bilt Flex?
Answer: The Flex Power Base system is only available as a gas-powered engine. However, it has many advantages such as running the system at all times as long as there is fuel in the tank.

With electric tools, you are limited for range if they're corded and more downtime for battery-powered models. This is why the Troy-Bilt Flex is highly recommended because you get to use it when you need it.
Question: Which is the best Troy-Bilt Flex attachment?
Answer: The Flex attachments perform different functions. Some like the mower bagger, work hand in hand with the wide-area lawnmower. To get the best Flex attachment, you need to assess which lawn duties require your attention often. That way, you can invest in one that will best suit your needs.
Conclusion
The Troy-Bilt is without a doubt the best multi-task lawn care equipment you should spend your money on. Its array of features will allow you to perform most of the jobs on your property without breaking a sweat or your bank account.
Storage will be optimized as you won't be storing many large tools with engines to boot. Thanks to a single power source, maintenance, and sourcing of parts will not be an issue.