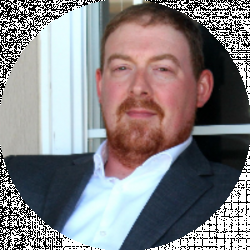 Latest posts by Justin Caldwell
(see all)
Anyone knows it takes a ton of work to maintain a garden. Even if you have a green thumb, you will spend hours a week outside watering, feeding, trimming, pruning, and caring for your plants.
However, you can save a lot of time with a cultivator rather than doing it by hand. There are a few different types of cultivators with different features that might come in handy depending upon the size of your garden and what you need.
It's best to know what your options are before making a decision so you can shop around for the best features and the best price.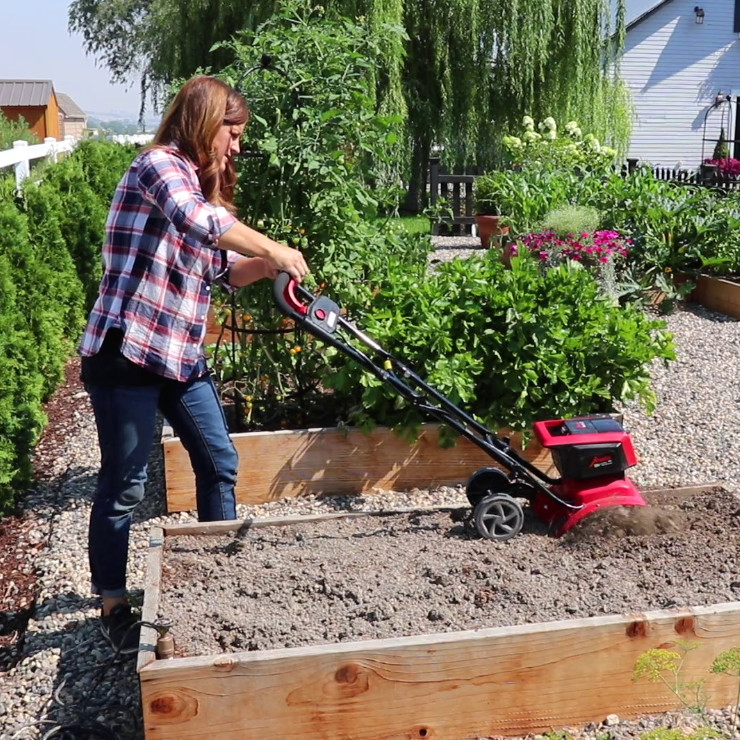 What is a cultivator?
A cultivator is good for several different tasks around your garden. It helps loosen the soil in your planting area, it can weed an area you don't want to pull by hand, or it does a great job mixing compost into the soil.
It can also accomplish more complicated tasks like weeding between rows of plants or aerating your soil. It's an all-season tool than many gardeners simply don't want to go without because it makes it so much easier to get things done.
Cultivators are perfect for smaller gardens, whereas tillers are bigger machines for larger areas. Cultivators are much easier to maneuver than tillers and they come in several different varieties. You can get gas powered cultivators or electric models that have cords or batteries.
Gas powered models have a crank start but you can purchase an optional device separately that can eliminate the need for your pull cord. Corded cultivators may need an extension cord to reach your garden, but will always have power, whereas a battery powered model will need to be charged.
When a Cultivator Won't Work
Often, people wonder if they should purchase a cultivator or a tiller. It can be tough to know which you need, especially if you've never had either before. Often, they're thought of as the same thing, and to add to the confusion, they're often marketed as the same thing, as well.
However, they're two very different pieces of equipment. It's important to know the difference, or you'll end up with something that simply won't work in your garden.
Primary differences between cultivators and tillers
Cultivators are used to mix loose soil, but a garden tiller is a lot tougher. It can break up very hard pieces of ground. A cultivator won't work if you're trying to create a new garden plot, because the tines aren't strong enough to loosen hard soil.
On the flip side, you shouldn't use a tiller to do your cultivator's work. Your tiller will loosen much more dirt than needed and your soil mixture won't be what you expected or what your plants need.
Cultivator uses
You can use a cultivator if you want to mix potting soil and the dirt in your yard together. You can also work in fertilizer, compost, or manure. It breaks up the soil so you can more easily pull weeds and grasses by hand, preventing them from taking over the garden, and it will do a great job of aerating.
It can also weave easily in and out of rows because of its compact size and will be a fantastic companion if you have an existing garden that needs regular attention.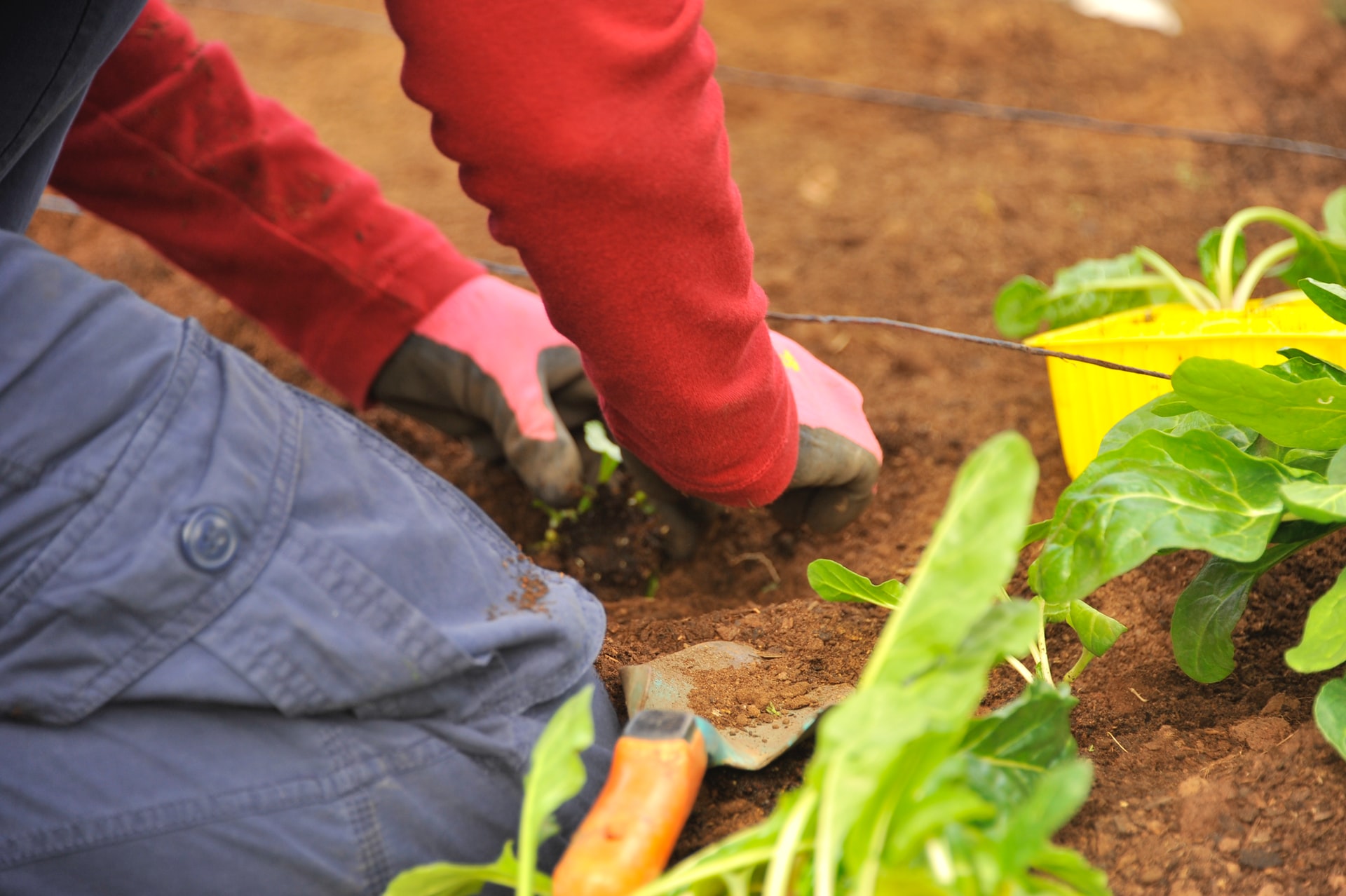 Tiller uses
A garden tiller is a much better choice if you don't have a garden yet, or you're looking at expanding your garden. It can break up hard ground and make room for planting. If you have incredibly rocky soil you need to loosen and you want to install a new garden plot, it's the tool you need.
It's also a great commercial tool and can be beneficial because of its size and strength. For the cost, you'll want to make sure you're getting a lot of use out of it to make sure it pays for itself.
These two pieces of equipment seem very similar, but they do two very different things, so you'll want to make sure you know exactly what you need before you make a purchase. It will ensure you get just the right amount of detail in your garden for the best results possible.
Types of Cultivators
Cultivators come in many different varieties and with plenty of features, so you'll want to know exactly what your options are. Figure out what type of work you need done and then check out the capabilities and features available on the machines you can buy.
Here are some of the things you can get:
Two-cycle engines that work with a mixture of gasoline and oil
Four-cycle engines that don't require mixing gasoline and oil
Tilling width and depth that matches your planting needs
Reverse drive to increase mobility
Pneumatic tires for traction and maneuverability
Power take-off (PTO) to power ground-engaging attachments
Electric cultivators
Electric cultivators are lightweight because they eliminate the weight of a full gas tank. They're easy to use so they're great for small spaces or quick jobs. The compact electric motor features several advantages for small-scale gardeners:
No mixing gasoline and oil
Takes up less space in storage
Quiet operation
Most electric cultivators have adjustable tines by width and depth. This offers you versatility, even if you have a smaller garden plot. Even if you plan on expanding your garden a bit over the next several years, an electric cultivator is still a great choice.
Gas-powered cultivators
Gas-powered cultivators can be quite a bit heavier, so they're a good choice for able-bodied gardeners who can support the weight. However, they're much lighter than garden tillers, at an average of 25 pounds.
Gas-powered cultivators are more powerful than electric cultivators and the heftier weight can support some heavy duty tasks like:
Working in medium-sized plots or farther away from a power outlet without charging
Blending denser soil and additives
The tines propel the machine forward and rip through the soil at the same time, giving you an excellent forearm workout while you steer and guide the cultivator. You'll also achieve maximum efficiency as you thoroughly mix your soil.
Buying Options
No matter what you're looking for, there are plenty of options. These are some of the top selling cultivators, both electric and gas.
This cultivator has two speeds, so you can actually use it as a cultivator and a tiller. It's quiet and lightweight, thanks to the 58-volt battery operation, which means you can tote it around the yard without getting too tired.
It comes with the battery and the charger. You won't ever have to mess with oil or gas. The operation is super easy, although there is some assembly required.
Another nice thing about this combination tool is that it comes at a middle of the road price point. While it's not the cheapest option on the market, it's certainly not the most expensive, so you can get a good value from this over other cultivators.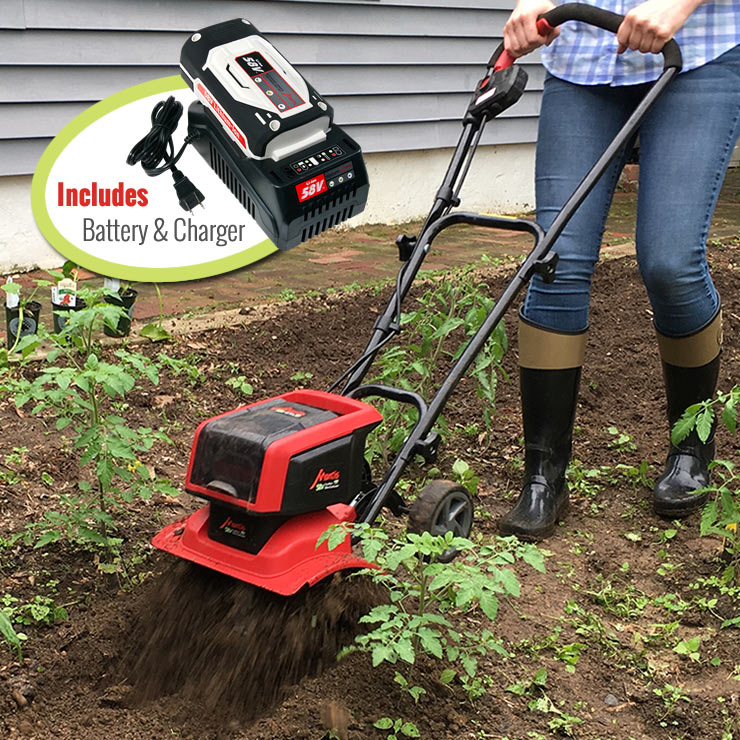 The downfall is that you may only get about 30 minutes of actual runtime from the battery. If you have some heavy duty work to do, you'll have to charge it back up before continuing in the garden, which means a big job could take several days.
It takes about 1.5-2 hours to charge fully, which is typical of battery-operated cultivators, so that's no surprise, and the power you'll get from this machine is pretty impressive for the price. It won't be the most durable cultivator you'll own, but it's great for small gardens if you need a dual-operation machine.
The Earthwise brand isn't as well-known as some others like Mantis, but you'll get a good quality tool for the price, because they don't invest as much money in advertising their products.
In fact, their mantra centers around less waste and less emissions for a healthier environment. They'd much rather give you powerful gardening and a greener environment for your plants to grow.
This particular cultivator comes with a 40-volt lithium-ion battery and a fast charger. It's lightweight at only 27 pounds and has an ergonomic handle, making your job much easier and more comfortable.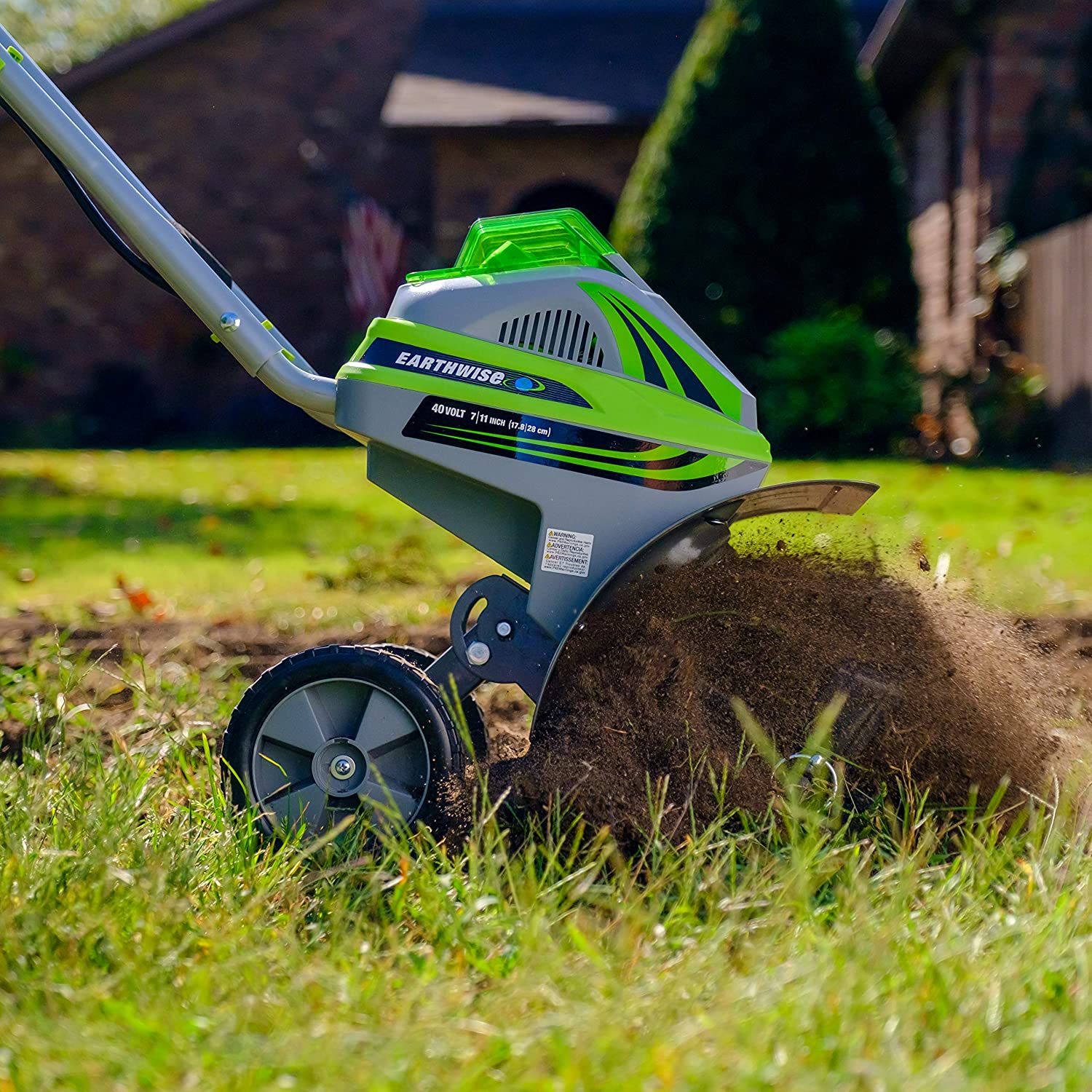 The depth of cultivation is adjustable up to 8 inches and the width is adjustable from 7 to 11 inches. You can experience power and convenience with 45 minutes of battery life.
What you will notice is that sometimes that battery won't charge properly or it won't hold its charge, but Earthwise has excellent customer service. You can also purchase spare batteries, which will get you through even more gardening before needing a charge!
This cultivator is a little bit on the pricey side and it doesn't come with a battery or a charger. However, what you're getting is an excellent quality tool from a well-known manufacturer in the gardening space.
If you're looking for something you know you can count on for reliability, you want a cordless battery-operated cultivator, and you have it in your budget to get something like this one, it's the perfect product for you.
Not only is the Snapper product superior to most others, but it's powered by a Briggs & Stratton Lithium-Ion battery that is also better than most other battery manufacturers you'll find.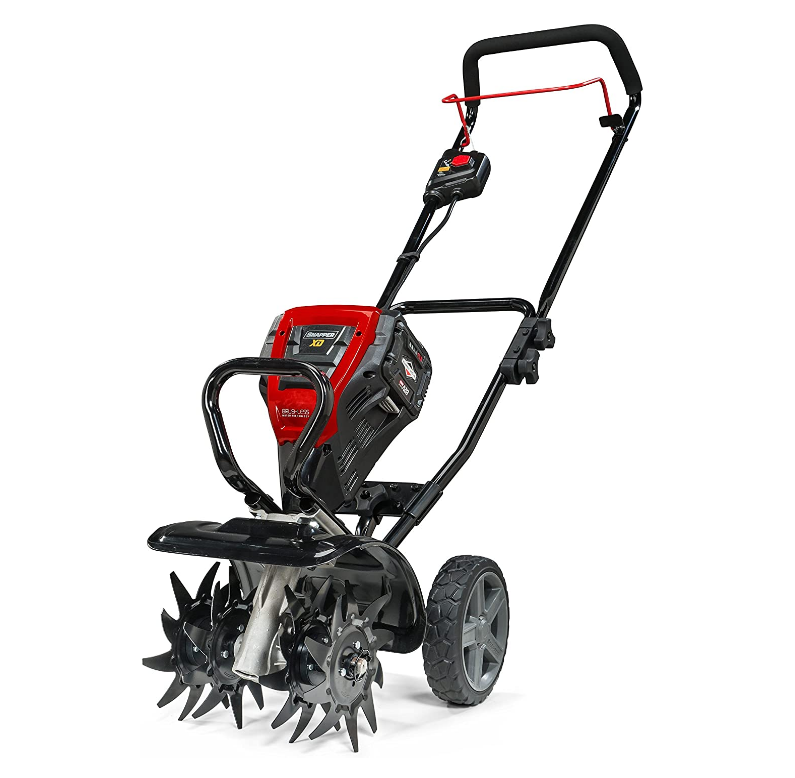 You can get a 2.0, 4.0, or 5.0 battery that will allow you to get the specific runtime you need for your garden. You'll get reliable power in a machine that requires a lot less maintenance. Plus, with push-button start, it's super easy to start, so you won't have to worry about pulling a cord or exerting yourself too much physically.
The 2.0 battery has 30 minutes of runtime, so imagine how much you'll get out of the others. Of course, runtime is always affected by your unique operating conditions.
The outer tines are adjustable between 5.25 and 10 inches and the 8-inch wheels can be removed for additional digging if needed.
The handlebars are designed for heavy duty use and the ergonomic front handle makes the cultivator much easier to maneuver. With a sealed metal gear drive transmission, you also get additional durability throughout the entire machine, meaning it will last longer, perform better, and you'll get more for your money.
This is a popular gas-powered cultivator, and it's great for weeding between rows of your existing garden. However, it's not the tool you want for dense areas of grass. Keep in mind that it's meant for maintenance and upkeep, not new tilling.
It's relatively quiet for a gas cultivator and doesn't require mixing oil and fuel for operation. You can start it standing up, which makes it a lot easier to start, but it does require pulling on the cord because it doesn't have a push button.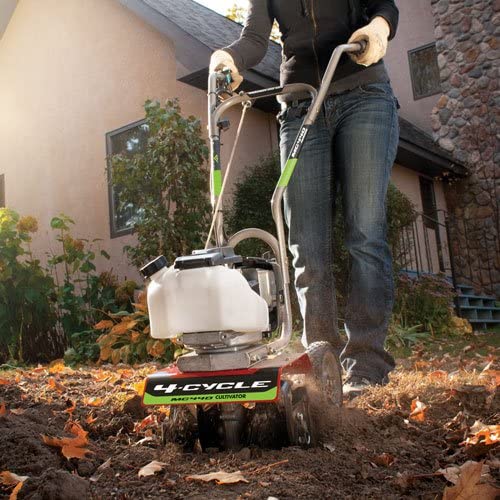 You can stand behind the handlebars without bending over, but it will require some physical work, so it may not be the best option for those not physically able.
The air filter design keeps your engine from damaging dirt and plants outside of your cultivator's path. It's also a long lasting design that should give you years of cultivating power.
Additional accessories like edgers and trimmers and dethatcher kits help you maintain borders and keep your garden clear or excess weeds.
One complaint about this cultivator is that users found they had to tilt the unit forward to monitor the oil levels, which was rather difficult and inconvenient. The tines also get clogged easily in thick grass, so if you happen to attempt any use outside of your garden, it won't work.
This electric cultivator gives you the power you need without all of the noise or emissions. It's easy to start with just the push of a button and it's lightweight, so you can maneuver easily through tight spaces like small gardens with flowers and vegetables.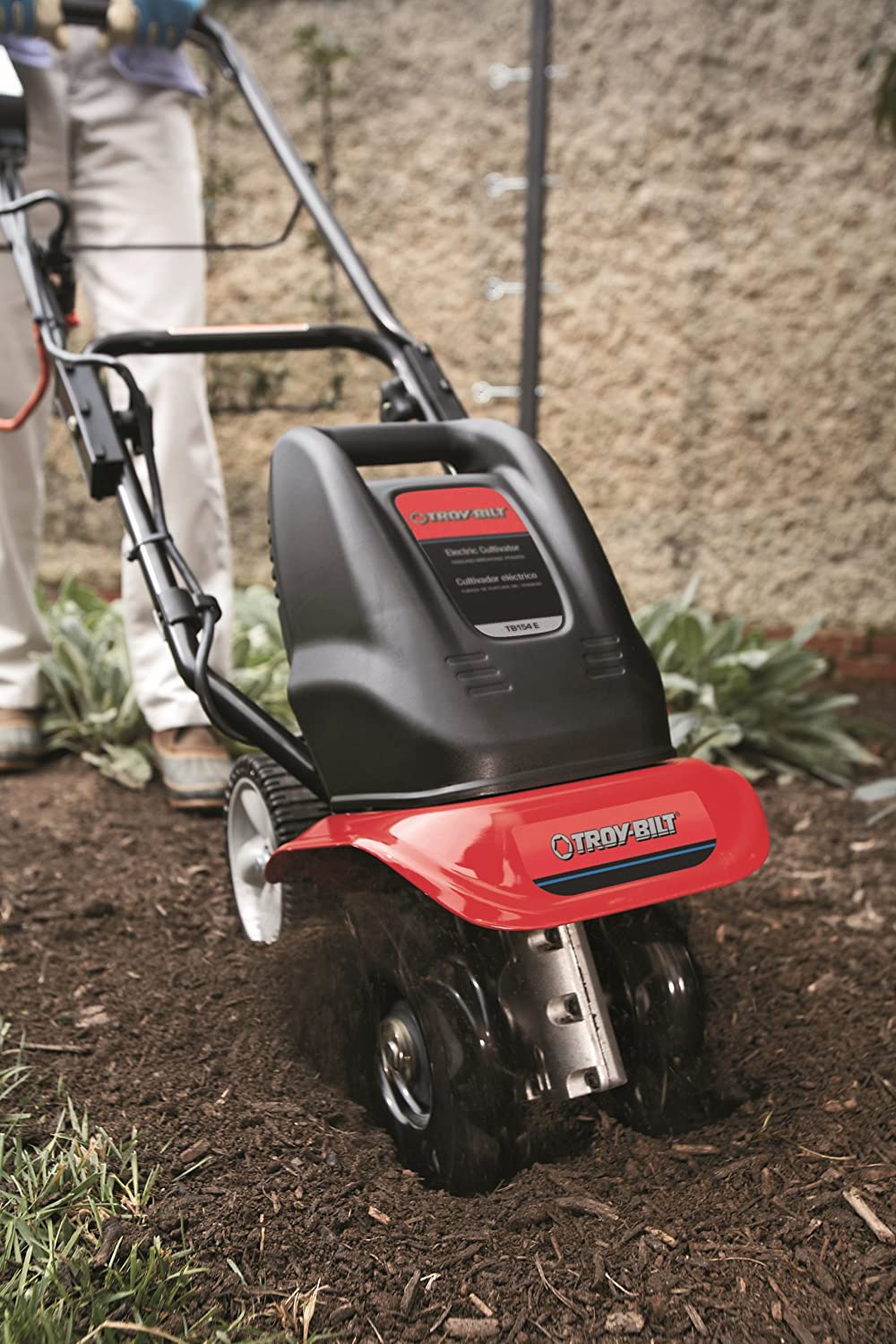 It has 8-inch, 3-way steel tines with tips for digging, tearing, and turning. It's designed for dusty and dirty environments so it will be reliable year after year. It also comes with a 2-year warranty, meaning you can rest easily knowing that if it sits all winter and stops working, you can get it repaired or replaced.
It can till up to 5 inches deep and has an adjustable tilling width of 6 to 9 inches. It has a heavy duty gear box to protect its most important, moveable parts for a long working life. The transport wheels make it easy to move in the yard when you're not using it.
FAQ
If you're in the market for a cultivator, you may still have some questions. In fact, the research may leave you more confused than ever. It can be daunting, so these frequently asked questions should help.
Question: How do I choose a cultivator?
Answer: The first step is to decide what kind of work you need to do. Cultivators with motors can be categorized as light, medium, or heavy duty. Of course, each category has its own advantages, so you'll have to determine what's most important to you.

If you want something small and more maneuverable, a light-duty cultivator is probably what's best. However, if you need something to really power through weeds and other gunk in your garden, or if you have a larger space you need worked, a heavy-duty machine is what you'll need.
Question: Can you till with a cultivator?
Answer: If your garden is out of control, you'll want an engine that's capable of handling the mess. You can opt for a tiller/cultivator combo that can tackle the job. It's a handy piece of equipment that makes fast work of deep tilling.

A regular cultivator is unlikely to cut it, but there are options out there that allow you to switch out the hardware in exchange for blades that will till rather than cultivate. They have more power and are likely larger and heavier, so they're not for everyone or every job.
Question: What is the difference between a cultivator and a rotavator?
Answer: A cultivator is driven by its blades while a rotavator has wheels that drive it while the blades follow along behind. You can typically use a rotavator for the same jobs as a cultivator, but they're not as powerful. They're typically used in smaller spaces.
Question: Why would you use a rotavator?
Answer: Rotavators can be very powerful. You can use them to break up, aerate, or churn your soil prior to planting seeds or laying turf. It can improve drainage, level an area, or prep the ground for growing crops.
Question: Can you use a cultivator to remove weeds?
Answer: Where a cultivator really shines is loosening soil. It rotates, digs, churns, and aerates. If you have excess weeds or grasses in your garden, you can certainly use a cultivator to loosen the soil first, making the weeds very easy to pull out by hand.
Final Thoughts
If you're in the market for a cultivator, it truly can make gardening much easier and more efficient. They can be a lot of fun to use, too. It saves your knees and back from prepping the soil by hand, but it's equally important to find the right cultivator for your garden, or you'll end up working just as hard or harder.
Use this guide to learn more about cultivators, how they work, and how to find the right one for you. Before you know it, you'll be well on your way to quick and easy gardening without much fuss.