How to Find the Best Lawn Aerator
If your lawn garden has compacted soil, then it is high to purchase the best lawn aerator. Compacted soil can prevent air, water, nutrients, and fertilizer from reaching the roots, hence compromising grass growth. 
You need proper aeration to solve such challenges. Lawn aerators operate by putting holes in the soil for water to nutrients to pass. One should perform such a practice if the garden is losing luster.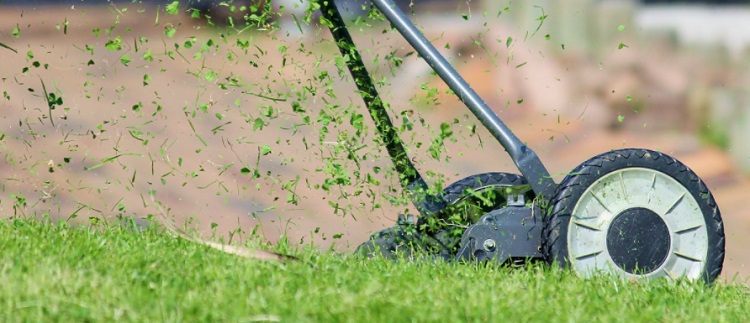 Maintaining your lawn is demanding as the grass requires cutting, watering, and weeding to stay lush. If you still hold that aeration can benefit your lawn, then different lawn styles are available for your selection.
Factors to consider before Buying a Lawn Aerator
Lawn aerators are essential investments when you want to maintain a lush and healthy landscape. With various options in the market, it can be a nerve-wracking task to shortlist a single product.
Here in this piece, we will be helping out by providing the right information to get the correct lawn aerator.
Lawn size
We recommend a large aerator for huge or multiple land plots. For this case, you can settle for a tow aerator since it can handle large yards as it requires more effort. 
If you own a small lawn in cluster homes or rather small-free standing homes, then purchase a push unit or a manual aerator. 
By playing with the two options above, you can land the right model that suits your garden needs.
Plugs vs Spikes 
The issue of whether to settle for spikes or plugs holds some controversy. We recommend one to pay for a plug aerator if you have a budget. That does not degrade spike as they have some benefits too.
Plug aerators have hollow tines that penetrate your lawn and remove plugs of soil. You can use this option where frequent foot traffic hardened the soil. The holes will create soil spaces for root expansion and allow water to penetrate further while promoting air circulation.
Spike aerators are suitable for loose soil if your goal is to cause your fertilizer to access roots. 
Body Material
Metal and plastic are common materials for constructing lawn aerators. If you select a lawn aerator from plastic materials, keep in mind that such material is less durable. On the upside, plastic is corrosion-free and lightweight.
Another good option is metal materials. Metal lawn aerators are durable, sturdy, and suitable for heavy-duty work. Notably, most of them are prone to corrosion. One commonly used metal option is stainless steel. 
Blade Width
One must select an aerator blade that has a proper width. Such a design allows the user to spend little time on lawn aeration. The blade width depends on the type of soil.
Check out to establish the surface area to its cover under a single pass. For instance, a 4-feet width aerator can aerate 33% more soil than a 3 feet wide aerator.
Knives
Different aerators have spikes while others have needles for piercing the ground. Other models have special knives for cleaning weed and old grass. 
It is reasonable to choose the right option that supports your needs. 
Ergonomic Design
Ergonomics play a critical role whether you are using an electric, manual, or petrol lawn aerators. The type of finish on each model should be smooth to avoid getting blisters or straining your back. Furthermore, the handles should have a soft grip to increase the user's comfort.
Price/Warranty
One can use a lawn twice or thrice a year. The lawn size plays a critical role in determining the type of lawn type hence the attached price. Purchase a lawn aerator that is within your budget limits.
Similarly, consider the duration of the included warranty. A warranty period can range from 1 to 3 years.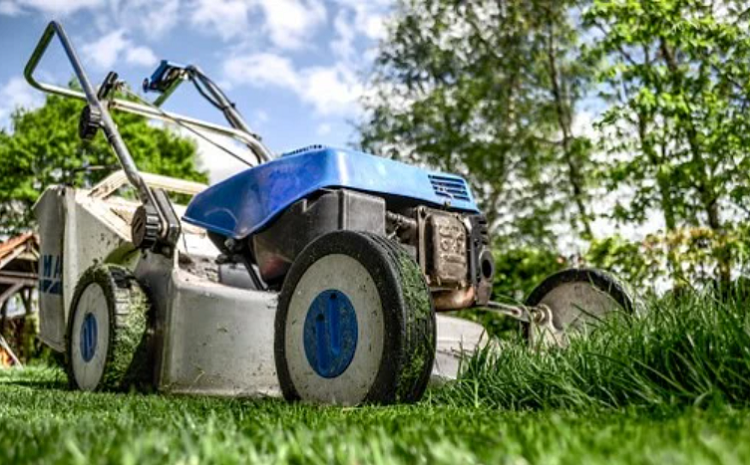 Types of Aerators 
There are different types of lawn aerators, as discussed below:
Slicing Aerators
A sliding aerator has one or several rotating blades, which cuts through the thatch and grass down into the soil. This slicing aerator aerates the soil without causing it to move out of the ground. 
Spike Aerators
A spike Aerator is a fork-shaped device with 5 tines or spikes at the end. It serves by penetrating the soil to loosen any compacted matter. Alternatively, there are also spike aerator shoes for wearing by strapping on the feet so that the user can aerate the soil while walking around. 
Core or Plug Aerators
We also refer to a core aerator as a plug aerator. It is a device that is favorable to lawn care professionals. It uses hollow rows of tines that penetrate the ground to remove cores or plugs of soil from the lawn. 
In the process, this aerator deposits the plugs on the top of your lawn and causes the same plugs to break. Various aerator machines create holes and plugs of different depths and widths depending on the model.
Tow Hitch Aerators
A tow hitch aerator is suitable for a large lawn or an estate. It can hitch to any mower, tractor, or TV. The user has to load this aerator to exert enough pressure to force knives, cutting spoons, or tines into the soil. 
Push Aerators
Push aerators are convenient for the medium-sized garden. Such models manifest in either gas or electric power. The best alternative is an electrical one since the gas-powered option is noisy and can pollute your surroundings. 
Manual Aerators
Manual aerators require the user to do the work. For instance, when operating folk style, you have to use your foot to push into the ground. Such aerators require small yards as using them on large yards may cost long hours of back-breaking work. 
Benefits of Aeration
Why should one bother to aerate the lawn? It is a practice that one should perform once every season. Well, here are specific benefits of aerating the lawn:
Aeration lowers compaction, thereby enabling the grassroots to breathe and absorb the nutrients

It makes your lawn to become more resistant to drought conditions and heat stress

Aeration loosens the soil and makes it to absorb more water from rainfall

There will be an increased oxygen flow to the roots hence spurring lawn growth

The lawn enjoys robust root development 

It lowers water run-off in the lawn 
Is Lawn Aeration Necessary?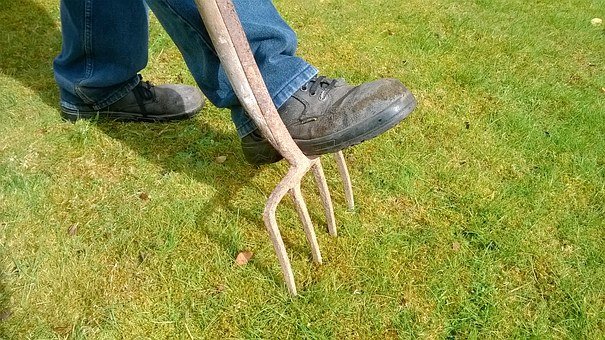 Suppose your lawn dries in strong sunlight quickly, it can develop a springy feel underfoot. Such a spring sensation originates from a thick layer of the thatch found under your feet. Chop out 1-foot chuck depth when checking your lawn status. You can only consider aerating if the layer of the thatch is half an inch thick. 
In case you stay in new construction areas, the soil might have compacted to due building activities. Precisely, intensive foot traffic makes the soil begin to compact. When found in a similar situation, you have to aerate the compacted soil to enable grass growth. 
Additionally, if the pets or kid spend a considerable amount of time playing on your grass, the soil may begin to compact. As you perform aeration, it improves the airflow to allow your lawn to recover. 
What is the right time for Lawn Aeration?
You should evaluate the lawn to discover if it is desperate for aeration. Many experts prefer one to aerate the lawn when the growing season is underway. As you aerate it when the grass is growing fast, you will be mitigating damage you cause to roots. Such actions enable the lawn to recover quickly. 
Suppose your lawn has cool-season grasses. It will be more beneficial to aerate during early springtime. For warm weather grass, you can aerate in late springs to attain the best results. Avoid aerating too early in the season since it damages the roots, and take longer for the lawn to recover, leading to patches.
Finally, another option for the right time to aerate is when the lawn is new. As such, you should aerate it to stimulate grass growth. Do it at least five times per season. For example, if the golf course has plenty of traffic, it would be reasonable to aerate it 3 to 5 times yearly. 
Results of Aerating a Lawn
The first thing is the soil will begin to assimilate into the grass for every watering session. White roots may start to show up in the plug's base, which is an excellent sign of successful aeration. Water retention increases after every watering causing the grass to turn more thick and lush. 
6 Best Lawn Aerators
You should select the right lawn aerator, which supports your lawn care missions. Different models boast distinct features to suit your style. For instance, a manual option is convenient for small lawns. Here are six options for you to improve your gardening experience.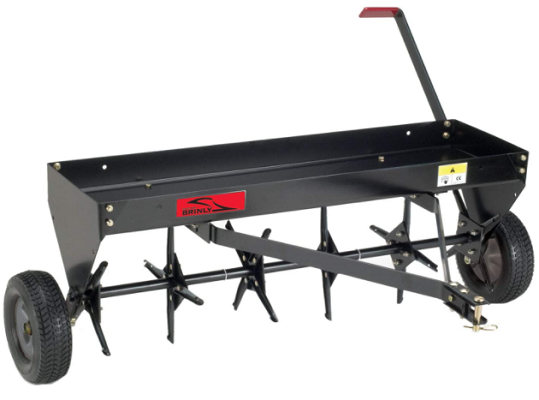 Brinly is a lawn aerator that relieves compacted soil thanks to the 24 heat-treated 16 gauge plugging spoons. It can remove up at least 3 inches of the soil's plugs, thereby enabling seeds, water, and fertilizer to access the roots. 
More importantly, this product has a narrow design with sharpened ends to enable more effortless operation as it requires less weight. 
Again this aerator machine has a long-lasting steel construction, which is ideal because it is durable. Furthermore, it has a fully enclosed tray that can hold up to 150 pounds of any weight to ensure maximum soil penetration and depth. 
Another important feature about Brinly is it has a single transport lever for easy transportation. The presence of 10-inch semi-pneumatic rubber treaded tires simplifies movements, especially when crossing drives and rooted areas. The manufacturer heat-treated tines to boost strength. 
Besides, it has three independent but rotating welded tine sections, which reduces turf damage during turns. Additionally, such a unique design comes in handy when providing consistent penetrations on uneven ground. 
The product uses a universal single pin hitch for attaching to every lawn tractor easily. Maintaining this equipment is easy as you can service every plugging spoon individually. Suppose the tine breaks, repairing, and replacement is easy.
Assembling this product is relatively simple. It comes with an instructional manual showing each part with full pictorial instructions. Your keenness to these instructions simplifies your assembly work. 
Pros
The tray holds 150 pounds of weight to promote maximum soil penetration 

Durable steel construction that withstands different mechanical stresses

Single transport lever to enable simple transportation

It is individually serviceable hence easy to maintain

Full pictorial instructions for easy assembly
Cons
CABASAA Lawn Aerator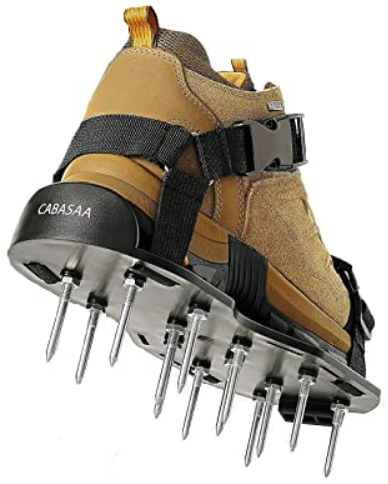 Cabasaa lawn aerator happens to be an eco-friendly option that promotes a healthier and greener lawn. It boasts of 13 steel 2.2 inches spikes on each shoe. The good news is that these lawn aerator shoes allow fertilizer, water and air, and other nutrients to reach the grassroots for a healthier lawn. 
One can try out this equipment if you desire to improve your lawn's ecological cycle. Notably, it has a modern design featuring two adjustable straps and two metal buckles for every shoe. One can set the size by adjusting the front strap position.
Still, for a secure heel position, you can strap wrap around the heel. This shoe has a buckle strap system to support the heel and ensure that you remain safe and comfortable. One advantage of a strong metal buckle is that it secures the shoe not to come off. 
This shoe is sturdy and durable. Its sole comes from the sustainable plastic base, which is 0.24 inches thick. In total, it has 26 heavy-duty 2.2 inches nails plus four adjustable straps having strong metal buckles for easy penetration of the ground. 
Another benefit of this lawn aerator shoe is that it is cheaper than a hand lawn aerator. Besides, these heavy-duty sandals have spikes that loosen any soil, sand, or dirt to provide water and nutrients better. 
The process of installation is super easy, which favors anyone who lacks skills. You only require a small wrench for tightening spike nuts as you change the front strap to adjust to the foot's size. 
Last but not least, this shoe is flexible. One size fits all sizes of shoes. The only option is to adjust the length of the strap and align it to your shoe size.
Pros
It has 13 sharp spikes that allow fertilizer, water, and nutrients to access the grassroots

The shoe is sturdy and durable to work on any ground effectively 

Cabasaa has a modern design for a safe and comfortable heel 

One size can adjust to fit all sizes of shoes

The process of installation is super easy
Cons
It operates well on only flat grounds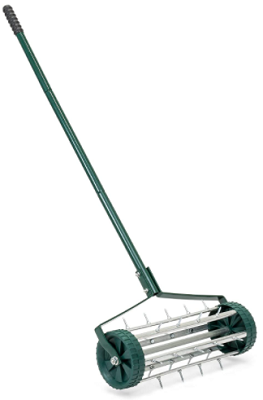 Next is Best Choice Rolling Aerator which requires a minimum amount of effort to operate. Precisely, the user can only roll it around the lawn as the two spikes do the aeration work. Remember, one does not require the services of foot pressure or tractor. 
This product becomes useful when you want to maintain a healthy lawn. You can involve it to perforate your lawn and assist it in improving air exchange. Furthermore, it reduces puddles and enhances water and fertilizer uptake.  
If you require proper grass maintenance, then take advantage of its rolling mechanisms. Moreover, it has a 50-inch handle for convenient working. In other words, one can aerate the lawn without straining the back. Otherwise, you can aerate your lawn at a reasonably quick pace and cover a large area. 
The durability aspect was in the designer's mind. The product enjoys a robust steel construction, which conserves it for years. As if that is not all, plastic wheels provide a smooth gardening experience. 
Due to a high level of versatility, one can involve it in taking care of commercial or personal lawns. This simple equipment has unrivaled efficiency to promote decency. One can operate it manually without attaching it to a tractor. 
Typically, the process of installation is simple. Make use of the attached manual and follow the pictorial steps, which is a DIY affair. Again, it is less expensive hence affordable. 
Pros
It improves a healthy lawn by enhancing water and fertilizer uptake

Strong steel and plastic wheels for a smooth gardening experience

A long handle that prevents straining by overcoming back pain

It is suitable for either commercial or personal use

The lawn aerator has pocket-friendly prices
Cons
It is not heavy enough prompting the user to put some extra efforts for better results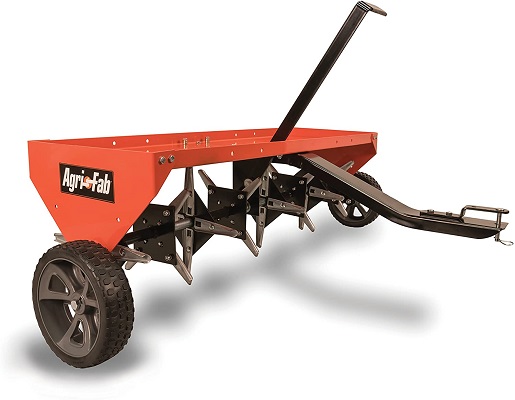 Agri-Fab is among reputable brands in gardening equipment. This aerator is ideal for estates and large yards. Furthermore, it requires a simple operation to attach it to a standard hitch on a seated mower and aerate your lawn efficiently. 
This aerator has a load deck for placing on the machine's decks, forcing self-sharpening knives into the ground. Before you begin to aerate, load suitable weight or cinder blocks into the load decks. 
The device has an adjustment lever with an easy-to-reach height making the user raise or lower the bar effortlessly. Every weighted cutting deck drives three welded knife stations for deep ground penetration. 
Furthermore, this machine's self-sharpening action ensures that all knives offer a long and efficient service life. Its 32 galvanized blades can penetrate the soil easily. This 48-inch plug aerator loses all compacted soil in your lawn efficiently. 
One can tow this aerator on an ATV, tractor, or mower. This device has a sturdy design that makes it fit for heavy use. It pulls plugs to cause three inches deep and create a healthier lawn. More importantly, it has flat-free tires that promote smooth transportation with little maintenance.  
Again, it has a universal hitch that can fit any tractor irrespective of the brand. Durable heavy-gauge steel decks make it convenient for heavy use. If you handle it with the utmost care, it can last for years. Once purchased, a three-year warranty follows the buyer as proof of quality. 
Pros
It consists of durable build quality for prolonged use

Self-sharpening action for greater efficiency 

Agri-Fab aerator is suitable for heavy use

It is ideal for estates and more extensive lawns 

Flat-free tires promote smooth movement 
Cons
It requires a substantial storage space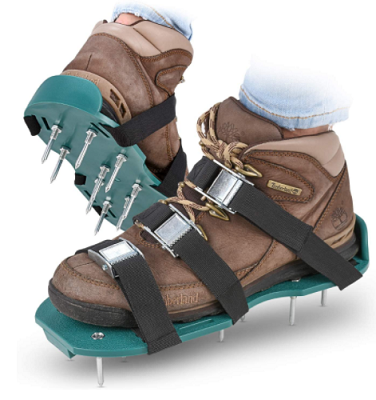 Do you desire to design a healthier, greener, and more beautiful lawn? Your answer lies in the services of Abco Tech Lean Aerator shoes. Even better, the user can wear them when mowing the lawn to accomplish double tasks simultaneously. 
This aerating shoe is an excellent choice for small to medium-size yard gardeners. They have plastic soles with straps to go over the boots. One can secure them well courtesy of metal buckles. The underside has 13 X 2-inch spikes that penetrate the lawns when you walk. 
The cool thing is all metal components have corrosion-resistant spikes. Such makes it beneficial since either user can still put them on when the ground is wet or damp. It is an effective aerator since the sharp spikes make it easy to dig the holes.
Abco Tech lawn is easy to install. The package comes with a free small wrench to make the setup process extremely easy. When properly installed, you can strap them with any shoe size. Once put on, you can access hard to reach areas of your lawn. 
One of the drawbacks is you must be in a standing position when fitting for a gardening mission. Furthermore, whenever you fall over, you will hardly enjoy any natural knee movement, which may lead to ligament tearing among senior gardeners. 
However, these shoes have a great price point. They can be an affordable alternative if a costly aeration machine is not favorable to you. 
Pros
Superior build involving corrosive resistant spikes making it sustainable 

Easy aeration system suitable when mowing your lawn

One size fits all shoe types conveniently

The setup process is a breeze 

It is an inexpensive alternative 
Cons
It poses an injury risk to seniors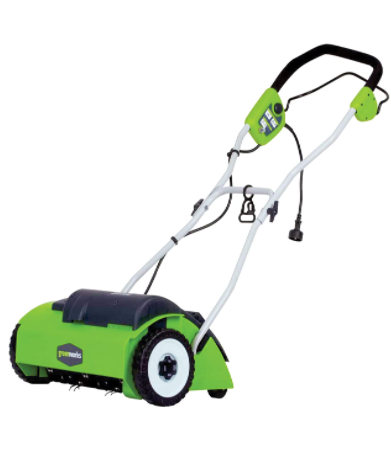 Greenworks electrical machine is the right choice for medium-sized yards. It is also suitable for a front yard and more extensive gardens. This machine is eco-friendly since it does not produce any emissions. While aerating your lawn, it will never run dry of gas or battery life.
The entire system has a 10 Amp motor that is powerful to offer an excellent operation while reducing your effort to cause this machine to function effectively. It has an adjustable ergonomic handle for user comfort. 
Durability reigns supreme in this machine. It has stainless steel tines that are corrosion resistant. As such, you can use it during wet weather without compromising on its quality build. The steel materials last longer for reliable performance. 
Additionally, it has adjustable tines, which tolerates three-depth settings for greater control. It removes matted layers to enhance lawn health. Pushing along this machine is effortless as it detaches the lawn in minutes. 
This product has fair prices plus a four-year warranty to take care of manufacturing defects. Also, as a buyer, you get a 180-day satisfaction guarantee. 
Check out our full guide on finding the Best Front Tine Attachments
Pros 
It offers efficient and effective operations

It is an electrical model hence no gas needed

Four years manufacturer's warranty

Three-position tine depth adjustment for greater control 

Ergonomic handle to enhance user's comfort
Cons
Assembly instructions are ever confusing
FAQs
Question: Can one overseed via aerating? 
Answer: Overseeding is possible without aerating. Suppose your lawn needs more grass, then an ideal time to sow grass seed should be late during a growing season, just before the first frost. Alternatively, one can overseed the lawn in early spring before the grass starts to grow. 
Question: Is it right to mow after aerating? 
Answer: One should mow the lawn before aerating it. After aerating:
• Avoid cutting it for at least a week.
• Take note of pop-ups and sprinklers to prevent damaging them.
• Water the lawn before aerating it since aeration becomes effective on moist soil.
Question: Can I aerate my lawn in summer? 
Answer: The best moment to aerate is between late spring and up to summer. However, it would help if you avoided it during the drought or heat waves as it does more harm than good. Precisely, it increases evaporation. 
Question: Can I fertilize before or after aeration? 
Answer: You can fertilize your lawn within 48 hours after aeration. Such is because the fertilizers can have an opportunity to access the holes created by the aerators.
In Summary
Your situation determines how one picks the right lawn aerator. For example, a small ornamental garden may call for a manual aerator. For large lawn like golf clubs, choosing a tow-along aerator is critical.
The good news is that this write-up's information expands your knowledge on making a purchase decision on various gardening tools. Undoubtedly, one can never go wrong when selecting the aerators on our list. Make a choice now for a thicker, greener, and healthier lawn.