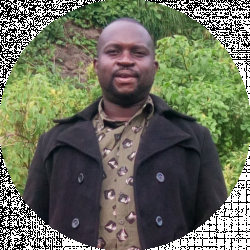 Latest posts by Haron Omaita
(see all)
The best lawn sprinkler can help you maintain a lush, green, beautiful, and healthy-looking garden that all your neighbors will envy.
But it takes a great deal of time and effort to have a verdant and enviable lawn. With many people leading busy lives, whether it's getting kids to and from school daily and football practice over the weekends, or working full-time, there isn't just enough time left during the day.
So if you'd like to have your garden in tip-top shape and looking fabulous, and don't want to constantly have to buy new hoses and accessories, then you should get a lawn sprinkler. The right sprinkler system will make your lawn green and lush.
Whether it's for watering your grass or ensuring that your vegetable garden flourishes throughout the unavoidable dry spells during the year, the best lawn sprinkler system will get the job done with minimal fuss.
Why You Might Need a Lawn Sprinkler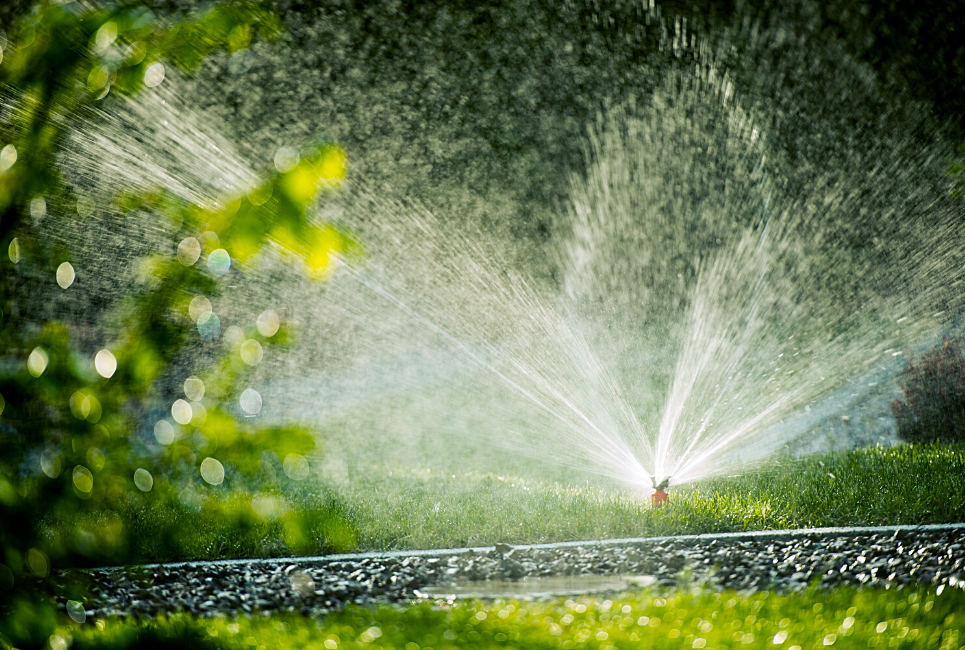 If you plan to water your lawn by hard, it can be an annoying and tiresome task as you have to do it daily. Getting a lawn sprinkler is the best way to overcome this problem and allow you to enjoy a lush, green, healthy-looking yard and lawn.
Here are several reasons why you should get a lawn sprinkler:
A lawn sprinkler will do all the leg work for you. Once you've settled on the right sprinkler for your garden, you can install it and let it water your yard for you.
There's a wide range of sprinklers out there for various garden shapes and lawn sizes. Some sprinklers can stay hidden among the plants while watering your vegetable patch and flower beds, while others are portable.
With a lawn sprinkler, you won't have to worry about a hose that doesn't fit your lawn's length, those irritating hose issues, or the sun damaging your hoses.
There's a wide range of sprinkler styles on the market: standing or spike, oscillating, rotating, traveling, or tripod.
Watering your lawn is an amazing leisure activity for your family during the hot season.
Some sprinkler systems offer easily adjustable and soft ergonomic controls.
Some sprinklers give you better control over water consumption with smart water-saving functions.
What to Consider Before Picking the Right Lawn Sprinkler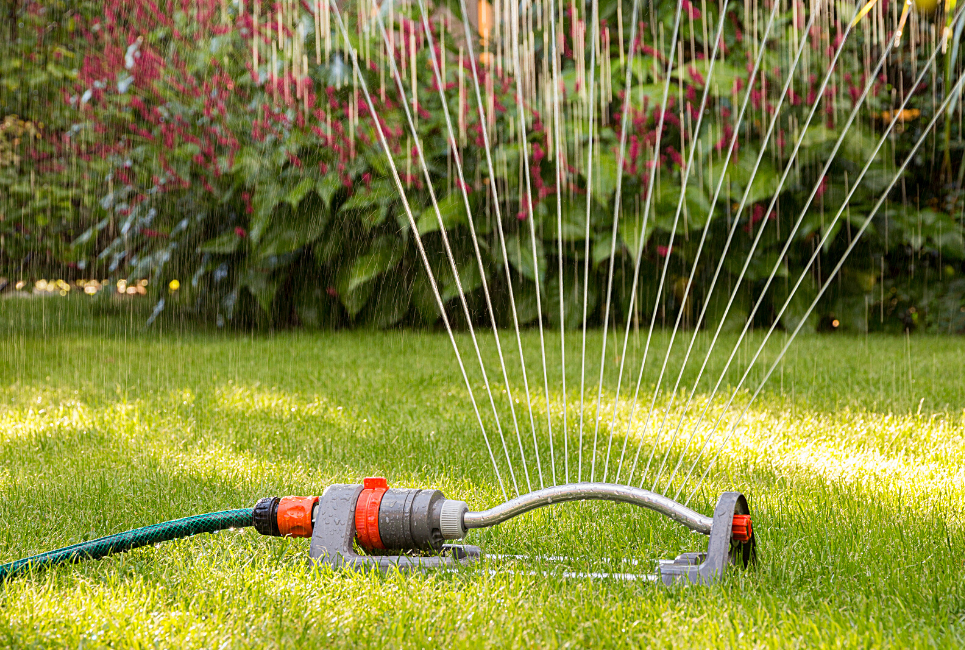 A lawn sprinkler is a basic yard helper. It disperses water in a variety of spray patterns and is powered by the water pressure in the hose. Made from various materials, some lawn sprinklers feature moving parts while others don't.
Types of Sprinklers
There are six main types of lawn sprinklers, ranging from stationary to roaming. When shopping for a sprinkler, consider whether you need to conserve water and your local climate. The watering needs of an established lawn or vegetable garden are different from those of a newly seeded yard.
Stationary/spot sprinklers spray water up in the air, with the droplets falling in a square or round pattern around the system. They're ideal for smaller lawns.
Impact and rotating or rotary sprinklers turn 360 degrees while they release water. Rotating or rotary sprinklers usually have at least two spinning arms, while impact sprinklers shoot water from one jet, clicking while they complete their full rotation. Therefore, an impact sprinkler tends to disperse water the farthest.
Traveling sprinklers roll all over the yard in a preset pattern. Also known as lawn tractors, they roll around like a miniature lawn mower as they water the grass.
Oscillating sprinklers have a series of openings to shoot water in a semi-round pattern. The sprinkler head as well as the resulting spray move from one side to another, covering a larger lawn area than most spot or stationary models.
In-ground sprinkler systems operate on a specific schedule, thereby removing the guesswork from watering. While it requires a little more effort to set up the system, the strategically positioned sprinkler heads may be set to water the yard at preset times.
Smart sprinklers run your automatic sprinkling system via Wi-Fi and connect with the other smart devices in your home –you can set when the sprinkler system should activate and which zones to water.
Sprinkler hoses are basically rubber hoses with tiny perforations along the top part that shoot a fine, restricted spray. These models are long and flexible and are suitable for long, thin, and even unevenly curved grass patches because they can extend over your lawn like a vine.
Types of Lawn Sprinkler Materials
The two most common materials used to make lawn sprinklers are metal and plastic, but some models feature rubber and silicone. The quality of plastic materials varies a little, with some types being heavy, durable, and fade-resistant. Less expensive models can be thin, less durable, and will fade quickly.
Metal sprinklers tend to last longer than plastic models, but the quality of their models varies as well. Stainless steel and rust-proof chrome are some of the best materials for metal lawn sprinklers. Many feature moving parts, with the most durable models being those that come with sealed ball-bearing connectors.
Water Conservation
Watering your lawn consumes lots of water. If your hose has a diameter of ½ an inch and the pressure of water is 60 (psi) pounds per square inch, you'll use approximately 630 gallons in one hour of watering. The bigger the diameter of a water hose, the more water that will be used.
Some lawn sprinklers have features that help control water consumption. In an in-ground automatic sprinkler system, automatic timers allow you to schedule precise watering routines (how much water, when, and where) beforehand.
In above ground sprinkler systems, comparable features to expect include flow timers and auto-shutoffs that limit and monitor how much water is used.
Hose Compatibility
A lawn sprinkler needs a water supply in order to water all the plants and grass in your yard. This is only possible with the aid of hoses that move water from the source to your sprinkler. To make sure you use a lawn sprinkler correctly, ensure that your water hose is compatible.
This includes options such as ¾ inch or ⅝ inch hoses. Since this is the diameter of the hose, it must offer a leak-proof fit while letting you use a sprinkler.
Also check the length of the hose as it's obviously best to have a long hose than a short one. This will allow you to reach all areas of your lawn effectively.
Coverage Area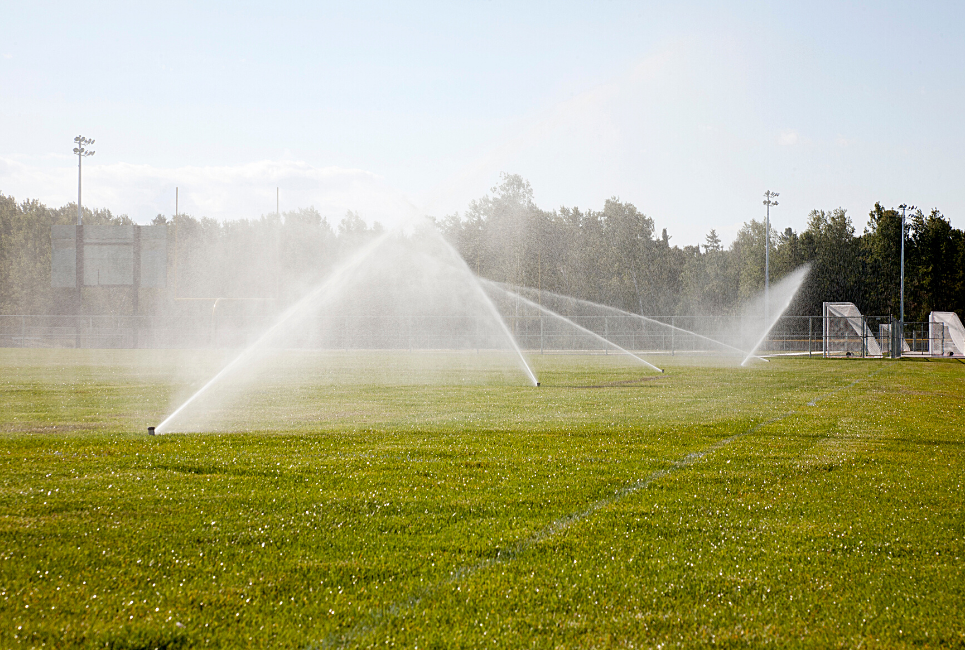 Many modern lawn sprinklers have the ability to change the distance and pattern of the spray, typically by adjusting a knob on the side or top of the sprinkler. With this feature, you can choose various watering volumes and patterns, including rectangular, circular, fan-shaped, and triangular watering patterns.
Ultimately, the water pressure level in your house will determine the reach of the spray pattern. For instance, a distance-type lawn sprinkler can be touted to shoot a jet up to 30 meters, but if the pressure of the water is low, area of coverage will be less.
In most cases, domestic sprinkler systems have a water pressure of 30 to 60 psi, and most lawn sprinklers ideally work with at least 30 psi of pressure. But a few need a higher water pressure to reach their touted coverage area.
Range
A lawn sprinkler's range is very similar to its area of coverage. But unlike coverage area, range simply refers to the distance to which a sprinkler can discharge water. This is determined by the sprinkler's nozzle angle.
Most sprinklers on the market let you quickly and easily adjust the nozzle angle. This includes a range of angles from 30 to 60 degrees or 45 to 90 degrees.
When you've adjusted the nozzle angle, you can have a range of 20 to 40 feet or 40 to 60 feet based on the kind of sprinkler you're using. As is to be expected, a greater sprinkler range lets you easily reach all areas of your yard.
Settings
Most lawn sprinklers come with settings like rotating heads and automatic timers that allow you to adjust the tool's water pressure, spray pattern, and coverage.
If you need a versatile lawn sprinkler, go for a model such as Orbit Brass Impact Lawn Sprinkler, which features a rotating head as well as the ability to adjust distance up to 100 feet. If you want an easy-to-operate lawn sprinkler that needs minimal adjustment, then you should go for the Gilmour Spot Sprinkler.
Warranty
While a sprinkler is a basic garden tool, make sure to check the duration of the warranty it offers. This includes options such as 2 or 3-year warranty that comes with different models on the market. Some models even offer a lifetime warranty, making them very reliable and durable.
Also, look out for rust-proof and heavy-duty lawn sprinkler models if you want something that'll last for years.
Tips on How to Water Your Lawn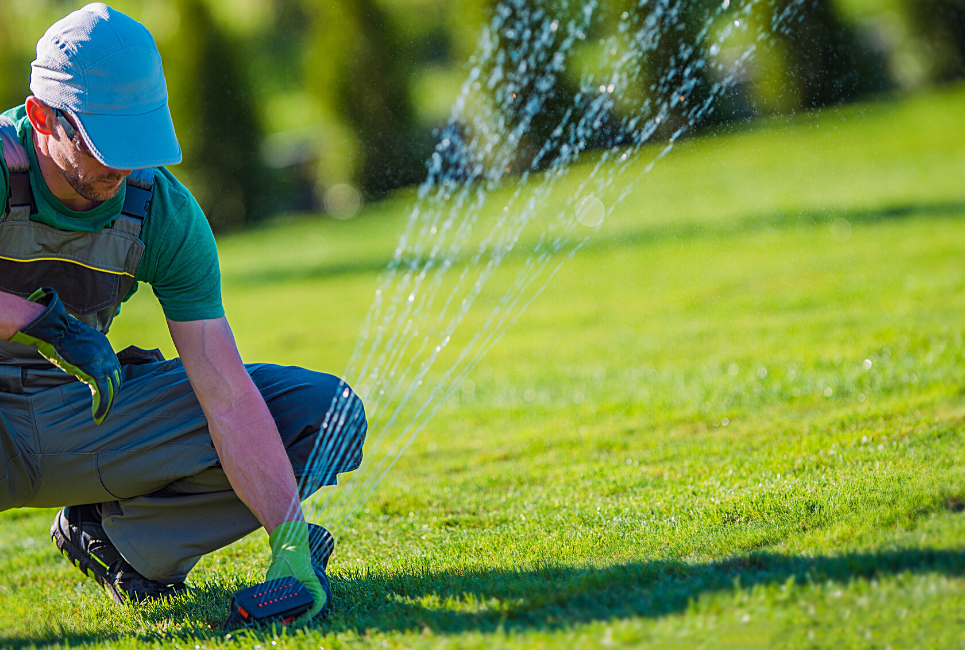 When watering your yard, it's vital to consider your type of grass and time of day to ensure that you properly nourish your lawn and conserve water.
 Morning is the perfect time to water your lawn since the cool air decreases evaporation of water while still allowing your lawn to dry out during the day.
 If you're growing new grass, water the seedlings once or twice daily. Once the seeds germinate and you can see the stalk heads, you should water the young grass at the same time as the rest of your lawn.
 Most lawns require around 1½ inches of water every week for optimal growth, but cool-season grasses like ryegrass or fescue may require extra watering in the fall months. Warm-season grasses, such as zoysiagrass and centipedegrass may require watering more regularly in late spring.
Our Top Picks
Budgets and yards vary, so no single sprinkler will work for every yard. After our testing, the following lawn sprinklers stood out. We chose these based on availability, affordability, and ease of use. They are ideal for various watering projects and are some of the best options for watering gardens and lawns.
Best-rated Sprinkler: Melnor 65021-AMZ XT Turbo Oscillator with Timer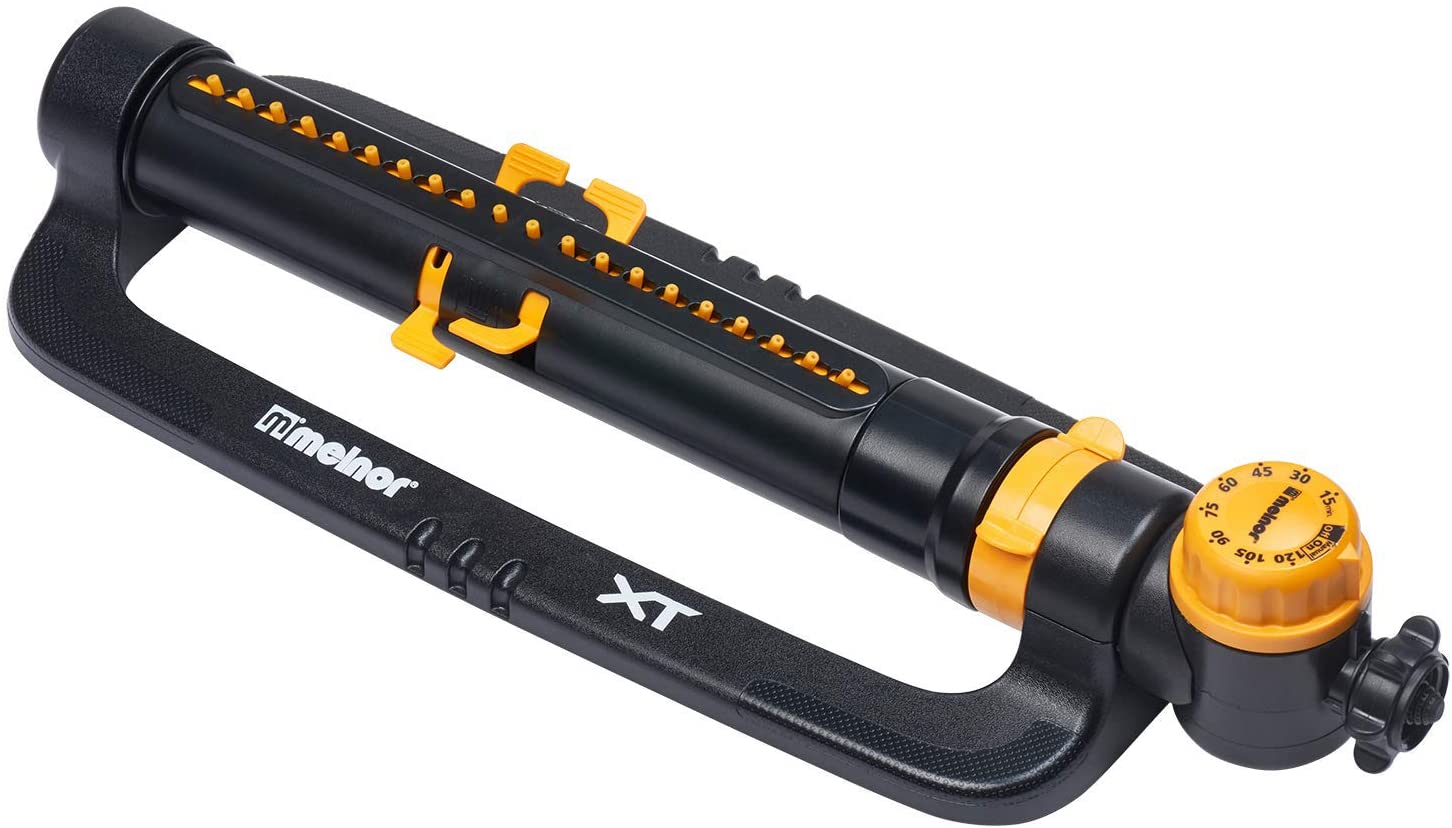 The Melnor 65021-AMZ XT Turbo Oscillator with Timer is a good option if you're looking for only one sprinkler for your lawn. With more than 11,000 5-star reviews, it's a favorite of customers.
It's available in the traditional oscillating style, with 20 water streams that curl back and forth above the grass. It features an automatic timer and covers a maximum of 4,500 sq. ft. of lawn. Just set the device for however long you need the lawn watered and it'll automatically stop when it's done.
You will especially love its sturdy design and lightweight feel.
Best Sprinkler System: Melnor 95548-IN Multi-Adjustable Over-the-Ground Sprinkler System Kit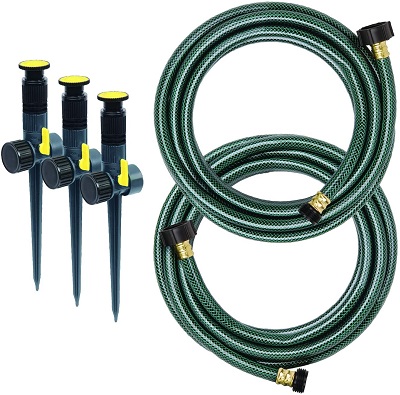 If you want targeted watering for your odd-shaped lawn, a lawn sprinkler system is the best option for you. The Melnor 95548-IN Multi-Adjustable Over-the-Ground Sprinkler System Kit features three sprinkler heads and two hoses to supply water to all areas of your lawn.
Each sprinkler is also adjustable, so you can adjust the angle, direction, and range of the spray to best fit your yard. This sprinkler is also very easy to install and it only takes around 5 minutes to set up.
Best Stationary Sprinkler: Gilmour 1-225 Eight-Pattern Stationary Sprinkler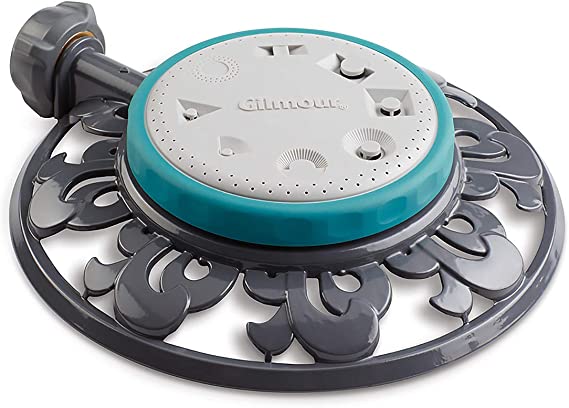 A spot or stationary lawn sprinkler is a reliable and flexible option to get, especially if you have a smaller yard to water.
Without any moving, rotating parts, a stationary lawn sprinkler discharges water with no risk of any part breaking down. The Gilmour 1-225 Eight-Pattern Stationary Sprinkler takes the cake in this category thanks to the array of spray choices it offers.
Like a shower head, this sprinkler features eight preset pattern sprays you can choose by simply twisting the nozzle base. Since each pattern makes a unique shape, you can fine-tune the area of coverage while moving the lawn sprinkler about.
This sprinkler is also designed to work at low water pressures, which reduces the volume of water required to cover an entire lawn.
Best Oscillating Sprinkler: Melnor 4000 sq. ft. Deluxe Turbo Oscillating Lawn Sprinkler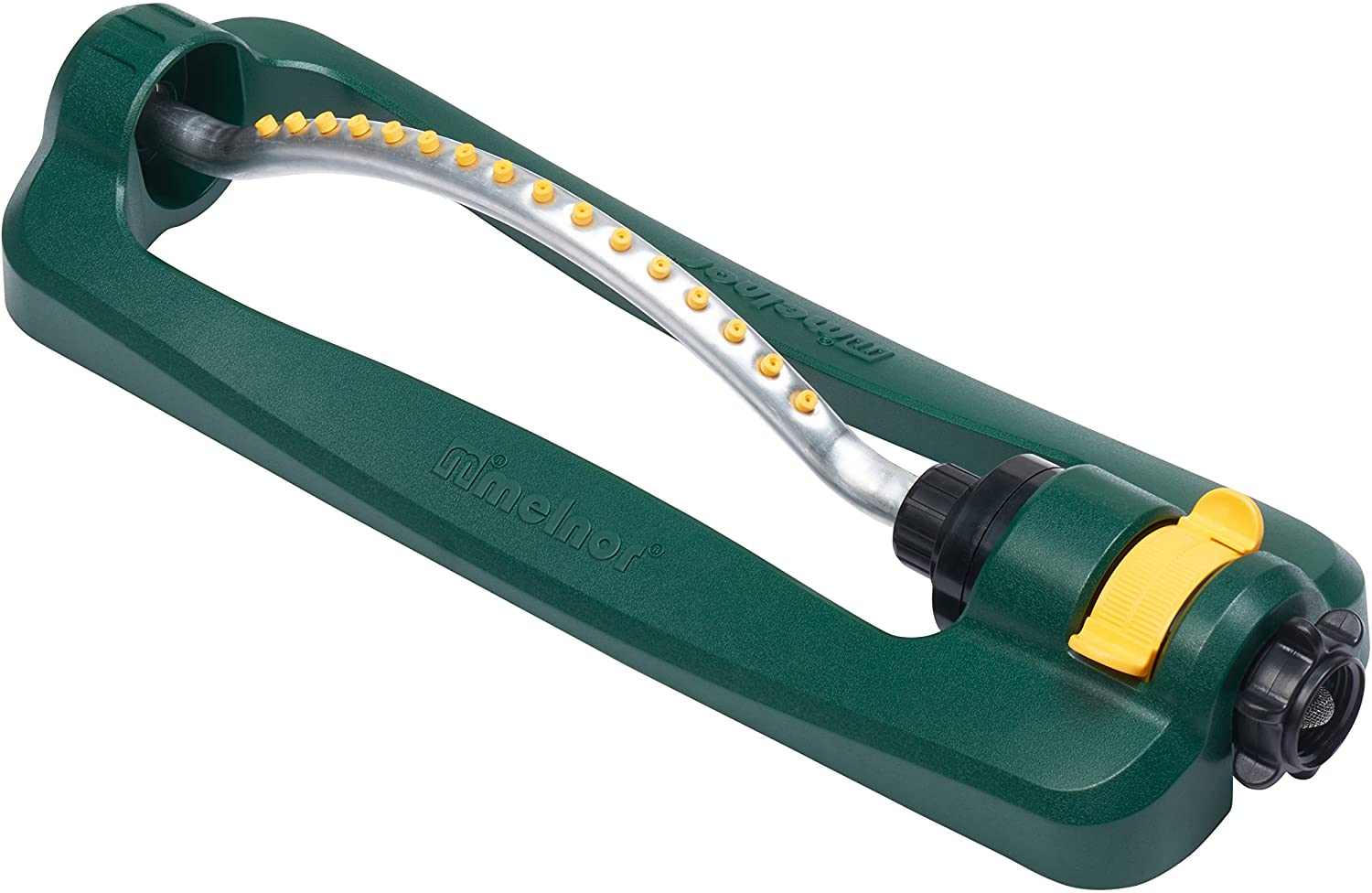 When it comes to square or rectangular lawns, rotating sprinklers won't efficiently cover all your grass without wasting plenty of water.
Round patterns create a great deal of overlap as the sprinkler moves around, which means you could end up spraying the patio, driveway, or sidewalk along the way. The Melnor 4,000 squ. ft. Turbo Oscillating Sprinkler will prevent this from occurring by producing an effective angular spray pattern.
A total of 18 clog-resistant nozzles discharge water backwards and forwards to cover a maximum of 4,000 square feet. This back and forth movement of the sprinkler evenly dispenses the water over a vast area without wasting extra water.
Internally, the equipment is also built to keep the water away from the turbo motor so that small parts aren't destroyed by impurities.
Best Smart Lawn Sprinkler: LinkTap G1 Wireless Water Gateway & Timer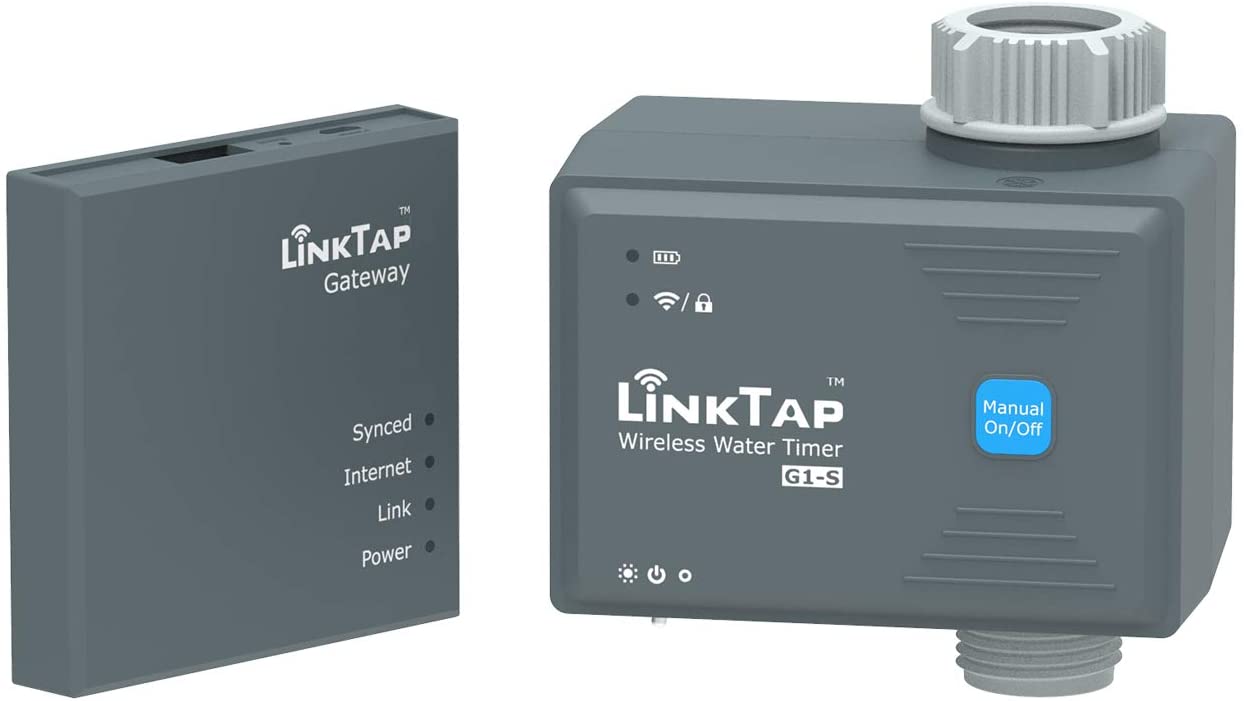 This water timer's setup is super easy. It plugs straight into an outdoor tap and can be set via your smartphone app or favorite smart home device such as Amazon Alexa.
With LinkTap G1 Wireless Water Gateway & Timer, you can create a watering routine that best works for your yard and even use the app to call off a sprinkling session if it looks like there will be rain. This sprinkler gives you total control.
FAQs on How to Find the Best Lawn Sprinkler
Question: What's the Best Lawn Sprinkler on the Market?
The best lawn sprinklers on the market today include:
• Gilmour 887603-1001 Stationary Sprinkler
• Nelson RainTrain Traveling Lawn Sprinkler
• Rain Bird 32ETI Automatic Lawn Sprinkler
• Melnor XT4200M Oscillating Lawn Sprinkler
• Aqua Joe SJI-OMS16 Oscillating Lawn Sprinkler
• Rachio 3 – 8ZULW-C Smart Lawn Sprinkler Controller
• Orbit 56348 Brass Impact Lawn Sprinkler
Question: How do I Pick a Sprinkler System?
Answer: To choose the right lawn sprinkler, consider the size of the area you'll be watering. The bigger the lawn area, the more complex the sprinkler system will need to be. You'll also need to consider your type of soil and choose something that'll be ideal for that particular soil type.

Other things to consider include the amount of water available to you and how much money you're willing to invest in your new sprinkler system.
Question: How Long Should I Water My Lawn?
Answer: You should ideally feed your lawn with around an inch of water every week. On average, you'll need about 30 minutes to sprinkle an inch of water on your lawn. Therefore, watering your lawn for 20 minutes thrice a week will give you around one inch of water.
Question: Is it Unwise to Water a Lawn at Night?
Answer: It's not wise to water your lawn at night. This is because wet grass at night provides fungus with the perfect conditions to grow.
Question: How Many Lawn Sprinkler Heads Should I Put on a Single Zone?
Answer: At varying pressures, the sprinkler nozzle and head will use up different volumes of water. For instance, at 35 pounds a square inch, the Rain Bird 5000 Series Rotor sprinkler head with a 3.0 nozzle can use 3.11 gallons every minute. So, if your total water capacity is 10 gallons per minute, you can put three heads per zone.
Final Thoughts on How to Find the Best Lawn Sprinkler
If you want to properly look after your yard or lawn, one thing you should do is use the right lawn sprinkler to water it. With so many options available on the market, you'll definitely find one that's best for your yard.
The lawn sprinkler options we've covered in this guide are user-friendly and highly efficient. If you're looking for something that'll ensure that your entire lawn is watered or that your vegetable garden or flower beds get adequate water during the dry season, our top picks are a great place to start.
Most importantly, these simple lawn sprinklers cost only a fraction of the price of the typically expensive in-ground sprinkler systems and can be set up with minimal fuss. Without breaking the bank, you'll be able to enjoy the convenience and efficiency of an automated lawn sprinkler.