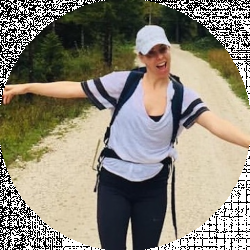 Latest posts by Jodie Chiffey
(see all)
Ryobi is a Japanese company that sells some of the best gardening tools available. They are highly trusted and often a go-to for many people, whether it be commercially or residentially. One of their most popular line of products is their cultivators.
A cultivator is a great tool that will help improve your garden, and it is an essential piece of equipment for any gardener. These handy tools can get rid of small weeds that threaten your garden and prepare your yard for new plants. You can also use it to put fertilizer and other soil conditioners into your soil.
Today we'll be looking at some of the best Ryobi cultivators that are currently available on the market and outline each of their strengths and weaknesses to help you determine which Ryobi model best suits your needs. But first, let's start with a refresher of precisely what a cultivator is and what it can do.
What Is A Cultivator
There is a slight confusion over what counts as a cultivator. Often when people refer to a cultivator, they mean the large frames with blades underneath that are dragged along large fields by tractors. In this article, the cultivators I have referred to are smaller pieces of machinery meant more for quick lawn cultivating. They are also sometimes called tillers.
Cultivators are great for breaking up the soil in your yard and getting rid of threats like weeds. In addition, it can be used to prepare your lawn for aeration and planting.
So when you're looking to purchase a new cultivator, there are specific things you're going to need. Of course, the better the machine, the more positive the effect will be on your lawn. So below are a few things we always look for in our cultivators.
Selection Criteria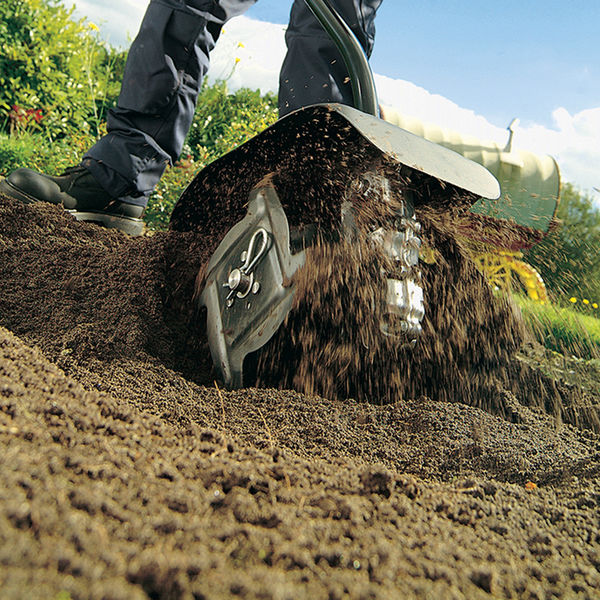 Before we buy our tools, we look for certain things. We want cultivators that have everything we're looking for, and we have come up with an essential list of necessities before purchasing.
Control
When you're using a cultivator, you'll need plenty of control. There are a few ways of achieving this control. The best way is speed control. You'll want to slow down the tool when maneuvering through difficult areas like flower beds. If you're going too fast, you might lose control and damage your plants or flowers.
Another way of control is being able to change the tilling width and depth. This is a feature that comes with most tools, so what changes is how much you alter it.
Tilling depth is great for breaking more challenging soil and maybe getting rid of some deeper-rooted weeds. Tilling width will help you cover more ground at a time to speed up the process or break apart soil in smaller areas.
Runtime
You'll want enough runtime to cultivate your entire lawn, which shouldn't take more than 30 minutes unless you have got a larger area of soil to cover.
Tines
The tines of a cultivator need to be tough enough to break through any kind of soil. There also needs to be enough to cover plenty of ground. Often these tines are made of steel, and there will be four of them. This is the minimum required, as it should be enough.
Pricing
Cost isn't something we refer to much in these articles because we believe it is more about the quality of the product itself. But it is essential to be sure that you're not being overcharged for a cultivator.
Just be sure that you're getting a good quality product for the money you're paying. You can tell this through reviews, but we only include products that are worth your hard-earned dollars.
The 4 Best Ryobi Cultivators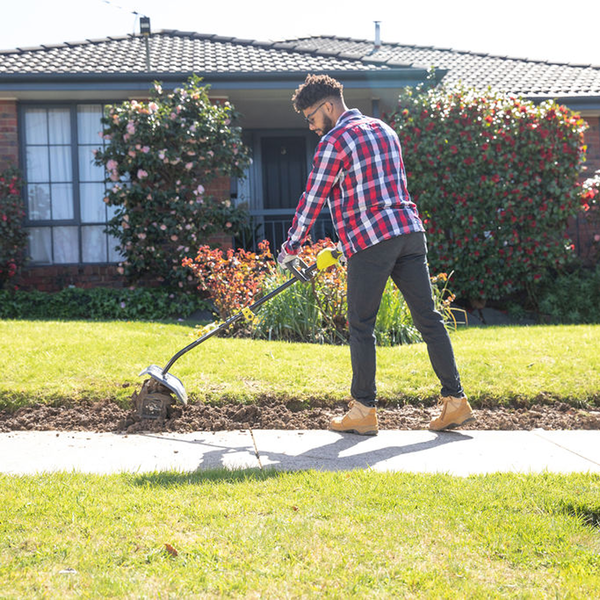 Following the guidelines stated above, I have picked out 4 of the best Ryobi cultivators available.
All of these will be excellent for your lawn, but I have stated which is the best in my opinion in the conclusion of this article.
1. Ryobi Cultivator 18v One Plus Cordless RY18CVA-0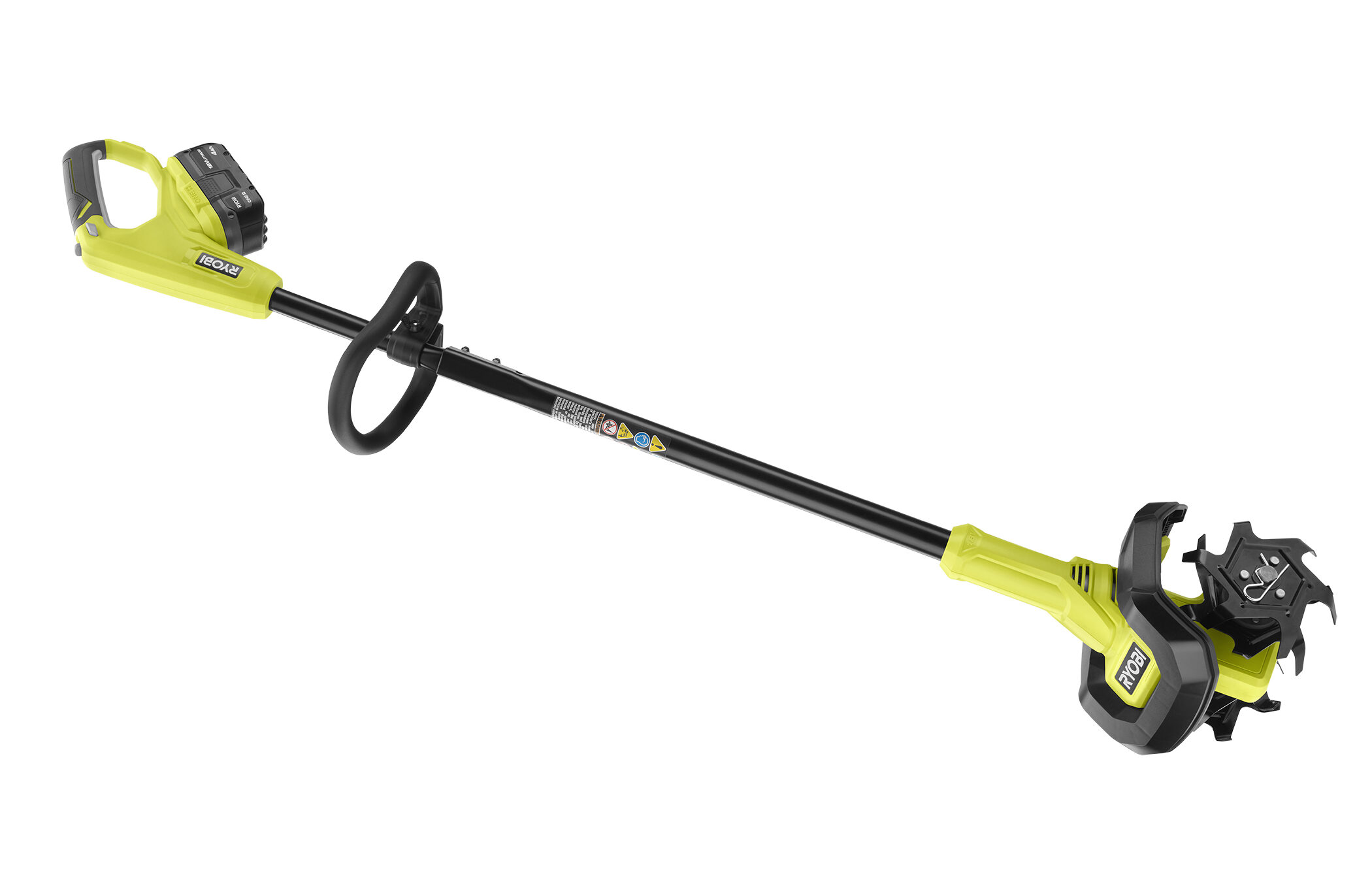 This Ryobi Cultivator is an excellent tool for creating healthy soil while removing weeds with ease. The 4Ah battery included with the product will give you up to 40 minutes of runtime, which should be enough time to cultivate your lawn. However, the charger will quickly let you back to work if you need a bit more time.
The debris guard will protect the tines from being damaged or slowed to a halt by dirt or debris. They will make quick work of breaking apart your soil. The three-speed settings and adjustable handle will let you easily make the cultivator comfortable for your use. The highest speed it can go to is 300rpm, and the lowest is 200 rpm.
Features and Specifications:
18 Volts
Weight: 5.3kg
Adjustable handle
Pick tines
Debris guard
Speed control
Tilling Width: 6-8
Tilling Depth: 4
Pros:
Three-speed settings let you control it with ease
Adjustable handle designed for comfort
Pick tines to make it easy to break apart soil
Debris guard protects the tines from dirt and debris
3 Year Limited Warranty
Easy to assemble
Cons:
Pushing this tool to its limits could lead to you having a runtime as short as ten minutes.
2. 13.5 AMP 16" Electric Cultivator
The Ryobi 13.5 AMP Electric Cultivator aims to make it easy for you to landscape more extensive lawns easily. Despite being used often for heavier work, it is surprisingly lightweight and easy to start. This is one to consider if you are looking for a cultivator to use commercially.
The six heavy-duty steel tines will make quick work of getting rid of the weeds in your lawn. It will cultivate paths that are 11″ -16″ wide. It can dig 8″ deep into your soil; this should break apart your soil with ease. The 5-year limited warranty will cover any issues you encounter that aren't your fault. It needs to be a fault with the tool. Taking it to Ryobi will either get you a replacement or they will find a way to fix the issue.
Features And Specifications
6 Adjustable steel tines
13.5 AMP Electric Motor
Folding handles
Weight: 13.6kg
Guides wheels
Pros:
6 Heavy-Duty steel tines make it efficient and powerful
Guide wheels make it easier to control the cultivator
You can easily adjust the depth of the tines
Folding handles make the cultivator easy to store and setup
The 5-year limited warranty gives you a lot of coverage for any issues with the tool
Cons:
Difficult to assemble
The cord makes it difficult to maneuver
3. Ryobi ONE+ 25.4CC Easy Start Cultivator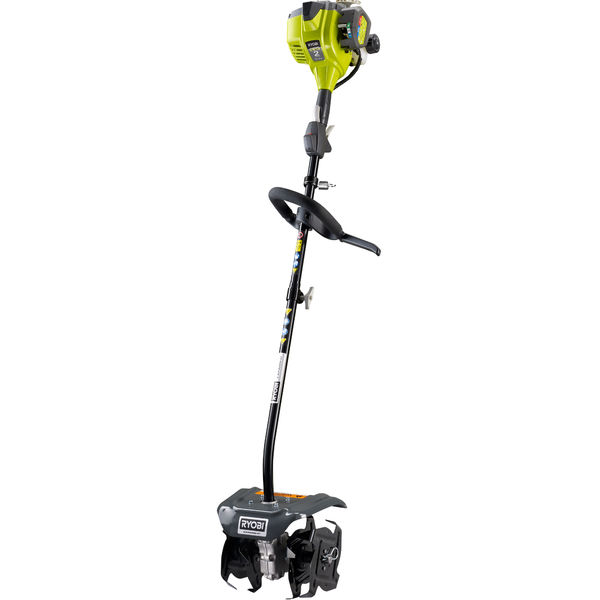 The Ryobi 25.4cc cultivator aims to make cultivating your garden a simple and quick task. And it has achieved that goal and more!
The easy-start feature of this tool is the biggest selling point. They don't want you to work up a sweat with the usual crank system that often has issues such as jamming. Now you can start cultivating with the simple click of a button.
The metal safeguard will keep you safe during use. This guard doesn't restrict movement, and it doesn't make it any less comfortable. It has a maximum tilling depth of 203mm and a width of 258mm. The four 203mm tines will make quick work of preparing your lawn.
Features and Specifications:
25.4cc engine
2-stroke engine
Four tines
Easy start feature
Metal safety guard
Pros:
Easy start engine
The gearbox provides constant speed and power
Four tines make it quick and easy to cultivate your lawn
Metal safety guard gives you protection during use
Cons:
Prone to issues with fuel such as inconsistent mixing, which can lead to cutouts
4. 36V Cultivator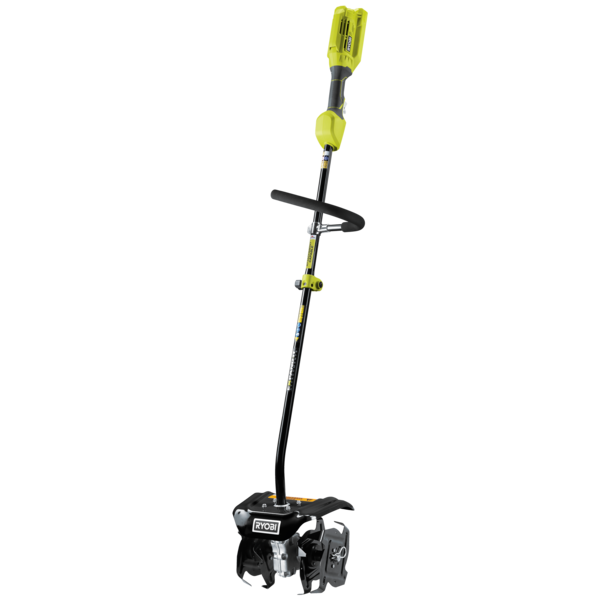 This powerful cultivator will make quick work when preparing your lawn for plants. The steel tines will handle the toughest jobs. The incredible 5.0Ah battery will give you nearly an hour of work, which is more than most cultivators provides. This means you should have enough time for a single job on an average-sized lawn.
The speed trigger gives you more control and will let you easily maneuver around tricky areas like flower beds. And if it is the control you're after, you also get adjustable tilling width between 178mm and 254mm.
Features And Specifications:
5.0Ah battery
Adjustable tilling width between 178mm and 254mm
Boom clamp for attaching and detaching tines in seconds
Heavy-duty steel tines
Foam-lined J handle
300 RPM
Speed trigger
Pros:
Long runtime
Plenty of control with the adjustable tilling width and speed trigger
Boom clamp lets you quickly attach and detach tines
Heavy-duty steel tines can handle the toughest soil
Cons:
How Can I Maintain My Cultivator?
There are a lot of different parts to a cultivator, and there are two big parts that are key to keeping it working healthy. The air filter and the tines are relatively easy to clean and replace.
Cleaning The Air Filter
You start by unscrewing the air filter cover and removing it. You need to remove the screen below the cover and the air filter itself. After taking the air filter out, wash it with detergent and water, once you've washed it, leave it to dry itself.
Once it is dry, put clean SAE 30 oil onto the air filter, and then squeeze the filter to spread the oil and remove any unnecessary oil. Place the air filter and screen back into the slot and put the cover back on. Now you're ready to clean the tines.
Note: you might not always need to do the tines and the air filter at the same time. You just need to check whether there is excessive dirt on the tines.
Cleaning The Tines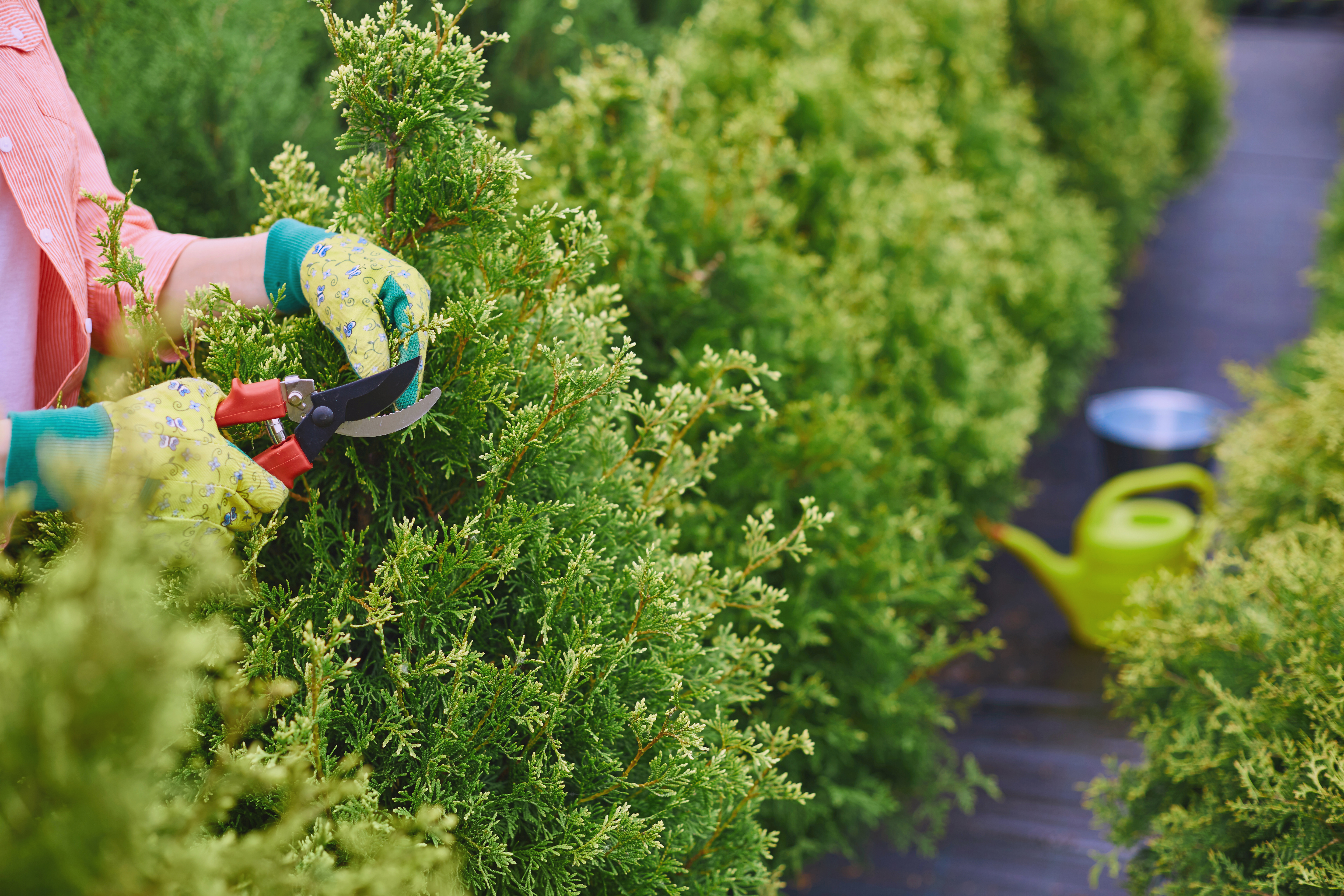 Before you take the tines off, you'll need to stop the engine and let it cool. This is because you need to take out the spark plug wire and then take the cap from the spark plug.
While the unit is on a flat surface and put it into a horizontal position, wash off the tines and shaft. Find the cotter pin on the tine shafts and then remove each of them. Then you can finally remove the tines. Clean each of the tines and put oil on them. Put the tines back onto the shaft and then put the cotter pins back in. You can reconnect the spark plug wire, and finally, you'll be ready to get back to work.
FAQs
Question: Is Ryobi A Good Brand?
Answer: Ryobi is an excellent company. It is a mid-range price, but you still get great quality tools. They sell a wide range of tools. Some are for your garden, but others are for general household DIY jobs. These tools can be used residentially or commercially.
Question: What Is The Difference Between A Rotavator And A Cultivator?
Answer: You'll often hear rotavators referred to as tillers or cultivators. These are similar tools, but they have slight differences. Rotavators are often heavier machines with wheels. That means the blades are more focused on breaking apart your soil. A cultivator usually doesn't have wheels and is driven by the blades that churn your soil.
Question: Can I Leave My Ryobi Battery Plugged In?
Answer: You should never leave the battery of your cultivators plugged in. Overcharging any kind of battery can damage it, and you'll have a cultivator with a shorter runtime, meaning you'll need to charge more often. Some chargers automatically shut off, but it is best to unplug after the specified time.
Question: Is Ryobi Good For Professional use?
Answer: Ryobi products are consistently used by garden care and DIY professionals. This is because of the quality of the products, and they aren't overly expensive. Ryobi produces hardy products that can quickly get a job done with little hassle.
Question: Are Petrol Fuelled Cultivators Better Than Electric Ones?
Answer: In terms of power, this is a pretty easy question. Yes, all petrol-powered tools are usually better in terms of power and runtime, but this doesn't necessarily mean it is better in other ways. Electric-powered cultivators are usually cheaper, and they don't cost as much to keep running. Electric tools are also better for the environment as they don't emit smoke.
Question: When Should I Use A Cultivator?
Answer: There are several situations where your new Ryobi cultivator will come in handy. It is great for removing weeds, even if they're rooted deep into your soil. Cultivating your lawn will help new plants grow healthier and should become part of your process when preparing your lawn. It is great to do it before aeration as it helps make that task easier. Some might suggest it as an alternative to aeration, but it is best to use both, especially when planting similar grass to bermudagrass.
Question: Should I Remove Grass Before Cultivating?
Answer: Yes, you absolutely should remove your grass. There are a few ways you can remove the grass from your lawn. However, grass will affect how easy it is to use your machine, creating more obstacles for the blades.
Conclusion – What Is The Best Ryobi Cultivator?
The best Ryobi cultivator, in my opinion, is the 18v one plus cordless RY18CVA-0. While it might not have the most power, it has more benefits than other Ryobi cultivators.
The cordless feature gives you plenty of maneuverability, and it has forty minutes of runtime which should be enough for the average lawn. And if you need a bit more time, the charger will get your tool up and running quickly. The debris guard will keep the tines safe from wear and tear. Those same four tines will easily break through your soil.
All these features and more make up the best Ryobi cultivator and one of the best residential cultivators available on the market.
If you're looking for more articles on garden-related subjects, then I recommend this one on the best dandelion pullers on the market. Our articles aim to be informative and hopefully give you an easier time when you're transforming your yard into a paradise.