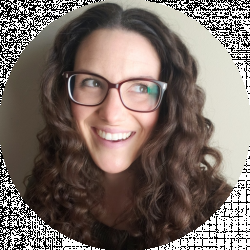 Latest posts by Sarah Caldwell
(see all)
Those pesky dandelions are always invading. Perhaps the most annoying thing about dandelions is that they spread like wildfire in the wind. There's simply no good way to get rid of them permanently.
The best thing for you to do, on top of using pre-emergents twice a year, is to pull weeds manually when you see them sprouting. A high-quality weed puller will give you perfect results, but it will also make the task easier to handle.
Choosing the perfect weed puller for your lawn may seem overwhelming, especially because there are so many options, but this guide was curated to help you narrow down your choices to the best of the best.
I'll review some things you need to know before shopping for a weed puller, and then I'll break down the top options, what makes them great, and some of the things you may want to look out for.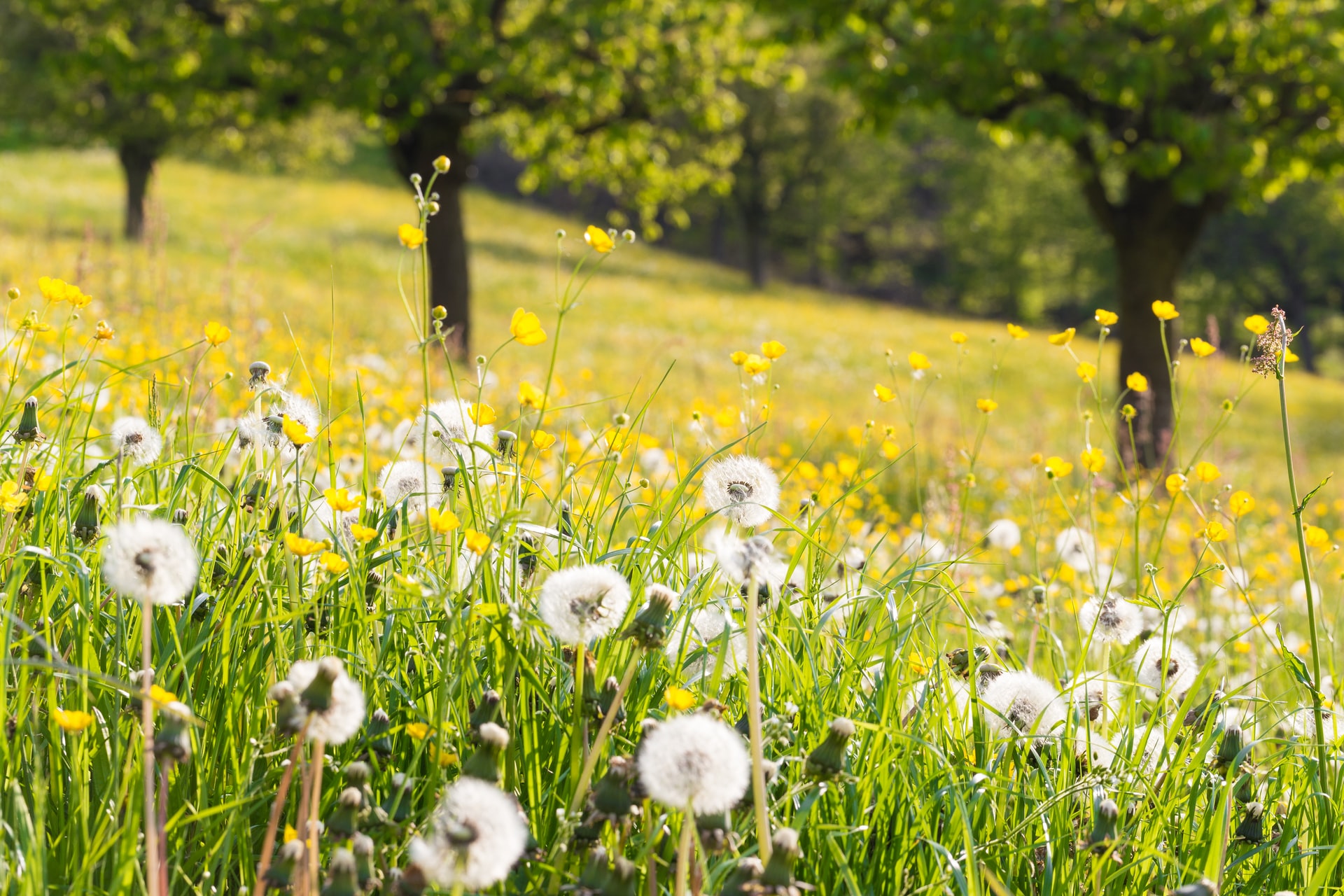 Weed Puller Buying Guide
There are some key features in weed pullers that have a big impact on the performance of the tool you choose. Consider these factors when determining your needs and preferences. Take a look at the following points with care before buying anything.
Handle length
Handle length has a lot to do with ease of use and comfort. If you're attempting to avoid bending over while pulling weeds, a stand-up weed puller with a long handle should do the trick. Long-handled weed pullers can also reach tight spaces so you don't have to try to squeeze through bushes or step over flowers.
However, shorter handles give you much more control over what you pull and are more functional for those who like to pull weeds while they're already down on the ground planting. Look for weed pullers that have the handle length that works for you and can reach all the spaces you need to reach.
An ideal length for a stand-up weed puller is 35-40 inches. However, there are shorter weed pullers and you may even want to take a look at a weed puller with a telescopic handle. This makes it convenient for use at multiple heights, but can be out of some people's price range.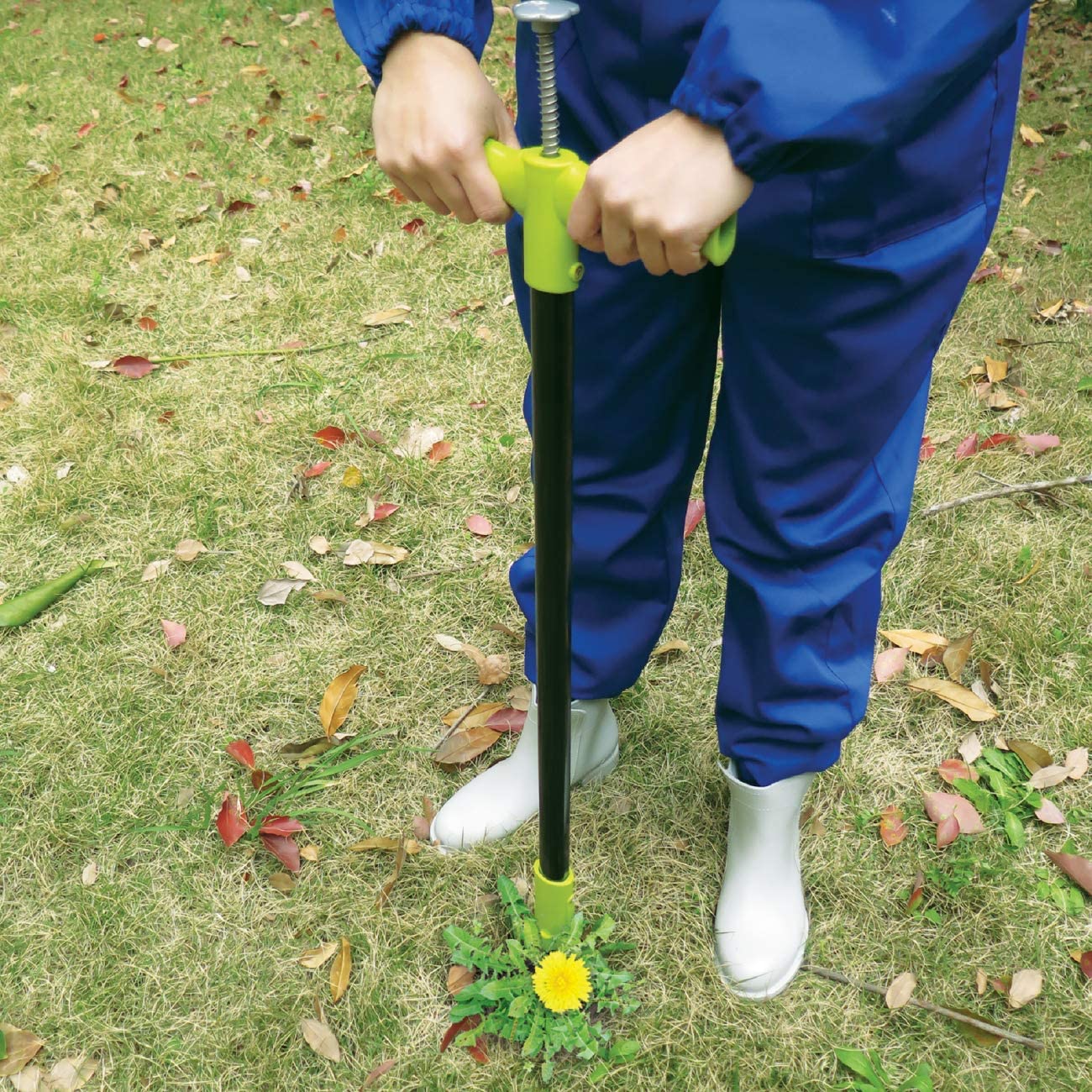 Head Type
The most important part of the removal tool is the head, because it's the part that actually pulls the weed. There are many different types of heads, and each has its purpose. Most dandelion pullers have a claw head that digs into the soil around the base of the weed and grabs the roots. You can then use the handle as leverage to pull the weed out of the ground.
Dandelions are one of the most stubborn weeds, and as these tools have developed, they've released claw heads with trigger handles that allow you to more precisely grab the dandelion and pull it out.
Hoes are good options, but they don't allow for as much precise control over weed pulling. However, they do allow you to cultivate the soil when you're done pulling weeds, so if you're looking for one tool that does it all, it's a good option. Knives are also great multipurpose tools for cutting through weeds and aerating the soil at the same time.
Material
It's always better to look for weed pullers made from durable materials. They'll last a lot longer than something flimsy. While they're more expensive, many people find that it's worth the investment, especially if you find yourself constantly pulling weeds.
Weed pullers with metal prongs are more resistant to rust or bending and wooden handles are much more sturdy than plastic. Make sure you also look for weed pullers that have cushion grips on the handles. This can reduce fatigue and make the weed puller more comfortable.
Design
Weed pullers are designed to make removing weeds easy, so purchasing one that requires minimal effort to use is ideal. Take into account the shape, balance, and weight of the weed puller as you hold it.
Also, take into account the size and type of weeds in your lawn or garden. If you're only pulling dandelions, you won't struggle too much with a smaller weed puller or one that doesn't have a lot of fancy cushion grip.
Pulling shorter weeds is easier with smaller pullers that have curved shafts and forked tips. Y-shaped or L-shaped tools make pulling out long weeds a lot easier. If you're only pulling dandelions, you may only need one tool. However, if you struggle with several weed varieties, you may want to invest in multiple tools.
Price
Price is a factor for most people. If you struggle with a lot of weeds year after year, a weed puller is a good investment, and you may want to consider increasing your budget. However, if you simply can't afford multiple tools or a premium item, there are some budget-friendly options.
Determine how much you want to spend based not only on what you can afford, but by how easily you want to be able to rid your lawn of pesky weeds.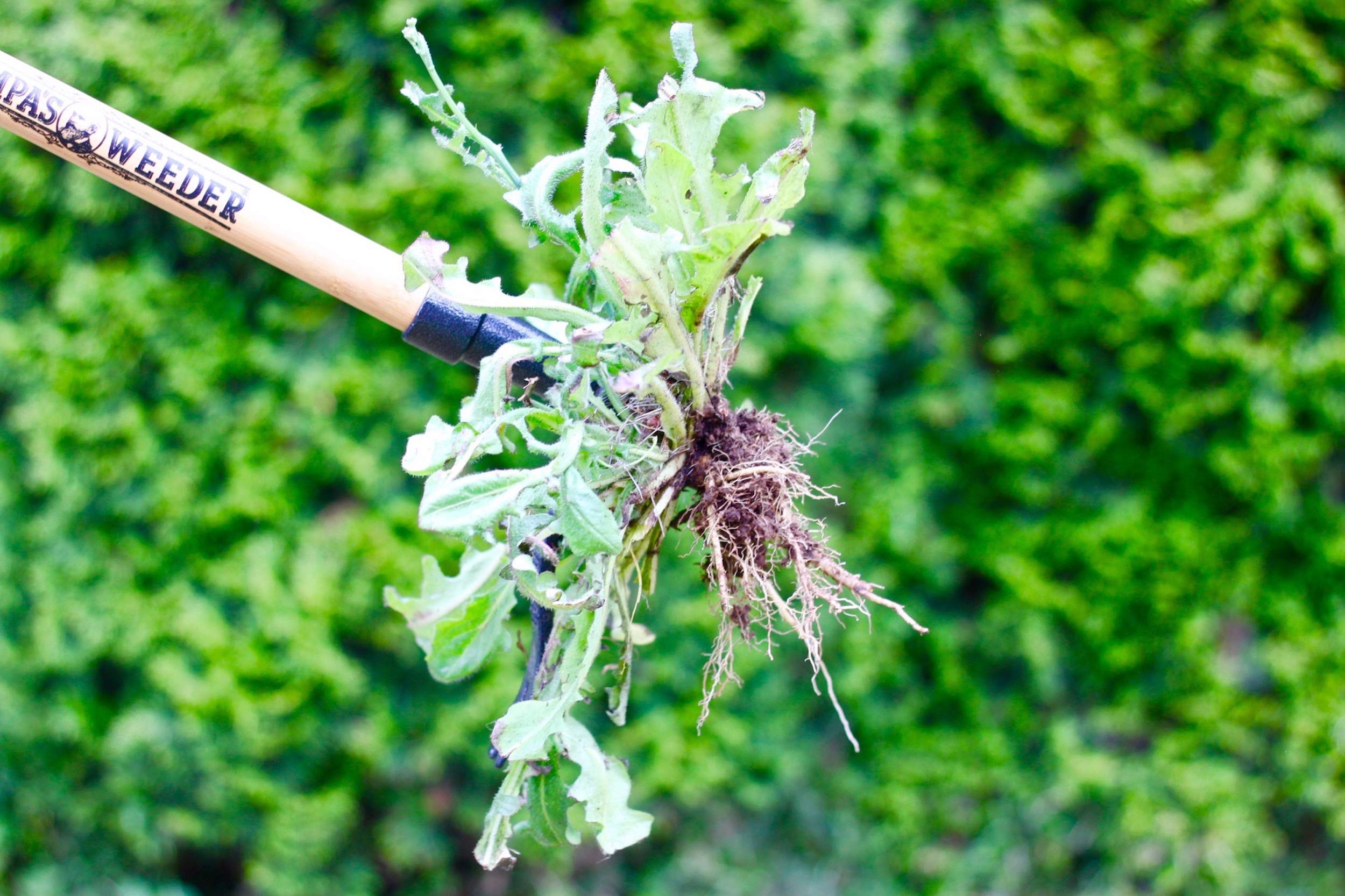 Best Dandelion Pullers
Every tool on this list will get the job done when it comes to dandelions. But there are several options that are all-around good tools that can be used for many different types of weeds.
Grampa's Weeder
Grampa's Weeder is a long-handle dandelion puller with a 4-claw steel head and bamboo handle. It was invented in 1913 and remains a customer favorite to this day. The claw is durable and easy to operate using a lever. It's simple and effective, making it a hardworking tool that works for nearly everyone. There aren't any complicated parts that can break, so you can handle it roughly and not worry about it.
To operate, simple push the head into the ground around the weed with your foot on the lever. Then push the handle backwards in the direction of the foot peddle. It will lift the dandelion from the soil with ease, and you won't even have to bend over.
Pros:
Simple design
Hardworking tool
Durable
Easy to use
Long handle can be used standing up
Cons:
Not ideal for large clumps of weeds
Corona GT 3040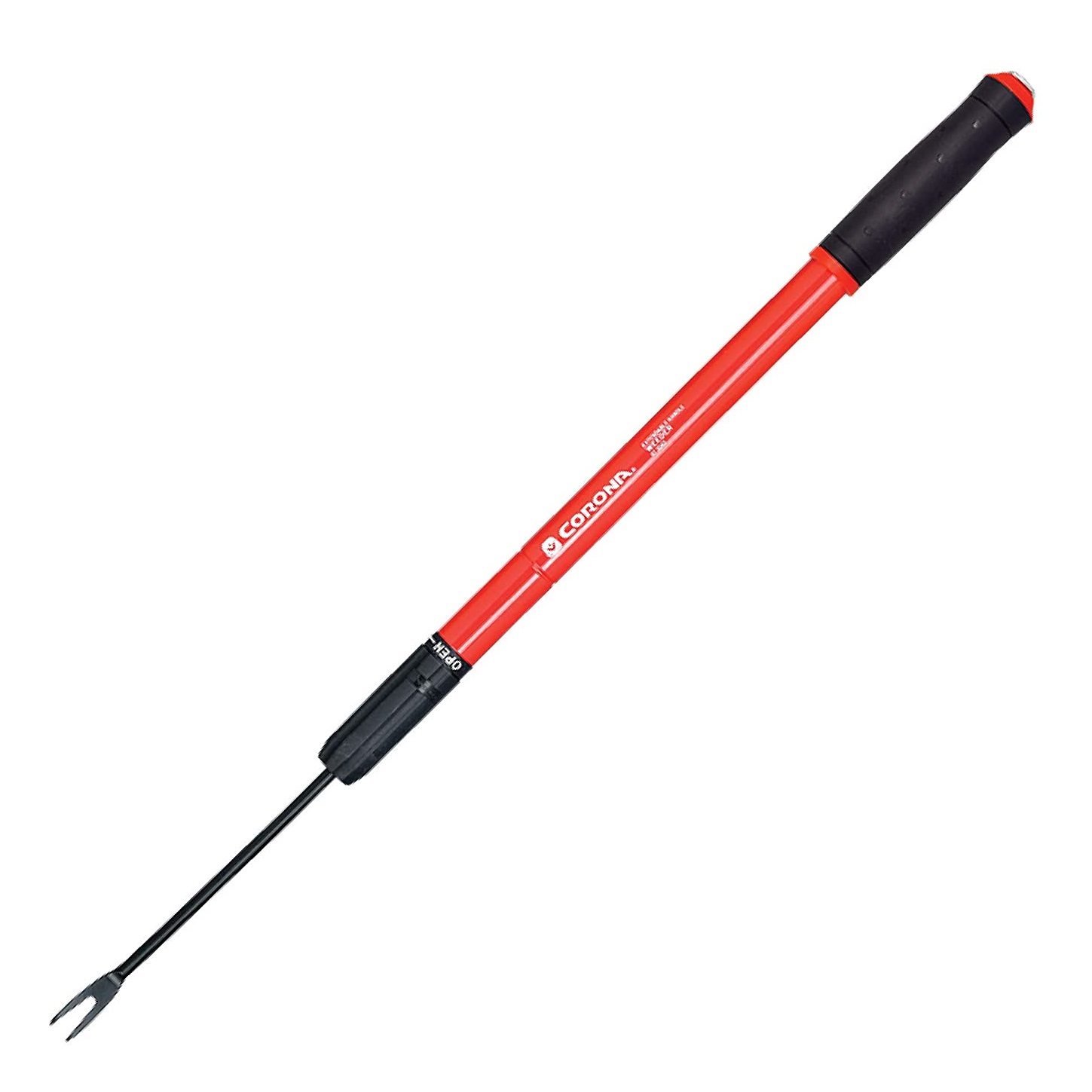 This quality tool makes a weed-free lawn simple. It's made by one of the best brands on the market and it comes with plenty of features that make pulling weeds fast and easy. The other awesome thing about the Corona GT 3040 is that it comes at a price that's easy on the wallet.
The aluminum handle is adjustable between 18 and 32 inches, so while it's shorter than recommended for a stand-up weed puller, it can be used while you're already closer to the ground and will reach those tight spaces.
The head is heat-treated, giving it superior durability, so you can use this weed puller consistently for years to come and you won't ever have to worry about its reliability.
The ferrule is made from thermoplastic, so it's stable in high-impact situations, and it's fitted on one end so you can adjust the tool accordingly and still enjoy less wear and tear.
The soft, textured grip makes the tool comfortable to hold so you won't strain your hand when pulling a lot of weeds in a single session. There's also a hanging ring on the end to make it easy to store when you're not using it.
While it's a great tool for removing most weeds, it's very lightweight. This is great for those who don't have a lot of arm strength, but it isn't the best tool for digging through dense soil.
Pros:
Soft, comfortable grip

Adjustable handle

Made from durable tools

Easy to use

Lightweight

Budget friendly
Cons:
Too flimsy for dense soil
Fiskars 4-claw weed puller with ergonomic handle

This is a great tool for nearly every kind of weed, not just dandelions. The design is functional and convenient because it makes pulling weeds easy and it's a breeze to maintain. Each of the claws is 3.5 inches long and made of serrated stainless steel. It grabs even large clusters of weeds and removes them permanently.
The handle is 39 inches long, so you don't have to bend to use it and you don't need a lot of strength to operate it, either. Just step down on the foot lever to penetrate the soil, grab the weed by its roots, and pull.
In some cases, you may have to bend to press the foot lever down and the claws aren't always long enough to fully remove longer root systems. The plastic casing could also be more sturdy, but on the whole, this is a durable dandelion puller that will work for most people.
Pros:
39-inch handle for standing use
Ergonomic handle
Easy to use
Removes large clumps of weeds
Cons:
May not remove longer root systems
Plastic casing isn't as durable as it could be
Walensee stand up weeder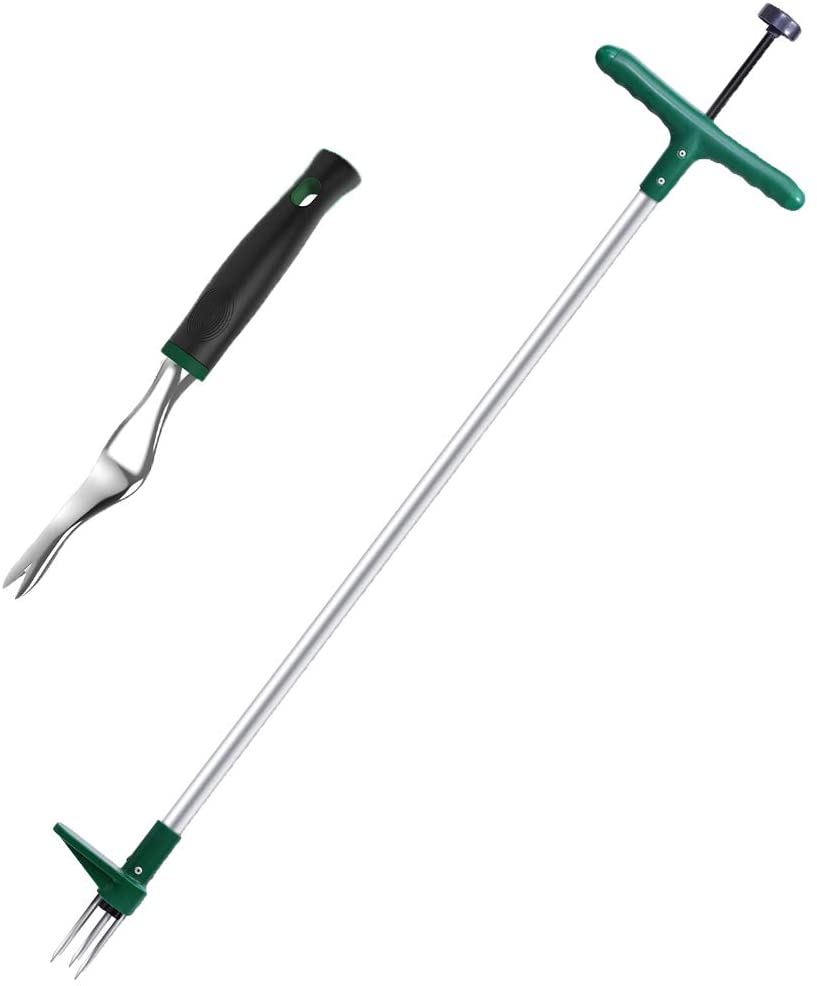 Here's a true stand up weed puller that will take the strain out of your back while cleaning up your lawn or garden. The Walensee stand up weeder is effective on most weeds, including dandelions, and will even tackle invasive thistles.
A sharp tip is much more effective at completely removing a weed with its roots to ensure it doesn't come back. That's what this tool does for you with a 3-claw design. Each claw is made of a 2.75-inch piece of steel.
It's also surprisingly easy to use. Just push the tines into the ground in an upright position and then either tilt or twist the handle to grasp every bit of the weed before pulling it out. Experiment with each method to learn what's easiest for you and what's most effective for your weeds.
The 39-inch handle is plenty long enough to pull weeds without bending or getting on your hands and knees. It also features a foot pedal for extra force when trying to penetrate thick weeds or dense soil.
The entire shaft is made from durable stainless steel, so it will give you long-term reliability. The only problem with this level of strength and durability is that it can leave larger holes in the ground, which is a problem for those who have extensive weed penetration. It also leaves your soil more vulnerable to inclement weather.
Pros:
Removes weeds and roots

Easy to use

Long handle increases stand up usability

Built for durability, reliability, and long life
Cons:
May leave larger holes in the ground
Garden Weasel Weedpopper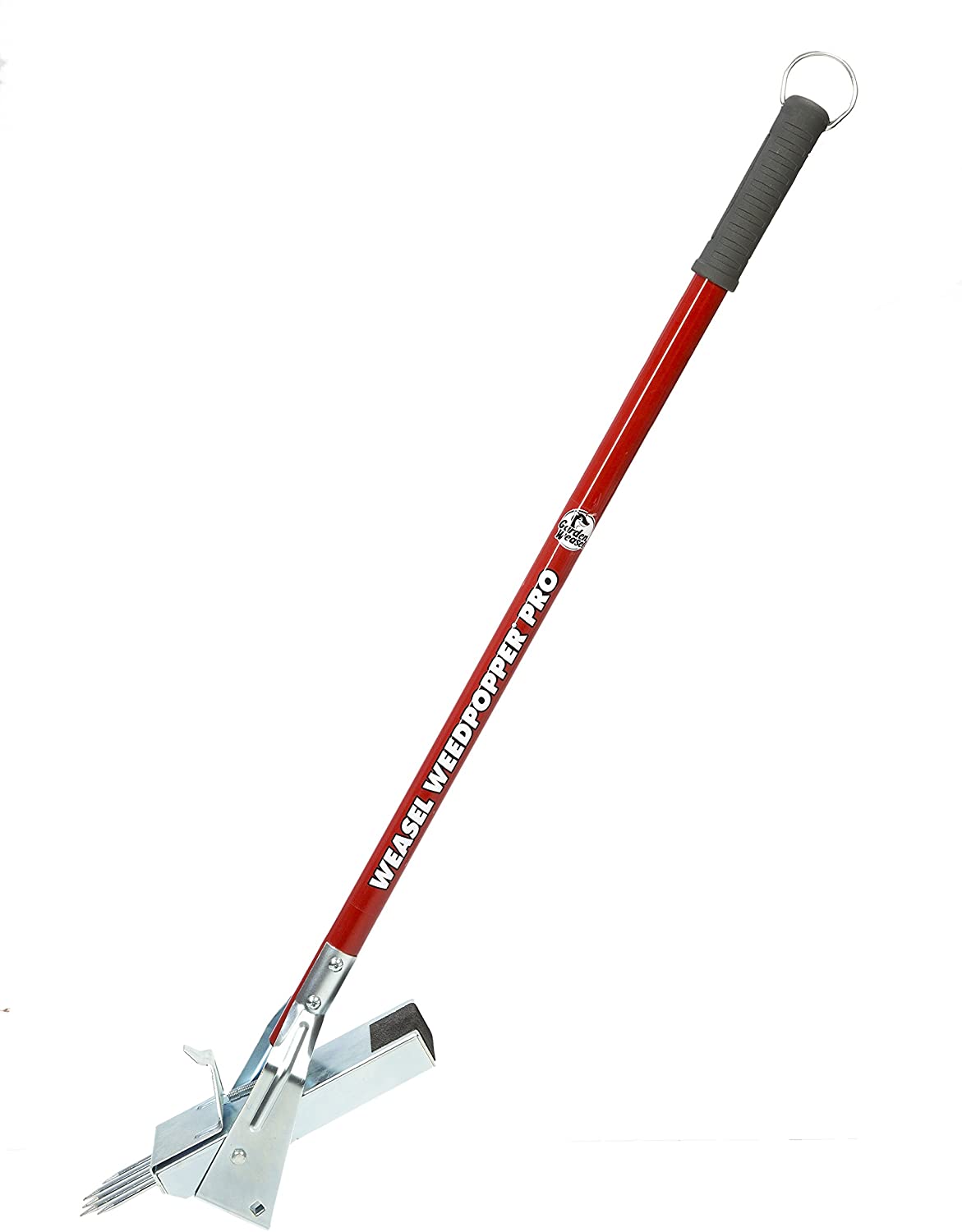 This tool works by inserting the head into the ground with a foot peddle and twisting. It forms a circular plug around the root of the weed so you can just lift it out of the ground.
The top of the handle contains a button that ejects the dandelion from the claws, so you don't even have to bend over to do that. However, its handle is only 36 inches, so it may require some bending for taller people.
This is a comfortable tool that's easy to use and plenty durable, made almost completely of metal and with few parts that will wear out or break. Using it will leave larger holes in your garden or lawn, which may be a deal breaker for some.
Continue reading our full guide on how to find the best weed poppers.
Pros:
Popper button ejects weeds from claw with ease
Durable metal construction
Twisting action allows you to easily lift weeds out
Cons:
Leaves larger holes in the ground
May be too short for some
AMES 2917300

AMES is a well-known name in gardening tools, and they've given us a weed puller with an innovative design that can tackle persistent weeds. This advanced design saves you a ton of time and makes it really easy to use.
The most distinct feature of the AMES 2917300 is its steel ratchet that can tackle many different types of weeds from the roots. The handle is 40 inches long, so it's a great stand up design that prevents you from having to bend over.
The curved tines on the bottom make it easy to grasp weeds by the roots and twist them out of the ground without leaving large holes. This design means that you can remove large quantities of weeds and improve soil aeration without exposing your lawn to damage.
The unique weed releasing system features a slide handle that makes it easy to drop the weed after pulling it. The T-grip increases your comfort while holding the tool, and the compact design is lightweight and effective.
It's also built to be resistant to any bending or damage, so it will provide you with a tool that will last for a long time. The downside here is that it's not the most effective tool for thistles. However, if you're using it for dandelions, you are good to go.
Pros:
Removes weeds completely

Easy, comfortable, and convenient

Won't bend

Improves soil aeration and protects lawns
Cons:
Won't remove thistles effectively
Yard Butler weeding tool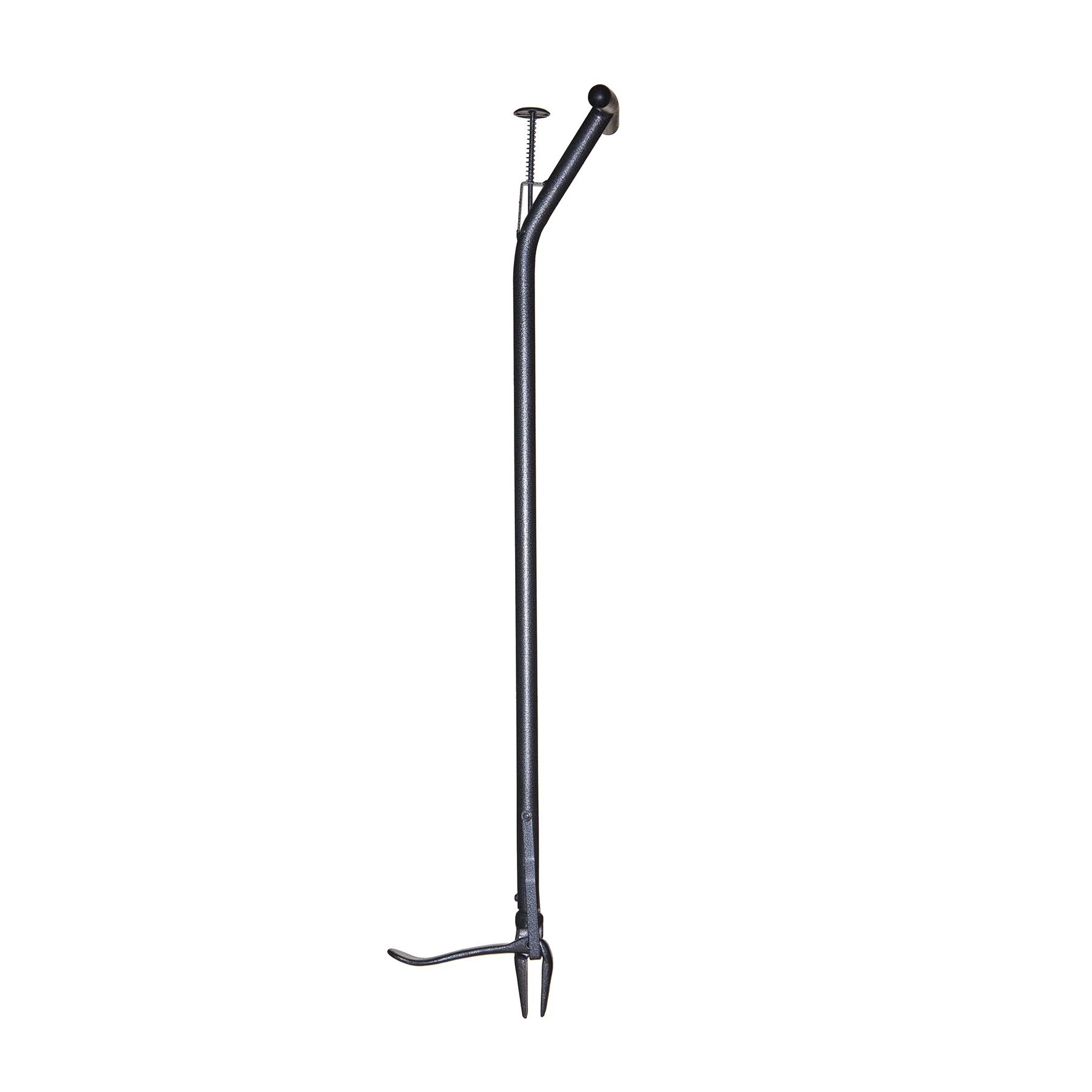 This tool just looks rugged and gnarly. It tackles weeds with ease and makes light work of pulling. The foot bar gives you extra leverage when penetrating the soil and it will rip out weeds effectively, roots and all. The Yard Butler is one of the only tools that features this foot bar feature in a longer handle.
The handle is 38 inches, so it's long enough for most people, which means you'll be able to simply push it in, twist, and pull it out, all without bending over. The grips are 12 inches long, so there's plenty of room for large hands to grasp it and enough leverage for twisting with force.
While the tines are only 4 inches long and may not pull out longer root systems, it can also be used for other gardening purposes like aerating or creating holes to plant bulbs.
Pros:
Effective in tight areas
Sturdy and durable
Combines a foot bar with a long handle
Cons:
Doesn't work on weeds with longer root systems
Mudder hand weeder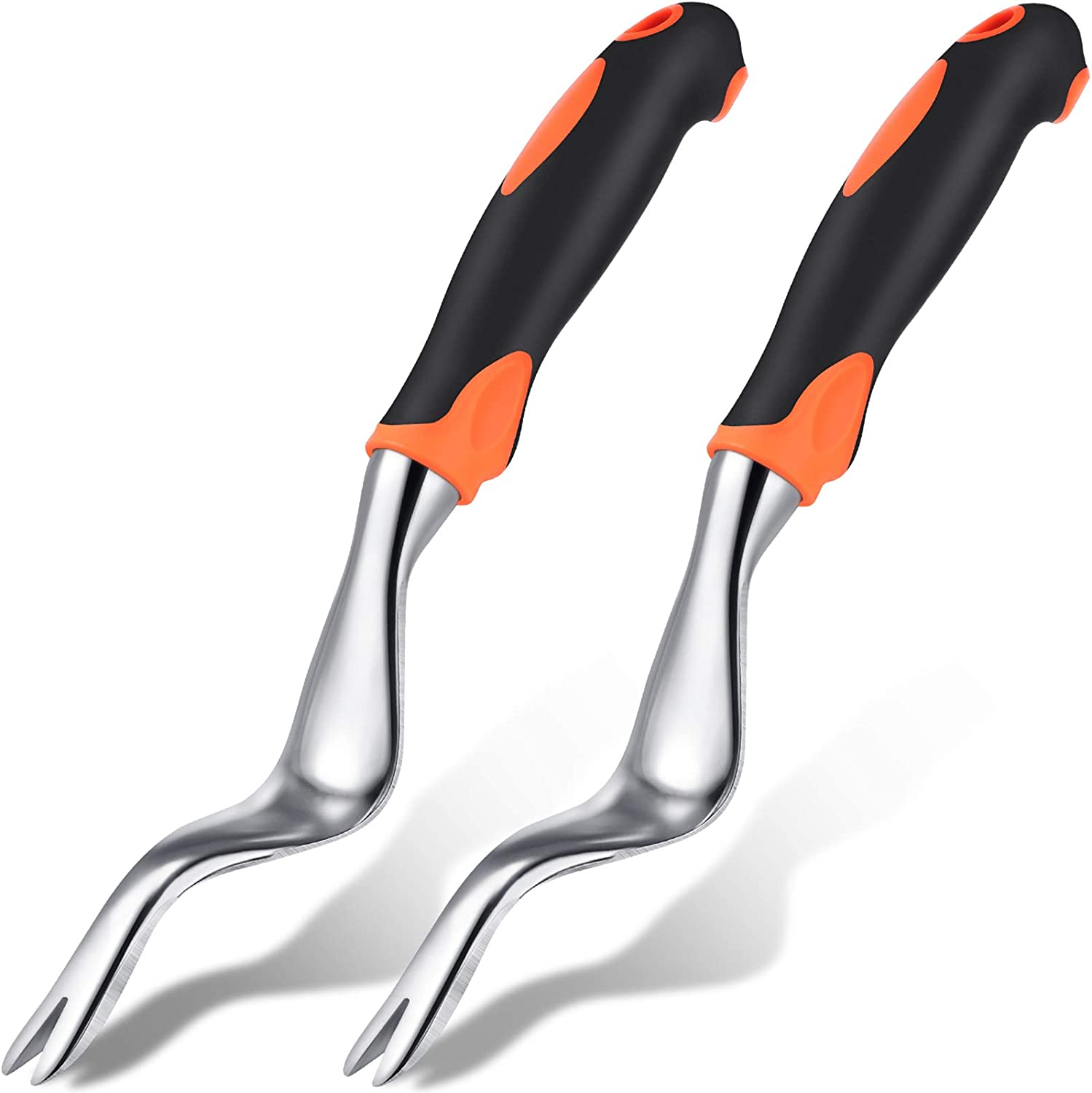 For those who like to keep a close eye on their weed pulling action, this hand weeder is a comfortable option, ideal for flower beds and vegetable gardens. The Mudder hand weeder will protect your plants from harmful and invasive weeds, and give you increased control over what you pull.
This tool has a curved metal shaft, increasing your pulling power. The fork-shaped tip makes pulling weeds much more effective. Simply insert the tip into the ground and rest the base on the ground. Using the ground as leverage, you can pull the weed out by its roots.
The aluminum alloy construction makes this weed puller extremely tough and durable. It won't bend or break with consistent use, and it's also highly rust resistant. You can tackle all of your dandelions without damaging other nearby plants that you want to keep.
The ergonomic handle comes in yellow and orange, and it's made of a single piece without the use of screws, which means it won't fall off. The handle remains firm, reducing the impact of weed pulling on your wrist.
You'll be able to use this weed puller for years without experiencing any fatigue, and it has a hole on the end that makes it easy to hang out of the way when not in use.
The only thing that could have been better is a longer tip to tackle deeper penetrating weeds. However, by twisting the tool before extracting the weed, you can remove longer roots. This method may take longer, but it is very effective.
Pros:
Sturdy and durable

Comfortable grip

Curved tip for reduced fatigue

Effective weed removal

Easy storage
Cons:
Doesn't work as well for longer roots
Greenf weed puller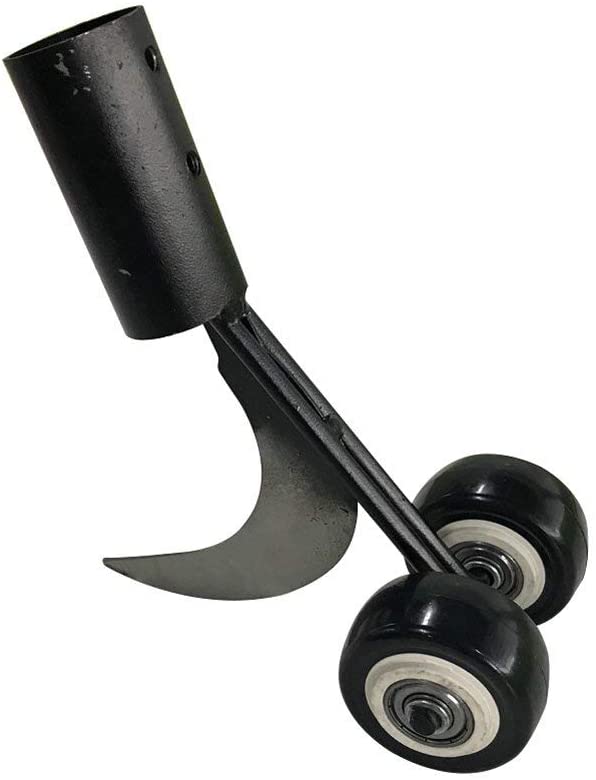 This unique design delivers sufficient performance, precision, and convenience. In fact, it's one of the best tools for reaching between deck boards, patio stones, and cracks in the sidewalk or driveway.
The best thing about this particular tool is how it works. The adjustable connector can be fitted to the handle before each use, making it effective for several different tasks and comfortable for a variety of users.
The sharp, curved weed snatcher on the bottom will pull weeds effortlessly as it rolls past. The wheels on the bottom make it easy for you to pull the tool through the yard without applying any downward pressure.
The lightweight, compact design makes this tool easy to use and store. While the design is unique, it takes some getting used to. It's not for everyone, and won't tackle every type of weed.
Pros:
Will fit on any handle

Lightweight and compact

Includes wheels for easy movement through the yard

Excellent for use in tight cracks
Cons:
Unique design is hard to get used to

Won't work on every type of weed
Sinoer hand weeder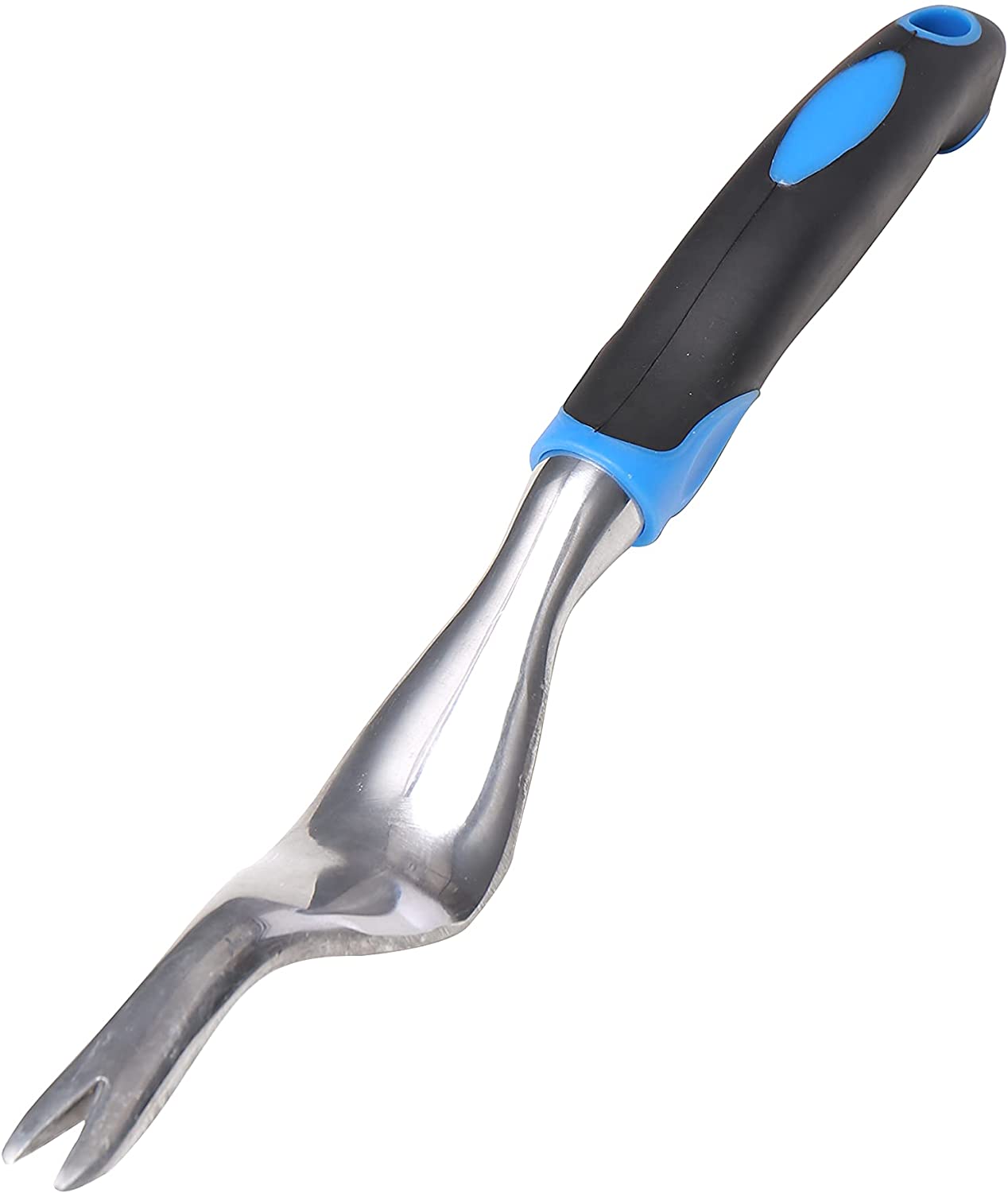 The Sinoer weed puller may look almost identical to the Mudder hand weeder, but there are some notable differences. It works on a wide variety of weeds and is very lightweight. You'll get maximum control from this design, much like the Mudder.
The curved metal shaft works in a similar fashion to the Mudder tool and makes it easy to remove weeds and roots perfectly. It features a sharp forked tip so you can pry weeds out of the ground without leaving anything behind.
The aluminum alloy construction lends strength to a durable tool that you use on a regular basis. It won't bend or break, even when used over several years. This particular model works a bit better on weeds with longer roots.
The skid-proof handle makes for a comfortable grip and strong action on tough weeds. However, the handle isn't quite as comfortable as the Mudder version. The bright yellow color will make it easy to spot when you lose it in the garden, but there's no orange option either.
The primary downside to this tool is it's short length. It's not as long as other hand weeders, so it requires a bit more bending when digging smaller weeds out of the yard. It can get tiring if you have a lot of small weeds.
Pros:
Strong and bend-resistant

Easy to use

Will tackle long weed roots
Cons:
Shorter length makes pulling small weeds harder
Abaooat manual weed pullers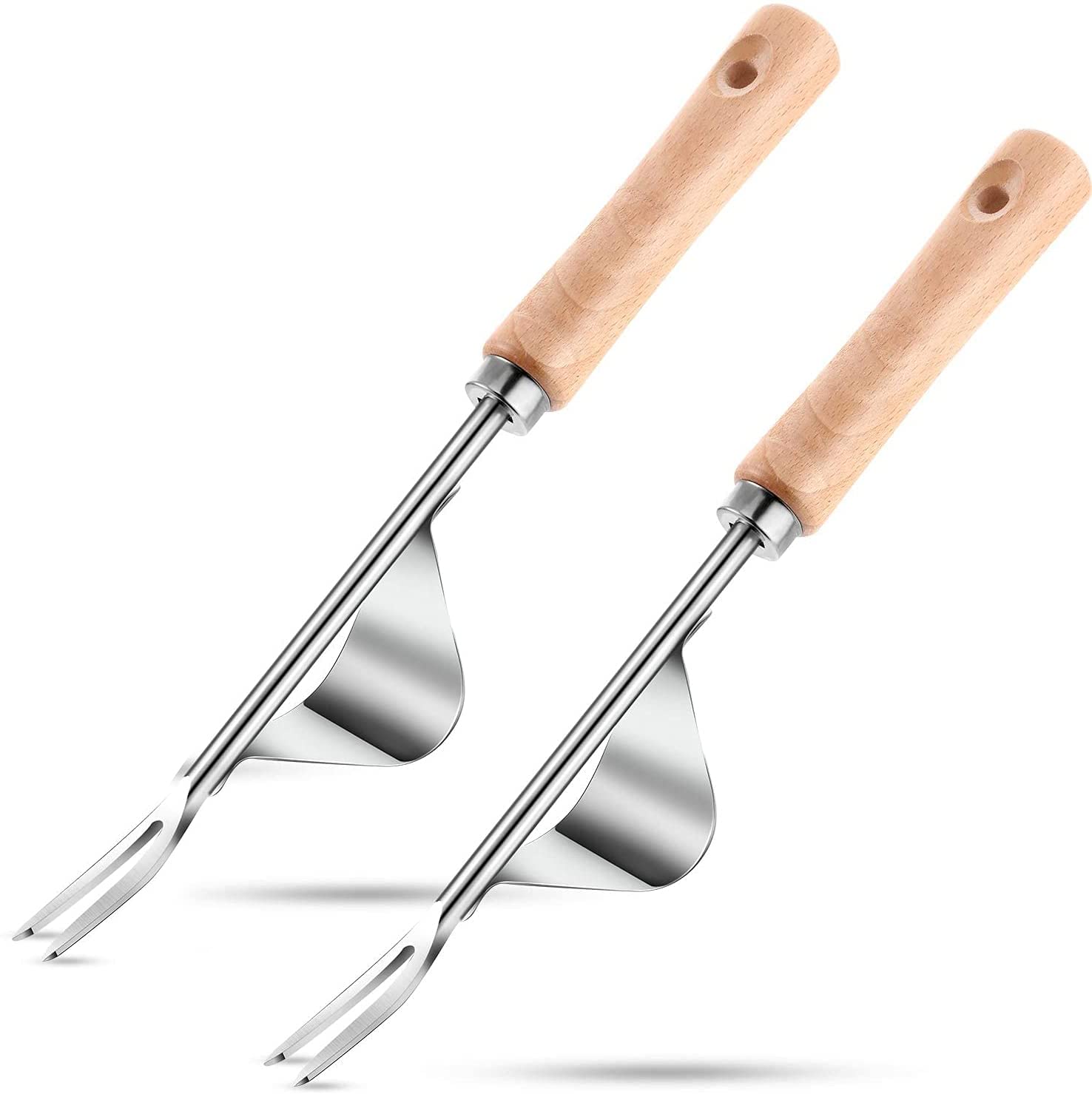 This tool is perhaps the most effective option if you want to get rid of your invasive weeds once and for all. It works well on dandelions, but it can also tackle thistles and crabgrass, which are some of the hardest hitters.
This particular item comes with two different weed pullers in one package. Each is designed to work on different weeds, so you get maximum coverage in a single purchase. While they have the same basic structure, the shafts and fork tips are a bit different.
The longer fork tip has a Y-shape which makes it better for pulling out weeds with deep roots. The shorter, V-shaped tip is more effective on smaller roots without creating large holes in your lawn or garden.
Both tools have a curved attachment on the shaft that allows you to use the ground as leverage when pulling out weeds. It reduces your effort while still giving you maximum results. Just aim the fork below the weed, rest the base on the ground, and press the handle down.
The wood handles offer an attractive and comfortable design. Each has a hole in it, which makes hanging the tools easier when they're not in use. While this is useful, the hanging hole could be wider. It's not ideal for many wall hooks, making storage a bit impractical.
Pros:
Will work on most weeds

Comes in a pack of 2

Reduces fatigue

Requires minimal effort
Cons:
Narrow hanging hole makes storage impractical
Zhaoyao weed puller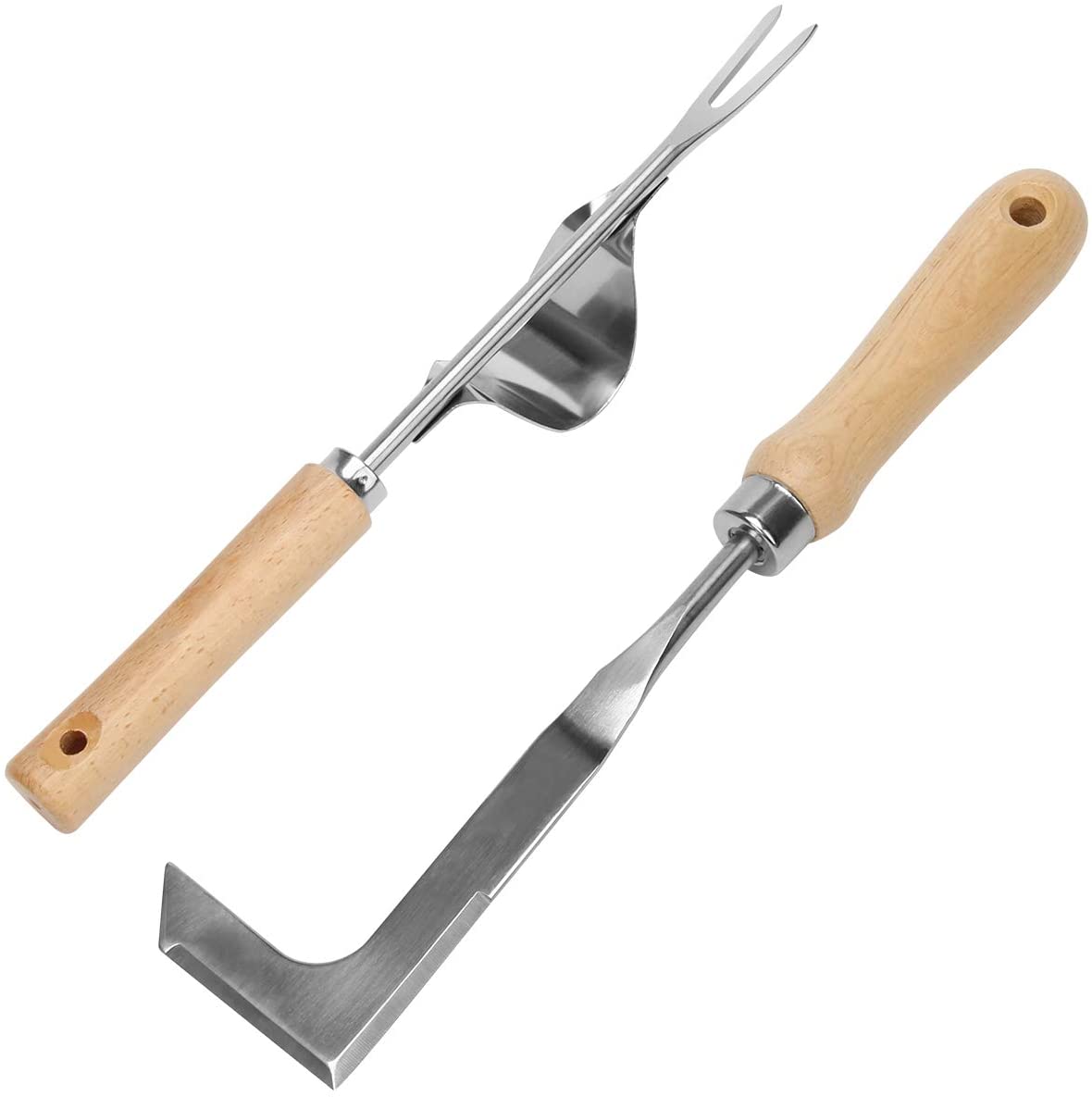 Here's another effective 2-pack with a unique design that makes pulling weeds fast and smooth. It's one of the most sturdy weed pullers on the market and will work on nearly every weed variety.
Each of these weed pullers has a very different design. The curved shaft with a fork tip will work very well on smaller, more stubborn weeds. The L-shaped design works better for removing large weeds.
By combining the two tools, you can get rid of dandelions as well as thistles, crabgrass, chickweed, and plenty of other persistent varieties. They're also easy to use with minimal effort.
These tools are flexible enough to tackle areas that are harder to reach. They'll even get in between patio stones or cracks in the driveway. The handle is made of durable wood and the steel body is rust resistant.
While these tools are very effective most of the time, the fork tip does have a tendency to cut weeds rather than pulling them out, which leaves the roots in the ground to grow back again later.
Pros:
Will remove large and small weeds

Easy to use

Durable steel body and wood handle

Rust resistant

Reaches between patio stones and driveway cracks
Cons:
Fork tip may cut weeds instead of removing them
YG_Oline weeder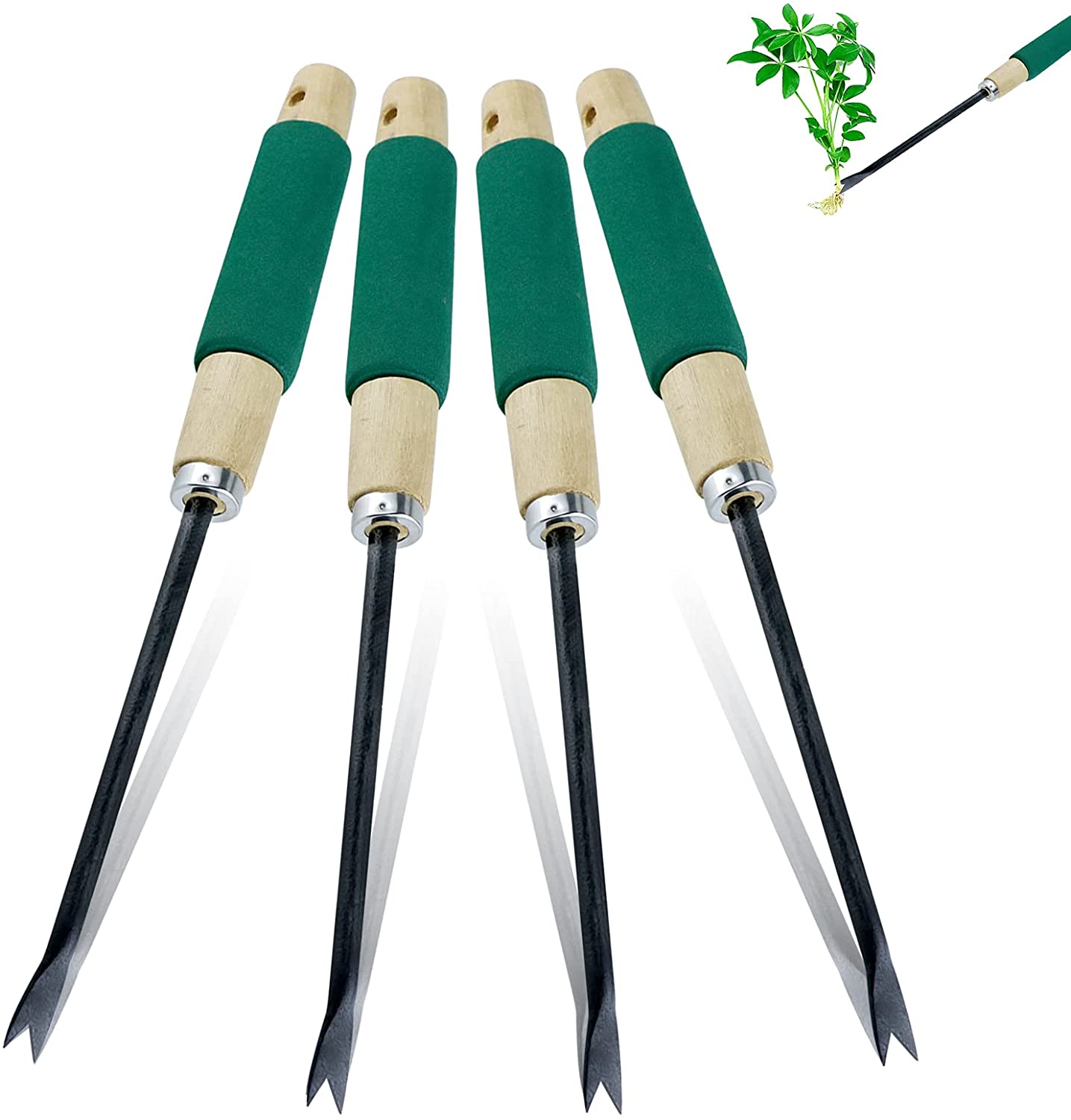 This is a 4-pack of weeders that offers effective weed pulling action. Each identical weeding tool will remove weeds from smaller areas like a garden or sidewalk. The pack also makes a great gift for gardeners.
These weeders are 31 centimeters long and include a metal rod with a forked tip. They're strong enough to pull out even the most persistent weeds at the root without damaging the soil.
The handles are made with a durable, quality wood and wrapped around the middle with a sponge-like material to increase your comfort. The handle will retain its shape well, even with consistent use.
The 7mm hole at the base makes these tools easy to hang. Its lightweight, compact design makes it convenient and easy to use. It's also a great option for those who tend to misplace their tools from time to time, because there will always be an extra.
While the tool is effective, it can take more time and patience to pull out larger weeds. It can tackle them, but it may take some adjustment in your technique.
Pros:
Will remove strong weeds

Comfortable design

Lightweight and compact

Sturdy and long-lasting
Cons:
Pulling large weeds will take longer
FAQs
When looking for the right tool for pulling dandelions, you need to make sure you choose something that's not only comfortable and effective, but will last a long time and come with the additional design features you need. Here are some frequently asked questions that may help you understand more.
Question: Will a dandelion root regrow?
Answer: Like most plants, dandelions will grow anew if you leave the root in the ground. Regrowth comes from buds on the taproot. When the root is broken, these buds sprout, producing a new plant. When you're pulling dandelions from the ground, do your best to remove every piece, because anything left in the soil will produce a new plant.
Question: How do I permanently get rid of dandelions?
Answer: There are plenty of things that you can do to get rid of dandelions, but none of them are permanent. The pesky thing about dandelions is that they spread quickly and come from places you can't control.

Using a pre-emergent twice a year will help control most weeds, and using a weed puller will help you stay on top of anything that does sprout in the meantime. However, when dandelions die, the wind carries their seeds far and wide, meaning that even if you get rid of every single dandelion in your lawn, there will still be more next year.
Question: How do you get rid of dandelions without chemicals?
Answer: If you'd rather avoid the use of pre-emergents in your lawn, there are some things you can do to kill dandelions naturally. However, these methods aren't as effective and will take longer to achieve the same results. It requires a lot of work and patience.
You can get rid of dandelions by pouring vinegar or apple cider vinegar in a spray bottle and spraying your dandelions until they're completely covered. It will only take a few hours for them to wither and turn brown.
Question: Are dandelions bad for your lawn?
Answer: While many gardeners don't like dandelions because they don't look pretty, the truth is that dandelions provide several benefits to your lawn. Their roots spread wide, loosening dense soil and providing increased aeration.

Dandelion taproots can pull nutrients from deeper soil and deliver it to shallower plants. Dandelions actually provide excellent fertilization to grass and will reduce erosion. However, if you still don't like your dandelions, there are methods for removing them.
Final Thoughts
Among the many options we reviewed, and the many other products on the market, you should now have a better idea of the options and what might work best for you. There's no one-size-fits-all tool, and you may even need a variety of designs to tackle all of the weeds in your lawn.
My personal favorite is the Mudder hand weeder because I tend to pull weeds while I'm down on the ground already. It's durable, comfortable, and attractive. I find that it does a great job of tackling most of my weeds with few exceptions.
However, if you want an excellent stand-up weeder, the best option is the Walensee because it's durable and features a sharp tip that can tackle nearly every weed, including persistent roots and dense soil.
Ultimately, the decision is up to you. Any tool on this list will offer effective weed removal of dandelions and many other weeds. They all feature durability and reliability in an effective, comfortable design.