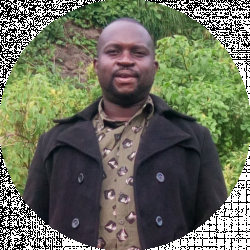 Latest posts by Haron Omaita
(see all)
While trying to maintain your lawn, you've perhaps come across many weeds that spoil your lawn's look, including crabgrass. But crabgrass causes far more harm than that. If it's not removed, just one crabgrass plant will produce up to 150,000 seeds all over your lawn. This means 150,000 crabgrass plants will potentially appear on your lawn next spring.
Since crabgrass is more susceptible to cold weather, it'll die faster in the fall than other types of grass. This will result in your lawn having "bald patches," which will take a great deal of time and elbow grease to restore.
Digging out the crabgrass is one simple way to get rid of the plant. Another method is scorching the weed with hot water or applying a vinegar or salt solution on areas with crabgrass. But if the infestation is already out of hand, you'll need to use an herbicide that kills crabgrass in particular, or crabgrass and many other weeds.
Our crabgrass killer buying guide below will help you find the best crabgrass herbicide on the market. You'll also learn how to identify crabgrass, types of crabgrass killers on the market, the lifecycle of the crabgrass plant, when to apply a crabgrass killer, as well as our top crabgrass killer picks.
At the end of this guide, you should be able to find the right crabgrass killer for your lawn.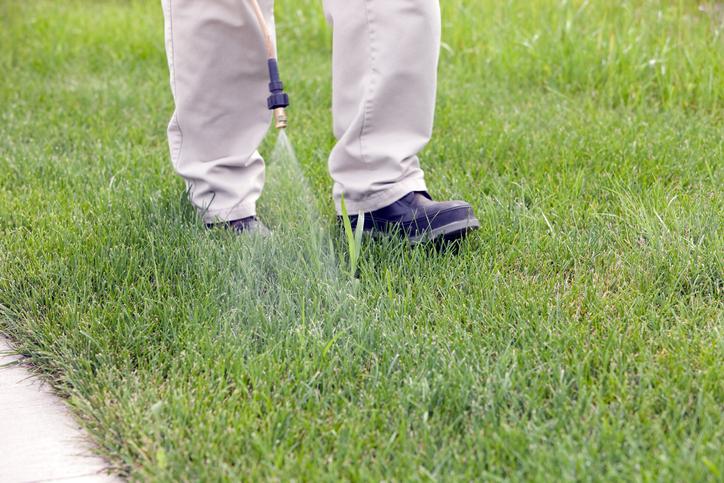 What Is Crabgrass?
Crabgrass is an annual weed that grows in lawns during the warm season and spreads vigorously. It's also a prolific seeder. In fact, one crabgrass plant may produce around 150,000 seeds that will germinate and maintain the cycle the next season.
It's quite hard to remove crabgrass seeds as they're tough customers and stick around to germinate in the lawn in the next few seasons. Even mowing the lawn does nothing to control seed production. Even if you mow your lawn grass down to 1.5 inches, crabgrass can still produce seeds.
Another difficulty in getting rid of grass is the challenge of identifying it correctly. A small crabgrass plant has around 0.25" broadleaf blades. These blades are thin during sprouting and get progressively thicker as the plant grows.
The growth of several branches and the growing of leaf blades from the sides is one easy way to identify crabgrass. Regular lawn grass grows in a very uniform pattern, while the leaf blades of crabgrass are very distinguishable.
Types of Crabgrass
Crabgrass belongs to the Digitaria family. There are 33 known crabgrass species in the family, representing different varieties of crabgrass. Most of the crabgrass varieties are native to temperate and tropical regions.
While some crabgrass varieties are seen as weeds, others are animal forage and food. Digitaria species are found all over with world with numerous indigenous names. During spring, many people hate it when they find their gardens and lawns invaded by this hardy and tenacious weed.
See how Crabgrass compares to:
Most Common Types of Crabgrass
The two most common crabgrass varieties found in the United States are long and short.
Long crabgrass, which can also be referred to as hairy or large crabgrass, originates in Europe, Africa, and Asia. It spreads fast through tillering and may grow to 60 cm (2 feet) tall if not mowed.
Smooth, or short crabgrass is originally from Asia and Europe but has spread fairly fast in North America. It grows to just 15 cm (6 inches) and has broad, smooth, hairless stems. Both varieties are summer annual weeds, which reseed prolifically. In addition, there's Southern and Asian crabgrass.
Southern crabgrass is commonly found in lawns and originates in the Americas. It resembles long crabgrass with its long, wide hairy leaves.
Asian crabgrass is also known as tropical crabgrass and features head branches that grow from the same area on flower stems.
Less Common Crabgrass Varieties
Many other crabgrass varieties may not be found in your local area but the weed's tenacity and versatility means it comes in various forms and can even move from continent to continent. Some of these varieties include:
India crabgrass, a tiny weed with leaves measuring less than 2.5 cm (1 inch) long.
Texas crabgrass, which thrives in hot seasons and on dry or rocky soil.
Blanket crabgrass, which spreads by stolons and has hairy, short leaves.
Crabgrasses are usually named according to their locality, including:
Madagascar crabgrass
Queensland blue couch
Carolina crabgrass
Others are named more colorfully to reflect their characteristics, including:
Comb finger grass
Cotton panic grass
Naked crabgrass

Is Crabgrass Beneficial?
Crabgrass is deeply unpopular with many homeowners since its ungainly clumps crowd out likable grasses like the cheerful dichondra and Bermuda. In addition, the two most common crabgrass varieties, short and long crabgrass, grow up to 38-89 cm (15-36 inches), respectively, if not cut. Perhaps that's the main reason why many of us hate it. When it's not mowed, it makes your yard look horrible.
But its quick and high growth and resilience even in bad soils make it perfect in some areas of the United States as a forage grass for cattle, sheep, and horses in the summer.
In fact, the University of Florida found out that crabgrass is quite tasty to grazing animals. That means they consume more of it and gain extra weight than when feeding on sorghum, millet, or other summer grains and grasses.
One tasty variety, Red River, can produce 125 pounds (just over 56 kg) of grass daily per acre under fertile, moist conditions.
Whether you're looking to grow crabgrass as forage grass or kill it to let your lawn flourish, learn what you must do to either enhance its growth or do away with it.
The Crabgrass Life Cycle
Crabgrass seeds normally stay dormant for a short time until they drop into the ground. Then soil temperature determines seed germination.
The temperature must be in the range of 13 ° C-18 ° C (55 ° F-65 ° F) for four straight days. When that happens, crabgrass seeds may begin to germinate. Sometimes, the best time for the seeds to germinate is in the spring and towards the end of summer.
Crabgrass will continue growing throughout midsummer, even when the days become shorter. But growth slows down in late summer, allowing the plants to enter the reproductive stages.
Purple seed heads will start to emerge. This will go on until frost arrives and damages the plants. Crabgrass seeds can still drop down and disperse and remain dormant until the next spring.
Forms of Crabgrass Killers
Crabgrass killers come in four main varieties, based on how they work on crabgrass to halt its growth.
Pre-emergent crabgrass herbicides

 are applied before crabgrass begins to germinate. They stop the germination of seeds and best work in the spring before your lawn plants begin growing.

Post-emergent crabgrass herbicides

 are applied once the crabgrass plant has already grown in the yard. You need to use them when crabgrass starts establishing itself on your lawn.

Selective crabgrass herbicides

 are chemical-based solutions that destroy crabgrass without destroying other grasses and plants. It's an effective way to get rid of crabgrass without having to damage your lawn. If you're using a multipurpose weed killer, examine the ingredients and ensure it contains DSMA, Dithiopyr, or Quinclorac as one of the key ingredients.

Non-selective herbicides

kill whatever plants they come in contact with. They should only be used in extreme situations where weeds have completely overrun your lawn, and you want to begin restoring it from scratch.

Non-selective herbicides come in two varieties—systemic herbicides and contact herbicides. Systemic herbicides destroy the entire plant, while contact herbicides only destroy part of the plant.
When to Apply a Crabgrass Killer
First of all, it's imperative to keep in mind that different kinds of grass can grow on lawns. The grasses are generally divided into three categories—perennial, biennial, and annual.
Most lawns have perennial types of grass. These grasses keep growing in your lawn constantly, regardless of the season. Most garden plants and weeds fall in the other two categories. Biennial plants last for two years, while annual plants last for one season.
An effective crabgrass killer kills annual crabgrass without harming perennial lawn grasses. When to apply a crabgrass herbicide will be determined by when the plant grows.
In most cases, crabgrass grows the most in April and May. Therefore, this is the perfect time to apply a crabgrass killer to protect your lawn. It's also advisable to spray your yard before it becomes very warm and enhances weed growth.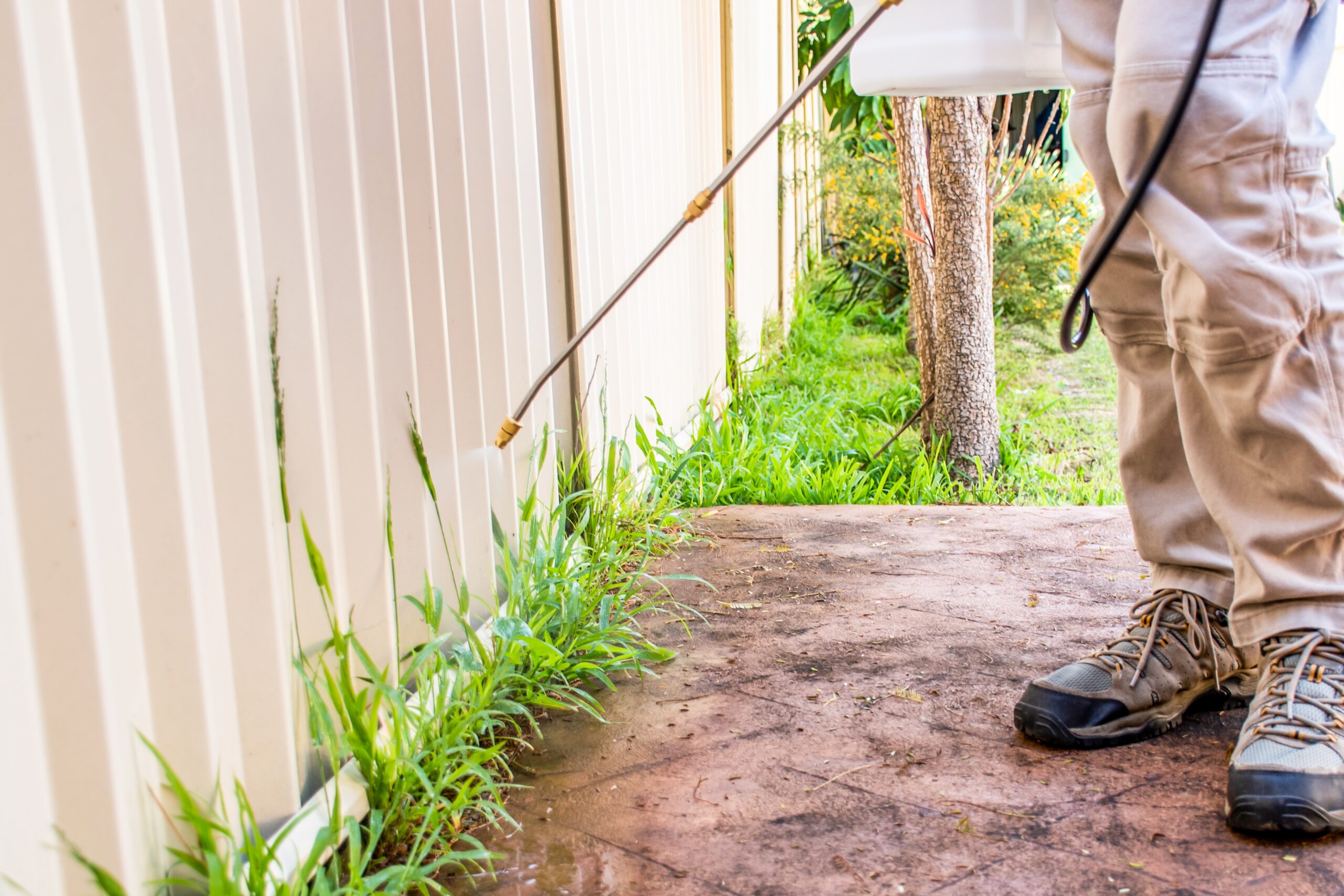 What to Consider When Looking for Crabgrass Killer
There are various factors to take into account when shopping for a crabgrass killer.
Area of Coverage
It's important to know the amount of area covered by a crabgrass killer when buying one. You need to find out how effective it is. Remember that this doesn't mean that a large bottle will cover a large area.
The formula and strength of the solution determine the area of coverage. Some chemicals must be diluted, and others require spraying with the highest concentration of the solution.
Time of Action
While choosing a crabgrass killer, you should find out how long the herbicide takes to work. Some products may take up to 2-3 weeks, while others start working within 24 hours. Taking this into account, you'll have to determine what sort of herbicide you need.
If your crabgrass infestation requires immediate attention, then go for fast-acting options. If you're seeking a more long-term solution, then go for options that take more time but destroy the plant down to the root.
Selective Vs Non-Selective Crabgrass Killer
These two forms of crabgrass killers work differently. Selective crabgrass killers kill crabgrass only, while non-selective options kill crabgrass plus all the weeds. If you want to kill crabgrass only, go for the former. And if you also want to eliminate other weeds, choose the latter.
Ease of Application
It's vital to consider the herbicide's ease of use when shopping. Some crabgrass herbicides are basically ready to apply; thus very easy to use and handle. Others require diluting correctly for them to work effectively. Others must be scooped and sprinkled but require careful handling.
Nature of Formula
It's important to know the different types of herbicides out there as well as their way of working. Some are available in ready-to-use sprays, which you have to immediately start spraying with a garden hose.
Others are available in concentrated solutions, which you'll need to dilute, and lastly, some are available in granular form. This kind of herbicide is best applied using a spreader.
Cold Climate vs Warm Climate
Temperature affects the target weed and determines the effectiveness of a crabgrass killer. Crabgrass is most vulnerable to herbicides when it's actively growing.
Crabgrass starts growing in the spring when the soil temperature is 55 ° F. In the summer, crabgrass matures and produces thousands of seeds until it withers away when winter arrives.
A single application of a pre-emergent herbicide in the spring might be enough to get rid of crabgrass in any cold climate area. In warm climate areas, using pre-emergent herbicides regularly all through the growing season, alongside treating with spot application of post-emergent herbicides, effectively kills crabgrass.
Versatility
If there are other weeds in your lawn besides crabgrass, go for a versatile herbicide. Most herbicides kill not only crabgrass but also many weeds. A multipurpose crabgrass killer is the best solution that'll protect your yard from potentially undesirable weeds in the future.
Cost
No matter what crabgrass killer you want to buy, the cost is a crucial factor to consider. Needless to say, the best crabgrass killers tend to be pricier and vice versa. Also, some herbicide manufacturers offer money-back guarantees to assure customers that they won't lose their money buying certain herbicides.
Our Top Picks
The right crabgrass killer to buy for your yard will depend on how bad the crabgrass infestation has become and when to apply the product. We've come up with our top crabgrass selections below based on a variety of criteria, including the type of herbicide, nature of the formula, and when to use it.
This concentrated weed and grass killer from Compare-N-Save contains 41 percent glyphosate, which can kill many weeds along with crabgrass. The concentrated formula can cover any medium to small-sized lawn. You can dilute it with water to make a spray that will produce visible results within 2-4 days.
Compare-N-Save Concentrate Weed and Grass Killer can be applied in these areas:
Along the garden fence

Walkways and driveways

Around vegetable and fruit gardens

Around shrubs and flower beds
It's very easy to apply this herbicide. The kill-all formula eliminates even the most stubborn and toughest crabgrass and weeds effectively.
You need to be extra careful when applying Compare-N-Save Concentrate Weed and Grass Killer in your lawn since it gets rid of everything it comes in contact with. So make sure to apply it selectively. If there's any herbicide left over, you can store it in a cool, dry place and use it the next season.
Pros:
Attacks the weed's root

It easily mixes with water

It has a long shelf life

It can be used safely around edible plants
Cons:
Must be diluted before spraying

Can kill grass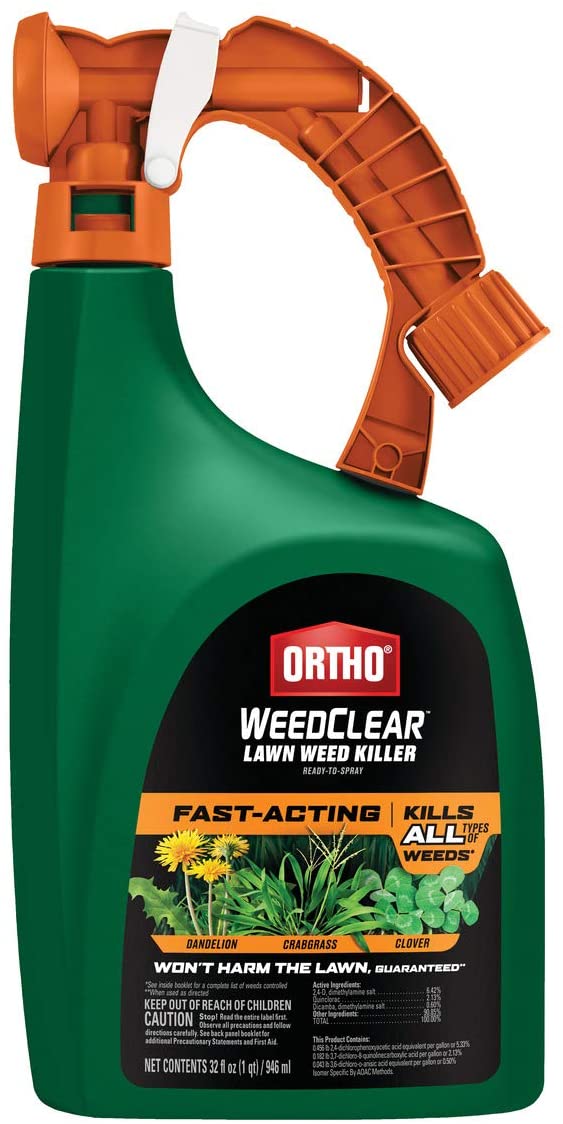 Ortho WeedClear Crabgrass and Lawn Weed Killer effectively gets rid of lawn weeds as well as crabgrass. Its fast-acting solution kills crabgrass, clover, chickweed, dandelion, and many other lawn weeds.
Simply apply it once, and you'll see the crabgrass and weeds in your lawn withering and dying. It targets the roots of weeds without harming your lawn. You can apply it on a lawn that contains zoysiagrass, ryegrass, Kentucky bluegrass, fescues, and Bermuda grass.
The crabgrass and weed killer is available in a ready-to-spray solution. It's easy to apply as you simply have to connect the garden hose to the sprayer and turn the water on.
For optimal results, be sure to apply Ortho WeedClear Crabgrass and Lawn Weed Killer in the spring as well as fall when the crabgrass plants and weeds are young and growing.
Ortho WeedClear Crabgrass and Lawn Weed Killer's quick-dry formula makes the herbicide safe for kids and pets to play in the garden after application. To be on the safe side, however, make sure to keep your yard out of bounds for around 24 hours after spraying.
Pros:
Ready to spray

It won't damage your lawn

It kills all main broadleaf weeds

Attacks the roots of weeds
Cons:
May require multiple application

Not available in certain states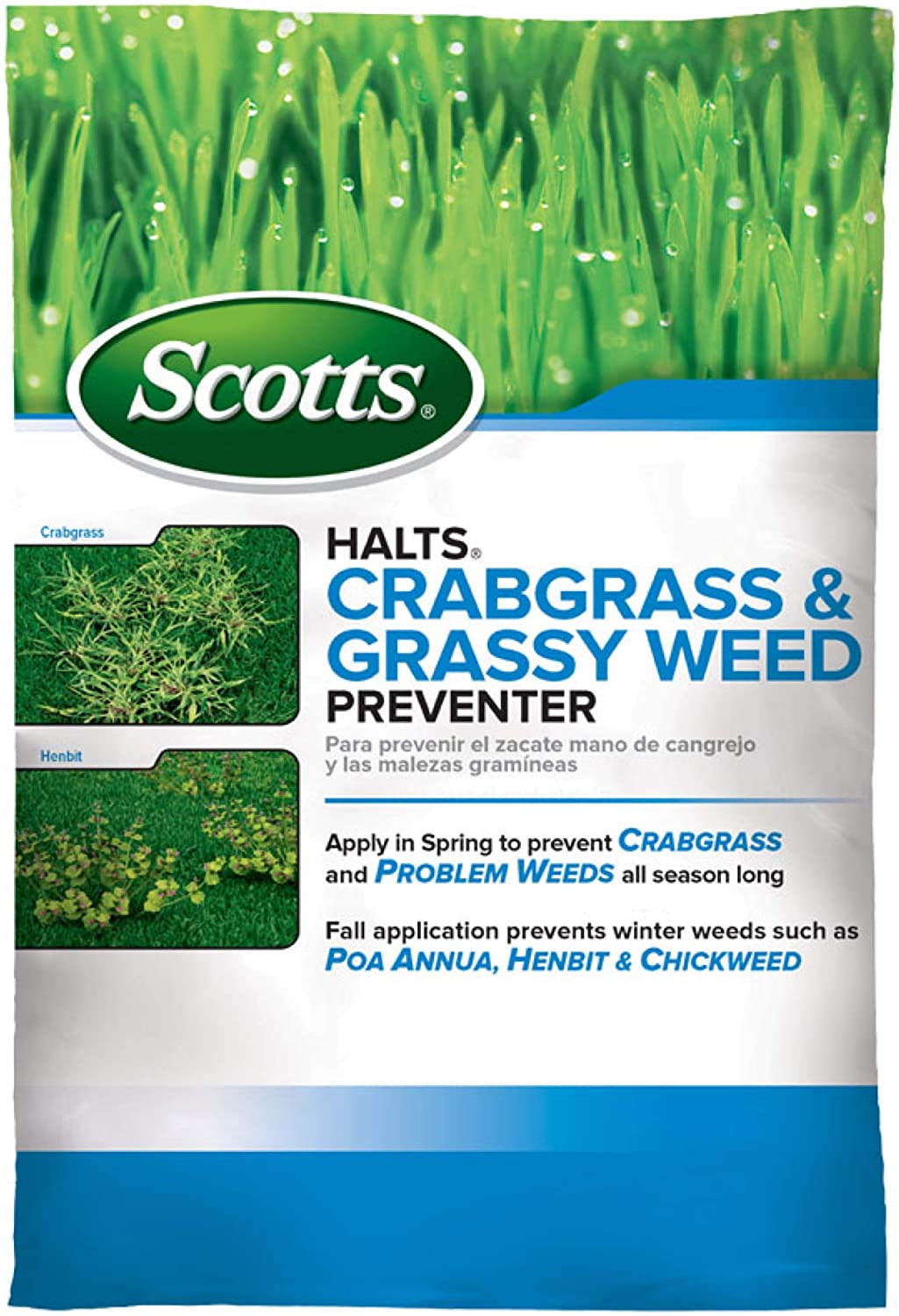 This grassy weed and crabgrass preventer from Scotts Halts is a single spray preventer that keeps crabgrass under control throughout the season. It's a pre-emergent weed and grass killer that kills crabgrass even before it begins.
You can apply the herbicide in early fall or spring to prevent crabgrass seeds from germinating. Apply it in the spring when your lawn is dry over areas where crabgrass normally grows. It stops the germination of crabgrass seeds further and halts the spread of the plant.
You can also apply Scotts Halts Grassy Weed Crabgrass Preventer in the fall to prevent crabgrass, poa, chickweed, annua, and other common weeds from germinating. Unlike other pre-emergent herbicides, this one stops crabgrass and other unwelcome weeds from growing throughout the season.
To get rid of crabgrass more effectively, apply it two weeks before the soil temperature is ideal for crabgrass seeds to begin germinating. In many cases, this will be between mid and late April.
Scotts Halts Grassy Weed Crabgrass Preventer is one of the top crabgrass killers on the market. The powerful herbicide remains effective both in cold weather and rain.
Pros:
Designed for pre-emergence weed control

Highly effective at controlling crabgrass

Easy to apply

Great residual control
Cons:
May require a second application

Needs an applicator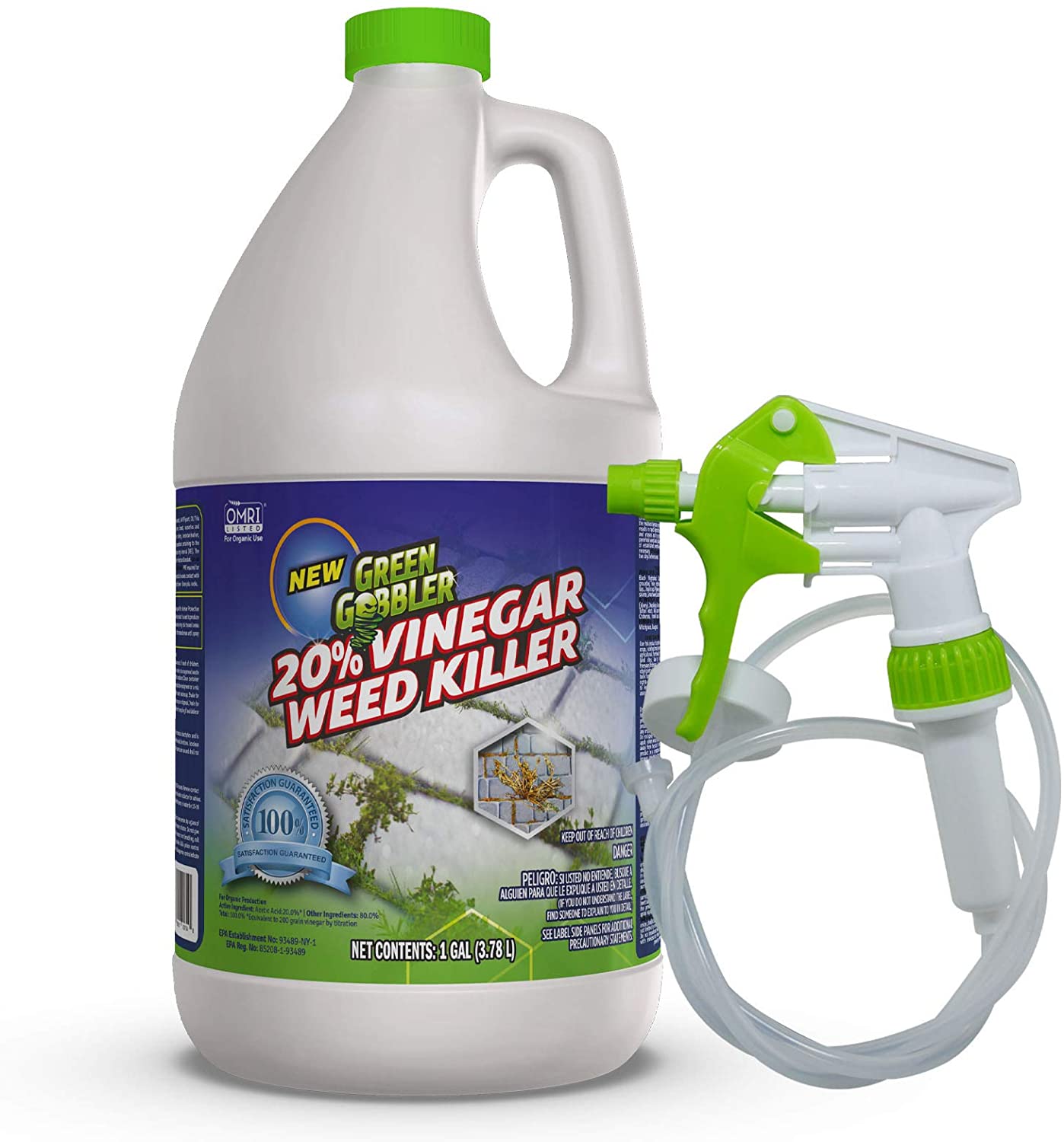 With just one application of this grass and weed killer from Green Gobbler, you can get rid of crabgrass and many other weeds within hours.
The fast-acting solution has 20 percent acetic acid as its active ingredient. The herbicide is organic and can be safely used anywhere. So, if you want to kill crabgrass in your home, office, or industrial lawn, simply apply Green Gobbler Vinegar Grass and Weed Killer.
Since this herbicide is certified for organic use, it checks the growth and proliferation of grasses and weeds without using any harmful chemicals. It's made out of corn and is listed by OMRI as having a certification for organic application.
You can apply Green Gobbler Vinegar Grass and Weed Killer around fences, between pathways, and near foundations. It comes with an easy-to-use sprayer.
This herbicide doesn't need diluting, and that will save you a lot of time. The easy-to-use sprayer lets you spray the herbicide where you want and spares you the hassle of pulling out weeds and crabgrass by hand.
Pros:
Affordable

Highly-quality organic herbicide

It can be applied around edible plants

Comes with sprayer
Cons:
Kills emergent weeds

May require multiple application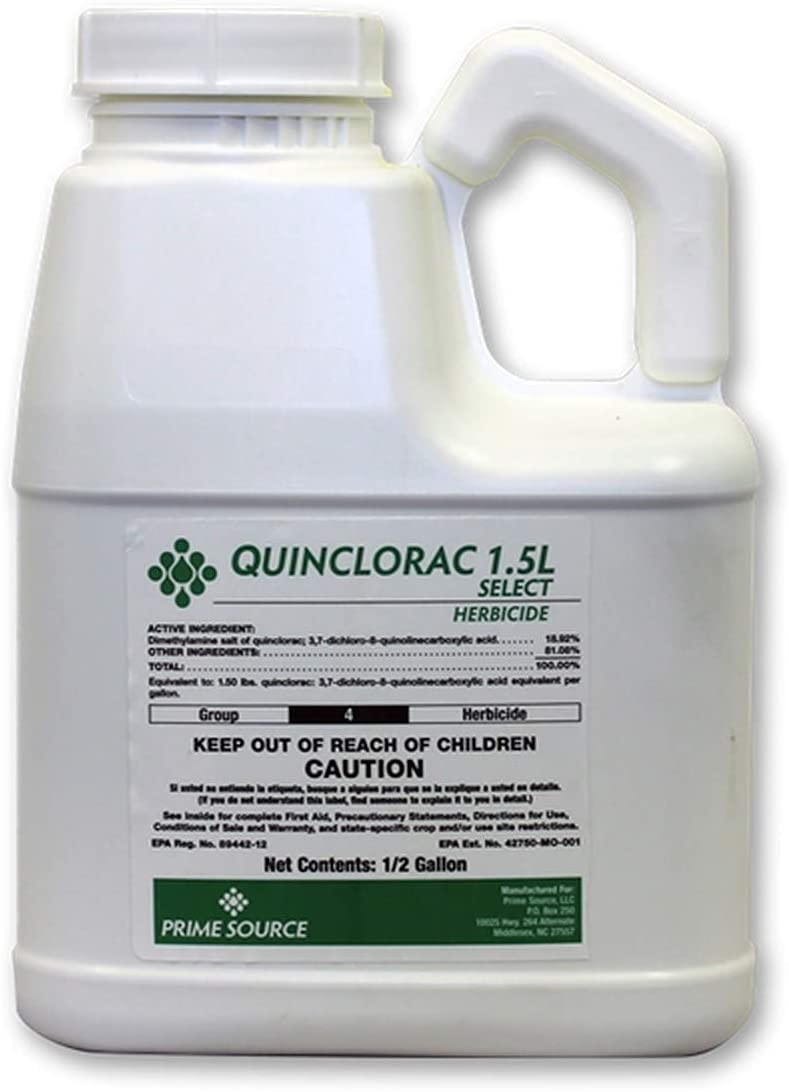 Remarkably multipurpose, Primesource Quinclorac Liquid Weed and Crabgrass Killer is a post-emergent, selective herbicide that controls broadleaf weeds and crabgrass.
Apart from crabgrass, this herbicide can also kill foxtail, signal grass, Kikuyu grass, dandelion, and many other types of grass and weeds. It contains 18.92% Quinclorac as its active ingredient.
For the best results, you can also mix Primesource Quinclorac Liquid Weed and Crabgrass Killer with other weed killers. But be sure to apply methylated seed oil as a surfactant when applying Quinclorac to achieve optimal results. Primesource Quinclorac Liquid Weed and Crabgrass Killer are safe to apply in your yard since they will selectively kill weeds and won't eliminate most grasses.
In general, you need just one application of this herbicide to see crabgrass withering and dying. But you may need to apply it again to kill any leftover weeds. After applying it, you can begin seeding within 7-10 days.
Wait a day or more before you begin watering your yard to let the herbicide destroy crabgrass and other weeds.
Pros:
High-quality weed and crabgrass killer

It gets rid of other weeds besides crabgrass

Prevents future growth of weeds

Great bang for your buck
Cons:
Needs a sprayer

It kills limited types of grass
FAQs on How to Find the Best Crabgrass Killer
Question: What's the Fastest-acting Crabgrass Killer?
Answer: The fastest crabgrass killer is pre-emergence herbicide (aka crabgrass preventer). You should use it in the spring prior to the germination of crabgrass seeds. It builds a chemical shield at the soil's surface. As crabgrass seeds sprout, they come into contact with the preventer and die.
Question: Is There an Herbicide that Kills Crabgrass Only?
Answer: If your lawn has just a few crabgrass plants, you can remove them with a ready-to-apply herbicide like Scotts® Lawns Spot Weed Control. This spray completely gets rid of the weeds listed, including crabgrass, without damaging your lawn if used as directed.
Question: How Do You Remove Stubborn Crabgrass?
Answer: To get rid of stubborn crabgrass plants, be sure to:
1. Pull out young crabgrass plants in the spring
2. Replant any bare patches with grass seed
3. Treat your lawn with a pre-emergent crabgrass herbicide
4. Apply a post-emergent crabgrass herbicide
5. Reapply the pre-emergent crabgrass herbicide
Question: Should I Pull Out Crabgrass?
Answer: Yes, you can pull out crabgrass, but only when it's young. It can be an effective way to eliminate the plant. On the other hand, mature crabgrass has forked seed heads containing thousands of minuscule seeds that'll scatter on the freshly made open soil patch. Don't touch these seed heads.

It's also wise to first water the soil before pulling out crabgrass.
Wrapping Up How to Find the Best Crabgrass Killer
The best crabgrass killers come in various forms and serve a variety of purposes. Some are designed to get rid of all weeds, while others eliminate specific weeds. We've touched upon various types of crabgrass killers above to help you make an informed choice.
Our top crabgrass killer picks above often get to the root of the problem and stop the spread of crabgrass and other weeds while preventing them from invading your lawn in the future. Some of these herbicides even have fertilizing agents that will ensure that your lawn or garden stays healthy.
If you want a multipurpose crabgrass and weed killer, then Primesource Quinclorac Liquid Weed and Crabgrass Killer might be your best option. But if you're looking for something more organic, then look no further than Green Gobbler Vinegar Grass and Weed Killer. It's not only affordable but also safe to apply around edible plants.