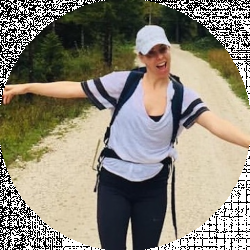 Latest posts by Jodie Chiffey
(see all)
Keeping your lawn maintained can be difficult. You'll want to get an excellent trimmer that suits your needs, and you'll also need a trimmer line that matches the quality. A great lawn trimmer can only get you so far. So we've decided to make this handy list of the best .095 trimmer lines available. Before we make any sort of purchase, we always consider a few things to make sure we're making the best choice possible.
But before all that, we'll start by going over what exactly a trimmer is and what it can do for your lawn. Why do you need a trimmer line? Is it an essential piece of equipment for you?
What is a String Trimmer?
Now It might be fairly obvious what a trimmer is; I mean, it's in the name, right? You would be right if you're thinking it's just a tool for cutting through your grass and weeds. That is the primary use. The tools are a great alternative to mowers if you don't want to cut your grass completely, and instead, you just want to give it a quick trim.
A clean-cut yard with no weeds will help towards the healthy growth of plants and grass. This is how it really benefits your lawn, and it will help you grow perfect grass.
You need to think about how you want to power your trimmer. That's key when searching for your perfect tool. There are three options, each with its positives and negatives.
Gas Powered
Gas-powered lawn trimmers are usually the most powerful tools. They'll also cut through your grass and weeds faster. These machines are often bigger, meaning they cover more ground.
They do emit smoke into our environment, which isn't very healthy. That's totally up to you whether you want to go green with your tools. We understand it has its fair share of negatives going that way. Gas-powered machines will also cost you a lot more to keep fuelled.
Gas trimmers also come in two variants. 2-Cycle and 4-Cycle. 2-Cycles will need to be fuelled with a mix of oil and gas. While the 4-cycle can be powered using gasoline alone.
Electric and Battery
We can pack these two together because of how similar they are. The biggest difference is how they keep power. Electric will be powered through a cord that restricts movement. Battery-powered often needs to be recharged, and the battery life varies between models.
These are great for the environment, but they won't work at the same pace as gas-powered trimmers. They will be more cost-friendly, which is always a positive. And sellers such as Ryobi will provide quality products, no matter what you pick.
You also need to consider what trimmer line you want to use in your string trimmer. The line is what cuts through your grass, and that's why it's almost as important as your trimmer tool. You need something durable and efficient.
Factors to Consider When Buying .095 Trimmer Line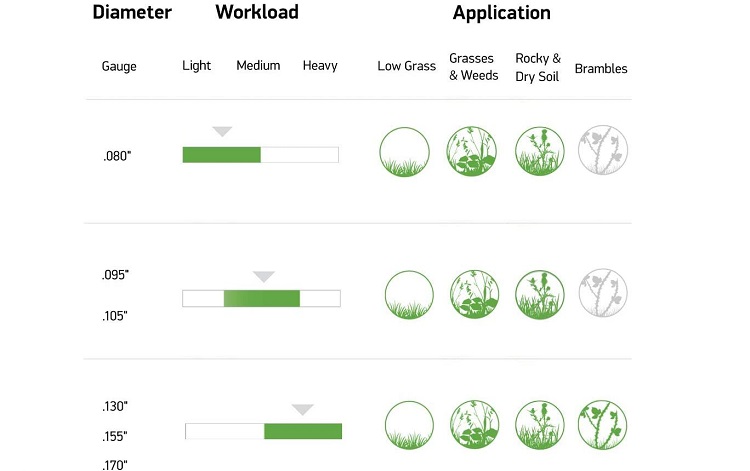 These are a few things you should consider when buying a trimmer line. It's the important features that will really determine how effective and easy to use it will be.
Types of Trimmer Line
There are two different types of trimmer lines. Both have their positives and negatives, so it's essential to make the decision you think will benefit you the most.
The spooled trimmer line is the one commonly on offer, and it's more challenging to refill your trimmer with this type. However, spools will often have more than the alternative.
Precut is that alternative, and while it's easier to put in the trimmer, it doesn't have as much included, which does make it worse when you compare it to spools.
So I recommend getting a spool. You can also alleviate the difficulty slightly when refilling with an automatic feed trimmer.
Material Used
There are a few different materials used for trimmer lines, such as aluminum. But the best material is nylon or reinforced nylon. The reinforced nylon will do what you probably expect it to, and it just adds a bit more protection against debris.
Non-nylon polymer is also an acceptable material. This is often used in a round line, which leads us nicely to our next decision.
Shape of the Trimmer Line
There are multiple different shapes of trimmer lines. The biggest difference is often how efficient these are at landscaping your lawn.
Round Trimmer Line
Round Lines are the most common kind of trimmer lines you'll find on sites like Amazon. We found them to be durable enough to handle some of the toughest jobs.
The biggest issue is how they might leave your garden looking. They often don't give a clean cut due to the edges. They are also known to sometimes overheat, which could cause them to fuse.
Square Edge Trimmer Line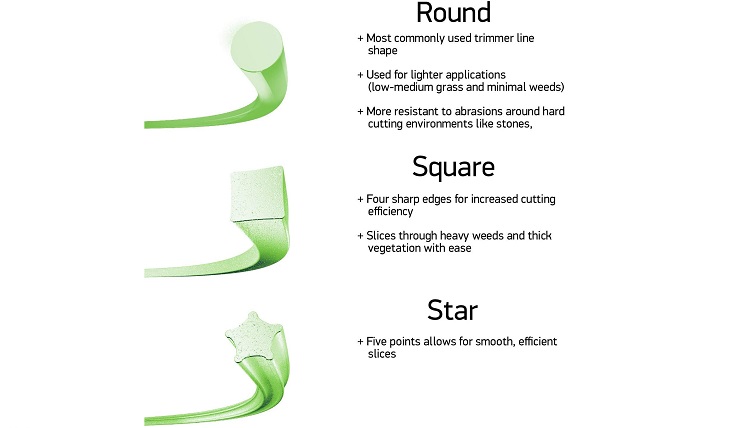 The square edge trimmer line is great for getting a clean cut on weeds and grass. It's also incredibly quick at cutting through this debris. The only issue is that it is prone to snapping on impact with solid debris such as rocks or the curb.
X Shaped Trimmer Line
The X-shaped trimmer line works well against tougher weeds. It creates one of the cleanest cuts in this list while still being efficient and durable.
It has resistance against the fusing issue similar products have, and it's incredibly flexible. An accidental hit on the curb probably won't cause a quick and easy snap.
We can't use all this as our search criteria, we'd be left with far too many options. So instead, we've whittled down these options to just a few specifications that we're going to use to find the best .095 trimmer line.
Selection Criteria
These are a few of the things that we search for when identifying the best .095 trimmer lines.
Shape Of Trimmer Line – We're searching for a trimmer line that is tough and can cut through grass with ease. So we'll likely be looking at round and square trimmer lines. The square line isn't as tough, but it produces a clean cut efficiently.
Materials – We're looking for materials that make the trimmer line more resistant to curbs and rocks. Reinforced nylon or regular nylon are the best picks for us. These are the toughest common materials, but more irregular materials such as aluminum would be acceptable.
Type Of Trimmer Line – We decided that it's best to go with a spooled trimmer line. You'll usually get more on a spool, it might be more challenging to utilize it, but as long as you have a brighter color, it should be fine.
Now that we've set out our strict search guidelines, we can look at some of the best trimmer lines currently available.
The 4 Best .095 Trimmer Line
We've found .095 trimmer lines that fit the guidelines we set above. Each has its pros and cons that I will list, and each of these would be an excellent choice for your chosen tool. But if you're looking for the best, we've put it in conclusion.
Oregon 22-395 .095-Inch Gatorline Heavy-Duty Professional Magnum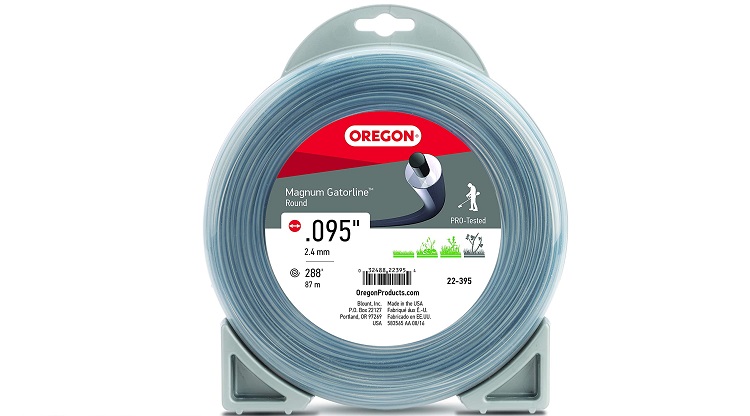 Oregon is a brand worth trusting. Each of their products is high in quality, and the .095 trimmer line is no different.
This is a round shape trimmer line, which, as we said above, is very common. It's a durable trimmer line that is compatible with multiple different types of trimmer head models such as semi-automatic, fixed-line, and automatic bump-feed.
This trimmer line is great at cutting through weeds and grass, but it could leave it looking like a poor cut, which isn't what you want.
Pros
Durable trimmer line
Will quickly cut through tough weeds and grass
Compatible with multiple trimmer heads
Cons
Higher in price when compared to others
Potentially vulnerable to breakage when working around chain-link fences
Arnold Maxi Edge .095-Inch Trimmer Line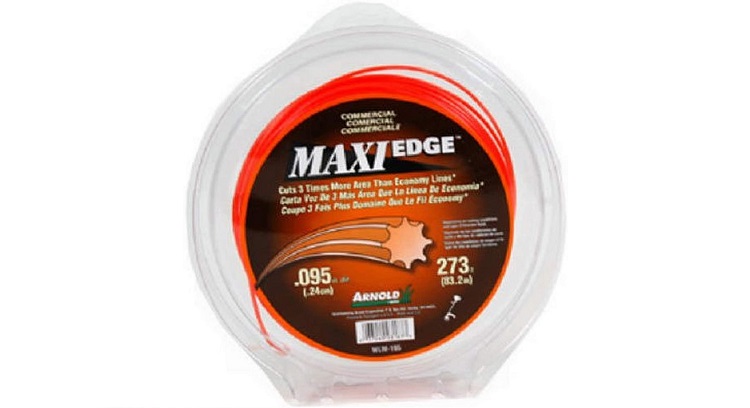 Arnold Maxi Edge trimmer line is popular in commercial use, but it's also suitable for the average user. It's used commercially because of how compatible it is.
It can be used with gas, electric, or battery-powered trimmers. However, commercially it might not be best because of its biggest negative, the durability.
It isn't the strongest trimmer line, which could become an issue if you want to take on more demanding jobs. It's still able to cut through most grass and weeds efficiently, so it should be fine.
You will be getting 819 ft of trimmer line with this product which is a big bonus, as you'll be able to refill your trimmer up to ten times. It might not sound impressive, but for the trimmer line, this is great.
Pros
Can take on medium weeds and grasses quickly with no issues
Excellent in terms of compatibility with different types of trimmers
The red coloring of it makes it easier to change
Should last ten reruns
Cons
Not resistant against tougher weeds, grasses, and other debris
One Of Our More Expensive Products
Echo .095-inches Diameter Cross-Fire Line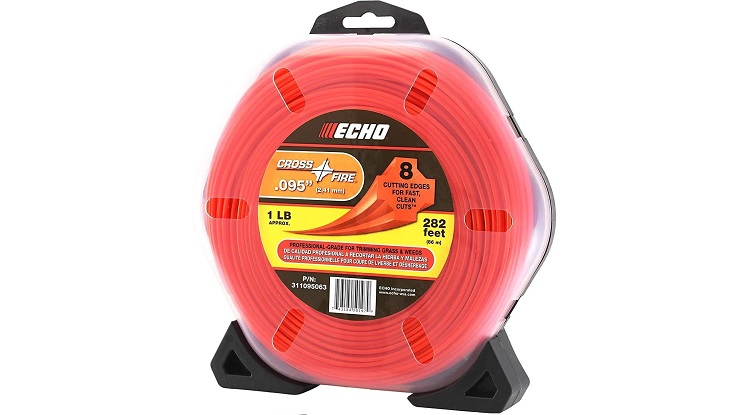 This 8-edge trimmer line can easily cut through medium weeds and grass. It'll leave your grass with a clean-cut, so it won't be choppy.
It is compatible with all different types of trimmer models. It does, however, have one big issue. That is the durability, it will break easily when you're working around concrete, stones, and other debris in your yard. It also isn't the best for tougher jobs.
It's important you can easily replace the line, and the bright orange color of this product makes it one of the easier to fit in.
Pros
The bright orange color will make it easy to change
Quick at cutting through medium grass and weeds
Sharp edges make the cut of grass clean
Cons
Not the best option in terms of durability
You might have to cut it slightly to fit it into your trimmer head
Husqvarna String Trimmer Line .095-Inch Spool Titanium Force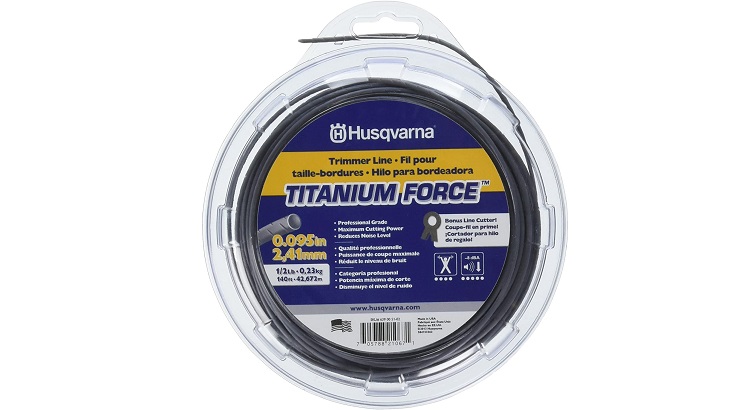 This high-performance trimmer line will cut through your grass and weeds with ease. But this trimmer line has one big benefit that might just make your life easier, as well as your neighbors.
I'm sure you know how annoying it can be to hear someone trimming their lawn in the morning. I'm sure the person who is doing it knows exactly what it's like as well. We all do! But this trimmer line has reduced the noise level by 50%. This not only makes it better for you but those around you. However, its negatives might make it challenging to pick.
Unfortunately, at higher speeds, this trimmer line is prone to snapping. So it's recommended you instead use it at medium or low-speed levels. Meaning you won't be able to cut through your yard as quickly. When used at these speeds, it should be perfectly durable.
Pros
Durable trimmer line when used at the right speeds
Noise is reduced by 50%
It's made of copolymer-induced nylon, which makes it more long-lasting when compared to other trimmer lines.
Cons
Trimmer line is known to snap at higher speeds
Not great against tougher weeds and grass
Frequently Asked Questions
Question: How to Extend the Usability of Trimmer Line?
Answer: Soaking your trimmer line will not only make it last longer, but it will make it tougher. So you know that if you go for one of our weaker trimmer line can be made stronger by soaking it in water overnight. Or you can just permanently store it this way.
Question: How Does Aging Affect Trimmer Line?
Answer: The Trimmer line is affected badly after it has aged. You'll notice breakage occurring more often, and the performance won't be as great. It will often slow the process of cutting through weeds and grass.
Question: Why Does Trimmer Line Melt Together?
Answer: There's a very simple reason behind this, and we understand it can be pretty frustrating. Heat will build up in the wire from the fast pace it's moving, and if it's constantly being used around obstructions such as fences or stones, it will heat faster.
Fixing this is quite simple, and it's just to take regular 5-minute breaks. Take these breaks every ten minutes or so. It gives you a few minutes to rest as well.
Question: How Long Should a Spool Last?
Answer: If you're using it to trim your lawn every week or so, it should last you around two months. This is the minimum I'd say to make the product worth it.
Question: What is the Difference Between a Strimmer and a Trimmer?
Answer: There isn't a difference; they are the same tools. Strimmer is often the name used outside of commercial use.
Question: How Long Should a Trimmer Last?
Answer: A brand new trimmer should last you at least five years, but it varies between models and manufacturers.
Conclusion – What Is The Best .095 Trimmer Line?
This was a difficult choice to make as all the products I mentioned could be here. Each has great positives that nearly always outweigh the negatives. But the best for me was the Husqvarna trimmer line.
This excellent trimmer line really outshined the rest because of how durable it is and it's impressive noise reduction feature. This is something that we didn't see in any other product. Of course, it's a shame it's quick to heat up, but it's best to take breaks anyway, especially when you're working on a tough job.
Of course, as I said before, each of these would be an excellent option. I mean they all cut through grass well, and the Oregon trimmer line comes in a close second because of its compatibility and durability.
Hopefully, you found this article useful. It's important to take a lot in before buying even the simplest of equipment for your yard. After all, you want the best product you can get.
If you're looking for more articles with more tips and tricks on getting your lawn looking amazing, I recommend either this article on high traffic grass or this one on pine straw vs. mulch.