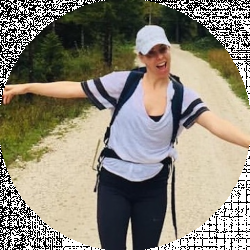 Latest posts by Jodie Chiffey
(see all)
Weed eaters are excellent tools that will easily cut through pesky weeds and grass in your yard. After a while, you'll need to replace the trimmer line, and this can be done with relative ease, but you'll need to pick the right trimmer line for your lawn.
In this guide, I'll be covering some of the best trimmer lines available on the market, giving you a breakdown of our top picks, including their pros and cons, as well as answering a few frequently asked questions. Before you order your trimmer line, you'll want to consider the type of trimmer you want to use.
What Type of Grass Trimmer Should You Use?
Many products in this article will work with all kinds of trimmers, whether it be gas or electric. But you might be wondering which is the best to use?
Electric
Electric-powered trimmers are great for the environment as most electric tools are. You're also getting a much lighter product when you compare it to gas trimmers. It will likely emit less noise, and it's usually powered through a cord which removes the cost of petrol. A significant expense when using a gas-powered tool. That cord does make it challenging to traverse your lawn.
Cordless electric trimmers also don't have much battery life, and the recharge time can be ridiculous. You'll likely get 30-50 minutes before you need to recharge. That's with a new product; aged products will lose battery faster. These trimmers also aren't as powerful, which can result in you cutting it at a slower pace.
Gas
Gas trimmers cause pollution, which is terrible for our environment. But it does come with a lot of benefits. It's a lot more powerful, and you can finish the job efficiently, and the smoke shouldn't negatively affect the health of your grass. It's also better for handling taller weeds.
It does come at a higher price point, especially if you factor in the cost of petrol to keep it fuelled. These are also a lot heavier and might require you to use hearing protection. Ultimately it's up to you which product you use, and each has positives and negatives. Now let's move onto the trimmer line, which is almost just as important as picking which grass trimmer to use.
Factors to Consider When Buying A .065 Trimmer Line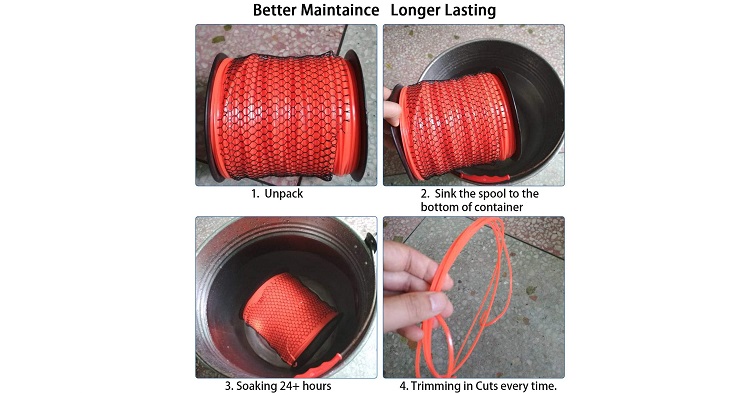 Types of Trimmer Line
Pre-Cut Lengths
The pre-cut trimmer line is exactly what it sounds like. It is a trimmer line that has been cut into individual pieces, and this makes it easier to replace the trimmer line with ease. You'll just need to do it frequently.
Spooled
Spooled is the most popular type of trimmer line available. It can be difficult to change these lines, but it'll last you longer than the pre-cut alternative. This task can also be made easier if you use an automatic feed trimmer.
Types of Material
Nylon
Nylon is the most commonly used material in trimmer lines. Nylon is a thermoplastic that feels similar to silk. It's incredibly tough, and that's what makes it one of the best materials for a trimmer line. Some trimmer lines will be made from reinforced copolymer nylon, which adds a bit of extra durability to an already tough material.
Aluminum
Aluminum is a metal, it's much stronger than nylon, but you won't see it as often just due to how much it costs to use. This is why a trimmer line that is made of aluminum is usually more expensive.
Shapes of Trimmer Line
Round lines are the most common types of trimmer line available on the market, but they aren't the best. Twisted lines are a better option because they have twisted edges that give them more shape. Twisted edges cut better than round lines. Round lines will usually tear the grass rather than cut it, which can cause issues.
Selection Criteria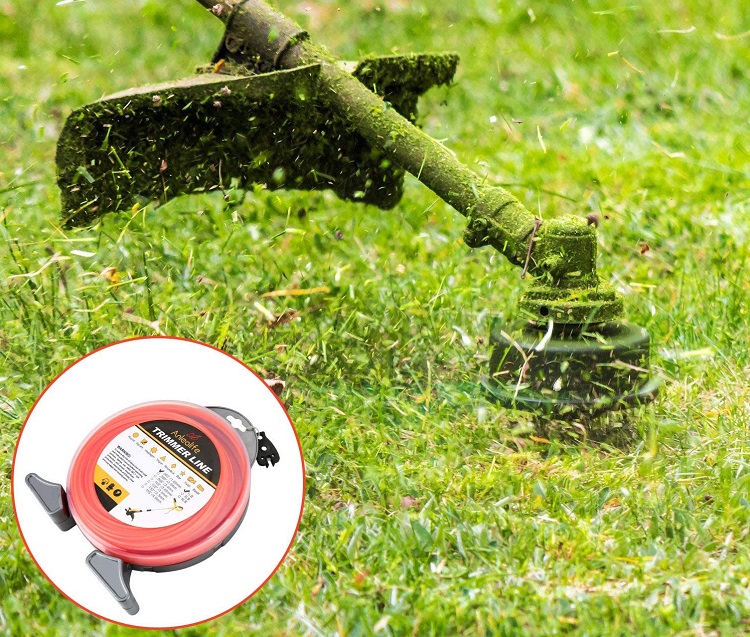 These are a few of the things we look for when purchasing a trimmer line.
The Best Trimmer Line Shape
Like I said above, round lines are far more common, but if you want to get the best effect, you'll want to pick up a trimmer line that is twisted. It'll cut the grass better, and it won't look as rough after. The round line is still great, and it's usually priced better than the alternative. It's also widely available.
Best Material
Nylon is easily the best choice with this. It's still got excellent durability, and it's usually cheaper. The best kind of nylon is reinforced copolymer nylon. Aluminum is more robust, but there are fewer products that use it. And it costs quite a bit more than nylon.
Color
You might be confused why color matters much in a product like this, but you'll want a trimmer line that stands out. This will make it easier to refill your trimmer.
The 5 Best Trimmer Line Products
Arnold Maxi-Edge 065-Inch Commercial Grade String Trimmer Line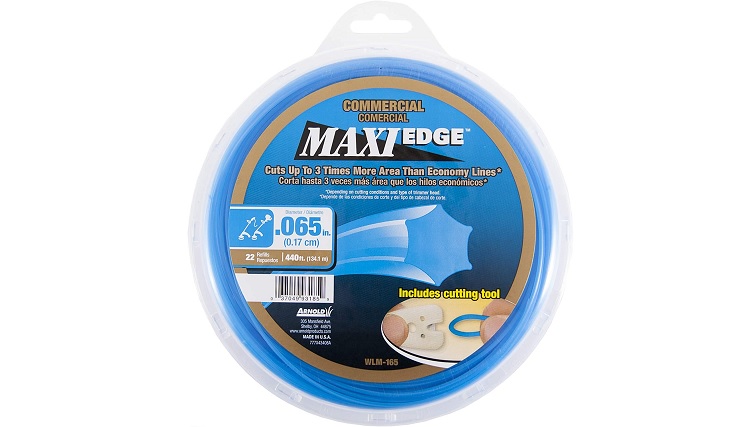 Arnold trimmer line has got a reputation for being great against grass and weeds. It's so tough due to the Maxi-Edge technology. It will cut through the grass without issue. The string is serrated, which means it can cut weeds, making it appropriate for all kinds of jobs.
This string is popular for commercial use because of how tough it is, but it can also refill up to 22 times. Another massive benefit is that you can use it on gas and electric trimmers. Of course, a product that's this great and popular comes at a higher price, which can be unappealing, but it's worth it if you're looking for an incredibly tough, strimmer line.
Pros
It can be used with gas and electric trimmers
The string is serrated
Maxi-Edge technology makes it incredibly tough
Can refill trimmers up to 22 times
The light blue color stands out and makes it easy to refill
Cons
The price is higher than most other trimmer lines
MaxPower Round Trimmer Line .065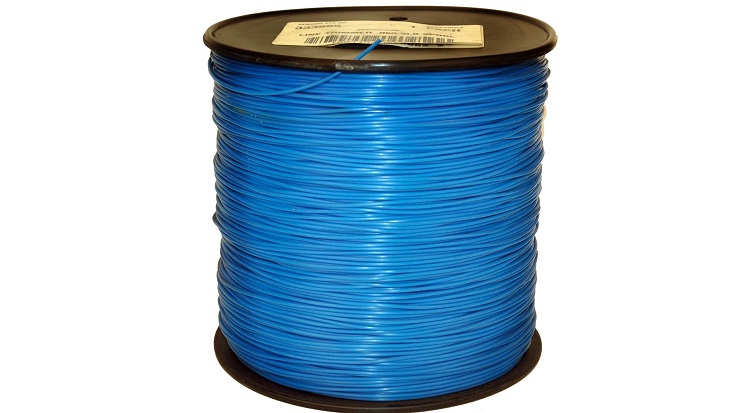 MaxPower is a nylon trimmer line that is durable and can easily cut through your grass and weeds without issue. The biggest benefit this trimmer line has is how many times you can refill your tool with it. It can refill up to 90 times which is more than any other trimmer line on this list. This is why it's used a lot commercially.
It also has one of the highest prices on this list, which disadvantages others. But I believe that price is justified as it's unlikely you'll be spending it again any time soon unless you're using it commercially.
Pros
90 Refills
Excellent for cutting grass and weeds
The vibrant blue color stands out
Cons
High price point
The round shape could leave your grass in a rough condition.
Oregon Gatorline Round String Trimmer Line .065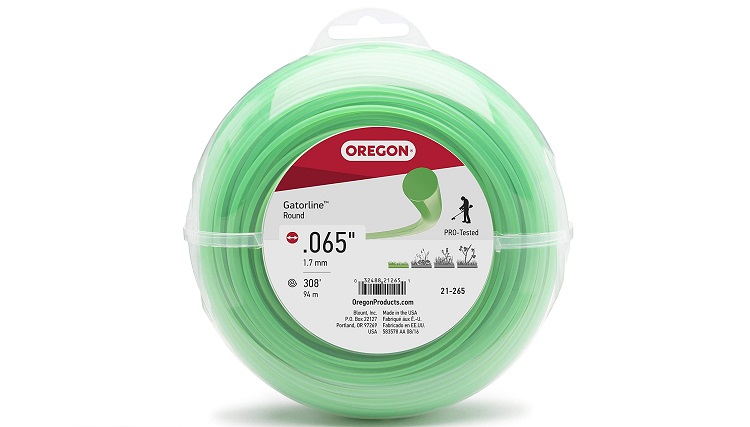 Oregon is a widely respected brand for trimmer lines. They always produce good quality products. This is made from a copolymer nylon material that is made to last longer than the normal nylon trimmer lines. It is durable and will cut through your grass like it's nobody's business. It will struggle on tougher weeds, so best to use it for lighter work.
It can also be used on electric and gas trimmers which is the biggest attraction for commercial use, but it is a product aimed more towards residential use.
Pros
Great price for the quality
One of the best trimmer lines for residential use
The green color makes it highly visible
It can be used on electric and gas trimmers
Copolymer nylon is an upgrade from the usual nylon used in products
Cons
Can't handle tougher weeds
Anleolife Commercial Square .065 String Trimmer Line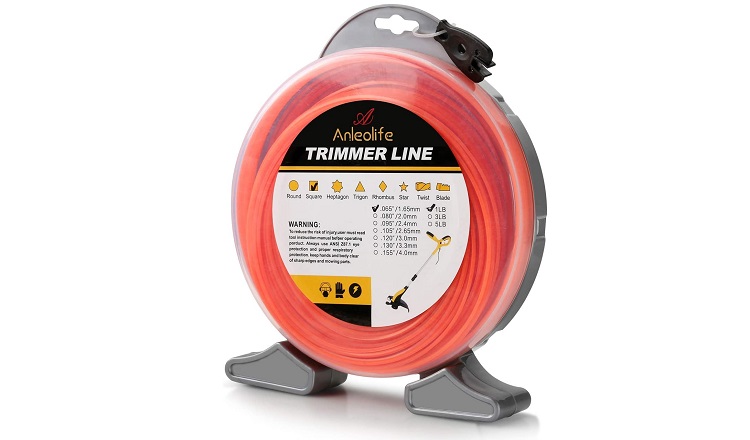 The Anleolife string trimmer line is excellent. It comes at a much higher price, but it'll be challenging to find a better product if you're using it for commercial reasons.
The sharp edges will cut through light and tough grass with ease. You don't need to worry about fighting with your grass when you use this product. This product is so tough because it uses nylon 66 copolymer as its material. Even debris like rocks will struggle to damage this product.
Pros
Great for commercial use
Can cut through virtually any grass and weeds in your garden
The material used is flexible and durable
Cons
Price is the highest on this list
WORX 6-Pack Replacement Trimmer Line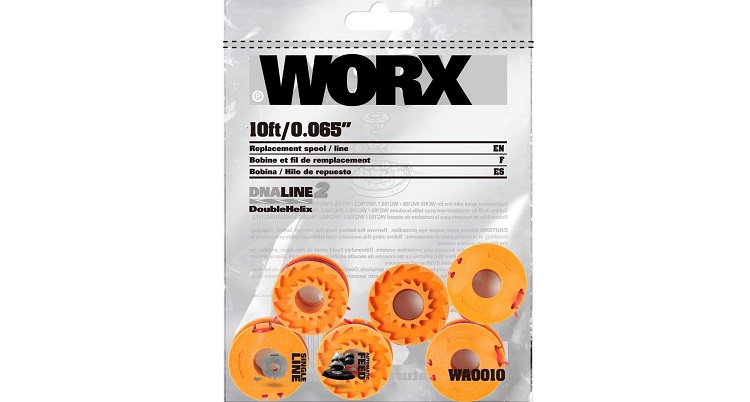 This 6-pack of trimmer line will give you 60 feet of trimmer line, which is great for the price. Each spool has a line that is 10 feet long. This is a great trimmer line for durability. It can go up against the toughest weeds and still produce great results. It'll give you clean-cut and leave your garden looking like the paradise you want.
The biggest downside is that it is only compatible with certain electric string trimmers. But if you've got a compatible product and are looking for a good trimmer line, then this might be exactly what you're looking for. You'll also find yourself running out of trimmer line quickly when compared to other products, but it's efficient at cutting grass, meaning you'll use less at a time.
Pros
Great durability
Copolymer makes it great at cutting through tougher issues
Efficient at cutting grass
Cons
Not much trimmer line
The color doesn't stand out as much as others
How to Replace a Trimmer Line
Replacing your trimmer line is pretty simple, but it's important to follow the steps below to avoid damaging your product.
First, you need to take apart the cutting head. Then you need to cut 10 inches of line. There are two holes at the top of your reel. You should place both ends of your line in those spaces. Next, pull the line until there are around 3 inches of the line left.
Loop the shorter end through the second hole, and the longer end should be pulled so the loop will close. There will be an arrow at the top of the wheel, letting you know how to wind the trimmer line. Keep the line tight while doing this.
Once you've wrapped the line, you can put the spring back onto the shaft and then put the line through the eyelets. Then, finally, you can put the head of the trimmer back together.
FAQs
Question: How Long Does A Trimmer Line Usually Last?
Answer: When you're using a trimmer line a lot, you'll likely find it lasting two months. But if you're using it just on your yard irregularly, you could see it lasting double that time.
Question: Does Soaking Trimmer Line Make It Better?
Answer: Soaking your trimmer line will actually make it more robust and more flexible. It will absorb the moisture, and it'll strengthen, making it better for cutting your grass. So I recommend storing it in water.
Question: Does Trimmer Line Still Work After Aging?
Answer: Yes, aging will absolutely affect your trimmer line. Negatively as well. It can become brittle or dry, which will likely lead to poor performance when you use it again. It will need to be stored for a while for this to occur, usually during Winter. To fix this issue, you could try storing it in water overnight once you've taken it out for use.
Our Verdict – What Is The Best .065 Trimmer Line?
Arnold Maxi-Edge is the best trimmer line you can get. It does have a higher price, but it is worth it for the quality. It'll cut through grass and weeds easily, and you don't need to worry about what type of grass trimmer you're using it. It's great for residential and commercial use.
A close second would likely be the Oregon trimmer line for residential use and Anleolife for commercial use.
If you found this article useful and want more amazing gardening tips, then I recommend this article on grass seed going bad and how you can stop it.