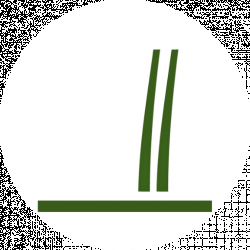 Latest posts by Turf and Till Team
(see all)
The Milwaukee string trimmer is one of the most efficient string trimmers you can find anywhere. It optimizes consistent power delivery and superior design qualities to deliver an immaculate cut that stands out among the very best of cordless string trimmers.
A fantastic feature of this trimmer is it can be paired with an assortment of attachments to do various tasks around the yard. In our Milwaukee String Trimmer Review we will break down all there is to know about the Milwaukee string trimmer, so make sure you stick around to get all the information.
What is a Milwaukee String Trimmer?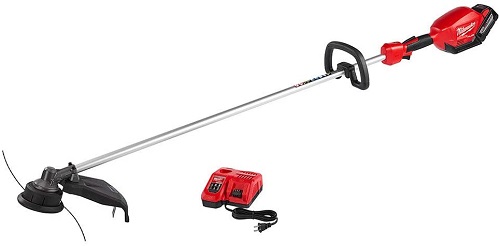 The Milwaukee String Trimmer is a battery-operated outdoor power tool used to trim grass and weeds. It can cut grass in spots where it's hard to reach with a lawnmower.
Other difficult to access places like tall hedges can also be trimmed using a string trimmer. Depending on which part of the world you are in, the tool is known by different names, which all refer to the same thing.
Some call it a weed eater, line trimmer, or brush cutter but it's more commonly known by the term string trimmer.
The cutting head on a string trimmer uses a microfilament string that spins rapidly to give it the energy to cut. A shaft that is spun by a motor, goes all the way to the cutting head to provide the drive needed to spin the microfilament string.
Once the string is spinning at maximum speed, the line becomes stretched and stiff. The inertial generated gives it the ability to cut most types of soft plant matter.
How To Choose a String Trimmer
Getting a well-groomed lawn is sometimes tricky if you don't have the right equipment. Many people opt for the services of a professional lawn maintenance technician, but that may be expensive in the long run. Doing it on your own is much better should you desire to trim the hedges or grass to your desired style.
For this, you need a quality string trimmer like the one offered by Milwaukee. But, how do you know what to look for in a string trimmer? We will thrash out some of the factors to consider to aid in your decision-making process.
Weight
Spending hours on the lawn carrying out maintenance duties can be taxing on the body. Having to move the equipment all around the yard is not an easy job.
This is why you need a string trimmer that you can easily handle and carry. With a lightweight tool, you can spend more time in the yard without taking periodic rests. The Milwaukee string trimmer weighs in at a measly 13 pounds, making it one of the lightest options around.
Balance
Look for a trimmer that is easy to keep at the right angle when using the machine. Since most string trimmers have more weight at one end of the equipment where the power source sits, it can be tricky to balance the whole unit.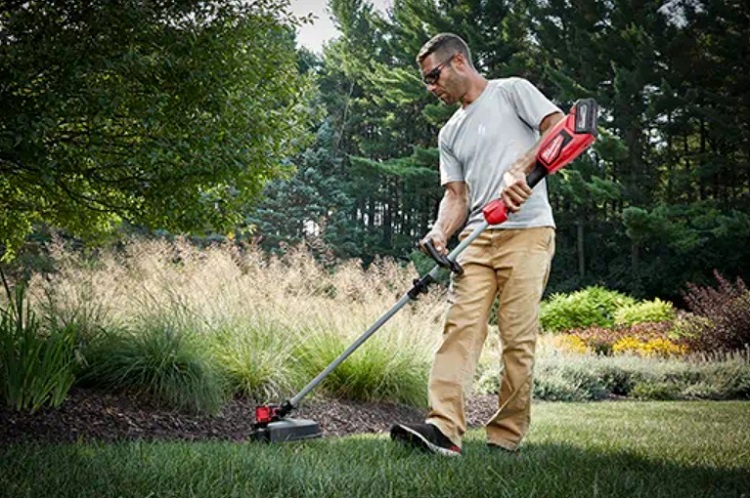 Milwaukee has gone to greater lengths to design a machine that is easy to maneuver around the yard. With a balanced tool, you won't be forced to stand at awkward body positions to operate the trimmer.
Noise
Should you choose a trimmer that uses gasoline, you have to contend with the noise produced when the engine is running.
Battery-powered models are much quieter, with a barely noticeable whirr of the electric motor. Exposure to prolonged noise levels can damage your ears, that is why most manufacturers recommend the use of protective devices such as earplugs. 
Vibration
Exposure to high levels of vibration can cause injuries and permanent damage to the body's physiological systems. Some of the body systems that can be affected by severe vibration include musculoskeletal, circulatory, and nervous systems.
The vibration produced by the trimmer should not exceed what is considered safe for the human body. Find a trimmer that has been designed to minimize vibration or have paddings on the handle to absorb most of the vibrations.
Safety Features
A good string trimmer not only cuts well but also protects the user from any flying debris. It should also have a feature to prevent the string from cutting other plants you do not wish to harm.
Standard safety features you should expect to find include a shield above the cutting head to block debris such as rocks, and a cutting guard to limit the trim range.
Gasoline, Electric, or Battery
Several options are available to power a string trimmer that can be chosen from 3 sources. It's up to you to select either gasoline, electric, or battery models.
Each one of them has advantages and disadvantages that you have to consider. Gasoline-powered trimmers allow you to work at any time as long as there is fuel in the tank. Electric models may be limited for range, and battery-sourced power means you will have to contend with downtime as the battery recharges.
Attachment Capability
 Many users who do regular yard trim duties prefer a tool that can be adapted to perform other functions. Some models allow a universal connector that enables you to change the cutting head and fit in another attachment.
Most string trimmers can take both a string or a steel blade as the options for trimming grass or weeds. Steel blades are tougher and can easily cut hard plants without incurring a lot of damage.
Key Features of the Milwaukee String Trimmer 

Milwaukee is known for making some of the best residential and commercial power tools that far surpasses any other in the industry.
The String Trimmer they manufacture is no exception. It's one of the lightest and most powerful battery-powered trimmers money can buy. Several features make this trimmer stand-out from the rest, and we thought it's wise to mention just a few of them at a glance.
Great balance:

Good balance is very important to reduce user fatigue. The Milwaukee String Trimmer has a long shaft that accommodates users of above-average height. It can be tiring to stoop every time you have trimming duties, but the Milwaukee trimmer minimizes the chances of that happening.

Brushless motor:

The Milwaukee String Trimmer is designed with a brushless motor that guarantees great performance. The motor is run by a 9Ah battery that will get you an hour of usage before it runs out.

Speed control:

Sometimes you may need to trim at a lower speed or maximum speed to suit different situations. For this, you get a speed selector to vary the speed you wish to operate the machine.

Quick start:

Some battery-powered trimmers may take a couple of seconds to get up to speed. With Milwaukee, you will be up and running in under 1 second, which is one of the quickest starts you will find in battery trimmers. It spins quickly to reach a maximum of 5,800 revolutions per minute.

String thickness:

The Milwaukee allows you to use trimmer lines of different diameters. You have the option of using either a 0.080 or 0.095-inch line. For light work, the 0.080-inch line will hold out just fine while the 0.095-inch string is suitable for thicker grass and weeds.

Broad cutting swath:

Another cool feature of the Milwaukee string trimmer is you can adjust the cutting swath from 14-inches to 16-inches. Having control over the width you cut will offer you a bit of protection in case you decide to trim near delicate plants. And you can trim a large area quickly because of the wide cutting swath.

Redlink plus intelligence system:

The Redlink plus is an advanced intelligent system that facilitates full-circle communication between the trimmer, battery, and charger. The system is always monitoring the power delivery from the battery to ensure consistent and maximum performance of the machine.
Milwaukee String Trimmer Optional Attachments
The Milwaukee trimmer utilizes a Quik-Lok attachment system that allows you to make use of the tool for various tasks.
This system has been designed with an interchangeable head that can fit different attachments for a variety of jobs. You have the options that include a powerhead, string trimmer, articulating hedge trimmer, pole saw, and edger.
Quik-Lok Pole Saw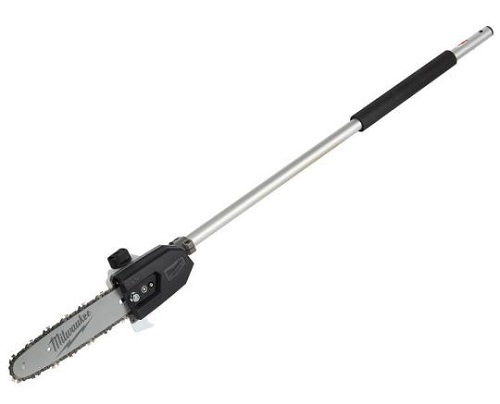 The Pole Saw is an attachment that is used for trimming high tree branches and other plants that can only be cut using a chainsaw.
It comes with a 10-inch Oregon bar and chain that reaches its maximum performance output of 4,800 RPM in under a second. With up to 80" of reach, you can trim high branches without requiring a ladder.
Features
80" extension reach

4600 RPM maximum speed

The whole kit weighs 12.7 pounds

10" Oregon bar and chain
Pros
Hook for grabbing cut branches

Flexible shaft for easy cutting

Translucent oil tank for a quick check of the level
Cons
The chain requires frequent sharpening

It can only cut small trees and branches
Check out our list of best Pole Saw Attachments on the market today.
Quik-Lok Edger
A well-defined landscape edge requires a tool that can cut through even the toughest of soils such as clay. The edger attachment is the tool for that job since it's able to keep its engine speed high, to operate at a maximum of 3900 RPM.
The gearing has been adapted to maintain this speed in various conditions. It uses a standard 8" blade to cut a sharp edge around the borders you want to define.
Features
8" cutting blade

38" attachment length

The attachment weighs 5.25 pounds

3900 RPM maximum speed
Pros
Special gearing to maintain engine speed

Metal alloy guard and skid plate to offer protection

You can adjust the height using a thumb screw
Cons
It doesn't have the power of a gas edger
Quik-Lok Articulating Hedge Trimmer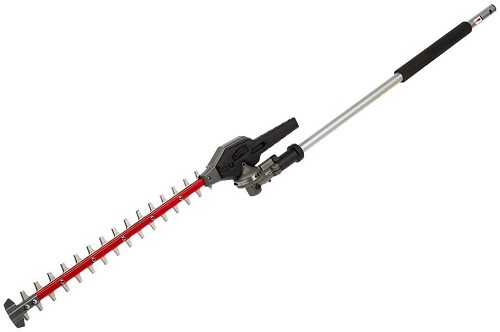 The articulating hedge trimmer by Milwaukee enables you to operate the equipment while standing in a natural position.
Thanks to the articulating head and the extensions, you can trim different height levels and shapes much better than when you use ordinary hedge trimmers. You can cut twigs of up to 1" in diameter while having the ability to rotate the head up to 270 degrees.
Features
1-inch diameter trimming ability

270 degrees head rotation

13 articulation lock positions

5.8 pounds hedge trimmer weight

3-inch allowable extension
Pros
Significant trimming ability over other cordless hedge trimmers

It can trim different heights and shape

Works well for high hedges

Trimming had can be adjusted to different angles
Cons
Poor cut quality on woody shrubs
Quik-Lok M18 Fuel Power Head

The Quik-Lok M18 Fuel Power Head provides the power used to run the brushless motor. This high-capacity battery enables the user to use all of the Quik-Lok attachments to various kinds of jobs.
You can use any of the Red Lithium batteries from the M18 line, from the 2.0 Ah compact battery pack to the top of the range 12.0 Ah high-capacity battery.
Having the choice of battery power enables you to choose the appropriate amount for your gardening tasks. And you can keep a spare power head on stand-by should the one on the equipment run out.
Features
Quik-Lok coupler attachment

2-Speed control

2-Position trigger

Variable speed control

Versatility to adapt to different attachments
Pros
You can select from different battery power output levels

It can run the motor at full speed constantly

You can pair it with a quick-charging kit

The battery pack dissipates heat to keep it cool in operation
Cons
It's a bit difficult to attach the M18 powerhead

Your choice of battery will affect weight and balance
The Best Alternatives to Milwaukee String Trimmer
Toro Corded Electric Trimmer and Edger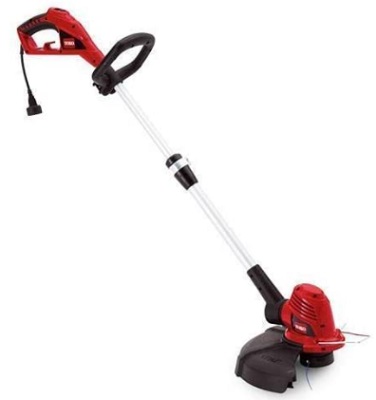 The Toro corded string trimmer is one of the best and most powerful brush cutters and edgers you can find. It's equipped with a robust motor with an auto-feed line system that releases the string out into the head so that it can cut through grass and weeds in your property.
The shaft is made from aluminum to withstand any job abuse and to ensure longevity. The handle has been ergonomically designed and is adjustable to suit user comfort.
You won't find many electric string trimmers that can make easy work of the toughest weeds and cut the grass with a smooth, even finish. This is why we think the Toro corded electric string trimmer is one of the best alternatives to the Milwaukee version.
Features
Powerful 5 Ah motor

Auto-feed string line

Strong aluminum shaft

2 years warranty

14-inches wide cutting width
Pros
You don't have to extend the string line because it's automatic

Made from durable material

Easily converts from trimmer to edger

Power delivery is consistent
Cons
It's corded, so you will have limitations with the range.
Black + Decker Li-Ion String Trimmer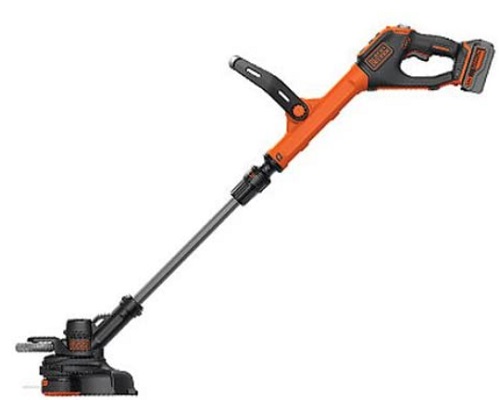 Black + Decker are well known for making quality power tools and this string trimmer is no exception to their brilliance.
What you get is a tool that offers you the convenience of a battery-powered tool and enhanced cutting efficiency. It does this using one of the highest battery volt capacity of any cordless trimmer on the market.
You can easily adjust the height of the trimmer using the telescopic shaft that is easy to elongate or reduce accordingly. The tool has a dual function ability meaning you can transform it from a trimmer to an edger by simply rotating its head.
Features
Robust 6.5 amp motor

Made of lightweight material

2- Speed control

20 volts lithium battery

Telescopic shaft

Power command dial
Pros
Easy to carry around

Quick conversion from trimmer to edger

With an interchangeable lithium-ion battery system

You can choose the amount of power you need
Cons
Cannot handle thick brush due to thin string

Not a great fit for users of above average height

Short battery life on the highest speed setting
Dewalt Brushless Trimmer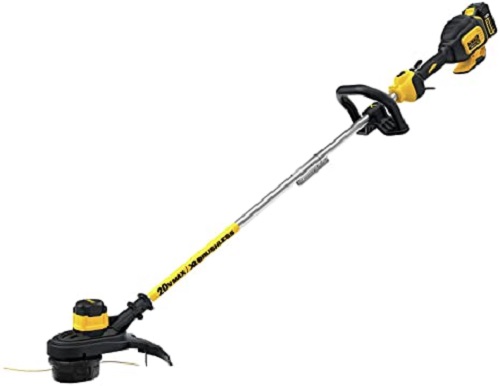 There are not many cordless trimmers that have a reputation of being reliable and are backed by the expertise of their respective manufacturers.
The Dewalt brushless trimmer certainly does not disappoint in this regard. It's powered by a 20-volt lithium-ion battery that makes it quiet to operate while making easy work of any trimming duties.
With this tool, you get plenty of torque to clear even the most stubborn and sturdy weeds from your yard. The brushless motor has been designed to work efficiently and maximize run time so that you can get as much work done before the battery runs out.
Features
Variable speed control

Rechargeable battery

Ergonomic handle design

Wide cutting swath
Pros
It's a finely-balanced trimmer

Starting the tool is very quick

You don't need to wear ear protective devices because the motor is quiet

Anyone can easily operate the trimmer
Cons
Not as powerful as gas-powered trimmers

The protective guard isn't large enough

It's not equipped with a shoulder strap
FAQs 
Question: How do you find the right trimmer line?
Answer: There are many different diameters for trimmer lines. Each trimmer has been specified to only handle certain line sizes. You can check what diameter the manufacturer recommends to know what will work and what won't.  
Question: Do I need extra batteries for my Milwaukee string trimmer?
Answer: If you need to trim large swathes and you cannot afford any downtime, an extra battery pack will save you from having to wait for the battery to recharge.

But, if most of your work is easy and falls within the run time of the battery, then you do not need extra batteries. Alternatively, you can get a larger capacity that will run the machine for a much longer time.
Question: How do I operate the trimmer?
Answer: Operating the trimmer correctly will take some time as you get used to it. However, that doesn't mean that they're hard to operate. 

Keeping the cutting head parallel to the surface, you move it from side to side as you cut the grass or weeds. Doing this will help to throw the debris away from the user and you can right away see if you're cutting the grass to the right depth.
Conclusion 
With technological advancement, more and more people have come to appreciate the benefits of a battery-powered string trimmer.
The whole world is looking to move towards using electric machines as opposed to gasoline versions. This shift is caused by the concern for emissions produced by the burning of fossil fuels.
The Milwaukee String Trimmer has stepped up to provide climate-conscious users with a tool that will do the job for them while easing their concerns over greenhouse gases.