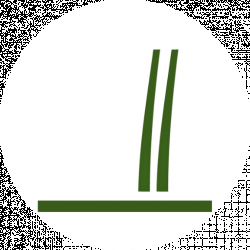 Latest posts by Turf and Till Team
(see all)
Need a Troy-Bilt TB230 lawnmower for those grass cutting chores? Maybe you've heard awesome tales about it but you have limited access to information about its key features and the quality of the cut it provides.
This review will cover all the details you need to know about the TB230 and self-propelled lawnmowers.
The TB230 is designed to move on its own as it mows the lawn. It's a great tool to have if you're passionate about looking after the quality of the turf.
This mower will cut effortlessly without missing a step to leave you with the beautiful picture of a well-manicured lawn. Perhaps this is the point where you pose the question, what makes the Troy-Bilt TB230 so desirable to many lawn care enthusiasts? 
We will answer your query as we mention some of the factors we think make it stand out from the rest. Stick around to find out more as we review the Troy-Bilt TB230. 
Types Of Lawnmowers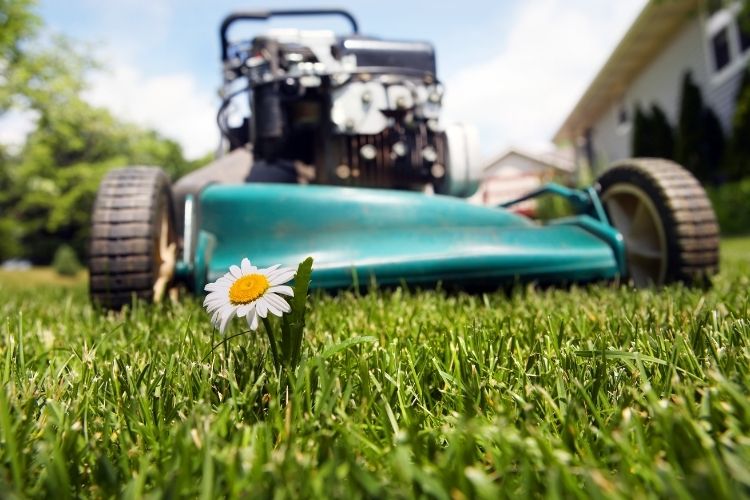 Lawnmowers are available to customers in many different types and the industry jargon used can often be confusing. Later on, we will look at the factors that will influence the type of lawnmower you get but before we get to that, we will go over some of the types of mowers you are likely to encounter.
It's worth noting that each type of lawnmower has differences and is designed to address a specific user need.
Push lawn mowers
These are mowers designed for small lawns and rely on the user's power to push them around the lawn. Because of the lightweight nature of this type of machine, they're easy to handle with the minimum effort needed to push it while cutting the grass.
Getting into small and tight spaces is not hard as opposed to the larger commercial mowers. They're also easy to maintain and will not damage the turf because they weigh so little.
Self-propelled lawn mowers
A great example of a self-propelled lawnmower is the Troy Bilt TB230 that we will talk about in greater detail further down in the article. This type of mower is the opposite of the push type machines because it uses the engine power to propel it forward.
All the user has to do is to guide the mower along the path they want to trim. Very little energy is expended when operating these machines but usually, you have to contend with the extra weight because of the larger engine size.
Zero-turn lawn mowers
Zero-turn mowers are ideal for keeping large lawns tidy and evenly cut. They have gained popularity in the last few years because of their ability to handle a variety of terrains.
The design of this lawnmower enables the user to cut close to objects such as trees and buildings. Maneuverability is one of the best for a riding mower because it steers by employing hydrostatic transmissions located on the rear wheels to facilitate tight turns.
How To Choose A Lawnmower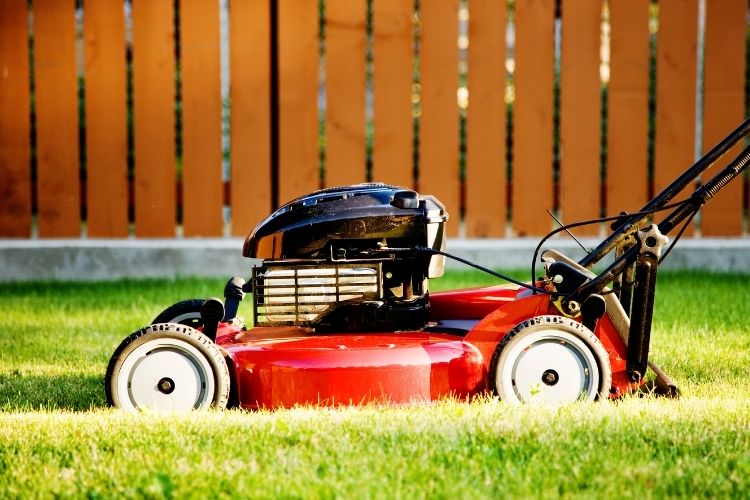 A pristine and well-manicured is what many gardeners yearn to have. Achieving that requires a good lawn mower that can do the job.
Lawns are often the largest area around your home, so having a lush ground to sunbathe in the summer months or an area where your kids and pets can run about is the goal of avid gardeners.
A high-quality lawnmower will go a long way into preparing the kind of surface you're aiming to achieve. This begs the question, what are some of the factors to consider before buying a lawnmower?
We will seek to answer that with a few pointers to help you in the search for a good lawnmower like the Troy Bilt TB230.
Research
Before choosing a lawnmower, it's best practice to go over the types and models available on the market. Undertaking research will give you some tips you can use to find the right equipment for your lawn.
You can look at what manufacturers offer with their models and compare the details with what other manufacturers provide. As a gardener, the characteristics of the lawnmower will help you understand how difficult or easy it will be to operate the machine.
The best source of research is the internet. Almost all reputable manufacturers of lawnmowers have pages where you get all the relevant information about the models they sell. Here, you can compare the prices and other qualities you think makes a perfect lawnmower.
Size of the lawn
The size of the lawn is one of the most important determinants of the type of lawnmower you choose. If you have a massive lawn around your property then you may have to consider a large commercial-grade mower.
For small lawns, a push-type mower is recommended because it's easy to maneuver around due to its compact size. With this type of machine, you get to enjoy quieter operation and it emits fewer emissions that may harm the environment. 
Physical Challenges
Some property owners are physically challenged and can have trouble operating any kind of lawn care equipment. If you're one of the people unfortunate to be affected by the inability to move around the yard, then you should strongly consider getting a ride-on lawnmower.
With this type of mower, anyone with a mobility problem can hop on and carry out all mowing duties with relative ease. The same applies to elderly users who can use the machine comfortably without worrying too much about fatigue.
Warranty
It's advisable to choose a mower that has a warranty attached to protect from any potential defects or mishaps after purchase. If you buy one that isn't covered by a warranty, you may end up incurring any losses that occur with the machine on your own.
Warranties are very important especially if you will be working with powered lawnmowers. To get around this, speak to friends, neighbors, or people who have experience working with different types of lawnmowers.
They can recommend to you which types and brands of mowers van make your ownership easy.
Build quality
A quality lawnmower should be durable to withstand many hours of cutting the grass without seizing up often. A lot of the factors that constitute a good machine has to do with the type of materials used.
You need to know if some of the most critical parts have been made to endure any job abuse they may face in operation. For example, you need durable cutting blades that will last for long and will not break occasionally.
Any breakages mean more repair bills to your pocket, some of which may not be covered by the manufacturer or dealer warranty. 
Budget
Budget is a factor that cannot be overlooked when considering a lawnmower. The reason for this is not all gardeners can work with the same cost of ownership. That is why there are many mowers available with different price tags attached.
Price can be determined by several factors such as brand reputation and additional features that make a mower stand out from the rest. Find a way of working around your budget to find a lawnmower that fits your requirements, And if you can, make room to stretch the budget to get additional features you think will be helpful.
Storage
Lawnmowers can take up quite a bit of space in your garage. If the size of your storage shed is an issue, consider getting a compact machine that will not need much space. Ride-on mowers are one of the biggest residential lawn care equipment on the market.
For that, you will need plenty of space where the machine can be stored safely. Alternatively, you get a lawnmower with detachable parts to make storing it a breeze.
Maintenance
Every gardener wants equipment that requires little maintenance to keep it in excellent working condition. Servicing a machine can take a lot of time, most of which are not available in the first place. You need a lawnmower that will be readily available to work when it's required.
Activities like sharpening the blades are essential if you want to get a clean-cut of the grass, but a blade that requires frequent sharpening is a nuisance to the owner. Consider a lawnmower with known service intervals so that you will know when to carry out checks.
Why The Troy-Bilt TB230 High Wheel Self-propelled Mower?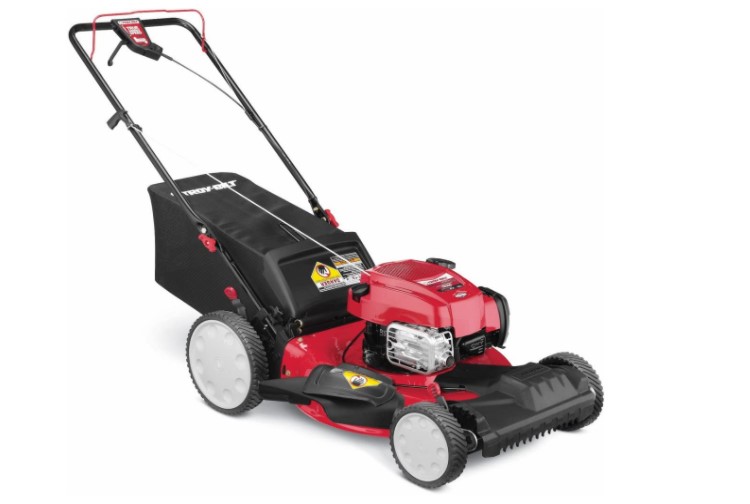 The TB230 is a superb choice for many farmers who desire a self-propelled lawnmower. One fact many can overlook is the machine is backed by over 80 years of Troy-Bilt's experience in making power gardening equipment.
It's everything you want in a lawnmower with even more features to make it an excellent machine for all manner of lawn maintenance work.
Anyone passionate about yard maintenance requires a reliable machine that won't suffer from frequent malfunctions. The TB230 will ensure you don't suffer the embarrassment of buying an inferior lawnmower.
If you're thinking of upgrading to the Troy-Bilt TB230, there are a few features we would like you to be aware of, for they make the machine stand out from the rest of the competition.
Features of the Troy-Bilt TB230
Engine:

The mower is powered by a 163cc Briggs & Stratton engine. This OHV motor delivers unmatched motor efficiency that is one of the most reliable on the market. A lot of effort has been put into making sure the engine doesn't malfunction when it's required to operate.

ReadyStart technology:

An annoying feature of mower engines that start using a pull cord is they may require a few pulls to get the engine going. The ReadyStart technology is patented by Troy Bilt to enable the user to start the engine at the first attempt.

TriAction cutting ability:

Gardeners require a product that is versatile and can perform several tasks at a go. The TB230 features a rig that straightens the grass as it enters the cutting area. The blade is designed in a way that it cuts the grass on the ground, and then again as it's flung in the air to provide fine mulch for the turf.

Front-wheel drive:

With a front-wheel-drive system, you get to enjoy an improved and control of the lawnmower. Thanks to the variable speed of the system, you can make tighter turns without straining at all.

Don't change technology:

What the don't change technology does, is it removes the need to change the engine oil. All you have to do is check the fluid level and top it off if it's required.

Tall rear wheels:

The rear wheels of the TB230 are 11-inches high. This makes it easier to push the mower over hills and rough spots. It also enables the user to operate the machine while standing in an upright position to minimize backaches.

Deck wash adaptor:

This is a feature that enables easy maintenance of the cutting deck. A lot of debris gets stuck on the deck and to remove some of them, you connect a standard garden hose to the adaptor and the water will be directed to rinse the clippings.
Pros
Easy to clean the cutting deck

Handle height can be adjusted in three positions to suit taller users

The wheels are sturdy and will last a long time

It's offered with a 2-year warranty

You don't use a lot of energy because it's self-propelled 
Cons
It doesn't have a cruise control function

Gas is known to evaporate from the tank when it's idle

Sometimes you have to make two passes to get the desired cut
Best Alternatives To The Troy Bilt TB230
If you don't like some of the features of the Troy-Bilt TB230, there are plenty of other options to choose from. Here, we will quickly go over three models we think you ought to know about.
Greenworks PRO 21-inch 80V Self-Propelled Cordless Lawnmower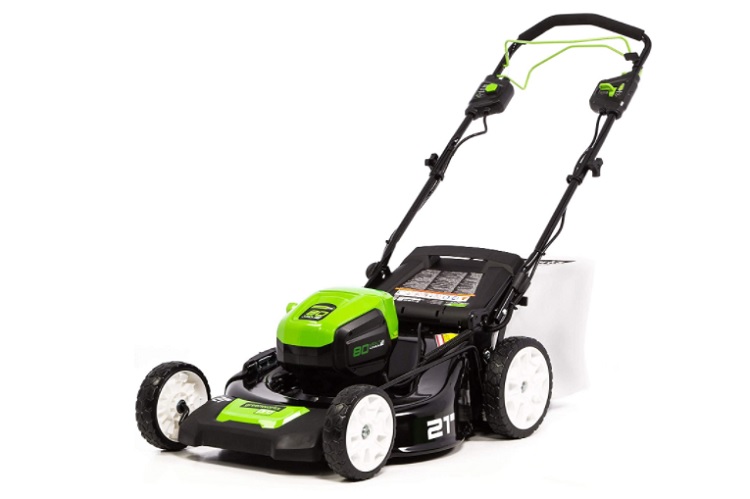 This model from Greenworks is one of the best battery-powered lawnmowers on the market today. Power comes from an 80-volt battery pack that offers performance that is equivalent to a 160cc gas-powered engine.
The brushless motor is very quiet so you won't annoy family members and neighbors when you decide to get some mowing done.
The mower comes with seven selectable height positions that allow you to adjust the height of the cut to achieve an almost perfect cut.
With variable speed settings, you can choose how fast you move on certain areas of the lawn. The power that propels the mower is fed through the rear wheels to make it easy to move over the imperfect ground.
Pros
4-year warranty mower and battery warranty

The height of the cut can be chosen from 7 settings

You can select the speed of the mower as it cuts

Capable of bagging, mulching, or discharging clippings
Cons
Battery and charger are sold separately

The battery runs out pretty fast
Honda HRN216VKA Self-propelled Lawnmower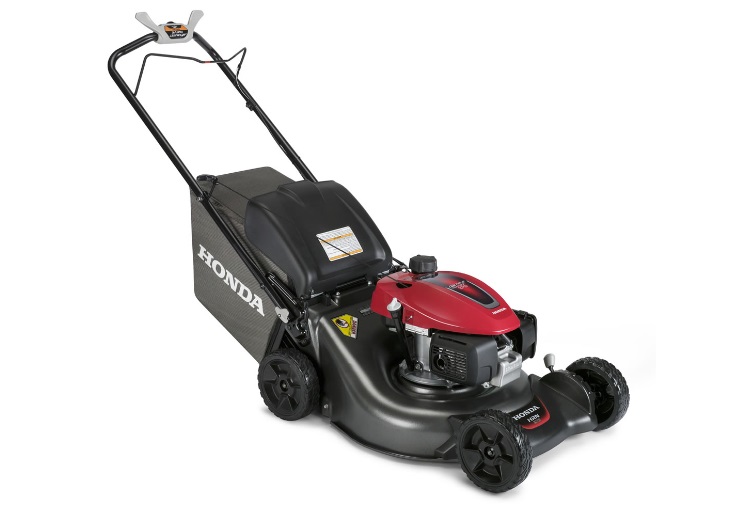 The Honda HRN216 is powered by a 167cc 4-stroke and air-cooled engine that has been made to maximize efficiency.
A feature that is uncommon among lawnmowers of this kind is the all-metal transmission that can endure long hours of work in the yard. Honda manufactures both the engine and the transmission to make sure they pair perfectly.
Underneath the cutting deck, you will find a unique twin blade design that cuts the grass into smaller clippings making it better for mulching or easy to bag all the waste.
There are two height adjustment levers, one on the front axle and another on the rear. Again, you can select from 7 different cut levels that cover between 1" and 4" cutting height.
Pros
Exhaust noise has been dampened to provide quieter operation

You don't need a tool to access the air filter

Fuel spout is larger for easy refueling

Transmission is sturdy and doesn't fail easily
Cons
The fuel tank is very small

Cleaning the mower is not easy
Yard Machines 140cc OHV 21-inch Self-Propelled lawnmower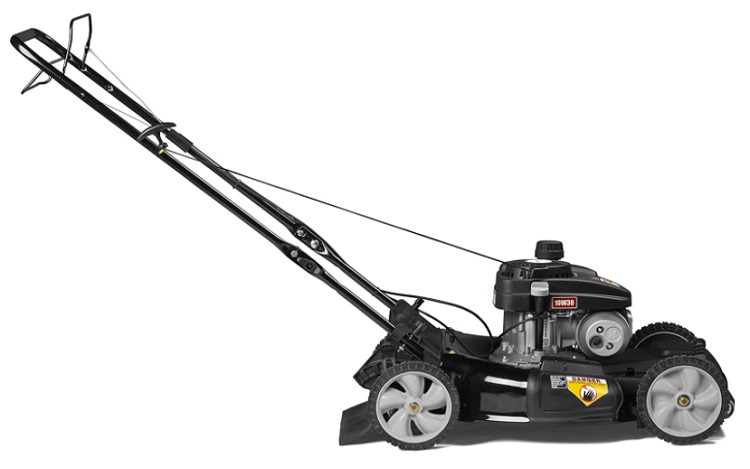 For small lawns, this 140cc lawnmower is one of the most affordable options you can have for your mowing. The power is enough to enable the machine to handle all types of terrain it cuts the grass. The drive goes to the front wheels for easy steering and tighter turn capability.
This Yard machines model has 6 adjustable height settings for a uniform cut and it's a 2-in-1 meaning you can choose between side discharge or mulching.
Due to its compact nature, not much space will be occupied by the machine when you store it in the garage. Combine all those features with front-wheel drive operation, you get a machine that is best suited for small lawns.
Pros
No assembly required when you buy it

Cheap when compared to other self-propelled options

Offered with a 2-year warranty

It can side discharge or mulch clippings
Cons
The engine is not very powerful

Build quality is not very good as it breaks down often

It doesn't come with a bag for collecting clippings
FAQs About Troy-Bilt TB230
Question: Why are self-propelled mowers desirable?
Answer: Self-propelled lawnmowers like the TB230 require little effort to mow the lawn. You don't have to strain yourself pushing the machine with the only energy you expend is to control and steer the mower. The engine will provide all the power to move the mower so that you can concentrate on getting the ideal cut.
Question: How do you mow with the Troy-Bilt TB230?
Answer: Cutting the grass with the TB230 is very easy. All you have to do is squeeze the bar located near the handle of the machine and hold on to it as the lawnmower moves. Select the height you want for an ideal cut through the settings provided and guide the mower along to make sure it cuts evenly and that it's following the correct path.
Question: Is the Troy-Bilt TB230 a worthy investment?
Answer: If your property is large with huge swathes of lawn all around, a lawnmower like the TB230 can greatly reduce the time and effort you use to cut the lawn. It excels in almost every aspect of concern when it comes to mowing. The design incorporated when building the machine will help create a lush and green lawn that will appeal to your eye.
Conclusion
A self-propelled mower is a good thing to have if you spend a lot of time tending to your lawn. Some lawns are not flat and might have small hills and divets all over the yard.
Pushing a mower through all those imperfections can be tiresome after a few hours. And when the inevitable fatigue finally creeps in, mistakes tend to happen a lot resulting in uneven cut quality.
This is where a self-propelled mower like the Troy-Bilt TB230 shines through and saves the day. It offers you more control over how you cut the grass and saves your time and energy.
We hope you will take all the factors we have mentioned when you buy a new self-propelled lawnmower. The Troy-Bilt TB230 is certainly a favorite of ours and most of its features stand out from the competition. It's the one you should be aiming for should you be on the lookout for a self-propelled mower.
Read More: