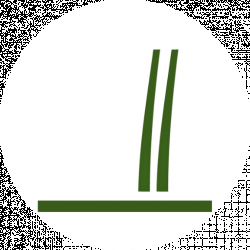 Latest posts by Turf and Till Team
(see all)
When the garden is looking out of hand, it creates a need to search for the best brush cutter attachment for a trimmer. The feeling of seeing an eye-catching lawn or yard area lies in using the right equipment to trim the brush.
But where is the starting point? This piece has the right details to help you discover the correct product that effectively accomplishes the intended mission. Keep reading.
Factors to Consider When Looking For The Best Brush Cutter Attachment for Trimmer Attachment for Trimmer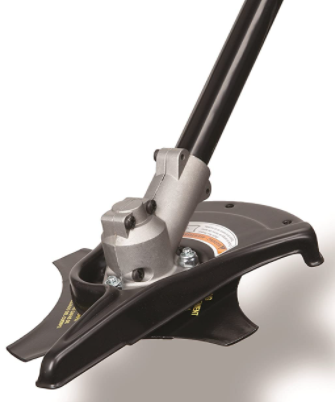 When shopping for a suitable brush cutter, it could be reasonable to factor in different aspects that combine to provide the most effective option. Make use of the listed elements to facilitate your buying decisions. 
Electric vs Gas
Gas-powered devices enjoy plenty of power and longer cutting time. On the other hand, electric ones keep the air clean, cost-effective, and operate quietly. Furthermore, one can involve an electric brush cutter to mow down an overgrown vegetable garden. 
Also, an electric option can be a suitable choice when you use it a few times a year. It eliminates any worry of stored fuel going bad. 
While working on larger properties, the battery and electric power limit the use of electric cutters. Gas models feature both two and 4-cycle engines. The 4-cycle options are a bit heavier; hence an operator becomes more fatigued. However, it is more powerful and pollutes less than a two-cycle model. 

Check out the main differences between a 2 Cycle vs 4 Cycle Trimmer to find your perfect match.
Motor Power
Power determines the working ability of a device. For example, a powerful brushcutter slices faster and smoothly. Higher power becomes ideal over adverse conditions such as uneven terrain and thicker weeds. 
Electric brush cutters measure power in terms of voltage while the gas-powered options measure in cubic centimeters (cc). Most hand-held brush cutters feature 24cc to 50cc. The same model with an electric option ranges from 18 to 84V. 
Durability
We recommend that you settle for a durable product and encounter a high life expectancy. For example, you can consider going for a heavy gauge steel housing with rugged pneumatic tires. 
One can also use a heavy-duty string trimmer featuring large engines to cut thick weeds and woody vines. Also, they are suitable for cutting thick, woody, and dense vegetation. 
Versatility
Any tool that can perform multiple tasks provides excellent value to the user. One can consider purchasing brush cutter attachments for any device that conducts lawn care tasks. For example, one can convert a string trimmer to a brush cutter.
Again, a hand-held powerhead can run different tools including lawn edges, hedge trimmers, string trimmers, and brush cutters. As for powerheads, they feature a quick-change which takes a little time to switch between devices. 
In the same vein, the work-behind tractors work better than dedicated brush cutters. They allow the operator to switch from a brush cutter to a firewood splitter or a snowblower. 
Cutting Width
The cutting width happens to be the single-pass when operating a brush cutter. It determines several aspects, like how the amount of space the machine needs to access the site. Two, it determines the pace the cutter needs to complete the tasks. 
Standard hand-held ranges from 9 and 18 inches. Tow behind the cutters has a cutting width of 4 to 15 feet. Lastly, walk behinds range from 24 to 18 inches. Narrow models are slower while wider cutters require more power to slice through dense vegetation. 
Review of the Best Brush Cutter Attachment for Trimmer
If you want to get the right service to meet your mowing and other lawn care needs, then selecting the perfect product becomes a challenge.
Our products, as listed below, contain the right features to improve your gardening experience. You can shop from the following products. 
Husqvarna 17-Inch Brushcutter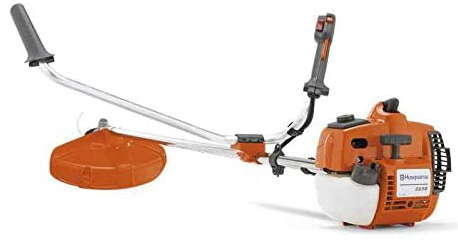 Husqvarna is a two-handled brush cutter that boasts smart technology, allowing the device to start instantly with minimal effort. Furthermore, this product enjoys an air purge system that eliminates air from the fuel system and the carburetor for easy starting. 
Working on this machine for a longer duration is realistic since it is lightweight. At 9.9 pounds, this device happens to be among the lightest models that you can find in the market. Besides, this brush cutter has a high weight to power ratio, making it easy to handle any tough job.
The designer made it to remain balanced and lower operator fatigue. Backed by a 25cc engine, it can power the trimmer to clear your yard effectively. In the same vein, it has a two-stroke motor making it favorable to landscapers and homeowners.
Versatility defines this tool; hence you can involve it in trimming and performing other brush-work around your yard. This multipurpose tool has an interchangeable string and blade head to increase convenience when handling different tasks. 
Husqvarna boasts of an anti-vibration technology that ensures smooth operations and eliminates fatigue. The machine allows the operator to cut the grass effectively thanks to the 17-inch cutting swath, easy to use. 
Another unique feature to ponder about is that its engine can run unleaded gas, plus, 2-cycle oil. The purpose of using non-ethanol gas mixes is to avoid the gumming up of the engine during operations. You can follow the mixing instructions and use the 2.6 Oz included bottle to facilitate the process.
This brush cutter comes with a translucent fuel tank to visually monitor the fuel level. Lastly, this machine is compliant with CARB regulations hence safe to use. One gets a 2-year warranty that takes effect from the date of purchase. 
Pros
Has an interchangeable blade and string head making it versatile

25 cc engine provides consistent power for effective operations 

Smart start technology ensures quick start effortlessly

Enjoys two and half hours of runtime when tank full

Lightweight and well balanced to reduce fatigue
Cons
Adjusting the harness can be time-consuming
Troy-Bilt TB42 BC Brush Cutter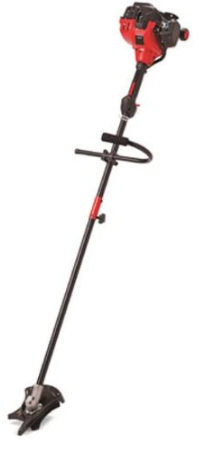 Are you experiencing the trouble of dealing with dense weeds and brush? Well, by choosing this brush cutter, you enjoy tremendous results and organize your yard to remain eye-catching. This brush cutter has a powerful 27cc gas engine that provides enough power to slice through thicker brush easily. 
Working with this brush cutter can be easier due to the presence of an adjustable J-handle for one to stay in control. In any case, you can involve a left-handed or a right-handed operation which is a reliable design when it comes to maneuverability. 
Troy-Bilt has a sturdy steel brush blade. This four-tooth steel brush blade enables the user to handle any heavy vegetation without breaking. As such, one can use it for an extended period without encountering frequent replacement due to its sturdiness. Also, it has a steel cutoff guard to enhance safety.
Most importantly, the device has a jumpstart-capable engine which allows the engine to start immediately without complications. The design eliminates the need to use a pull cord when starting the engine. However, one must purchase the engine starter separately. 
At 14 pounds, we can still consider this brush cutter as lightweight. There is a fully adjustable harness that enables one to carry the weight on the frame instead of carrying through the arms. 
The trimmer engine can power at least ten different Trimmer Plus attachments. Such enhances versatility to allow the trimmer to handle various outdoor tasks while using the same machine effectively. The design converts the trimmer into a garage of tools. 
When the attachment blades get dull, it is easy to sharpen them. The device meets international safety guidelines making it widely acceptable in the market. A 24-month warranty waits for you after purchasing this brush cutter. 
Pros
Sturdy and durable blades cut different vegetation without waning in quality

A 27 cc powerful engine provides consistent power to support all operations 

Adjustable J-handle allows for easy maneuverability and control 

Interchangeable heads make this brush cutter handle unique tasks 

This product has a good warranty and replacement terms
Cons
The harness is not as supportive as similar models 
Remington RM2700 Ranchero

One can transform this cutter into an arsenal of landscaping tools via attachment ready-shaft. This straight shaft makes it easier for one to trim hard-to-reach places and under the bushes. Even better, this device has a quick-change head which allows one to convert a blade to bump head within seconds, thereby saving your time. 
This tool uses a powerful 27cc full crank engine to provide adequate power to meet your demands. Also, the operator encounters less vibration making one stay in firm control while handling tough jobs. 
One aspect that makes this device stand out is that it has a heavy-duty metal blade. This durable blade has an 18-inch cutting width that allows one to cut through dense vegetation quickly. 
Another exciting factor concerning Remington is the use of quick-start technology. Designed for more comfortable and smoother pull starts, one wastes no time since it runs instantly with little effort. The tool is suitable when working on the yard, around the house projects, and lawn care. 
Many users prefer using a brush cutter that prevents fatigue. One can be lucky to find the same experience in the Remington since it has an adjustable shoulder strap to decrease operator fatigue. Furthermore, an adjustable J-handle provides greater control when maneuvering in different directions. 
This device has a remarkable attachment ready-design, which allows it to convert into different lawn care products. Such products include a blower, hedge or edge trimmer, a cultivator among others. However, one must purchase the attachments separately. 
Remington is 14.5-pound equipment with a harness for better weight distribution and allows the operator to use it over an extended period. The two-year warranty speaks volumes about its reliable quality.
Pros
Supports multiple attachments for different and unique tasks making it more flexible

Powerful 27cc engine which provides enough power to meet its demands 

Quick start pull remains conveniently to facilitate it to run instantly

Heavy-duty metal blades allow it to slice through dense vegetation 

Has a user-friendly design for use
Cons
The process of changing attachments is difficult
PROYAMA Dual Line Trimmer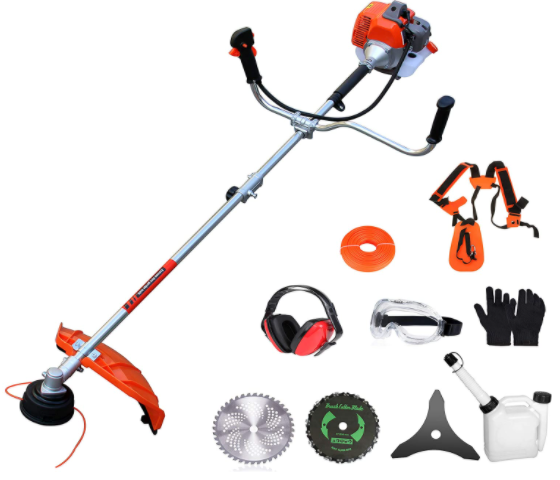 Proyama dual line trimmer is a user-friendly product with an EPA certificated engine. Such means that the machine can discharge less fuel gas while in operations. In the process, the engine does not pollute the environment or cause substantial harm to the human body. 
In the same vein, this 27cc engine is reliable enough to provide sufficient power while cutting bigger branches efficiently. Still, it has sturdy and durable metal blades that slice through different vegetation without breaking or becoming dull easily.
The start system features a manageable recoil which is easy to use. It can ignite the engine to begin the operations immediately. The package comes with a double shoulder strap for even weight distribution and decreases any sense of fatigue to the user. 
Carrying this device is simple thanks to the handlebar design. Furthermore, there is a quick release split shaft for easy storage and transportation to the next site.
Typically, one can apply this equipment to different tasks. For instance, this tool is suitable for maintaining small and large areas, keeping the garden tidy, cutting thick brush, and trimming weeds and grass around trees. 
While operating this equipment, you remain safe and well protected. For example, it features a vibration reduction shoulder harness, which eliminates fatigue for smoother operations. Also, you enjoy the gloves, ear defenders, and face shield to protect one while working. 
With a 1.2 L tank capacity, the machine can run for several hours before the next refill. The J-handle provides more convenience while maneuvering to different sides effectively. It supports both left and right-handed operations. 
Proyama Dual-line trimmer is a versatile device to handle varying tasks. For example, you can trim and cut the brush without requiring to buy other specialized tools for the same purpose. 
Pros
EPA certified engine discharges less fuel gas while in use without causing pollution

A powerful engine that is sufficient to trim bigger branches effectively

Has an anti-vibration technology to reduce any operator fatigue 

The handlebar design provides transportation convenience 

Fair pricing and a 12-month warranty 
Cons 
Breakage of metal components reported 
HENX 14-Inch Trimmer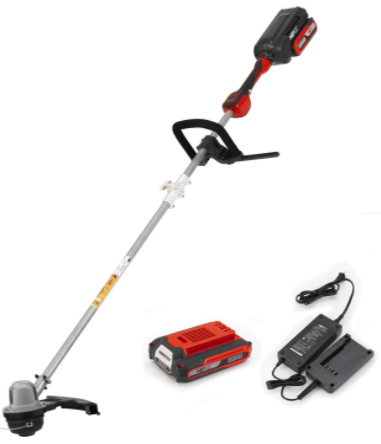 HENX is a 14-inch trimmer that uses a brushless motor allowing for fast performance on all tasks. The motor provides equivalent power just like the gas-powered engine featuring low noise and improved life expectancy. 
Starting this trimmer is possible within seconds. Furthermore, this trimmer can operate at two variable speeds; low and high. The two speeds provide you with added power to cut through dense vegetation and complete your tasks within a short period. 
HENX has a 14-inch cutting swath with a 0.0095 dual twist to assist the operator in faster completion of the tasks with higher performance. The cool thing about HENX is it is portable giving you an easy time when moving to different sites. 
Uniquely, this trimmer comes in a 2-in-1 design. One can convert this tool from a trimmer to a wheeled edger within seconds. It can be edge and trim to become profitable and versatile for varying manageable tasks at your convenience.
Since this product does not use cords, the lithium-ion battery comes in handy. It allows the operator to handle any task without any hassles. For example, a 50 minute run time, can enable one to tackle any cleanup project. 
The manufacturer made this tool special by advancing an ergonomic design. Such is evident on an adjustable handle that can fit your height to provide the operator with maximum control and comfort. As an operator, you remain stable without damaging landscapes, plants, lawns when trimming. 
This product wins on durability. Its blades come from heavy-duty metals which are both sturdy and corrosion-resistant. Similarly, this device meets international safety and protection standards hence safe to use for different designated tasks. 
If you want to perform a facelift on your lawn or the garden, this product can serve the purpose. It enjoys reasonable pricing and a decent warranty. 
Pros
Enjoys an ergonomic design to provide maximum comfort and control

Dual twist line provides high performance and fast result delivery 

Has a cordless design with low noise and longer life

Sturdy blades to slice through rigid materials easily

Versatile design to handle various tasks over time
Cons
Delays in the replacement of parts
Craftsman Gas-Powered String Trimmer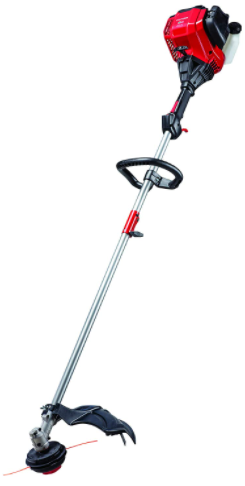 Craftsman is a powerful trimmer that has a straight shaft. Such a shaft makes it convenient to access hard to reach places and trim around bushes. The fixed-line design allows for 0.95 inches enabling one to refill the cutting head quickly. 
The start technology is a two-step affair that is simple to implement. It involves priming and then pulling to cause the engine to begin running as you start to tackle yard work and lawn care right away. 
This trimmer uses a quiet engine that produces a safe noise level to your ears. Furthermore, it has a multi-position handle to eliminate vibrations and operator fatigue. Such allows the user to enjoy the comfort and stay in command while performing different tasks. 
Again, this device has a 30cc, 4-cycle engine and a 17-inch cutting width to enable the user to trim more grass and other tougher yard jobs with less time. A 4-cycle design is beneficial as there is no mixing of oil and gas. 
This trimmer has a large and multi-position adjustable handle for additional control. Precisely, it is easy for left and right-handed use. It is suitable for professional users when working around the garden. 
Craftsman trimmer is an attachment-ready tool that makes it convenient for different applications. For example, this product is Trimmerplus compatible, which is a multi-yard tool system. One can convert this trimmer into another lawn care product for specific work. It is noteworthy that you should purchase the attachments separately. 
Pros
Come while attachment-ready for more straightforward conversion into different lawn care products

Large cutting width enables the operator to cut more vegetation within a short period

Advanced two-step starting involving a prime and a pull

Multi-position adjustable handle to enhance additional control 

Powerful and quiet 30cc, a four-cycle engine for effective delivery
Cons
A plastic part on the attachment could break with heavy work
FAQs
Question: Can one fit a brush cutter blade on the strimmer? 
Answer: Trimmer manufacturers provide attachments to convert the device into a brush cutter. A flat blade happens to be the most common attachment plus three equidistant cutting arms. Other designers supply the cutters with teeth that resemble the ones on the circular saw blades. 
Question: How thick can a good brush cutter cut? 
Answer: One can use a brush cutter to perform what other gardening tools cannot. These tools are similar to line trimmers which use a thin nylon string for cutting the vegetation. On the contrary, brush cutters use thick metal blades for cutting dense vegetation such as tree trunks up to 4 inches thick. 
Question: Are brush cutters dangerous? 
Answer: When the brush cutters are in full operations, they fling up objects at high speeds. Such objects include stones and sticks that can injure anyone close. Other serious injuries can still come from the rotating blade or a cutting cord. 
Question: Can I use a trimmer to lawn a mower? 
Answer: It is easy to cut the grass using a lawnmower. It has a robust design that can cut without any skill. As you use an electric grass trimmer, it allows one to cut the yard where a lawnmower can't. 
Wrapping Up
At last, you have an opportunity to choose the right brush cutter attachment for a trimmer. You need a suitable product to ensure your lawn or yard area remains trimmed and ever beautiful. 
Our top choice is the Husqvarna 17-Inch Brush Cutter. Firstly, this device uses a smart start technology to run the engine instantly. Better off, a 25cc engine provides enough power to support its operations. It is a versatile product courtesy of the interchangeable blade and string head. Happy trimming!