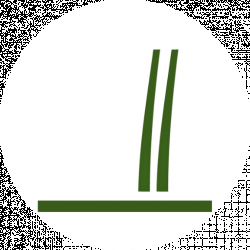 Latest posts by Turf and Till Team
(see all)
Are you tired of seeing your lawn having that unkempt and overgrown look and you want the best Troy Bilt edger? The division between your lawn and driveway is no longer visible, and most times, you risk stepping or even driving on the grass.
It is time to set the boundaries literally. You are here because you are ready or contemplating investing in the best Troy Bilt Edger to ensure all your lawn edging needs are met.
There is a wide variety of lawn edgers from which one can choose from manual to motorized and gas-powered to electric-powered edgers.
This review is going to help you make the best decision.  You will not regret it. Before diving into the details of the best type of Toy Bilt edger to buy, let us look at the basic and essential factors you need to consider before you make up your mind.
Factors To Consider When Buying A Lawn Edger
Motorized or manual edgers
There are two main categories of lawn-edgers found in the market. The two categories consist of Motorized and manual edgers.
The motorized ones have guiding wheels; hence the user can walk along and monitor it as the rotating blade makes sharp and clean borders on the lawn. The gas-powered also come in twos: the gas-powered and grass powered edgers.
The manual lawn edgers, on the other hand, tend to be cheaper than the motorized ones. However, as the name suggests, manual edgers utilize manual labor. Therefore, a lot of time and effort is required, especially if used on a large piece of ground.
Size of the lawn or yard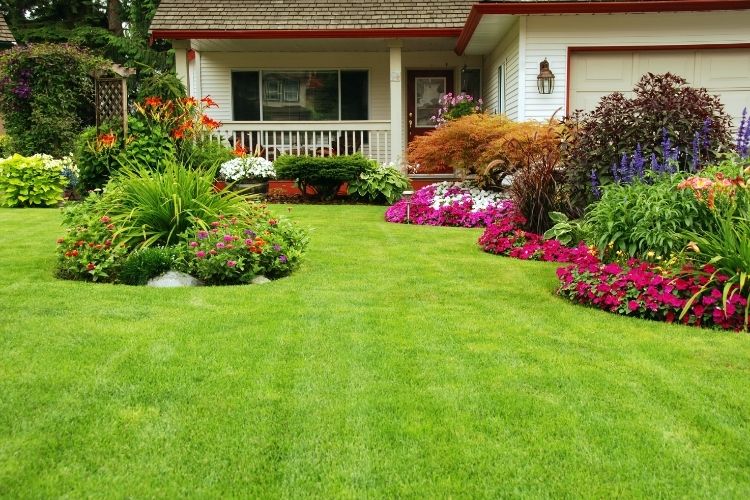 Should you have a large piece of the yard that requires regular edging or trimming, you might want to go for a Troy Bilt Edger that is big and highly powered to achieve the best results.
A gas-powered lawn edger will get work done faster while requiring minimum effort from the user. The experience is the opposite when a manually run edger is used. However, manual edgers are a great choice if you have a small lawn that doesn't need regular edging. 
Cost of purchase
Price is another crucial determinant of the type of lawn edger you are going to purchase. Therefore, it will be wise to sit down and budget how much you are willing to spend on this lawn equipment. Be aware that gas-powered lawn edgers tend to be more expensive than both electric and manual edgers.  
If your surroundings' appearance is important to you, consider buying an edger that will give you the best results and still make your lawn maintenance an easy and fun activity for you.
A gas-powered edger is quite pricey but will be a perfect pick as it guarantees amazing results due to its powerful engines.
Time as a factor
Time is an important factor to consider before buying equipment that will need your monitoring. If you are working from home during this pandemic period, you might have a flexible schedule that allows you to take long breaks and do one or two things around the house.
Therefore, a manual edger will be a favorite pick for you as it is cheap to purchase and since it requires more time and energy, you can use it to pass the time constructively as you also work out your muscles.
You will get a clean looking lawn and a toned body if you do this often. If that is not killing two birds with one stone, I don't know how best to describe the manual Edger's benefit.
Therefore, if you are bored of staying indoors and notice that overgrown grass creeping in the driveway, grab that Edger and get down to business.
Power needs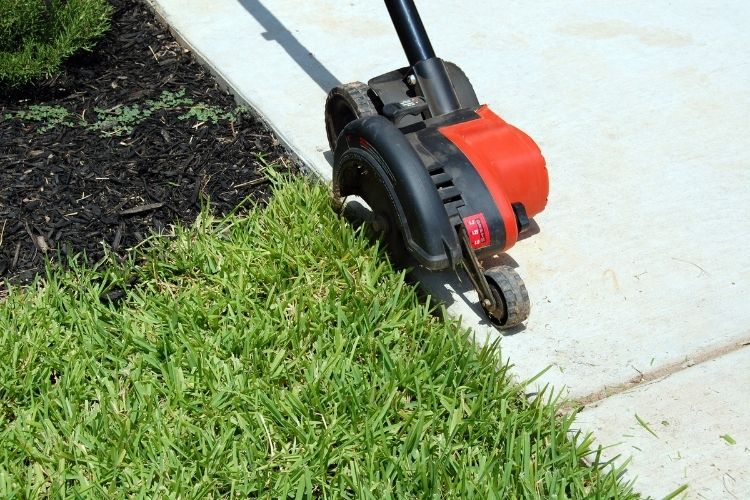 It is worthy to point out that different lawn edgers are powered differently. Because of that reason, we find gas-powered and electricity-powered edgers available in the market.
Before deciding between the two, understand that the gas-powered ones will cost you more than the electric-powered ones and guarantee speed and power.  However, for those shopping on a tight budget and own a small lawn piece that requires moderate power, an electric-powered edger will do.
Engine type
When it comes to considering the engine type for Troy Bilt Edgers, a lot of focus is put on the gas-powered edgers compared to electric powered ones. This is major because gas-powered edgers are categorized into two classes depending on the type of engine used.
Some gas-powered edgers use two-cycle engines while others use four-cycle engines. The four-cycle engine is considered more environmentally friendly than the two-cycle engine. 
The difference stems from the fact that a two-cycle engine (the most common engine) requires the user to mix oil and gas for the equipment to run smoothly.
The mixture of oil and gas results in the emission of fumes that cause pollution to the environment. On the other hand, a four-cycle engine runs cleanly and poses no danger to the surrounding. With concerns of global warming becoming too hard to ignore, it is highly recommended to limit the use of any equipment that is not environmentally friendly.
A list of The Best Troy Bilt Edgers Review
Greenworks 27032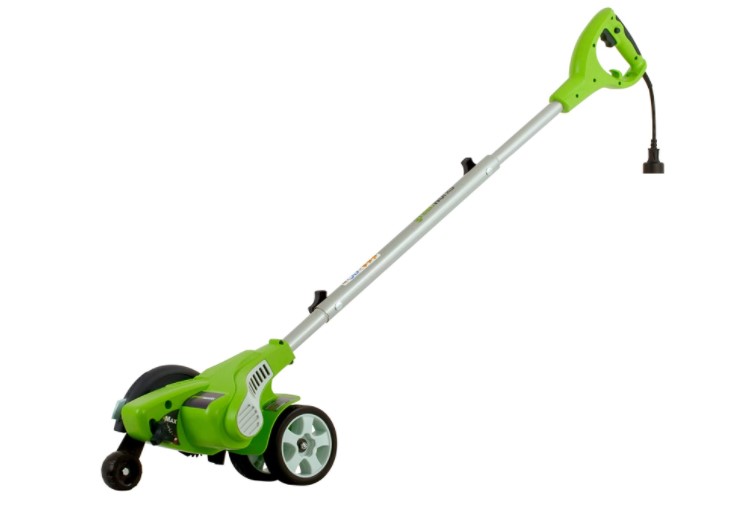 If you are looking for an environmentally friendly lawn edger that will leave your yard looking perfectly landscaped, look no further. The Greenworks is the best alternative to a Troy Bilt Edger.
Greenworks corded Edger runs on electricity to provide maximum speed and power for a clean cut of your lawn edges. Since the Edger uses electricity and not gas, you are guaranteed a smooth and interrupted power supply for your entire edging task.
It produces zero carbon blueprints, and this is something clear from the manufacturer that none of their products will ever emit carbon emissions into the air.
Unlike some manufacturers that usually never give their product warranty, when you buy Greenworks, you are guaranteed a warranty for four good years, double the industry standard.
When you want to buy an edger, you look for a quality tool to get the job done within the stipulated time and efficiently. Greenwork edger will do that because you are given a four-year warranty.
The startup of the machine is also instant since it is again electrically powered. The depth of the blade is easily adjustable thanks to the spring in the front wheel.
If you previously faced your Edger's challenge of constantly getting unplugged, worry not as the built-in lock cord has solved this problem. Also, an additional handle enhances control over the machine during use. 
Features and Specifications
7.5inch double-edged blade

Powerful performance from the 12amp electric motor

Spring-assisted front wheel for depth adjustments. 

Built-in cord lock

Additional handle 

Instant startup 
Pros
Environmentally friendly as it uses electricity instead of gas and oil, which emit carbon. 

Ergonomically designed handle that offers user comfort

A very simple and clear user manual 

A long warranty period of 4years 
Cons
It is quite tasking and time consuming to assemble all the parts.
Troy-Bilt TB516 EC 29cc 4-Cycle
This amazing product from Troy Bilt uses a four-cycle engine hence never requiring the user to mix oil and gas for it to run. Its cutting blade is made of steel and is dual-tipped measuring 9inches in length.
With a cutting depth of 2.5 inches, the Edger can also be adjusted into six height positions to achieve your edge size preference. The jump-start technology used on its engine gives it a stress-free startup whenever one wants to use it. 
This Edger's movements are facilitated by three wheels and an ergonomically designed handle to enhance direction control. For a reasonable price, this gas-powered Edger is indeed a great choice for any user out there. 
Features and Specifications
9-inch dual-tip blade

29 cc 4cycle engine

Three wheels

Lightweight design 

Folding handle

Jump-start technology 

Cutting up to 2.5 inches 
Pros
Easy startup facilitated by the jump-start technology of the engine

Flexible height adjustments 

Ergonomically designed handles enhance comfort

Affordable prices 
Cons
It does not accommodate much resistance hence not suitable for thick edges

Frequent clogging when used on wet ground

The plastic parts are prone to breakage when mishandled

Works better when pulled backward than forward; hence more energy is used to operate the equipment
Southland SWLE0799 79cc Walk Behind Gas Lawn Edger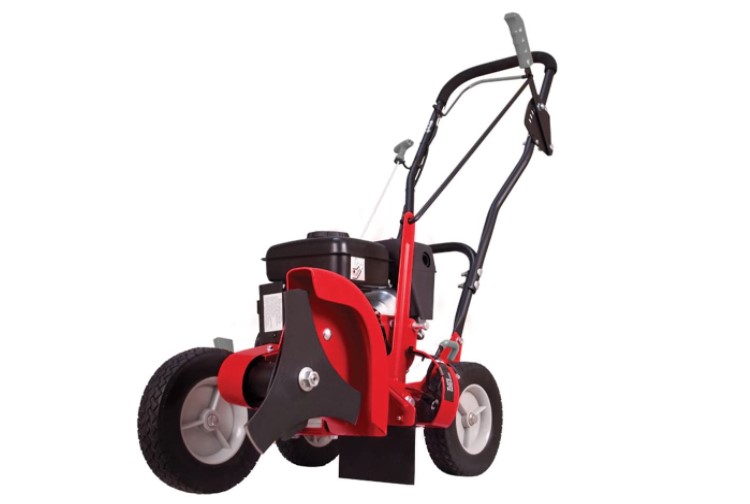 Southland edger offers a professional landscaping look which is facilitated by its massive 79cc OHV engine. It is simple and quick to start the Edger just by following the steps in the manual.
When analyzing its body, it is fair to point out its metal frame, and the blade guard is responsible for protecting it from any yard terrain. Southland Lawn Edger is impressive in tackling tricky edges quietly while still reaching rough curb edges to give a clean cut. 
Features and specifications
It runs on a 79 CCTV Engine

Has a triangular 3-point blade

Five depth positions 

Easy start with the manual recoil

2 inches cutting depth 

9 inches depth 
Pros
Very easy to assemble 

Convenient for trimming around curbs

Offers user comfort by allowing adjustments in 5 different depths positions

The powerful engine performs work effectively and efficiently
Cons
Can be hard to start when left inactive for long periods.

Some of these edgers tend to have oil leaks.
Worx WG 896 Electric Lawn Edger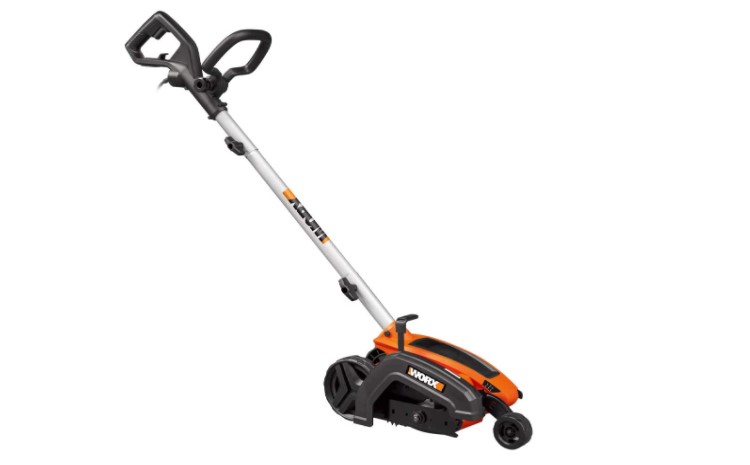 This is an electric edger suitable for use in small-sized yards. Using a 12 Amp motor, the Edger can maneuver through thick areas and achieve the desired edging needs. The 7.5 inches blade is also adjustable in three cutting positions.
Worx wg869 edger is designed with three depth adjustments that are meant to cut down at 1 inch. 1-1/4 inch, 1-1/2 inch but of course, depending on your task. You will get to realize the difference and stay on the straight and narrow with the cutting line guide when you are done cutting with the cutting line indicator's help.
People who may be having different heights are catered for when it comes to the height of this too.  Even with the user with any height, they can adjust the length and the most comfortable positions best for them with the adjustable shaft. Additionally, when it comes to the installation process, it is a do-it-yourself.
It's facilitated by the Worx tool engineered with cutting-edge technology and, above all, modern and most effective levels to enable you to build a cost-effective tool meant to last while serving better, more than before.
An impressive feature seen on this Edger is the indicator that lets the user know how far the blade reaches when cutting the edges to achieve the desired depths. Being lightweight, the Edger's stability is enhanced by three wheels that maintain its balance. 
Features and Specifications
7.5 inches of adjustable blade.

12 amp motor 

A cutting line indicator for optimum precision 

Adjustable shaft for height variations 

Long handle 

Three-year warranty
Pros
Electric powered hence environmentally friendly. 

The cutting line indicator offers maximum precision hence giving a uniform and neat look on the edges. 

The powerful motor gives good performance even in the toughest and thickest lawns. 

An adjustable shaft that provides maximum comfort as the tool can be adjusted to the user's height. 
Cons
Not suitable for large yards 

Clogs when used to trim long grass.

Doesn't support a heavy extension cord well.
WORX WG163 GT 3.0 Cordless String Trimmer & Edger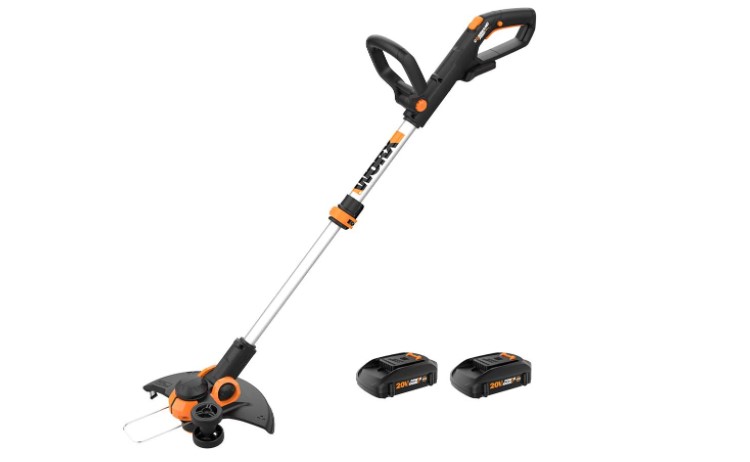 From its name, it's plain to see that this equation comes with a trimmer and Edger hence cutting down the cost of purchasing each of the items separately. Its spectacular push-button command enables the user to feed lines instantly for desired edging results.
This wonderful machine's flexibility is seen in its ability to function as a wheeled edger and a string trimmer at the same time. 
Powered by two rechargeable 20V power share lithium batteries the Edger gives your yard a professional look due to the clean cuts it makes when edging. Should you want to trim or edge along sloppy grounds or inaccessible areas, the Edger's head can tilt 90 degrees to accommodate these needs.
Features and Specifications
12 inches cutting diameter 

7600 rpm speed

20 Voltage battery power 

0.065 inches of line diameter 

Three-year product warranty 
Pros
Very light in weight hence easy to access hard to reach areas that might be needing trimming and edging 

Adjustable height and length to suit the user's preference. 

Cordless hence minimizing the risk of the accidental power disconnect. 

Fast response to command thanks to the command button

Easy to maintain 

Safe to use
Cons
Batteries tend to discharge too fast when in use. 

Tends to clog when exposed to heavily weeded yards

Not suitable to be used on large lawns
Black+Decker LE760Ff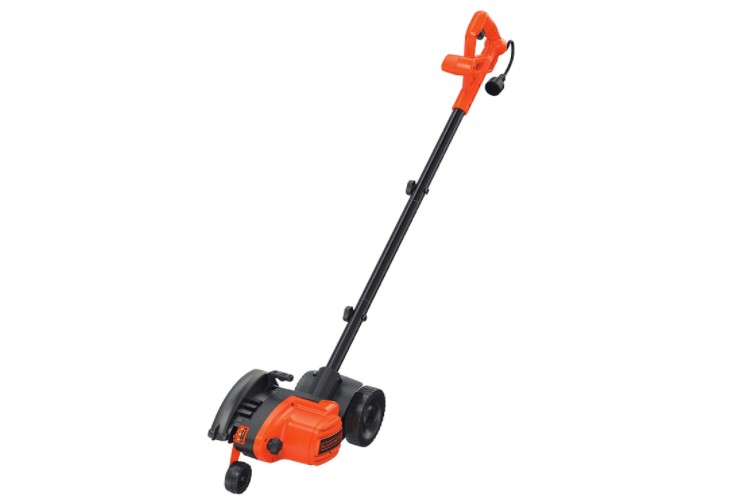 This remarkable tool allows the user to convert it from a landscape trencher to an edger. It involves a quick and hassle-free tool assembly and also comes with an additional black+decker be-007 edge hog blade that is heavy-duty used for replacement.
With this Edger, you got the freedom to adjust it in three different positions. The flexibility of the handles enables the user to have complete control of the edging. 
The manufacturer has given this tool another feature that involves build-in cord retention that ensures the extension cord is secure. It also has a seven half-inch hardened steel blade.
The Edger's ability to tackle tough overgrowths is obtained from the 12 Amp high torque motor. Thanks to its heavy-duty blade, this machine's durability is unmatched. 
Features and Specifications
7.5 inches cutting blade length 

4700 rpm blade speed 

13 lbs. in weight 

110-120 Volts power use 

Three-position depth adjustments. 

2years product warranty
Pros
Control of depth and trimming angle is made possible by the adjustable handle and blade. 

Light in weight hence easy to use with minimal physical strain 

Does both edging and trench digging functions 
Cons
Short battery life

The blades tend to get blunt after a few times of use.
FAQs
Question: Which is the best gas lawn edger?
Answer: This got to be the Southlands 79cc Walk-behind edger. Its versatile design makes it capable of taking on many tasks while still delivering excellent edging results. 
Question: Which is the best choice between gas edger and electric Edger?
Answer: The gas-powered edgers tend to give a cleaner cut, easy to start, and run more smoothly than electric powered edgers. However, they tend to be heavier. Despite that, they are more powerful than electric ones hence are the best for your edging needs.
Question: Should I buy an Edger or a trimmer?
Answer: Lawn Edgers are made to cut edges and create boundary lines, while trimmers are meant to maintain those boundary lines. It is worth noting that they make a great team and help you make your lawn look sharp while avoiding these shaggy and untrimmed edged.
Question: How often should you edge your lawn?
Answer: It would not be necessary to keep edging your lawn every other time you are mowing, but you will have to keep assessing the integrity and state of your lawn after you mow. However, with the increase in regular fertilization growth, let it not surprise you find it necessary to edge your lawn after every second or third round of mowing.
Question: Can you edge wet grass?
Answer: Yes, but you should make sure you run the edger shallow rather than deeply sinking the blades. This way, you will realize it is the only way to edge wet grass.
Question: How deep should I edge my lawn?
Answer: It is recommendable to cut about two inches deep but be mindful of the pipes and the cable that might be there.

You may find the arbitrary depth, But it is one of the most powerful Edger's reach and considered enough for controlling root spread if it is a rough estimate. Hence, you have the freedom to choose the depth that would be easier to maintain throughout.
Question: What is the best cordless lawn edger?
Answer: The top 3 best cordless edgers are BLACK+DECKER LST400 Trimmer and Edger, Greenworks String Trimmer/Edger 21342, and WORX WG163.
Recommendation
We recommended the GreenWorks Edger. We recommend this tool because it runs on electricity and provides maximum speed and power for a clean cut of your lawn edges. It produces zero carbon blueprints, and will never emit carbon emissions into the air, it comes with a warranty for four good years, and double the industry standard. 
Conclusion
The major determinants of your choice being the cost of purchase and the size of your lawn, therefore, you can choose between one of the gas-powered or electric edgers reviewed above with your budget.
Also, keep in mind that going for manual edgers will save you some cash and take up much of your time and energy compared to motorized ones. For large lawns, gas-powered edgers will be a perfect pick while for small areas, the electric and manual edgers will still get the job done.
For proper maintenance of your lawn edger, it is highly recommended to regularly sharpen your lawn edgers' blades to maintain perfect conditions the next time you will need to trim or cut your lawn.
Also, ensure to grease movable parts from time to time to avoid rusting, which tend to clog parts and render them immovable. Be careful when using any lawn edger as the sharp blades pose a great danger when mishandled or loosely assembled.
Take your time during the assembling session to ensure all nuts and bolts are tightly fitted. Also, ensure you get spare parts for your lawn edgers from the right dealers to avoid experiencing frequent machine failure which happens when you go for low quality and incompatible parts.