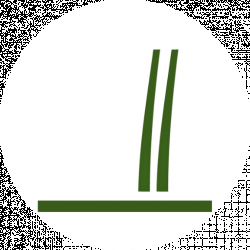 Latest posts by Turf and Till Team
(see all)
Before we can talk about whether you should purchase a 2-cycle or a 4-cycle trimmer, we need to review the differences in how they work and the benefits and drawbacks of each. It used to be that most trimmers operated with a 2-cycle motor, but with the release of 4-cycle trimmers, many people wondered if they were better.
In terms of performance, you already have a leg up on electric models, no matter which you choose, however, there are still some pretty big differences between the way these two technologies work.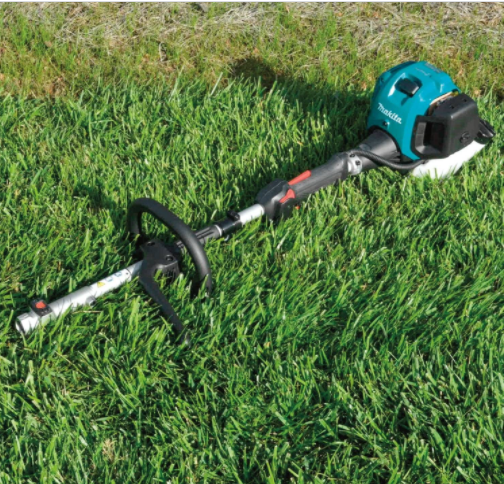 The Basics
You may hear these trimmers referred to as 2-stroke or 4-stroke, but that's just another way of saying the same thing, because that's how many strokes, or stages, the engine goes through to complete one cycle.
2-cycle engines take a premixed gas/oil mixture that ranges anywhere from a 20:1 to a 50:1 ratio depending on the type of motor. The mixture supplies lubrication and fuel to the motor during operation.
A 4-cycle engine is more like what you might see in a car. The oil distribution system is separate from the fuel delivery. So, while you don't have to premix your oil and gas, you do have to change the oil after every 25 hours of use or so.
You can use the same gas you buy for your vehicle, which makes it convenient, and it's easy to keep filled and to operate. People generally regard this type of motor as preferable, simply because they don't want to deal with the mixture.
How They Work
There's a distinct difference between how these two engines work. While a 2-cycle engine has only 2 cycles, a 4-cycle engine has – you guessed it – 4 cycles. You're getting pretty good at this.
2-cycle trimmers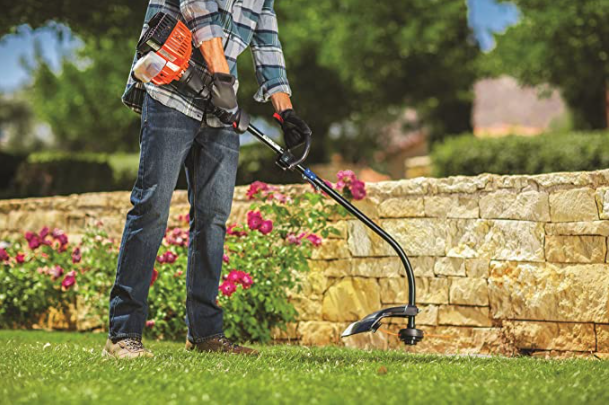 In a two-cycle trimmer, the upstroke is the intake and compression stage. As the piston draws up, new fuel is drawn into the crankcase and old fuel is compressed and ignited. As the piston reaches the top of the stroke, both combustion and power happen at the same time.
During the second stroke, the piston moves back down as new fuel enters the cylinder and the burned fuel is pushed out. When the piston reaches the bottom of its stroke, intake and exhaust happens at the same time.
It only takes one revolution for the piston to move two strokes and complete its full cycle.
Parts
A 2-cycle engine doesn't have very many moving parts. It has a crankshaft, a connecting rod, and a piston. While there's more work that goes into mixing the oil and gas upfront, it requires a lot less maintenance on the backend.
There aren't any valves, lifters, or cams, so there's less potential for failure. It also has a smaller engine size (often called displacement), which can often give you the same power for less money and less hassle.
Pros:
Does not have to be stored upright
Fewer moving parts means lighter weight and easier maintenance
Less vibration
Easy to start
Cheaper
Cons:
Must use gas/oil mixture
Burns oil for more emissions
Less fuel-efficient
Less torque
Can be very loud
Applications
If you want something you know will be dependable and require very little maintenance, a 2-cycle trimmer is a great option. They're generally reliable options in a residential situation because you don't ever encounter very tall or thick weeds that you need to power through.
They're lightweight and they don't vibrate a lot, so using one isn't completely exhausting. They're great for those with limited upper arm strength. If you frequently use a trimmer after you've already done other yard work, and you're tired, it can be a little less exhausting.
While you do have to use a gas/oil mixture, you don't have to mix it yourself. You can buy it premixed at the store. And you don't have to store it level because of the way it holds its gas and oil.
4-cycle trimmers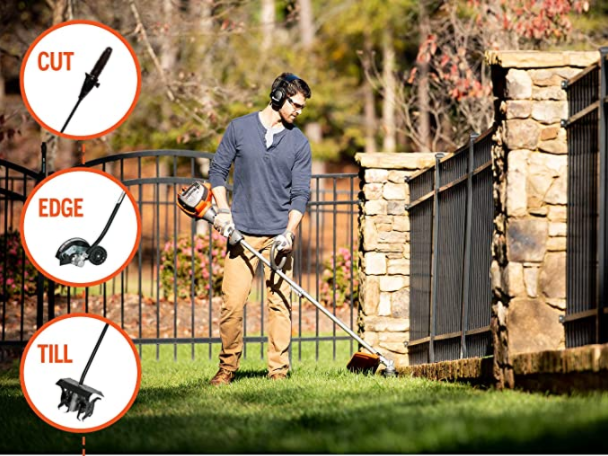 As you know now, the 2-cycle engine completed two tasks during each stroke. The 2-cycle engine only completes one, which is why it takes four strokes to complete its cycle.
During the first stroke, the intake valves open as the piston moves down, creating a vacuum that draws the fuel into the cylinder. The second stroke sends the piston upward, compressing the fuel and creating pressure as the valves close.
On the third stroke, the fuel is ignited as the piston moves back down in what's called the power stroke. The valves are still closed at this point and pressure continues to build. On the fourth stroke, the valves open and the piston moves up, pushing the burned fuel out in what's called the exhaust stroke.
It takes the crankshaft two revolutions to complete all four strokes, but the power stroke is what propels the piston through each of the remaining three stages.
Parts
Because a 4-cycle engine has a camshaft, crankshaft, valves, lifters, a connecting rod, and a piston, it has a lot of moving parts. And that's just the engine. That doesn't count the lubrication delivery.
Larger engine displacement and more moving parts could mean more maintenance. It certainly means a much heavier machine, which doesn't always equal convenience when we're talking about portable lawn equipment.
4-cycle trimmers are also more expensive than 2-cycle trimmers because a lot more work goes into making them, but they can generate a lot of power and, if taken care of properly, will last for a long time.
Pros:
Higher fuel economy
Fewer emissions
Greater potential torque
Quieter operation
No gas/oil mixture
Cons:
More maintenance
Must be stored upright
Higher vibration
Can be hard to start
More expensive
Applications
Because they burn cleaner and produce less noise, there are actually some states that require the use of 4-cycle trimmers rather than 2-cycle varieties. You'll have to check your local laws to make sure you don't fall into this category.
Because these are quieter than their 2-cycle counterparts, they're also great options for people who simply want a quieter machine. Whether it's because you don't want to annoy the neighbors or you don't want to listen to the racket yourself, this is a better option.
However, high torque situations like thick underbrush or tall weeds could also necessitate the use of a 4-cycle trimmer that has just a bit more force.
There are some people who simply don't want to mess with the gas/oil mixture. They'd rather put gas in the tank and go. If that's the case, then this is the obvious option.
Buying Options
If you're looking for a new trimmer, there are some great options you may want to try. Here are some great 2-cycle and 4-cycle trimmers that are reliable and come at a variety of price points to match your needs.
Best 2-cycle trimmers
While you may not get as much power out of a 2-cycle trimmer, you'd be surprised by some of the options here.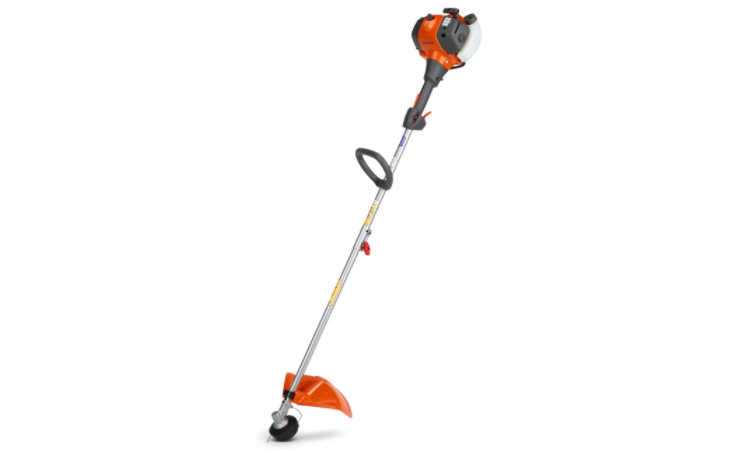 Husqvarna makes some of the best trimmers on the market. The first thing you might notice about this one is the clear fuel tank that allows you to keep tabs on how much fuel you have available to complete the job.
This makes it easy to get started, knowing exactly when you're going to need to refuel. You won't be caught off guard by the machine powering down when you run out, because you'll always know.
Despite being a 2-cycle engine that requires combining gas and oil, it's quite powerful. It's easy to start without any delay and will get right to work with one of the most powerful motors of any other 2-cycle engine you'll find.
You may also enjoy the air purge feature that empties excess air from the fuel system, which reduces breakdowns, sputters, and backfires caused by air in the carburetor.
It also comes with attachments that make it more than just a trimmer. You can keep your lawn neater with an edger and a cultivator. You can also use the pole saw to lengthen the entire tool for hard-to-reach areas.
This trimmer weighs 11 pounds and is 12.2 x 10.25 x 40 inches, so it's lightweight and easy to manage for gardeners, homeowners, and anyone who wants an easy time maintaining their lawn.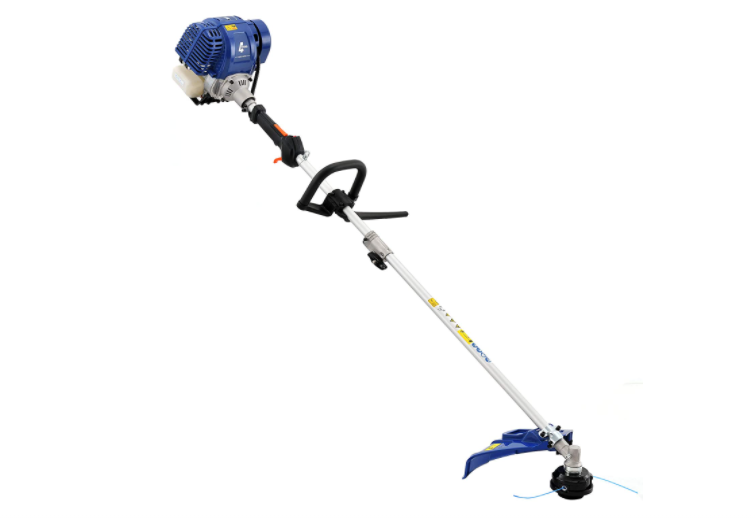 The most striking thing about the Bluemax trimmer is its design. The blue and yellow details are a bit more attractive than other manufacturers. It also has good functionality that's useful for small to medium yards.
It's a trimmer with a cutter head attachment that allows you to do more with just one tool. However, it can't handle very thick weeds or large pieces of land. It's not designed for heavy-duty use, but it works well for edging or light gardening.
The recoil starting system will spin up right away, even when it's colder outside, so you won't have to worry about wasted time. The anti-vibration system also means you're more comfortable while you work.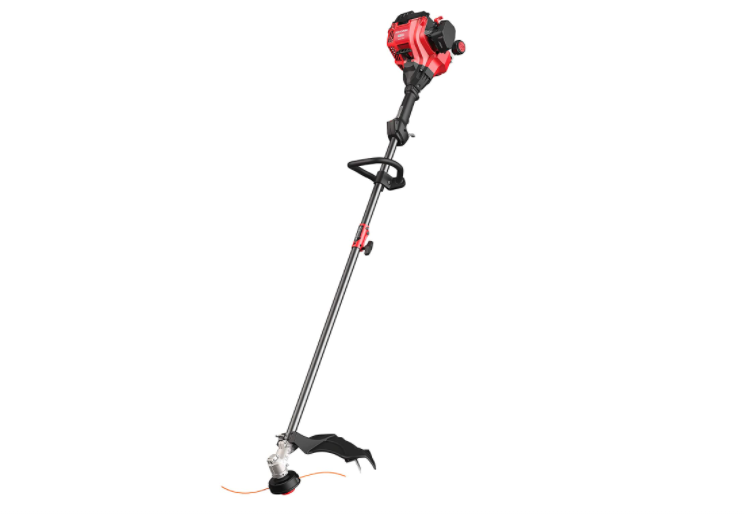 Craftsman has always been a big name in tools and lawn equipment, so it's no surprise that they would make the list of the best trimmers. This is probably the best option for tall people, thanks to its multi-position handle that reduces your need to bend while you work.
You won't have to strain your back with a handle that's 11 inches long. It can also cut at a width of 17 inches, so you can finish your lawn in a jiffy, even if you didn't quite pay attention while you were mowing.
The width of the width and the length of the handle combined with the curve of the shaft make for accurate cuts and clipped corners. You're less likely to miss anything with a comfortable grasp.
It only weighs 13 pounds, so it's a little heavier than the Husqvarna, but it's quite a bit more powerful, with a heavy-duty 25cc engine. You'll be able to perform almost any cutting task you need without a problem.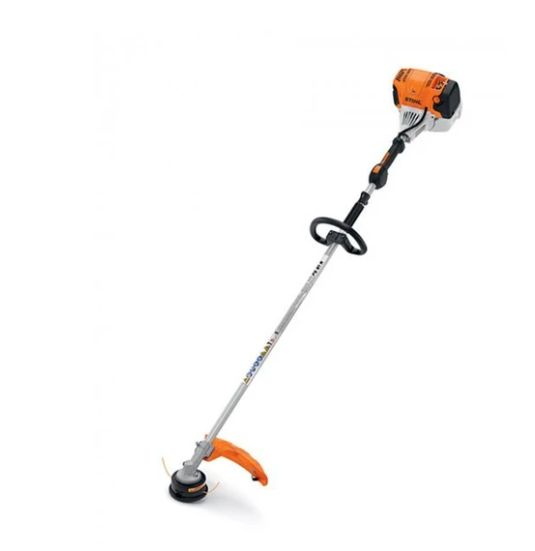 The Stihl is remarkable in both its trimming power and its vibration dampening. However, you'll pay for the convenience in the weight of the product. It was developed for professionals, so it's made for people with more upper arm strength and for heavy-duty jobs.
If you're a homeowner with a large property, this is the best 2-cycle option.
It uses a recoil start with a rotary-dial choke and could take a couple of pulls, but it's well-balanced, comfortable, and relentless.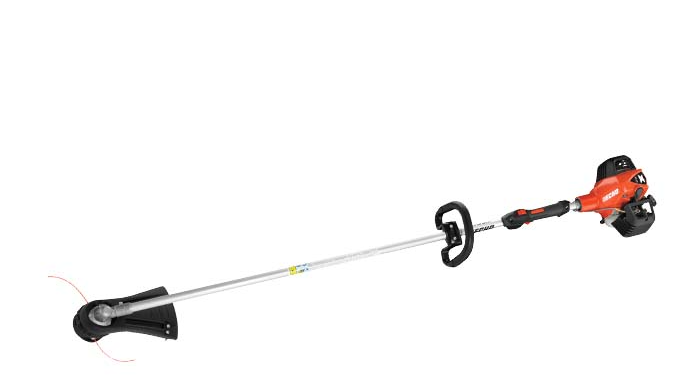 The Echo is very similar in performance to the Stihl, but where it stands out is in its features. It has a transparent gas tank and a semi-wrap skid plate that holds the gas tank upright when you lay the trimmer down.
The 2:1 gear reduction gives you even more torque, but you're also paying quite a bit more for these features, so it's only beneficial if you really need it.
Best 4-cycle trimmers
If you're looking for better emissions, more power, and a quieter machine, you might pay a little more, but there are definitely some great options.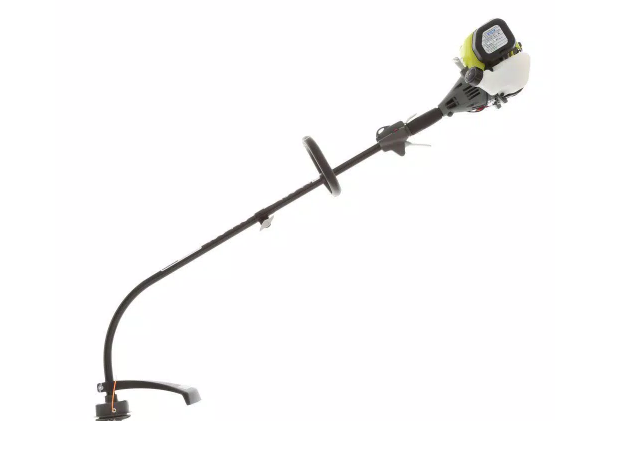 Ryobi recently redesigned all of their tools, and the first thing you'll notice is the striking green color. It has a 30cc motor, which is one of the biggest you'll find in any trimmer, even those with 4-cycle engines.
It also has an 18-inch cutting width. This kind of power combined with the girth gives you the speed you need to get your trimming done quickly so you can spend more time enjoying your lawn.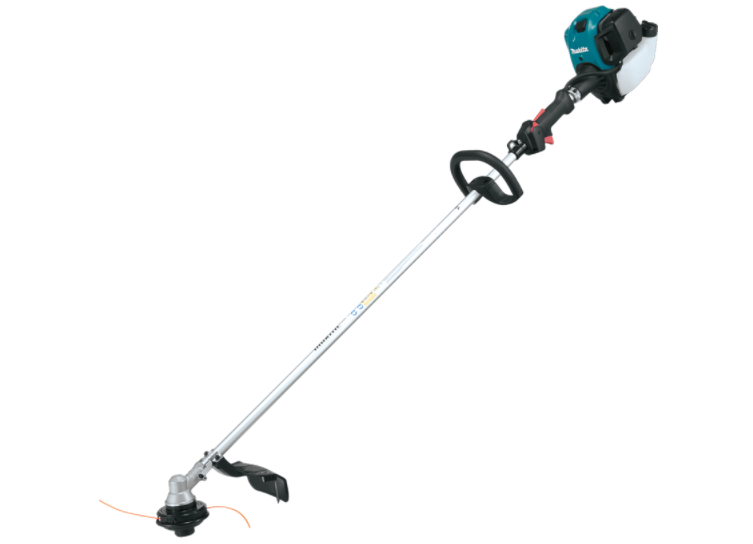 This is a particularly heavy trimmer, but it's also very powerful. It contains an anti-vibration handle to make it easier for you to hold. Given its weight, this is a thoughtful addition to the tool.
Automatic decompression of the engine makes this trimmer easy to start and the multiple position lubrication system means you get non-stop operation for continuous work until the job is done.
The 25cc engine and the 17-inch cutting width make all of your jobs efficient, but at 20 pounds, it can be difficult for some people to handle.
Cub Cadet 30cc Spit-Boom Curved Shaft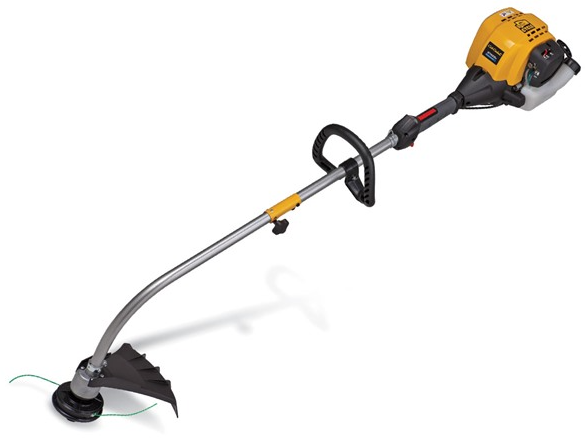 This is a versatile tool that has a 30cc engine for a huge amount of power. It also has a 17-inch cutting width so you can get your trimming done fast. A brush cutter blade gives you even more versatility.
Both blades are commercial grade, so you're getting fantastic quality tools with this purchase. Plus, the curved shaft makes it more comfortable and easier to maneuver.
This trimmer packs a lot of punch in a tiny package. It measures just 68.8 x 9 x 11 inches and weighs only 13 pounds, but it has a 28cc gas engine for consistent and reliable performance. The spring-assisted start means you just have to pull the cord once.
It's easy to operate and efficient, plus with a wide array of compatible attachments, it's also a versatile and handy tool to have around. You may not have heard of the name, but at the cost, it's worth giving it a shot for some awesome performance.
Battery-operated trimmers
Now, I know this article isn't about battery-operated trimmers, but I had to throw this in here, because there are a ton (and I mean a ton) of advantages to using battery-operated trimmers. They're affordable, lightweight, and produce zero emissions.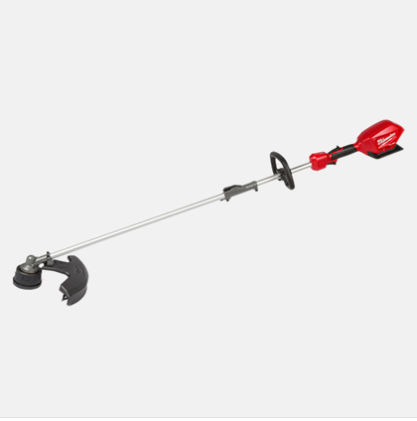 I've always been a huge fan of Milwaukee tools, and this is definitely my top pick for a battery-operated trimmer. It's easy to use and boasts some powerful speeds. Just slide the battery in and pull the trigger.
It will power through some thickets, whether you own property or you're using it for some light commercial use. You can use it for heavier applications than you might think, and it is really surprising what it can handle.
No, it won't keep up with a gas engine, but it's pretty much the next best thing.
FAQ
If you're in the market for a new trimmer, gas trimmers offer some of the most consistent and reliable performance you can get. However, there are a lot of different options, so these frequently asked questions may help.
Question: What's better, 2-cycle or 4-cycle trimmer?
Answer: Because there are so many differences, it really depends on what you need. A 2-cycle engine has fewer moving parts, so it's less likely to need maintenance. These tools cost a bit less and they also weigh less, so they're easier to use.

However, a 4-cycle engine is more powerful, so it can tackle thicker weeds or larger properties. It also produces less emissions and gets a better fuel economy.
Question: What happens if you put 2-cycle gas in a 4-cycle engine?
Answer: Because a 4-cycle engine is made to take the same gasoline you put in your car, it can damage the engine to put oil in the tank with the fuel. However, even though it's not that great for it, it is doable, and if you accidentally do it, you may be able to run one tank of the mixture through just fine.

If your engine doesn't gum up, be sure to run a tank of regular gasoline through it afterwards to clean it out and make sure it continues to run optimally. Always be sure you put the correct gasoline in it in the future.
Question: Can I mix 4-cycle oil with gas?
Answer: If you have a 2-cycle trimmer that takes a gas/oil mixture, you may find yourself tempted to mix 4-cycle oil in with the gasoline, just to do some quick trimming. However, 4-cycle oil is manufactured differently than 2-cycle oil.

Putting 4-cycle oil through your 2-cycle engine will damage the engine and you absolutely should not do it.
Question: What happens if my 2-stroke mix is wrong?
Answer: There are two different scenarios here. If you get too much oil in your mixture, it will produce smokey exhaust, oil leaks, or loss of power. These things aren't necessarily ideal, but they can be fixed by replacing your incorrect mixture with the correct mixture.

If you get too much gasoline in your mixture, it will damage the engine and it could be beyond repair. It's very important to make sure your mixture is correct every time.
Question: Is 4-stroke oil the same as 4-cycle oil?
Answer: As we talked about before, 4-stroke is just another name for 4-cycle, so these oils are the same. The same goes for 2-stroke oil and 2-cycle oil. You can use them interchangeably. Just make sure you're using 4-cycle oil in your 4-cycle engine and 2-cycle oil in your 2-cycle engine.
Start Your Engines!
Now that you understand the differences between 2-cycle and 4-cycle trimmers, you should be better prepared to make a purchase. Neither is better, but they each have their place. Your needs will dictate which you should get.
A 2-cycle trimmer is better if you have a small yard or need something that's a bit lighter weight. A 4-cycle trimmer is the best option to reduce emissions or for larger properties. Either way, they can both offer enough power to tackle the jobs you need, as long as you make the right choice.
Getting the right trimmer for you will ensure that you spend less time working on your yard and more time enjoying it.