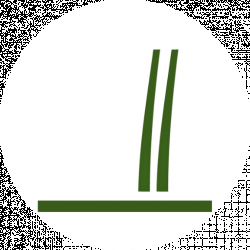 Latest posts by Turf and Till Team
(see all)
Hydroseeding vs Sod, which is better? We will be subjecting you to various downsides and upsides of each method to assist you in making an informed choice.
As a homeowner, you should weigh options as you factor in specific priorities such as aesthetic value, time, and budget. Above all, any method you settle on can influence your lawn's health, appearance, and maintenance requirements. 
The purpose of improving your lawn is that grass refreshes the environment by releasing oxygen in the air and trapping carbon dioxide.
A lawn also improves the soil structure by opening more pores for the water to soak into it. Another advantage of constructing a lawn is that it reduces noise pollution by acting as a blanket to absorb sounds from animals, cars, trucks, or people. 
Perhaps you recently bought a new house and still stuck in a dilemma about which method works for you, right? Here, in this piece, we will be uncovering fine details about the two methods before deciding on what is favorable to you.
In the end, you have to beautify your yard based on how you will be assessing our two approaches. Let's get started. 
Main Differences Between Hydroseeding vs Sod 
The main differences between Hydroseeding vs Sod are:
Hydroseeding involves a liquid mixture with seeds, fertilizer, mulch, and water, whereas Sodding is a solid soil mass consisting of fully grown grass.
Hydroseeding requires retrofitted truck machinery, whereas when implementing a sodding method, you require a skid steer as a machinery piece.
Hydroseeding requires one to wait for at least five weeks for the lawn to be ready for use, whereas sodding supports an instant fully-grown lawn where users can start it immediately.
Hydroseeding needs detailed maintenance from the time of planting the seeds, whereas sodding requires minimal maintenance.
Hydroseeding requires you to hire a contractor during the seeding planting stage, whereas one can implement sodding as a DIY task.
Hydroseeding allows one to blend different seed species to construct a unique lawn, whereas sodding does not offer room for crossbreeding with various grass types.
Sod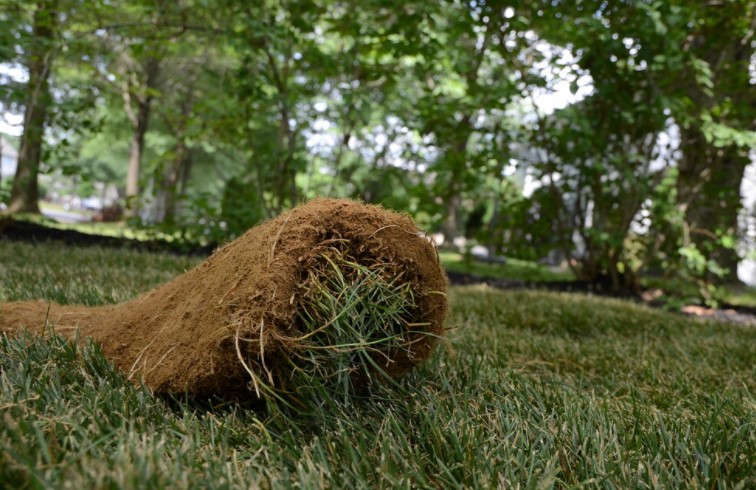 Sod is pre-grown grass having top spoil and roots with other components to promote a beautiful lawn. Sod comes in a pallet with rolled-up sections for the user to lay on bare soil.
Before laying the sod, you must prepare the garden to be free from other grass or weeds before installing it. One unique thing about sod is you can only install it when the grass germinates fully. After installation, it will only take weeks for the roots to get established in the new place. 
You can install sod well during colder months of the year, like spring or fall. Such conditions prevent your sod from freezing or drying out before the roots get established under the freshly laid sod.
What makes this method stand out is it is instantaneous. Overall, this method is ideal for both small and medium-sized lawn owners. 
Features of Sod 
Soil Consistency 
Before you buy ideal sod for your yard or lawn, it is essential to check the amount of that sod that is soil. By standard, a good sod should have more than one inch of the attached soil.
If sod has excess soil, sod roots will struggle to penetrate and access the yard's topsoil. In the same vein, if sod lacks enough soil, the grass will lack proper support, and underneath roots will not establish themselves. 
Soil consistency is a critical issue for sod taking, growing, and surviving, especially if you lay it down in extreme heat. Ensure there is enough soil to allow the sod to take root because it is the only element keeping it alive.
One should avoid sod that crumbles or cracks because important nutrients that keep the sod healthy may break away too. Also, avoid packed soil because roots can struggle to access nutrients. 
Fertilization
Fertilization is vital to your sod to make it resistant to extended dry periods and drought. Furthermore, proper fertilization keeps the grass looking greener and makes the sod resists the uprooting stress during transplanting.
On the other hand, under-fertilization or over-fertilization may lead to serious challenges such as wilting and brown patch disease. For a healthy sod, ensure consistent fertilization to keep it firmly in a single place. 
Grass Maturity
One can determine the maturity of grass by measuring the grass's length. Sod grass should be two inches long, thick, and dense to promote a lush lawn. 
Notably, thin and weak grass leads to poor quality sod. One must observe different elements to establish if the roots are mature or not. Firstly, check the condition of the roots to see if they look tangled. If the roots are together, they can withstand different activities such as being cut, rolled up, laid down, or delivered. 
Another aspect worth mentioning is that the color should remain consistent. For instance, the grass should retain the same green shade evenly. In case you observe different colors, then it is an indicator of unhealthy, diseased, or immature grass. 
Harvesting Time
One should take eight hours from the time of sod cutting to sod planting on the farm. If you extend beyond eight hours, then the sod becomes weak after losing moisture. You can tell if the sod exceeded its harvesting time if the shade is inconsistent.
The right sod should have moist roots to prevent withering and dying. Moisture plays a critical role in ensuring the roots get nutrients from the yard soil. When one cuts sod, it begins to lose moisture, weaken and become vulnerable to diseases.
Installation
Test your soil to determine the quality of the existing soil. Some of the issues to look into are the PH, where you can alter with lime if it is not sufficient. The PH will influence many things in your lawn, such as soil structure, nutrients, bacteria, and nutrients leaching. 
Mowing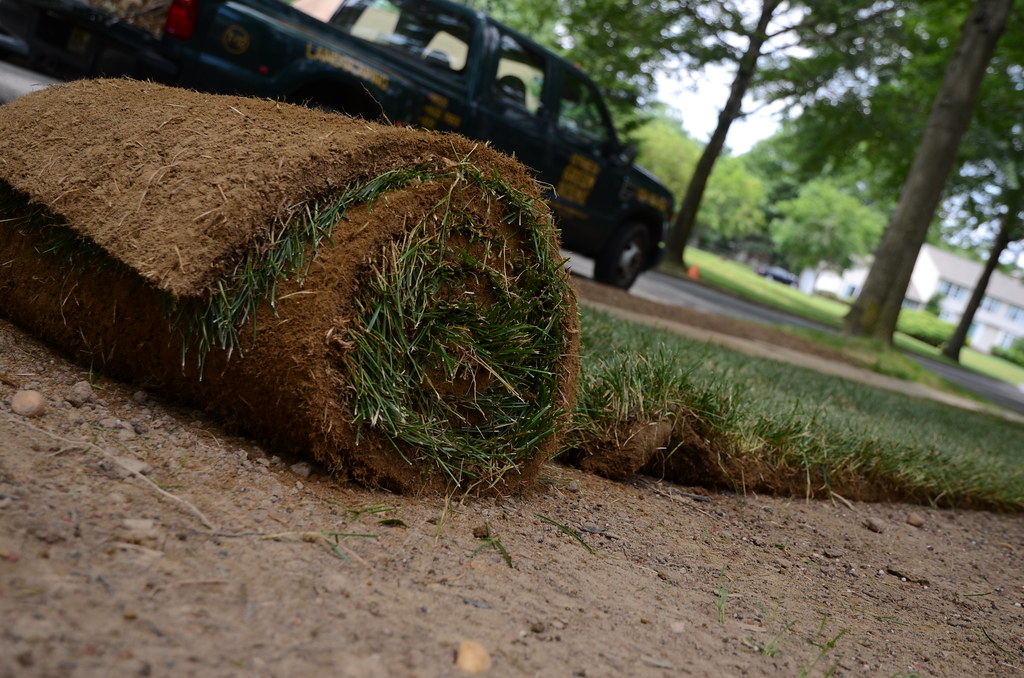 When the grass reaches at least three inches, it is time to mow it down to two inches. Since your lawn is still fragile, you can opt to use a walk-behind mower for the first trim as you bag all your clippings. You can encourage a deep root system by cutting one-third of grass length while mowing.  
Pros
Sod requires a minimal amount of watering than other options on our list

Becomes functional instantly to tolerate moderate to heavy foot traffic 

Sod produces a beautiful, vibrant, and green lawn immediately.

Requires minimal preparation before installing the sod
Cons
It is the most expensive alternative, especially on installation per square

Some sections may have weak roots leading to re-installation

Sod is labor-intensive as it requires better skill during installation
Hydroseeding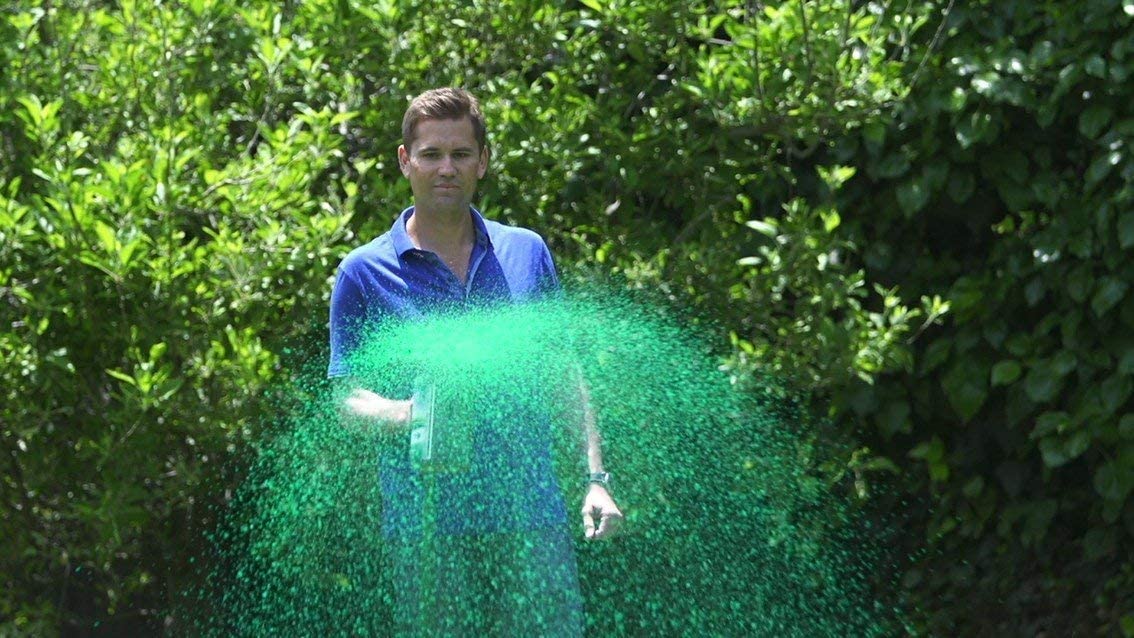 Hydroseeding is that mixture that one sprays in a lawn. This mixture contains water, fertilizer, and grass seed which you apply on bare soil.
Usually, the most commonly used seed types are bluegrass and rye. After completing the hydroseeding process, germination will begin to take place within seven to ten days. The first grass to germinate is ryegrass because it germinates at a higher rate than bluegrass. 
Bluegrass is preferable because it produces a dark green product that is super soft on your feet. Interestingly, bluegrass takes three to four weeks to germinate. Hydroseeding is ideal if you are covering a large area because it is not a labor-intensive exercise. Another useful aspect that makes it popular is that it is more affordable than sod. 
You can only succeed if there is a good seed to contact soil, enough fertilizer, and better moisture retention.
Features 
Speed
It is a faster process than sod seeding in every aspect. For instance, spraying the slurry is efficient to a point where the spreading of seeds becomes 50% faster than other conventional techniques. The seed also binds to the soil instantly and offers a stabilizing force for it to take root. 
Furthermore, it has exceptional water retention properties to protect seeds and promote growth. Extra moisture allows the seeds to germinate after three to five days after application. Rapid germination assists in firming the soil and helps in curbing erosion. 
Efficiency
Previously, hay and straw were popular ways of keeping the seed from succumbing to wind pressure and blowing off. Another challenge used to be potential birds that prey on these seeds hence become a threat to successful landscaping. Such messes from windstorm diverted resources and valuable time from a project to clean up exercise, killing efficiency.  
Hydroseeding eliminated such messes because of a high speed that allows the seeds to get attached to the soil. Moreover, it becomes easier to achieve a uniform distribution of seeds. In return, the final product has an orderly look while lowering person-hours. 
Versatility
Unlike sodding, hydroseeding works with any seed that your desire to plant. The seed may range from native plant life, pasture, grass, field mixes, or wildflowers. You can still create unique landscaping by developing custom mixes of grass and other plants. 
Many companies are ever upgrading and promoting more innovations to enhance product improvements. One can also use a hydroseeding method as a soil stabilizer. Additionally, such a process requires no seeds during extreme disasters such as wildfire. 
Preparation
For premium turf establishment, you require proper soil and grading. Next, spray the mixture and keep the lawn wet for several weeks. The best time to install the lawn through this method is during spring, thanks to frequent rain. Keep an eye on the weather because too much precipitation can wash the seeds.
Safety
One should not worry about hazardous effects due to the exceptional convenience and versatility of this method. For example, this used slurry is non-toxic and poses no threat to wildlife, children, and pets. Furthermore, this method does not leave a stain mark on the houses, family car, or driveway. 
Coverage 

Hydroseeding is a great technique for providing a thicker and more uniform lawn. It creates an evenly covered area to form a barrier to retain moisture.
This method allows one to cover extensive and inaccessible areas like slopes. Still, it comes with fatter germination and increases plant survival. One can involve it to create a golf course or a roadside erosion control. 
Labor 
Hydroseeding commands less human resources; hence it is not labor-intensive. Depending on the area to cover, smaller to medium-sized lawns may take less than three men to complete the task in a short period. 
Pros
Consumes less material, time hence cost-effective

Safe and non-toxic way of growing grass 

Hydro-seeding is four times cheaper than sodding 

Due to affordability, it is suitable for large yards

Has a mixture of grasses hence high tolerance to diseases 
Cons
Expect many weeds when you mix the seed with other plants

It is a water-intensive method

Installation by this method id weather dependent
Which is better between Hydroseeding and Sod? 
Many lawn owners get stuck when choosing the right method, given the two choices above. Generally, all you need is to ensure you have a healthy lawn to promote your goals and intentions. Let us examine each to help tilt the balance. 
Sod gardening is a practical way of ensuring you create an instant lawn without waiting for the germination period. It is the fastest way of installing a lawn if you are in a hurry. After that, you can start using it right away as you wait for the root to establish. 
On the other side, hydroseeding is another option that requires the spraying of fertilizers and seeds to promote a dense lawn. This method is effective on different terrains. Unfortunately, you have to wait for long before a lawn forms. 
We recommend sod lawn since it is instant. It helps you to have even coverage if you follow proper installation guidelines.
FAQs
Question: What is the germination period after hydroseeding?
Answer: The grass will begin to sprout within five to seven days, depending on several factors such as seed mixture, hydroseed lawn, watering, and climate. With proper maintenance, the lawn can grow to three inches within a month. 
Question: Can rain wash away hydroseed? 
Answer: Probably not since you will be using pure wood mulch to prevent such instances. That said, it does not rule out torrential rain chances, which can overwhelm seeds and possibly wash away the seeds. 
Question: When should one plant a sod? 
Answer: One can install sod at any time of the year. However, the ideal time to install sod is when temperatures are cooler. Also, take advantage of the spring season to lay sod as it favors warm seasoned grass like Bermuda and zoysia. 
Question: Is it reasonable to lay down sod on existing grass? 
Answer: No. Such actions lead to killing your sod and costing you double work. You should eliminate your old lawn before laying a new one to promote a healthy rooting system. Also, it supports even growth to ensure you encounter a greener and healthy lawn. 
Conclusion
You need to use a proper method of lawning if you want to improve the general appearance of a new residence or commercial building.
Our focus has been on two techniques that are useful in meeting your lawn care needs. After all, having a healthy lawn is all you want, right? 
There is no shortcut to creating a commendable lawn. You must learn the ropes and take proper initiatives to ensure you encounter better results. Since our bias is on sod lawning, it does not close doors for you if you find hydroseeding to be a suitable option for you. Rise to the occasion and elegantly change your landscape.