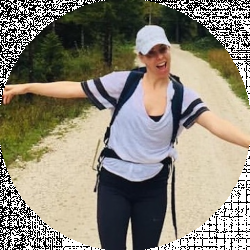 Latest posts by Jodie Chiffey
(see all)
Keeping your lawn tidy goes beyond mowing the grass frequently or collecting the dry leaves and other debris. Our lawn edger VS trimmer comparison will help you to better understand how these tools can be used to improve and maintain your lawn.
Since there are numerous types and models of lawn edgers and trimmers, we selected the Craftsman E405 grass lawn edger and the Makita XRU15Z string trimmer to better exemplify the differences between these devices.
In many ways, these tools complement each other and you may need both of them to keep your lawn in perfect condition.
This lawn edger vs trimmer comparison will take you through the most important features these tools can offer and provide you with the necessary information to better understand the contexts in which they are used.
Main Differences Between Lawn Edger vs Trimmer
The main differences between lawn edger and trimmer are:
Lawn edger is a tool used to create even straight or curved lawn edges, whereas the string trimmer enables you to maintain those lines.
Lawn edger can cut through the turf, whereas string trimmer can cut through thick and tall grass.
Lawn edger is a tool that can be powered manually, whereas powering a string trimmer manually can be impossible.
Lawn edger is a tool that is bulky and heavy, whereas string trimmer is usually easy to carry and lightweight.
Lawn edger allows you to choose from different cutting positions, whereas string trimmers don't offer this option.
Lawn edger is usually affordable, whereas string trimmer can be expensive
Key specifications of Lawn Edger and Trimmer 
| | |
| --- | --- |
| Craftsman E405 | Makita XRU15Z |
| Engine type: 29cc 4-cycle | Engine type: Outer Rotor BL™ |
| Fuel type: Gasoline | Fuel type: 18V rechargeable batteries |
| Max cutting depth: 1.75 inches | Cutting swath: 15 inches |
| Blade type: Double-edge,9 inches | Blade type: 0.80'' twisted quiet line trimmer |
| Weight: 22lbs | Weight: 10.4lbs |
| Dimensions: 24.63 x 15.06 x 14.75 inches | Dimensions: 7.09 x 74.84 x 8.78 inches |
| Latest price: Check the latest price here | Latest price: Check the latest price here |
Core features of Lawn Edger and Trimmer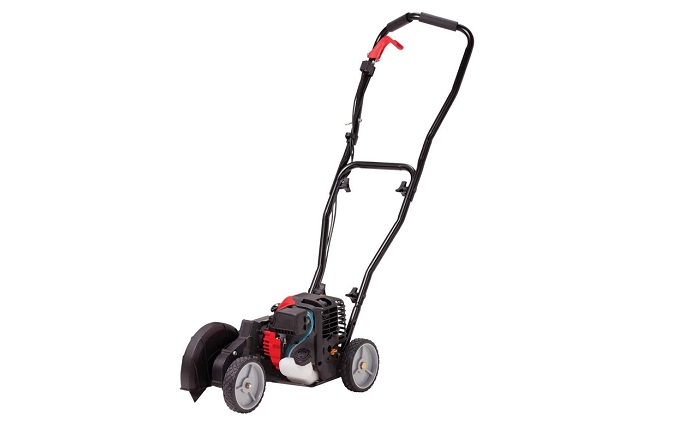 These tools are used for different gardening tasks since the lawn edger enables you to create edges on your lawn along the sidewalk, while the trimmer helps you reach parts of your lawn you cannot access with a lawnmower.
The differences between these two types of tools are blurred by multi-purpose appliances that combine their features and allow users to create lawn edges and trim grass. A tool like Craftsman E405 cannot be used to maintain the lawn edges it creates.
On the other hand, you won't be able to cut through the turf with a Makita XRU15Z string trimmer and you must use them together to contain the spread of grass to a specific area. Here are some of the core features of lawn edgers and trimmers.
Different types of Lawn Edgers and Trimmers
The types of lawn edgers
There are two types of lawn edgers you can choose from. You can either opt for a manual edger that is essentially a semi-circular spade that uses the force you produce by moving it to cut through the turf.
Handling a manual lawn edger and maintaining the straight line requires some previous experience and skill. Electric or gasoline-powered edgers are relatively new on the market, and they are much easier to handle.
They are equipped with a wheel that keeps a vertically rotating blade stable, which ensures a great deal of accuracy while cutting through the turf. Although most of the powered lawn edgers are corded, a handful of models similar to the Craftsman E405 use gasoline as fuel.
The types of string trimmers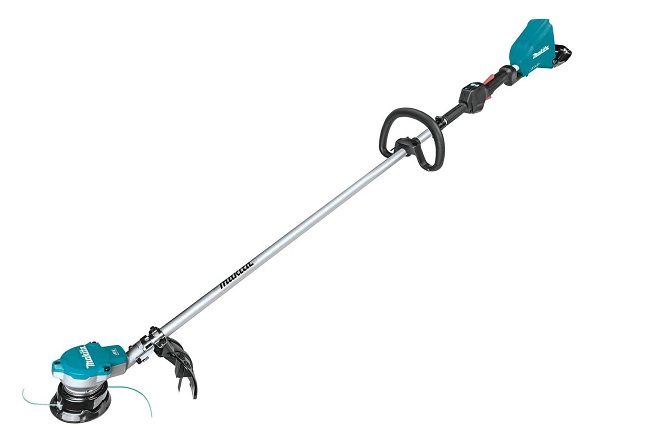 String trimmers are known for their mobility, and all types of these tools are both lightweight and easily portable. This enables you to remove or trim grass near trees, houses, or in the proximity of sidewalks.
String trimmers can either be powered by electricity, batteries, or gasoline and you can choose between curved and straight shaft trimmers. For instance, Makita XRU15Z has a straight shaft which makes it a great choice for large lawns and yards, as it reaches easily under decks and patios.
Engine and maximum runtime
Most powered lawn edgers and trimmers can either have 2 or 4-cycle engines. The main difference between these two engine types is that 2-cycle models require mixing of the oil and gasoline, while 4-cycle engines have separate reservoirs for gasoline and oil.
Makita XRU15Z string trimmer is a battery-powered tool that has an Outer Rotor BL™ motor equipped with a direct-drive system that boosts its power output and torque.
This Makita's model also features the Automatic Torque Drive Technology that automatically adjusts the speed within the 3500 rpm to 6500 rpm. The string trimmer lets you switch between three different speeds and you can operate it at 3500 rpm, 5300 rpm, or 6500 rpm depending on your current needs.
The Craftsman E405 lawn edger has a 29cc 4-cycle engine, which means that you don't have to mix oil and gasoline. The engine produces low noise levels which makes it perfectly suited for use in residential areas.
The unit can operate for more than 30 minutes on a single fuel tank, while the 18V LXT® Lithium-Ion rechargeable batteries the Makita XRU15Z uses provide approximately an hour and a half or runtime.
Check out the main differences between a 2 Cycle vs 4 Cycle Trimmer to find your perfect match.
Blade type
The blade types you can find on a lawn edger are different from those used by string trimmers as they are used for different purposes.
The Craftsman E405 is equipped with a 9-inch dual-tipped steel blade that has a maximum cut depth capacity of 1.75-inches. Besides, this model offers six different cutting positions so that you can decide how deep the edges on your lawn are going to be.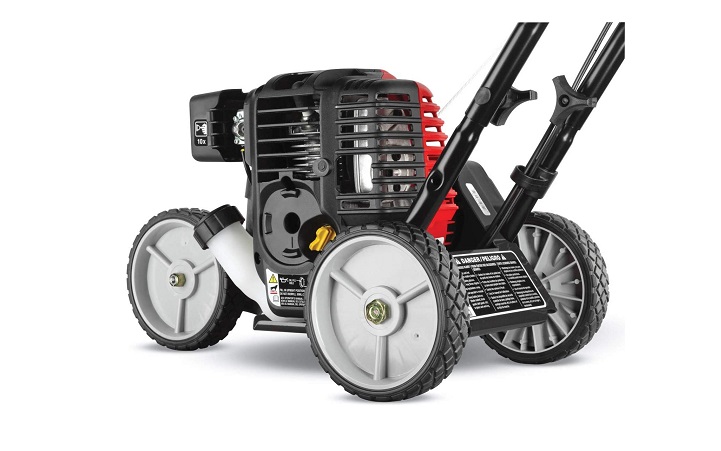 Instead of blades, string trimmers often utilize bump and feed trimmer heads. After you press the trimmer's head against a solid surface a piece of string is released from the spool that is used to cut through the grass or weeds.
The Makita XRU15Z has a bump and feed trimmer head that is loaded with a 0.080'' twisted quiet line. The model also offers the possibility to use a thicker 0.095'' trimmer line.
Cutting swath and trimming capabilities 
The range in which you can trim grass or weeds with a stringer trimmer varies from model to model. Most models offer between 10 and 20-inch cutting swath range so that you can easily trim relatively large areas in a short period of time.
The Makita XRU15Z has a 15'' cutting swath range that makes it a great fit for large spaces that are inaccessible by a lawn mower. Moreover, the 0.080'' trimmer line enables you to cut through grass regardless of how thick or tall it is.
Lawn edgers usually don't offer any trimming capabilities unless the tool combines the features of a string trimmer and a lawn edger.
The size and weight 
String trimmers are designed with portability in mind, as they are often used to trim grass in areas that cannot be approached in any other way.
That's why these tools are so lightweight that they can be carried in one hand. Makita XRU15Z for instance weighs just 10.4lb when the batteries are mounted or 7.6lbs without batteries. With a length of 69 ¼ inches, this string trimmer easily reaches parts of your lawn that are not easily accessible.
A lawn edger is usually heavier and bulkier than a string trimmer although their weight and size don't exceed the size of a lawnmower. The Craftsman E405 weighs a bit less than 30lbs which means that it is easily portable.
Although significantly shorter than the Makita XRU15Z, this Craftsman's lawn edger is bulkier as its dimensions are 24.63 x 15.06 x 14.75 inches.
Maintenance and the warranty period
Grass, turf, and other debris stick to the lawn edger or trimmer, and removing it is vital for their durability. These tools have several features that make their upkeep quick and straightforward.
Cleaning the Craftsman E405's blade is easy as you have unobstructed access to the entire blade. Taking care of the model's engine is equally important, as using fuel stabilizers may help reduce carbon deposits in the engine and increase its lifespan.
A string trimmer like Makita XRU15Z doesn't run on gasoline so there is no need to worry about engine maintenance. This model has a reverse rotation function that enables you to remove grass that got entangled in the trimmer head.
Wiping the trimmer head with a clean towel after usage should remove any remaining debris and get it ready for the next task.
What are Lawn Edger and Trimmer used for?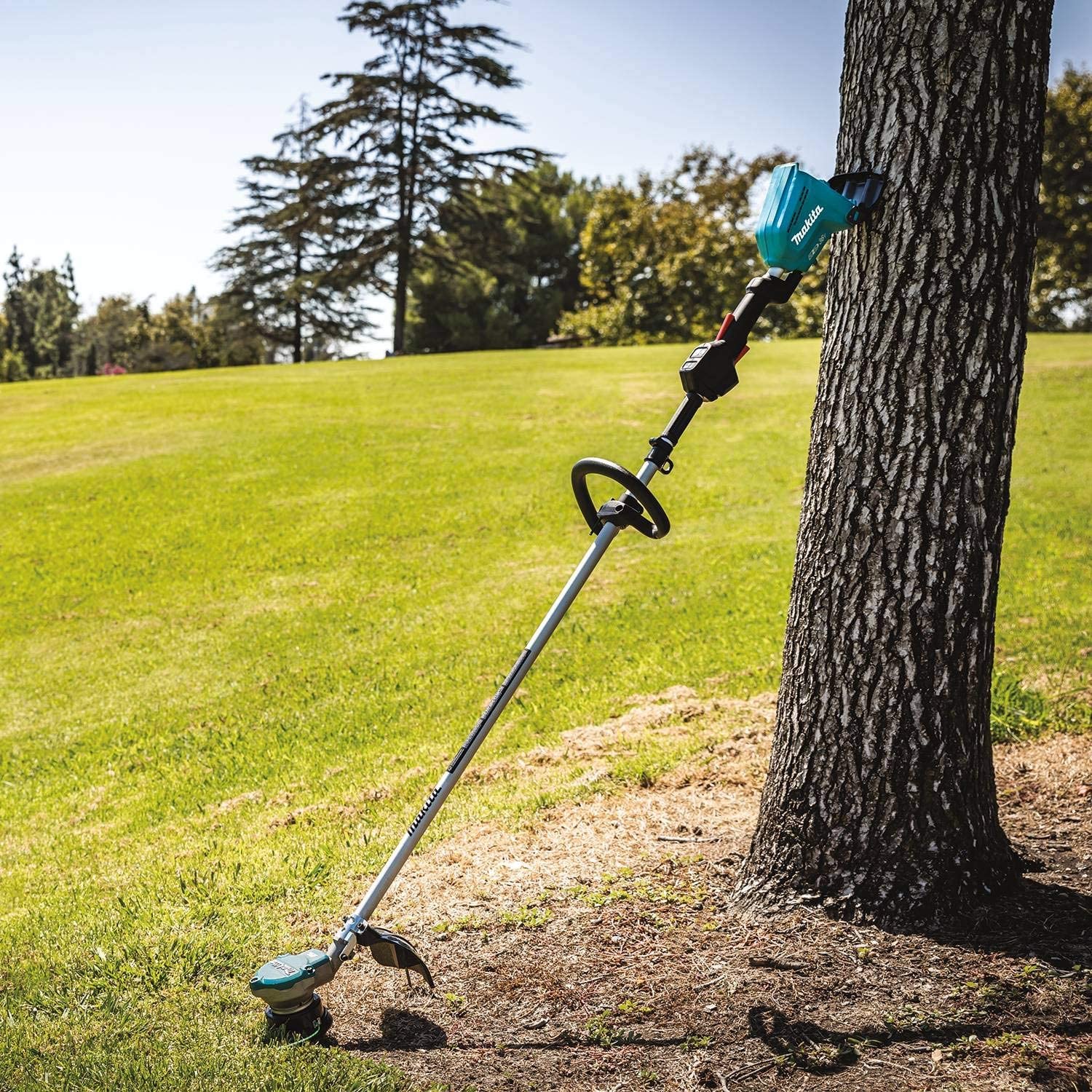 These two tools are used to perform different lawn maintenance activities, as the lawn edger creates an edge between the lawn and the sidewalk while the trimmer keeps the grass at the preferred height. Creating a straight lawn line and trimming the grass with the same tool is only possible if the model has both the edger and trimmer capabilities.
However, most edgers and trimmers serve a single purpose and you must make sure that the unit you're interested in offers edger and trimmer features if you don't want to buy these tools separately.
Although some trimmers can be used to mow patches of grass that cannot be cut with a lawnmower, the majority of these gardening appliances are designed for application in residential areas. Lawn edgers are almost exclusively used by homeowners who want to create near-perfect lawn edges.
The Lawn Edger VS Trimmer – Pricing
String trimmers and lawn edgers are not considered to be expensive pieces of gardening equipment as some models can be purchased for less than a hundred dollars.
Opting for the least expensive option, however, may limit the scope of activities you can perform with these tools, as their engine may lack the power output you need or the edger's blade may be too short to create the lawn edge you want.
A string trimmer like the Makita XRU15Z can be purchased for approximately three hundred dollars, while the lawn edger similar to Craftsman E405 shouldn't cost more than a couple of hundred dollars.
What's more, tools that combine the features of a lawn edger and a string trimmer are available for less than a hundred dollars.
The Lawn Edger VS Trimmer – Pros and Cons
Craftsman E405
Pros
Utilizes a 4-cycle 29cc engine
The engine produces a minimum amount of noise and vibrations
The model's frame is made from sturdy material
Three tire-treaded wheels improve the tool's stability
Equipped with a 9-inch double-edged steel blade that cuts through roots effortlessly
Offers cutting height adjustments
Ergonomic handles ensure that users have complete control over the tool
A 2-year warranty covers defects in material or workmanship
Cons
This tool can only be used to create lawn edges
Short maximum runtime
Runs on gasoline
More expensive than most lawn edger tools
Makita XRU15Z
Pros
Relatively long runtime
Automatic Torque Drive Technology adjusts the trimmer head rotation speed rotation to current needs
Offers three trimmer speed rotation speeds
Utilizes Extreme Protection Technology designed for harsh job conditions
The loop handle is fully adjustable
Reverse rotation function removes grass and weeds from the trimmer head quickly
15'' cutting swath range
Star Protection Computer Controls™ prevent overloading, overheating and over-discharging
Cons
18V LXT® Lithium-Ion rechargeable batteries must be purchased separately
Expensive
Available only with a limited warranty
Control buttons are not easy to use
The best alternatives to Lawn Edger and Trimmer
Finding a lawn edger or a trimmer that fits your budget and lawn maintenance needs shouldn't be too hard, as there are so many different models that are equipped with similar features.
Opting for tools that are not corded will provide you with more flexibility as you won't have to worry about reaching remote parts of your courtyard. We've shortlisted several tools you can use to create lawn edges or trim grass or weeds, so let's take a closer look at their features.
Worx WG163 String trimmer and edger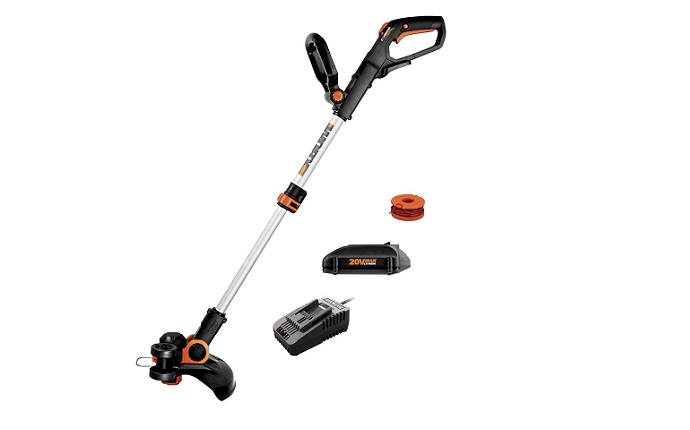 Instead of getting a string trimmer and lawn edger separately, you can choose Worx WG163 that offers the best of both worlds. This model is powered by a 20V battery that is compatible with all Worx 20V and 40V tools.
You can switch between the edger and trimmer modes by simply removing the trimmer head from the tool, while the unit also has a push-button system spool system that enables you to get a fresh trimmer string by simply pushing the button.
The trimmer head can rotate for up to 90-degrees enabling you to reach areas that are difficult to access. Although the model ships with batteries and a charger you may have to purchase additional accessories.
Black + Decker LE750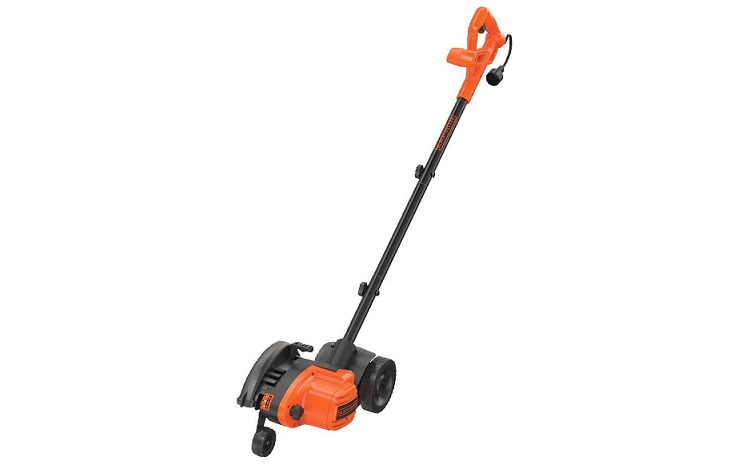 A 12 Amp 2-¼ HP motor Black + Decker LE750 uses can provide 150 in-lbs of torque. Besides edging along different surfaces this tool can also be used for trenching near garden beds or trees while it can also be utilized during the outdoor lighting installation process.
A pull-up edge guide enables you to switch between lawn edger and landscape trencher functionalities. The tool offers three different blade depth adjustments so that you can control how deep the cut you make is going to be. Although this Black + Decker model must be assembled before it can be used, the assembly process doesn't require an additional tool.
Milwaukee M18 Quik-Lok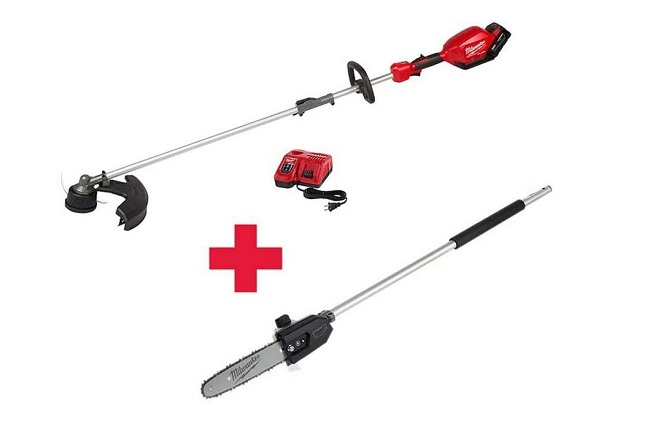 Although it may lack the power output of gas-powered trimmers, Milwaukee M18 Quik-Lok is still a versatile string trimmer that can cut through the most resilient garden weeds. The tool is powered by an 18V Lithium-Ion battery that enables it to reach full throttle in less than a second and provides you with more than an hour of runtime.
Besides the trimmer head, this tool also has a pole saw attachment that features a 10-inch saw capable of delivering 500 cuts per charge. The pole saw can cut through tree branches, roots, or any other hardwood you want to remove. This model comes with a hedge trimmer attachment that can be rotated in a 270-degree radius and has 13 operating positions.
This might interest you: Milwaukee String Timmer Review
FAQs
Question: Is a manual lawn edger better than the powered one?
Answer: A manual lawn edger is usually less expensive than a lawn edger that is equipped with an engine, but operating a lawn edger manually is more difficult.
Question: How often do I have to maintain the edges on my lawn?
Answer: Maintaining the lawn edges at least once a year will prevent the grass overgrowth and eliminate the chances of roots taking hold.
Question: Can I mow my entire lawn with a string trimmer?
Answer: A string trimmer can be used to trim small and medium-sized lawns, but ½ acre yards can be too large to mow with a string trimmer.
Question: Are gasoline-powered string trimmers better than battery-powered models? 
Answer: String trimmers that use gasoline as fuel are more powerful than the models powered by rechargeable batteries. However, their upkeep is more expensive as you don't have to buy fuel for a string trimmer that runs on batteries.
The Verdict: Is Lawn Edger a more efficient gardening tool than the Trimmer
These two gardening appliances should be used together in order to keep a lawn in great condition. Containing the spread of grass without the lawn edger that cuts through the turf is virtually impossible. A string trimmer helps you keep the edge you created tidy throughout the year.
Hence, tools like Craftsman E405 grass lawn edger and Makita XRU15Z string trimmer should be purchased together so that you can easily make cuts in the turf or trim the grass from areas you cannot reach with a lawn mower.
A model like Worx WG163 offers both lawn edger and string trimmer functionalities and enables you to perform both of these gardening tasks without having to change the tool. Was our Lawn Edger VS Trimmer comparison useful? Leave a comment and let us know.