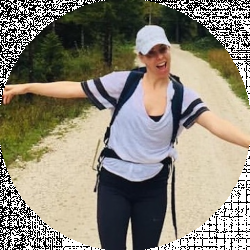 Latest posts by Jodie Chiffey
(see all)
A lawnmower is only as efficient as its blades, so if a blade becomes dull or if it gets damaged, the machine can't function normally. Exploring some of the best 21-inch lawn mower blade options will help you find a suitable replacement for the model's original part.
Lawnmowers don't have universal blades, and each blade is designed to fit a specific model. Depending on the length of their deck, lawnmowers can be compatible with blades that are between 6 and 32 inches long.
Finding a replacement that matches the length of the lawn mower's original blade is paramount since you cannot install a blade that is shorter or longer than the tool's deck.
So, in this guide, I'm going to walk you through all the steps you need to take to find a suitable blade replacement for your 21-inch lawnmower. Go through our guide to the best lawn mower replacement blades for more information on how to change lawn mower blades.
At a Glance – The 5 Best 21-Inch Lawn Mower Blades
Selection Criteria
Almost all lawn mower manufacturers like Troy Bilt, Briggs, and Stratton, or MTD produce replacement blades for the models they offer. Besides the OEM parts, a variety of minor brands produces aftermarket blades.
So, the search for a new 21-inch lawn mower blade comes down to the choice between an OEM and aftermarket part. Aside from the part's manufacturer, I used several other parameters to select 21-inch blades for this article. Let's take a brief look at them.
Blade compatibility – Most 21-inch blades for lawn mowers are designed to fit on a specific model. During the selection process, I searched for blades that are compatible with lawn mowers produced by just one or several brands.
Blade type – I utilized this parameter to pinpoint blades that allow homeowners to cut through thick grass or just trim their lawns.
Read our guide on mowing wet grass to find when and how you can mow a damp lawn.
Types of 21-inch Lawn Mower Blades
A lawn mower's cutting efficiency depends on the type of blade it uses. Most types of blades for lawn mowers are interchangeable as long as their dimensions fit the machine's mounting mechanism.
Before you start searching for a replacement, you need to determine how many blades your lawn mower is using, since models designed for two-blade lawn mowers tend to be smaller than models for one-blade lawn mowers.
Here are some of the most common types of 21-inch blades.
Medium lift – This type of blade is commonly featured on push movers that discharge cut grass sideways. They're characterized by slight curvature on either end and they work best with mowers that rotate blades horizontally.
Low or high lift – A low-lift design is best suited for sandy or dusty terrains since the low curvature prevents the dust from reaching the tool's motor. On the other hand, high-lift blades offer a high degree of suction, which makes them suitable for mowing thick and tall grass.
Mulching blades – Also referred to as 3-in-1 blades, mulching blades allow you to bag, discharge or mulch the grass clippings. However, you shouldn't use these blades to mow overgrown grass as you might clog the lawn mower's underside.
Check out our guide to the best crabgrass killers if you're struggling to keep this weed off your lawn.
Blade Width and Thickness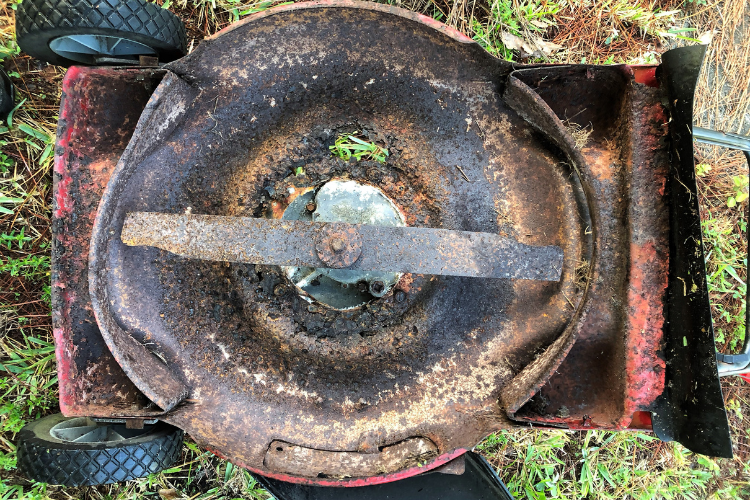 Checking the width of the 21-inch blade can help you determine if you can install it on your lawn mower. Most blades for lawn mowers are between 1.5 and 4.5 inches wide, and you need to check the recommended blade width for the model you own.
In case you don't have to the manual, you can measure the width of the blade you want to replace. To do that, you just have to determine the distance between the blade's edges at the center of the blade.
Getting a blade that is too wide for your lawn mower can affect its efficiency because it may make the engine work harder. The thickness of a lawn mower blade varies from 0.1-inch to 0.33-inches.
Ideally, the replacement part you choose will have the same width as the original, but getting a slightly thinner or thicker blade won't impact the mower's performance. Browse through our guide to the best Troy Bilt zero turn mowers if you're searching for a new lawn mower.
The Blade Mounting Mechanism
All blades have one or three holes that allow you to attach them to the lawn mower's spindle. These holes can have different diameters and shapes that correspond with the size and shape of the spindle.
Most OEM and aftermarket blades have a circular hole at the center, but some models can also have two smaller side holes. Center hole designs vary from model to model, and you might encounter blades that have 6 point star spindle, Bow Tie H pattern, or triangle spindle designs.
Failing to get a blade with a mounting mechanism that matches the lawn mower's spindle can cause balancing and vibration issues. Also, you shouldn't overtighten the bolt during the blade installation because doing so might damage the engine if the blade hits a solid object.
Browse through our guide to the Craftsman LT2000 parts if you need to replace one of the lawn mower's original parts.
Recognizing the Signs of a Damaged Lawn Mower Blade
Blades become dull after approximately 25 hours of continuous use, but over time sharpening the blades will get more difficult. So, if you start noticing that the grass is uneven after you cut it, this is a sure sign that you need a new blade.
Moreover, you shouldn't use the same blade for more than two years. Blade replacement might be necessary if the part bends during a mowing session or in case you notice that a piece of the blade is missing.
Using a mower with a damaged blade can be dangerous, so you must get a replacement as soon as possible to avoid potential accidents. Go through our guide on how to grow a grass lawn to get more information on how to cultivate a perfect lawn.
The Most Important Factors to Consider While Choosing a New Lawn Mower Blade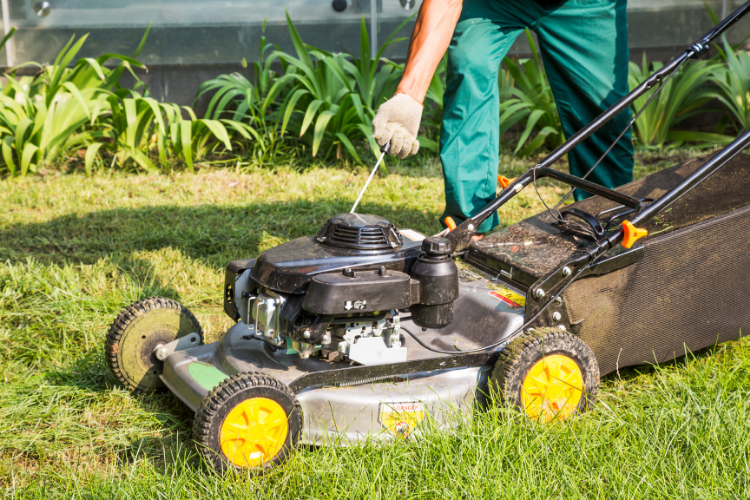 The fastest and easiest way to find a replacement for a lawn mower's original blade is to check the manufacturer's recommendations in the manual.
It isn't advisable to experiment with blade widths and thicknesses as you can easily damage the mower or lower its efficiency, so you should opt for the part that has the same dimensions as the blade you're replacing.
I've shortlisted several factors that can help you find a replacement blade for your lawn mower in case you don't have access to the manual. Here's what you need to do to determine if a blade is suitable for your lawn mower.
OEM vs Aftermarket Lawn Mower Blades
Most blades are designed to fit on a specific model, although some models are compatible with more than just one lawn mower. In general, you should avoid blades labeled as universal as they may not stay sharp for long or even fit on your gardening tool.
The quality and durability of OEM parts make them by far the best option you have at your disposal, but you'll have to spend a few extra bucks to get a blade recommended by the manufacturer.
Aftermarket models are often versatile as they can usually fit on mowers produced by several brands. Their quality isn't always at the highest level, so you might have to replace them often.
Blade Dimensions
Aside from checking the blade's length, you must also pay attention to its width and thickness. Keep in mind that some blades can be 21-3/8 or 21-3/16 inches long, and you may not be able to fit them on a 21 inch lawn mower.
Blades for two-blade mowers tend to be slightly shorter than those designed for single-blade mowers. Hence, the type of mower you have will determine which type of replacement blade you can use.
Center Hole Shape and Diameter
You won't be able to install a new blade if its center hole is too large or too small for the lawn mower's spindle. Center holes are usually round and their diameters are often around 5/8-inches, although they can be wider or narrower depending on the model.
Some blades can have a pair of side holes next to the center hole and you'll need to check the diameter of each hole to ensure you can mount it on the mower's deck. In addition, blades with side holes may require a blade adapter to function normally.
Blade Material
Leading lawn mower blade manufacturers don't use the same materials to produce blades. However, most brands make these parts from stainless steel or nickel-alloy steel. The blade's ability to stay sharp and its corrosion and abrasion resistance capacities depend on the material.
That's why you should always check if the blade is made from high-quality materials before you decide to purchase it.
The Number of Blades in a Kit
Getting a single blade isn't always the best option, since you can't know how soon you will have to replace it. Purchasing a kit that features several blades will provide you with a backup if the blade you install gets damaged or wears out quickly.
In case you have a 2-blade mower, you should consider replacing both blades at the same time.
The Advantages of 21-inch Lawn Mower Blades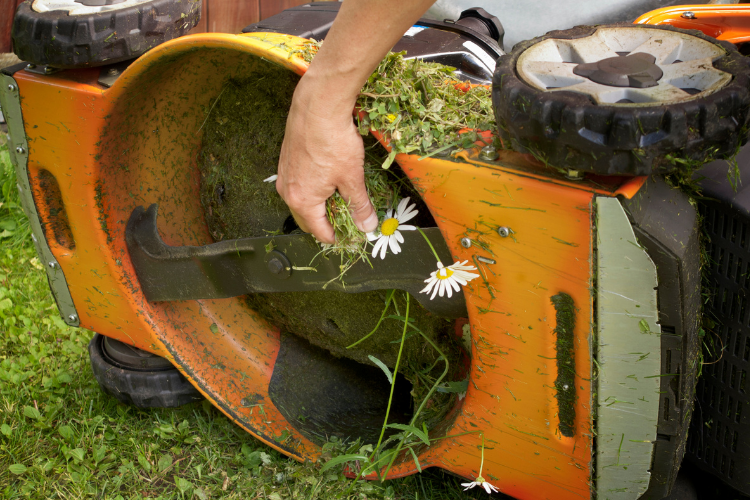 Simple Installation Process
Changing the mower's blade is easy, and you can complete this process on your own even if you have never gone through it before. However, you need to handle the blade you're replacing carefully because even a dull and damaged blade can be very sharp.
Restores Mower's Efficiency
Getting a new 21-inch blade for your lawn mower will make it easier to push it over the lawn or cut grass evenly. Changing the mower's blade regularly also prolongs the machine's lifespan.
Affordability
You won't have to spend more than $50 to replace a worn-out lawn mower blade, even if you opt for a high-end OEM option.
The Disadvantages of 21-inch Lawn Mower Blades
It's Easy to End Up with a Wrong Part
Just because a blade is 21-inches long doesn't necessarily mean you can install it on your lawn mower. That's why you need to make sure that the width, thickness, and diameter of the center hole match the mower's specifications.
Top 5 21-inch Lawn Mower Blades
Maxpower 331528 – the Best 21-inch Mulching Blade for Lawn Mowers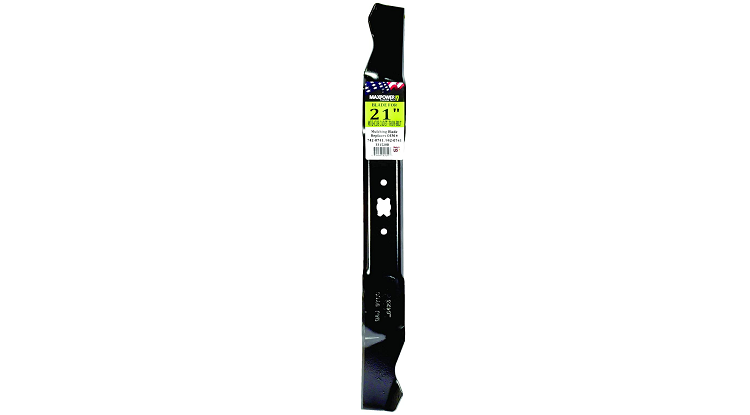 Mulching lawn mowers produced by brands like Craftsman, MTD, Troy Bilt, and Cub Cadet are compatible with the Maxpower 331528 blade. This 21-inch mulching blade features a bow-tie center hole that has a 5/16-inch diameter.
This model also has a pair of side holes that are 2-1/2-inches away from the blade's center. The Maxpower 331528 replaces six different OEM parts so you need to check if it is compatible with the mower model you have.
The blade remains sharp for a long time even if you use it frequently, so you won't have to sharpen it very often.
Pros
Compatible with multiple lawn mower models
Not prone to corrosion
It doesn't become dull quickly
Reasonable price
Cons
Has a thick coat of paint that needs to be removed
Underwhelming performance on overgrown lawns
EGO Power Plus AB2101 – the Best 21-inch High-lift Blade for Lawn Mowers

The EGO Power Plus AB2101 is designed for lawn mowers manufactured by this brand. This 21-inch blade should only be utilized for bagging or side discharge, and you mustn't use it with mulching plugs.
This high-lift blade performs well while cutting thick, tall grass, but you can also use it for trimming purposes. Although it is made of steel, the blade is still flexible enough to withstand the impact of a pebble, pinecone, or piece of wood.
This part is compatible with LM2101, LM2100, LM2102SP, LM2100SP, and LM2142SP lawn mower models.
Pros
Sturdy and flexible
OEM part for EGO Power Plus lawn mowers
Delivers consistently even cut
Remains in good condition for a long time
Cons
Not an ideal option for mulching
The blade may be too heavy for some lawn mower models
Oregon 91-547 – the Best 21-inch Low-lift Blade for Lawn Mowers

Like all low-lift blades, the Oregon 91-547 performs best in sandy or dusty conditions. This specialty blade limits the suction and keeps the grass clippings close to the ground, which is the reason why it is commonly used for side discharge.
Although this blade is designed for Grasshopper lawn mowers, the manufacturer doesn't offer a list of compatible models or information about its width and thickness. Its center hole has a 1/2-inch diameter.
Nonetheless, the Oregon 91-547 is a great replacement blade that is both sharp and durable.
Pros
Excellent performance on challenging terrains
Simple installation
Great price
The blade can't be damaged easily
Cons
This product can be hard to find
Determining if the blade is compatible with your mower can be difficult
MTD 942-0741A – the Best 21-inch Mulching Blade for MTD Lawn Mowers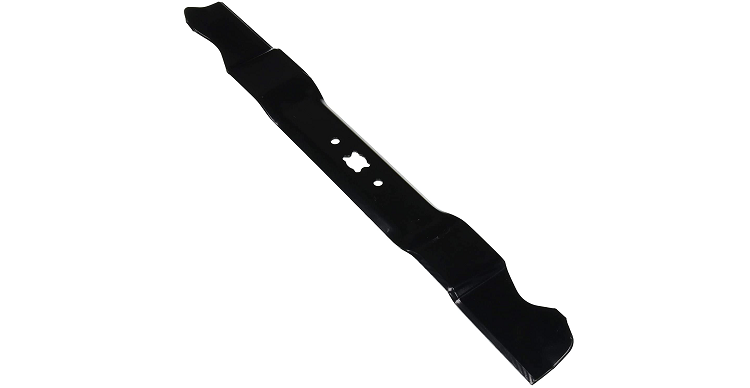 Besides the MTD lawn mowers, the MTD 942-0741A is compatible with models manufactured by Bolens, Craftsman, Huskee, and numerous other brands. This mulching blade has a bow-tie-shaped center hole, but there is no information regarding its thickness or width.
MTD's model is made of soft metal that can't stay sharp for long, and you'll have to sharpen it after a few mowing sessions. Also, hitting a rock or a hard object can damage the blade. Despite these downsides, the 942-0741A is still one of the best mulching blades for MTD lawn mowers you can get.
Pros
Compatible with more than 20 lawn mower models
The manufacturer offers a 90-day warranty
Protective coating prevents corrosion
Great price
Cons
It doesn't stay sharp very long
Prone to abrasions
Husqvarna 532406712 – the Most Versatile 21-inch Mulching Blade for Lawn Mowers

Although it is somewhat lighter than the blades it replaces, the Husqvarna 532406712 is still capable of cutting even partially wet grass. This part is heavily painted, so you may have to use sharpening tools to remove the paint layer before mounting it on your mower.
In addition to being compatible with Husqvarna lawn mowers, this mulching blade is also suitable for mowers produced by brands like Poulan, Weed Eater, or Craftsman. Its center hole has a 5/8-inch diameter, while its outside holes have 1-7/8-inch diameters. The blade is 0.130-inches thick and 2-1/4-inches wide.
Pros
Designed to withstand heavy-duty usage
The blade fits on mowers produced by several manufacturers
1-year warranty
Less expensive than most of its competitors
Cons
Requires sharpening before first use
Doesn't always deliver an even cut
Frequently Asked Questions about 21-inch Blades for Lawn Mowers
Question: How Often Do I Have to Replace 21-inch Blades for Lawn Mowers?
Answer: You shouldn't use the same blade for more than two years. Most homeowners change blades on their mowers every year.
Question: Do I Have to Sharpen a 21-inch Blade Before the First Use?
Answer: Sharpening the blade before you mount it on a mower can be useful, but it is far from being necessary. In some cases sharpening the blade can help remove the paint coating.
Question: Can I Use Different Types of 21-inch Blades on My Lawn Mower?
Answer: Yes, you can mount different types of 21-inch blades on your mower, but only if they fit the model's specifications.
Question: Is it Possible to Install a 21-inch Blade Upside Down?
Answer: Yes, it is. That's why you need to make sure that the blade's tips point away from the grass during the installation process.
Final Thoughts: Choosing the Best 21-inch Blade for Your Lawn Mower
You can only sharpen the lawn mower's original blade a limited number of times, and each time you do, the blade gets a little thinner. After a while, a blade becomes a safety risk because it may break while you're using it.
Its replacement must have the same dimensions, and the best choice is to get the OEM part recommended by the manufacturer. So, for instance, the EGO Power Plus AB2101 might be a good option for you if you have an EGO Power Plus lawn mower.
Owners of Troy Built, Cub Cadet, or Craftsman mowers should consider getting the Maxpower 331528 mulching blade because it is durable and affordable. Which 21-inch lawn mower blade are you going to choose?
Let me know in the comments or continue reading our Cub Cadet XT1 review to learn more about the features this model offers.