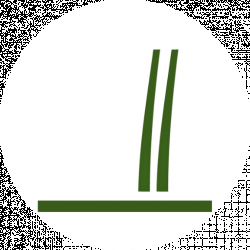 Latest posts by Turf and Till Team
(see all)
Advancement in technology has helped manufacturers develop some of the best mowers available in today's market. Troy-Bilt is among the famous brands known for their quality, durable, and inexpensive zero-turn mowers.
The lawn equipment from this brand cuts grass and other plants evenly, and they require little to no maintenance. Whether you are dealing with residential or commercial mowing, the zero-turn mowers significantly reduce the time it takes to mow and trim through maneuverability and performance. 
However, since they have different zero-turn mowers with varying features, it might be overwhelming for you to choose the best.
Therefore, I crafted a list of six different zero-turn mowers to help you make an informed decision when buying this equipment. The items listed in this article are based on my research, and they are based on their features. 
Factors to Consider when Buying a Mower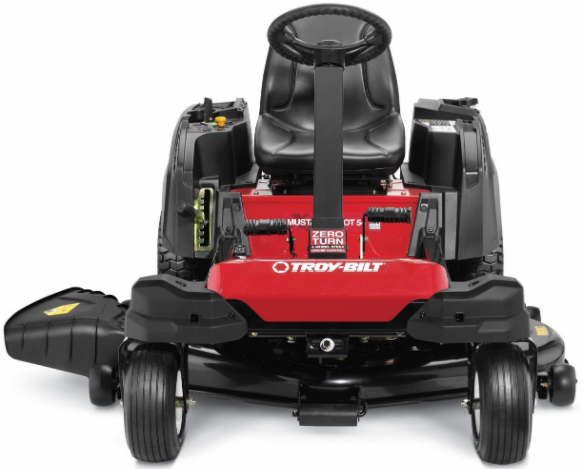 The type of mower that you purchase will be determined by several factors, including:
The Yard's Terrain and Size
Heavy-duty mowers are the best if you have a large lawn. Additionally, for a flat yard, a push mower would be the most preferable.
Propelled mowers, such as those from Troy-Bilt, are ideal for hilly terrains. Do not worry about getting your lawn's exact size, but it would help to have a rough idea about it. 
Maintenance Cost
Before you settle for any lawnmower, ensure that the brand's service centers are not too far from you. The spare parts that you may require later should be readily available in service centers or local stores. Moreover, technicians who can fix your equipment should be available when the need for repair arises.
Electric or Gas
Each has its benefits. Electric mowers do not produce as much noise, fume smells, and smoke as their gas-powered cousins do.
On the flip side, gas mowers will save you a lot of power and efficiency. In today's market, you will find both wired and wireless electric mowers models. 
The wireless electric-powered equipment may run out of juice, and the wired may require long electric cables and extension cords when mowing a sizable yard, which is unlike gas-powered equipment. If you consider getting a wired electric mower, it is wise to consider the power outlet's position. 
The Blade
This is determined by the type of grass on your lawn. If you have long and rough grass, then a mower with a rotary blade (one that rotates like the blades of a fan) is your best shot. You should also check the adjustability of the mower's blade, which is an important feature that helps you choose the best height for your grass.
Price
Different models have varying prices. Having a set budget is a sure way to help you avoid over-spending on a particular product. Additionally, human beings have varying needs, preferences, and requirements when buying certain products.
Efficiency and the available features are what dictates the price of a mower. Instead of being impressed by the shiny and appealing design, you should concentrate more on what this equipment can do and how it will help you and your lawn.
The best method to know is by testing it before you pay for it and reading several reviews and comments on its features. 
Durability
 Before settling for a particular zero-turn mower, you must consider what material is used in constructing its frame and deck.
A mower with a steel frame is likely to be very durable, but also be keen on the steel's gauge. Lower gauge steel tends to be thicker than higher gauge steel. 
Tire size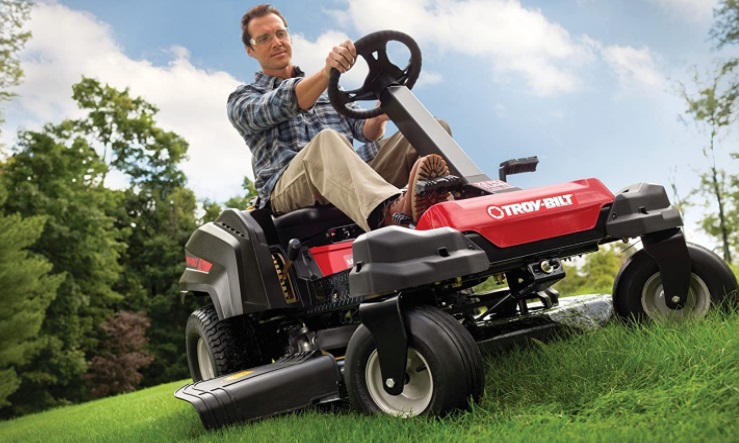 Zero-turn mowers are designed to handle large yards, and this is made possible by thick tires. They enhance the maneuverability of the equipment while distributing its weight and improving traction for long-lasting tires.
Large tires also put very little pressure on the grass. This means that they do not flatten the yard, which helps the blade reach the grass more efficiently. 
Comfort
Zero-turn mowers are meant to be ridden. Therefore, you must ensure that the equipment of your choice has a comfortable seat with a backrest.
Additionally, you should be able to reach the controls comfortably without straining your back. You must also ensure that the machine's vibration is minimal for extra comfort and reduced fatigue.
The Engine
A powerful engine will make the ride on the zero-turn mower smooth. Twin-cylinder OHV engines are more powerful and perform better than their single-cylinder cousins.
If you are planning to get a mower for a large yard or commercial mowing, make sure to check out one with a double-cylinder engine.
6 Best Troy Bilt Zero Turn Mower Reviews
Troy-Bilt 22HP 725cc Twin Cylinder Transmission 46-Inch Zero Turn Mower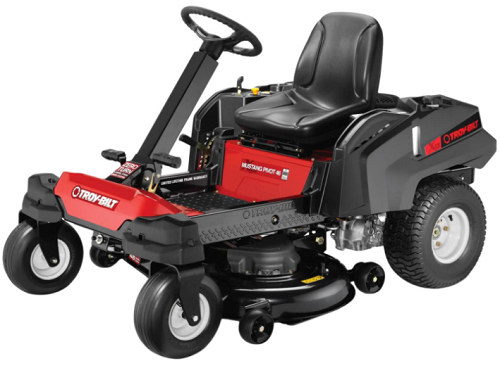 When it comes to comfortable and efficient trimming or mowing, nothing does it better than this mower. Equipped with a twin-cylinder engine that produces 22 horsepower and 725cc, you can be sure that this premium mower will handle your yard with a lot of power.
This mowing equipment's durability is not negotiable, thanks to its 46-inch cutting deck, an in-built deck wash, and a high-quality steel frame.
The mower's dual EZT transmission comes with "Power Take Off" technology for easier control and management of the blade, significantly reducing the time it takes to mow your lawn. Worry no more about how you will achieve your desired cutting height!
This is because the mower's cutting deck is adjustable to eight different positions, which allows you to select your deck height.
The steering system is precise, and the operator of the machine controls it. With such a system, the mower can perform marvelously even on uneven terrains and hilly areas.
Additionally, the mower's UV seat measures 18 inches, comes with a backrest, and an adjustable knob to help you set your preferred and comfortable position.  This product comes with a 3-year warranty and a lifetime warranty for the frame.
Pros
Easy to operate

Adjustable seat for comfort

Smooth and precise steering system

8 positions for the cutting deck

A powerful twin-cylinder engine
Cons
Troy-Bilt Mustang Fit Riding Lawn Mower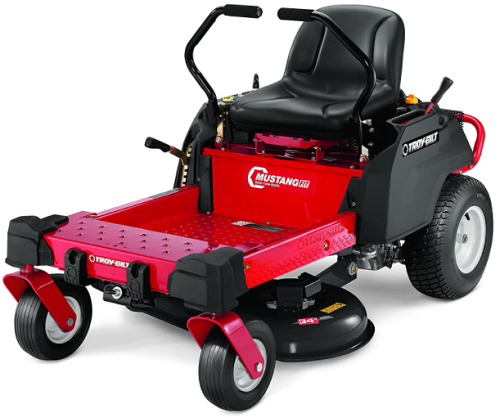 Hop onto this excellent machine and let it do what it does best – mow your lawn. Whether you are looking for a residential or commercial mower, this fantastic product from the Troy-Bilt brand is among the best choices. Unlike its predecessor above, this mower is controlled using lap bars instead of a steering wheel.
With its dual EZT transmission, a robust 452cc engine by Troy-Bilt, and a heavy-duty frame, you can be sure that this machine will perform remarkably for a long time.
You can work on any lawn using this mower, thanks to its durable high rear wheels that tackle any terrain. Your comfort will not be compromised because this mower's seat has a raised backrest and dual suspension springs. There is also enough room to move your legs freely for a smooth ride.
The 34-inch cutting deck is efficient and cuts a larger portion. The deck can be unattached from the side. Additionally, you can set the cutting height in eight different positions. This feature allows you to choose the most preferred grass height for your lawn.
The mower's compact design makes it ideal for any neighborhood, and you can conveniently drive it through a standard 36-inch gate. 
Pros
8 cutting positions

Compact design

A large cutting deck

Durable wheels

Comfortable and padded seat with a backrest
Cons
Removing the assembled mower from the box can be challenging
Troy-Bilt Super Mustang XP Riding Lawn Mower with 50-Inch Deck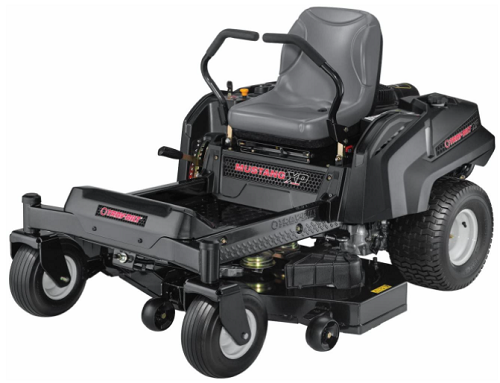 Mowing your lawn should be enjoyable and take the shortest time possible. That is precisely what this third product on our list offers.
The 50-inch cutting deck is a sure way of increasing the speed at which you mow your lawn. Additionally, this equipment features a 724cc engine from Briggs & Stratton, a heavy-duty reinforced frame, and dual EZT transmission, all of which guarantees durability and performance. 
You don't have to worry about regular refueling because this mower has a tank that holds up to 3 liters of gasoline. 
With the machine's zero-turn maneuverability, you can change your direction within a small area, consequently saving you some time. Your ride on this mower will be smooth and comfortable, courtesy of the padded high-back seat and adequate space for your legs. 
Besides the durable front 13-inch and rear 20-inch wheels, a nose roller is attached to the deck to help it rotate more efficiently.
The lap bar steering system enables the operator to swiftly and smoothly control the mower; this product, too, is equipped with 8 different positions for the cutting deck, which gives you the freedom to choose the best height for your grass. The company provides a 3-year warranty on the machine and a lifetime warranty on its frame.
Pros
A powerful 724cc engine

Big and durable wheels

Comfortable

A large 50-inch cutting deck
Cons
Removing the assembled mower from the crate is not easy
Troy-Bilt Mustang 46 22HP 46-Inch Zero-Turn Mower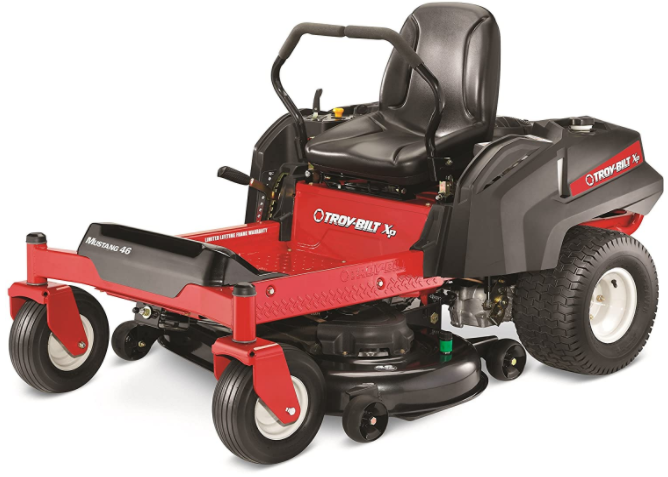 Eliminate the hassle that comes with mowing and trimming your lawn. With a 22 horsepower, this is one of the most powerful mowers in today's market. The powerful engine is from Briggs & Stratton, and together with the EZT transmission and the electric "Power Take Off", you can be sure that this equipment will not let you down. 
The machine is operated and controlled using two lap bars. The ergonomically designed bars are adjustable to accommodate operators of all sizes.
The zero-turn feature allows you to make a complete turn-around at zero degrees. The durability of the mower is not questionable, thanks to its heavy-duty frame and the front axle. 
Your comfort is guaranteed by the machine's high-back padded seat that measures 18 inches and comes with dual suspension springs.
The 46-inch cutting deck is perfect for efficient grass trimming. The deck has 8 settings to adjust its height. Attaching the necessary accessories is not a challenging task because you can opt for the FastAttach Accessories feature to swiftly change your mower into a versatile machine within minutes. 
Pros
Comfortable

A powerful 22 HP engine

Adjustable lap bars

A large 46-inch cutting deck
Cons
Slides a lot when working on a hilly area

You need to assemble the blades
Troy-Bilt 17AMCACS066 XP Mustang Zero0-Turn Mower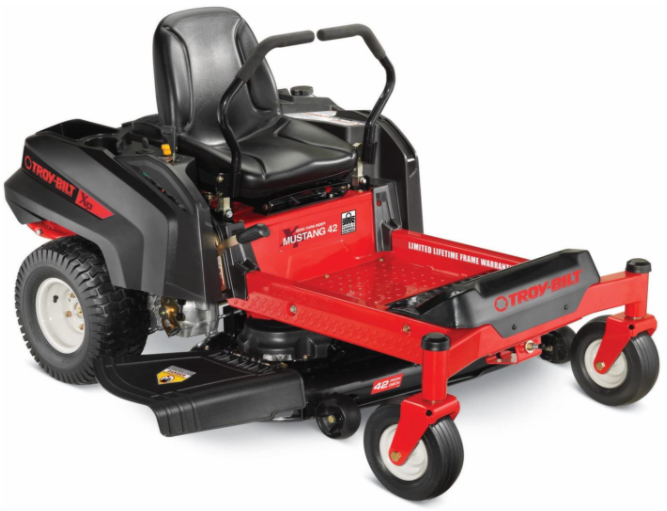 Trim, cut, and mow your residential or commercial lawn like a professional and in less time by using this fantastic equipment.
The mower is designed to handle large lawns, including those on uneven and hilly terrains. This performance is enhanced by the mower's durable and robust rear wheels that measure 11″ x 18″. With a 22 horsepower engine from Kohler Twin Courage, this machine is definitely a beast in mowing. 
Additionally, the mower features a heavy-duty reinforced frame that measures 42 inches and assures you of durability. The high-back seat with two suspension springs ensures that you are very comfortable while riding on this mower. 
The engine has electric Power Take-Off to help the operator to engage the blade easily and quickly. The mower comes with a rear bumper and deck wash kit. However, if you want to mulch your lawn, you will have to buy the optional bagger and the mulch kit.
The cutting deck can be adjusted to 8 different positions, depending on the grass height that you prefer on your lawn.
Pros
Durable

A powerful 22HP engine

Electric Power Take-Off for easy blade engagement

Comfortable

A rear bumper and deck wash kit included
Cons
The mulch kit is sold separately
Troy-Bilt 25HP 725cc Twin Cylinder Transmission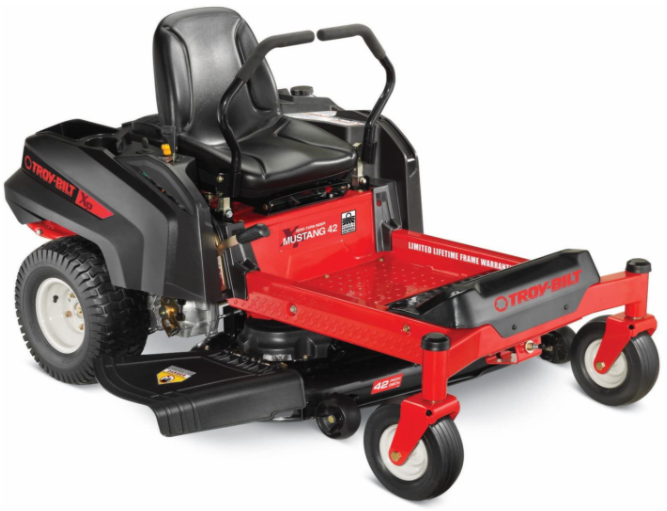 Lastly, we have this phenomenal mower that you can consider the next time you go shopping for one. This is the equipment with an enormous cutting deck on our list, which measures 54 inches. Such a deck is convenient when working on an expansive yard because it covers a larger portion when it cuts the grass.
The deck also comes with an inbuilt premium deck wash and eight adjustable height settings. The deck also has side discharge capability.
The operator's comfort is guaranteed by the mower's 18-inch high-back UV chair that comes with an adjustable screw knob. This knob helps you to set the seat in the right position so that you don't strain your body during the ride. 
The powerful twin-cylinder 725cc Kohler engine has a horsepower of 25, making it one of the most powerful mowers. 
This product, too, features electric Power Take-Off for easy and quick blade engagement. When riding forward, the machine can achieve a speed of 7 miles/hour, while the reverse top speed is 2.5 miles/hour.
The mower's 4-wheel steering system uses SynchroSteer technology, which guarantees precision when riding it on hilly and uneven areas. The zero-turn maneuverability reduces instances of follow-up trimming while saving you time. The front wheels are made of the caster, and you can grease them to promote their durability.
Pros
Durable wheels

SyncroSteer technology for precise control

A powerful 25HP engine

An adjustable cutting deck

A comfortable and adjustable seat
Cons
Some customers have reported Drive/Steering train issues
FAQs
Question: How good are Troy-Bilt Zero-Turn mowers?
Answer: Troy- Bilt is one of the companies that focus on delivering quality products at an affordable price. Their zero-turn mowers are among the best in today's market, considering that they cut the grass well and require little to no maintenance. They have different models of mowers that can be used on extensive lawns with an area of a third of an acre to three acres. 
Question: Who is the manufacturer of Troy-Bilt Zero-Turn Mowers? 
Answer: Troy-Bilt is a brand under the MTD Products. MTD Products has its headquarters in Cleveland, Ohio. Besides the zero-turn mowers, Troy-Bilt also deals with riding mowers, walk-behind mowers, gardening power machines, and trimmers. 
Question: Which is the fastest zero-turn mower in today's market?
Answer: The Dixie Chopper Xtreme has a 990cc engine with a horsepower of 33. The machine mows the grass at a top speed of 15 miles per hour. Additionally, the mower can accommodate a 60 or 72-inch cutting deck, which means that it can mow a football field in just under ten minutes.

With such speeds, the lawnmower can mow 8.7 acres of grass every hour. However, with all those praises, the mower carries a hefty price tag of about $10,000.

However, in 2019, the Mean Mower V2 from Honda broke the Guinness World Record for a lawnmower that moved from 0 to 100miles/hour in 6.69 seconds. This mower can reach top speeds of about 159 miles per hour.   
Question: Which is better: Craftsman or Troy-Bilt?
Answer: The differences between the two brands are apparent. Troy-Bilt's tank can hold up to 3 gallons of gasoline, while Craftsman holds 2.5 gallons.

Troy-Bilt is designed for use on flat, hilly, and uneven surfaces. On the other hand, Craftsman cannot perform in hilly areas. Additionally, Craftsman does not offer any warranty, and its mowers are of low quality. Therefore, we can say that Troy-Bilt is far much better than Craftsman.
Question: Which is better between a zero-turn mower and a lawn tractor?
Answer: Lawn tractors are of low quality, and they are not durable. On the flip side, zero-turn lawn mowers are made of thick and durable steel, and they can support heavier cutting decks that mow the grass better and faster.

This helps in the reduction of mowing time. Many people today want to use equipment that will save them time, and zero-turn mowers do that effectively.
Question: How much do zero-turn mowers cost?
Answer: The price for this equipment is determined by several factors, including their features, the brand, and size. However, most zero-turn mowing machines range between $2500 and $5000.

Other costs that you may incur may arise from buying the mulching accessories separately. For those yards with trees and flowers that you might want to mow around, a zero-turn mower is a definite choice considering the time that it will save you. 
Question:  How fast does a zero-turn mower work?
Answer: Zero-turn mowers are designed to work faster than traditional lawn tractors. The mowing speed of a typical lawn tractor is 3-4 miles/hour while that of a zero-turn mower is about 5-8 miles/hour. 
Question: How many hours can I use my zero-turn mower?
Answer: professionals recommend that you use the mower for two thousand hours. The condition of the mower after that time depends on how well its maintenance has been. Overall, two thousand hours are enough to use a mower without experiencing significant issues. 
Conclusion
Troy-Bilt is one of the most prominent and famous brands that deal with zero-turn mowers. The products discussed above are the best that we could find from this brand. When buying a lawnmower, there are certain factors that you should put into consideration. 
These factors include the mower's features, its durability, the price, your comfort while riding it, and how efficient it is in mowing. When all these factors are put together, I can say that my favorite mower from the above list is the Super Mustang XP. With its 50-inch cutting deck, you can be sure that you will be through with the mowing process in minutes. 
Additionally, this mower has a 724cc powerful engine and big, durable tires to handle any terrain. Its frame is heavy duty and reinforced with steel to promote durability. The seat is padded and comes with a backrest for maximum comfort.
The 3-liter capacity tank ensures that you handle your mowing without regular refueling. Finally, this mower comes fully assembled, and the company offers a 3–year warranty for it. This is definitely a great product to consider the next time you are looking for a zero-turn lawnmower.