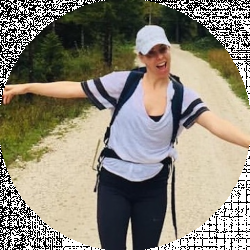 Latest posts by Jodie Chiffey
(see all)
Your ride-on lawnmower is probably one of the most expensive pieces of kit in your lawncare arsenal. They're fantastic for getting your turf looking exactly how you want it, and for larger yards, they make cutting grass way more efficient.
However, the maintenance side of things often gets overlooked. These are serious pieces of machinery, and to keep them working properly and performing to the best of their abilities, they need to be properly looked after. Our MoJack review covers one of the most well-known lawn mower lifts on the market today.
We'll be outlining the core features that this piece of equipment has to offer, assessing its pros and cons, and offering some of our thoughts. We'll also be throwing in some competitor products that we think you should also check out and we'll answer some of the most frequently asked questions so that you know exactly what you're getting.
But before we get into all of that, let's take a look at a top-level product overview.
MoJack Pro Key Specifications
Box dimensions 40″L x 20″W x 6″H

Assembled dimensions 40″L x 62.5″W x 45″H

Weight 119 lbs
Core Features of the MoJack Lawn Mower Lift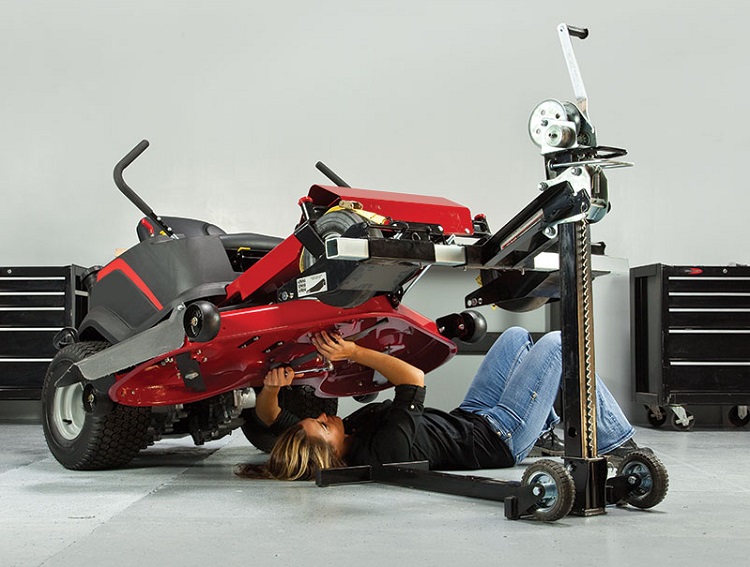 Sold as one of the most reliable and sturdy lawn mower lifts around, the MoJack allows you to easily prop your mower up so that you can perform any needed maintenance underneath. The innovative design means you can simply position the mower in place, turn the handle, and the underbelly of your mower will be easily accessible.
MoJack is big on safety, and all of its products are centered around a design that is practical and safe for the user. For example, a ride-on lawnmower can weigh anything up to a couple of hundred pounds, not something you want falling on you as you're working!
Heavy-Duty Lifting Capacity
MoJack has a wide range of products that suit all shapes and sizes of mower. Their EZ Max Lift, for example, is capable of lifting anywhere up to 450lbs and lifts the mower up to 24 inches from the ground.
It's important to remember that MoJack products do not lift the entire mower off the ground. Instead, they raise the front enough for you to gain access.
Fit Wide Range of Wheel Bases
Ride-on mowers come in all shapes and sizes. The front wheels are often placed very different lengths apart depending on the model. As lifting the front wheels is how MoJack products work, they come with high adjustability and are suitable for a degree of front axle lengths.
For example, the Troy-Bilt 500ML fits between 18.5 inches and 47.5 inches (inside to outside front tires).
Easy to Use
MoJack products are super simple to use once your mower is in place. They come with a manual handle that will raise your mower that features very little resistance. On some models, there is also the option to attach a power drill to automate the process.
Compact & Easy to Store
Another key feature to their success is how easy they are to store. This makes them suitable for both professionals and domestic users who feel comfortable enough performing mower maintenance themselves.
The MoJack's all fold flat to take up as little space as possible when not in use. This also makes them perfect for hanging and can be secured using any generic hooks.
Everything Comes Included
With each MoJack product, you'll receive everything you need to get started on your mower. Depending on which model you choose, you'll receive the following:
Tower assembly

Lift arm

Base

Base floor tube

Base support channel

Wheel pads

Wheel safety straps

Wheels

Assembly hardware

User manual
Known for being easy to put together, the user's manual will guide you on how to construct your new mower lift in no time.
Warranty Included
So long as you register your product with the manufacturer within 30 days of purchase, you'll benefit from a two-year extended warranty. This covers against any product defects and protects your investment should it fail at all.
How Do MoJack Mower Lifts Perform?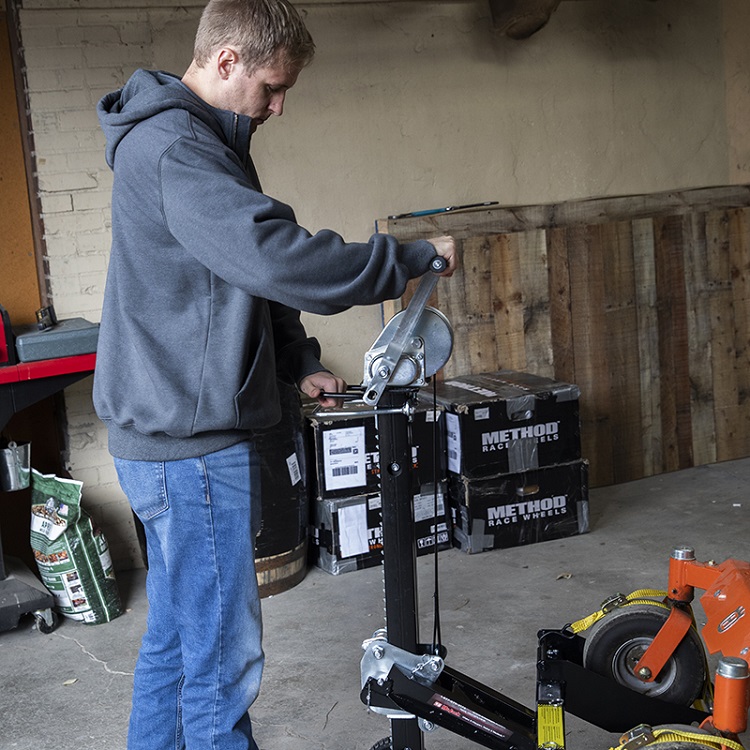 We ordered one of MoJack's premier mower lifts and put it to the test. The MoJack Pro is one of their heavy-duty tools and can lift up to 750 lbs of mower – it's a durable beast that can handle pretty much any size mower you throw at it and then some.
While the industry average for mower lift capacity is 500 lbs, as mentioned, the MJ Pro can handle even zero-turn mowers weighing 50% more at around 750lbs. That's a third of a ton!
Not only can these lifts handle those kinds of weight, but the mower can be lifted up to 25 inches from the ground. We found this was more than enough room to get underneath the machine and access all of the necessary components during testing.
Its adjustability means that, like other MoJackproducts, the Pro can handle wider wheelbases. The range it works at is between 31.5 and 62 inches. When putting this to the test, stability seemed not to be affected at all. No matter whether we were working on wide axles or shorter ones, there was no reduction in how secure the lift felt. More importantly, we felt safe when doing so.
According to MoJack, the safety of operators runs through their products from design right through to release. We have to say it certainly feels like this is true, particularly with the Pro model. All elements are constructed using reinforced steel, and the winch used to raise mowers up is self-braking and easy to use.
The inclusion of a ratcheting safety lock is a clever one as it means there is zero chance of the lean mower slipping or becoming unstable during use.
While we had the opportunity to test the MoJack Pro, we performed tasks like sharpening blades, replacing belts, general greasing, and debris removal – all of which was easy to do thanks to the accessibility provided by the MoJack.
The winch mechanism was particularly useful. For example, if you don't have time to perform all of your tasks in one go, you can lower the mower and raise it again later. If you have a power drill to hand, this becomes even easier!
Pros of MoJack Mower Lifts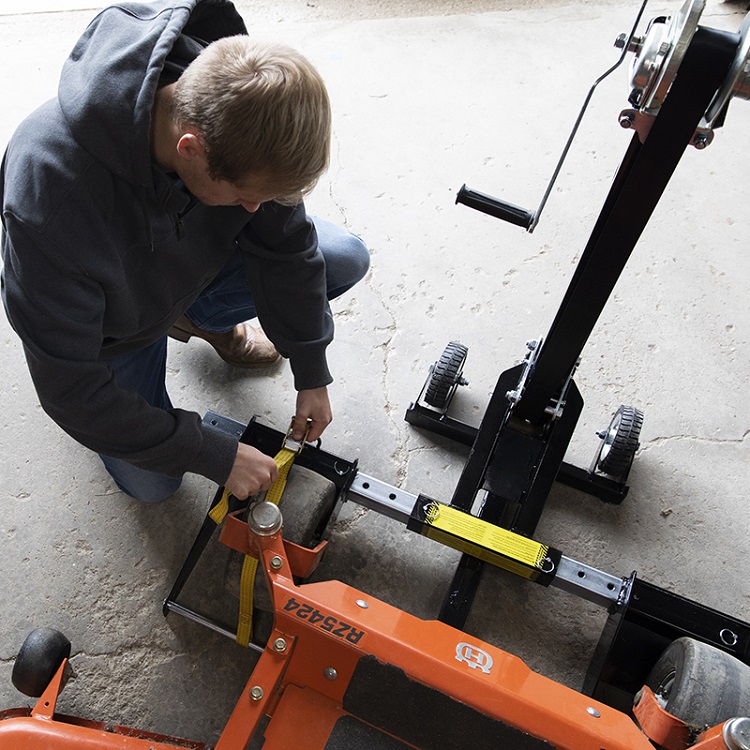 There are plenty of good points to consider when getting a MoJack mower to help with maintenance. Here is a selection of the best.
Lifting Capacity
The most obvious benefit is the maximum lifting capacity offered by MoJack products. Although each one has different limits, the MoJack Pro can lift up to 750 lbs (a third of a ton!), meaning any mower of any size can be lifted with a MoJack.
Lifting Height
What good is being able to lift heavy machinery if you can't get it high enough to work on? Thankfully all MoJack products can lift mowers to an accessible height, some 25 inches on average. This means that no matter the size or weight of your machine, you'll be able to get underneath it to clear debris or perform that much-needed maintenance.
Versatility
MoJack has adopted a one-size-fits (almost) all approach with their range of lifts. Each one comes with a tower that can be made wider or narrower, depending on your mower. In the case of the Pro, wheel spans can measure between 31.5 – 62.5 inches with no problems – just make sure you check the diameter you need before ordering one.
Excellent Safety Features
When lifting heavy machinery, it is majorly important that there are plenty of safety features in place and that the lift is up to the task. MoJack has gone above and beyond in its design and has included several important safety features to keep users safe.
Self-braking winch system

Ratcheting safety lock

Reinforced steel construction

Solid construction using heavy-duty materials
Easy to Store
The clever design of MoJack products means each of their mower lifts can be folded flat when not in use. This means they are incredibly easy to store, whether you're hanging them up in a workshop or storing them in your garage.
Extended Warranty Cover
Anything that comes with a warranty as standard adds that little extra peace of mind to the consumer. MoJack includes a two-year warranty as standard on all of their products, so long as they are registered within 30 days of purchase. This is the same, no matter whether you are a commercial or domestic user.
Cons of MoJack Mower Lifts
Although most of what we experienced testing the MoJack products was positive, there are inevitably a few downsides to consider. Find them here.
Sticking Bolts
According to a limited number of Amazon reviews, there is a tendency for bolts to stick when using the MoJack Pro. Although we did not experience this during our testing, this is something to bear in mind as it may affect you. If this does happen, some simple lubricant will do the trick.
Heavy
For such a heavy-duty, quality product, this is to be expected, but the MoJack mower lifts are not at all lightweight. The Pro model we tested weighs in at 119 lbs. This means it'll take a couple of people to move, depending on how strong you're feeling.
Are There Any Alternatives?
Pro-Lift T-5305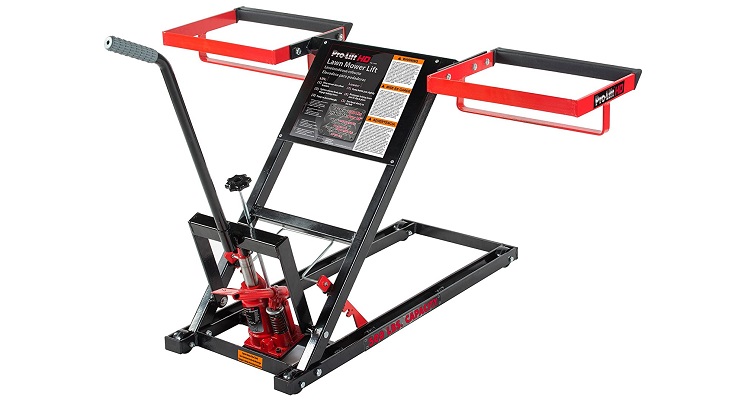 The T-5305 from Pro-Lift offers a fantastic alternative to MoJack products. It serves as a great in-between for both good value and superb quality. It can lift up to 500 lbs and is perfect for machines with between 19.25 and 42.5-inch wheel spans. As you can see, it's not quite as impressive as the MoJack pro, but at a much lower price point, it's still a great choice.
Pro-Lift T-5300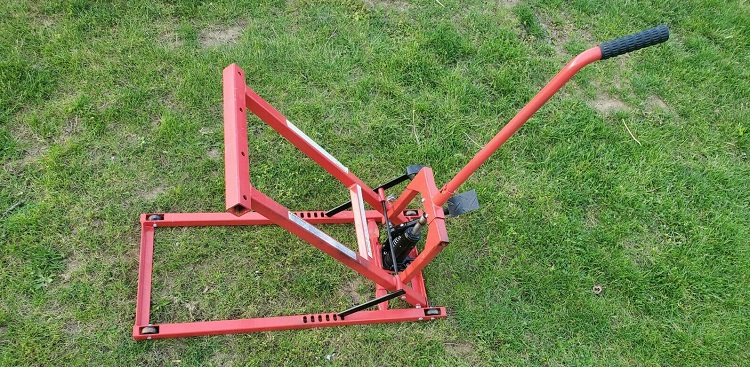 Another great offering from Pro-Lift comes in their value T-5300 series. Described as small but mighty, the T-5300 can lift up to 300lbs with ease and raises mowers and other four-wheelers 22 inches off the ground.
It supports wheel spans of between 17.25 and 41.25 inches and includes a hydraulic foot pedal for super simple lifting. It also comes with rubber padding to protect your vehicle from scratches.
Frequently Asked Questions
Question: Where Are MoJack Lifts Manufactured?
Answer: MoJack is a proudly American company that designs, builds, and ships all of its products from Wichita, Kansas.
Question: Which MoJack Product is the Right One for Me?
Answer: Only you can answer that! But as a general rule of thumb, MoJack lifts can be separated by their load weight. For example, if you need to be able to lift a serious weight of up to 750 lbs, then go for the MoJack Pro. On the other hand, if you only need to lift a smaller mower of up to around 250 lbs, then the MoJack Push is more than enough for you.
Question: Why Is My Mower Stuck in the Air?
Answer: Each time you use your Mojack, be sure to check the user manual. If you've got your stuck in the lifted position, then you've more than likely left the safety locking mechanism engaged. You'll need to review the safety instructions and release this before getting your mower back down to earth.
Question: What is not Included Under the MoIack Warranty?
Answer: The extended MoJack warranty does not cover you if you have altered, adjusted, or damaged your mower lift in any way. If damage has come about from misuse, you are also not covered. Similarly, you are negligent or suffer damage due to normal wear and tear. There is no cover for incidental or consequential damage.
The Bottom Line – Are MoJack Products the Best Mower Lifts Around?
We love the MoJack line of products. There is certainly a reason they regularly come out on top in customer reviews. Our testing only confirmed this – they're packed with quality and consistency.
If you're keen on maintaining mowers yourself or have a business doing so, then something like the MoJack Pro is the perfect product for you. It offers supreme quality and although it comes with a sizable price tag, in our opinion is well worth it.
However, don't forget to research the topic a little. There are some fantastic alternatives to be found, not least the T-5305 and T-5300 from Pro-Lift. They offer a little more value for money, so if that's what you're after, make sure to check them out!