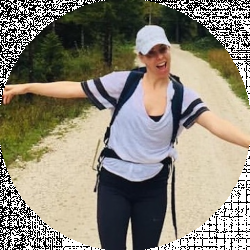 Latest posts by Jodie Chiffey
(see all)
For any homeowners out there who value subscription services and want to keep their lawns looking pristine, then Sunday Lawn Care could be the service you need. Our Sunday Lawn Care review and guide will equip you with the knowledge you need to decide if this new service is for you.
The service features customizable programs and environmentally friendly nutrients, and all are delivered directly to your door. Sunday Lawn claims there is something for everyone who wants their lawn to look better without the hassle of constantly replenishing their stores.
In this Sunday Lawn Care review and guide, we'll be looking at the features you can expect to enjoy when using this product, outlining its pros and cons, as well as answering some frequently asked questions on the topic. We'll then round off with some alternatives for lawn enthusiasts to consider and some thoughts of our own.
But before we get into the details, let's take a look at a product overview.

Sunday Lawn Care Specifications
Core Features of Sunday Lawn Care
Billed as one of the best lawn care subscription services available on the market, Sunday Lawn Care lets customers forget about having to replenish their stocks of things like lawn nutrients, yard tools, and laboratory soil tests.
As a subscription service, all you need to keep your grass looking amazing is delivered straight to your door, as often as you'd like. They offer a range of packages that are designed for different lawn sizes and needs.
Although their plans are all customizable so you can have exactly what you need to be delivered just when you need it, Sunday Lawn Care does have some standard packages to start with.

Custom Lawn Fertilizer Plans
Sunday Lawn Care collates satellite data and uses it to model your lawn and create a bespoke lawn plan that caters specifically to the needs of your yard. The results are then analyzed using a personal soil test to fine-tune the plan to ensure you're getting the most from your plan and that your lawn is as healthy as possible. Using this method creates some of the most effective lawn fertilizer plans available anywhere in the world.
Delivered When You Need it
Your package is delivered exactly when you need it depending on your lawn's needs. Building your own plan means you'll get exactly what you need when you need it most – your deliveries can be tailored depending on when and where you need your lawn nutrients.
Weed Control
Sunday can kill weeds if your lawn has a particular problem with them. Although this is treated as an add-on product, elements like 'Dandelion Doom' and 'Weed Warrior' can be added to help remove things like thistle, daisies, and dandelions.
Grass Seeds
If your lawn needs reseeding, Sunday can help. Along with your custom lawn care package, you can add additional features depending on other lawn-related challenges you face. The weed control, as mentioned above, is one option and another in Sunday's range of grass seed. They have multiple options depending on your growing zone, water requirements, and sun requirements. Adding these to your plan is a great way to improve the appearance and vitality of your lawn.
Integrated Pest Management
While traditional pest control uses blanket tactics where harmful chemicals are deployed almost at will, Sunday has come up with an integrated approach that builds a rewarding relationship between your home and its surrounding ecosystem. There's an option for you with solutions for common pest issues like ants, fire ants, mosquitos, ticks, and bugs. As another additional feature, you can add IPM to any existing lawn care plans.
Quick, Easy, and Effective Maintenance
All you need is a garden hose to get started with a Sunday lawn. This makes it accessible for most homeowners looking to take their lawn care to the next level. Sunday claim treatments only take 10 minutes to spray the necessary nutrients, and when your next box arrives, you'll know it's time for another round of treatments.
Nationwide Coverage
Although headquartered in Colorado, Sunday ships to all fifty states across the country. This means that no matter where you're located, you can benefit from their subscription packages.
The team at Sunday says they monitor where products are sent and can prioritize stock depending on your local climate. So, for example, customers based in Texas will have their packages weeks before those in Maine.
Positive Reviews
Existing customer reviews seem to confirm that the team at Sunday is doing things right. For example, many reviews claim that Sunday Lawn Care has turned their lawns around and helped them seed after many years of neglect.
The company itself has only been around since 2018, so it is not yet listed with the BBB (Better Business Bureau). Despite this, they have already attracted attention from some highly reputable sources, such as TIME, who described Sunday Lawn Care as one of the best inventions of 2019.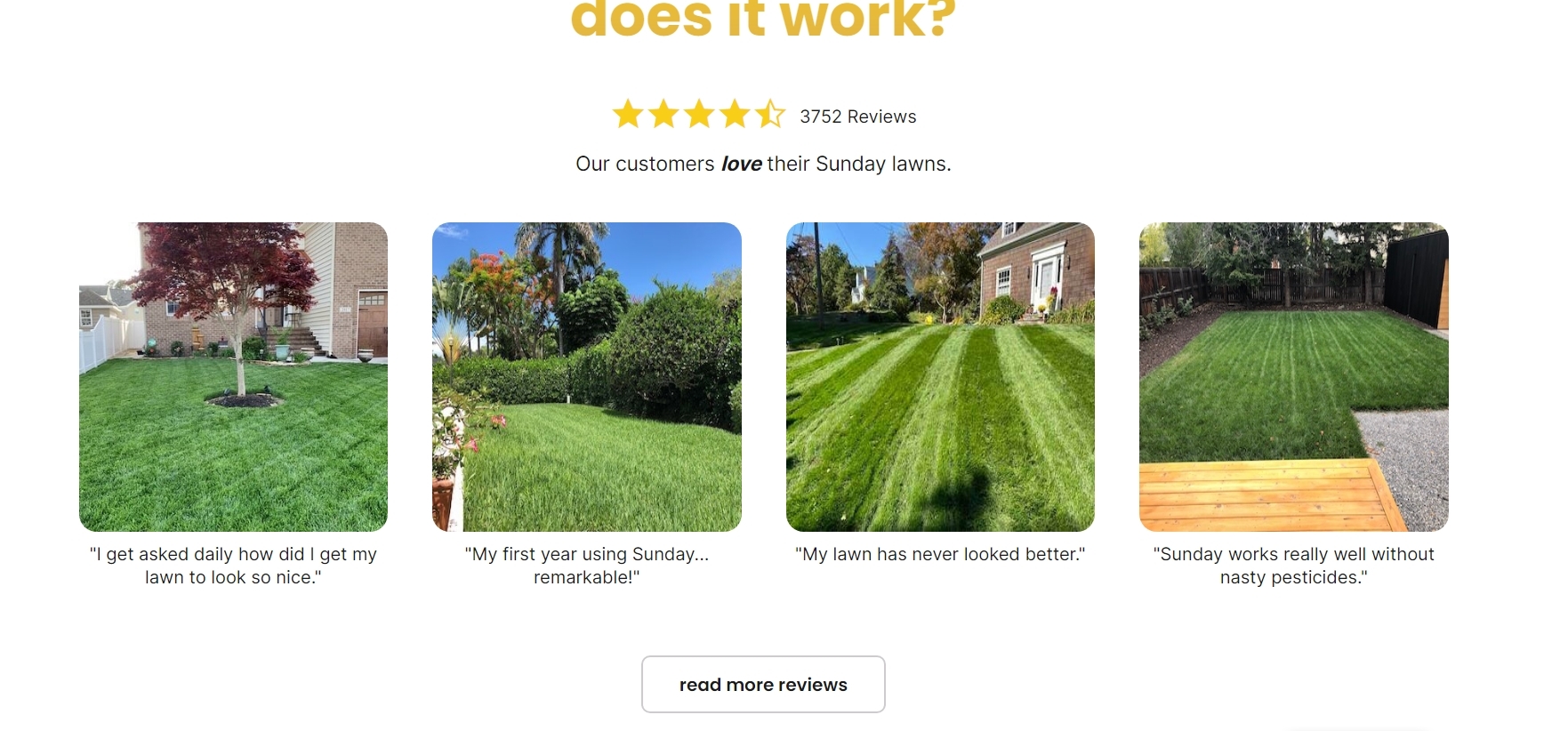 Good Value
Boxed all-in-one lawn care packages start at $89 annually and come with an array of items that you'll need to get the most from your lawn. Each pack includes the following:
A full year's plan
1-12 pouches of lawn nutrients
All of the tools and equipment you'll need to administer the nutrients
1 – 4 shipments annually depending on your lawn needs
One free lab soil test that can be used to tailor your package
Unlimited lawn support from the team at Sunday
Each plan is shipped once annually, equipping you with everything you need to look after your lawn for 12 months. However, if you find you're running low on anything or want to bolster your options, many of the nutrient packs are available to buy individually.
There is also the option to gift subscriptions for friends and family, with all plans coming with the option to cancel at any time.
Naturally Healthy Lawns
One of the major selling points for Sunday Lawn Care is that they avoid pesticides and other harsh chemicals wherever possible. The custom nutrient packages are designed using cutting plant science and have been developed in conjunction with Frank Rossi (famous for maintaining the grass at the Yankee's stadium in New York City).
The environmental impact associated with yard work and lawn maintenance is at the heart of Sunday's thinking. So much so that they ensure all of their products are 100% environmentally safe and that a portion of their profits goes to helping people reconnect with mother nature and protecting important natural habitats.
Does Sunday Lawn Care Perform Well?
As we know, every Sunday Lawn Care plan is customized to your lawn and locality needs. All we had to do when we tried it out was input our address to begin a free soil, climate, and lawn analysis. This determined exactly when nutrients and care our lawn needed during each season.
This was done using pre-existing data alongside up-to-date satellite images that allow the team and Sunday to measure your lawn exactly and send precisely the right amount of product.
Once this was done, we received our own annual customized lawn plan that included the 1 – 4 shipments of lawn nutrients, all of the tools and equipment we needed to use them, free soil test, and the nutrient pouches themselves.
There was also the option to include products like 'grass powerhouse,' 'lawn strong,' and 'winter prep' to plans if needed.
All you need is a lawn that needs attention and a hose with a sprayer. Once the nutrient pouches arrive, you literally just attach them to said sprayer and spend 10 minutes covering your lawn (longer for larger areas). It really was that easy when we tried it out earlier this year, and we saw noticeable results within 4 weeks of application.
The package we received included organic ingredients such as seaweed, iron, potassium, recycled organic produce, and molasses. These environmentally friendly ingredients are what keep lawns looking healthier and greener than ever – especially when compared with your neighbors. The contents of Sunday's lawn kits get our seal of approval, especially since many traditional lawn improvement formulas include nasty herbicides and pesticides.

Pros of Sunday Lawn Care
There are plenty of good points to consider when looking at taking out a Sunday subscription. Here is a selection of the best.
Makes Lawn Care Simple
The most significant and most obvious advantage to using a service like Sunday is just how easy it makes the whole process of looking after your lawn. If it's an area you're not too experienced in or one that you find a bit of a chore, then having everything you need delivering straight to you is like a dream come true. All it takes is a few minutes of your time a few times a year.
Organic and Environmentally Friendly Ingredients
This is where Sunday really sets itself out from the crowd of existing law care services. Today it is vital that products are both as environmentally friendly and as ethical as possible; otherwise, consumers won't buy your product. This is especially true when purchasing products like Sunday that are coming into direct contact with the environment.
Sunday's combination of organic ingredients without the use of harsh chemicals means users can achieve their dream lawn without the need for damaging the environment at all.
Tailored to Your Needs
Not all lawns are created equal, and nor are the environments they find themselves in. That's why Sunday's ability to tailor packages to the individual needs of lawns around the country is so vital. The US has such diverse climates that no one size fits all approach was ever going to work. This means you get the most from your subscription no matter where you live.
Overwhelmingly Positive Reviews
One area that is always guaranteed to give an accurate reflection of how good a product is is the reviews left by real users. When it comes to Sunday, the vast majority of these are positive, no matter where you look. This, coupled with our own experience of the company, leaves us feeling pretty good about recommending it.
Transparency
This feeds back into the point about Sunday's environmental credentials. They are very open and transparent about what goes into their products. They know that if they tried to sneak the odd chemical in there to boost results, that would massively harm their brand. This openness and transparency have led to a high level of consumer trust being established since their launch in 2018.
Cons of Sunday Lawn Care
Although most of what we experienced using Sunday was positive, there are inevitably a few downsides to consider. Find them here.
Only Available in the USA
Yep, currently, Sunday is only available in the US. While it is available across the country, if you live outside of the states, you're out of luck for the time being. That being said, we wouldn't be surprised to see them expand beyond US borders soon.
Issues With Starter Packs
Despite the hugely positive reviews, there was one common theme that ran through the minority of negative ones. Some users reported missing ingredients from the starter packs. While this is bound to happen from time to time, it can be frustrating if you're ready to go and your package arrives missing that vital component.
Are There Any Alternatives?

Rachio is another innovative company that offers lawn care services. Their original business model centered around the use of smart technology, automating the process of watering your lawn via their sprinkler system. However, they have now branched out into lawn care subscription services with their Thrive model.
The major difference, however, is that Rachio Thrive is not available as a bespoke service.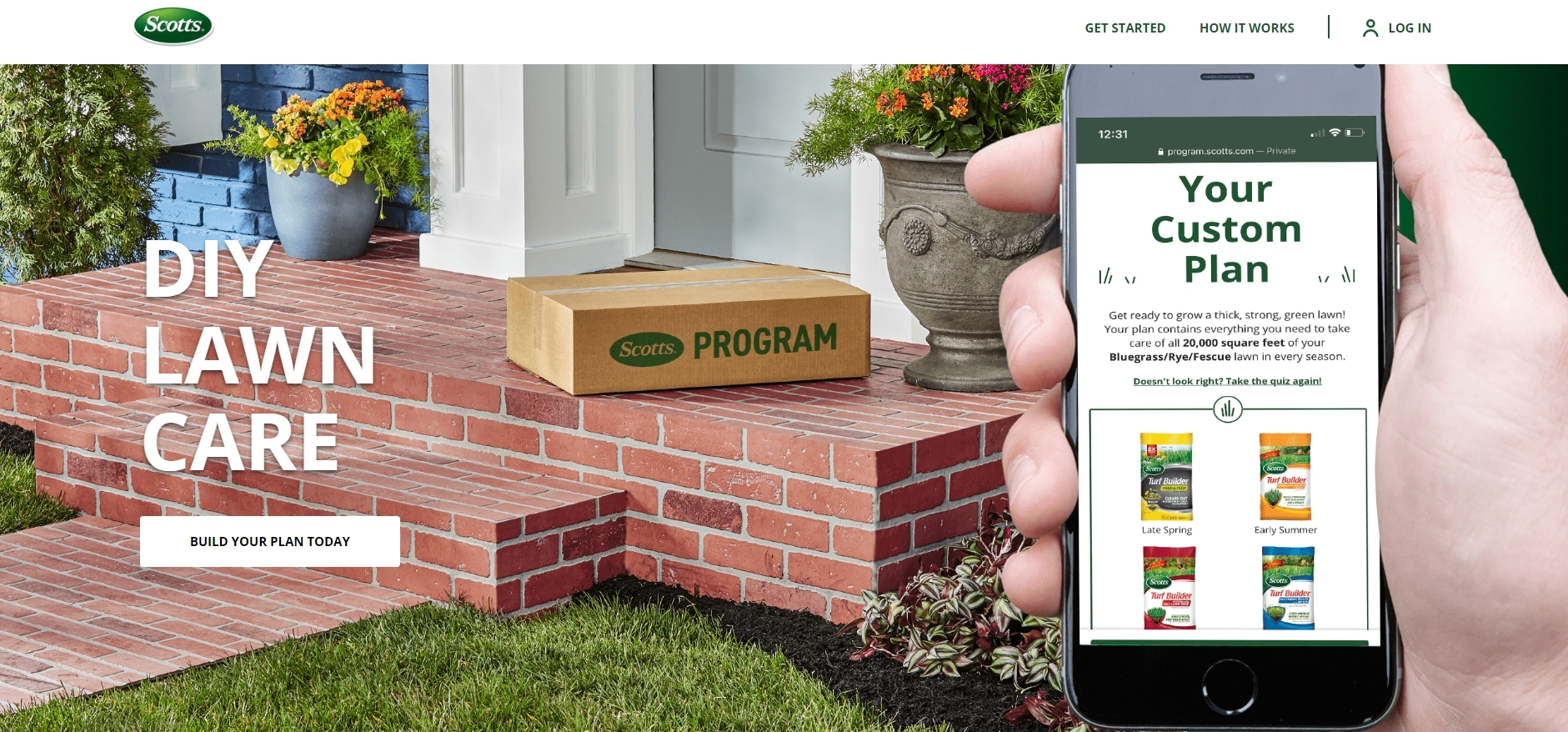 Scotts is probably the biggest brand to offer lawn care subscription services, so they have the competitive edge over both Rachio and Sunday. It comes with an integrated app like Rachio and also comes kid and pet-friendly. However, Scotts do not use 100% natural ingredients. So while we're sure you'll see good results, you'll still be spreading potentially harmful chemicals into the environment.
Regarded by many as America's number 1 lawn care company, TruGreen serves over 2.3 million customers across the country. They have a range of services and lawn care plans available, meaning you can choose the best one for your lawn. However, unlike Sunday, TruGreen is not a bespoke package; they have a predefined set of services rather than building one to your specific lawn needs.
They are also much less eco-friendly, with only their natural plan being produced using organic ingredients. The rest are made up of potentially harmful pesticides and other chemicals.
Frequently Asked Questions
Question: How long does Sunday Lawn Care take to work?
Answer: As you can imagine, this depends on the current state of your yard and your overall lawn goals. However, in terms of how long it takes to notice a difference, you should start seeing noticeably greener grass one or two weeks after application.
Question: Does Sunday Lawn Care grow new grass?
Answer: If that's what your lawn needs, then yes, Sunday can grow new grass. It works with nature to fight weeds, nourish current grass and grow fresh grass to leave your lawn looking close to perfection. It also helps users control pests with advice and guidance along the way.
Question: Is Sunday fertilizer safe for dogs?
Answer: Sunday says that when used as directed, their products are child and pet-safe. This is because they are extremely selective when it comes to which ingredients make it onto your lawn, making sure they break down quickly and get to work on your turf.
The Bottom Line – Is Sunday Lawn Care Worth Getting?
We love Sunday Lawn Care. It's a brilliant service that is bound to help almost everyone enjoy a healthier-looking lawn. If you're already keen on the idea of lawn care, then a subscription service like this takes the effort and stress out of having to buy new products for each season. On the other hand, if you're totally new to the world of grass care, the Sunday provides the ideal way in, thanks to their guidance and customization.
Of course, there are competitors to consider. The likes of Rachio and Scotts offer viable alternatives. But, for us, Sunday is the number one lawn care subscription service in the US at the moment – there's a reason the likes of Forbes and TIME recommend it!