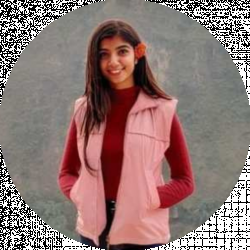 Latest posts by Rukmita Ghimire
(see all)
Have you been looking for a trimmer for an average-sized yard?  You do not want your beautiful garden ruined by some weeds, right? Well, in this Husqvarna 128LD Review, we'll see what Husqvarna brings with the Husqvarna 128LD trimmer, an ideal trimmer for those who want a lightweight, versatile, environment-friendly trimmer on budget.
It might be the best tool if you are planning to upgrade your game on landscaping. If you wonder what makes it so special for an average homeowner, you will get an answer within the next few minutes. So, let us get into it.
Specifications of Husqvarna 128LD
| | |
| --- | --- |
| Brand name | Husqvarna |
| Model | Husqvarna 128LD |
| Product dry weight | 11.11 lb |
| Engine | 28cc, 1.0 HP, two-cycle, CARB & EPA Compliment |
| Fuel | Regular unleaded |
| Fuel tank | 11.5 fl oz tank |
| Operating RPM | 8000 max |
| Sound level at operator | 114 dBA |
| Power output | 1.0 hp |
| Warranty | 2 years |
| Smart Start | Yes |
| Detachable Shaft | Yes |
| Price | Check the latest price |
Core Features of Husqvarna 128LD

Husqvarna 128ld is a well-designed, versatile, light-weighted, smooth running, environment-friendly trimmer producing fewer emissions with excellent air purifier technology and many more. Some of the core features are as follows.
Versatility: Actually, it comes up with numerous attachments, which help you convert into different tools for edging, cutting, or mowing.
Lightweight: Roughly 11 pounds, so light you can pick even with a sore back.
Smooth running: Surprisingly, It is so smooth that you will not have that numbness due to vibration.
String size: It uses a 0.095-inch string to cover a 17-inch cutting width.
Engine: It has a 2 cycle engine with an engine capacity of 28cc.
Switches: It has a return stop switch and taps' n' go option to make this product more worthy.
Air purge technology: It eliminates the air present in the fuel system and the carburetor and enhances the performance of the machine.
Fuel: It uses a 50:1 mix of two-cycle oil for a better outcome but does not add non-ethanol fuel to this trimmer.
Fuel tank: It has an 11.5 fl oz translucent fuel tank that enables the user to check the level of fuel. It is a big reservoir in comparison to its competitors.
Fast start feature: Its "Smart start" feature helps you save time and energy to start.
Detachable shaft: This will let you remove the shaft when not in use and store it easily.
How Does Husqvarna 128LD Perform?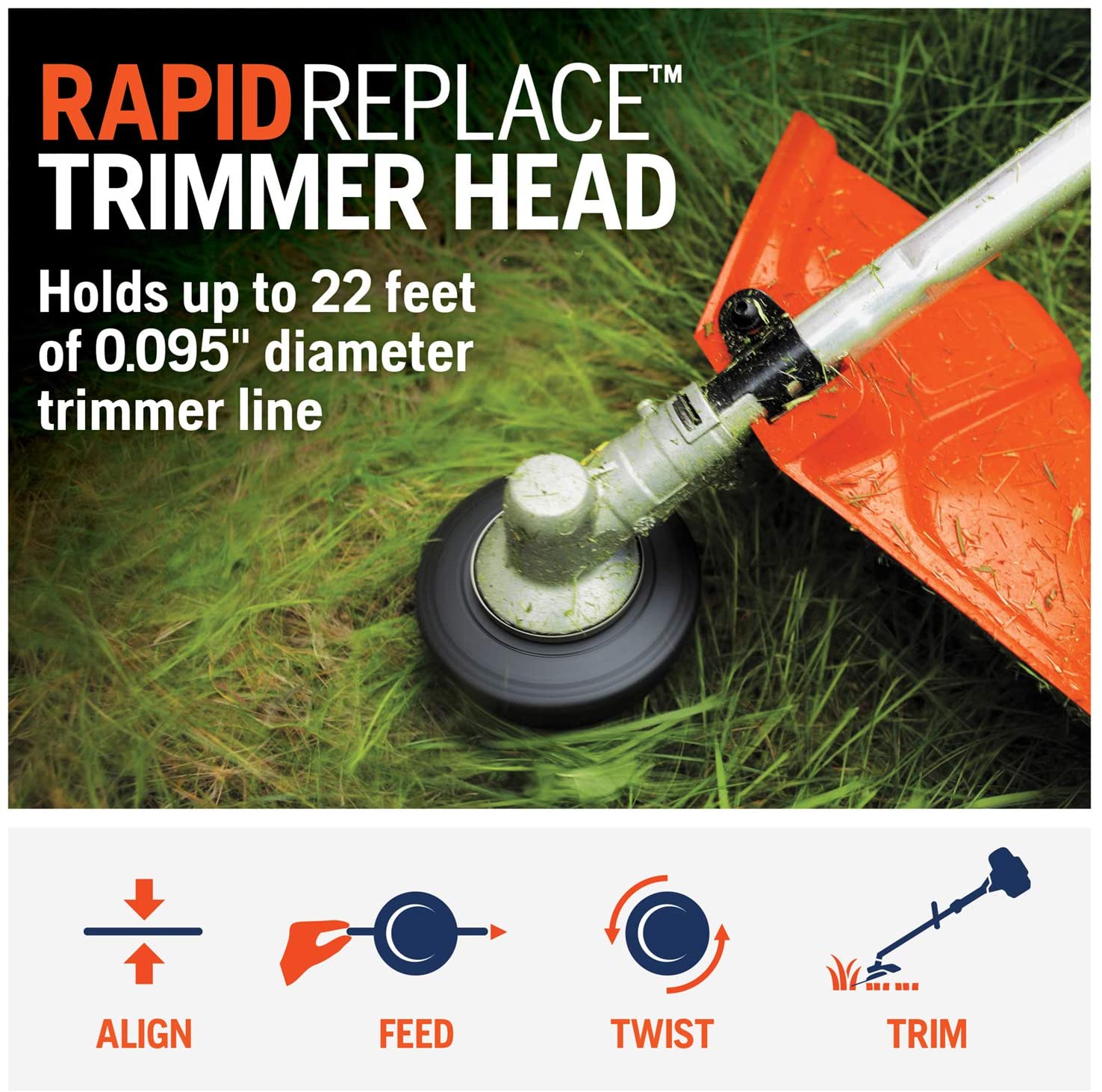 Cutting ability and power are two major factors that decide the performance of power tools. And Husqvarna is the one superior brand that has been reliable and enduring for ages because of this. Not only does it offers you the best but also ensures the quality. Enough of the praise – now let's get back to its performance.
Performance is one dependable factor that decides if you should get the product or just forget it. Husqvarna 128LD clear this doubt with its 1 hp powered engine that works with a cutting speed of 8000rpm. With an engine displacement of 28cc, the tube clears the cutting width of 17 inches in a blink of an eye.
Low fuel consumption and emission are other features to be praised for. The manufacturers claim that the product emits less harmful emissions in comparison to its counterparts.
This model is easy to start with less fatigue. All thanks to its smart start technology that reduces the starter cord resistance by 40%. It's lightweight, weighing just 10.8 pounds, which means it is easy to handle and swing.
Most trimmers do not give you options for additional attachments. But the situation is completely reversed in this model. It gives you the freedom for additional attachments: grass blades, edger, pole saw, or a cultivator. This is all because of the excellent compatibility this model has plus the three "click on" attachments options.
Furthermore, it is equipped with a fast start feature that starts the engine with minimal effort. Besides that, there is an auto-return stop technology and tap n' go option that ensures the trimmer is ready to go whenever you are.
All-in-all, Husqvarna 128LD is lightweight yet powerful with various advanced features that can tackle every yard work with ease.
PROS OF HUSQVARNA 128LD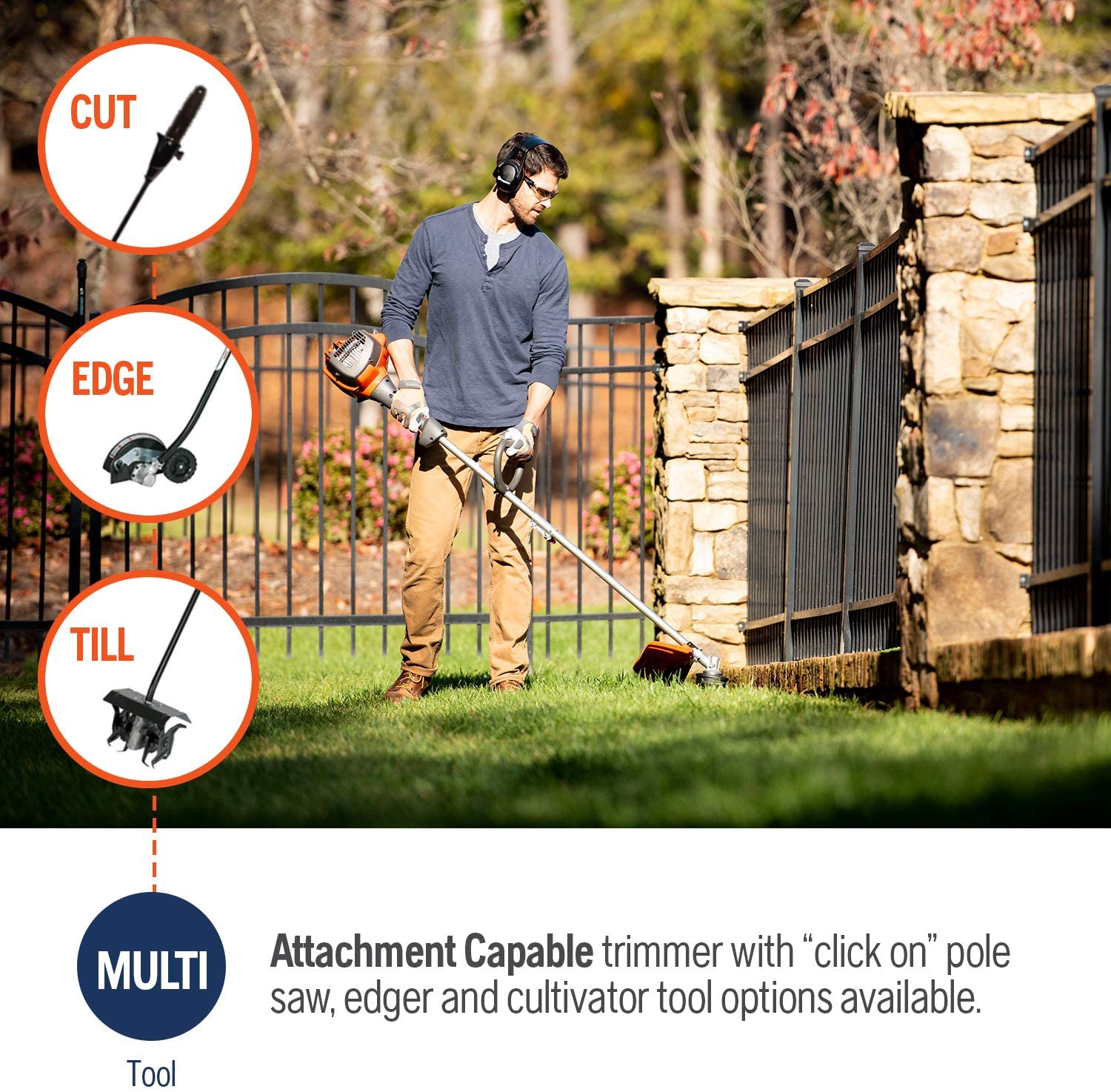 Very Versatile
One of the best features of Husqvarna 128Ld is its versatility. It can be converted into different tools according to your needs. It can do all the trimming activities an average homeowner needs.
There is a detachable shaft. You can unscrew it off and attach other tools. It comes up with various attachments that help to convert into other lawn care tools as a powered pole saw, brush cutter, mower, and steel-bladed edger. Think about how much money you saved just by buying this equipment rather than buying each one of the 11 pieces of equipment individually.
Easy to use
Unlike other trimmers, it is designed for homeowners; hence, it is very easy to use. All thanks to its "tap 'n go" feature that allows you to quickly release more trimmer lines while you are working. You just tap the head, and it releases more lines just like that.
A translucent fuel tank allows you to see the amount of fuel needed to complete the task.
Fast Start feature
You can start the trimmer without any struggle with minimal effort. You will be surprised to know that Husqvarna owns a copyrighted technology known as "Smart Start" and Husqvarna 128LD possesses that. Isn't that cool? Its unique engine saves your time and energy.
The smart start recoil system makes the complex task smother. Not only this, the auto-return stop switch ensures that Husqvarna 128LD is ready to operate whenever you need it.
Powerful

It is a 28cc 2-cycle engine, powerful enough to have a 17-inch trimmer head, which is clearly out of the league for its class. It is quite powerful to do everything in an average yard essentially.
Smooth running
It is so smooth that you will be surprised by your performance without having numb hands, which you may not have experienced while trimming before.
Light-weighted
It is just 11.11 pounds, and even if you have nasty back pain, you can clean your yard and enjoy the experience.
Running Capacity
If you have the capacity of working for 10 hours straight, you have a trimmer that can match up your capacity. You need not take a break just for the sake of cooling and charging the tool.
CONS OF HUSQVARNA 128LD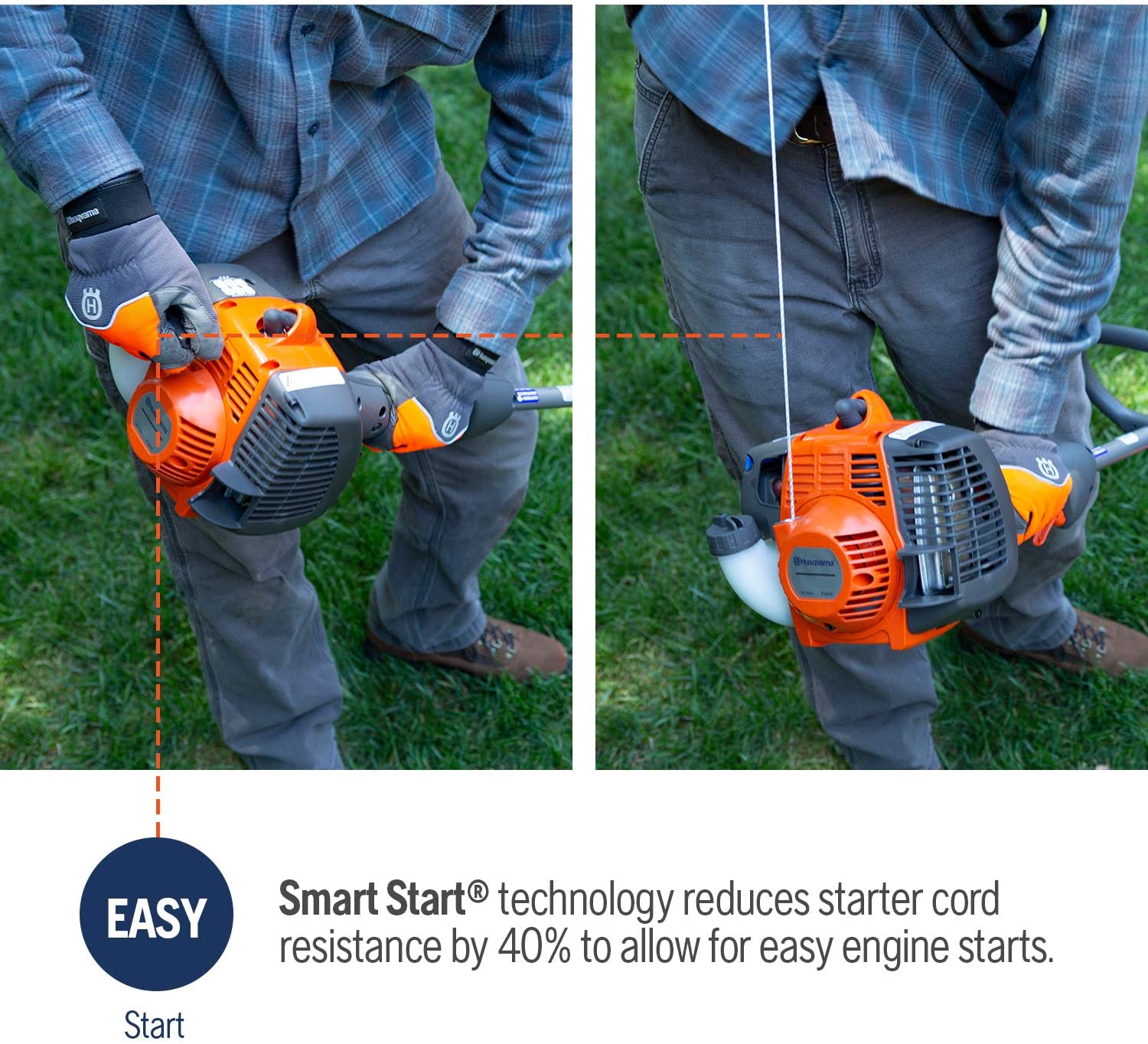 Choke switch placement
The choke switch is placed on the inside of the unit, which means it is too easy to turn it off accidentally. However, you need not worry. It starts back right again!
Noisy
 It is a bit noisy like any other two-stroke engine, but then you are not going to make a very important conversation about life while trimming, are you?
Leftovers!
As it runs at 8000 rpm, there might be some remnants at the corners, which Husqvarna 128LD may not clean. In addition, its straight shaft makes it difficult for every corner behind the fences.
Not so ergonomic
One of the biggest problems with this trimmer is that it is not so ergonomic.  It might fatigue you quickly. Although this is a bit subjective, it may be a problem for some while it may not be an issue for others.
User Guide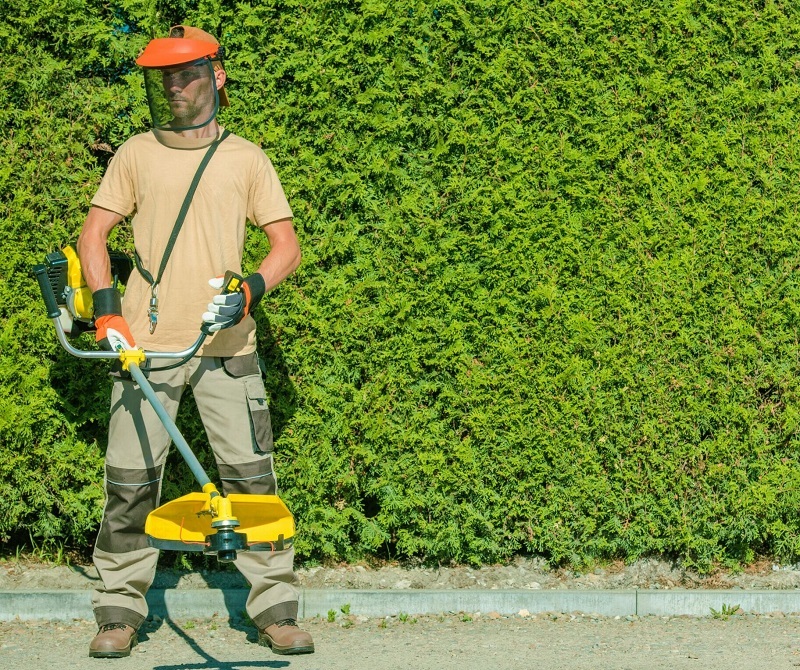 Husqvarna 128 Ld has a nice handle with a straight shaft model, which makes it easy to use, especially for taller people. You can loosen the handle and rotate towards the left and right so that you can use it with your left or right hand according to your ease.
Talking about the engine, a two-stroke engine means you will have to mix your oil with gas. You can get oil easily from a hardware store and mix it to the optimum level. Husqvarna 128ld works best at 50:1.
The gas tank is small and does not hold up much fuel, but you do not need much oil as well. You have a choke near the tank for starting. On the back of the engine, there is a primer bulb, and you would want to prime 10 times before staring during cold.
It has a detachable shaft. Thus, you can unscrew it and attach various other equipment like cutting disc, pull saw, etc. The weed whacker head attachment is very basic. It has two strands that hold up when you run into the rock or fences. You can just start the choke while starting; you can prime the primer bulb, and it is ready to fire the weed on your yard.
The machine might seem complicated at first, but after you get the hang of it, trimming feels like a breeze of air.
ANY ALTERNATIVES??
If you are wondering if there are any other trimmers other than Husqvarna 128ld, there is one for you, which is popularly compared with one another.

There is Husqvarna 128LDX, which possesses a 28cc engine as Husqvarna 128LD. Hence power and performance figures are identical across the two models. The difference between them is the attachments they can use. The 128LD can use any accessory from other brands, whereas 128LDX needs the attachments from Husqvarna only. This is why we talk about the versatility of Husqvarna 128LD particularly.

Husqvarna 129Lk trimmer is a multipurpose tool with a powerful two-stroke, 27cc engine. In addition, it possesses some similar features to Husqvarna 128LD like smart start, automatic stop return switch, tap and goes feature, see-through fuel tank, detachable shaft, and various attachments. It allows you to attach different attachments like a blower, edger, cultivator, and hedge trimmer for your better trimming experience.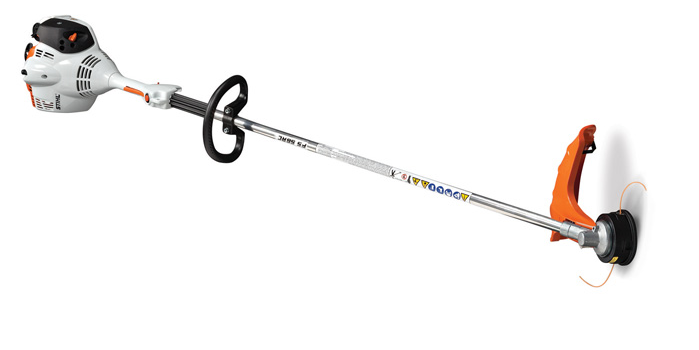 It is a comfortable trimmer with an innovative 360-degree adjustable handle that adapts to all body types and working postures and ensures maximum comfort while working. It has shoulder straps that help to distribute weight evenly, unlike Husqvarna 128LD.
It has a fuel-efficient 2-stroke, 27.22 cc engine. Husqvarna 128LD and Stihl FS 56 RC-E both are winners in the trimmer category, but the Husqvarna trimmer is slightly faster and cuts wider than the latter. Both have a translucent fuel tank, which makes it easier for the user.
One of the biggest disappointments of Stihl FS 56 RC-E is that it is not as versatile as Husqvarna. It cannot carry out functions of different tools with the help of different attachments.
FREQUENTLY ASKED QUESTIONS
Question: Is Husqvarna 128Ld commercial grade?
Answer: No, it is not designed for commercial use. It is designed for the average homeowner with an average-sized yard. That does not in any way mean it is less powerful.
Question: What kind of fuel does Husqvarna 128Ld use?
Answer: It uses unleaded or quality leaded gasoline and two-stroke oil mixed at a ratio of 2% (1:50).
Question: What size line does a Husqvarna 128Ld use?
Answer: It can use 0.065, 0.080, and 0.095-inch diameter cutlines line.
Question:
Does it feature one or two string operations?
Answer: It has two strings; hence, there are two individual strands of trimming line exiting the cutting head, which is used to trim.
Question: Can the length of the shaft be changed as necessary?
Answer: No, it cannot be shortened and lengthened according to your height. Although, you can dismantle the shaft for easy storage.
Question: Is it easy to start Husqvarna 128LD unit?
Answer:  It is very easy to start this trimmer, even for those who are not used to operating gas-powered string trimmers.
CONCLUSION
If you are looking for a robust weed eater, trimmer, mower, hedger, and several different tools, you have the best option for you, and that is Husqvarna 128LD string trimmer.
This multipurpose tool is the best if you are an average homeowner with an average yard, as it is primarily designed for the homeowners rather than for commercial purposes. It is a durable and well-built powerful engine. Hence, it is one of the investments which is here to last. You need not spend money from time to time on the cleaning operation of the yard. It helps you clean the lawn, yard, or garden easily in no time without fatigue and numb hands.
Hence, it is needless to say that it has more to it than its competitors. However, Husqvarna 128LDX is closest to 128LD, if you cannot get Husqvarna 128. But still, I would go with 128LD as it can use attachments from any brand.
In short, it is an ideal trimmer for a homeowner as it comes with 11 other attachments, is less noisy, is less vibrating, and has various other features a person wants at a reasonable price.