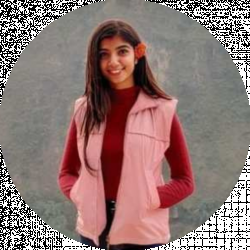 Latest posts by Rukmita Ghimire
(see all)
Are you tired of mowing large lawns with obstacles like pools, ponds, and gardens? Is mowing now a chore rather than a source of joy and satisfaction? Gone are the days when you had to feel compelled to do your lawn mowing. With the Cub Cadet ZT1, you can have fun while completing the long and difficult mowing task without turning, even in less time.
Are you one of those people who demand that their lawns be meticulously manicured? Cub Cadet ZT1 is your best option due to its excellent cut. You'll be surprised to learn that this riding mower can assist you in spending quality time with your family. If you're wondering how I'll explain it, keep reading. It transforms a 2-hour difficult task into a 45-minute enjoyable chore with zero-turn. Isn't that amazing? Let us learn more about it.
The powerful Cub Cadet Ultima ZT1 riding lawn mower is popular among customers who have larger gardens or live in space and want to keep their lawns in good condition. The mower's zero-turn technology and 50-inch cutting path make it simple to operate.
The 20-inch adjustable seat, on the other hand, works in conjunction with a polymer seat suspension system to provide a comfortable ride with little to no vibration and increased confidence. Dual LED lights enable you to work whenever it is convenient for you. You don't have to be concerned about the time of day, whether it's early morning or late at night.
Specifications Of Cub Cadet ZT1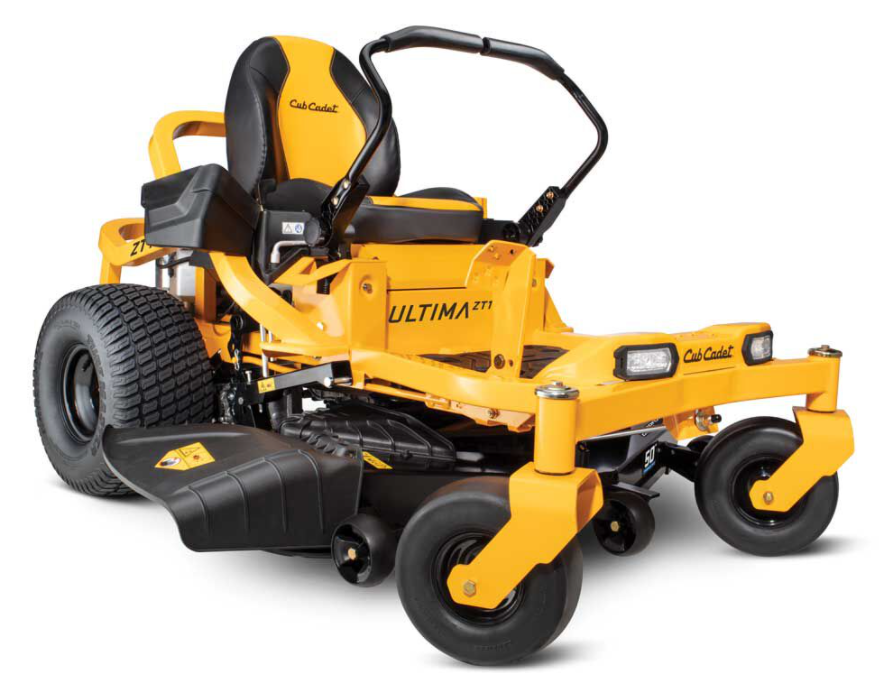 | | |
| --- | --- |
| Engine | 23 HP Kawasaki twin-cylinder engine |
| Transmission type | Hydro-gear |
| Power source | Gasoline |
| Forward speed | 7 miles per hour |
| Reverse speed | 3.5 miles per hour |
| Cutting width | 50 inches |
| Cutting height | 1 inch to 4.5 inches |
| Fuel tank capacity | 3.5 gallons |
| Turning radius | Zero |
| Front tiers | 11 X 6-5 inches |
| Rear tiers | 20 X8 inches |
| Warranty | Three years/ Unlimited hours |
| Price | Check the latest price |
Core Features
The Cub Cadet ZT1 lawnmower is a high-quality machine that gets the job done quickly and comfortably. It's a fantastic machine for personal and professional use. This lawnmower's distinct appearance and structural strength stand out.
When compared to other zero-turn lawnmowers, this lawnmower ranks first due to the features it provides. That is what we will discuss in the following section: the main characteristics of a lawnmower.
Power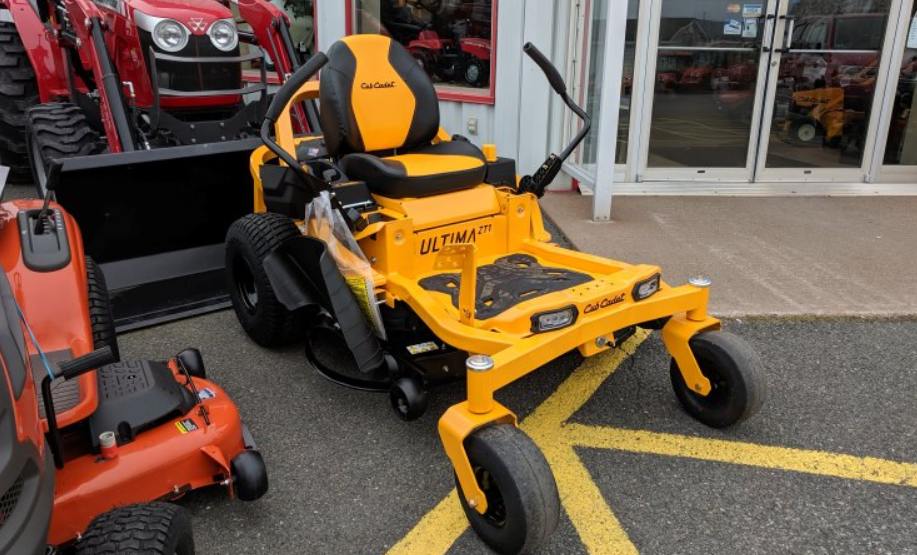 With its 726cc Kawasaki twin-cylinder engine, it strives to deliver a powerful service of 23 horsepower, allowing you to mow at a top speed of 7.5 miles per hour and reverse mowing at a top speed of 3.5 miles per hour.
Tires
It is proud of its premium tire set, which includes large front and rear tires to help you avoid bumpy rides and enjoy a smooth ride. Furthermore, the tubular steel structure adds to its durability. It also includes a soft rubber floor mat, reducing vibration and providing better traction than previous models.
Easier maintenance
Because of its open-frame construction and replaceable floor pan, it is easier to maintain. You do not need to waste time chasing your tail while attempting to solve the problem. You can jump right into the problem, fix it, and get back to work as soon as possible. Seasonally, you can replace or sharpen the cutting blades on the AeroForce cutting deck.
Cutting deck
The cutting deck measures 50 inches and features Cub Cadet's AeroForce cutting system, with three integrated cutting blades that replicate their mulching effect. This aids you to decompose those cut grass clippings and make your lawn healthier rather than letting them dry out and turn into turf choking thatch.
Another interesting feature is its 15 height settings that let you adjust the cutting deck as low as 1-inch and as high up to 4.5 inches. This deck is fully welded and backed up by a limited lifetime warranty. It has a Smart Jet deck washing system that easily removes debris and stuck-on grasses.
Warranty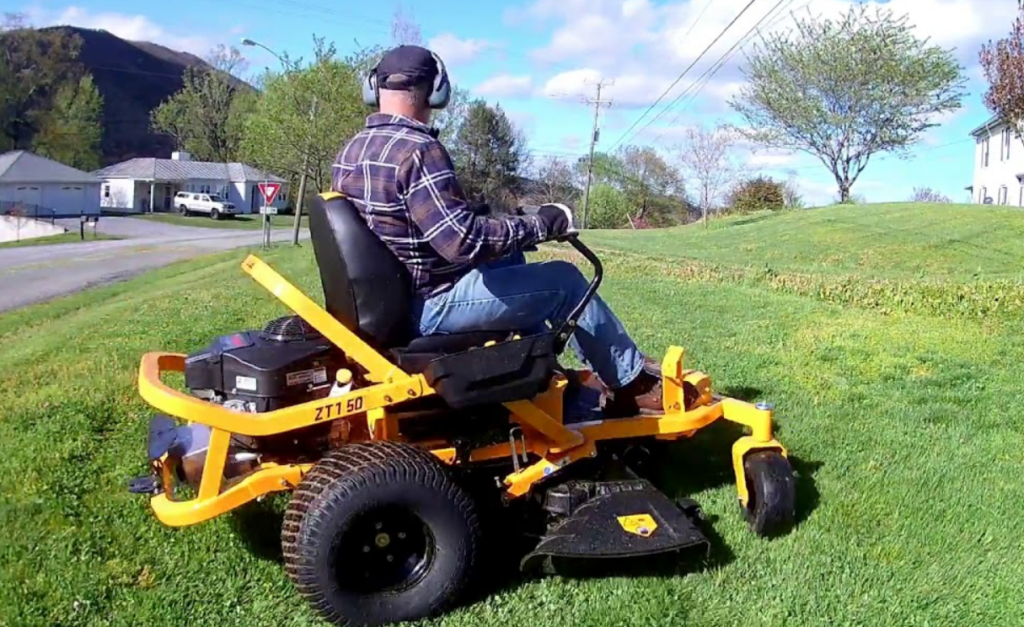 Another excellent feature of Cub Cadet Ultima ZT1 must be its warranty. The three-year guarantee promises help from the manufacturer no matter how many hours you have raced up your mower if you need it. The frame and fabricated deck shell is backed up by the lifetime warranty that assures protection for as long as you need.
Comfort
The 20-inch adjustable high-back chair makes you comfortable while mowing your lawn. The soft grip, padded ergonomic controls, and adjustable lap bars make it easily controllable and make it very easy to operate. These soft touch handgrips prevent your hands from getting hurt even with the hardest grip.
In addition to that, it also prevents slippery hands from sweat. Isn't that amazing? The cub cadet kept in mind the comfort while designing Ultima ZT1 riding a zero-turn lawnmower.
Zero-turn technology
The riding mower has a zero-turn radius. Hence, you can save time from unnecessary turns and deliver the maximum output. The 11X6.5 inches front tires provide a smooth 180-degree pivot without turf damage.
Efficiency
It is one of the efficient riding lawn mowers that can cut up to 4 acres on a single fuel tank. You do not have to waste your time refueling the tank. Instead, you can save time and do your job well.
Safety measures
The Cub Cadet Ultima ZT1 has all the standard safety measures you can expect from a zero-turn riding lawnmower. It also has a PTO engagement system. In addition, three cutting blades of the AeroForce cutting decks are small, so they tend to stop faster than two large cutting blades. It helps you slow down swiftly to handle the area around trees and tricky landscaping features.
Cost-effectiveness
The Cub Cadet Ultima ZT1 is one of the most cost-effective riding lawnmowers. It might feel expensive at first. However, it ensures that you benefit from every penny you spend on the mower along with the fuel you put into it.
Dual LED Headlights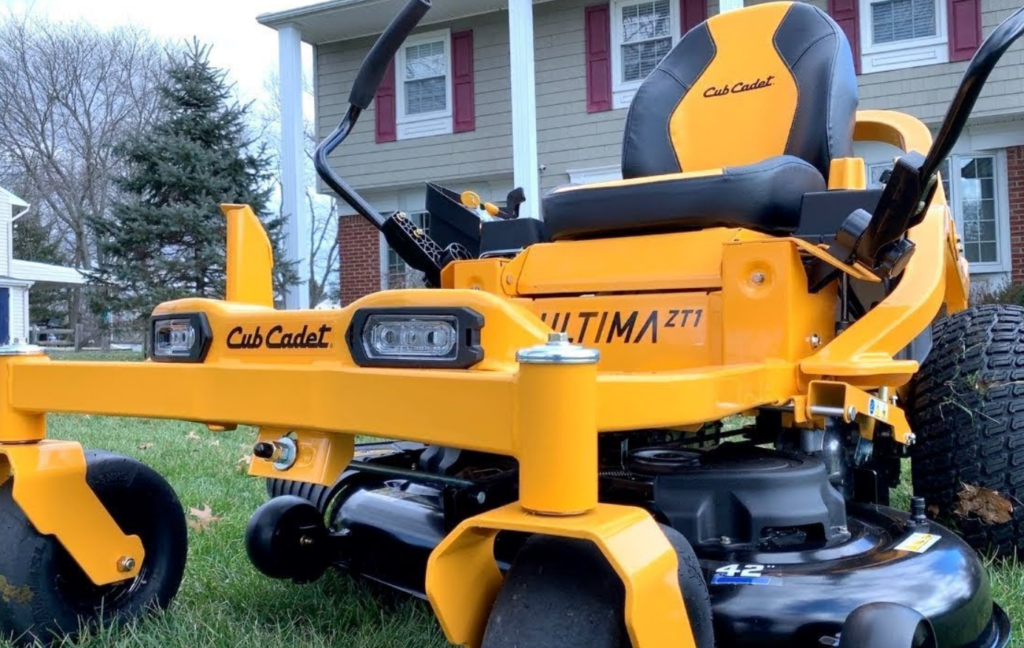 Although, it is suggested not to work at night due to safety reasons. However, Dual LED headlights assists you to complete your task at the time of your convenience, no matter what the daylight conditions are. You can get into the business at either dawn or dusk.
Performance of Cub Cadet ZT1
This mower's performance, I believe, is the reason for its popularity among professional lawn care companies, golf courses, and commercial properties. It has impressive speed and landscaping capabilities for maneuvering around large properties (four acres).
The argument begins with the engine's 23 horsepower cylinder, corresponding to the Cub Cadet ZT1's top performance. This zero-turn lawnmower allows you to pivot or turn around quickly. It quickly completes the task and cuts cleanly. With the Cub Cadet ZT1, you can get close to the trees and cut the grass around their perimeter.
Another feature that appeals to me about this series is the adjustable deck height. The deck is simple to customize, with 15 distinct setting options and a 50-inch cutting area. All you have to do is press down on the pedal to raise the deck. You do not need to disengage the PTO to remove the impediment. This method allows you to make a deck as low as 1 inch and as high as 4.5 inches.
Other mowers may require you to mow the thicker plant areas twice. However, with this lawnmower, you'll only need to cut once, and you'll be done. This mower also has the advantage of being stable. The mower is very stable in all conditions, including hills and slopes. The most intriguing feature is the parking brakes, which can be activated simply by moving the handlebars. If this doesn't persuade you to use it, I'm unsure what will.
The Cub Cadet ZT1 also comes with LED headlights. If you're not at home during the day, you can easily mow the lawn at night or whenever you want.
To summarize, the performance of the Cub Cadet ZT1 is quite impressive. It has a lot of conveniences, such as convenient parking brakes, adjustable deck heights, and an adjustable seat.
Pros of Cub Cadet ZT1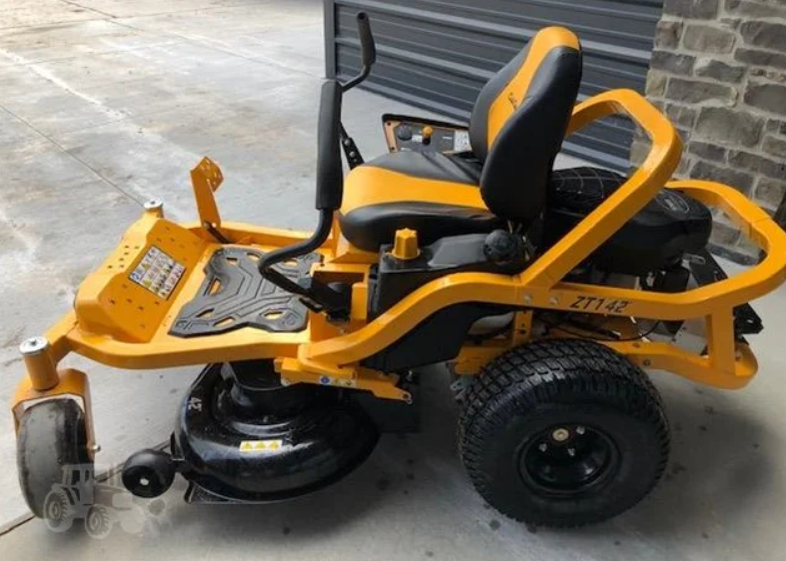 726 cc twin-cylinder Kawasaki engine
50- inch cutting deck
AeroForce 3-cutting blade system
Smart Jet deck wash
Hydro-Gear EZT 2200 hydrostatic transmission
Padded seat, which is the 20-inch high-back seat
Cons of Cub Cadet ZT1
Thirsty engine while running wide open
Cutting blades should be replaced rather than sharpening
Requires some assembly on purchase
Lack of coverage might result in sunburn
Why Zero Turn Lawnmower?
Isn't there a reason why zero-turn lawn mowers are so popular? There's a reason why professional landscapers are currently favoring zero-turn lawnmowers. When time is money, this mower is ideal for people with extensive gardens in this day and age.
With a clear forward view and the ability to turn and pivot, you can save time and energy, allowing you to complete more work in less time. In a nutshell, it allows you to save time and earn more money.
Alternatives to Cub Cadet ZT1 Lawnmower
John Deere Z365R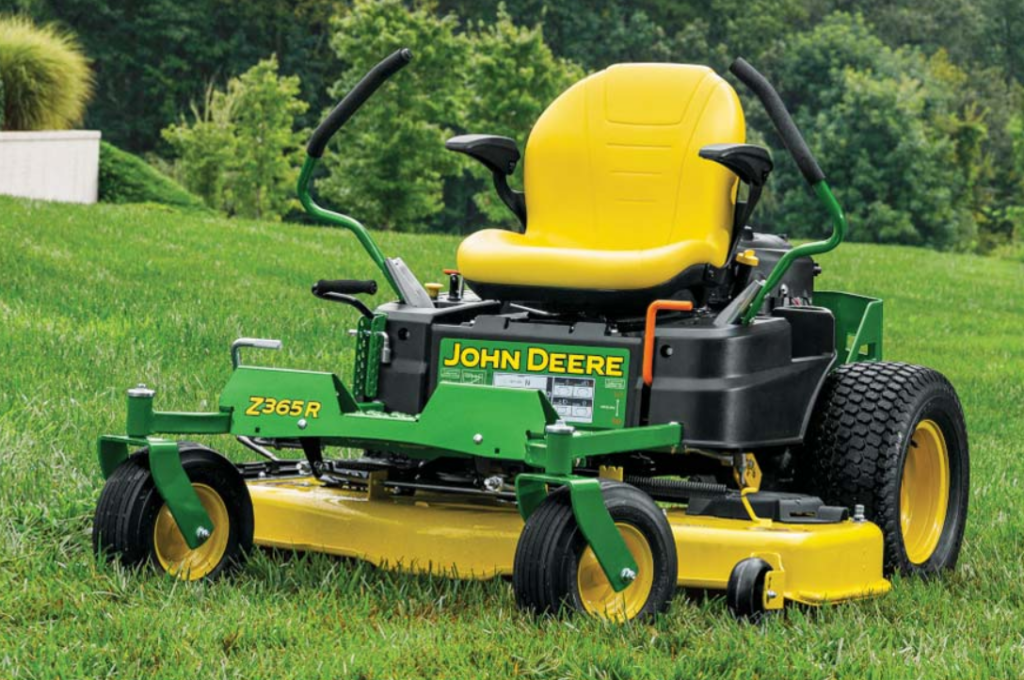 The Deere is powered by a 24-hp Briggs and Stratton V-twin engine and two tough HydroGear EZT transmissions. Each transmission is capable of propelling a vehicle weighing 900 pounds. John Deere, like the Cub Cadet ZT1, is built to last. Furthermore, it can easily handle obstacles and steer uphill and downhill.
Among other benefits, it can cut grass with equal ease, whether it is tall and thick or short and light. When the grass is short, the clippings can be mulched back into the lawn, and when the grass is tall, they can be discharged out the side of the deck. The John Deere Z365R is a straightforward model with a 2.4-gallon fuel tank and no gas gauge, but it has an oversized spin-on oil filter, eliminating the need for messy oil changes.
Ariens Ikon X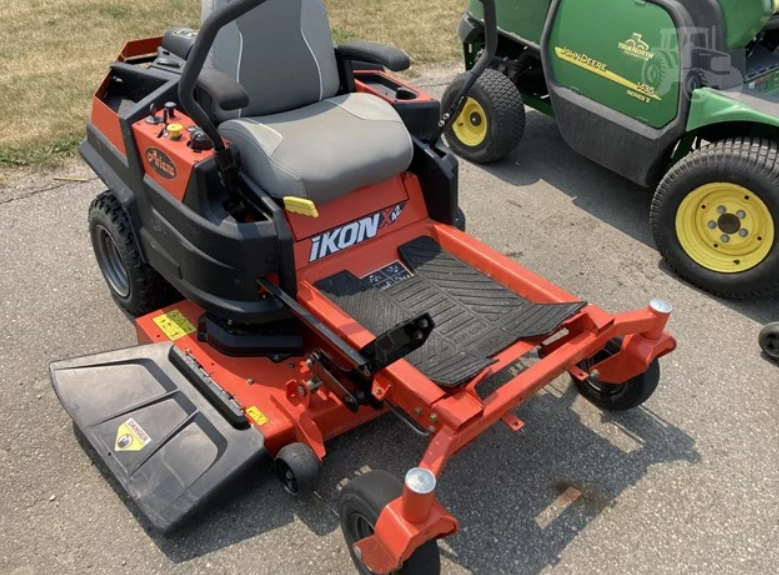 The Ariens Ikon X is a dependable lawn mower with a 23-hp Kawasaki engine and a 52-inch fabricated steel deck. Furthermore, it has a Hydro gear EZT transmission at each rear wheel for smooth operation and a top speed of 7 mph. The mower weighs 635 pounds and has a fuel tank capacity of 2.8 gallons. Hence, it is a robust lawnmower with neat welding and well-applied paint.
Husqvarna Z248F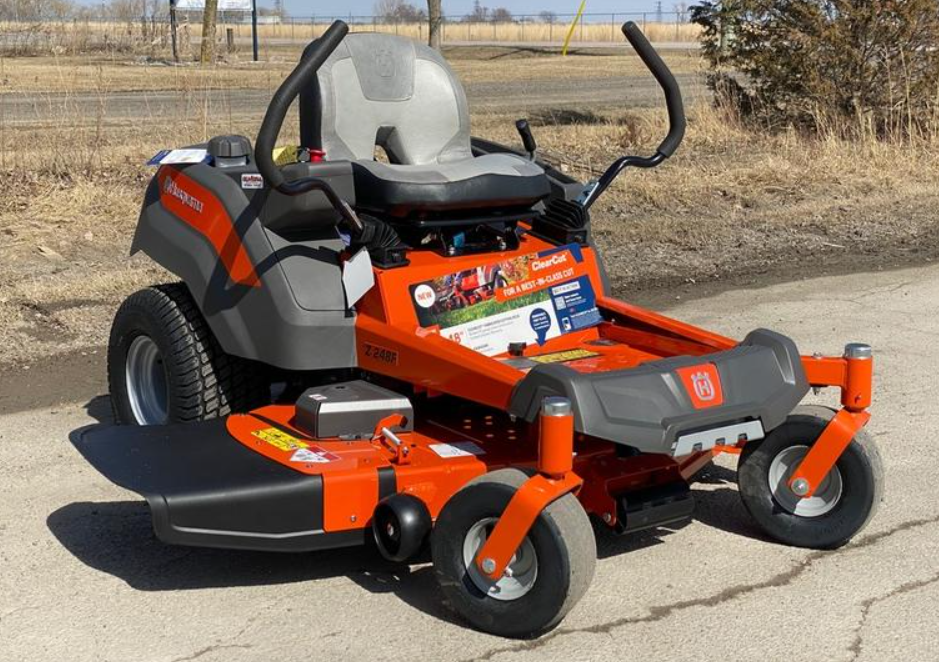 Husqvarna is a company that pays close attention to detail to provide the best service to the user. The three spinning blades on the Husqvarna Z248F lawnmower cut the grass and generate a remarkable amount of lift and airflow inside the deck. It provides mulching action and airflow, which keeps the grass from becoming clogged.
Spinning blades are mounted on heavy-duty cast-iron greaseable spindles that help them withstand obstacles and vibration. The mower is powered by a 21.5 hp Kawasaki engine with a high power-to-weight ratio, producing 39.3 foot-pounds of torque at 2200 pm. It appears to be a nice mower to have.
Frequently Asked Questions
Question: Does the Cub Cadet ZT1 mow in reverse?
Answer: The Cub Cadet ZT1 mows at 3.5 mph in reverse and can accelerate to 7 mph forward. The mulching effect is replicated by the AeroForce deck's three cutting blades.
Question: What makes the zero-turn radius so unique?
Answer: A zero-turn lawn mower has recently received a lot of attention because the turn takes no time and thus saves you time and energy.
Question: Is Cub Cadet a reputable brand?
Answer: Cub Cadet is a good investment because it provides high-quality products at a reasonable price. The Cub Cadet ZT1 Ultima riding lawn mower is proof of that.
Question: How long does a Cub Cadet Zero-turn battery last?
Answer: The life expectancy of a mechanical tool, like any other, increases with proper care and maintenance. However, the Cub Cadet ZT1 works well in the 400-800 range in a low workload scenario.
Final Word
The Cub Cadet Zt1 zero-turn lawnmower is ideal for anyone looking for a comfortable, well-made, and long-lasting zero-turn lawnmower. The Cub Cadet ZT1 is a powerful riding lawn mower popular among homeowners with large lawns and gardens, professional lawn care companies, golf courses, and commercial landscaping companies.
It has all of the features that a lawnmower for commercial landscaping and large property owners should have and wide tires for the best riding lawn mower experience. Its appealing, comfortable design does not detract from its power, supplied by a 23-horsepower Kawasaki engine. The output of this powerful engine allows for easy mowing of areas ranging from two to four acres.
With all of these fantastic features, you can't ignore the most important one, which is the "cut." After all, it's just a lawnmower. It has a 50-inch cutting width and a height range of 1 to 4.5 inches. This is a truly simple riding lawn mower that provides a smooth sailing service with no interruptions, giving you a lot of confidence in using it.
Continue reading: