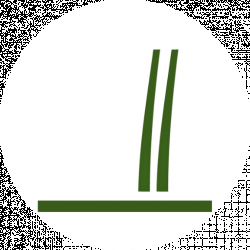 Latest posts by Turf and Till Team
(see all)
Is your grass constantly withering? Have you attempted various fertilizers but didn't get satiating results? Milorganite is the best fertilizer that helps your grass become lush and grow robustly.
Healthy soil is crucial for robust plants and via utilizing Milorganite, the soil gets microbes and obtains nutrition because the fertilizer has 85% organic matter. 
Milorganite possesses equitable proportions of phosphorus, iron, and calcium that maintains the health of a lawn. It gradually releases nitrogen hence providing nutrients and preventing the lawn from burnouts. 
Milwaukee's popular nitrogen slow-release formula is found in 32 lbs bags and covers over 2000sq.ft of lawn. Hence this delivers about 0.72 nitrogen pounds per 1000 square feet of turf. However, with high demand comes hiked prices and short supply. 
Recently Milorganite has reduced supply, causing lawn owners to scramble for the last alternatives to Milorganite. Thus people are currently leaning on these alternatives to keep their lawns lush.
That said, this review seeks to give the best 6 alternatives to Milorganite alongside a guide on how to choose the best option for you. Shall we commence?
Characteristics of a good Milorganite alternative fertilizer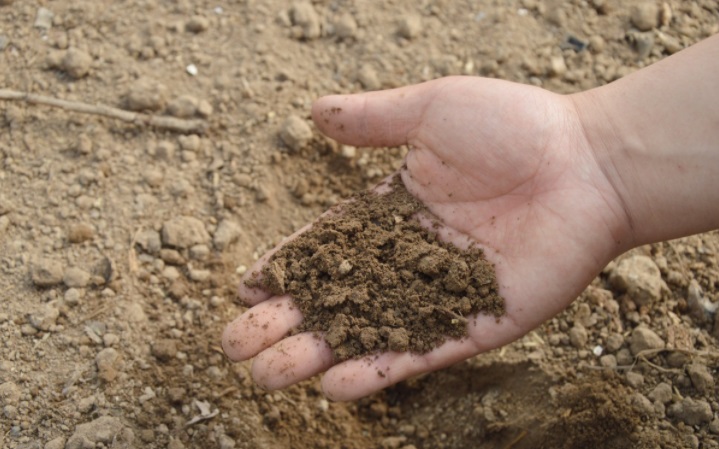 The fertilizer needs to be unequivocally slow releasing. 

Has high contents of nitrogen

It shouldn't overfeed the plants, causing them to get burned.   

Should you desire a lush vibrant lawn, get a fertilizer with high contents of iron. 

It has to be free of any harsh chemicals. 
Factors to consider when selecting a Milorganite alternative fertilizer –guide
The growth of a lawn is dependent entirely on the desired results. That said, here are some factors to consider when choosing the best alternative fertilizer for you. 
Synthetic Fertilizer Vis a Vis Organic Lawn Fertilizer
Synthetic fertilizers are curated from waste, minerals, and gases to generate results speedily. However, they burn the plants if they're over-applied.
On the other hand, organic fertilizer is curated from various living organisms, inclusive of bat guano, bone meal, cottonseed, and peat moss. There are no environmental or health side effects of organic fertilizers, but they take longer to work.  
Correct formulae 
There are two main formulae, that is liquid and granular. Liquid fertilizers occur in powder form or even liquid fertilizer form. It is best to apply this type often. However, if liquid fertilizers come in contact with the water supply, they release arsenic, lead, and cadmium, resulting in health issues to the community.
Alternatively, granular types release slowly and take months to yield results. They don't often require application hence they're less hazardous to health and the environment. 
Grass-type in your lawn 
Knowing the grass type you own is crucial. Without having a full grasp on that, you cannot achieve results therein. Besides some feed and weed types, you may deem your grass as weed hence clearing them out, which you wouldn't fancy.
Some grasses thrive in a specific climate. Slender bladed grass doesn't tolerate excessive heat, unlike thick bladed ones. Thus thick bladed grass can thrive in southern climates. 
Cost
Synthetic fertilizers are cheaper. Regardless you need to comprehend the exact required amount. Should you be on a budget, pre-check your yard's size to decide the amount of fertilizer required to feed the lawn sufficiently.  
Amount to use 
Utilization is dependent wholly on the fertilizer type you're using. Be cautious about following the stipulated manufacturer's directions in regards to the quantity. Don't over-fertilize your lawn because it will damage and burn the crops.  
Comprehending NPK ratio 
NPK implies Nitrogen, Phosphorus, and Potassium. The ratio will determine the nutrient percentage and amount there is in the fertilizer.
Nitrogen is essential for the growth and health of a plant, keeping it lush. Phosphorus, on the other hand, provides nutrients and growth to roots and potassium mitigates chances of drought and disease. 
Best combinations are dependent on several factors, inclusive of the area's climate as well as the type of turf. Countercheck the package label on your grass to ascertain that they are fed with the required nutrition. 
Top 6 best Milorganite Alternatives & Substitutes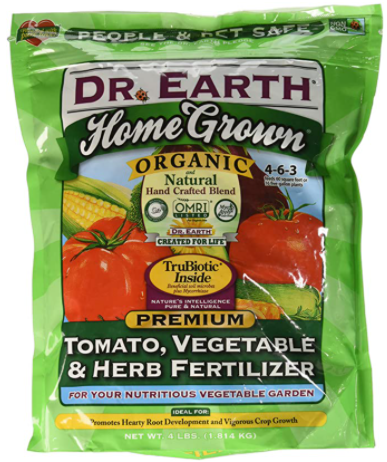 Starting off the list is Dr. Earth Organic homegrown fertilizer which is curated to offer vital nutrients to summer and winter crops, plantings as well as vegetable gardens. It can be utilized as dressing or composed tea, in transplanting, as well as initial planting seed days.   
The fertilizer promotes soil health via providing nutrients such as carbohydrates, trace elements, humic acid, multi-minerals, and proteins.
Also, they can produce nutrient-rich vegetables. It is amongst the best Milorganite alternatives because it is curated from organic and natural nutrients.
Dr. Earth Advantages
It is not inclusive of GMOs, sewage sludge, or chicken manure. 

Entails probiotic types of elements, which are inclusive of ectomycorrhizae and endo as well as seven other soil microbes. 

There are no chemicals used (no chemical fertilizer)

Feeds and stays longer
Dr. Earth Pros
Produces robust fresh lavish and greener vegetables and crops. 

Drought tolerance

Ups nutrient availability and plant performance. 

Safe for children and pets
Dr. Earth Cons
Costly 

Emits pungent smell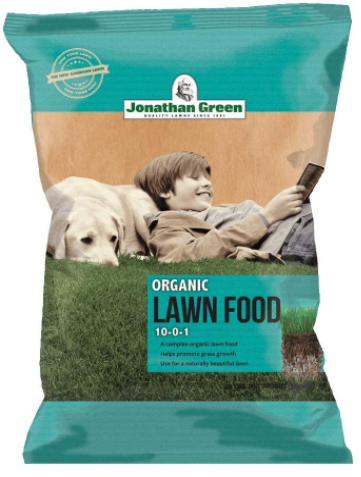 Should you possess sick lawns wherein crops are stunted and are never fresh, Jonathan Green and Sons is a perfect solution.
This fertilizer aids in restoring withered crops gradually until they are healthy and thick. Jonathan Organic Food can be suitable for all soil types and crops. Should you be attempting to grow plants with novel seeds, this fertilizer will yield magical results. Also, it can be utilized in all seasons. 
Jonathan Green and Sons Advantages
The value of NPK is 8-0-2 which is a good composition

Possess exceptional food grade quality

Doesn't entail fillers, manures, or biosolids
Jonathan Green and Sons Pros
Doesn't burn crops

Nutrients are slowly released

Covers about 5,000 Sq. ft area

Slow-releasing of nutrients

Does not burns the crops
Jonathan Green and Sons Cons
Produces a pungent smell when applying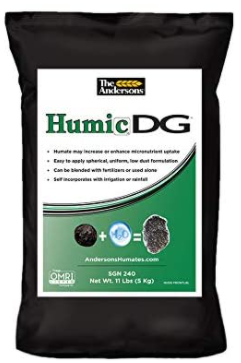 Moving on swiftly, we have the Humic DG, a great organic soil amender rich in humic acid, humic, fulvic acid, and carbon content. It was initially developed via utilizing Dispersible Granule Technology that is typically licensed under Andersons.   
The Humic DG granules basically disperse into several microorganisms that get in touch with water and then directly reach the roots to provide sufficient nutrition to both the soil and plants. Humic DG 
works well on all types of soil. It effectively reduces evaporation hence retaining water in sandy soils too. Additionally, it eases root penetration in clay and compact soil. 
Humic DG possesses a distinctive type of carbon matrix that contains high organic acid concentrations and trace minerals.
Besides, it improves and enriches the overall growth of plants, root mass, root vigor, as well as seed germination. It is also perfect as a Milorganite alternative because it provides adequate humic acid amounts to plants due to low moisture content.
Humic DG Advantages
It possesses an NPK ratio of about 7-1-2.

Does not utilize fecal excretions and parts of animals

You can routinely apply without worrying about your plants burning

It applies to all soil and turf types at all growth stages

It is utilizable in gardens, lawns, and flower beds
Humic DG Pros
It is friendly to both the environment and user too

Safe for kids and pets because it is soy-based

The fertilizer chelates nutrients which stay for extensive periods
Humic DG Cons
It is not easy to find it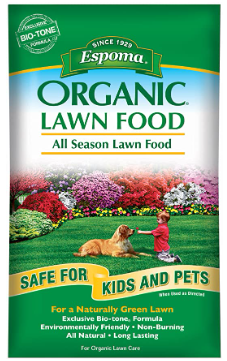 Epsom Lawn food is amongst the most popular fertilizers out there. It is amazingly slow releasing and typically entails nitrogen formulation which includes 7.6% of insoluble nitrogen.
Epsom EOLF28 was designated precisely to enhance and even nourish the growth of a plant. It functions via enriching soil with essential carbon content. Hence nutrients can easily reach plants resulting in robust and lush growth as well as seed germination. 
The Epsom Organic All-Season Lawn Food basically entails four crucial biological components that ascertain that mixture stays active for some time before another application.
The main components of this organic fertilizer is fulvic acid, humin, humic acid as well as HAP. It is also noteworthy that Epsom is an impeccable substitute that functions to enhance greener and flush appealing grass.
That said, Epsom might be costly but a 30lbs bag effectively covers 5000 sq. ft. Also, you will only need to apply once in the summer season to up the grass and soil too. 
Epsom Lawn Food Advantages
It is organic purely

Slow releasing

Curated from iron oxide and poultry manure

Entails 2% non-stain iron which yields greener grass and crops

Effective and powerful
Epsom Lawn Food Pros
Epsom can be utilized for lawn care throughout regardless of the year or season

It doesn't overfeed or burn the soil or plants

Can cover vast areas of about 5000 ft. 

Popular amongst farmers and lawn owners too. 
Epsom Lawn Food Cons
You will need to interpolate water to have the granules dissolved thoroughly

It emits an earthy smell

It tends to be pricey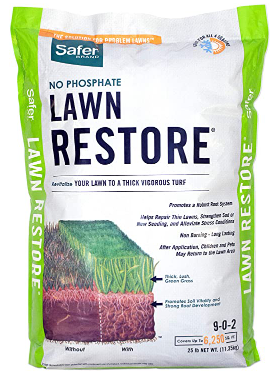 Should you be residing in places wherein there are unstable weather conditions, then Safer Brand will come in handy for you. Safer Brand fertilizers ascertain that lawns obtain all the required nutrients to grow and thrive regardless of unstable seasons robustly.  
You need to apply this lawn care fertilizer thrice a year. The fertilizer is popular because it is an amazing Milorganite alternative that requires little maintenance. After application, the fertilizer will be durable for eight weeks due to slow nutrient release, which nourishes and improves the plants. 
With steady, gradual nitrogen release, your plants are protected from getting scorched. 
Also, the NPK balance of this fertilizer is 9-0-2. This provides an amicable balance to aid in the robust growth of plants. Safer Brand usually starts functioning immediately after application hence providing nutrition effectively to various microorganisms available in the soil. 
Consequently, offering fertile and favorable conditions for the growth of plants. Also, the plants are going to remain healthy and very fresh throughout the entire year.
Check out our full Ringer Lawn vs Milorganite comparison.
Lawn Restore Advantages
Curated with beneficial materials to the plants

It doesn't entail harsh chemicals.

Functions exactly like Milorganite in regards to feeding healthy nutrients and bacteria to soil and plants. 

The fertilizer is also suitable for warm and cold seasons alike. 

Best for various grasses inclusive of St. Augustine, Ryegrass, Bermuda grass et al. 
Lawn Restore Pros
It encourages plant growth.

It prevents the growth and spread of all weeds

Safeguards against insects, disease, fungi, pests et al. 

It approximately covers up to 6250 sq. ft. area
Lawn Restore Cons
It needs to get reapplied bimonthly

Emits sea-like smell

A bit expensive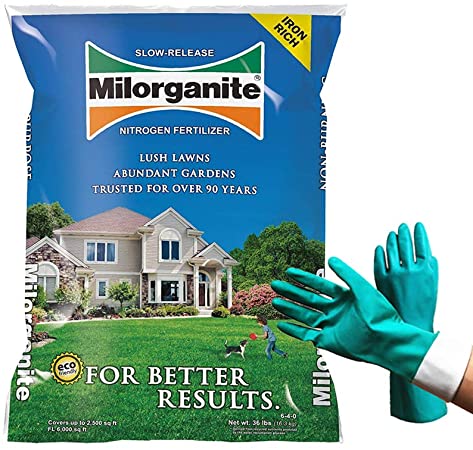 Last but not least, finalizing the list is the great Milorganite 0636 nitrogen fertilizer that is perhaps amongst the best and famous lawn fertilizer.
The fertilizer typically consists of dried microbes as well as non-stain 4% iron. You can purchase it in the 36lbs bags and possess a 5-2-0 NPK formula.
This fertilizer is designated specifically for deep green lush lawns but can still function perfectly with flowers, vegetables, and even trees. It also functions amicably in seed carriers and meets the EPA's stipulated standards that are stringent regarding fertilizers. 
It is also noteworthy that this lawn care fertilizer has low nutrient concentrations; hence you needn't expect lush greening yields after the third day of applying. Nonetheless, you will notice an interesting difference in your grass's hue, blades' strength as well as your lawn's overall health.
Due to minimized NPK formula, your grass will not burn. Nevertheless, should you aim to improve your lawn's top growth, the Milorganite 0636 organic nitrogen will best serve that function. It also tends to boost and robust the root system of your plants and grass too. 
Milorganite Organic Nitrogen Advantages
You can purchase the fertilizer in its 36 pounds bag

It is organic and effective

Minimal NPK ratio

Will cover about 2500 square feet of area of your lawn

It can be used for various purposes
Milorganite Organic Nitrogen Pros
It is both pet and child safe

Not dependent on climatic changes

Applicable anytime during growth season

More affordable compared to other products on the list

It is also used on all golf courses

Is EPA approved

High-quality yields

Versatile usage
Milorganite Organic Nitrogen Cons
Not that great for root thriving

Covers small distance
Why Go with Organic Lawn Fertilizers?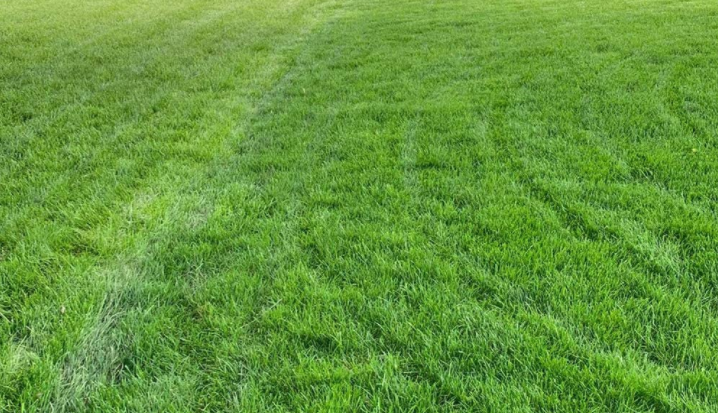 Before discussing the importance of organic fertilizers, it is crucial to differentiate between synthetic and organic fertilizers.
With several synthetic fertilizers, one wonders if it is at all crucial to utilize organic fertilizers. Synthetic fertilizers will grow your plants, yes, but they will be hazardous in the long run. Organic gardening wholly focuses on the soils and plants' overall health ensuring a flourishing lawn. 
However, organic lawn fertilizers take time to work because the soil needs first to break it all down. Thus the soil can easily regulate the nutrition amount it feeds on.
However, a synthetic fertilizes functions immediately because the chemicals can permeate via the soil. This causes overfeeding and consequently leading to damage and burns. That said, here are the advantages of organic fertilizers.  
Improves soil health
Organic fertilizers enhance the health of the soil and plants gradually. Also, they retain water longer as well as enhance the soil's bacterial activity. Also, there's the delivery of several nourishing nutrients to curate a great environment for plant growth. 
Safer compared to synthetic fertilizers
By choosing organic fertilizers, you'll also choose peace. Via using organic fertilizer, you'll be assured of safety for pets, your family, and even the environment. 
Straightforward to utilize
Organic fertilizers are straightforward to apply, and they minimize the chances of plants burning. Regardless of where and how you want to apply it, they interpolate several benefits to a lawn while offering equal convenience amounts and ease too. 
Increased Weather Tolerance 
A stronger lawn can tolerate all weather conditions. On the other hand, weaker grasses catch fires easily or can change to brown for the green in summer. Thus fertilizers are utilized to offer sufficient nutrition for grass to be sturdy and tolerate weather conditions. Strong roots retain water and aid them in heavy rainfalls
Reduces weed production 
Fertilizers provide strength to roots hence mitigating any chances of weeds holding roots longer. Thicker lawns curb the weed from even spreading around. Consequently, you'll save money that could have otherwise been used in treating weed. 
Safety Precautions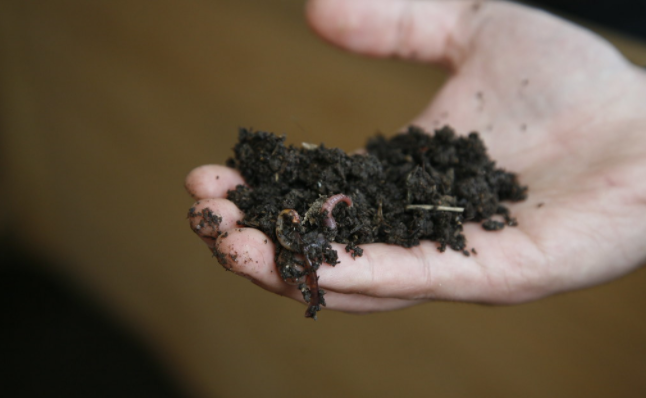 Milorganite alternatives may be effortless to utilize and safe from hazardous chemicals, it's witty to be cautious when you are handling them. 
Always carry protective gear when handling fertilizers. 

Follow the instructions on the manuals. Over-applying Milorganite alternatives aren't harmful, but you needn't take things for granted. Apply the stipulated amounts to achieve greater results. 

Milorganite alternatives aren't harmful to pets or children. However, it is best to keep them out of reach. 

Store safely the fertilizers in containers that are airtight. Exposure to air will cause them to be clumped or spoiled. 
FAQs
Question: Which is better, Scotts Natural Lawn Food or Milorganite Fertilizer? 
Answer: Scotts fertilizer, which possesses high nitrogen concentration, causes the greening of grass and at increased speed. Milorganite contains lower nitrogen but still interpolates iron, keeping grass greener. 
Question: Does Milorganite emit a stinking smell?
Answer: It usually possesses an earthy smell after the first application. However, the odor dissipates after some days. Watering or rain can tone down the smell.
Question: Can high iron contents hurt a lawn? 
Answer: High iron concentrations are usually toxic to weeds and moss and may even kill them. Be cautious when applying because higher iron concentrations will harm grass and may even turn brown.   
Question: Why is it hard to get Milorganite?
Answer: Demand doesn't drive the supply. The annular cleaned wastewater volume determines how much Milorganite can be produced. 
Question: Ironite Vis a Vis Milorganite? 
Answer: Should you be searching for products that will green and feed up your grass and lawn, then Milorganite is a perfect choice for you. However, it is noteworthy that it doesn't entail hazardous concentrated metals as in present in Ironite. Check out our full Ironite vs Milorganite comparison.
Question: What easily activates Milorganite?
Answer: Microbial activities occur when there are suitable soil temperatures (soil temp) and soil moisture. Thus microbes break in these nutrients from this Milorganite, making them readily available.
Question: What is the meaning of Milorganite?
Answer: It basically stands for Milwaukee Organic Nitrogen. Milorganite production is the greatest recycling effort globally. Nutrient-rich microbes are recycled safely and work magically in shrubs, trees, et al. 
Conclusion: Milorganite Alternative Solutions
It is noteworthy that all the reviewed products proudly boast of being safe for both pets and children. Thus, you needn't worry about that.
Bottom Line Summary: Our top pick is the Milorganite 0636 organic nitrogen fertilizer, which is utilized on several golf courses. You can rely on it to magically thrive and nourish and can be applied in all seasons. With patience, it will yield the desired results & better quality.