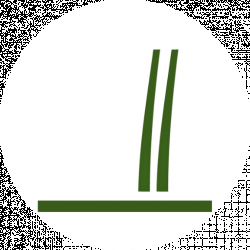 Latest posts by Turf and Till Team
(see all)
Undeniably a beautiful, clean, and green lawn will unequivocally upholster your home's serenity and beauty. It might be a fretting job on its own, but with a plethora of garden tools, you can easily achieve it. These garden tools may help you clean debris without interfering with your lawn. 
If you have a lawn, you know that it isn't easy to take care of and, consequently, mown it. People tend to be lazy on the days that they planned to mow and even postpone it.
However, most homeowners don't realize that the hardest job isn't the mowing part but having to clean the debris and dirt afterward. This was the way per se until grass catchers' lawn equipment was invented to ease this job. 
It is noteworthy that some grass catchers are compatible with some lawnmower models. However, before we start this comprehensive review, it is best to know your mower's model and specs. 
That said should you want to ease your mowing days, all you need is a grass catcher. This article was compiled after thorough research with professional analysis, comparisons, and on-ground testing. The products reviewed are amongst the top best grass catchers for your mowers that you can find in the market. Enough said shall we start? 
What is a Grass Catcher?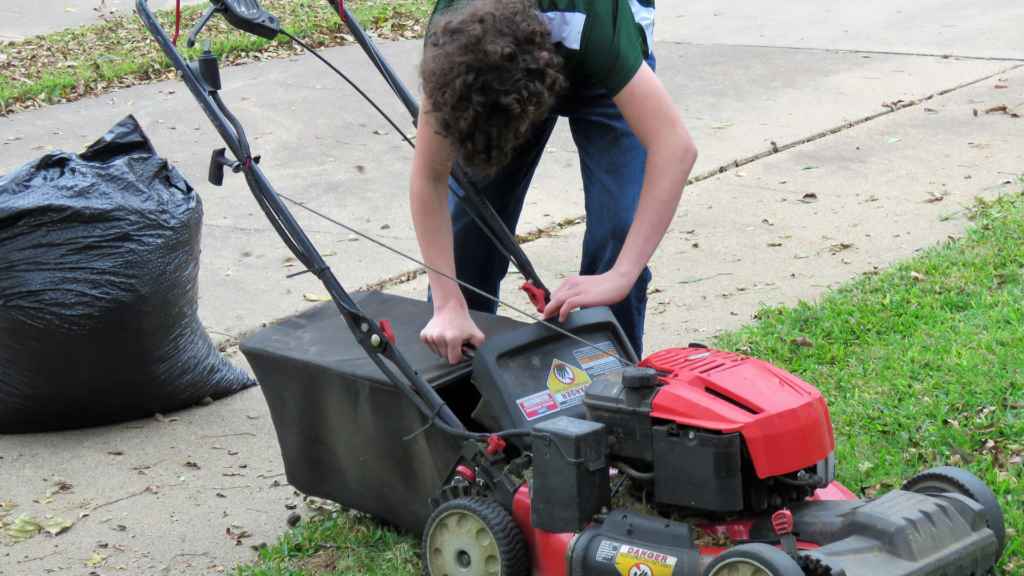 To elaborate further, have you ever found some clipping clumps after mowing your lawn very well? With a grass catcher, these grass clippings are effectively and efficiently collected. They will help you save time you could have otherwise used to clean up the remaining garbage after mowing. 
In layman's language, a grass catcher, also known as lawnmower bagger, grass bagger, or even lawn sweeper, is an attachment to a mower to help clear grass clippings and correlated debris mowing. It gives it that manicured aesthetic look. 
It is also part and parcel of the collection system. A collection system is utilized on zero turns and riding mowers. Grass bags, on the other hand, are attached to the rear of the walk-behind lawnmowers.  
Grass bagging Vis a Vis mulching
Some homeowners prefer the grass cuttings to remain on the lawn. Letting the grass stay without collecting them is called mulching. It permits the grasses' nutrients to be absorbed into the lawn.
To help you understand the concept more, herein is a detailed description of both options. What you choose afterward will wholly be dependent on you. 
Mulching
First, you need to cut the grasses to a certain level with mulching, then leave the clippings there. This slows down the grass's growth and gradually feeds nutrients to your lawn.
Should you plan to mulch, you will need to purchase some specific lawnmowers to do that. Standard-wise, it is part of the commonest maintenance necessity of a lawn. 
Pros
The clippings interpolate vital nutrients that are required for a lawn. Consequently, the soil benefits, and the grass that grows afterward looks lush and replenished.

Saves time as you won't bag the clippings 

Effortless labor as you only mow and leave the grass there

Permits grass to grow slowly because of low exposure to water and sunlight. Consequently, you won't mow frequently
Cons
Mulching tends to bog down the mower engine if the mower itself isn't best suited for mulching. This is often caused by thicker and taller grass.   

If you want to effectively mulch, you may need to purchase another expensive lawnmower.

The lawn won't be neat and extra clippings can clog and even stick to shoes. 
Bagging
It is also a common lawn maintenance necessity wherein glass blades are packaged after mowing a lawn. 
Pros
Makes a lawn have a manicured look

Very comfortable lawns to walk on

Permits water and sunlight exposure to soil

Grass blades are quickly disposed
Cons
It requires physical labor to dispose of and replace another bag when it is filled. 

Lawns don't get replenishing nutrients

Side tip on fungus:

 should you discover that your lawn is getting some diseases, you should bag the clippings. If you mulch, the diseases are going to spread further. 
Buyer's Guide For The Best Grass Catchers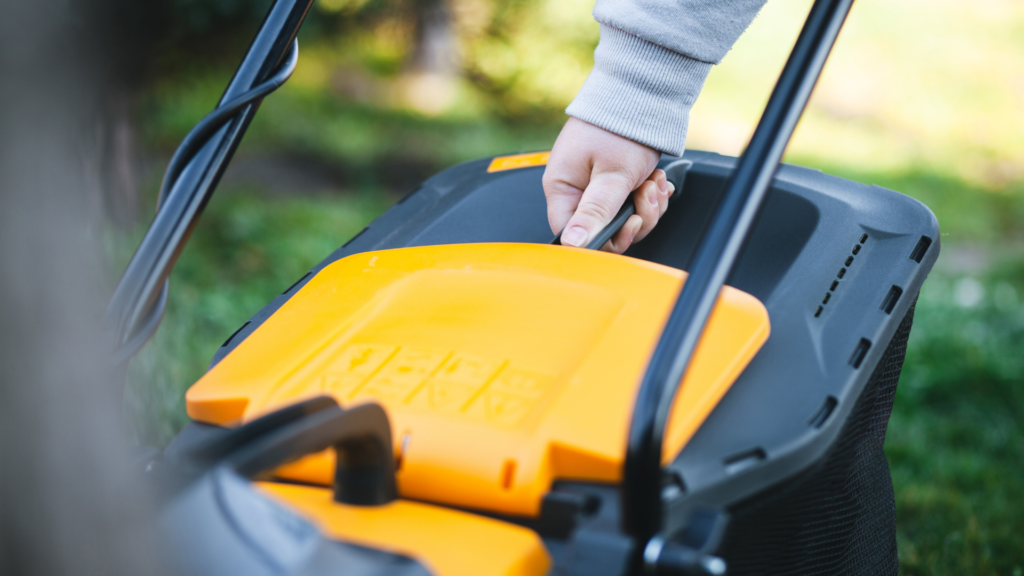 Expectedly there are numerous grass catchers in the market. They all have varying features and deciding to purchase one might be a fret if you aren't fully aware of this sector.
With this buying guide, you will have some aspects to help you consider what you need. Of course, other aspects like pricing will be dependent on your budget. 
Ventilation
Adhere to ventilation features when you are deciding on the grass catcher you want to purchase. In case of bad ventilation, your grass catcher might halt working and even clean it more often than required. The equipment requires visual inspection or even alarm systematically to remind you when the bag is full. 
Construction materials
A lot of grass catchers suffer from deterioration due to decayed wet grass and too much stress on its materials and support structure. It would be best if you chose a grass cutter curated from top-notch materials that will not rust or decay easily.
Materials such as sturdy aluminum make a grass catcher lightweight, while stainless steel determines the quality of a product. If the grass catcher is powder coated, then you need to purchase it because it promotes durability. 
Lawnmower compatibility
As stated earlier, some grass catchers possess specific features that can be only compatible with some lawnmowers. This is to imply that you need to do your due diligence to know if the grass catcher you plan to purchase is compatible with a plethora of lawnmowers. 
Some grass catchers are versatile so that they can suit various lawnmowers. A great bagger must fit snugly on the mower. This way, it remains intact. Also, they all have different sizes for accommodating varying mowers. 
Ease of use
It is vital to go for a piece of equipment that is easy to operate and straightforward to install on the mower. You can easily tell this by checking if the instructions are perfectly written on the installation box. 
Also, enhanced airflow will aid clippings to pass via the grass catcher effortlessly hence mitigating clogging. The model you want should provide good clearance above your yard or lawn. 
Dimensions, capacity, and size 
You specifically need to inspect the grass catcher's size, dimensions, and carrying capacity in your mind. It should be large enough to hold a lot of vegetation and convenient too when operating it. What grass-clipping bushels are you planning? Various products have various abilities, so you need to purchase one that satiates your needs. 
Top 5 best grass catchers review
Here is the part you have been waiting for. With the best grass catcher for your lawnmower, there is no lawn beauty you can't reach. The list below includes the best five grass catchers in the market chosen after careful selection of vital features. Shall we proceed?
Commencing the list is the MTD 19A30031OEM double bagger, which is very compatible with several riding mowers that offer optical glass flow and hood for emptying clippings fast and easy. With 6.5 bushel capacity, the catcher can be perfect for various lawn sizes. 
The catcher will encourage and foster your lawn's growth by mitigating thatch from clogging and building up. It will up your lawn's beauty. It clears away every clipping easily and can attach well to Bolens, machines, and other crafty riding mowers as long as it is 2010 up to date. 
It might seem like a typical bagger, but it is very versatile and can do an impressive job altogether. The materials are of high quality, strong and durable, so they will last you longer while picking a lot of grass and leaves on your lawn. 
Features
Sturdy materials to increase durability

Hinged hoods to ease emptying 

Has a sight window to enable you to see when your bag is full

Excellent durable tubular steel construction 
Pros
Can turn around corners easily

The enhanced performance and power with 23 HP duo engines

52″ cutting deck permits for smooth and quick operation 

 The high backed and padded seat improves ease of usability

Durable and of high quality
Cons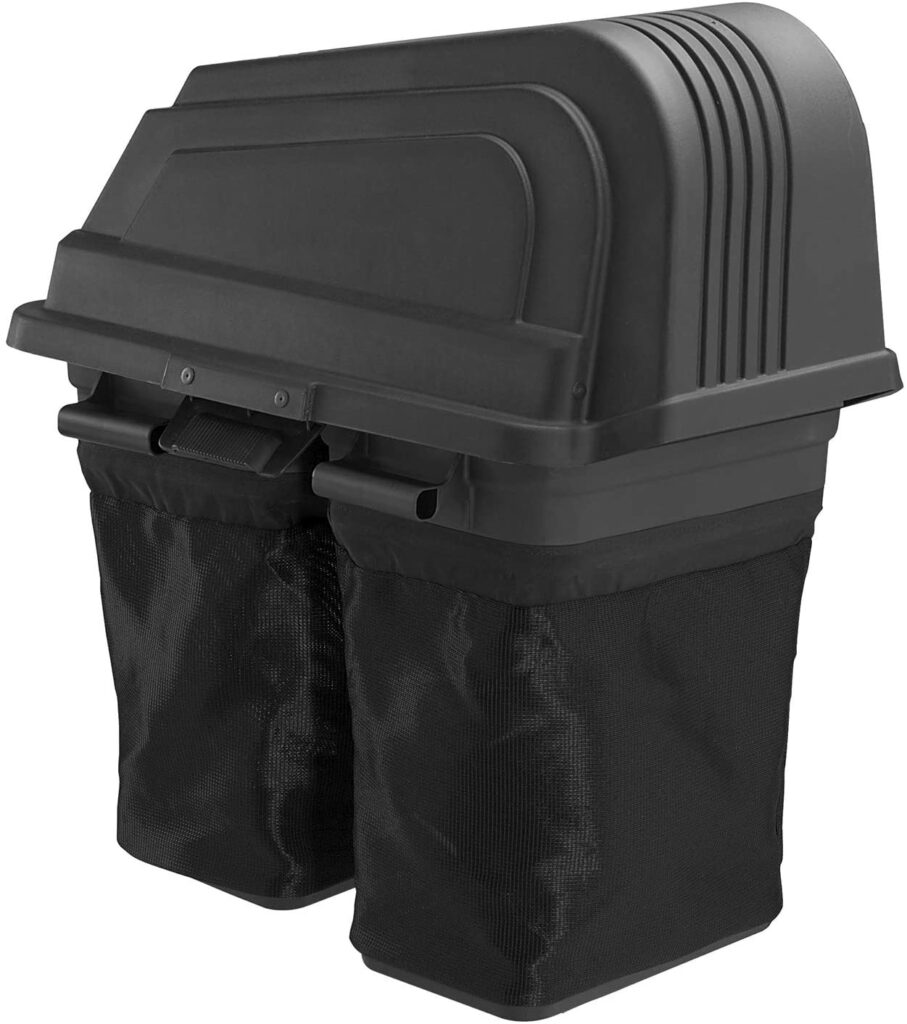 Hailing from the famous Husqvarna brand is the great Husqvarna grass catcher with three bins and is about 46 inches. It has a collar handle and straps found underneath the bag. Also, it possesses a simple glide bin that has inbuilt handles. It also has an indicator to tell you when the bag is full of debris and dirt. 
The three bags, which are equivalent to 6 bushels, is curated with durable polyester mesh. You can even use it without a lawn bag. Its top is designated for enhanced airflow and fuller bags and glide-in bins also ease disposing of clippings. The straps and handles are also compact. Nonetheless, it doesn't mount easily. Thus, you need to modify it via a grinder. You cannot go wrong with it.
Features
Designated to latch easily

Curated from durable polyester

Has large bags that carry 6 bushels

Simple to install
Pros
The effortless glide-in bin with inbuilt handles eases disposal

It can fit any other Husqvarna models

It is compact

The straps and collar handle ease dumping too

Curated of top-notch materials 

Fits well

Can take up a lot of grass

Larger bags

Durable

Easy attachment of the chute
Cons
You may need a grinder for mounting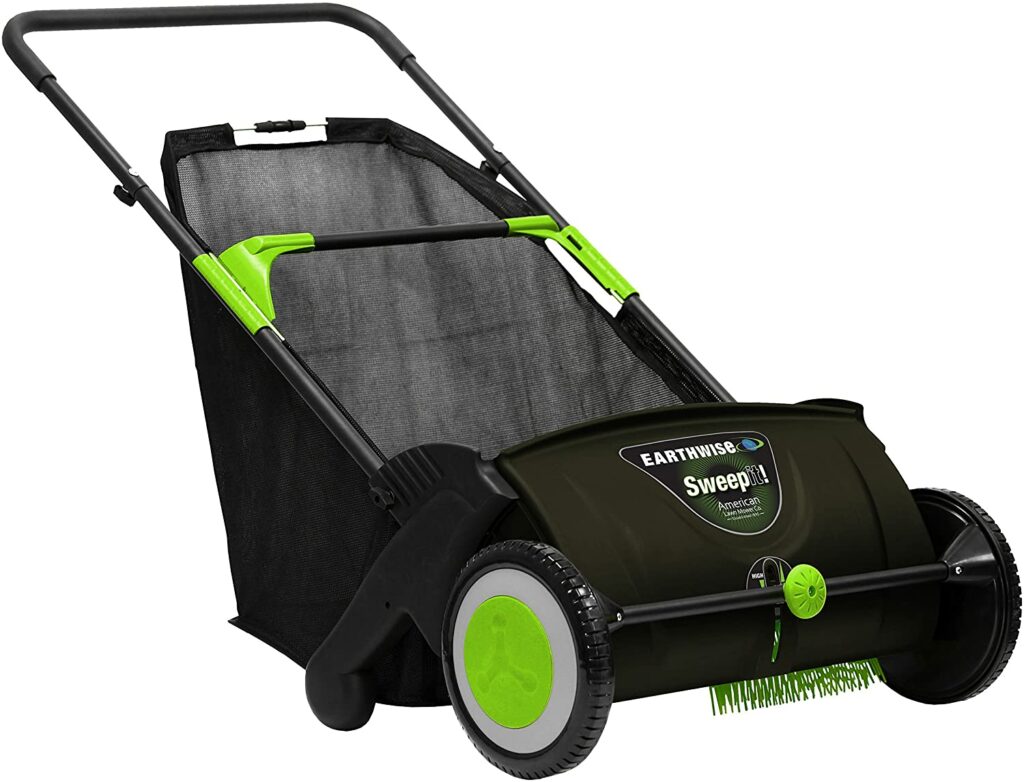 Moving on swiftly with the review, we have the impressive Earthwise lawn sweeper, which possesses double brush per sector to collect dry debris easily. With a huge capacity of bushel collection bag, you can collect debris without actually having to bend over. 
It is straightforward to attach and detach from the lawnmower. Yes, it assists with effective cleaning of a lawn, so you remain with nothing but an impeccably looking lawn. It also works on driveways, sidewalks, patios, lawns; therefore, you can use it anywhere you want. Aftermath, you can decide if you want to mulch or compost the debris. 
 It also possesses a lightweight designation that is effortless and straightforward to maneuver in your lawn or patio. Its bag renders debris collection convenient too. After you finish, store it easily in the garage or shed because it is also compact. 
Features
21″ width sweeper

The sweeper has a rotary rake action

Picks up to 80% of the first pass

Adjustable sweeper rake

Leaf Sweeper with spinning rake-like action

Maneuvers superbly

Great bag and doesn't fill up easily

Black in color

Weighs 13 pounds

Operates manually on your lawn 
Pros
It is very good, hands down

Easy assembly if you read the instructions

Its height adjustment knobs ease the work

Good durability

Versatile

Nice to have

Convenient and simple to use

Lightweight and sturdy leaf sweeper
Cons
Purchasers think that the manufacturers can improve the quality.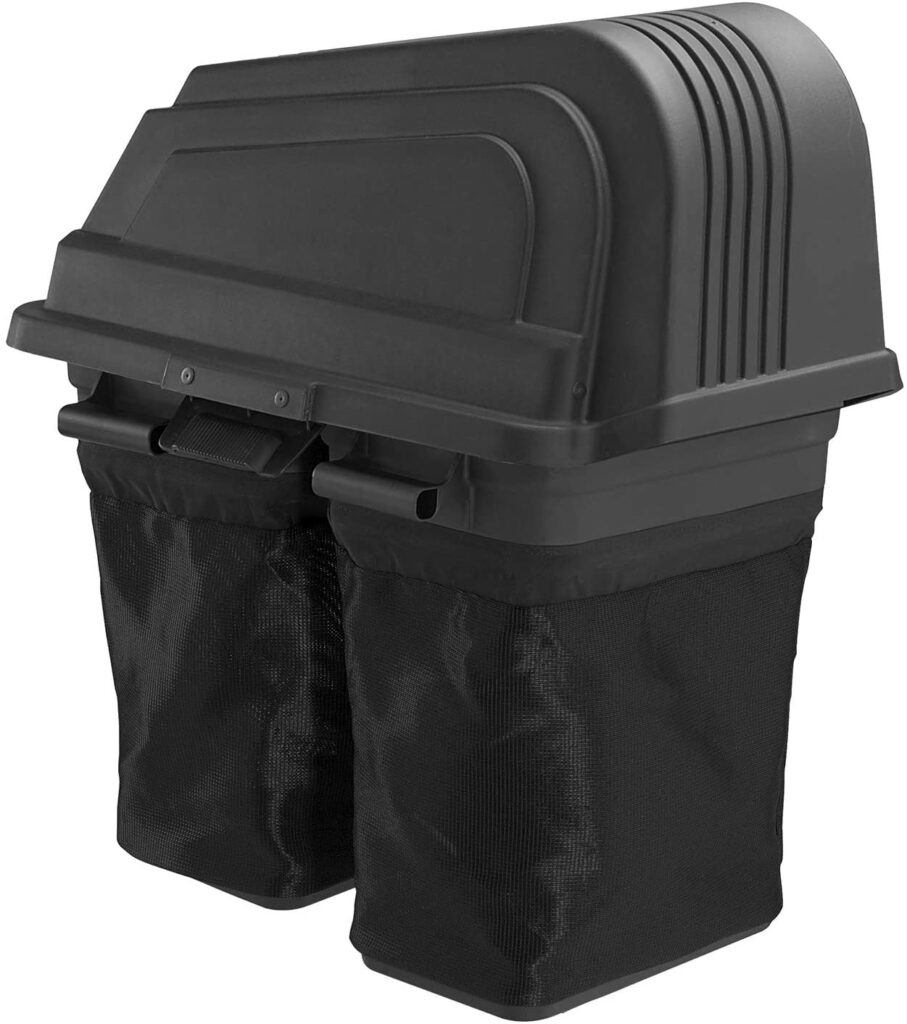 Last but not least, there is the soft-sided two bin grass catcher from Poulin. Firstly it is compatible with a vast array of mowers that are 46 inches. You can mount it on Husqvarnas, Ariens, Poulins amongst other land mowers. 
This catcher is straightforward to mount onto your lawnmower. It also holds an insane amount of debris and clippings while working conveniently and easily.
 You will find the unit great courtesy of its job in easing disposal of the clippings. There are lightweight bags with a straightforward release mechanism. Its chat accommodates a plethora of deck heights as well as side rolling movements.
 It is highly recommended if you want to purchase a two-bagger unit. Overall, a lot of users deem that the unit was well thought out and built. 
Features
Curated by Poulin 

Large bagger

Good construction and quality

It can accommodate a lot of grass, leaves, and debris

Weighs 19 pounds

Has a dimension of 39x24x25 inches 
Pros
Very simple to use

Lightweight

Does its job very well

Compatible with several lawn mowers and lawn tractors

Simple to install and mount
Cons
It cannot be sold in California
Maintenance tips for grass catchers
Ascertain that the deck is cleaned appropriately when you are done with cleaning the clippings. A well-cleaned deck provides the most viable air flow to ease the process of collecting the debris. This airflow is vital for discharging and mulching debris properly. 
 Should you operate speedily, your mower will be challenged to discharge all clippings properly via the collector chute. Ascertain that you travel at a slow to medium pace when you are bagging. Let the engine throttle up.  
Sometimes after a hefty job is done, the grass catcher might have blunt blades. It would be best if you sharpened them after you are done and cleaned them. When you properly sharpen, the cutting blades will be balanced and produce sufficient airflow. Always inspect and balance the blades as required when you are mowing. 
Don't cut off a lot of grass
It is noteworthy that poor clipping movements are likely to occur when the grass you are mowing is very long. Before you bag the grass, ensure that the grass you are cutting isn't over 2 inches of the mower's grass blades. If a lot of grass is mowed, clogging or overloading might occur. 
You are best advised to over-mow if your lawn's grass has outgrown the typical cutting length. All you have to do is gradually commence from the upper parts of the grass while lowering to the expected height.
Never mow when the grass is wet
 The worst thing you can do to your lawn is mowing it when the grass is very wet. Moisture is necessary for grass to grow and replenish the soil. Therefore try to mow when the lawn is entirely dry. Damp, foggy, and wet conditions might cause the grass to seem dry. When you mow when the grass is wet, it is hard for the grass catcher to function properly.
FAQs 
Question: Can a bag be added to a lawnmower? 
Answer: Yes, you can. Installing grass might be a seamlessly easy task. However, the arousing mistakes may possess hazardous impact when overlooked. Therefore make sure you correctly install and mount it to prevent it from clogging up.
Question: What is the right way to attach your grass catcher? 
Answer: Few ways to attach your grass catcher:
• Ascertain that the bag for the lawnmower is right-side out 
• Put it over a frame using its plastic side
• Pull the bag's plastic channel over the frame's hooks
• Lift the discharge door on the rear
Question: Why do baggers get clogged often? 
Answer: Often, debris gets caught in the chute, which leads to clippings backing up in that chute. Also, bagger system snags might not align with the chute causing the grass to hung up and gradually develops into a clog. 
Question: What prevents grass from getting sticky to the deck of a mower? 
Answer: Many people use spray lubricants to prevent that. Sprays like MO DECK mitigate grass from sticking. Additionally, such products help in cleaning the deck and prevent rust. Therefore when applying the spray, ascertain that there are no accumulated clippings.
Final Say
Our top pick amongst the top 5 best grass catchers is the soft two-sided big bin bagger from the Poulin brand. It is lightweight and compact yet does its job very well. Besides, the durability and efficiency of the unit are unmatched, hands down. You can easily mount it, do with it what you like and then store it aside. Also, it can carry an impressive amount of debris, leaves, clippings as well as dirt