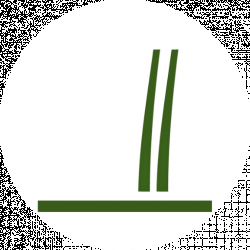 Latest posts by Turf and Till Team
(see all)
Many people don't even know what harrowing and tilling are, let alone understand the difference between the two. A disc harrow vs tiller are two different tools that serve two very distinct purposes, despite the fact that they may seem to accomplish the same feat.
If you're gardening, growing your own vegetable patch, or doing any sort of farming, you'll want to understand the difference and when to use which. I put together this comparison because, frankly, I need the help, too.
After all, the domain of agriculture is more complex than many people might realize. The way you layout your crops, the way you care for the soil, and how you choose to harvest at the end of your season all make a big impact on your yield.
While it may look like physical labor to some, it requires much more brainpower than you think. There are different ways in which you can prepare the soil and improve its quality. There are also many different tools you can use.
Main Differences Between a Disc Harrow and a Tiller
The main differences between a disc harrow and a tiller are:
A disc harrow uses discs to penetrate the soil whereas a tiller uses tines.
A disc harrow is strong and can dig through deeper, harder soil whereas a tiller is better suited for smaller gardens.
A disc harrow is weighted to dig several feet into the ground whereas a tiller typically only turns 6-10 inches of topsoil.
A disc harrow is better suited for farming and large acreages of crops whereas a tiller is easier to maneuver in a small garden.
A disc harrow is pulled by a tractor or some other type of farm implement whereas a tiller is either battery-operated or gas-powered.
About Harrowing
The act of using a disc harrow is called disking. It's a practice frequently used in farm management to prepare the soil for planting. Plowing cuts through the soil, granulating and inverting it. It makes ridges in the soil.
After plowing, disking breaks up crusts in the surface as well as deeper clots in the soil, making it much easier to farm. It improves the uniformity of the soil granulation and the surface. It's one of the most important tasks in soil preparation because it prevents weed growth and destroys those that have already emerged.
Disking also incorporates crop residue from last season, which can further fertilize the soil much more effectively than plowing alone.
What is a disc harrow?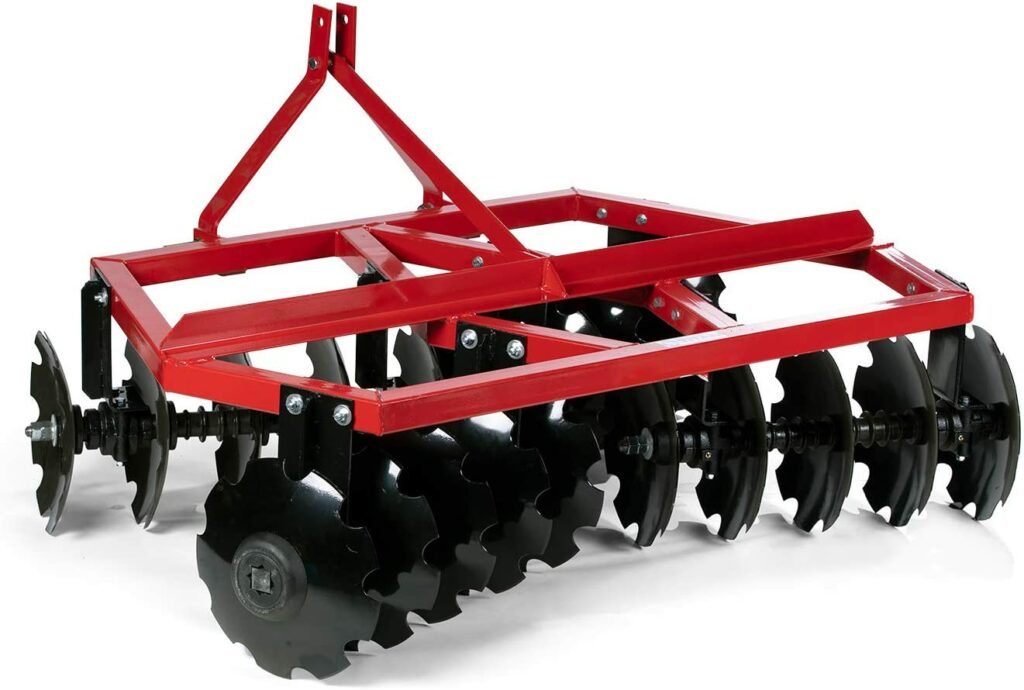 A disc harrow consists of several concave blades mounted to a single shaft, called an arbor bolt. This implement is large and must be connected to some sort of equipment, like a tractor, for pulling. This group of discs is called a gang.
There are several parts that make up the entire harrow, aside from the discs and the arbor bolt. The frame holds the disc harrow and supports it as it moves. The spacers look like spools and are mounted between each disc to ensure it stays in position on the arbor bolt.
Bearings are used to provide rotation of the discs and regulate thrust while the bumper prevents adjacent discs from colliding. The scraper removes soil from each disc and keeps the concave portion clean.
The weight box is mounted on the frame and provides any additional weight the harrow may need to penetrate the soil deeper.
There are also two different types of discs. Smooth edge discs are used for normal soil conditions while notched edge discs have serrated edges. They're better at cutting through weeds and crop residue.
Types of Disc harrows
There are three primary modes of operation when it comes to disc harrows. Arranging the arbor bolts in different configurations will result in different soil manipulation.
A single-action disc harrow may have one or two gangs of discs that break up the soil in one direction. The cutting width is from 4-20 feet, so it's better suited for smaller fields. They make ridges and furrows and are ideal for farmers who need greater control and closer soil management.
A double-action disc harrow is sometimes called a tandem disc harrow, and it has two or more rows of gangs. The front and rear gangs break up soil in opposite directions. It creates a finer, more uniform cut and won't leave a pattern in the soil when it's done. They're better for covering larger areas than a single action disc harrow.
An offset disc harrow has a right and a left gang that works in tandem and it is not in line with the tractor that's dragging it. However, it is similar to a double-action disc harrow where the gangs work in opposition to each other.
This is the largest type of disc harrow and works great in large fields that have never been broken before. It also produces a surface that's much smoother and closer to the ground than the others.
You can also classify disc harrows by how they mount to the tractor. They can be mounted, semi-mounted, or trailed. You may also classify them by the size of the discs, from light to heavy.
Light discs have a diameter of 20-30 centimeters, middle discs have a diameter of 30-50 centimeters, and heavy discs are larger than 60 centimeters in diameter.
The type of implement chosen has to do with why you're disking. You may need to level the soil structure, which doesn't require a large tool, or you may need to completely cut and turn over the crop residue.
It also depends on the size of the field. You need a larger tool to manage a large field while smaller fields can be maintained with smaller equipment.
Harrowing vs Tilling Specialties & Alternatives
While disc harrows and tillers are the most common comparisons, there are other comps worth exploring! 
Disc Harrow vs Tiller
As discussed previously, this is the most common question 
The difference between a Disc Harrow vs Tiller is that a disc harrow can reach the deeper soil layers, but a heavier design disc harrows are better for this purpose. A tiller is designed to turn the soil's upper layers.
Power Harrow vs Tiller
A power harrow works in the same way as a tine harrow but the tines are not dragged along ground and instead are rotated. The most important difference between a power harrow and a traditional tiller is that the tractor drives the tractor. A basic tiller would require manual labor.
Front Tine vs Rear Tine Tiller
A rear tine tiller is generally more powerful and digs deeper, able to cut through serious weeds and compacted or rockier soil. 
With this in mind, a front tine tiller is sufficient for turning over existing beds or plots, while a rear tine tiller is ideal for turning a new plot for the first time. 
The key difference between a tiller and cultivator is that while a cultivator mixes soil, a tiller breaks up the soil. 
This means that tilling is typically the first order process, whereas cultivating comes afterwards. A cultivator process also typically controls & kills weeds, whereas just tilling doesn't (on it's own) act as effective weed control. 
Further Read: Cultivator vs Tiller full comparison.
Aerator vs Tiller
Aerating is typically down seasonally to provide nutrients and water to grass roots, whereas tilling is used to "turn over" a plot of land or lawn patch to start over . 
Harley Rake vs Tiller
The power rake (Harley Rake), is the best for landscaping. It removes small rocks and pulverizes the ground to sow grass. A tiller can be used to cut down hard ridges faster. Then, the power rake will be used for final preparation.
Sod Cutter vs Tiller
A sod cutter is used to slice under turf, saving the roots and topsoil for later planting, while a tiller is used to turn over the grass (or crops) to start over seeding from scratch. 
Disc Harrow Product Recommendations
If you need a disc harrow for your tough job, here are some of the best options you can buy.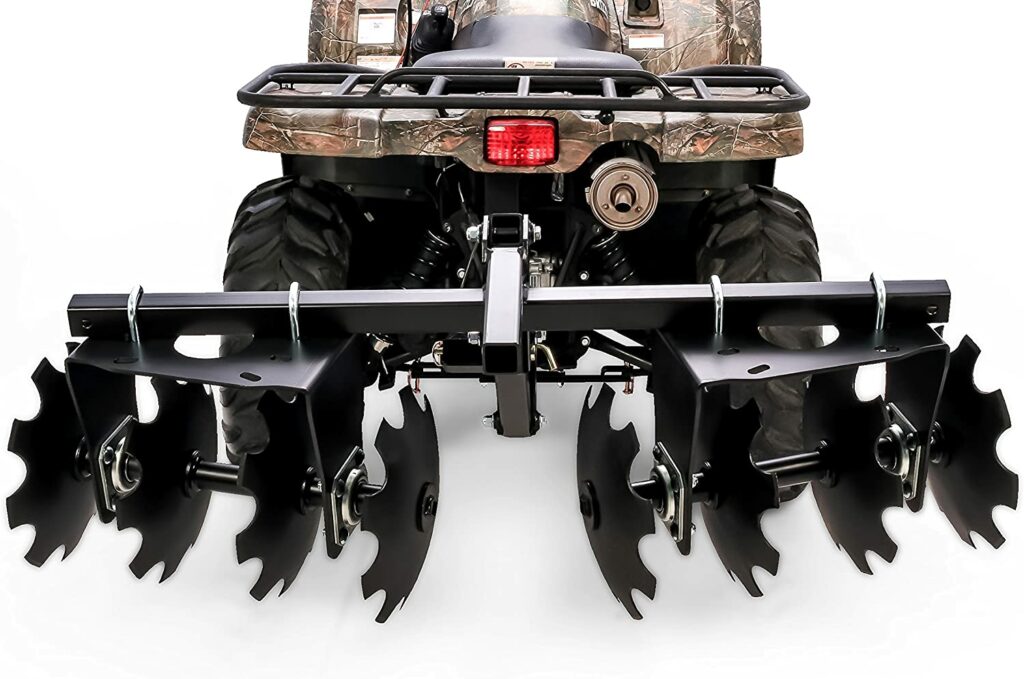 If you'd rather use an ATV or UTV to drag your disc harrow, this is a great option, and it offers a great value for the money. It has a parallel towing design and is equipped for heavy-duty jobs, but it's still easy to use.
If you want efficiency, this offers it, from hooking it up to prepping your field. It's versatile and it comes with 8 discs that have teeth sharp enough to break even the toughest ground. You can also adjust both sides independently, from 0-30 degrees.
But if you adjust on both the rear and the front, you can increase your flexibility to 60 degrees, which is more than any other disc harrow out there. With complete control over the unit, you can adjust it based on your needs.
Pros
Made with steel for durability

Versatile range of motion

Lightweight

Easy installation and use
Cons
May rattle over bumps

Can only be mounted on a specific type of rail
Where to Buy the Black Boar ATV/UTV Disc Harrow
Check Amazon here OR Walmart.com here.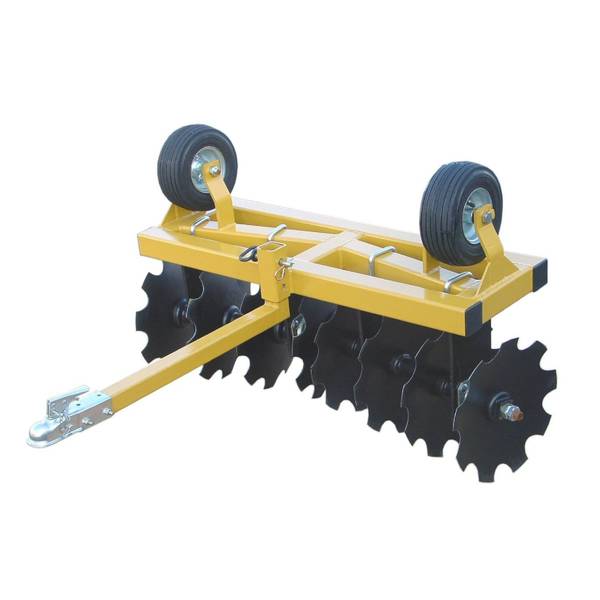 This disc harrow was designed for deployment behind tractors, but it's small and lightweight enough that it can also be connected to a 250cc ATV. This gives you the versatility you need to disc large or small areas.
It's well-suited for breaking hard ground, no matter whether it's a field or a garden. The notched blades penetrate the soil easily and the discs can rotate up to 20 degrees. The platform on the middle block is useful for carrying items like rocks or cinder blocks.
Pros
Durable and rugged design

Lightweight and easy to install

60-inch cutting width and 20-degree variation
Cons
Doesn't work on extremely hard soil

Can't tow backward
The Agrifab disc harrow has an ergonomic design that makes it fast, efficient, functional, and economical. It requires a sleeve hitch to work, but you can also easily install it on the back of an ATV.
You can adjust the width from 30-38 inches according to your preferences, and it's lightweight enough to do it yourself. It's made of steel and it's treated for corrosion resistance, so you can use it in all weather or clean it without worrying.
There are 8 discs measuring 8 inches in diameter, which gives you a ton of discing power.
Pros
Smooth and practical operation

No rattle or vibration over bumps

Lightweight, durable and sturdy

Can be used on loose soil.
Cons
May get stuck in wetlands

Limited compatibility with tow vehicles
Where to Buy the Agrifab Disc Harrow
I've had limited luck searching online, EXCEPT for this Home Depot listing here.
About Tilling
Tilling is a practice that overturns soil and prepares it for new crops. While tilling is an effective way to mix in crop residue and animal manure while aerating and warming the soil, it typically only applies to the first 6-10 inches of topsoil.
It's not an effective method of cutting through weeds and crop residue, although it can do some. However, what it does well is blend the soil.
If you want to plant a garden, a tiller is typically a better choice, because it's smaller and easier to maneuver. You can break up hard ground and clear a space for planting. It can loosen rocky soil effectively.
What is a tiller?
A Lawn Tiller is typically gas or battery-powered and requires manpower to operate. You stand behind it and push it through your soil as the source of power turns the tines. Because the tiller has tines rather than discs, it won't go as deep, but it's much easier to use and therefore more effective on small pieces of land.
Types of Tillers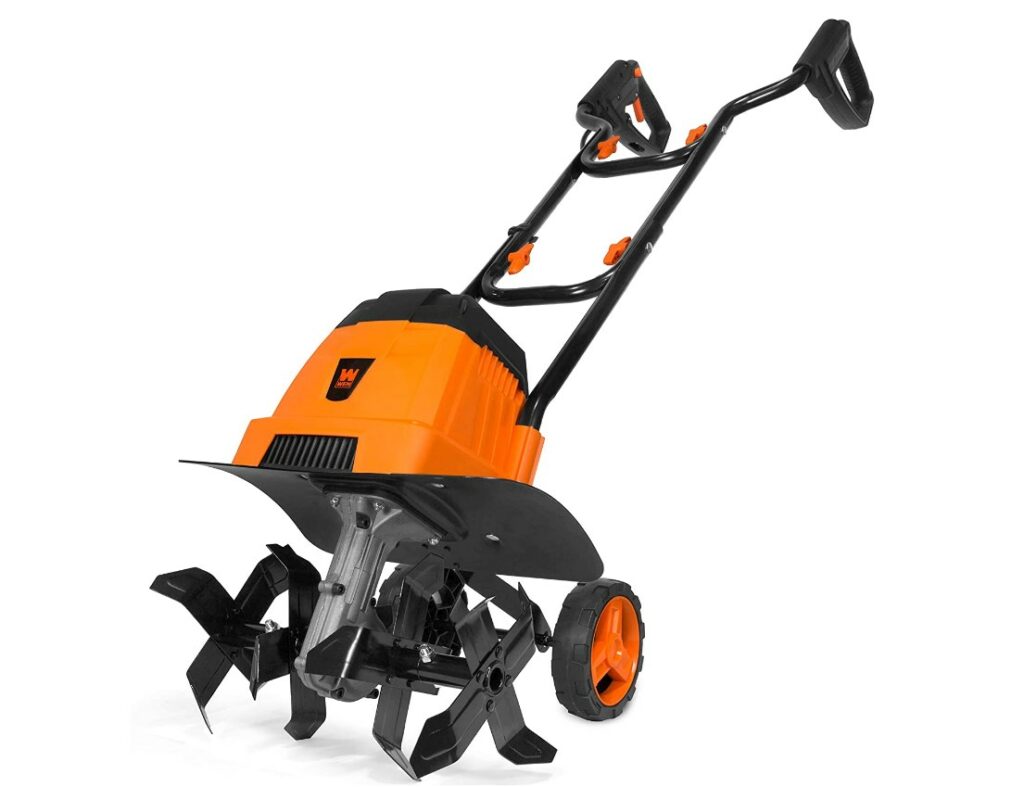 Tillers could be classified by their source of power. A gas-powered tiller will be much heavier, but much stronger than a battery-operated machine. You can break through the harder ground, but it's also more expensive and produces more emissions.
A gas-powered tiller is great for smaller swaths of land, although it won't be quite as powerful. However, the benefit is that you don't have the emissions to deal with, it's a lot lighter and less expensive to purchase.
In addition to gas or battery power classifications, you can also look into the differences between front-tine and rear-tine tillers.
Front-tine tillers are ideally suited for small or medium garden sizes when the ground you need to break is firm, but not solid. The wheels on this machine are behind the tines, so it's easier to push, pull, or turn through more compact areas.
These types of tillers are smaller than rear-tine tillers and easier to maneuver. They're also easier to store during the off-season because they're more compact.
Rear-tine tillers are better for breaking up hard or rocky ground in a large area. It's more powerful than a front-tine tiller, but it's also heavier, so it will be harder to maneuver.
Tiller Product Recommendations
If you need a tiller for your garden jobs, here are some of the best options.
This is perhaps the best tiller on the market. The blades allow for adjustable tilling and it's compact and lightweight for easy maneuverability. It only weighs 24 pounds and has a 10-inch tilling depth.
It's foldable for easy storage and includes a kickstand. The tines are also reversible for shallower tilling. The throttle is finger-controlled, so operation is easy, and it comes with a warranty on the tool and the motor.
Read our full Mantis Tiller Review.
Pros
Doesn't require mixing oil and gas

Light and easy to maneuver

Foldable handles and kickstand for easy storage
Cons
9-inch width may require more passes over large jobs

10-inch depth won't be deep enough for some tasks
Where to Buy the Mantis 7940
I've had luck with Amazon here OR Home Depot here.
Mantis 7250-00-03 Electric Tiller


This quiet, instant start tiller is all-electric, so you don't have to worry about the maintenance that comes with mixing oil and gas. It only weighs 21 pounds, so it's lightweight and compact for easy operation.
It has a 9-inch tilling width and a 10-inch tilling depth with 3 preset speeds, allowing you to customize your experience. The handle is foldable for easy storage and the tines are reversible for shallow tilling.
It's virtually identical to Mantis's 4-cycle tiller in an electric option. Plus, you won't have to worry about the emissions that come with it, but you will have to make sure you're close enough to a power source.
Pros
Lightweight and easy to maneuver

No gas/oil mixture maintenance

Foldable handles for easy storage

Quick start button
Cons
Narrow width may require multiple passes

LImited by the length of the cord
Craftsman C210 2-cycle Tiller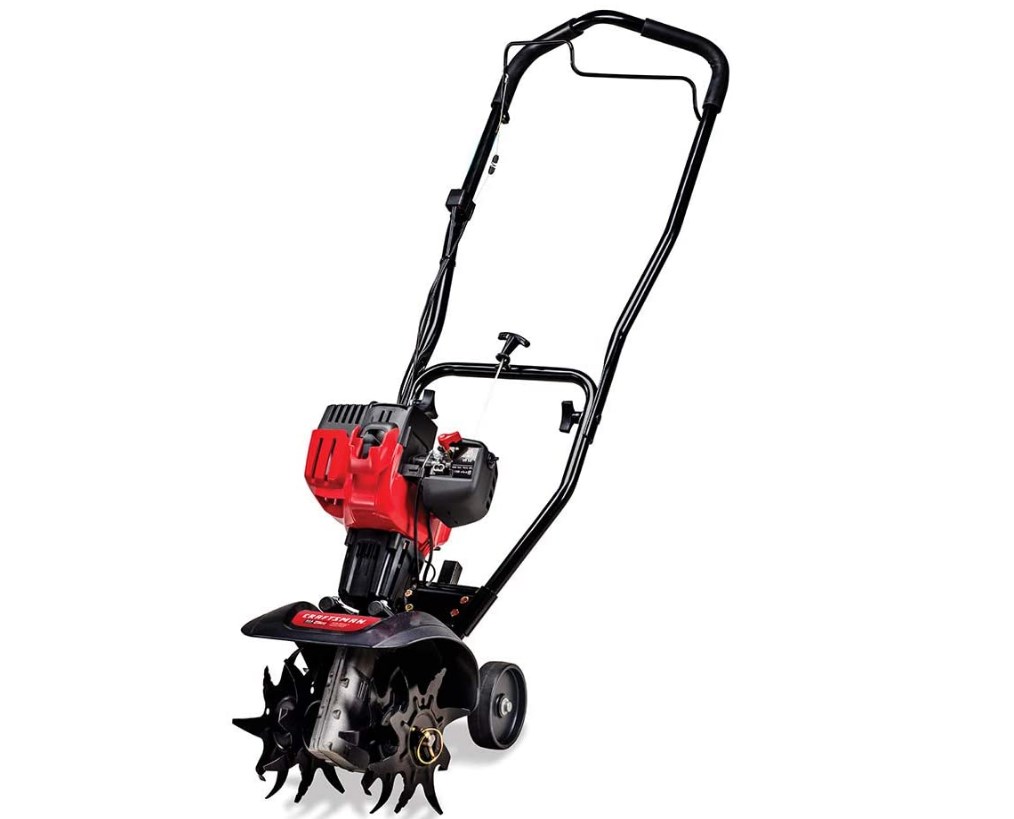 While mixing oil and gas isn't for everyone, this tiller is an excellent option if you have cover crops to till annually. It's a great tool for those with established beds. It's lightweight and has a variable speed throttle. While it doesn't have as much power as the Mantis 4-cycle tiller, it has enough for a lot of people.
The tilling width is adjustable from 6-9 inches while the depth is 5 inches. It weighs 29 pounds, so it's a bit heavier, but it's made for durability. It has 4 three-way tines that rotate forward. The transport wheels are removable as well.
Pros
Compact and maneuverable in tight areas

Great power for the size

Durable and easy to maintain
Cons
Shallow tilling depth

Not for new gardens
FAQs About Tillers & Harrows
Your intended purpose will determine whether you need a disc harrow or a tiller. They're both very different, so it's not a hard decision to make, but here are some frequently asked questions to help.
Question: Can you plant immediately after tilling?
Answer: It's best to wait a few weeks after tilling before planting any seeds. The soil needs time to aerate and gather nutrients. In fact, any microorganisms you disrupted when tilling will need some extra time to reestablish themselves and develop valuable nutrients.

The same goes for disking. It's important to turn over the soil and allow it to breathe before planting. Crops can be hard on the soil and soil needs time to rest before it can effectively grow anything new.
Question: Should I kill weeds before tilling?
Answer: Tilling doesn't do an effective job of pulling spreading or expansive weeds, although it makes uproot some. It's best to pull as many weeds as you can before tilling so the roots don't get caught up in the tines and prevent them from reaching the soil.

It's also best to pull any grass you have before tilling. While you can simply use an herbicide to kill the grass, once you turn it over, the grass could take root again and begin to grow in your garden..
Question: Why do farmers disc fields?
Answer: Disking a field is an effective way to turn over the soil, break up and bury unwanted crop residue, and prepare the soil for planting. The discs are concave and mounted at an angle so they do a better job of lifting and cutting through the soil.
Question: Will disking kill weeds?
Answer: Unlike tilling, disking is an effective way to loosen and cut through weeds. It can turn them over in the soil and bury them. However, a few spraying cycles to kill off the weeds first is a good idea, that way you can turn around a lot of excess weed growth and ensure it doesn't come back before planting a new round of crops
Final Thoughts on Harrowing vs Tilling
While disking and tilling will both break up tough soil and turn it over in preparation for planting, a disc harrow is a large implement better suited for farmers' fields and preparing for crops. A tiller doesn't dig as deep, so although it can sometimes break up rocky soil, it still works better in residential gardens.
Your needs will dictate which tool to use, and if you choose the right one, you'll be happy with the results.
Further Reading on Tillers & Harrows: