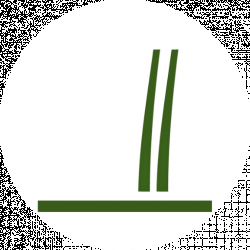 Latest posts by Turf and Till Team
(see all)
Do you like the great outdoors and wouldn't mind getting a little dirty? Well, try gardening. If you are already a gardening club member but still use stone-age tools like the shovel and broad fork, you seriously need some upgrading of your lawn equipment.
For weeding, plowing, and hoeing needs, go for a motorized tiller, especially if your garden is about 300 m2 or more. Whether diesel or gasoline-powered, a motorized tiller is guaranteed to save your time and energy.
As a plus function, it can still be used to mix fertilizers into mulch. With a wide variety of types of mini tillers in the market, one is spoilt for choice.  
In this article, we are going to look at the Mantis Tiller specifically, giving you every other piece of information you would never get anywhere else. 
Factors To Consider Before And When Buying A Mantis Tiller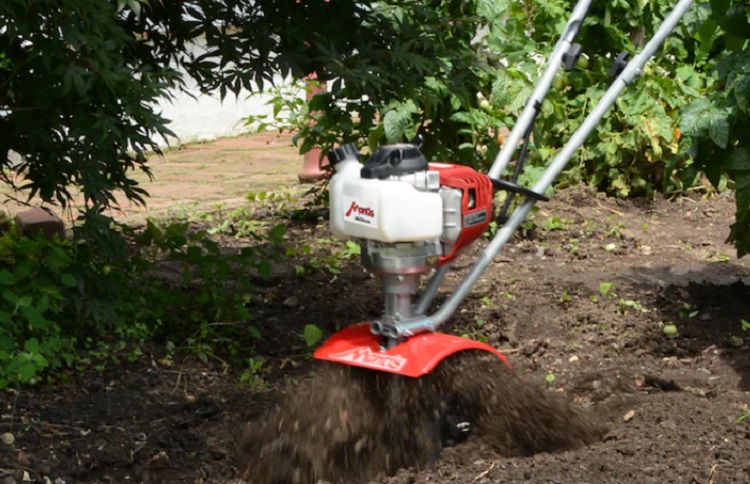 One is bound to get confused when bombarded with a lot of information from the internet and other people's views and opinions concerning the mantis tiller to invest in. However, the good news is that we have compiled a reliable list of factors to consider before making that important decision. They are:
Size Of The Yard Or Farm
Your farm's size will determine the size of the mantis tiller you buy, as different farms require different tillers due to the different power requirements.
For extensive gardens, heavy-duty tillers will be the best choice due to their massive and powerful engines that ensure they cover wide widths as they break through even the toughest of grounds with minimum effort.
However, it is easier to use small cultivators for small gardens. This enables the user to till within the limited space and avoid damaging other plants when weeding.
Engine Type
The type of engine found on the mantis tiller differs from another by the type of fuel used. Also, the kind of fuel varies depending on the machine's manufacturer or the equipment's size. We have to achieve a mixture of oil and gasoline for two-cycle engines to power up the machine.
However, a four-cycle engine does not require such a mix to run. It uses only unleaded gas. Apart from gas-run engines, some mantis tillers use electric engines. The electric mini mantis tillers may not be as powerful as the gas-powered ones, but they tend to be quiet and reliable since they only require electrical power.
Width and depth of tilling
It is important to ensure the mantis tiller you opt to buy conforms to your tilling preferences. This leaves you with only one option of considering the depth a mantis tiller can till before buying.
Mantis tillers have some tines that can dig up to inches, while some others are designed to till up to a depth of just three inches. Depending on your cultivation pattern and preference, you need to consider the depth and pattern tilling properly of the mantis tiller you chose.
Consider the mantis wheels
Mantis wheels are made in different designs meant to operate in different conditions. It is recommendable to go for the wide and thick wheels in diameter as they tend to prevent your tiller from sagging.
Without sagging, it means that you will have an easy time, productive as well as swift cultivating. Additionally, wide and thick wheels are likely to allow traction between the soil and the wheel and the motion.
Soil types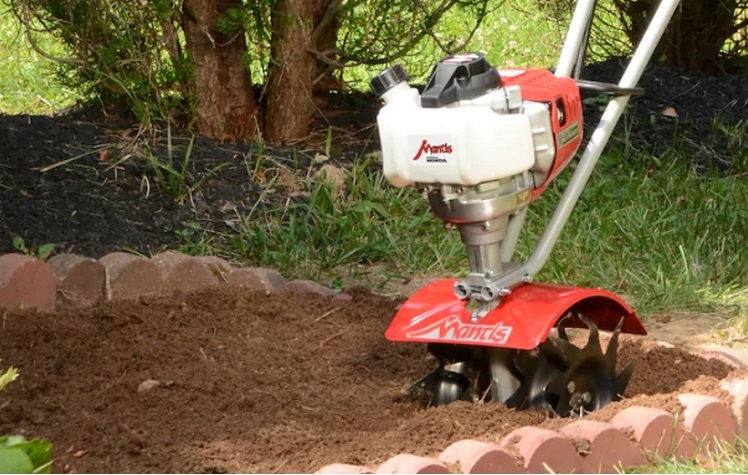 Along with the size of the mantis tiller you buy, you will also need to consider the soil's nature where you will be using the mantis tiller. If the soil is rocky, you will have to go for the heavy and large mantis tiller. A mantis tiller that heavy and large will translate to an effective tiller making your work easier. 
See that the device you choose will work on the soil conditions; otherwise, you will have to invest money and time in something unhelpful.
Prices and warranty
There is always a notion that always the most expensive mantis tiller is the best. Factually, this is not true. It all depends on the purpose and the nature of the work you tend to do.
Firstly, you need to have the budget when it comes to exploring the mantis tiller that's within your budget and meets all of your conditions. By doing this, you will have saved time and effort.
Mantis Tillers Full Review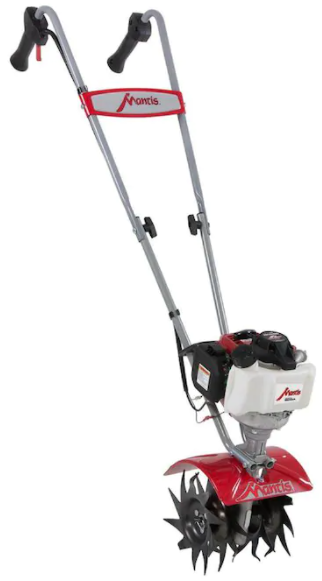 Why Mantis tiller?
Mantis tiller is a fantastic machine built to make gardening easier, fast, and enjoyable for every user. It comes with a powerful engine, and it is not complicated as people put it.
However, there are different things about mantis tiller, making it special to stand out from other machines in the market. While you can use it for conducting hard and tough duties, you will be moved by how light and easy to carry it actually is. Besides, you can carry out your garden task with complete precision and ease.
It is beautifully designed, making it look sleek and sharp while featuring sure-grip handles, allowing you to handle it from different angles.
Equipped with all the controls, including the keys and the safety keys that are within reach of your palm, you can rest assured of safety and full control of the tiller without having to worry about anything while maximizing wrist comfort and minimizing fatigue.
Outstanding features
While machines from other brands can't dig enough, the mantis tiller is good and strong enough to dig up to ten inches deep. 
In addition to the fact that it can do a ten-inch dig, it can also dig into the hardest and most rocky soil without sagging or bouncing back.
Another feature that keeps this machine ahead of the game is the tines. They come with a lifetime warranty, and in case you have any issue with one of them, you can have it replaced for free from the manufacturer.
Compact design 
The manufacturer has given these machines a compact design and an innovative transmission that allows the tiller to reach even the tightest spaces where the most common tiller finds it hard to reach possibly.
Mantis tiller is also versatile as it can easily be turned into a power "weeder" by just literally turning the tines around. With a mantis tiller, you are given the freedom to determine the type of engine you want. It comes into different engines that are the gas-powered engine and electric powered engine.
Types of Mantis Tillers Engines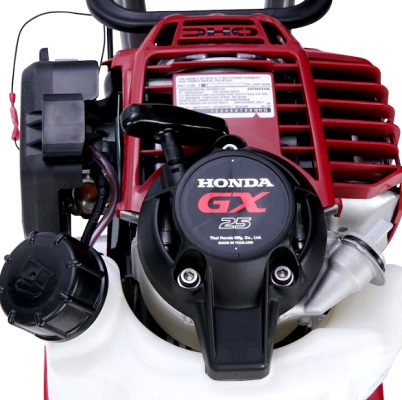 Gas-powered engine
The gas-powered tillers are designed to generate excellent digging weeding and tilling power thanks to their powerful commercial and long-lasting engines.
Their ten-inch tilling depth makes it easy to dig through the turf and the famous sticky clay soil. The fast-turning tines also achieve a gentle power weeding. Ergonomically designed handles and grips offer convenience during transport and storage and control, respectively.
There are two categories of gas-powered Mantis Tillers available in the market currently. They are Two-cycle Mantis Tiller and Four Cycle Tiller Mantis. The main difference between the two Mantis Tillers is that the Two-cycle Mantis uses a mixture of gasoline and oil to run its engine while the Four-cycle Mantis uses only gasoline to run. 
Electric powered engine
The Electric powered Mantis Tillers rely on an electric power source to run their motors. These tillers are easy to start as they only spring into life with the press of a button. They offer convenient cultivating and digging power. Their compact size makes it easy to lift them into raised garden beds.
Features and specifications
A well built-in extension cord holder that ensures the cord is secured while the tiller is in use.

A compact design allows for 12 inches of tilling width while still functioning well in narrow and raised beds.

A 120 V/60Hz double insulated engine with inbuilt overload protection

A push-button start system

Eight inches is tilling depth.

Three-position adjustable handle that easily folds, making transportation and storage convenient.

Ergonomically designed grips that are padded for maximum comfort when controlling.

Twenty four pounds in weight.
Pros
They are reliable as they only require an uninterrupted power supply to start and run.

They are more affordable than gas-powered Mantis Tillers.

They tend to be quiet when in use.
Cons
The corded tillers can easily power off with the slightest interruption of electric current.

They are mostly suitable for small and medium-sized gardens hence not conducive to large, tough terrain farms.
Best Alternative For Mantis Tiller
Apart from the Mantis Tiller, the global market also offers the three best alternative mini-tillers, leaving you, the user or potential buyer, spoilt for choice. Here are some of the mantis tiller alternatives.
Earthwise TC70016 16" corded electric tiller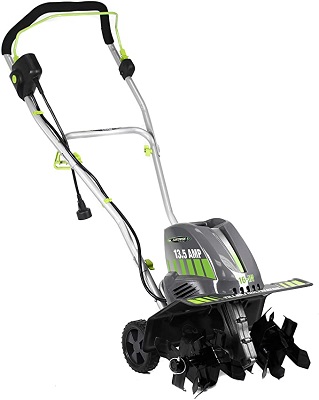 Being one of the best alternatives for mantis tiller, Earthwise corded electric tiller is designed with six adjustable tines that give users the freedom to dig at different levels and depths.
One can adjust the tiller for different tilling depths starting from eleven inches to sixteen inches in width or eight inches working depths.  Following its electrical cord and a 13.5 electrical motor, it can provide sufficient power to get work done, making it superior for residential use.
Features and Specifications
Push button for starting

 13.5 electric motor

 Weighs 34.8 lbs

Adjustable tilling width with six steel tines

 Eight inches tilling depth

 Cord retention hook

 Two-year manufacturer warranty

Flip down transport wheel
Pros
Require no gas or oil for maintenance

 Environmental friendly

Tines are adjustable and replaceable

Front tine design

Six inches down wheel makes it easy to move it around
Cons
It limits you to the far you can reach with the cord

 Some users may find the eight inches depth not sufficient

 Lack much front weight forcing users to pull it instead of push
Sun Joe TJ603E 16-Inch 12-Amp Electric Cultivator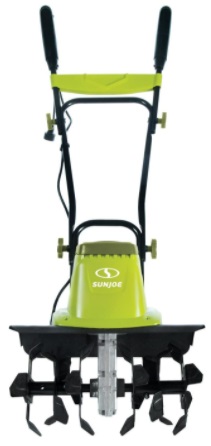 Do you need to break a lot of new ground quickly? Sun Joe TJ603E 16-Inch 12-Amp Electric Cultivator presents a more environmentally friendly electric mini tiller with a powerful motor that will pulverize dirt effortlessly.
It can slice through the soil at about 370 RPM. It is used in tough yard garden tasks like weed control with that extra muscle and digging power. 
In addition to its high horsepower motor, it has a platform of depth adjustments, which allows the user to dig up more soil with each pass while still maintaining control in firm soil.
Features and specifications
Powerful 12 AMP induction motor

Two wheels

Folding handles 

Strong six steel angled tines for maximum durability and performance

Three-position wheel adjustment

The power source is corded electricity
Pros 
It is designed to run for long with minimum noise.

Easy to maintain and eco friendly 

Easy to store and transport since the user can fold the handles

This model comes with a full two-year warranty

For more control, it comes with depth adjustment capabilities

Three-position wheel adjustment
Cons
When cultivating around more delicate plants that are not well spaced, 20" apart, the six tines' aggressiveness becomes too much and may damage your plants.

The cord can limit the gardening radius or get in the way.

You need to be near a sufficient and stable power source to use
Greenworks 10-Inch 8 Amp Corded Tiller 27072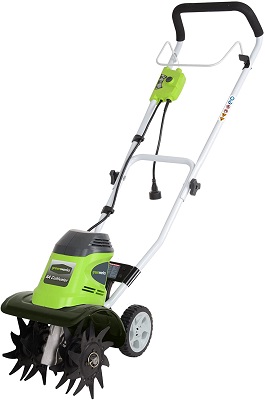 When you need a multifunctional tiller, Greenworks 27072 is the way to go. Retailing at just $119, this tiller can achieve cultivating, tilling, and weeding functions with ease.
It comes armed with a powerful electric clean engine that is very much able to work through the hard-hitting ground. Its versatility is seen in adjusting the tines' width and depth to meet both weeding and tilling needs.
Features and specifications
8 AMP motor

Folding handles

(4), 8-inch rotating motors

About 29.3 pounds

Adjustable tilling depth of up to 5 inches and a tilling width of about 8.25 to 10 inches 
Pros
Lightweight Weighing at only 32 pounds, it is easily lifted and handled

Additional plot options. It can work narrow rows, and adjustments are made to make it wider to cover more ground

Easy to maneuver 

It comes with a four-year warranty

Handles tough grounds with ease 

Reasonably affordable

Can adjust to shallower heights to accommodate wedding function
Cons
The cord may get in the way, limiting the gardening area to be covered

Requires proximity to a power source

Its limited motor power and all-out width of the tines make it less efficient when attending large gardens. You will not be pleased with this tiller if your need is breaking new ground
FAQs
Question: Where are the mantis tillers made?
Answer: Mantis tillers are made of components manufactured in the United States and abroad and assembled in Pennsylvania.
Question: How do you adjust the idle on a mantis tiller?
Answer: You can adjust the carburetor using a red and white screw found at the rear just behind the air filter cover near the black choke button on the right side of the engine. Note that the red wire adjusts the high-speed acceleration settings while the white screw controls the low-speed settings. 
Question: How do you check a mantis tiller ignition coil?
Answer: You can check a mantis tiller ignition coil by sliding the boot on the plug, holding it against the block, and pulling it as you mean it. Make sure you have the blue spark. If it is dull yellow, get ready to have a new one. Good luck.
Question: How do I check my mantis tiller model?
Answer: You can simply check your mantis tiller's model by checking on the white label located on top of the engine housing. Your mantis tiller's model number will be located at the bottom of the label in the "item" field.
Conclusion
A good tiller should be able to perform the basic functions of groundbreaking, weeding, and cultivating. This is what mantis tiller does.
It possesses general characteristics such as: simple and easy to operate, safety features, lightweight for easy maneuvering, sufficient tilling power, minimum storage space, and ease of maintenance. The most widely used mini-tiller globally is the Mantis tiller, which has been in the market for over 40 years.