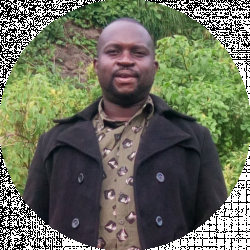 Latest posts by Haron Omaita
(see all)
The Honda HRX217VKA is a potent, self-propelled lawn mower that comes equipped with many features you can expect from top-of-the-range models. It's one of the top gas-powered lawnmowers on the market today and comes highly recommended by its users.
For starters, the Honda HRX217VKA comes with a powerful Honda 200cc motor. In addition, the machine boasts a feature known as "Select Drive" that allows you to adjust its speed. Basically, that means you can choose your own pace when cutting your lawn and not feel hurried by the machine.
What's more, the Honda HRX217VKA also comes with a lengthy 5-year residential warranty, which should calm you down if any problems occur.
In the following Honda HRX217VKA review and guide, we'll take a look at the self-propelled lawnmower's key specifications, design and build quality, key features, performance, pros, and cons, as well as its best alternatives.
Our Bottom Line Upfront: The Honda HRX217VKA Mower is a powerful lawnmower with a strong 200cc engine as well as a variety of mowing heights. While its price is definitely on the higher end, it comes from a reputable brand. Moreover, it's simple to use and works well in many different yards.
The Honda HRX217VKA's Key Specifications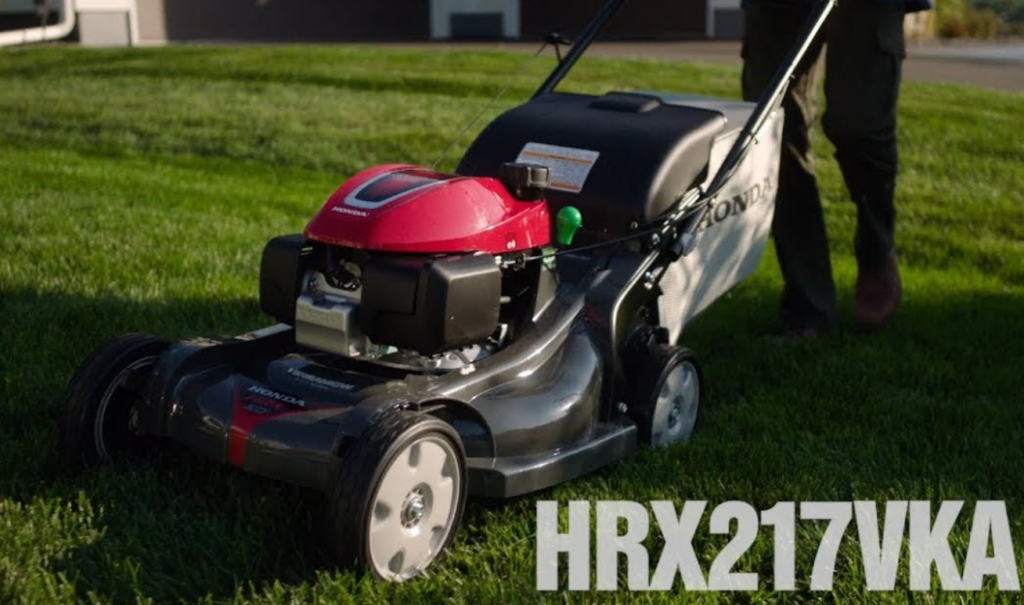 Manufacturer
Model
Self-propelled Honda HRX217VKA GCV200
Color
Body
Frame: 1 inch steel tube handle with three height positions
Engine
Honda GCV200
Displacement (cc): 200cc
Fuel capacity: 0.3 gallons
4-cycle engine
Starter: Recoil
Choke system: Automatic
Throttle control: Fixed
Weight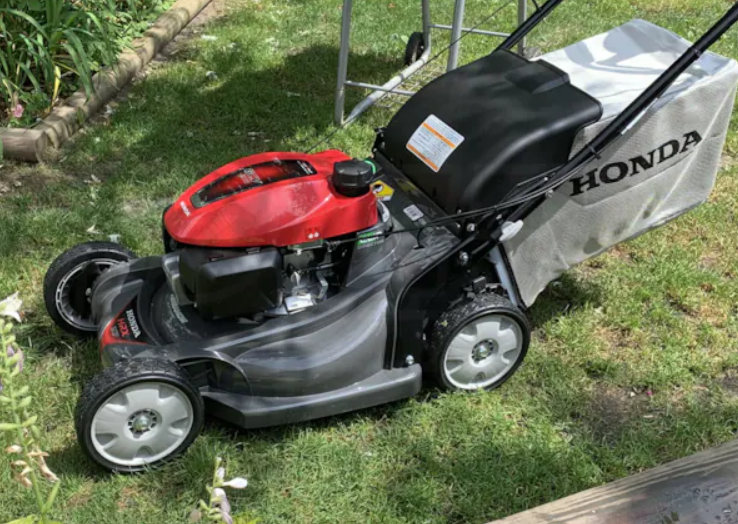 Operating weight: 91 lbs
Dry weight: 88 lbs
Drive System
Self-propelled
Type of drive: Rear wheel drive
Speed forward: 0-4 mph
Transmission type: Fixed Gear Adjustable Speed Belt Clutch
Drive control: Ultra Variable Select Drive®
Drive: Slipping belt
Front/rear wheel height: 9 inches
Brakes: Flywheel
Cutting Deck
Cutting height: 0.75-4 inches
Cutting width: 21 inches
Cutting deck construction: NeXite®
Cutting height adjustments: 7
Cutting methods: Mulch/bag/discharge/leaf shred
Blades: Twin (MicroCut System®)
Bagger capacity: 2.5 bushels
Discharge: Rear standard
Equipment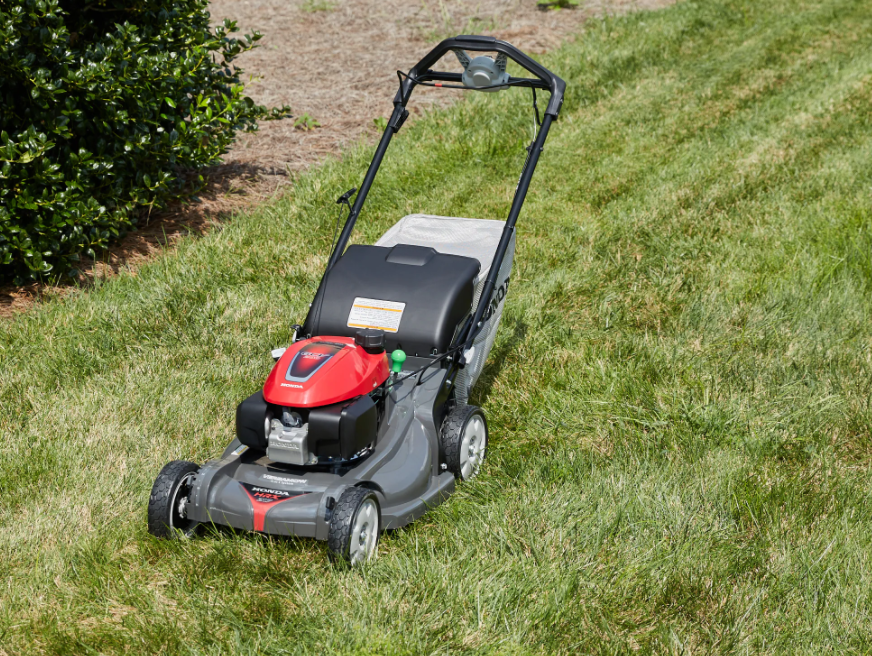 Type of collector: Soft bag
Volume of collector: 3.1 cubic feet
Ball bearing wheels
Handle height adjustment
Warranty
90-day commercial warranty
5-year residential warranty
The Honda HRX217VKA's Build and Design Quality
In addition to reliable engines, Honda is renowned for outstanding build quality. The Honda HRX217VKA lawn mower is designed and made with comfort and durability in mind.
Despite weighing 88 pounds, the adjustable speed self-propelled functionality makes the mower nimble and easy to drive around any size of yard. The razor-sharp twin blades make the machine efficient and effective, while the 4-in-1 Versamow System ensures that the mower is exceptionally versatile.
The Honda HRX217VKA's 21-inch deck is made from an ultra-tough and durable polymer called NeXite®. It's proven to have exceptional impact resistance and is rust-resistant. Honda is so confident in the durability of NeXite® that this lawn mower comes with a 5-year limited lifetime warranty.
The Honda HRX217VKA's 9-inch plastic front and rear wheels are large, sturdy, and durable. The fact that they come with ball bearings ensures that they're useful and silky-smooth even over tricky and uneven terrain.
Another excellent feature of the Honda HRX217VKA is that the components and engine are easily within reach and care and maintenance is easy. The huge fuel tank is handy, while the extended oil fill tube makes oil changes easy.
The Honda HRX217VKA's air filter is easily accessible and you don't need any tools to check or replace it. It's also easy to access the spark plug. The carburetor comes with a fixed stud bolt build, making maintenance easy while at the same time improving durability.
The Honda HRX217VKA's Key Features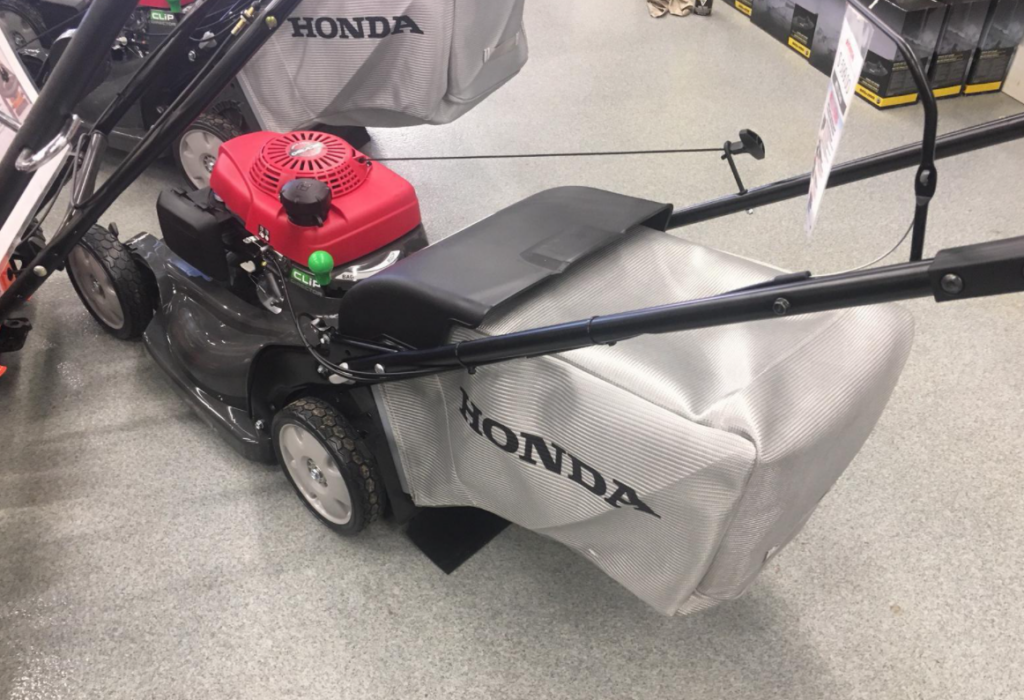 The Honda HRX217VKA has a characteristic habit of leaving evenly and smoothly mowed grasses in the discharge bar or its trail (according to your preference, of course!).
Some noteworthy features on this lawn mower include:
Reliable, powerful Honda GCV200 engine: Powerful, fuel-efficient, and easy to start, the Honda HRX217VKA's first-class GCV200 engine delivers much more torque and power than its predecessor, resulting in faster and easier cutting and superior cutting performance, even in thick, heavy grass. The extra power also means added durability, providing long-term reliable service.
Pick your speed with Select Drive®: You can easily adjust the speed of your lawnmower to match your stride by turning the speed adjust knob around. Then activate the Select Drive® knob for comfortable, intuitive speed control. The mower has variable speed settings from 0 to 4 miles per hour.
4-in-1 Versamow System & Clip Director: With the revolutionary Honda HRX217VKA's feature, you can mulch, leaf shred, bag, and discharge without needing any tools or attachments. Simply slide the handy Clip Director control to set how much grass to mulch or bag. You don't need any tools or pricey attachments. It's the best in versatility and convenience.
MicroCut® Twin Blades: Honda HRX217VKA's exclusive MicroCut® Twin Blades System has four cutting blades that ensure fine clippings for extra clippings per bag and superior mulching. The end result is a great cut, less effort, and faster emptying of the bag.
No-dent, rust-free NeXite® cutting deck with limited lifetime warranty: The Honda HRX217VKA's cutting deck is made from NeXite®. This durable, high impact-resistant material doesn't rust, corrode, or dent over time. It's so durable that it has a lifetime warranty (though limited to 5 years!).
5-Year Residential Warranty: With Honda HRX217VKA's 5-year residential warranty, you can have peace of mind knowing that your lawnmower is fully covered for 5 years.
Autochoke System: The Honda HRX217VKA's Autochoke System allows you to easily start its engine. You don't have to choke the engine! Simply start the lawnmower and you're good to go!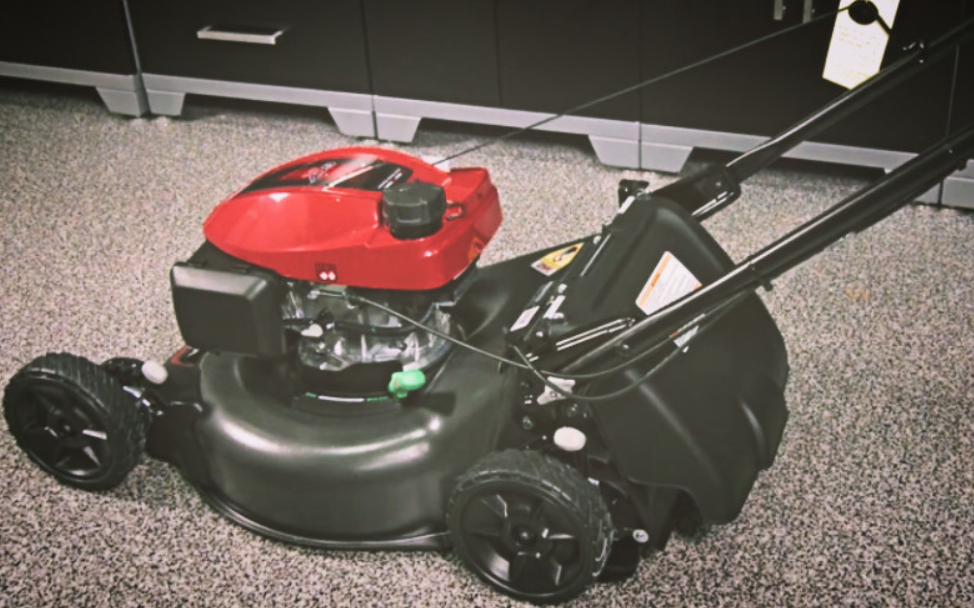 Worried about clumps being left behind when mulching? No problem! With the Honda HRX217VKA's Versamow System, you can partially or fully mulch even in harsh conditions. Simply adjust the Clip Director feature to the ideal setting and mulch away!
Mow 30% further: Smaller clippings mean the bag carries more grass. So you can cut 30% more grass before emptying the bag.
Easy, handy rear discharge: The Honda HRX217VKA comes equipped with a handy back discharge door that increases maneuverability, doing away with the necessity of an additional discharge chute attachment. Grass clippings are pushed out at the bottom rear part of the lawnmower.
Make light work of leaves, minus attachments: The Honda HRX217VKA's design makes it easy to shred leaves. Tiny bits minimize the need for extra bags for gathering debris. No tools or attachments are required as well.
Large grass bag with 2.5 bushel capacity: The Honda HRX217VKA's large capacity bag is balanced so it easily empties, saving you effort and time.
Large 9-inch ball bearing wheels: All four wheels have ball bearings that offer smoother drive, better maneuverability, and improved durability.
Flywheel brake safety feature: This feature quickly halts the engine once you release the flywheel brake knob.
3-position fast release adjustable handle: The Honda HRX217VKA's quick release handle adjusts easily to one of three positions for silky-smooth mowing. And it can be folded over for added compact storage.
7-position mowing height adjustment (0.75 to 4 inches): Handy cutting height adjustment levers help you set the right cutting height according to your lawn's condition.
Manual fuel shut-down valve: You can shut off the fuel valve to perform maintenance, for transport, or for storage.
The Honda HRX217VKA's Performance
Thanks to the Honda HRX217VKA's powerful engine, it can mow tall, thick grass with ease. As soon as you come upon a patch of thick, tall grass, you can easily and quickly cut it down.
The Honda HRX217VKA includes Honda's trademarked MicroCut Twin Blade Mowing System that produces golf course-like results. Your lawn will not only look great, but it'll also help get rid of weeds. Sharper, cleaner cuts will make your yard beautiful and healthier after using the Honda HRX217VKA.
Have a leaf problem in your yard like everyone else? This is where Honda came in handy when it introduced the 4-in-1 Versamow System, which can grab all the leaves and then shred, collect, and empty them without any additional tools or accessories.
The Honda HRX217VKA lawn mower features the manufacturer's integrated Select Drive control feature, which lets you adjust the speed of your mower by just turning a knob. This system will let you vary the speed from 0 up to 4 miles an hour.
Bear in mind that this lawn mower lacks the hydrostatic transmission found in high-end Honda models, which enables accurate speed control. Instead, the mower has some rigid speed settings that most people need, anyway.
Huge 9-inch ball-bearing front and rear wheels make the Honda HRX217VKA drive smoother and maneuver more comfortably. With a 27-inch wheelbase, the Honda HRX217VKA is slightly bigger than other comparable mowers on the market.
Another issue with handling this lawnmower is that it features a 1-inch flange on the bridge, meaning that you won't be able to come near solid objects like trees and so on at least an inch apart. To approach some items in your yard, you might need to take out the herbicide.
Pros and Cons of the Honda HRX217VKA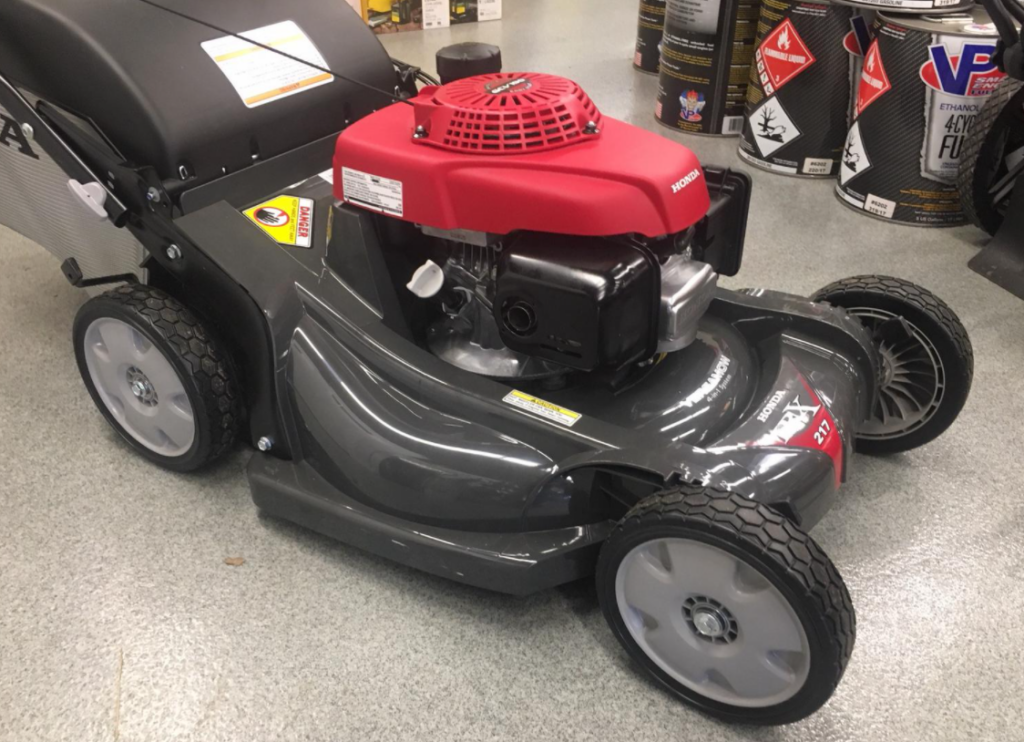 The Pros:
The powerful motor lets you work smoothly even on uneven, tricky terrain
The gas-powered lawnmower starts easily
Mows and mulches well
Available at a competitive price
Honda's a brand with a reputation for quality products
 You can switch the blades off without turning the engines off
The self-propel system makes the Honda HRX217VKA highly maneuverable
Easy to install and start
4-in-1 multiuse Versamow system
 Very silent operation
Simple-to-use grass bag included
Can crush, mix, grind, and dump leaves
Improved weight distribution thanks to the mower's rear-drive transmission
The Cons:
Wider wheels aren't convenient for areas with longer grass
Adjustable speed control is quite complicated
Doesn't mow less than an inch away from some solid objects
No electric start
The Honda HRX217VKA Alternatives
For whatever reason, if you decide not to buy the Honda HRX217VKA, no problem!—there are a few similar excellent options on the market that are definitely worth checking out!
Budget Option: Craftsman M275 3-in-1 21-inch Self-propelled Lawn Mower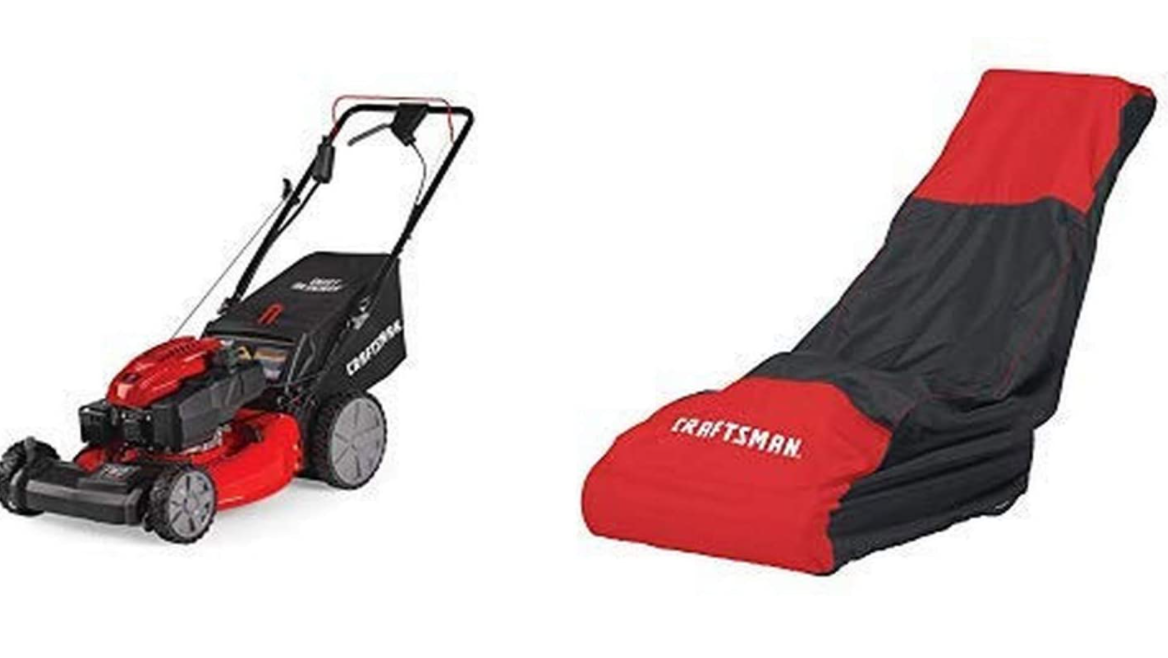 Another big-name brand in power tools and equipment, Craftsman offers a budget option that you may find viable.
The Craftsman M275 3-in-1 21-inch Self-propelled Lawnmower has a similar 21-inch mowing capacity as the Honda HRX217VKA but is considerably underpowered and less versatile than the latter.
If you have no need for the additional versatility and power of the Honda HRX217VKA, this could be your answer. As an added bonus, the Craftsman M275 does feature an electric start!
Pros:
3-in-1 functionality
Electric start
Deck wash
Autochoke
Adjustable speed
Self-propelled
Front-wheel drive
Easy to assemble
Cons:
Slightly dearer than comparable models
Great Option: Husqvarna L221A Self-propelled 1600cc Mower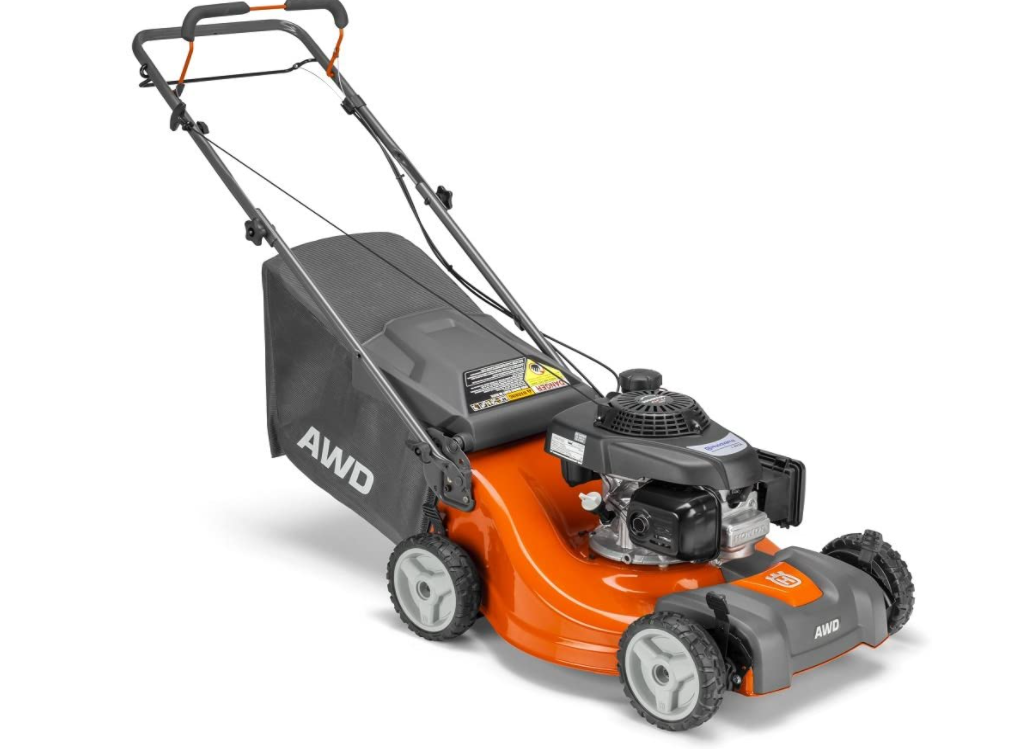 The Husqvarna L221A Self-propelled 1600cc Lawnmower is a premium product that's similar to the Honda HRX217VKA in multiple ways.
It's more expensive than the Honda HRX217VKA but lacks the 4-in-1 capabilities of the Honda HRX217VKA.
While its motor is quite smaller than that of the Honda HRX217VKA, the Husqvarna L221A comes with an all-wheel drive, allowing it to navigate through much of the terrain conquered by the Honda HRX217VKA.
Pros:
Reliable and durable 1600cc Honda engine
All-wheel drive self-propulsion
Super efficient rear bagging feature
Heavy-duty 15-gauge cutting deck
Wheels designed for maximum traction
Cons:
No electric start
Bagger may be heavy to throw away
One constant speed
Air filter has short lifespan
Can be tricky to navigate around trees
Stiff and hard handle
Eco-friendly Option: Snapper XD Cordless 82V Lawn Mower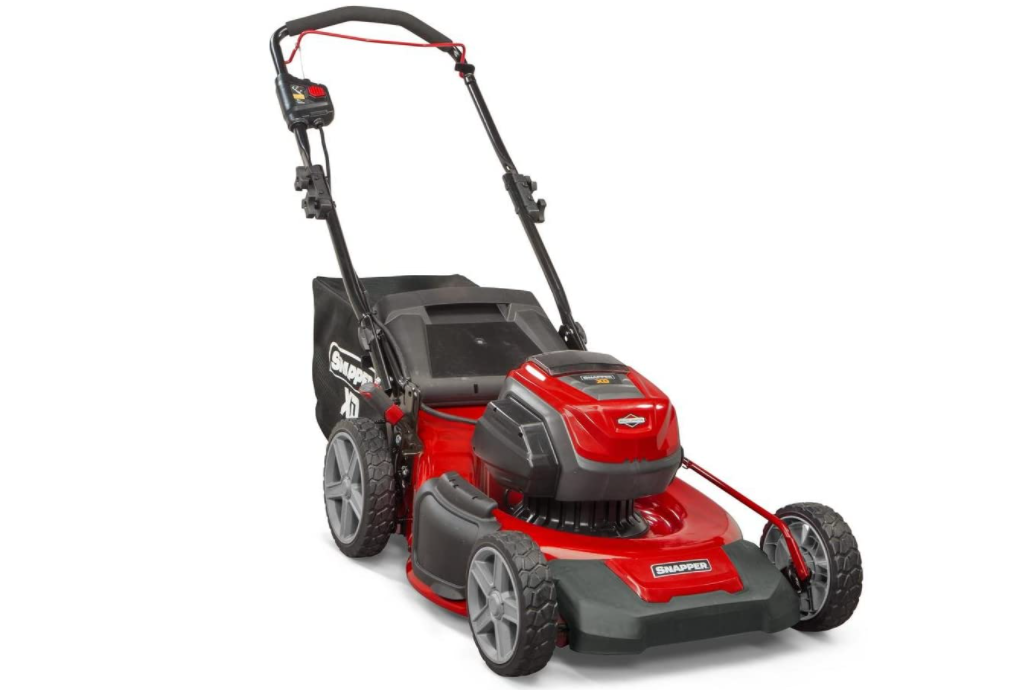 If you want a new cordless lawnmower, the Snapper XD Cordless 82V mower can be a good option to check out.
With the same 21-inch cutting capacity as the Honda HRX217VKA, the main difference with the former is that it's battery-powered. So there's no need for gas!
This is some switch from a gas-powered model, and you'll lose a little bit of power to gain the convenience of electric power. It's an amazing option if you're undecided and thinking of switching to the world of cordless!
Pros:
Self-propelled
21-inch cutting width
5-year warranty
82V of power
Cons:
More expensive
A bit noisy for a battery-powered option—but way quieter than a gas-powered model
Self-propelled mode might be a bit hard to maneuver around obstacles
Frequently Asked Questions about the Honda HRX217VKA Mower
Question: Does Honda HRX217VKA Feature the Roto-stop?
Answer: Yes, the Honda HRX217VKA does feature the Roto-stop, which stops the turning of the blades while keeping the engine running. So, you don't have to restart the lawn mower when the blades stop turning. Roto-stop is also available on the HRX217HYA, HRX217HZA, HRR216VYA, and HRC216HXA models.
Question: Is there Rear-wheel Drive in Honda HRX217VKA?
Answer: The Honda HRX217VKA 21-inch self-propelled lawnmower has a rear-wheel drive and multiple speed settings.
Question: What Are the Best Push Lawn Mower Brands on the Market?
Answer: The best push lawn mower brands on the market are:
• Honda
• John Deere
• Toro
• Troy-Bilt
• Greenworks
• Craftsman
• Ego
• Husqvarna
• Cub Cadet
Question: How Does the Select Drive Feature Work in Honda HRX217VKA?
Answer: The Honda HRX217VKA's Select Drive feature allows you to cut at one consistent speed or vary your speed while cutting to adapt to various lawn conditions as well as changes in your lawn's terrain. Just engage the feature to match your preferred speed or turn around the speed adjustment lever.
Question: Are Honda Lawnmowers the Best?
Answer: Honda leads the way when it comes to gas push lawnmowers. It's the brand that's least likely to break down according to a survey by Consumereports.org. While Toro lawn mowers come with a 2-year warranty on their engines, Honda mowers have a 3-year warranty on their engines.
The Final World on the Honda HRX217VKA Lawn Mower
The Honda HRX217VKA Lawn Mower is an excellent option for anyone shopping for a new lawnmower, particularly if you've had issues with other lawnmowers working in your yard.
There's a lot to like about this lawnmower. While it can be a little pricier than other comparable models on the market, you'll get so much from your investment. The Honda HRX217VKA is a productive and compelling option that will make cutting your medium to huge lawn more fun and less work.
Apart from the outstanding power and ease of use, it's sturdy and designed to last. This should give you the assurance that your investment will last for years to come and keep your lawn tidy and neat with minimal effort.
The Honda HRX217VKA Lawn Mower comes with all the features any homeowner might want and more. The best part? It has the dependability and reliability we've come to expect from a Honda lawnmower.
So, yes, this is a wonderful option to get for your yard. You won't regret your purchase!