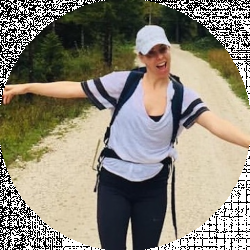 Latest posts by Jodie Chiffey
(see all)
If you have a larger piece of land that you need to maintain all year round, then you should certainly be considering investing in a riding lawnmower.
There are many different shapes and sizes available to you, depending on your requirements, the size of your land, and your budget. In this Troy Bilt TB30R Review and Guide, we'll be looking at one of the most popular.
In this article, we'll be assessing the Troy Bilt TB30R pros and cons. We'll also be breaking down the key features you can expect it to come with, offer some of our own thoughts on who this lawnmower best suits, answer some frequently asked questions and even give you some alternatives to consider.
But before we get into all of that, let's take a look at a product overview.
Key Specifications of the Troy Bilt30R
| | |
| --- | --- |
| Power | 10.5 horsepower |
| Weight | 340 lbs |
| Power Source | 420cc gas engine |
| Size | 157.48 L x 86.36 W x 91.44 H cm |
| Max Speed | 4.25 mph |
| Latest Price | Check here for the latest price  |
Core Features of the Troy Bilt TB30R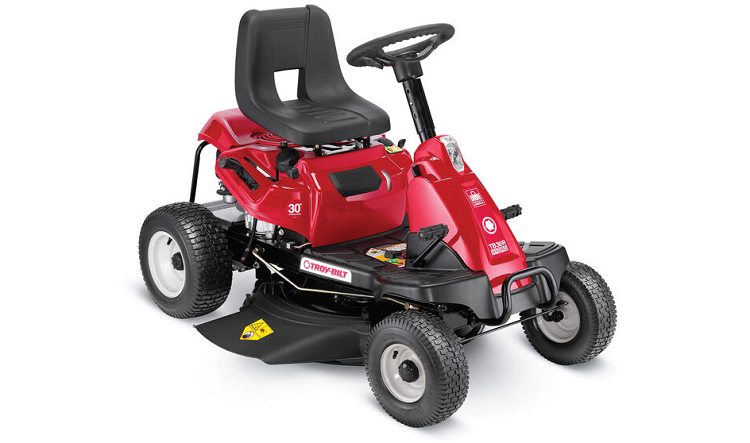 The company Troy Bilt has been designing and manufacturing farm equipment since back in 1937. Since then, they have gone on to diversify and use their expertise to produce several lines of mowers that range from highly powerful commercial units to smaller and more manageable domestic ones.
They are well-known for their highly durable products that balance performance with durability well. Although they produce a range of mowers, they are best known for their smaller domestic ones.
Of these massively popular domestic mowers, one of their best is the one we're looking at today. The TB30R is a trusty tool for millions of Americans across the country, and they help to keep those lawns looking perfect.
But why should you get one? Let's have a look at the key features of a TB30R.
A Solid Engine
Most Troy Bilt products ship with Powermore engines. These engines are made with heavy-duty parts and designed to handle almost any environment, no matter how tough.
Their clever design means minimal wear and tear during use (saving you money in the long run). The TR30R uses a 420cc overhead valve (OHV) engine that produces a good amount of power.
Key features of the engine include:
OHV design means plenty of power while maintaining low emissions
Crankshaft and ball-bearings are forged steel
Pull start is smooth thanks to mechanical compression release
Cast iron cylinder sleeves
Valvetrain is quiet
Ergonomic controls
Engine speed feels precise and smooth
2-year Powermore warranty
Six-Speed Transmission
The TB30R also comes with a shift-on-the-go six-speed transmission that makes this mower particularly quick as well as efficient. Although a top mowing speed of 4.25mph may not sound that impressive, it's good going for a domestic unit.
The speed is also adaptable from between 1.5 and 4.25mph, so you can cut different areas of your lawn at different speeds, depending on the terrain.
The unit is self-propelled using the manual six-speed, and the rear wheel provides all of the traction, giving it nice stability while you cut.
The hydrostatic design of the gearbox means it will require less maintenance over time and allows for smooth acceleration – perfect for anyone who doesn't want to have to spend hours calibrating and caring for their mower.
Side Discharge Mowing Deck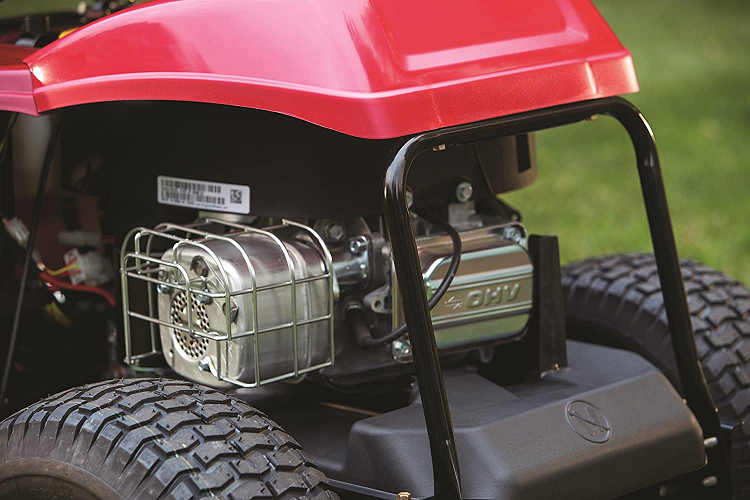 Another great feature of the Troy Bilt is its side discharging mowing deck. This means you can keep the grass and mulch you collect away from the wheels of the unit, leading to a cleaner and tidier cut. You'll also have less work to do once you've cut the lawn as the trimmings will be easy enough for you to collect.
Its 30″ width means it's plenty wide enough for most domestic lawns, even the bigger ones! It also allows for any potential clogging by providing enough room for grass and other trimmings to pass through even when wet.
Easy Fuel Checking
The TB30R also features a simple way for users to know when gas levels are getting low. The fuel sight window is strategically placed and makes checking the gas levels easy to do as you trim. This means you'll never be caught short when cutting and can give yourself enough of a full tank to get your land cut properly.
Excellent Maneuverability
One of the major benefits of choosing a smaller rider mower like this one is that they are much more maneuverable than the larger units. The Troy Bilt, for example, can turn in just an 18-inch radius – meaning it is perfect for any tighter spaces you need to get through.
The fact that this mower can also do up to 1.25 mph in reverse and the six-speed gearing makes it so easy to shift means you'll pretty much never get stuck while using this thing.
There are also several zero-turn Troy Bilt mowers available is supreme maneuverability is what you're after. You can read our latest review of them here.
Adjustability
The adjustability of tools like these is important as it allows everyone to use them as they should. The TB30R comes with a five-position adjustable deck that can be moved and positioned exactly how you need it. This means you can calibrate your machine to be as comfortable and functional as possible.
Good Value
Perhaps the most important feature of all is its value. As an entry-level mower, it's well suited to smaller and less demanding plots of land, but that being said, it offers excellent value for money. This is mainly down to the clever design of the engine and gearbox, providing lasting quality without a premium price tag.
The Troy Bilt TB303R is regarded by many to be one of the best entry-level mowers available and can actually be used on much larger areas if needed.
How Does the Troy Bilt TB30R Perform?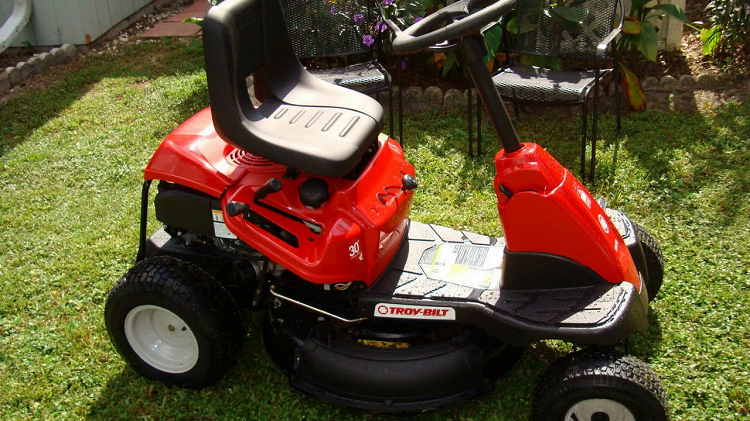 Most people who pick up a Troy Bilt TB30R will agree that it serves them well. If mowing grass over a larger-than-average area is what you need, and you don't want to spend the big bucks on professional gear, this is an awesome option.
However, despite its obvious benefits, there are a few minor issues we picked up on that you should be aware of before you buy one. First of all, it cannot bag clippings easily because the bagging attachment it ships with is on the small side.
While this is not an issue when cutting smaller lawns, if you've got a bigger one (hence the rider), it becomes annoying having to empty it so often. So we estimate that if you're looking to mow over an acre at a time, you'll find issues here.
We also noticed that the handling could be a little jerky, particularly when you first get it out of the box. This wasn't really an issue when it came to performance, but something to bear in mind – it doesn't have the smooth drive of more expensive models (at least not at first).
If you want to use this machine in manual transmission, it will take a bit of getting used to it. You may end up clunking through the gears a few times until you get it right, mainly if you are used to an automatic gearbox.
Despite these slight drawbacks, though, it's important to reiterate the fact that overall, this is an excellent ride-on mower, particularly for beginners.
We found that the rear engine design worked well over flat terrain and easily tackled small to medium-sized lawns. With a cutting deck of 30 inches, it was simple enough to navigate around most obstacles.
Its compact nature is a real bonus, allowing it to operate where many would simply not be able to. It's also nice and easy to store with a very workable
18-inch turning radius.
Ideal for those small to medium residential lawns, the Troy Bilt TB30R worked well when accessing tighter areas that you would normally need a walk-behind for and combined it with the capacity and ease of a ride-on.
The large 1.3-gallon fuel tank means you can store enough gas to keep you going all day (even if you might have to stop and empty the bagging attachment a few times).
We also loved the adjustable blade height that can be set to 5 pre-defined lengths for a really precise cut.
Pros of the Troy Bilt TB30R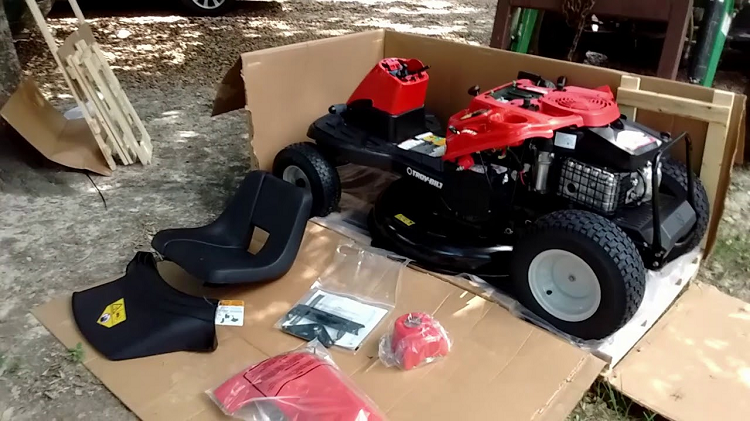 As you might have gathered, there are plenty of pros to get excited about if you're thinking of getting one of these rider mowers. Here is a rundown of the most important ones.
Price
This mower is very hard to beat on price. For the initial investment, it offers a great return saving you time and effort maintaining your lawn. It feels like a premium mower in almost every department, and the ones it lacks are soon forgotten about.
As we've said previously, if you're after a genuinely great rider lawn mower at an exceptional price, this is almost certainly the one for you.
Compact & Maneuverable
Our second favorite thing about the Troy Bilt is how easy it is to use. This comes mainly from its compact design and small turning circle, both of which means it's easy to move around your yard and also store in the garage when not in use.
Comfortable Adjustable Seat
If you're going to be using your mower over extended periods, then having a comfortable seat is a must. Thankfully, Troy Bilt has included a supportive design that pivots at the driver's discretion. This gives you total control over the comfort and height of your ride, leading to a better riding position that allows you to work over longer periods.
Even Cut
One of the most important aspects of any mower, particularly a rider, is how evenly it cuts your lawn. With some cheaper models, you may find they give an uneven cut, meaning you have to go over certain areas multiple times.
When it comes to the TB, you shouldn't have anything to worry about. The blades are adjustable and allow you to cut at different heights – each one with a nice smooth performance.
Good Visibility
Another good point about the TB30R is how much visibility you get while driving. Thanks to its compact nature and smaller design when compared to larger models, you have excellent visibility to the front, rear, and sides while operating it.
Cons of the Troy Bilt TB30R
Despite the host of positives that come with the TB30R, there are a few significant cons anyone thinking of buying one needs to be aware of.
Manual Transmission
This may be an issue if you're used to an automatic, so there could be a learning curve. While it's a good gearbox once you're used to it – getting there could be a little difficult.
Small Bagger
The bagging system included is quite small. This means that you have to empty it multiple times when working on larger areas of grass. While the mechanics work well, it can be quite annoying and slow down your work if you have to stop and empty the bagger often. For larger patches of land, you should consider a slightly larger model.
Struggle Uphill
This unit is not designed to work on slopes of 12 degrees or more. This means the TB30R is not suitable for excessively hilly land. If you're looking for the perfect lawn tractor for hills, check out our guide to the best lawn tractors for hills.
Are There Any Alternatives?
John Deere S100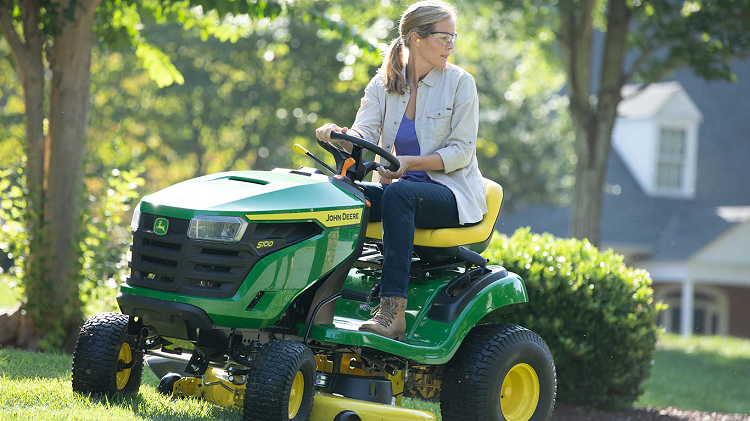 John Deere is a name synonymous with quality products, especially when it comes to rider lawn tractors. Their S100 range comes in at the smaller end of the scale, similar to the Troy Bilt. However, the S100 is slightly more expensive, coming in at a few hundred dollars more. For your extra money, you get a slight power increase to 17 hp from a 500cc engine.
Cub Cadet CC30H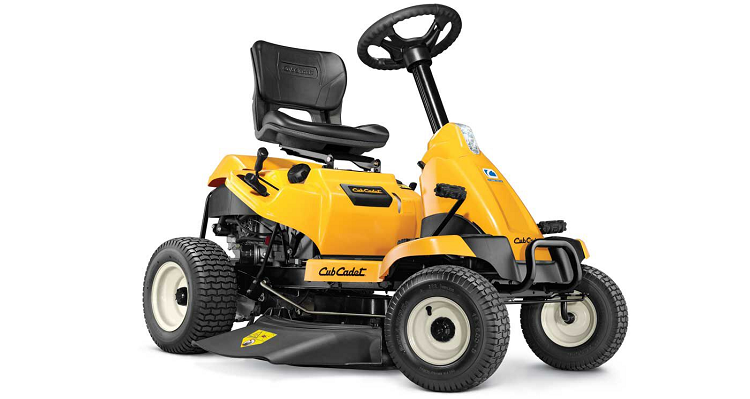 Coming in slightly cheaper than the Troy Bilt, we have Cub Cadet's CC30H. This is their mini mower and is fitted with a Briggs & Stratton 344cc engine that is perfect for cutting up to one acre of flat land, similar to the TB30R.
Frequently Asked Questions
Question: Why Won't My Troy Bilt Stay Running?
Answer: Common reasons include the carburetor being clogged. A clogged carb is caused when fuel is left in the mower to stand for a long time without being used. This fuel then becomes sticky and clogs the carburetor causing engine failure. Try cleaning it or replacing it if you need to.
Question: Why Won't My Blades Engage on My Troy Bilt Riding Mower?
Answer: Check to see if the PTO clutch is getting enough power. If the clutch solenoid is broken or defective, the mower blades will not engage. You will also find your blades will not engage if your clutch is worn out. If either is broken, they will need to be replaced. Check out our guide on the best replacement blades.
Question: How Do You Engage a Troy Bilt Blade?
Answer: To initially engage the blades, make sure your throttle and choke levers are in the rabbit position. Once they are, push the PTO lever forward towards the 'on' position.
The Final Word – Is The Troy Bilt TB30R a Good Lawn Tractor?
If you do decide to choose the TB30R as your new lawnmower, you won't be disappointed. It offers great value for money, you can be confident in its build quality, and it cuts well over even ground. If, however, you've got a larger plot of land or it's uneven, you may want to consider a slightly more powerful option.
If this is the case, we recommend the John Deere S100 as it offers affordability balanced with power and precision. On the other hand, if a smaller model is suitable for you, be sure to check out the Cub Cadet CC30H before making up your mind!