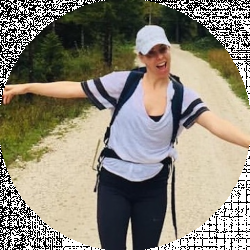 Latest posts by Jodie Chiffey
(see all)
A sod can last for an entire decade if you care for it properly, but eventually, you're going to start noticing large bare patches. Knowing how to find the best sod cutter will make it easier to lay new sod over the soil.
These tools are also efficient at removing lawn weeds, roots, and other types of vegetation that may make it difficult to remove sod from the turf. A sod cutter is an umbrella term that designates a variety of manual and automated tools designed for sod removal.
Even a shovel can be used as a sod cutter, but removing a thin layer of sod with this tool can be an arduous and time-consuming task.
So, in this article, I will take you through the entire process of choosing the best sod cutter and suggest several models that may help you place new sod on your lawn. Check out our guide to the best lawn mowers to find the option that will enable you to keep your lawn tidy.
At a Glance: The 5 Best Sod Cutters
Selection criteria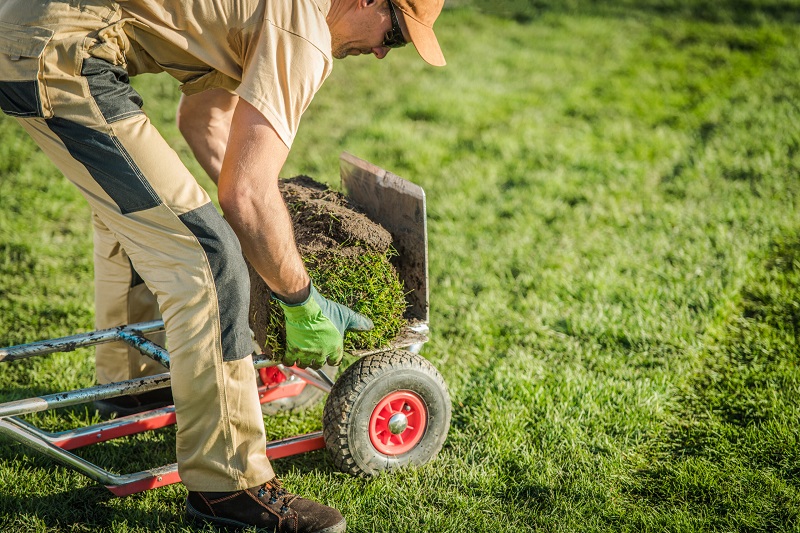 Cutting through the lawn's root system is anything but easy, especially if the soil is soil is hard. Hence, the tool you choose should minimize the amount of strength you have to apply to cut even layers of sod.
During the selection process, I aimed to include a wide range of sod cutters that fit in both commercial and residential settings. Also, the tools you'll find in this article are suitable for both large and small sod removal projects, so the option you choose should be adjusted to the scope of your project.
Here are some of the parameters I used to select the sod cutters I featured in this article
Sod cutter type:
Depending on the size of sod they want to remove, homeowners can use manual or automated sod cutters. That's why I used this criterion to pinpoint the best models from each category.
Blade length and width:
The maximum dimensions of a sod layer you can remove in one go depending on the tool you choose. Sod cutters included in this article can remove shallow, short, and narrow or deep, long, and wide sod layers.
Read our Sunday Lawn Care review to find out more about the products you can use to keep weeds and pests off your lawn.
What is a sod cutter?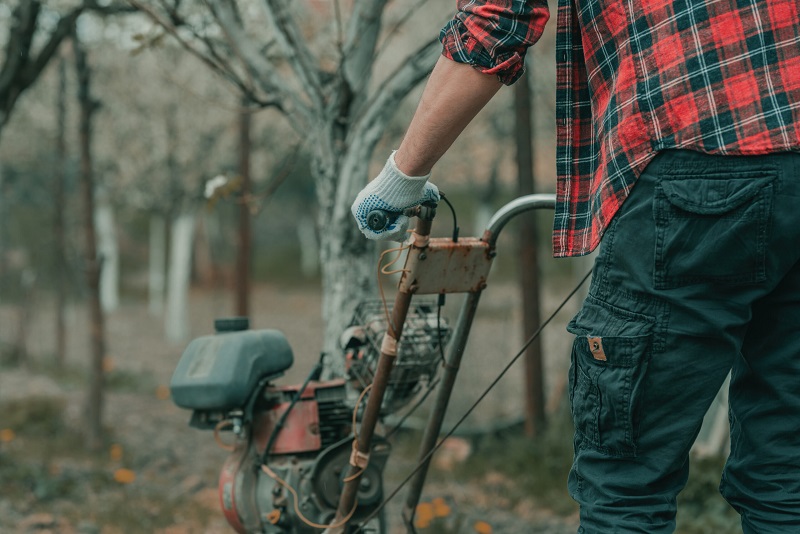 A sod remover is a tool that separates an even layer of grass and soil to prepare space for new sod. In addition, these tools can be used to remove sod around sprinklers or path edges, as well as to cut a new sod to fit the shape of the lawn.
These tools shouldn't be confused with lawn tillers that rip the turf and prevent you from removing the grass root system effectively. Sod cutters enable you to remove even layers of sod and replant it at a different location or place it on the compost pile.
Their size depends on their type since models equipped with engines are significantly larger and heavier than serrated knives that allow you to shape a sod.
Homeowners who want to remove relatively small strips of sod can also use flat-edged shovels, although this sod removal method can put a lot of strain on their backs. Go through our guide to the best lawn edgers and trimmers if you're searching for a tool you can use to create and maintain lawn edge lines.
Types of sod cutters
A sod cutter can be either manual or automated, depending on whether or not it has an engine. So, all sod cutters that have a gasoline or diesel engine are classified as automated, and they're commonly used to remove large strips of sod in one go.
Operating manual sod cutters requires a lot of strength, which is the reason why they're best suited for the removal of small patches of sod. Let's take a look at some of the most common types of manual and automated sod cutters.
Kick sod cutter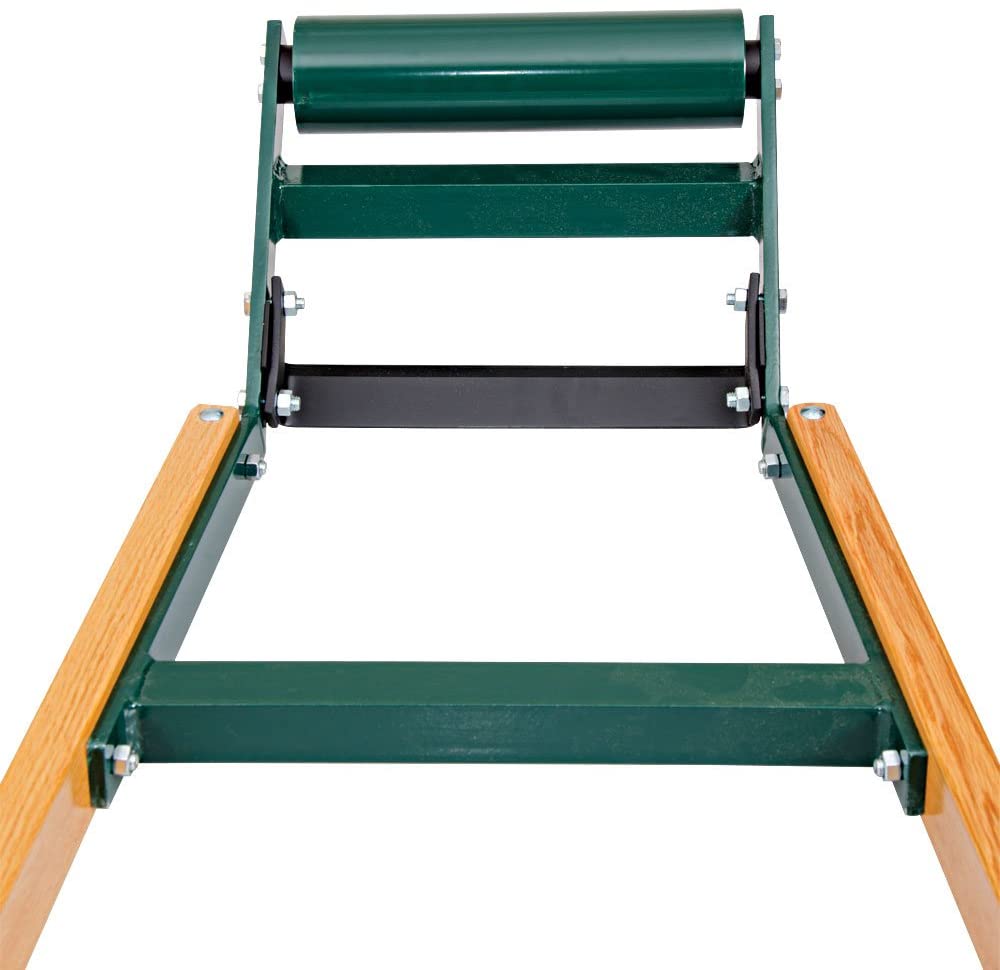 You have to kick the blade of these manual sod cutters into the ground before you can start cutting sod with them. Operating this tool requires formidable strength, especially when dealing with weeds or roots.
Square edge sod cutter
You can find a square edge sod cutter in almost all gardening stores. It resembles a shovel, but its handle is shorter, and its blade has a square shape. These tools are a great fit for small lawns, but they don't level the soil, and you must go through this process after you finish removing sod.
Walk-behind sod cutters
Their relatively compact dimensions make them ideal for sod removal from large surfaces. In addition, operating a walk-behind sod cutter doesn't require a lot of effort since these tools feature powerful engines that can cut through soil and grass root systems.
Automated sod harvesters
These tools are commonly used to produce sod sold in stores, as they remove the sod from the ground while limiting the damage to the turf. Automated sod harvesters are too powerful and too expensive for use in non-commercial contexts.
Go through our Centipede grass sod guide if you're looking for a new sod you can lay on your lawn.
How to use a sod cutter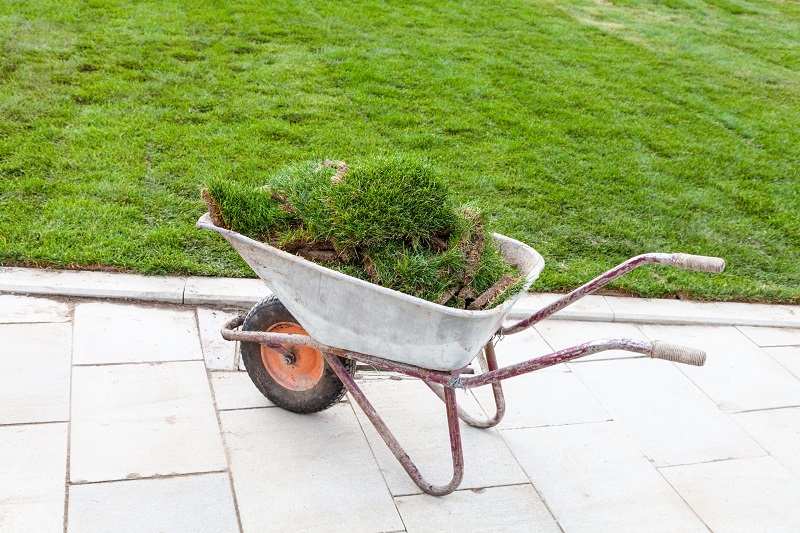 There are several steps you need to take before you start removing sod from your lawn. Most importantly, you need to mow the grass in the area of the lawn where you want to remove the sod and then water it a day or two before cutting. Doing so will loosen the soil and make it easier to cut through it.
You should then mark the area and create a cutting pattern that will enable you to create even layers of sod. Optionally, you can use a sod-cutting knife to divide the sod you want to remove into approximately 1 foot long sections.
Adjusting the blade height can be tricky, so you should first try to remove a small patch of sod, then see if the tool is removing enough soil with the grass, and readjust the blade height if necessary. Keep in mind that the exact steps for using these tools depend on the sod cutter type you choose.
Check out our guide on how to cut sod to get more information about preparing a lawn for new grass.
Renting vs buying a sod cutter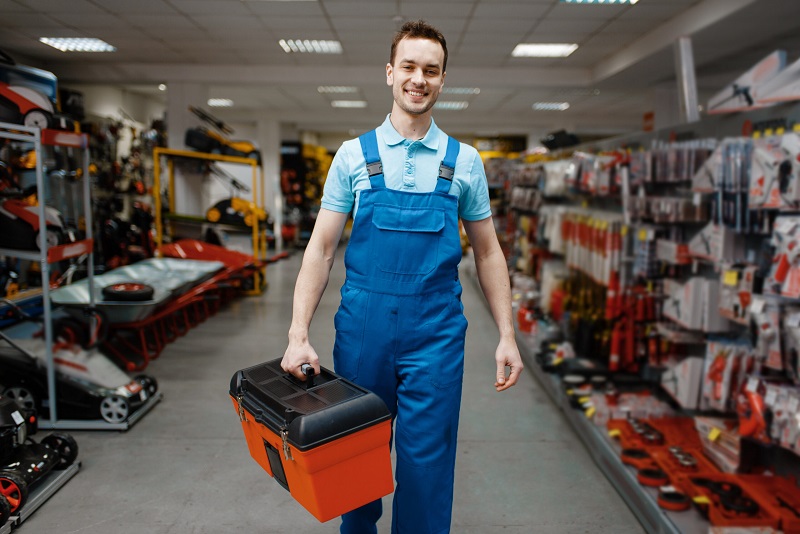 Depending on the type, the cost of a sod cutter varies from less than $100 to several thousand dollars. Manual sod cutters are significantly less expensive than an automated version of these tools.
So if you're searching for a tool you can use to remove sod around sprinklers or prepare a flowerbed, then buying a square edge or kick sod cutter is probably your best option. Walk-behind sod cutters are utilized to remove sod from entire lawns, but most homeowners replace sod once in a decade.
Hence, spending a few thousand dollars on a tool, you're not going to use very often makes no sense, especially if you can rent it at a fraction of its retail price.
Even retailers like Home Depot offer sod cutter rental services at affordable prices, which eliminates the need to buy this tool if you only want to lay new sod on your lawn. Read our hydroseeding vs sod comparison to find out which method of growing grass is more effective.
The most important factors to consider while choosing a sod cutter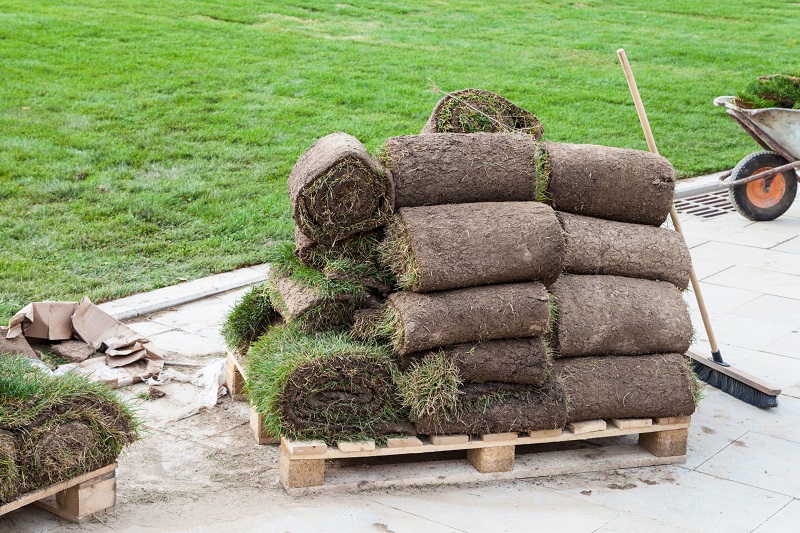 Understanding the context in which the tool is going to be used, and the project's requirements are vital during the process of selecting a sod cutter because it makes it easier to determine the most appropriate type of sod cutter for the job.
Aside from the contextual factors, you should also consider the tool's features while trying to determine if you can use it to remove sod from a particular area.
I've shortlisted some of the most important factors homeowners should take into consideration while choosing a sod cutter, so let's take a look at them.
Lawn size
Square edge or kick sod cutters offer an inexpensive way to remove sod from a small portion of a lawn. Nonetheless, replacing sod on an entire lawn with a manual sod cutter can take a long time, especially if you have a large backyard.
Renting or buying an automated walk-behind sod cutter will reduce the amount of work you'll have to do to lay new sod since these tools ensure you can remove even layers of sod and keep the ground even at the same time.
Cutter size
Ideally, the tool you use to cut sod should remove between ½-inch and 1-inch of soil. The maximum depth at which you can cut varies from tool to tool, but must sod removers can cut at depth up to three inches.
The width of a sod layer is determined by the width of the tool's blade, and it spans from 12 to 24 inches. The cutting width isn't adjustable, so you need to check how wide the tool's blade is to know the maximum width of sod you make with it.
Usage difficulty level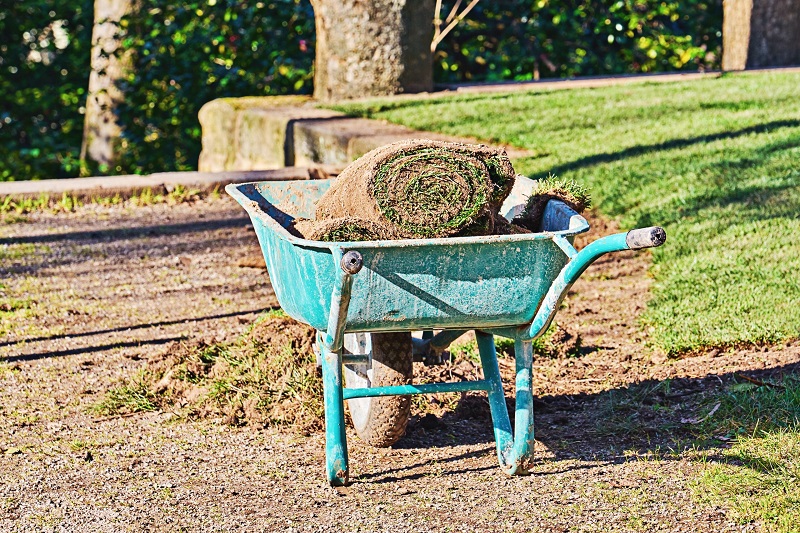 Automated sod cutters can be difficult to maneuver in tight spaces due to their size, and you should consider other options if you have to use these tools in the area of the lawn where sprinkler heads or lawn decorations are located.
Sod cutters are generally easy to control, but operating them requires effort. You have to go through the tool's specifications if you're looking for a model that can offer a high degree of accuracy.
Tool's versatility
Unlike the walk-back or kick-sod cutters, sod knives, shears, hooks, or shovels can be utilized for a wide range of gardening tasks. Having an expensive piece of expensive laying idle in your garage is impractical, and you should consider how versatile a sod cutter is before deciding to buy it.
Cost and durability
Sod cutters come in a variety of shapes and sizes, so their cost and durability depend on the model you choose. Most importantly, the tool you choose should have a strong blade that isn't going to break if it gets in contact with hard soil or rock.
Manual sod cutters rarely cost more than a few hundred dollars, while automated models are usually priced at several thousand dollars. Some manufacturers of automated sod cutters offer warranties for their products, but the length of the warranty period depends on the brand.
The advantages of sod cutters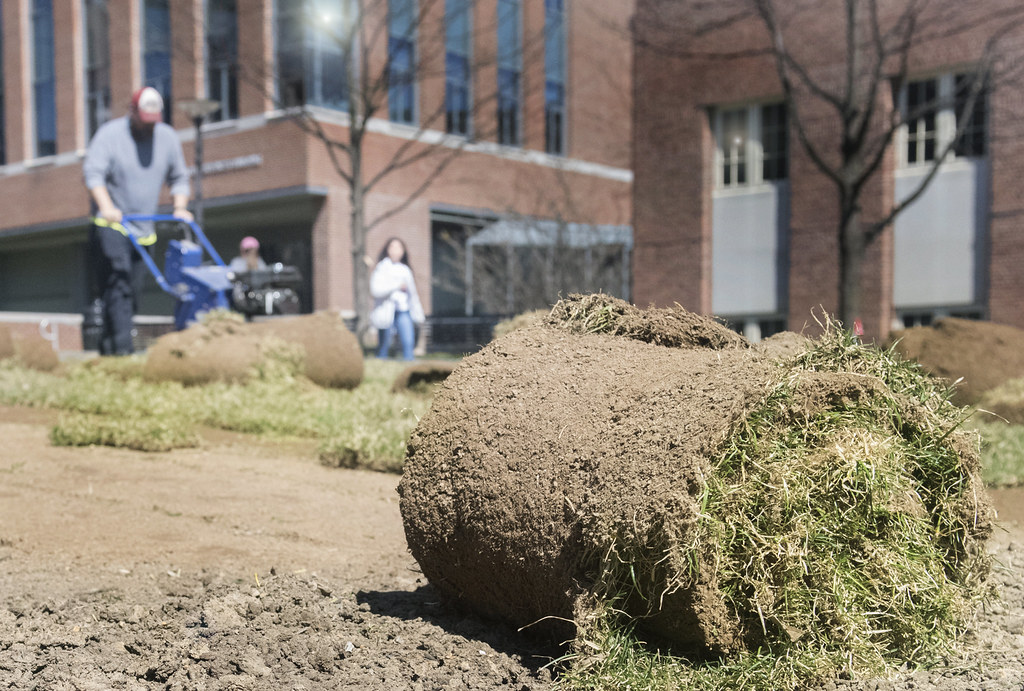 Quick sod removal
These tools allow homeowners to remove barren patches of their lawns quickly and replace them with fresh sod. In addition, sod cutters enable homeowners to create flower beds or prepare the soil for a garden.
Adjustable cutting depth
Users can decide how much soil they want to remove with the grass. This feature can be very useful if you're planning on relocating the sod you removed or adding it to compost.
Suitable for small and large areas
Sod cutters allow their users to keep both small and large lawns in great condition. The scope of the project you're working on often determines the most suitable type of sod cutter for the job.
The disadvantages of sod cutters
Automated sod cutters generate a lot of noise
Walk-behind sod cutters make a lot of noise, and using them without disturbing your neighbors can be difficult.
Top 5 sod cutters
RyanTurf JR Sod Cutter – The best sod cutter for larger lawn removal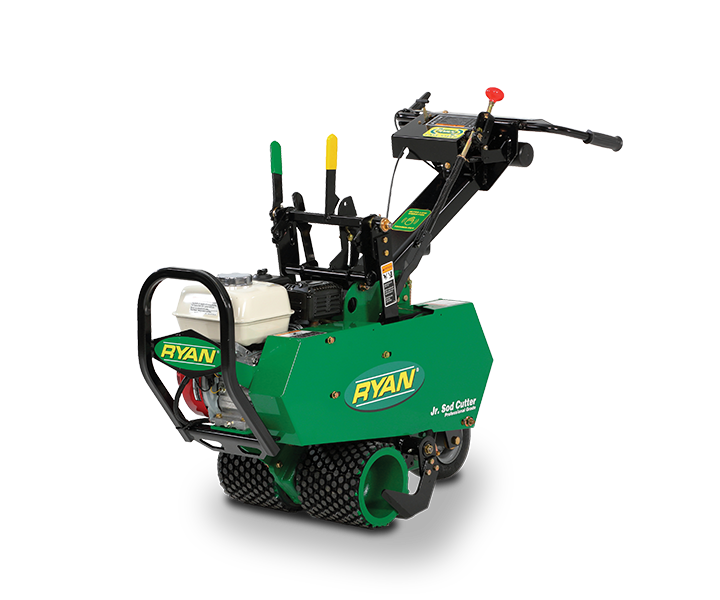 The RyanTurf JR Sod Cutter is equipped with a 4-cycle Honda GX160 engine and a v-belt engine to gearcase drive. This tool can cut at the maximum depth of 2.5-inches while its maximum cutting width is either 12 or 18 inches.
The model features a vibration-dampening technology that makes it easier to keep your hands on its handles. The RyanTurf JR features an intuitive control panel that grants the user instant access to its settings.
Pros
Altering blade angle is easy
Powerful 4-cycle engine
Steering the sod cutter doesn't require a lot of effort
2-year limited warranty
Cons
Very expensive
High fuel consumption
Lesche Sod Cutter – The best sod cutter for lawn edge upkeep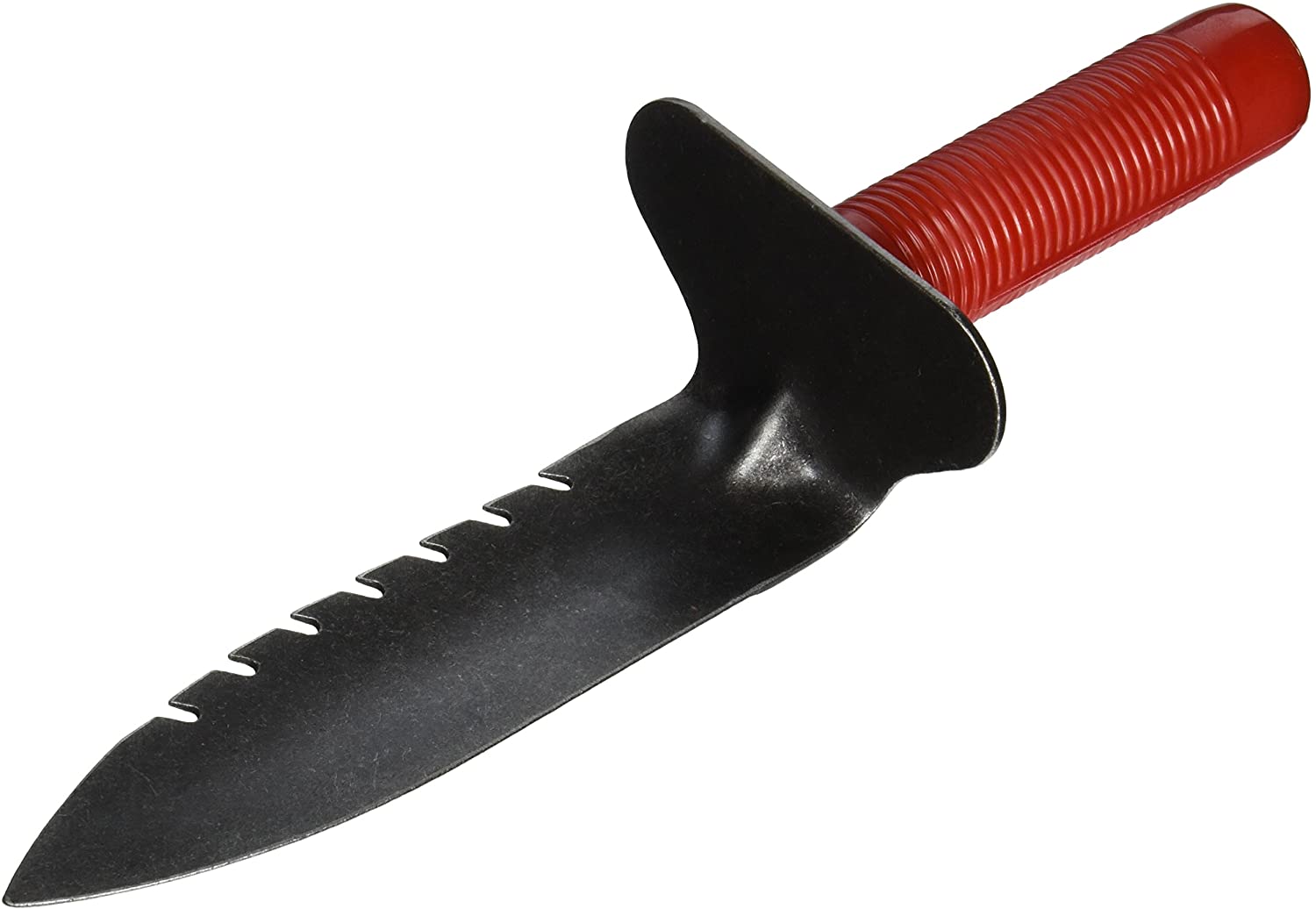 In case you're searching for a tool that will allow you to remove small patches of soil or even out the edges after you lay new sod, then the Lesche Sod Cutter might be the right choice for you. Besides cutting sod, this tool can help you to cut roots or create holes in the ground for sawing flowers.
The tool has a 7-inch blade made of chrome-moly steel and a rubber handle that enables the user to keep a firm grip on the tool while digging. The Lesche Sod Cutter is only 1-3/4-inches wide, so don't expect to remove large patches of sod at once.
Pros
Made of durable materials
Serrated edge cuts through sod effortlessly
The tool comes with a Cordura belt holder
Affordable price
Cons
Only suitable for small projects
Requires frequent resharpening
Keyfit Tools Sod Cutter – The best sod cutter for shaping sod

Adjusting the new sod to match the shape of your lawn won't require too much effort if you get the Keyfit Tools Sod Cutter. This kit contains four knives with 8-inch serrated blades made of stainless steel.
The tool is sharp, and you won't have to use a lot of force to cut through sod with it. Besides shaping sod, this model can help you trim sod around sprinkler heads or repair holes your dog made in sod.
Pros
The blade is 8 inches long
Sharp, serrated edge
Low upkeep requirements
Cuts through roots and weeds
Cons
Not the best option for old sod removal
Only suitable for sod modeling
Quail SC12 – The best manual sod cutter
A kick sod cutter, like the Quail SC12, is an excellent choice for homeowners that want to replace small portions of sod on their lawns. This model can create sod strips that are 12-inches wide, while its maximum cutting depth is set at 5-inches.
This tool is eco-friendly as it doesn't burn fuel which makes it an attractive option for cutting sod in areas where pollution isn't allowed. You just have to kick the crossbar into the sod and push the tool to start cutting sod.
Pros
Simple and functional design
10-year warranty
Lightweight and easy to maneuver
Eco-friendly
Cons
Cutting sod requires a lot of strength
These sod cutters can only be purchased directly from the manufacturer
Classen SC-18A/5.5 – The best-automated sod cutter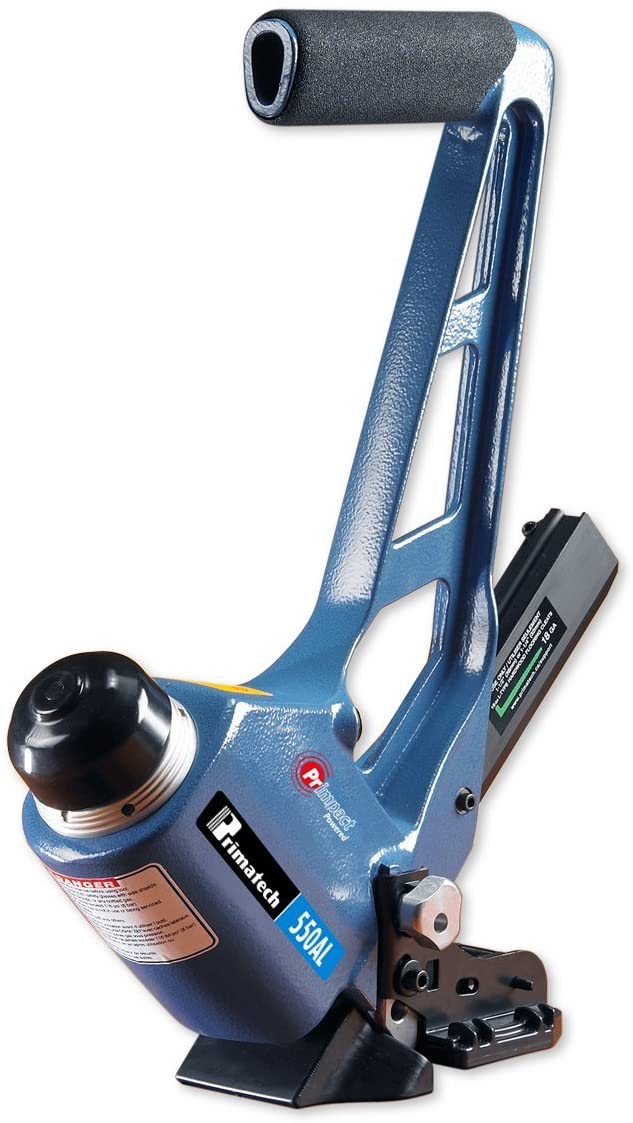 The standard version of the Classen SC-18A/5.5 comes with an 18-inch blade, but you can also opt for 12, 16, 20, or 24-inch assemblies. This walk-behind sod cutter has a 4-cycle Honda GX160 engine that can produce up to 3,400 RPM.
The machine's maximum blade speed is 1,200 strokes per minute, and its cutting depth is 2.5-inches. The motor utilizes the recoil starting system, while you just have to release the throttle to stop the machine. This Classen's model is easy to maneuver because it offers a variety of user-friendly controls.
Pros
Adjustable blade speed
Low vibration level
Multiple accessories are available
Durable tires
Cons
Produces a lot of noise
Not budget-friendly
Frequently asked questions about sod cutters
Question: How often do I have to remove sod?
Answer: You only have to replace sod if you start noticing patches where the grass is not growing anymore, so in most cases, you'll have to lay a new sod once in ten years.
Question: How much does it cost to rent a sod cutter for a day?
Answer: You can rent a sod cutter for approximately $100 per day.
Question: Do I have to wear protective equipment while using a sod cutter?
Answer: Yes, you should wear protective goggles and shoes to keep your eyes and feet safe.
Question: Is it necessary to water a lawn before cutting sod?
Answer: No, but watering the lawn can soften the soil make it easier for the tool to separate sod from the turf.
My verdict: How to decide which sod cutter to choose?
Cutting sod manually is hard even if you're fit and enjoy doing manual work for hours. You should use an automated sod cutter to remove sod unless you're making minor adjustments to your lawn. These machines are expensive, so renting them for a few hours or days is probably the most affordable option.
Buying a walk-behind sod cutter might be a good solution for you if you have to replace sod several times every year. I recommend either renting or buying the Classen SC-18A/5.5 because it offers a variety of features that make the process of cutting sod easier.
A manual sod cutter like the Quail SC12 can help you create flowerbeds or remove sod from the area where you want to create a garden. Which sod cutter are you going to choose?
Let me know in the comments, or continue reading our Zoysia sod guide if you still haven't decided which grass variety you want to have on your lawn.