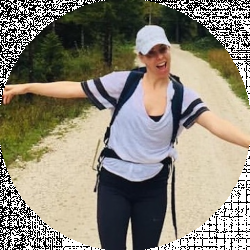 Latest posts by Jodie Chiffey
(see all)
The lawn mower's blades or engine cannot function properly if the throttle cable isn't working. That's why in this guide, I will show you how to find the best lawn mower throttle cable for the lawnmower model you own.
Manual or automatic throttle cables are a standard part of all types of lawnmowers, and you won't have to worry about replacing them unless they get damaged or break down completely.
Getting an OEM throttle cable recommended by the machine's manufacturer is often the fastest and easiest way to repair a lawnmower. However, this isn't the only option you have at your disposal since there are so many aftermarket models compatible with lawnmowers manufactured by industry-leading brands.
The variety of available options can make the process of choosing the best lawn mower cable difficult, so in this guide, I am going to provide you with information that will make this process smoother and easier.
Read our guide to finding the best lawn mower replacement blades to learn more about the blade types you can install on your lawnmower.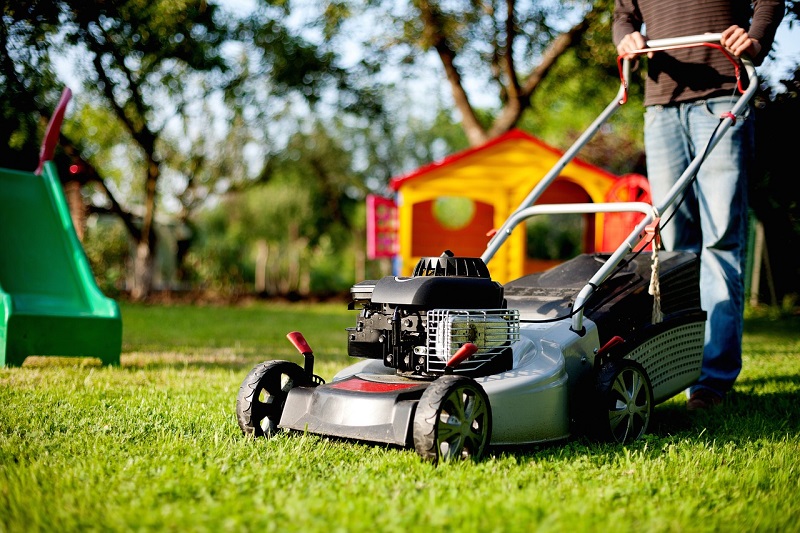 At a Glance – The 5 Best Lawn Mower Throttle Cables
Selection Criteria
Throttle cables aren't universal even though some manufacturers claim otherwise. The part's compatibility with the lawn mower's engine is the key factor in determining whether you can use it or not.
Nonetheless, several other factors can help you decide if a particular throttle cable is a good fit for the lawnmower model you own. I utilized these factors during the selection process to pinpoint the best throttle cables on the market.
So let's take a look at the search parameters that helped me select the throttle cables I featured in this article.
Cable material – All models I included in this article are made of aluminum, which makes them flexible, easy to bend, and sturdy at the same time.
Price range – Although these lawn mower parts aren't expensive, their price still varies from model to model. I used this parameter during the selection process to identify the most affordable and high-end options.
Browse through our guide to the best Troy Bilt push mowers to find a replacement for the lawnmower you're currently using.
What Does a Throttle Cable Do?
The throttle is one of the most important parts of a lawnmower that is in charge of controlling the speed at which the engine and the blades rotate. Users can adjust the machine's throttle using the lever that is located on its handles.
The throttle also helps start the engine, and it regulates how all engine parts work or the fuel consumption while you're using the lawnmower.
Most modern lawnmowers are equipped with throttle cables that adjust the engine and blade speed automatically, while on older models you often have to adjust the speed of these components manually.
In most cases, your lawnmower should operate at the maximum throttle capacity, as it will reduce the amount of stress the engine is taking and lower its operating temperature. Limiting the throttle capacity can also make it more difficult to cut through thick grass or result in uneven cuts.
Check out our guide to the best lawn mower air filters if need a new air filter for your lawnmower.
Signs of a Malfunctioning Lawnmower Throttle Cable
Spotting the first signs of a malfunctioning lawnmower cable is fairly easy since you're going to need much more time and effort to mow a lawn. Once you start noticing that your lawnmower is no longer operating at its full capacity, you'll have to figure out if you have to repair or replace the throttle cable.
Here are some of the most common signs that the lawnmower throttle cable isn't functioning properly.
Engine won't start – A broken throttle cable is often the reason why a lawn mower's engine won't start. Checking if this part is in good condition is one of the first things you need to do if you can't start the engine.
Pushing the mower requires more effort – Throttle cable might lose its elasticity over time, and if this happens, pushing the mower over a lawn will become more difficult.
Lowered grass cutting capability – Mower's blades can't rotate at maximum speed if the throttle cable is damaged. Hence, you won't be able to get a clean and even cut.
Increased fuel consumption – The engine will have to work harder to maintain a constant blade speed if the throttle is faulty, which results in increased fuel consumption.
Go through our guide to the best brush cutter attachments for trimmers to learn more about these accessories.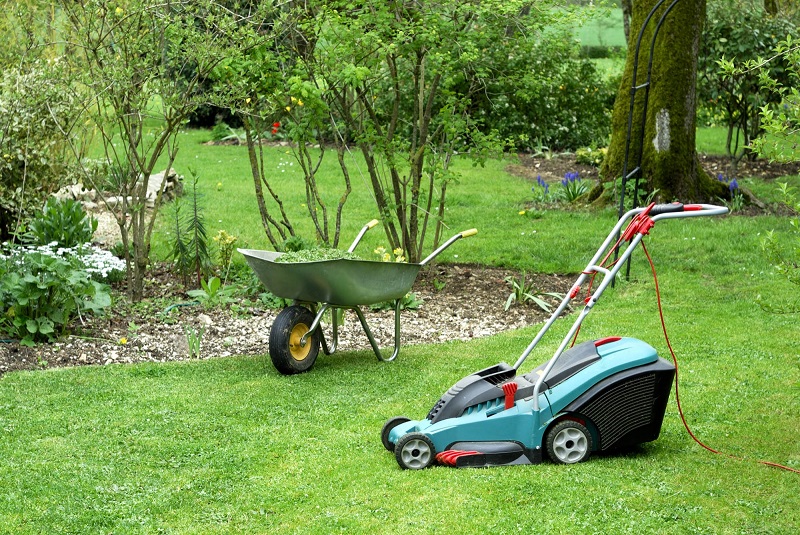 Replacing a Lawnmower Throttle Cable
Installing a new throttle cable is your only option if you've determined that the part is broken. However, it isn't necessary to service a lawnmower since you can replace this part on your own. You just need a screwdriver and a pair of pliers to replace an old throttle cable.
Here's what you need to do:
Step 1 – The lawn mower's throttle cable should be located near the machine's carburetor's intake valve, so you should just remove its casing with pliers. Unfasten the screws that attach the faulty cable to the throttle arm and pull the cable out. Don't attempt to perform any of these actions while the lawnmower is switched on.
Step 2 – Find the wire base at the back of the lawnmower, and proceed to insert the cable through the wire base and throttle arm. Fasten the cable to the throttle handle and measure how long the cable should be before fastening it to other parts of the throttle system.
The cable should be long enough to allow you to fold the handles, so you should avoid over-tightening it before testing its tension.
Step 3 – Let the lawnmower idle to see if you need to loosen the cable. Take the lawnmower for a test run to determine if it is functioning properly.
Take a look at our guide to Craftsman LT2000 parts if you need to replace one or more parts on this riding lawnmower.
How to Fix a Stuck Lawn Mower Throttle Cable
Dirt and dust accumulation can sometimes cause the throttle cable to get stuck. As a result, you will have difficulties steering the lawnmower or adjusting its throttle. To flush the dirt and dust from the throttle, you're going to need a penetrating oil like the WD-40 or JB-80.
You must detach the cable from the engine and the handles, then pour the penetrating oil through a funnel and collect it on the other side with a pan. Use a pair of pliers to check if the cable is moving normally before reassembling the lawnmower.
Take your lawnmower for a test run to check if you can steer it or control its throttle normally. Read our 12-050-01 vs. 52-050-02 oil filter comparison to find out which option is better for your lawnmower.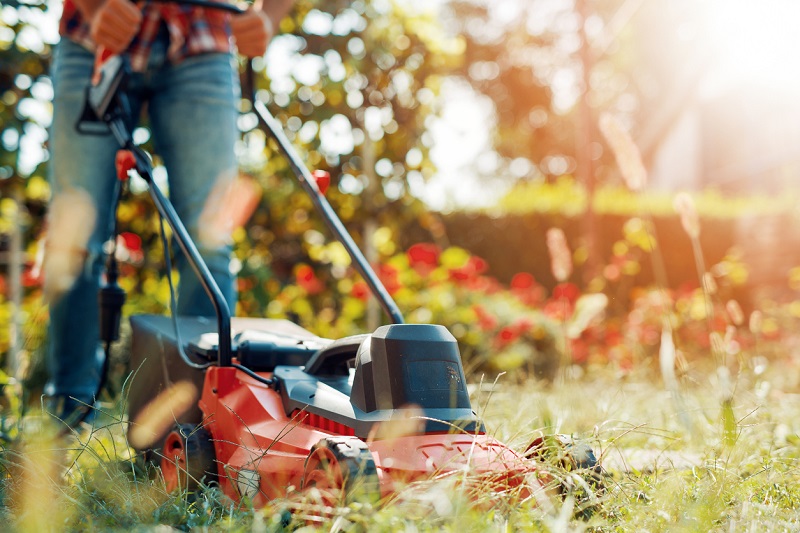 The Most Important Factors to Consider While Choosing a New Lawnmower Throttle Cable
Before you can start searching for a replacement for the lawnmower's original throttle cable, you must first check the part's number. Most manufacturers include this information in the manual, so you should go through the manual to learn more about the model's throttle cable and suitable replacements for it.
This information will enable you to pinpoint the throttle cable models that may be a good solution for your lawnmower. Let's take a look at more factors that can help you choose the right throttle cable for your grass cutter.
Cable's Compatibility
You should go through the throttle cable's specifications and check if it is compatible with the mower model you own. This is especially important if the throttle cable is compatible with more than one lawnmower.
Manufacturers of these parts usually offer full lists of compatible models, so acquiring this information shouldn't take too much time. Keep in mind that throttle cables that are advertised as universal don't fit on all lawnmowers, and you have to check if you can install them on your mower.
OEM vs Aftermarket Parts
Most lawnmower brands recommend OEM parts for their products, so the easiest way to find a replacement for this part is to get the throttle cable approved by the manufacturer.
Parts recommended by the manufacturer can sometimes be hard to find, and they're usually more expensive than aftermarket throttle cables. Aftermarket parts are also more versatile, as they're often compatible with multiple lawnmower models.
However, the quality of aftermarket throttle cables isn't always as good as the quality of OEM parts.
Brand's Reliability
Opting for a throttle cable that is produced by an unknown brand will make it difficult to check the experiences other users had with that part. That's why you should get the replacement part that is produced by a reputable brand.
In addition, most of the industry-leading lawn mower brands also produce throttle cables, and you should at least consider buying the replacement parts made specifically for your lawnmower model.
Throttle Cable's Durability
A throttle cable needs to be flexible and sturdy enough to withstand daily wear and tear. That's why most throttle cables are made of aluminum, a material that bends easily and responds well to high tension.
These cables stretch over time even if you're always using your lawnmower on full throttle. Hence, this part doesn't last longer than a few years.
Replacement Costs
A new throttle cable costs between $10 and $30, so you won't have to spend a lot of money to repair your lawnmower. The installation process is relatively simple and you only need a pair of pliers, wire cutters, and a screwdriver to complete it successfully.
You'll have to spend approximately $100 to have this part repaired or replaced by a licensed professional.
The Advantages of Lawnmower Throttle Cables
Restored Engine Efficiency
Installing a new throttle cable on a lawnmower will restore the machine's efficiency to its normal level. It will also reduce the mower's fuel consumption and prevent the engine from overheating.
Improved Cutting Capacity
Throttle cables regulate the speed at which the mower's blades operate. Once this part becomes faulty, the maximum speed at which blades can rotate decreases, resulting in unevenly cut grass.
You don't need to be an experienced mechanic to install a new throttle cable because you just need a basic set of tools to remove an old cable from the lawn mower's throttle system and attach a new one.
The Disadvantages of Lawnmower Throttle Cables
Diagnosing problems with throttle cables can be difficult
Figuring out the reason why your lawnmower isn't functioning at the top of its capacities isn't always simple. A throttle cable is just one of the components that can lower the engine's power output or the blade speed.
That's why it is advisable to consult a professional while trying to determine why your lawnmower isn't working properly.
Top 5 Lawn Mower Throttle Cables
Dxent 158152 – The best aftermarket lawn mower throttle cable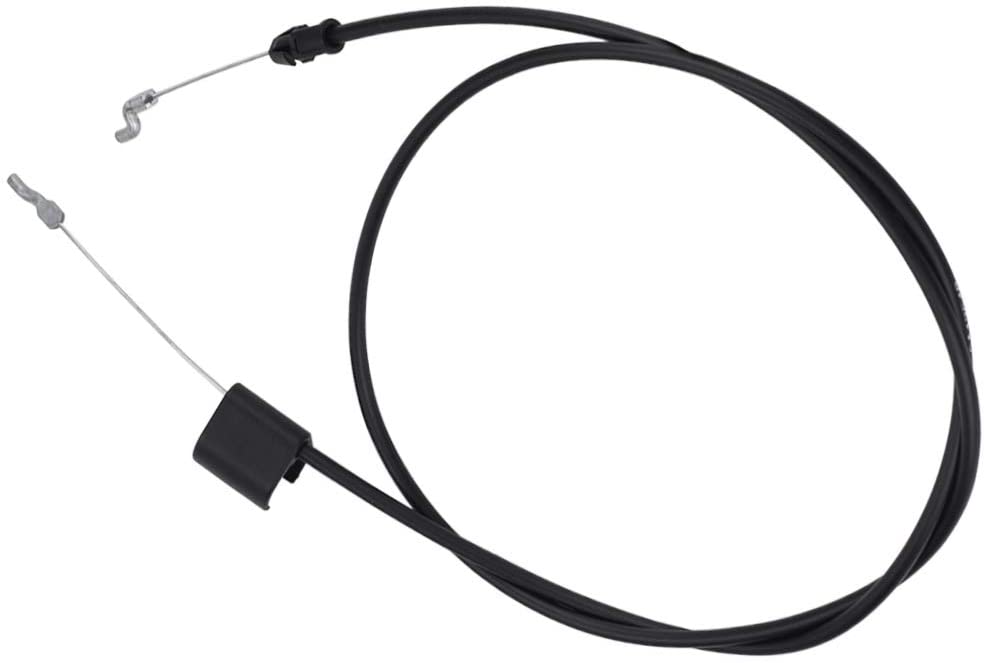 You can install the Dxent 158152 throttle cable on walk-behind lawnmowers produced by brands like Weed Eater, Craftsman, or Poulan Pro. However, this cable isn't compatible with all models manufactured by these brands, and you have to check if it's compatible with your lawnmower.
This cable is 56-1/4 inches long, while its conduit part is 46 inches long. Dxent's cable has a Z bend on both ends, which makes installing the cable easier as you don't have to bend it by yourself. The manufacturer offers a lifetime warranty against defects for this product.
Pros
Simple installation process
Made from durable materials
Compatible with lawnmowers made by different brands
Requires minimum modifications
Cons
It may not fit recent lawnmower models
Z Bends wear out quickly
Podoy 158152 – The best universal lawn mower throttle cable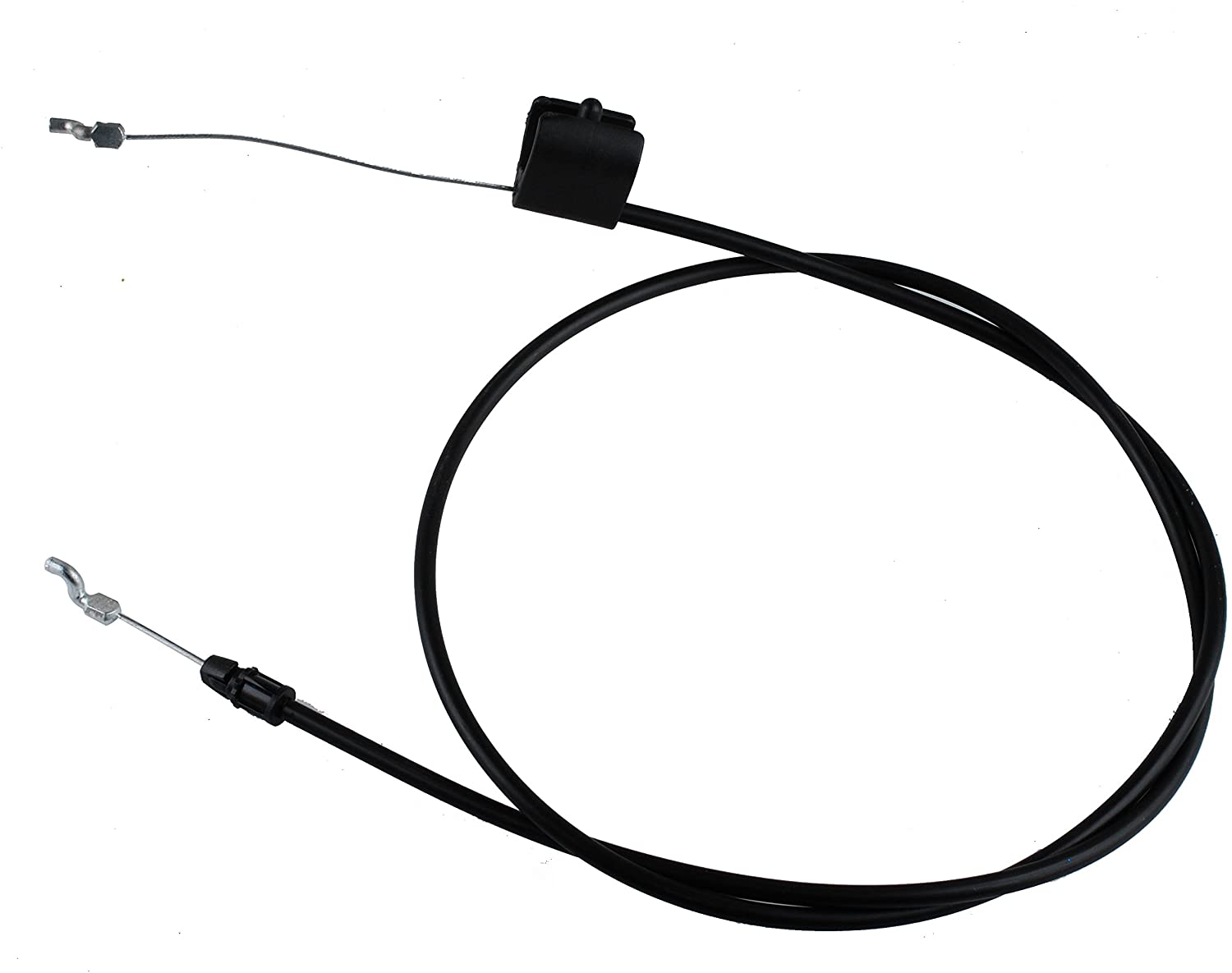 A universal throttle cable like the Podoy 158152 might be a good choice for you if you can't find an OEM part for your lawnmower. The cable is compatible with a wide range of walk-behind lawnmowers, including models produced by Craftsman or Poulan.
The length of the cable is 55-5/8-inches, and its conduit is 46 inches long, but shorter and longer models are also available. The cable is equipped with a Z bend at either end, so attaching it to the lawnmower shouldn't require a lot of effort.
Pros
Serves as an aftermarket part for more than ten original lawnmower throttle cables
Inexpensive
Quick installation
Great for repairs of original throttle cables
Cons
It stretches easily and requires frequent tension adjustments
Questionable quality
Stens 290-110 – The best throttle cable for Gravely lawn mowers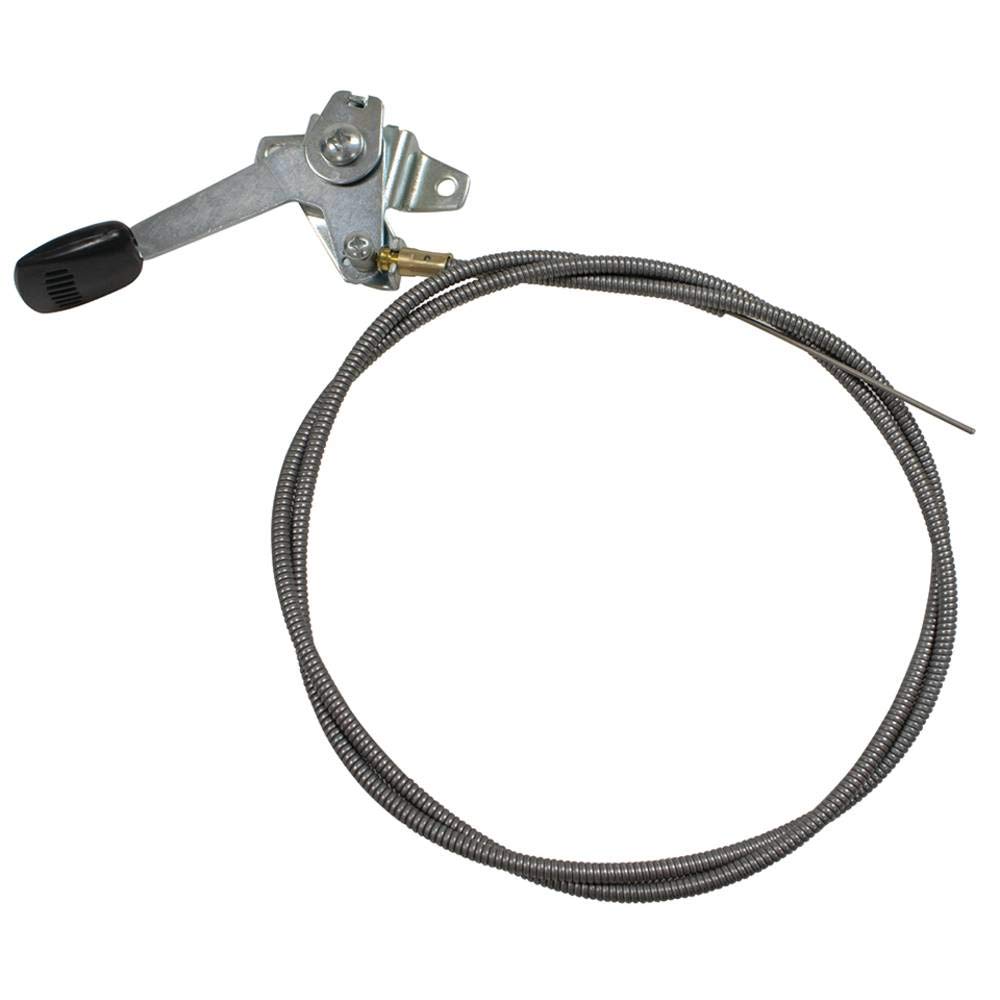 Owners of lawnmowers from the Gravely's 5000 Series, should consider getting Stens 290-110 throttle cable. However, this model is only compatible with units equipped with K301 Kohler engines, so you need to check if it is compatible with your Gravely 5000 lawnmower.
The cable utilizes the positive action technology, and it is 45-5/8-inches long, while its conduit section is 42 inches long. Also, you won't have to modify this cable in order to install it on your lawnmower, and its rugged design ensures that you can use it for a long time.
Pros
Excellent performance capabilities
Produced by a reliable replacement part brand
It doesn't stretch easily
No modifications needed
Cons
Only suitable for lawnmowers produced by Gravely
Not the most budget-friendly option
Husqvarna 578864301 – The best throttle cable for Husqvarna lawn mowers

Besides lawnmowers, the Husqvarna 578864301 can be installed on brush cutters and various other machines produced by this brand.
The manufacturer doesn't offer a lot of information about this product, so determining its length or finding out how flexible it is can be challenging. The only information you can find online about this lawn mower throttle cable is that it replaces part number 590900001.
Pros
A great option for owners of Husqvarna lawn mowers
Quality guaranteed by brand name
Easy installation
Capable of withstanding heavy-duty usage
Cons
Finding information about the product is difficult
Not compatible with all Husqvarna lawn mowers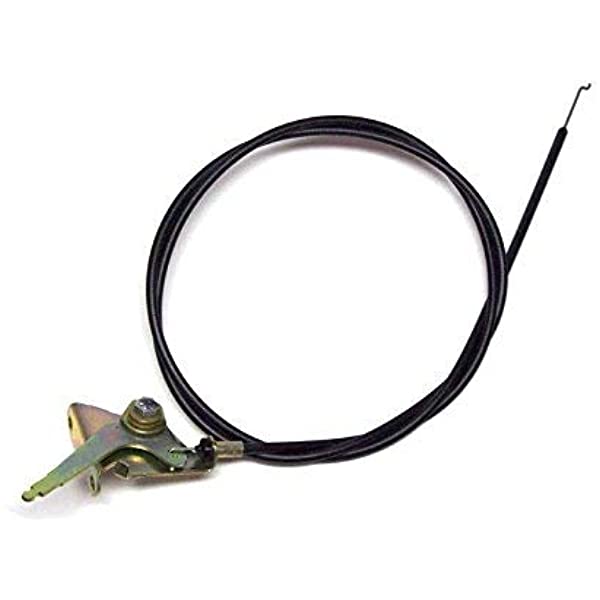 You won't be able to use the Exmark Throttle Control Cable unless you own a lawnmower from the Lazer Z series. This cable is 56-1/4-inches long, and its conduit length is 54 inches. This cable serves as an OEM part for the original parts numbers 1-633696 and 636696.
It is paramount to make sure that you can install this throttle cable on your lawnmower before you decide to purchase it because you won't be able to modify it to fit on a brand's model that isn't compatible with it.
Pros
Genuine OEM part
All components are durable
Extends lawn mower's life
Quick installation
Cons
More expensive than aftermarket options
Limited compatibility
Frequently Asked Questions about Lawn Mower Throttle Cables
Question: Do I need to lubricate the lawnmower's throttle cable?
Answer: Yes, you should lubricate the lawn more throttle and the throttle cable every time you perform the engine maintenance.
Question: Do I have to use a lawnmower at full throttle?
Answer: No, but doing so can make cutting grass easier and prevent engine damage caused by overheating.
Question: How often do I have to replace the lawnmower throttle cable?
Answer: Even though throttle cables for lawn mowers stretch over time, they can still last for several years.
Question: Can I continue using a lawnmower with a damaged throttle cable?
Answer: Yes, but its engine and blades won't operate at the maximum capacity. The damaged throttle cable will break down eventually, and you'll have to replace it. That's why you should try to repair a throttle cable as soon as you determine that it is damaged.
My Verdict: How to Know Which Throttle Cable Is the Best Fit for Your Lawnmower?
A lawnmower's grass cutting capabilities depend on how powerful its engine is and how fast its blades can rotate. The throttle cable ensures that the engine can function normally and supply enough power to the blades.
You have to either repair or replace this part if it starts malfunctioning because you won't be able to use your lawnmower without it. I recommend choosing an OEM part like the Exmark Throttle Control Cable because it is made of durable materials that won't stretch quickly.
A universal model like the Podoy 158152 might be a better option for you if you're looking for an inexpensive throttle cable that can fit a wide range of lawnmowers. So which lawnmower throttle cable are you going to choose?
Let me know in the comments, or continue reading our Craftsman M310 review to learn more about what this lawnmower has to offer.