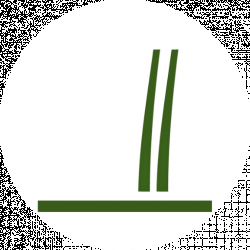 Latest posts by Turf and Till Team
(see all)
A home with a loan mower means a clean environment and a mowed lawn. If you are looking for the best lawnmower, Cub Cadet SC 500 Hw is a great option to consider. This particular product is designed with some superb features and unique shape, making it work effectively.
The company has a proven track record of crafting top-class mowers in the world. Their products are produced continuously without compromising the quality and standards. The biggest question you have is how you can choose the best of the many that the company produces. 
In this article, we will be giving you every piece of information about cub cadet SC 500 HW. Get ready to know what makes it the best product out of the many mowers the company has.
Factors To Consider When Buying Cub Cadet Sc 500 Hw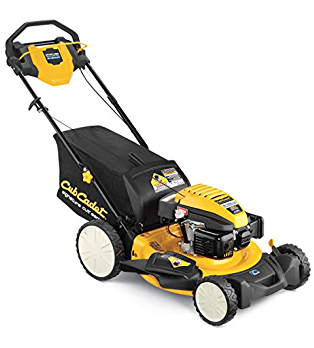 Whether you are a first-time or a professional lawnmower, result-based equipment will take you a long way to maintain and grow your lawn.
It is time-consuming to look for a mower if you don't know the vital things to check. We have compiled some of the factors you need to consider when buying a mower
Size And Shape Of The Lawn
When evaluating the kind of lawn mower you want, it is always important to look for one that will meet your needs. If you're going to mower a small-sized piece of the yard, we recommend a push mower since it is efficient for tight turns and gets work done quickly.
A push mower would also be ideal for the small-sized yard because it is a self-propulsion mower. But if you are mowing a large piece of the yard, a rideable lawnmower would be the best option but be ready to pay more since it is priced relatively higher than the self-propulsion mower.
Terrain
How is the setting of your yard? Is it hilly or flat? You will need to ask and answer yourself about the terrain of your backyard. Lawnmowers with flat lawns are comfortable with a push mower or even ride mower.
However, if you have some hills to go up, you may find that a self-propelled mower would give you an easier time as it uses the engine to power up the wheels.
If you tend to mower on a rocky place or a flower bed, try zero-turn radius lawn mowers as they are steerable around obstacles more smoothly than the counterpart standard ride on.
Power Supply
Lawnmowers are either gas or electricity-powered, and each type comes with its cons and pros. Gas-driven lawn mowers are powerful ones, but they are started with a pull cord, something most people find hard to do.
The cordless electricity-driven lawnmower is quiet, cleaner, and easier to use, but they are not as powerful as the gas-driven and can't mow for long without getting out of charge.
On the other hand, corded electricity-driven lawn mowers give you the best mowing time as it can never run out of power unless there is no power at all. But most people find it hard to mow with the cord trailing behind them.
Grass Clippings
Lawnmowers are designed to save different purposes, with the cheapest option being the side discharge mower that splits grass clipping over your lawn.
If you intend to leave the grass clippings behind for them to disintegrate rote and act as the fertilizer, then the side discharge mower would do you good.
However, if the grass clippings are thick, they would harm your grass if they are left behind, and in such a situation, you will require a mower with a bagger.
These machines typically make your mowing process more comfortable as they mow while collecting the grass. It is expensive but worth bearing in mind that you do not have to rake your grass.
Attachments
 If you intend to do some other things while mowing, you should go for the mower compatible with various attachments. Some standard extensions include rakes, carts, lawn aerators, fertilizer spreaders, lawn rollers, and many others. It is wise you choose one that will be compatible with the relevant attachment that you intend to have as you mow.
Deck size
Deck size essentially determines how wide the mower's blades should be, which means if you need bigger blades, you should consider bigger decks.
Decks are made of inches ranging from 20 inches to 70 inches or even larger. Most homeowners prefer a deck of width between 30 to 60 inches because, with bigger decks, you can cut extensive paths at one pass, which means fewer passes than a deck with lesser width. Go for wider decks if you have a flat yard, as they cut faster on straight paths.
It is worth noting that wider decks come with their challenges, including the inability to navigate obstacles such as flower beds, trees, and bushes. With smaller decks, it would be easier to maneuver but, of course, with more passes.
Cub Cadet SC 500 HW Review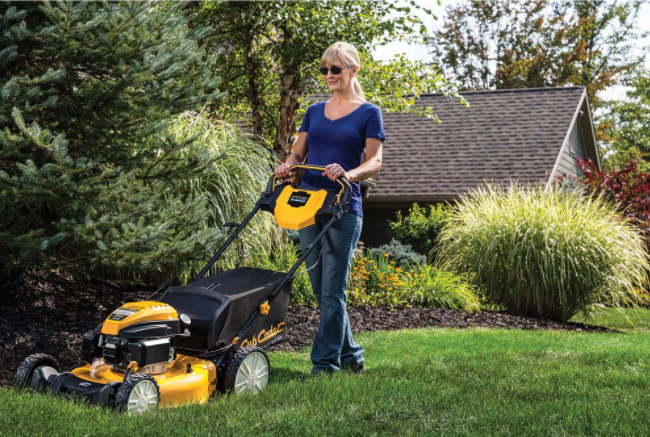 Cub Cadet SC 500 HW lawnmower is such a fantastic mower designed with a helpful feature that made it stand out from all other mowers from the same brand. Let's see some of its components in detail.
OHV Engine
Cub Cadet SC 500 HW lawn mower comes with a cub cadet OHV engine with 158 cc displacement that comes equipped with an anti choke with the surest start guarantee. The surest start guarantee ensures that the mower works out without excess work.
Although it is among the most robust engines, it is also one of the quiet engines when mowing with a noise level of 90 DB, and you can use it for long without causing any disturbance to the near my people.
Drive system
The Cub cadet SC 500 HW also comes equipped with a rear-drive, which people prefer to make work easier to mow on a straight line by giving the mower more traction.
Besides, my speed drive makes the Cub cadet SC 500 HW lawn mower a self-propelling functional, a function that is enabled by the mower wheels.
The lawnmower wheels are full ball bearing with an industrial treat pattern, with the rear wheels having 11 inches diameter and front wheels having an 8 inches diameter.
Cub Cadet SC 500 HW lawnmower also comes with a wide deck of 21 inches with steel, meaning it is resistant to corrosion and includes a 3 in 1 bag, mulch, and the side discharging modes six dual-level positions.
Ability to maneuver
One of the features that make the mower stand out is the ability to maneuver. With the 11 inches rear wheels and the 8 inches from wheels, the mower can handle all kinds of terrain without any challenge. Its design has a responsive variable drive that can be used to make into the obstacles it might encounter during mowing.
Its ability to maneuver coupled with the rear-drive eliminates the need for variable wheels, making the mower to have less weight, weighing only 90 pounds.
The lightweight property is what increases its ability to maneuver compared to others with more weight. Cub Cadet SC 500 HW lawn mower is also a responsive mower with a unique design that makes it an obstacle navigator mower. Not only does this feature make it drive responsive but also the most maneuverable models in the market.
Adjustment Privileges
As if that is not enough, the manufacturer still went ahead and made the Cub cadet SC 500 HW lawnmower with several adjustable settings to make your mowing experience more personal and customizable according to your needs and preferences.
The adjustable setting will allow you to set the mower to your level best comfortable and increase your mowing period. It is worth noting that the handlebar comes with three adjustable positions, making it possible to three different heights to mow your lawn.
To add on the handlebar, it is so soft that you change the position by just touching the grip that in return provides the grip while increasing the traction for better control of the lawnmower without any difficulty.
If you are among those people who like cutting their grass at different heights, the cub cadet SC 500 HW lawn mower is designed to serve better than before. It comes with six extra size cutting positions from height 1.25 to height 3.75 inches. The range is mostly on the lower end of most mowers; the heights are ideal for mowing lawns, especially house lawns.
You can lift the rear wheels and the front wheels using the two separate levers allowing you easy and convenient wheels' adjustments, saving you time and energy.
Additional Features 
On top of the standard feature that we are used to seeing in any other lawnmower, Cub cadet SC 500 HW lawnmower has additional features. It has a wash port that will clean the underneath of the mower safely and with ease. You can make use of the wash port by attaching a garden horse after you are done mowing and get to wash your mower easily.
Unlike other mowers designed with pull strings for power startups, Cub cadet SC 500 HW lawn mower comes with a rechargeable battery starter to enable you to start the lawn with just a simple press of the power button.
Full-Time Customer Support 
Apart from the lawnmower's outstanding features, you are guaranteed customer support when you buy the manufacturer's lawn.
It is beneficial if you experience issues with your lawn, and all you need to do is make a phone call or write an email to them, and the concerned party in the company will get back and help out conveniently without any problem.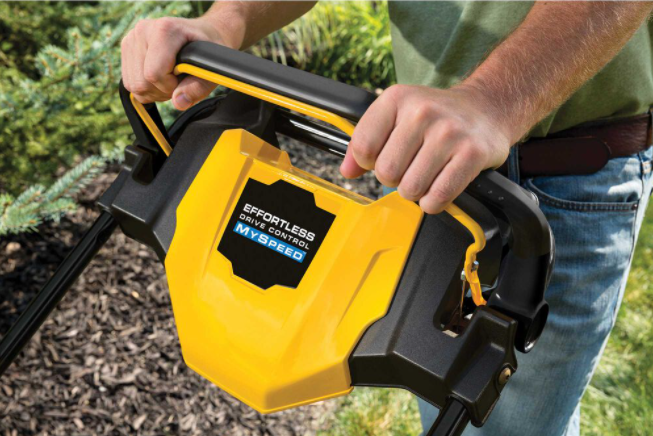 Hint worth Noting
Although the Cub cadet SC 500 HW lawn mowers have all the pre-discussed features, like any other product out there, it has some downside as well. Its handles can sink as you operate the mower, making the mower uncomfortable, especially if you are tall and the levers are relatively below your body height.
It also comes with no blade brake clutch that would help you stop the blade rotation without turning off the engine. With the current Cub cadet SC 500 HW lawnmower, you have to turn off the machine entirely to stop the blade rotation.
Although it will serve most of the lawn mowing needs with just six adjustment settings, it may fail to perform lawn mowing that would require more than the six height settings.
Features Of The Cub Cadet SC 500 HW Lawn Mower
Heavy-duty OHV engine with 159 cc

Rear-wheel drive system

11 inches rear wheel and 8 inches front wheels, increasing its maneuverability

Responsive and ready to help customer care

Wash port helpful in blade washing

Rechargeable battery starter

Three different height-adjustable handlebars

Six different height cutting positions

Two wheels lifting levers

Reliable full-time customer support
Pros
Significantly reduces mowing time by half.

Easy and straightforward to use

Good grip and tight traction and enhance the stable drive.

Capability to mulch

Light in weight for easy handling

Maintainable mowing pace

Powerful and strong engine

Good cutting performance
Cons
It doesn't last long.

The front will get stuck and fail to run.

Start cable may fray and break.

Difficult to assemble

The high rate of oil consumption

The carburetor is prone to smoking.

It contains some plastic parts that may break easily.

Front wheels may bend after a few months of use.
The Best Alternative To Cub Cadet SC 500 HW Lawn Mower
Lawn-Boy 17732 Lawn Mower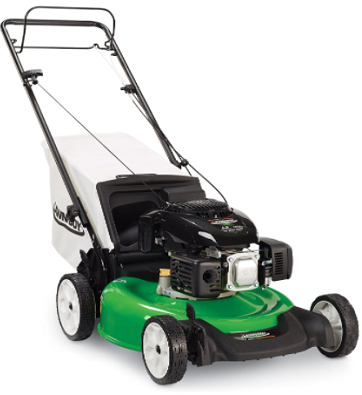 Lawn-Boy 17732 lawn mower is a lawnmower that can act as the cub cadet SC500 HW alternative. Some of the designer features that make it comparable with cub cadet SC500 HW are:
Rear-Drive And OHV Engine
It is designed to make the mowing easier with the rear-drive self propel that produces power through enhanced traction and control in all mowing situations.
It has a Kohler XT OHV engine bringing the lawn performance to a new level and commercial-grade features that deliver an ultimate performance and operator centric design that offers user-friendly maintenance.
With user-friendly and straightforward care, even users who have never used the mower before can comfortably operate without any challenge. 
Large Deck
Lawn-Boy 17732 lawn mower is a 21inches deep dome deck lightweight and durable lawn mower that provides excellent mulching capabilities and superior quality cuts.
This mower also comes with some adjustment options that include two deck height adjustments for quick customization of the mowing heights.
If you are mowing and the grass clippings are large such that it can harm the grass if left behind, the Lawn-Boy 17732 lawnmower has a bag designed to hold more clippings and allow you to empty the bag faster and over time.
Additionally, with this lawnmower, you have the 3 in 1 discharging capabilities such that the mower will enable you to choose between mulching, bagging, and side removing.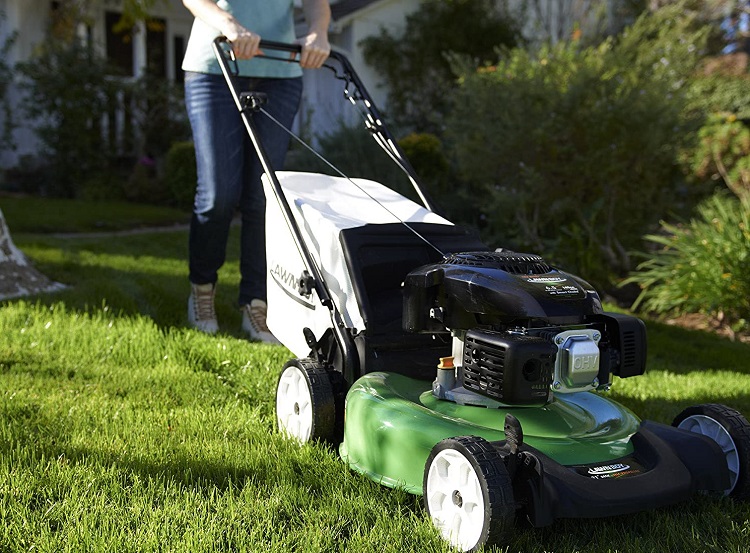 Warranty
If you are buying from the manufacturer, you're assured of three good years of Tru-trust commitment with a full two-year warranty.
For the lawnmowers looking for a reliable mower, budget-friendly will make their mowing easier; the Lawn-Boy 17732 lawn mower is the best for that. It is easy to handle and hard to beat.
Features
Two years no worry warranty

2 in 1 discharge ability

Large bag capacity 

Lawn boy engineered tri cut system

Two-point height of cut

Self propel

Kohler XTX OHV engine offers impressive power

it can use it on hilly terrain with better performance and control

Holds 66 pounds of weight
Pros
The lawn offers a torque of 6.5 ft/lbs.

Large bag capacity that holds extra clippings

It can adjust cuttings heights for desired quality cuts.

The Dome deck designed is light in weight but still offers quality cutting and mulching.

Kohler XTX OHV engine offers impressive power.

You can use it on hilly terrain with better performance and control.

Holds 66 pounds of weight

Budget-friendly

Easy to use and operate

Quality cuts and options

Excellent handling, especially on hills

Bags and mulches without a hitch
Cons
FAQs
Question: How Often Should I Change The Oil Of My Cub Cadet Riding Mower?
Answer: You should change engine oils and oil filters at least once every spring or summer or over fifty hours of use-whichever comes first. However, remember. Taking care of your lawnmower will go a long way in ensuring your machine runs well and for long without developing any issue. And oil change is an overlooked maintenance factor but an essential factor as long as the mower's performance and durability are concerned.
Question: Can I use car oil on the lawnmower?
Answer: Yes, you can use the car oil on your lawnmower, and the mower functions well. However, the oil you intend to use should be of high quality. For instance, you can use the SA-30, one of the commonly used high-quality motor oil on the market, recommended for both cars and lawnmowers.
Question: Who makes the engines of the cub cadet riding mowers?
Answer: MTD – A company located in America and known for manufacturing outdoor power lawn equipment for the most significant part of the market. Over the years in the business, the MTD Company has acquired the Troy Bilt, Bolens, cub cadet, and yardman brands.
Question: Are cub cadet engines made in china?
Answer: No, the cub cadet has collaborated with some of the companies in Asia but not in China. They have teamed up with an Asian manufacturing company, engineered and produced an overhead valve engine (OHV).
Question: When is the best time of the year to buy a lawnmower?
Answer: Most seasonal items are cheapest when their demand is at the lowest point, not different from lawnmowers. So the best time to buy a lawnmower is in September and early fall, just immediately after summer when the mowing season has ended.
Conclusion
When we talk of lawn mowing all-terrain may it be rocky, flat, or hilly, cub cadet SC500 HW is the best of all time. What makes it ideal for every kind of terrain are its features.
They include a Heavy-duty OHV engine with 159 cc, Rear wheel drive system, 11 inches rear wheel, and 8 inches front wheels, increasing its maneuverability. Responsive and ready to help customer care, Wash port helpful in blade washing, rechargeable battery starter, Three different height-adjustable handlebars, and Six different height cutting positions.
Besides, it comes with a my-speed drive that makes the Cub cadet SC 500 HW lawn mower a self-propelling functional, a function that is enabled by the mower wheels.
But the ability to maneuver is one of the features that make the mower stand out. With its 11-inch rear wheels and 8-inch wheels, the mower can navigate all kinds of terrain without any difficulty.
Its architecture has a responsive variable drive that can be used to conquer the obstacles it can encounter while mowing. Make your mind like right now and get your cub cadet lawn mower and get to enjoy a lot of benefits that come with owning a lawnmower.
Are you in need of a Riding Mower instead? Check out our list of Best Riding Mowers to find your perfect match.