Keeping your green lawn mowed and the grass short is easy if you do it regularly and without fail. But life sometimes happens; you go on a long vacation, get sick, or just feel lazy. Before you realize it, your lawn is overgrown.
Thankfully, you can rely on the best riding mowers for tall grass. Here are our suggestions:
1. Husqvarna YTH24V48 Riding Mower
3. Husqvarna Z254 Riding Mower
4. Simplicity Broadmoor Lawn Tractor
Get coffee and relax on a comfortable chair as we go through each one of these riding mowers and their features. We also have tips on choosing the best riding mowers for tall grass, some tips on how to cut zealously growing grass, and answer some of your questions.
Best Riding Mowers for Tall Grass
So what are your choices for the best riding mowers for tall grass?  Which one is perfect for you? And which ones are going to make your life a breeze?
1. Husqvarna YTH24V48 Riding Mower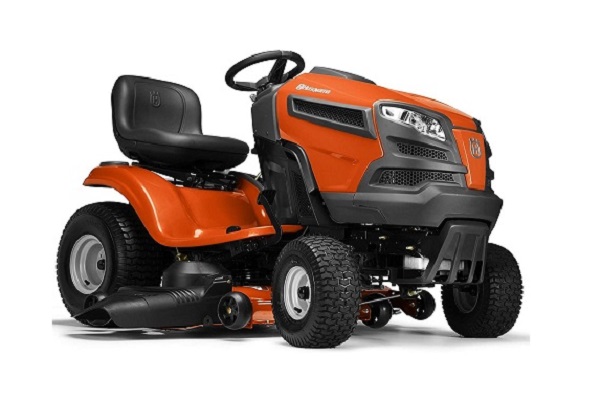 The Husqvarna YTH24V48 Riding Mower comes with a 24 horsepower engine that is easy to start and can prove very powerful. It comes with a cruise control feature that allows you to keep a steady speed even on rough and uneven terrain.
Tall grasses are no match for the 48-inch () triple blades. It also has a cutting deck that features air induction mowing and four anti-scalp wheels.
The anti-scalping wheels prevent the Husqvarna YTH24V48 Riding Mower's deck from touching the ground as it passes over an elevated spot. That means you do not accidentally slice off bigger clumps of grass.
This riding mower is controlled by a foot pedal, which allows you to keep both hands in the wheel as you change directions and speed. You will be able to fully control the mower with ease.
This mower can turn with a radius of 16 inches (), allowing you to clear tight spaces and even navigate around boulders, trees, and other obstacles.
Pros
Works well
Affordable
Durable
Cons
Some parts are not included in the warranty
Not as durable as other brands
2. Ariens 915223 IKON-X 52″ Zero Turn Mower 23hp Kawasaki FR691 Series
The Ariens 915223 IKON-X 52″ Zero Turn Mower 23hp Kawasaki FR691 Series has a 23 horsepower Kawasaki FR V-Twin engine. Not only does this zero-turn mower demonstrate a lot of power to take care of the tall grasses, but it's also built to last.
It sports a fabricated deck that can provide a cutting width of 52 inches (). The deck is 4.5 inches deep and is made with 11-gauge steel material.
Cutting height is anywhere from 1.5 to 4.5 inches (3.8 to 11.4 centimeters). This zero-turn mower moves forward at a rate of seven miles per hour (11.2 kilometers per hour).
Pros
An excellent mower with more features than its competitors
Sturdier build than its competitors
Quiet
Value for money
Cons
Might have problems managing steeper slopes, as the manufacturer recommends using the mower on inclines less than 15 degrees
Refurbished
3. Husqvarna Z254 Riding Mower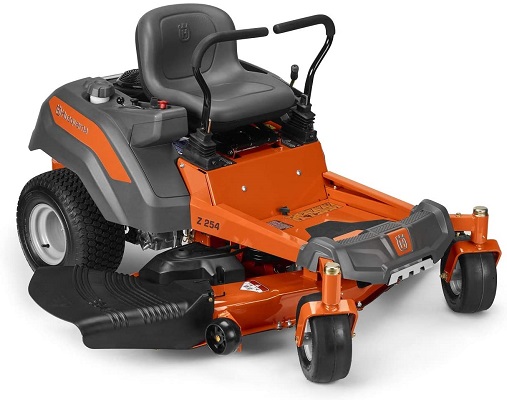 The Husqvarna Z254 uses a 26 horsepower Kohler engine that allows you to go as fast as 6.5 miles per hour (). This zero-turn mower features a park brake system that will activate or deactivate once the steering levers are pushed outward or pulled inward.
It also uses an air induction mowing technology that can draw air from all around the deck. This process helps the riding mower to cut grass better. Meanwhile, the cutting deck is made with reinforced steel, so you don't have to worry about its durability.
With the right attachments, you can mulch, bag, or discharge the grass clippings with ease.
Pros
Excellent zero turn riding mower
Powerful motor that cuts mowing time significantly
It makes mowing large spaces easier and faster
Cons
The tires don't provide too much traction, which makes this riding mower less than ideal on slopes and hills
You need the crate for returns, but it's quite difficult to get the mower out of the crate unless you break the wood into several pieces
Complaints about some authorized dealers won't honor the warranty
4. Simplicity Broadmoor Lawn Tractor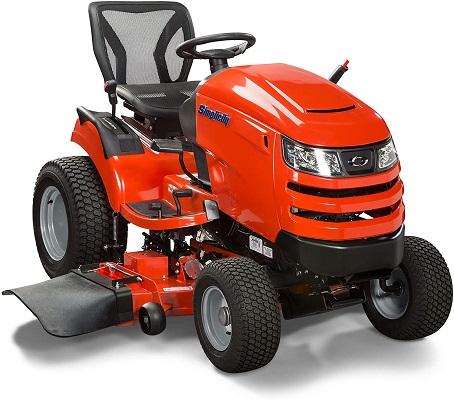 If you're having a tough time mowing your field or lawn and you just end the day with back pains and body aches, then the Simplicity Broadmoor Lawn Tractor is right up your alley. This riding mower has a mesh seat that allows you to really be comfortable when you're riding it.
The riding mower also has a suspension system that reduces the impact of bouncing along the roughest terrain by as much as 25 percent. It also has a free moving mower deck that protects your lawn. The deck follows the terrain, so there is no scalping at all.
What's more, everything you need is front and center. You can find the push-button start, the levers, and even the cutting height adjustment right on the dashboard.
But more than the comfortable ride, you also have a Briggs and Stratton Pro Series V-Twin Engine. This 25 horsepower engine is rated at 3,600 revolutions per minute, giving you all the power you need to cut through all that tall grass.
Pro
Comfortable and easy to operate
The suspension system reduces the impact as the machine moves all over your lawn
Can be fitted with various attachments
Cons
5. Snapper 2911525BVE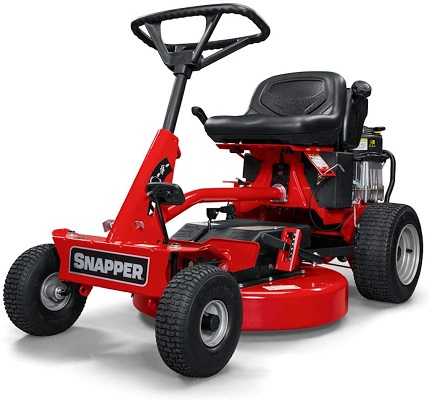 The Snapper 2911525BVE is yet another riding mower with an 11.5 horsepower rear engine. If you have a lawn that has big trees, this mower can get between them and in tighter spaces.
You will also find that it's easy to steer and can even mow when you set the gear in reverse. What's more, storing this lawnmower is a breeze as you can store it standing, so it takes up less space. It might be small, but it's powerful, cutting tall grasses with ease.
Pros
The small size makes it ideal for tighter spaces
Power engine
Can mulch grass well
Cons
Some reviewers complain that this mower is difficult to steer
Alternative Option: DR Field and Brush Mower
While technically not a riding mower, the DR Field and Brush Mower are for those lawns and fields that have been neglected for a long time. You will need a lawn tractor or ATV to pull it forward, but it can easily take down three-inch () sapling, four-inch () tall grasses, and eight-inch () tall weeds.
It has a 16.5 horsepower engine and a 44-inch () cutting width. All that means that you can mow a 1.5-acre area in just one hour. What's more, this tow-behind mower can mow outside the wheelbase and makes mulch with everything.
What to Consider When Looking for a Riding Mower for Tall Grass
What should you be looking at when you're on the market for a riding mower for tall grass? Here are some things that you should focus on:
Power
Tall grasses are difficult to cut through. If your grass has reached at least 12 inches () tall, your average residential mower will not be able to hack it.
You can probably use your old mower and cut down grass in smaller areas. The trick is to cut down grass in one area and then move on to the next. But that will take a lot of time.
Easy to Use
You might not think about it, but having a lawnmower that is easy to use should be a priority in the list of things to look for in a mower.
You should be able to assemble it without too much trouble. If you are using any attachments, then it should be easy to put them in or switch them out any time you want.
Further, there should be no problems when you're navigating it.
Floating Deck
You might want to consider a riding mower with a floating deck, which adjusts as you go through uneven terrain. Pair with anti-scalping tires, and you should have the best cut possible.
Price
When choosing a riding mower for tall grass, you should work within your budget. There are several machines at different price ranges.
How Do You Cut Tall Grass, Anyway?
The thing with tall grass is that you probably will need to cut it gradually. This means that you will be mowing several times over the course of one to two weeks to get your lawn back to looking excellent.
Here are our tips on how to properly mow the lawn that's overgrown:
1. Get rid of the rocks and other debris.
With work gloves on, pick up all the branches, twigs, stones, and other debris that might be hiding in the tall grasses. Plus, clear the lawn of garden hoses, pots, sprinklers, and garden equipment that may be lying around.
Clearing all this will help your mower have an easier time cutting the tall grass and damaging the blades and other parts of the machinery.
2. Trim the grass.
According to this site, you should only cut less than a third of the grass height each time to maintain your lawn's health. Using a string trimmer, you can chop the top off your grass. Be sure to get rid of the clippings by raking them into a bag.
If you try to cut grass that's too tall, it might clog the blades and stall the mower.
3. Let the grass rest.
You might consider letting the grass rest and recover after trimming, water down your lawn, and then water it again the next day.
Letting your grass recuperate will give you a more even and smooth trim.
4. Get your mower ready.
If you are going to use attachments or if you want to catch the clipping in a collection bag, set it up before riding your mower.
When you're on the mower, put the parking brake on before putting the gears in neutral. Set the mower to the lowest speed it has before starting the mower.
Move your mower over the area where you want to cut and then engage the blades.
5. Empty the bag and mow again.
Once you've given your lawn a once over, you should empty the bag and proceed to mow your lawn again if the grass still looks quite tall.
FAQs
Question: What is a zero-turn mower?
Answer: A zero-turn mower is just what its name says: it can turn with a zero radius. It doesn't leave a space between the current and the next line that you make.

You can make sure that you have every part of your lawn covered without having to go back repeatedly. Another advantage of a zero-turn mower is that it is very easy to steer. You can easily drive between trees, something that is a challenge with non-zero-turn mowers.
Question: How often should you mow your lawn?
Answer: As often as you can! Lawns are easy to maintain with regular mowing. It becomes harder as the grass grows tall. Generally, a typical lawn would need a weekly mowing.

But some grasses grow quickly, which means that you might need to bust your lawnmower more than just once a week. Remember, you should not think about when the lawn was last mowed, but how tall the grass is getting.
Question: Should you consider a walk-behind mower?
Answer: There are two main types of lawnmowers: walk-behind and riding mowers. There are some benefits to using a walk-behind mower.

First, you get plenty of exercise. But if you have to mow a large lawn or a field to mow, that may not be practical. Check the area of your lawn and see if you will be able to walk that much once or maybe twice a week.

When you're choosing between a walk-behind and riding mower, you will need to consider your budget. You will also want to choose the features you want.

If you have an irregular lawn, a walk-behind machine will be a good choice because it's easy to navigate and can be very flexible. You can also buy walk-behind mowers that have engines that drive themselves:
Front-wheel drives are great for level lawns

Rear-wheel drives are more suitable for slopes and uneven lawns
You can also choose a mower that can mulch and bag the clippings, so that's one more job that you don't have to do.
Start Mowing with the Best Riding Mowers for Tall Grass
While there is no substitute for regularly cutting the grass growing on your lawn, you will have times when you have to deal with tall grasses. It's not an easy thing to cut back your overgrown lawns, but with the best riding mowers for tall grass, you will have an easier time.
At the very least, these machines will be able to cut the mowing time significantly. At best, you will have fun with what used to be a tedious and boring chore.