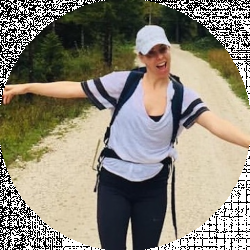 Latest posts by Jodie Chiffey
(see all)
Lawn sweepers and baggers are among the most efficient tools you can use to remove debris from your lawn. Our Lawn Sweeper vs Bagger comparison will help you determine which of these tools enables you to clean your lawn more efficiently.
In particular, we'll be taking a closer look at the similarities and differences between two specific models, the Poulan Pro soft-sided grass bagger and the Agri-Fab AG45-0492 Lawn Sweeper.
Although these two products are designed for a similar purpose they function in different ways.
A bagger is merely a grass collection system that is mounted onto a mover to gather grass, while a yard sweeper is equipped with tools that enable it to collect lawn debris.
Our lawn sweeper vs bagger comparison will examine the properties of these lawn cleaning tools and help you decide which one suits your needs better.
Main differences between Lawn Sweeper vs Bagger
The main differences between lawn sweeper vs bagger are:
Lawn sweeper is a gardening tool, whereas Bagger is a mower accessory
Lawn sweeper can remove different types of debris from your lawn, whereas baggers can collect grass and leaves
Lawn sweepers are not likely to clog even when you are cleaning wet grass, whereas baggers are prone to clogging
Lawn sweepers can be used to clean up large lawns, whereas baggers don't have the capacity to cover a vast area without being emptied
Lawn sweepers are designed for different types of lawns, whereas only two varieties of baggers are commercially available
Lawn sweeper is a more expensive option, whereas some grass baggers can be purchased for less than a hundred dollars
Lawn sweeper has excellent debris capacity, whereas baggers need to be emptied frequently
Key specifications of Lawn Sweeper and Bagger
| | |
| --- | --- |
| Agri-Fab AG45-0492 | Poulan Pro 960730024 |
| Sweep path: 44 inches | Sweep path: 46 inches |
| Brush-to-wheel ratio: 5.1:1 | Brush-to-wheel ratio: None |
| Hopper bag capacity: 25 cubic foot | Hopper bag capacity: 7.4 cubic foot |
| Weight: 92 pounds | Weight: 19.9 pounds |
| Dimensions: 78 x 52 x 55 inches | Dimensions: 3 x 1 x 2 inches |
| Latest price: (Amazon) | Latest price: (Amazon / NorthernTool) |
Core features of Lawn Sweeper and Bagger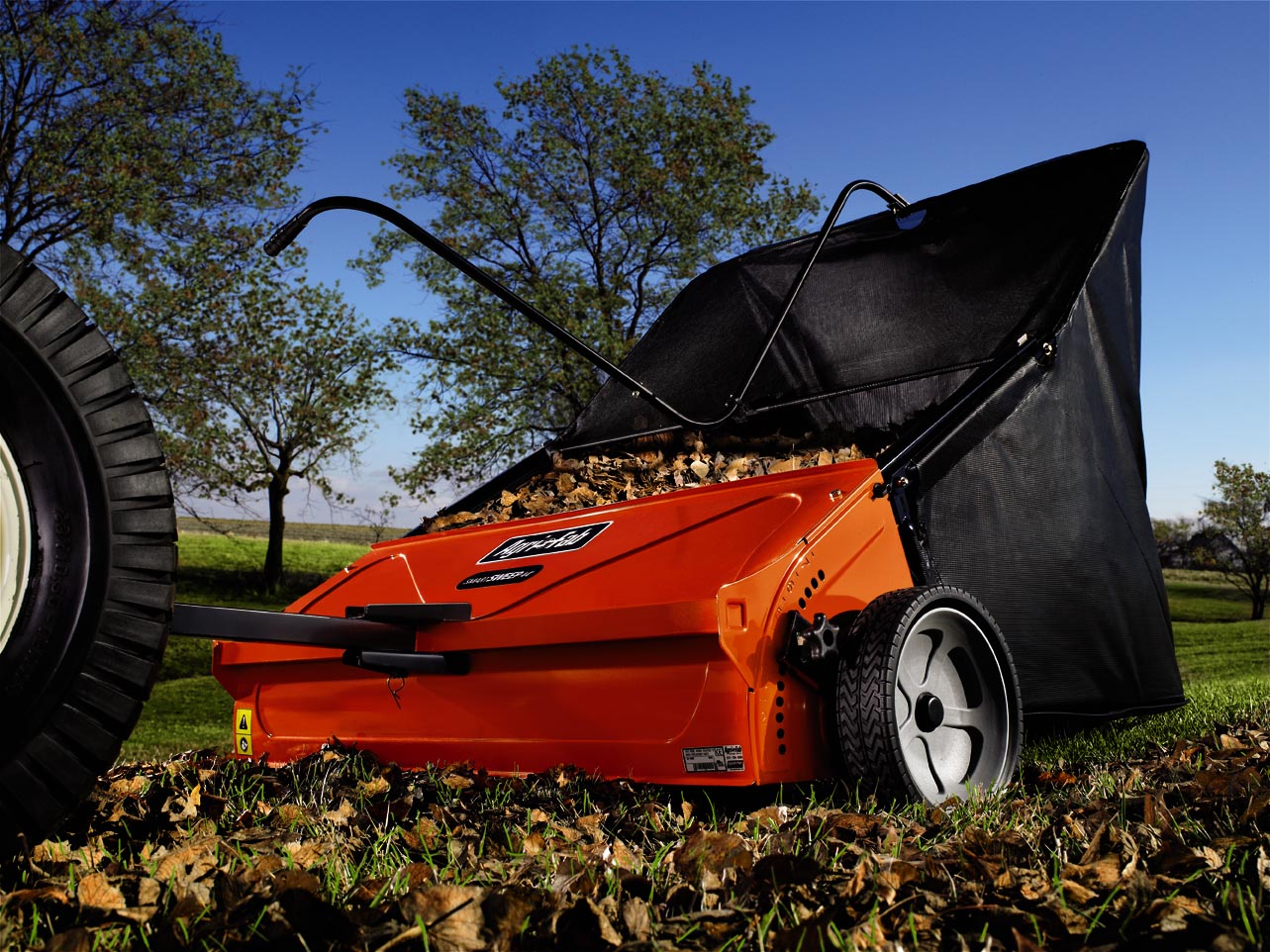 The choice between a lawn sweeper and a grass bagger is context-specific since they are designed to collect different types of lawn debris.
While a grass bagger like the Poulan Pro 960730023 enables you to collect grass as soon as you cut it or in some cases dry leaves, you cannot use this accessory to collect other common types of lawn debris.
Agri-Fab AG45-0492 lawn sweeper on the other hand enables you to clean up large lawns effortlessly regardless of the type of debris you're dealing with.
Let's take a closer look at the core features of these lawn sweepers.
Different types of Baggers and Lawn Sweepers
Learning how to differentiate between different types of lawn sweepers will make it easier for you to pick a model that best matches the terrain on which you want to use it.
Push lawn sweepers
Designed to cover relatively small areas, these tools are powered by a mechanical force created once they are pushed by the user. Push lawn sweepers cannot hold as much material as other types of lawn sweepers which makes them suitable for small areas that contain moderate amounts of dry leaves, pine cones, and other common lawn debris.
Tow-behind lawn sweepers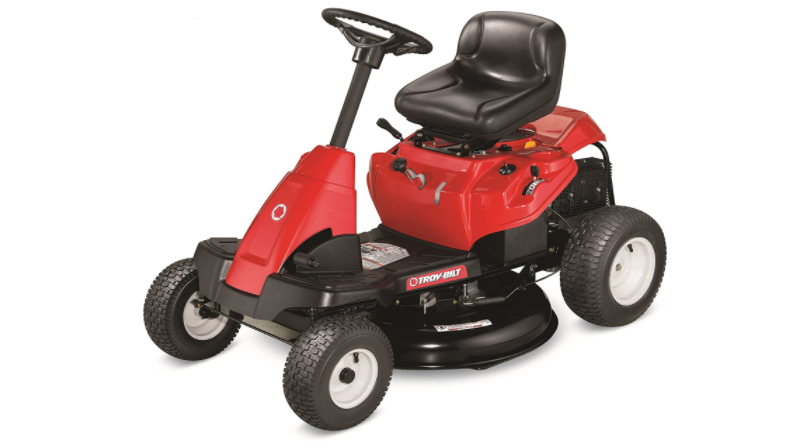 As their name indicates these lawn-cleaning tools are designed to be hooked to a riding mower like Troy-Bilt 30-inch premium, but you can also attach them to an all-terrain-vehicles.
These lawn sweepers can store large quantities of debris, and their hoppers can be emptied by simply pulling a handle or rope. The Agri-Fab AG45-0492 is a tow behind lawn sweeper that can store up to three times more debris than a grass bagger.
Power sweepers
You can choose between push and tow behind lawn sweepers. Unlike other types of lawn sweepers, power sweepers are equipped with a gasoline engine.
They are designed to clean large areas quickly as their brushes rotate at a faster rate which enables them to collect large quantities of debris in a short period of time.
Like all lawn mower accessories, grass baggers are designed to fit specific models, although a grass bagger like Poulan Pro is compatible with lawnmowers produced by Craftsman, Ryobi, Poulan Pro, and other industry-leading manufacturers.
Brush to wheel ratio
The speed at which the wheels of a lawn sweeper turn determines how quickly the tool's brushes rotate. Consequently, moving a lawnmower at a high speed will increase the number of brush rotations per spin of the wheels.
A high brush-to-wheel ratio indicates that the brush rotates at a high speed that allows her to collect more waste. Opting for a model like Agri-Fab AG45-0492 that has a 5.1:1 brush to wheel ratio will reduce the number of times you need to cover the same area until it is properly cleaned.
Grass baggers don't have wheels or brushes as they are mounted directly onto a lawnmower and they only collect the debris that is produced by the machine they are attached to.
Hopper capacity
Depending on the type, the hopper capacity of lawn sweepers can vary between ten and fifty cubic feet. Push lawn sweepers usually have lower hopper capacities than tow-behind lawn sweepers that can hold more than 20 cubic feet of yard waste.
Agri-Fab AG45-0492 model's hopper capacity is 25 cubic feet which makes it suitable for cleaning large areas. Grass baggers come in different sizes, and their hopper capacity varies from model to model.
The Poulan Pro 960730023 can hold just 7.4 cubic foot and you must empty it frequently if you are mowing or cleaning a large yard. You must empty both of these tools after using them as they cannot be used to store lawn debris.
Sweeping path
This is one of the main categorization criteria manufacturers use to differentiate between lawn sweeper models. The sweeping path refers to how many ground brushes can cover in one pass.
The sweeping path of push lawn sweepers varies between 21 and 26 inches, while tow-behind lawn sweepers can cover up areas as large as fifty inches.
A lawn sweeper like Agri-Fab AG45-0492 can cover 44 inches in one go and it enables you to clean up vast areas quicker. The sweeping path of a grass bagger is the same as the area the lawnmower's blades can cover.
So, if you have a 42-inch lawnmower, a bagger like Poulan Pro 960730023 will collect debris within a 42-inch range.
The lawn size
Choosing the appropriate lawn-cleaning tool often boils down to the size of your yard, as these machines are designed to remove debris from differently sized areas. A push lawn sweeper,  for instance, has a limited hopper capacity which makes it impractical for large yards.
Poulan Pro 960730023 has similar debris collection capacities to push lawn sweepers and you should only opt for them if you don't mind emptying them frequently while cleaning a large area.
On the other hand, a tow-behind lawn sweeper like Agri-Fab AG45-0492 is capable of storing large quantities of yard waste and you don't need to empty it very often even if you are using it to clean up a large lawn.
Homeowners that don't live on large estates usually opt for baggers because they enable them to collect grass as they are mowing it which eliminates the need to clean up the lawn after it was mowed.
In case you live on a property that has a lot of evergreen trees a tow-behind lawn sweeper is a better choice as it enables you to collect twigs or pine needles.
Lawn debris types
Besides grass and dry leaves, baggers can't collect any other type of lawn debris. All waste that reaches a bagger goes through the mower, and most models cannot process waste that is sturdier than grass.
Moreover, mowers are set to a specific height before usage and they don't collect waste that is located below the preset height.
A lawn sweeper is equipped with a brush that sweeps through the grass at a selected height and collects everything in its way.
Also, these machines are not prone to jamming even if they are used in an area that contains a lot of pine cones and other bulky debris.
The lawn sweeper brushes are soft and they don't damage freshly mowed grass.
Moreover, these machines collect grass clippings effectively and keep your lawn tidy.
Grass dampness
Neither of these tools is ideal for damp conditions because wet grass can clog their collection systems.
Lawn sweepers have a slightly better tolerance to wet grass than baggers which makes them a more reliable option if you have to collect yard waste in humid conditions.
What's the best way to use Lawn Sweepers and Baggers?
A bagger you choose must be compatible with your lawnmower so that it can be used to collect the yard waste. In most cases, these accessories are used while the lawn is mowed in order to eliminate the need to collect grass afterward.
Lawn sweepers are capable of collecting grass clippings and some models can be attached to a riding mower so that they gather grass just moments after it was mowed.
However, these machines are also capable of gathering different types of waste.
A bagger makes it easier to clean up while mowing grass, but their limited hopper capacity makes them only suitable for small and medium-sized lawns.
Both of these gardening tools are designed for use under dry weather conditions as their collection systems struggle to process wet grass.
Lawn Sweepers vs Baggers – Pricing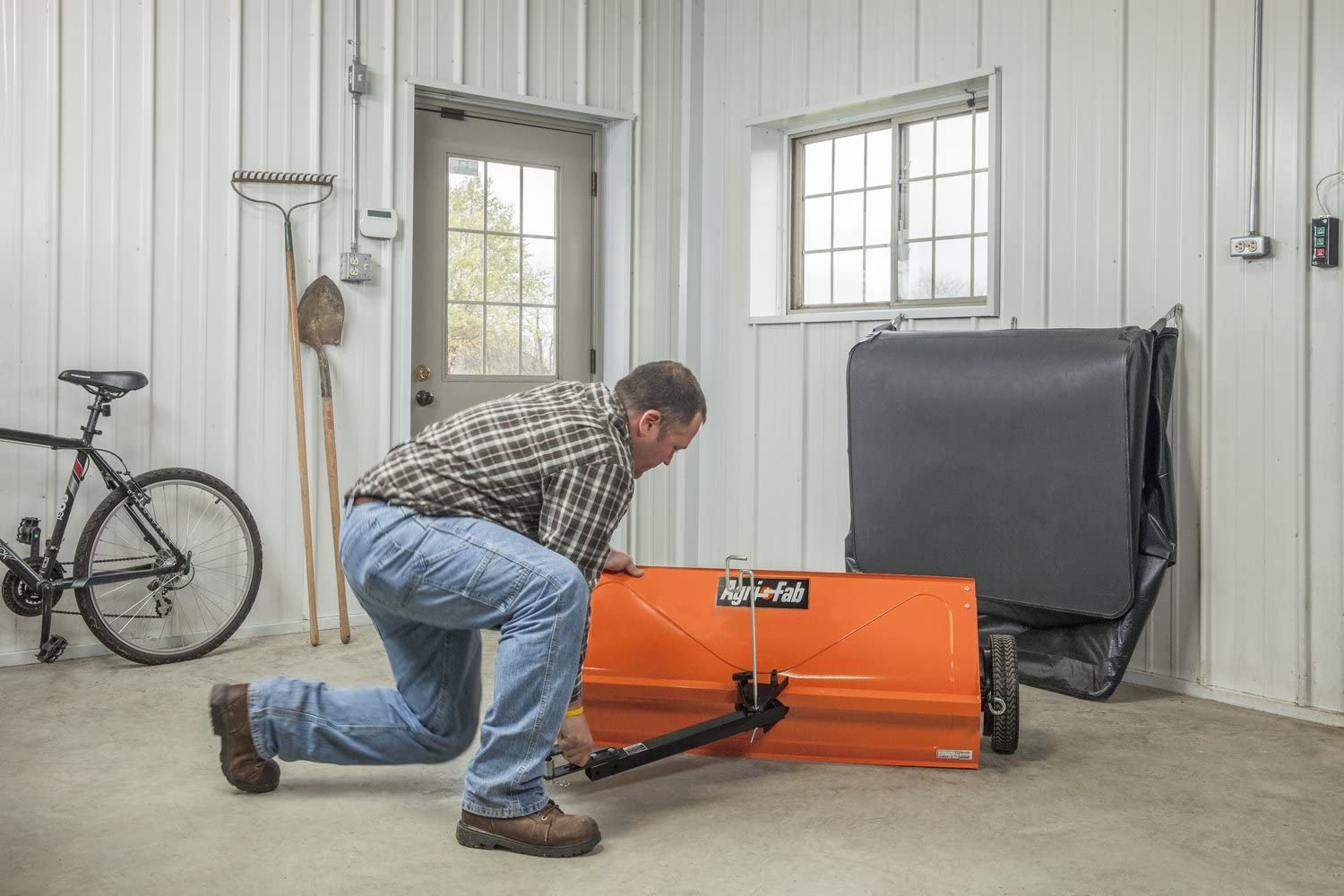 The price of these gardening tools depends on the manufacturer and the model since you can spend less than a hundred dollars up to several hundred dollars on a lawn sweeper or a bagger.
The Agri-Fab AG45-0492 lawn sweeper that is designed to be used with trucks or riding mowers costs around $340,00. If you want to purchase some of the accessories that can be used with this model its price can rise well above $500.
You will also receive a three-year warranty if you opt for this tow-behind lawn sweeper. On the other hand, a bagger like Poulan Pro 960730023 costs less than $200, and it comes with a two-year warranty.
Although neither of these tools is cheap, their price is an indicator of their quality as they are built from sturdy materials that can withstand frequent usage.
Lawn Sweeper vs Bagger – Pros and Cons
Agri-Fab AG45-0492 lawn sweeper
Pros
44-inch sweeping path
Equipped with a height adjustment lever
Features a dump lever for effortless emptying process
Easily foldable and collapsible to 30% of its size
25 cubic feet debris storage capacity
Utilizes four brushes to sweep through the yard waste
 Offset tongue feature enables the user to mow and sweep simultaneously
A universal hatch that attaches to all types of lawnmowers
Cons
Cannot be used without a riding mower or a truck
Requires assembly
More expensive than similar lawn sweepers
Low-quality wheels
Poulan Pro 960730023 grass bagger
Pros
Compatible with a large number of lawnmowers
Simple mounting process
Capable of holding up to 7.4 cubic feet of debris
Effortless loading unloading
Made from durable materials
Collects grass clippings from a 42-inch area
Compact and lightweight
Bags are made from polypropylene
Cons
Incompatible with zero-turn mowers
Comes with a 2-year warranty
Pricy
Prone to jamming
Lawn Sweepers & Bagger Alternatives
A tow-behind lawn sweeper and a mid-range bagger are far from being the only tools you can use to keep your yard tidy.
In fact, different types of lawn sweepers, baggers, and even leaf blowers can help you to get rid of the debris on your lawn. We've shortlisted several powerful tools that enable their users to handle yard waste with ease.
Here's what they have to offer.
Worx WG509 TRIVAC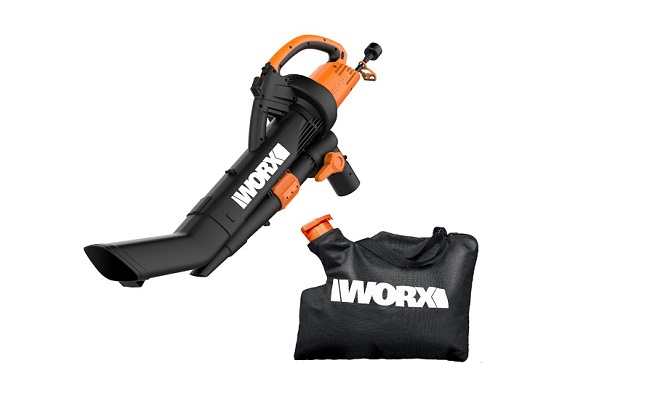 A leaf blower like Worx WG509 TRIVAC (Amazon / Walmart) is capable of handling the most common types of lawn debris.
This model can function as a mulcher, a vacuum, and a leaf blower which enables you to collect grass clippings or dried leaves and chop them down.
The unit allows you to switch between different modes seamlessly, and it can operate at 80 mph or 210 mph. This is a corded electric device that has a limited lawn-cleaning range.
Moreover, leaf blowers make it difficult to collect the debris in one place, which makes them impractical if your goal is to collect mowed grass.
Sunjoe SJSW26M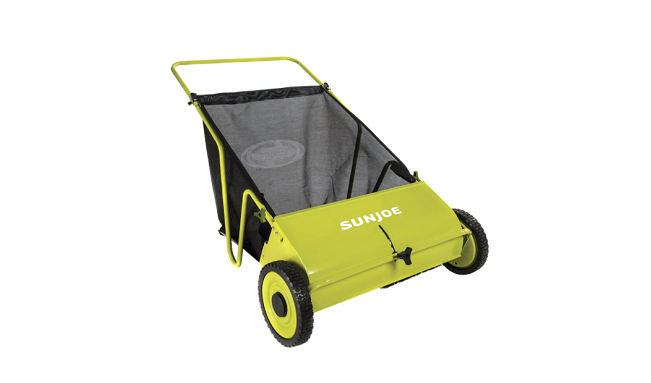 Even though it requires some manual work, Sunjoe SJSW26M meets the lawn debris collection needs of most homeowners. This model is a push lawn sweeper and you don't need a truck or a riding mower to use it.
It has four brushes that collect dry leaves or grass clippings from a 26-inch area. That's why this push lawn sweeper is a bad fit for large yards, despite having a 52.3-gallon casket that is capable of holding a substantial amount of lawn debris.
Emptying the Sunjoe SJSW26M doesn't take too much effort as you just have to detach the casket from the device and remove its contents.
Toro Residential TimeCutter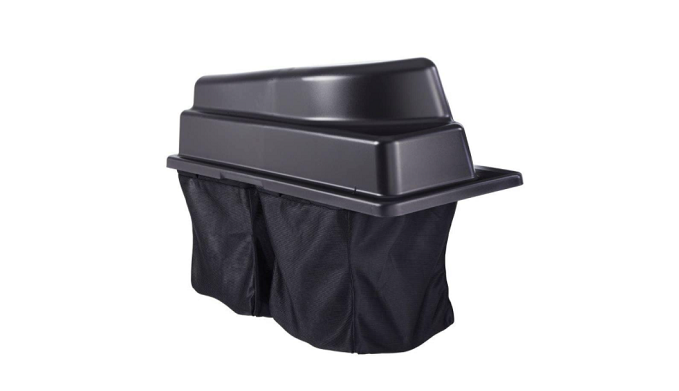 The sturdy dual-bin construction makes the Toro Residential TimeCutter one of the best alternatives to the Poulan Pro 960730023 grass bagger. After the initial installation, you won't need any tools to remove or reattach this bagger.
This model can take up to 8 cubic feet of debris and it collects grass clippings or dry leaves efficiently. Like all grass baggers, this lawn mower accessory doesn't perform well when used to collect wet grass as it can get clogged.
The Toro Residential TimeCutter comes with a one-year warranty that may seem disappointing especially when the model's price is considered.
FAQs About Lawn Sweepers and Baggers
Question: Can I store yard debris in a lawn sweeper?
Answer: No. Lawn sweepers are not designed to store grass, leaves, and other types of lawn debris, and doing so may damage them.
Question: How durable are the wheels on a lawn sweeper?
Answer: Wheels are an essential part of a lawn sweeper as they enable the brushes to rotate, however many models are equipped with plastic wheels that cannot withstand frequent use.
Question: Do I have to empty grass baggers frequently?
Answer: Yes, you do. These lawn mower accessories cannot hold large amounts of debris, and you may have to empty them several times if you are mowing a large area.
Question: Can I install a grass bagger without tools?
Answer: The installation of a grass bagger may require the use of tools, however, once you've installed this accessory you won't need tools to take it off or put it back on your lawn mower.
The Verdict – Are lawn sweepers a more reliable lawn-cleaning tool than baggers?
Keeping dry leaves, pine needles and other debris away from your lawn doesn't have to be a constant struggle. Different types of lawn sweepers and grass baggers turn this arduous task into an effortless process that doesn't take too much time to complete.
A grass bagger like the Poulan Pro lawn mower bagger is a great choice if you already have a Craftsman, Husqvarna, or Poulan lawn mower, as it will enable you to collect grass as you mow it. However, this bagger model cannot clean a lawn thoroughly.
That's why opting for the Agri-Fab AG45-0492 Tow-Behind Lawn Sweeper is a better option for homeowners that want to keep the large yard clean.
Was our lawn sweeper VS bagger comparison helpful? Leave a comment and share your opinions with us.
Further Reading on Lawn Clipping Solutions & Grass Cutting Debris Removal: