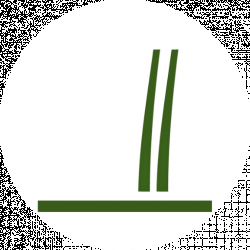 Latest posts by Turf and Till Team
(see all)
Michigan has a predictable weather pattern that can help one to grow different vegetation. Many people would want to know the best grass seed for Michigan. Well, this state is a fertile ground that supports different species for multiple uses.
You can grow both cool and warm–seasoned grass and get accurate results. However, it is crucial to know the right breed that works optimally in your area.
Here, in this write-up, we are unveiling six different grass seeds for you to select for. So, let's get started. 
Factors to consider when choosing the best grass seed for Michigan 
Before proceeding to the market to buy the right grass seed, you must arm yourself with specific elements. These parameters will help you to make a correct purchase decision and overcome any challenge that can crop up. 
Your shopping will remain exciting if you obey absolute principles that promote your well-being. Consider the following items: 
Assess the Lawn
You must know your climate zone to determine the type of grass to grow in your area. It can be either warm or cold-season grass.
Understand the type of activities that will occur on the lawn. Do you know that some grass is only for looks?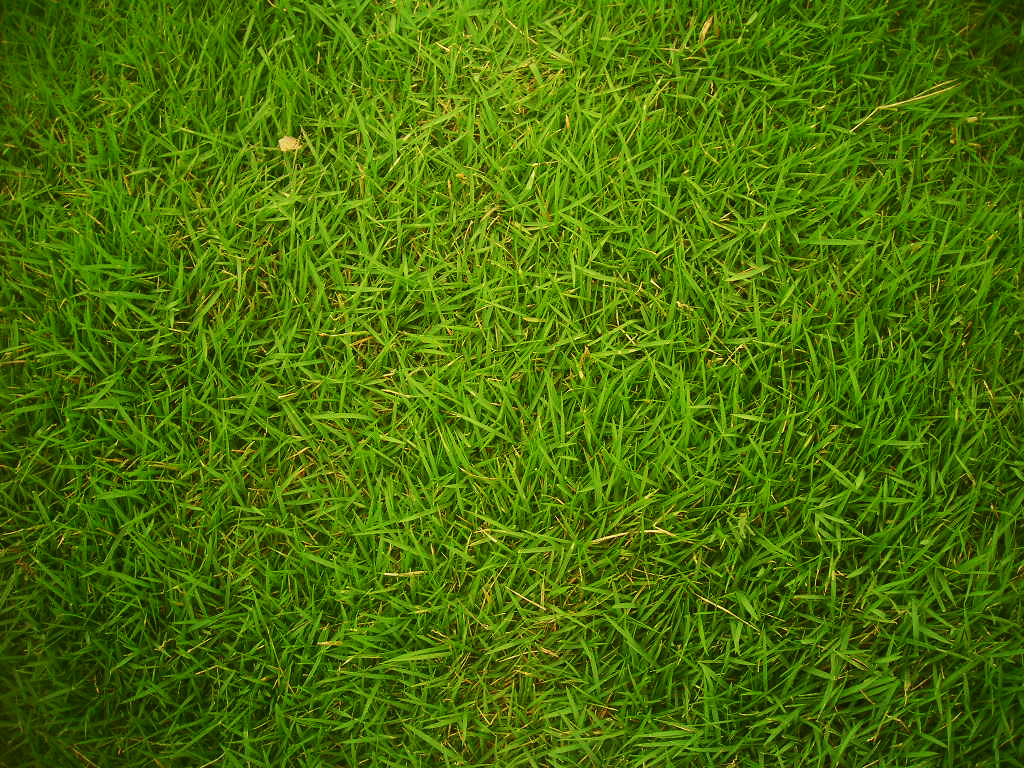 Soil PH
If you want to purchase a particular grass type, it is vital to know the soil PH level. Different grass types will flourish well in different soil PH levels.
It would help if you did not mismatch seed type and PH levels, thereby compromising the resulting grass's quality.
Lawn Size
One must have proper measurements of the lawn. It is helpful to determine the amount of seed to purchase so that they fill incorrectly. You should not under-seed it since you want to avoid extra expenses. 
Some breeds prefer over-seeding for one to get a dense and durable turf. Still, over-seeding is a perfect avenue to contain weeds. Lastly, overseeding ensures that you attain your goals in the shortest period possible. 
Some breeds will demand a seed rate of 2-3 pounds per square feet. Uniquely, some brands will demand more or less. 
Timing
You must understand the planting season for the grass to grow well. Lawn grasses differ in growth circles. For example, specific species can grow fast during the spring season, while others can operate well in autumn. 
One must take advantage of the grass type peak growth to assist in growth and germination for better results. Timing is a crucial issue for both short term and long term successes. 
Tolerance level 
Some grass types will tolerate high traffic and remain healthy. Other breeds will only withstand low traffic; hence they become damaged. High traffic may involve football pitches and golf courses. High tolerance levels are vital in preserving grass health. 
Tolerance to different weather conditions is also crucial for successful growth. Some brands can withstand drought and heat, while others will tolerate high water content in the soil. 
6 Best Grass Seed for Michigan
Michigan State supports all-weather grass seed types. You should know the right season to plant and promote the environment. Here is a list of 6 products for you.
Kentucky Bluegrass
Kentucky Bluegrass (KBG) is native to Asia and Europe. The grass first came to the US as a pasture grass and later became premium grass.
More importantly, it is cool-season perennial lawn grass. As such, it implies that it grows in the cool season vigorously.
Kentucky can be a perfect choice for you if you live in Michigan State. This grass produces a lush, dense, and durable lawn when exposed to the right conditions and care. Kentucky grass needs relatively high maintenance levels with proper lawn care goals. 
Since Kentucky grass has shallow roots, it leads to lower tolerance to drought and heat. Typically, Kentucky grass germinates from seed with a slow growth rate.
More importantly, it is a sod-forming and self-spreading grass that spread through underground stems, forming a dense, thick turf. 
Besides, Kentucky Bluegrass has a rich blue-green color with a medium to a fine texture. Such a characteristic makes it beautiful to behold while remaining comfortable when walking on bare feet. 
Again, KBG will go dormant during extended drought or extreme heat. If the conditions become normal, or your result in irrigation, Kentucky Bluegrass will recover quickly. Although this breed prefers sunlight, it also grows well in lightly shaded areas. 
The right time to plant KBG seed is during early fall. It is noteworthy that KBG has rhizomatous growth, thereby developing into thatch, which promotes drought stress. One must dethatch at least twice a year. 
When planting, ensure the soil has a PH of 5.8 to 7. One can perform routine soil PH tests to ensure a healthy PH balance. 
Pros
Promotes dense and durable lawn

Impressive blue-green color

It is a cool-season lawn grass

Excellent winter hardiness

Limited shade tolerance
Cons
Poor tolerance for drought and heat
Creeping Red Fescue 
Creeping Red fescue grass happens to be a fine-bladed product with dark green color. The plant germinates from seed and spreads with rhizomes featuring a creeping growth habit. 
Interestingly, creeping red may persist in cool-season climates, although it is not as cold tolerant as other breeds like Kentucky Bluegrass. One can use it in dry, shaded areas as a mixture of other grasses or pure stands. 
Since Creeping Red performs well in shade conditions, it can still tolerate full sun conditions, although irrigation is critical. The best place to use Creeping Red grass is the parks, airfields, lawns, roadsides, and other turf areas. 
Many use this breed to over-seed warm-season turfs. It happens because this grass grows well in well-drained regions. Notably, it does not tolerate high fertilization rates and wet soils. However, these seeds respond to infertile and droughty soil effectively. 
You can plant the seeds in well-drained soils that have a PH of 5.5 to 8.0. The grass has good drought resistance; hence it requires a low, moderate irrigation amount. One can water twice a week during warm seasons.
When in full sunlight, it is vital to adjust the irrigation frequency. You can establish 3-5 pounds of seeds in new lawns that measure 1000 square feet. While overseeding, use 4 pounds of seed on the same surface. 
The planting depth must be 1/8 to ¼ inches. The germination period ranges from 7 -21 days. Finally, the mowing height should be between 3-4 inches. 
Pros
It supports either mixtures or pure stand 

Creeping Red fescue tolerates full sun conditions

The plant requires less fertilizer

Exceptional drought resistance

Extensive usage in parks, cemeteries, and roadsides
Cons
It has low tolerance on wet soils
Bent Grass
If you live in Michigan and prefer to grow wear-tolerant grass, then put Bentgrass in mind. It is an aggressive and vigorous plant that suits tees, golf courses, and fairways. One notable feature is that Bentgrass can tolerate different conditions hence adaptable worldwide. 
Bentgrass is an excellent seed product that operates in soil with a PH of 5.5-8.0. Just in 1000 square feet, this grass requires a moderate nitrogen requirement of 1 to 2 pounds.
Optimum mowing height should be 3/16 to 5/16 inches. However, one can adjust it to lower or higher depending upon the intended use.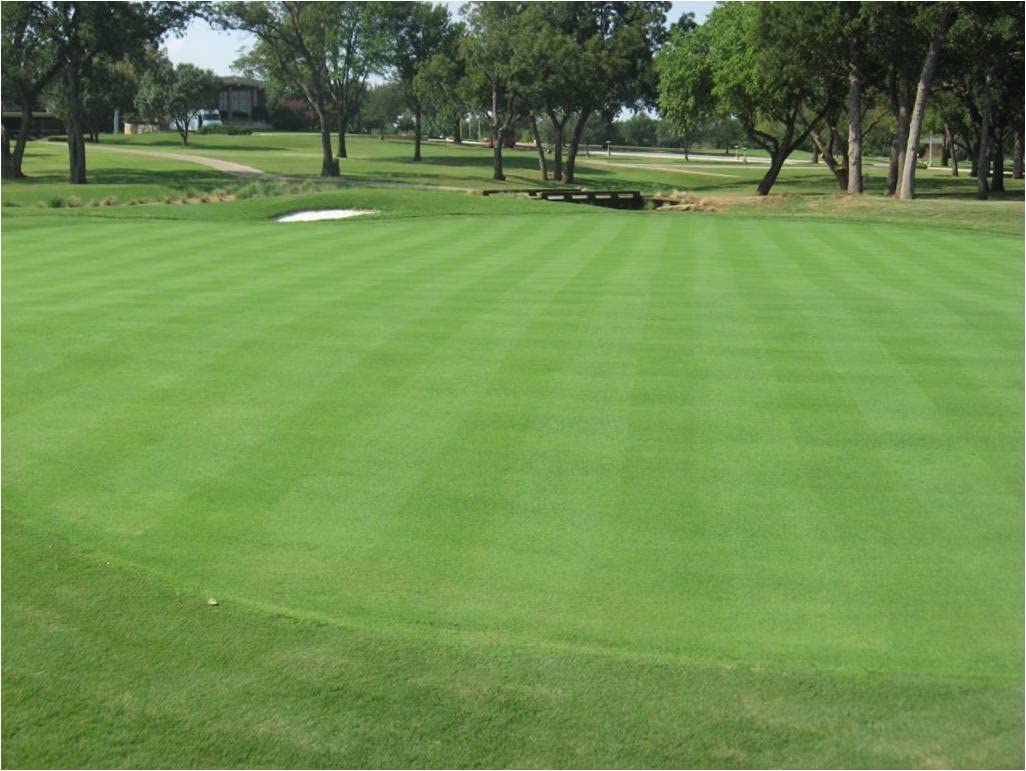 Creeping Bentgrass will perform optimally on sandy soil. The cool thing is it can tolerate clay soil if it has adequate drainage. Many varieties of Bentgrass do not perform in the wet areas properly. 
Growing this breed can be an enjoyable and rewarding experience, which is a DIY affair. For instance, for every 1000 square feet, you can use 1-2 pounds to seed it.
As you grow, cover the seed to a depth that does not exceed ¼ inches. Ensure that the seeds remain moist until they have roots. 
These Bentgrass seeds' germination periods may range from 7-15 days, depending on the soil temperature. You can begin to mow after 30 days after the grass begins to root sufficiently. 
The right height of mowing is ¾ inches until the grass establishes a turf. Plant the seed when the temperatures are at 55 degrees in spring. 
Pros
It can grow in different conditions worldwide

Versatility makes it ideal for a golf course and fairways

Cost-effective as it needs moderate nitrogen 

Easy to grow and maintain

Promotes lawn and garden beauty
Cons
Bentgrass is not favorable in wet areas
Buffalograss
Buffalograss is the right breed that is useful in turf areas and low maintenance lawns. This grass thrives in clay soils as it requires less mowing and watering. 
Another notable feature is this grass will green up faster in spring. Furthermore, Buffalograss spreads quickly by stolons, thereby covering a whole planting area.
Most importantly, it is durable and tough hence acting as an alternative to cool-season grasses.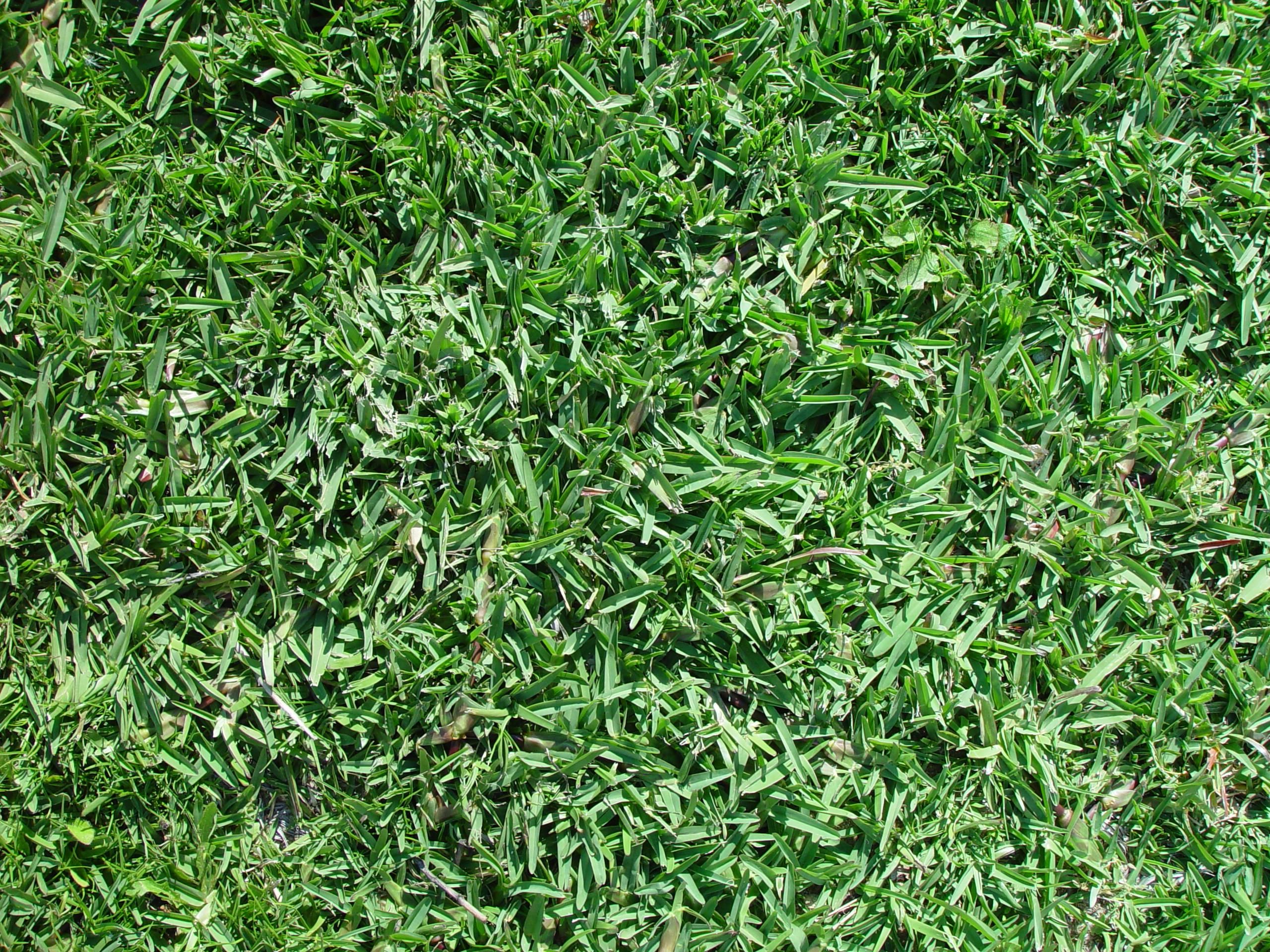 Sunlight is among the greatest assets to successful growth. Six hours of direct sunlight daily is enough. Generally, if you live in Michigan, consider planting it in well-drained soils. One must perform weed control before you plant this grass type.
For proper germination, Buffalograss will require 60 degrees Fahrenheit. Again, it would help if you raked the area to remove leaves and promote right seed-to-soil contact. Seed germinates within 14 to 21 days as long as you maintain high soil moisture. 
The excellent news is Buffalograss forms dense and thick lawns that will out-compete the weeds. It is ideal for open turf and sunny spaces. Due to its versatility, it becomes useful in the golf course, cemetery, and roadsides. 
What makes this grass to be popular is that it is cost-efficient. The grass has a native look that is eye-catching and attractive. It is worth growing as you will encounter minimal financial input and maintenance costs. The seed rate should be 2 -3 pounds for every square foot. 
Pros
Buffalograss is a fast-growing plant when subjected to proper conditions.

Requires less mowing, fertilizing, and watering

It comes with low maintenance costs

The grass is tough and durable 

Promotes dense and attractive turf
Cons
Buffalograss gets damaged when exposed to high traffic
Bahiagrass
Bahiagrass came from South America to the US for erosion control programs and as pasture. Remarkably, Bahiagrass is a warm-season that has an active growth in late spring. Also, it is drought-resistant thanks to its deep root system. 
Another exciting feature is Bahiagrass grows in sandy soils with a high preference for full sunlight. Still, it tolerates limited shade and poorly drained soils.
In the meantime, the seed germinates slowly but will establish well. As this grass grows, it features an open growth habit hence vulnerable to weeds while still young.
There will be an emergence of stolons, which will form a durable, dense, and all-purpose turf.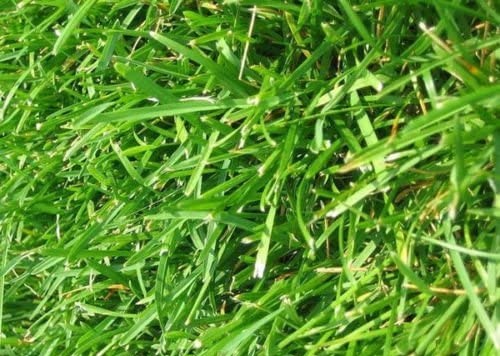 During active growth, this plant will remain evergreen. When there is an extensive drought, it becomes dormant and develops a tan color. One can supplement it with irrigation to bring it back to life. 
One should plant the seeds during spring. You should lawn it when the grass reaches the recommended height of 2 to 3 inches. As such, it enhances deep roots and stress tolerance.
A soil test is essential before you begin to plant. With a PH of 5.5 to 6.5, you are right to go. 
Bahiagrass lawns will need limited irrigation and fertilizers. Overwatering can lead to lawn disease hence weakening it.
Bahiagrass will remain evergreen in spring to give an attractive lawn. Over-seeding is acceptable in autumn.
Pros
Bahiagrass is heat and drought tolerant

The grass seed requires low water and nutrients

It prefers full sun for optimal results

Bahiagrass is a warm-season plant

Over-seeding makes it dense and durable 
Cons
Overwatering promotes lawn diseases

Early-stage may tolerate weeds
Seashore Paspalum
Seashore Paspalum is a convenient grass in the turf industry. One distinguishing aspect concerning this turfgrass is that it can withstand very saline soils. Proper care is essential for one to see promising results. 
One must perform better mowing procedures to overcome scalping. If you are mowing a home lawn, then it should be twice a week.
Turfgrass areas like athletic fields and golf courses need daily mowing. One can use a rotary mower when this grass is at heights of between 1.5 to 2 inches.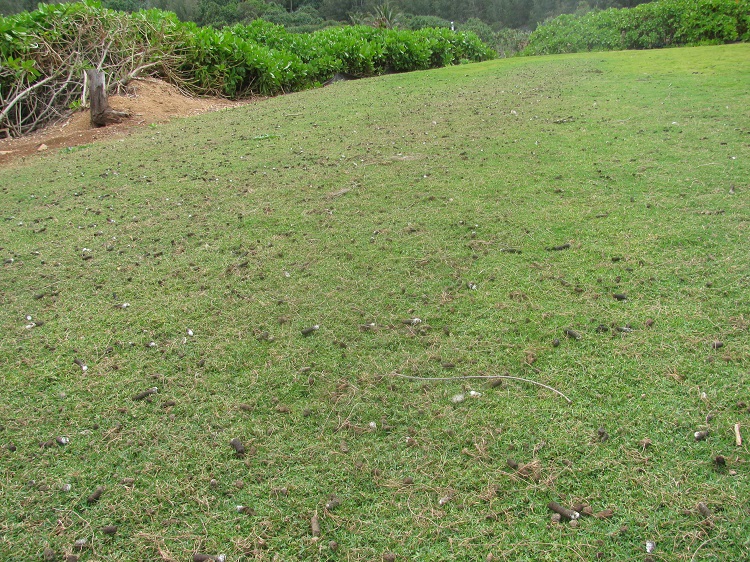 Use small doses of fertilizer throughout the growing season. Potassium and nitrogen are essential nutrients to support proper growth. You should irrigate the Paspalum if you see signs of stress. 
Paspalum is a perennial grass with stolons with blue-green leaves. As the grass begins to germinate, it spreads by stolons and rhizomes to form a thick turf. Also, it can survive when submerged or waterlogged for several days. 
This grass can tolerate foot traffic with various applications. For instance, it is perfect for soil erosion control.
Also, it is useful in making home lawns, cemeteries, golf courses, and roadsides. Germination of the seeds takes a short period.
The seed rate should be 3- 4 pounds if you are operating on a new lawn. Since Paspalum has a cushiony feel and a dense canopy, there will be reduced sports-related injuries. 
Pros
The grass seed can adapt to a wide range of soil situations. 

Leaf-blades absorbs little moisture hence promoting minimal slippage

The grass has good traffic tolerance 

Cost-effective since it requires little fertilizer

It can tolerate saline soils, which acts as a herbicide.
Cons
Paspalum can become dormant in arid conditions. 
FAQs
Question: Which is the right month to put down grass seed in Michigan? 
Answer: You cannot plant in early autumn since the soil will be warm after a summer sun. Moderate temperatures, warm soil, and cool evenings promote faster germination and establishment. Such a condition is a preserve of cool-seasoned grass. 
Question: Will grass seed germinate if you do not cover it? 
Answer: Indeed yes. Grass seed will still germinate if it remains uncovered. Notably, it can be advantageous to add a layer of topsoil or compost on the seed. As such, it keeps the seed moist and assists in proper germination. 
Question: Can one plant grass seed on wet soils? 
Answer: If the soil is soaking wet, you should avoid planting your grass seed. You should be patient to wait until the soil loses some moisture through evaporation. Wet piles of earth cause seeds to rot and later attract diseases. 
Question: Can the grass seed die if you do not water it rightly? 
Answer: Moisture is a requirement when you want to experience real germination. If such conditions are not available, the seed may die. You must provide the right moisture at all times. 
In Summary
Michigan State has proper climatic conditions to promote different grass species. This piece has the best grass seeds for anyone who wants to improve the look of a home lawn and promote overall beauty.
Most of the brands in our piece are versatile. One can apply them at the airport, roadsides, sports fields like courses and more. You must understand your needs before deciding on a particular species.
Our choices in the list above have exceptional characteristics to make your lawn appear attractive. Some are tolerant of different weather conditions hence adaptable in all areas of the state.
Read more about finding the best grass seed if you live in: