A self-propelled mower reduces the amount of time and effort you have to invest in the upkeep of your lawn. Our Troy Bilt WC28 vs Toro TimeMaster comparison will grant you an insight into the features these machines offer and help you decide if either of them should be your go-to option.
In this article, we will be covering the Troy Bilt WC28 195cc 28-inch RWD Wide Cut and the Toro the Company 21200 TimeMaster models, but you should keep in mind that both manufacturers offer a variety of different models.
These two lawnmowers come equipped with powerful features that make them suitable for use on different terrains. Let's start by taking a look at what sets them apart.
Main Differences Between the Troy Bilt WC28 vs Toro TimeMaster
The main differences between the Troy Bilt WC28 and Toro TimeMaster are:
Troy Bilt WC28 has 195cc engine displacement, whereas Toro TimeMaster has 190cc engine displacement
Troy Bilt WC28 weighs 126 lbs, whereas Toro TimeMaster weight 132 lbs
Troy Bilt WC28 has a 28-inch cutting width capacity, whereas Toro TimeMaster's cutting width is set to 30 inches
Troy Bilt WC28 utilizes In-Step rear-wheel drive, whereas Toro TimeMaster features Personal Pace® rear-wheel drive
Troy Bilt WC28 offers six height-of-cut settings, whereas Toro TimeMaster has a 2-point height-of-cut adjustment
Troy Bilt WC28 is equipped with a Blade Brake Clutch blade disengagement system, whereas the Toro TimeMaster utilizes the standard blade override system.
Troy Bilt WC28 comes with a handle that is both foldable and adjustable, whereas Toro TimeMaster features a Quick Stow Storage Handle
Troy Bilt WC28 has a limited 2-year warranty, whereas Toro TimeMaster comes with a full three-year warranty
Key specifications of the Troy Bilt WC28 vs Toro TimeMaster
Troy Bilt WC28
Toro TimeMaster
Engine type:

OHV

Troy Bilt®

Engine type:

OHV Briggs & Stratton

Engine displacement:

195cc

Engine displacement:

190cc

Fuel tank capacity:

1.2-gallon

Fuel tank capacity:

1.2-gallon

Cutting width:

21 inches 

Cutting width:

30 inches 

Dimensions:

49 x 32 x 21.13 inches

Dimensions:

42 x 33 x 25.5 inches

Weight:

126lbs

Weight:

132lbs

Latest price:

Check the latest price here

Latest price:

Check the latest price here
Core features of the Troy Bilt WC28 vs Toro TimeMaster
Finding the time to mow a large lawn can be challenging if you are constantly on a tight schedule. Self-propelled lawn mowers like Troy Bilt WC28 and Toro TimeMaster offer a broad spectrum of features that reduce the amount of time you have to invest in the upkeep of your lawn.
Also, both models perform well on rough terrains and allow you to set the height at which you're mowing the grass. Let's take a closer look at the features these lawnmowers offer.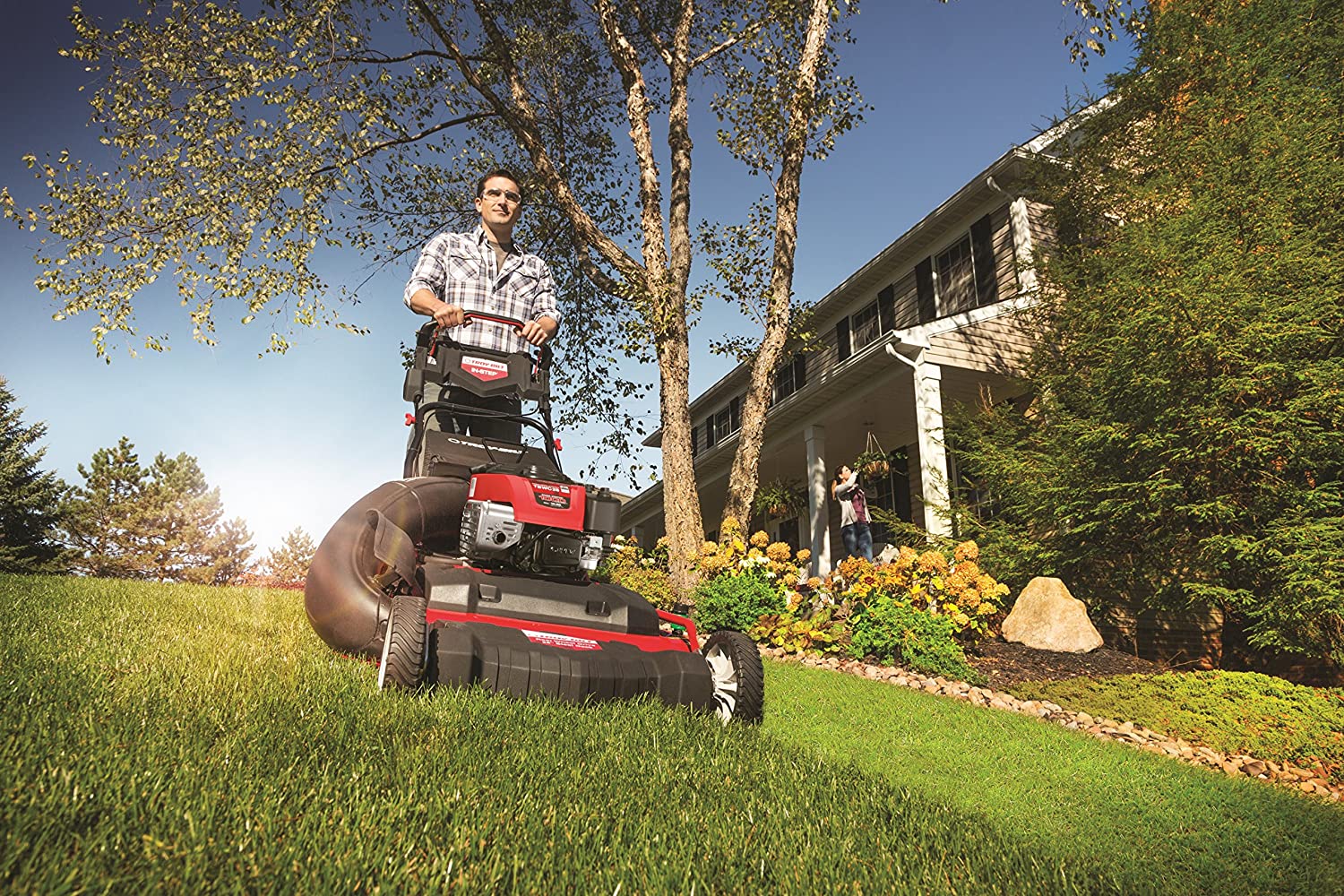 Engine and fuel tank capacity
These two walk-behind mowers have engines that offer similar power outputs, even though they are produced by different manufacturers. The Troy Bilt WC28 features a Troy Bilt® 195cc OHV engine that has 9.0 ft-lbs of torque.
On the other hand, the Toro TimeMaster features a Briggs & Stratton OHV engine that has 190cc displacement and produces 8.75 ft-lbs of torque. Both of these models have fuel tanks that can hold up to 1.2-gallons of gasoline.
These self-propelled lawn mowers can run for one hour on a single fuel tank, and neither of them can be considered particularly fuel-efficient. Troy Bilt WC28 and Toro TimeMaster meet all greenhouse gas emission regulations and they can be used in all states.
Mowing deck's width and height
The width and height of the mowing deck determine the area you can cover in one go, and the minimum or maximum height at which you can mow the grass. Troy Bilt WC28 has a 28-inch cutting width range and it utilizes the TriAction cutting system.
This model's height cutting range enables you to make six different adjustments within the 1.25-inches to 3.75-inches radius. Moreover, this self-propelled lawn mower features a dual-lever height adjuster that enables you to set the height with ease.
The Toro TimeMaster covers a 30-inch area in one go and reduces the mowing time up to 40%. This enables you to mow your lawn faster than with Troy Bilt WC28. The Toro's lawn mower also has a wider height cutting range than Troy Bilt's model.
The minimum height at which these two lawnmowers can cut grass is set to 1.25-inches, but Toro TimeMaster extends the height of the cut up to 4.25 inches. This unit also utilizes the Dual-Force™ cutting system that turns grass into easily disposable mulch.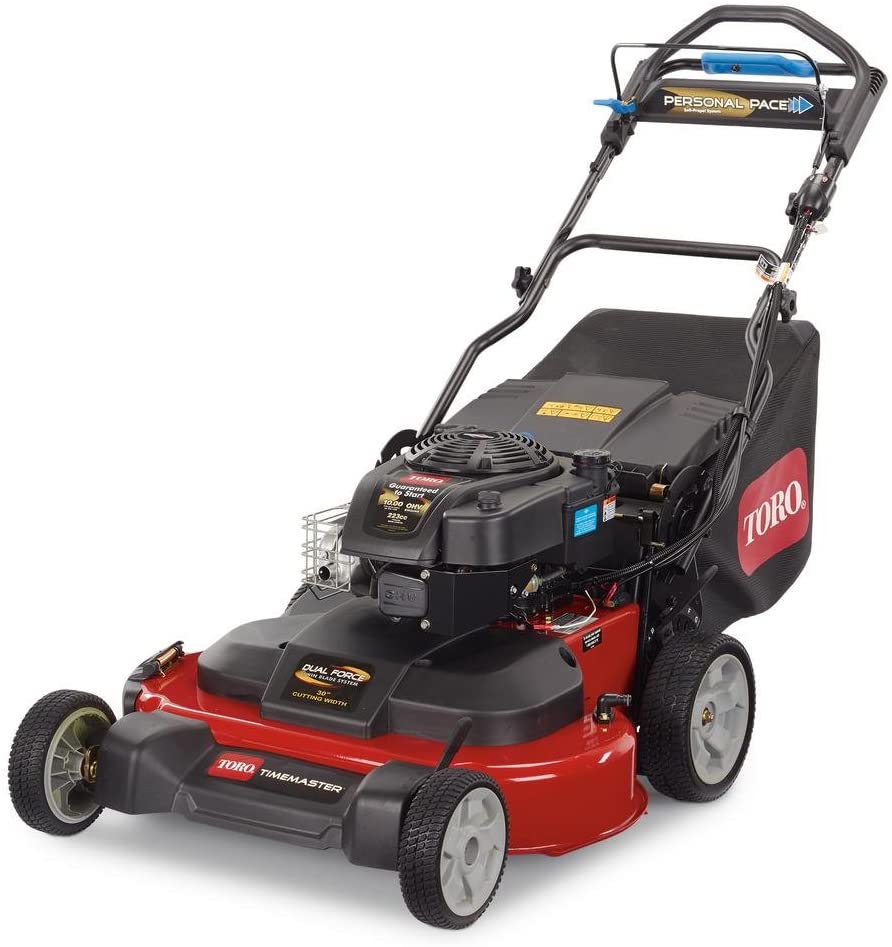 The cutting and blade control systems
The WC28 is equipped with standard Troy Bilt blades and it features a blade brake clutch that allows you to stop the blade instantly. You can also purchase a striping kit with this lawnmower in case you want to give your lawn a more manicured look.
The Toro TimeMaster is equipped with Spin-Stop™ blade stop system that lets you stop the blade while keeping the unit's engine running. This Toro's model uses atomic blades that remain sharp for a long time and cut easily through grass or weeds.
Unlike the Troy Bilt model, the TimeMaster gives you complete control over its blade although neither of these models ships with replacement blades or a blade removal tool.
These accessories must be purchased separately if you want to install a new blade on either of these lawnmowers or sharpen their factory blades.
Speed adjustments
Both Troy Bilt WC28 and Toro TimeMaster are designed to adjust to the user's movements, despite having powerful engines that can develop almost 4.5mph of speed and 9 ft-lb of torque.
The TimeMaster's Personal Pace® self-propel system detects the pace at which you are walking and it adjusts the unit's speed to it automatically.
Moreover, this Toro's model is equipped with a Traction Assist handle that enables you to keep control of its speed even while going over rough and uneven terrains. The Troy Bilt WC28 model, on the other hand, utilizes the In-step variable control technology that adjusts its speed to your movements.
It also grants you almost complete control over the rear-wheel-drive transmission which assists you in adjusting to the demands of different types of terrains.
Both of these lawnmowers are equipped with 8-inch front wheels and 10-inch rear wheels that ensure their smooth movement even under unfavorable conditions.
Maintenance and warranty period
Using the grass bag with the Toro TimeMaster is optional, but the model doesn't ship with this accessory. In addition, the unit has a standard washout port that makes its upkeep relatively easy as you can attach a garden hose to it and wash the parts that are located under the deck.
The Troy Bilt WC28 has a 3-in-1 side discharge and it comes with a rear grass bag that can hold up to 2.25 bushels of lawn debris. Hence, it is somewhat easier to keep your lawn tidy after you mowed it if you opt for the WC28 as it enables you to collect the grass you mowed.
Nonetheless this Troy Bilt self-propelled lawnmower comes with a two-year limited warranty, so you may have to search for OEM parts at your own expense even if the product is still in the warranty period. Toro offers a full three-year warranty for their TimeMaster model.
The Toro's lawnmower is a somewhat better long-term investment as its upkeep doesn't require too much effort while its long warranty period ensures that you don't have to worry about failure of any of its components over the period of 36 months.
What is the best setting for Troy Bilt WC28 vs Toro TimeMaster?
These two self-powered lawnmowers are designed for residential areas, and although they can perform well on uneven or rough terrain they may struggle while mowing tall, thick grass.
Their deck width ensures that you can cover an area that is between 28 and 30 inches wide in one go, which can reduce the amount of time it takes to mow your lawn up to 40%.
Even so, you can't use either of these models to mow large areas such as golf courses or baseball fields as it would be too time-consuming. Besides, the size of their fuel tanks only allows them to remain operational for approximately one hour without refueling.
Either of these models is going to struggle mowing wet grass since the clippings may stick together and produce a clump that blocks the deck. Moreover, the clippings they produce are going to be larger than usual and it will be difficult to remove them from the deck.
Troy Bilt WC28 VS Toro TimeMaster – Pricing
In case you are looking for a more affordable option, then the Troy Bilt WC28 is the right lawnmower for you. The model is less expensive and it offers excellent features in its price range. Besides the wide-cut capability, this unit also adjusts its speed to your pace and it ships with a grass collection bag.
Acquiring additional accessories for the WC28 is not necessary as you can use this model equally efficiently without striping or a mulching kit.
Toro TimeMaster can be purchased for approximately a thousand dollars, even though different retailers price this product differently.
A long warranty period, as well as a great level of control over the unit's blade and speed, are some of the reasons why it is worth spending a little extra on this Toro's model.
It is worth noting that fuel consumption is a factor you need to pay attention to, as these walk-behind lawnmowers consume 1.2 gallons of gasoline per hour.
Troy Bilt WC28 VS Toro TimeMaster – Pros and Cons

Pros
Equipped with a Troy-Bilt 195cc OHV engine
Variable and easily adjustable speed
Offers six different height positions
Ships with 2.25-bushel grass bag
Features a blade brake clutch
28-inch cutting width
Utilizes the TriAction cutting system
More affordable than self-propelled lawnmower in its class
Cons
High fuel consumption
The short and limited warranty
No upright storage option
Not suitable for large lawns

Pros
A powerful engine that can develop speeds of up to 4.5 mph
Utilizes a highly efficient Spin-Stop™ system to stop the blade
The Personal Pace® system automatically adjusts the speed to the user's movement
The Traction Assist handle provide complete control over the lawnmower
30-inch cutting range increases efficiency by 40%
Easy to use washout port
A wide height adjustment range
Equipped with the Dual-Force™ cutting system and atomic blades
Cons
Doesn't ship with a grass bag
Blade change requires the use of additional tools
Relatively short runtime
Costs more than a thousand dollars
The Best Alternatives to Troy Bilt WC28 and Toro TimeMaster
Troy Bilt WC28 and Toro TimeMaster are among some of the best walk-behind self-propelled lawn mowers as they offer a wide range of features that make the process of mowing a lawn much easier.
Their price or low fuel efficiency may be some of the reasons to consider other available options. That's why we've shortlisted some of the best alternatives to these two lawnmowers, so let's take a look at what they have to offer.
PowerSmart DB2322S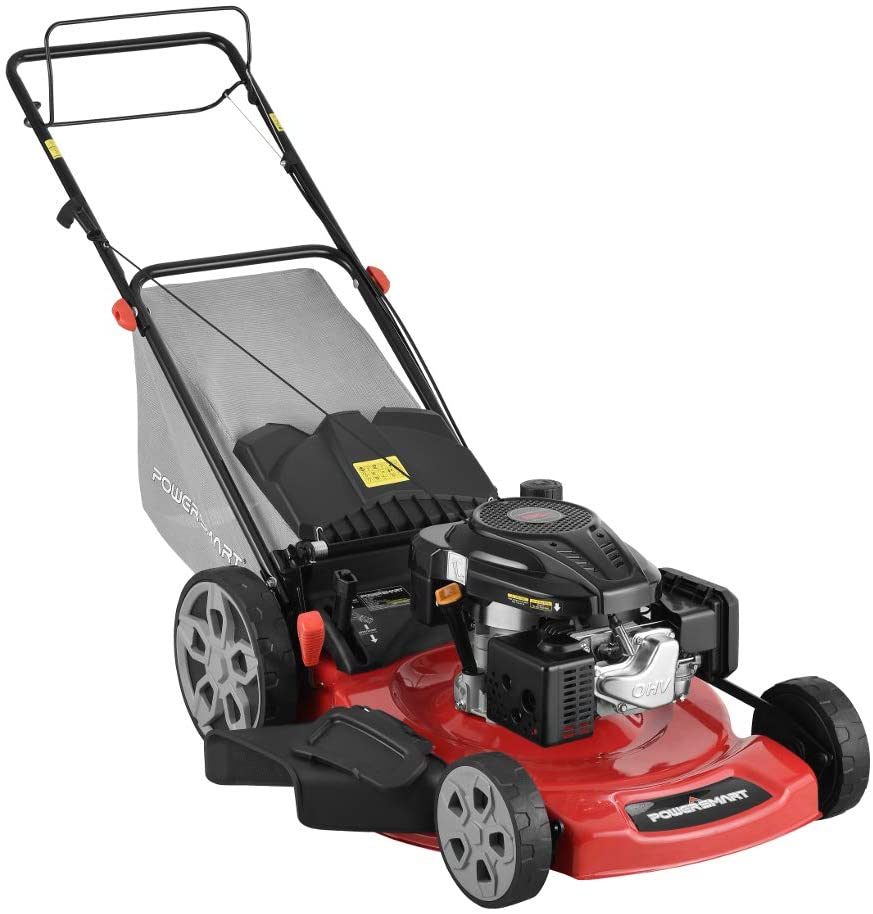 Although this model was released recently, it has already established itself as one of the best self-propelled lawn mowers on the market.
The PowerSmart DB2322s cannot offer the same cutting width range as Troy Bilt WC28 or Toro TimeMaster, but it enables you to cover a 22-inch area in one go. The unit has a PowerSmart 196cc OHV engine that is powered by gasoline although its fuel consumption could certainly be better.
The model's height range varies between 1.2-inches and 3.5-inches and it lets you choose between 5 different adjustment settings. PoweSmart DB2322s is equipped with side-discharge and mulching capabilities so that you can spread the grass clippings across the lawns and use it to nurture the grass.
The unit also features a grass 3-in-1 grass collection bag that enables you to collect the clipping as soon as you cut the grass. You can purchase this self-propelled lawnmower for less than $400 which makes it more affordable than Toro TimeMaster or Troy Bilt WC28.
Greenworks 40V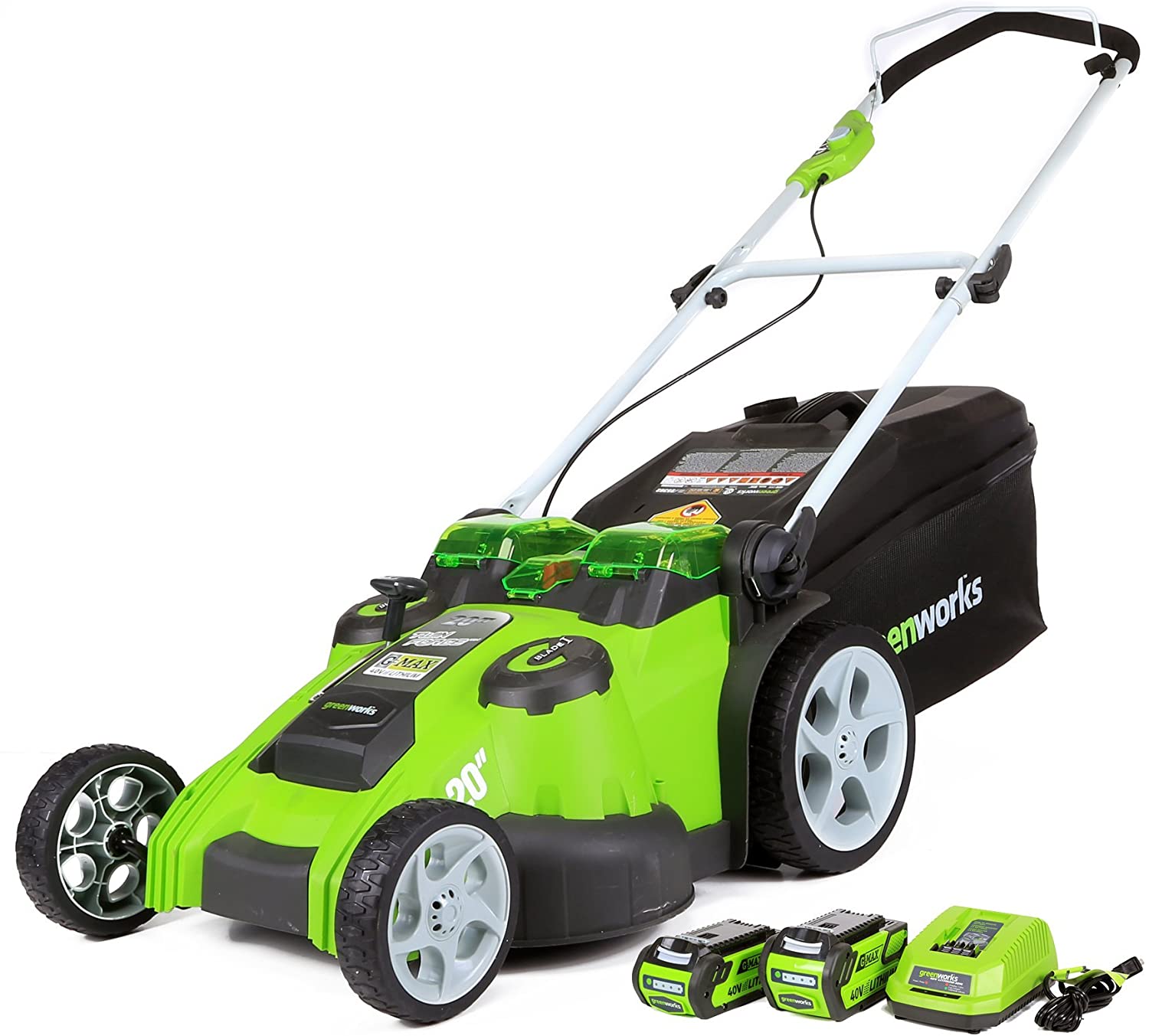 The dual blade system, the Greenworks 40V uses enables it to mow or mulch grass more efficiently. The unit is powered by a G-Max 40V Li-Ion battery that supplies it with enough power to run for 70 minutes continuously.
Hence, this model is best suited for lawns smaller than ½ acre as you would need to recharge its battery to mow an area that is larger than this.
The unit's cutting width range is just 20-inches and mowing large surfaces with this lawnmower can be a time-consuming task. The Greenworks 40V has an electric start button and it utilizes the SmartCut technology to adjust the power consumption and runtime to the grass thickness.
However, this model is made of plastic and it is not designed to withstand heavy-duty usage, so it is only suitable for applications in residential areas. Baggers and all other accessories for this lawnmower must be purchased separately.
Craftsman 11P-A0SD791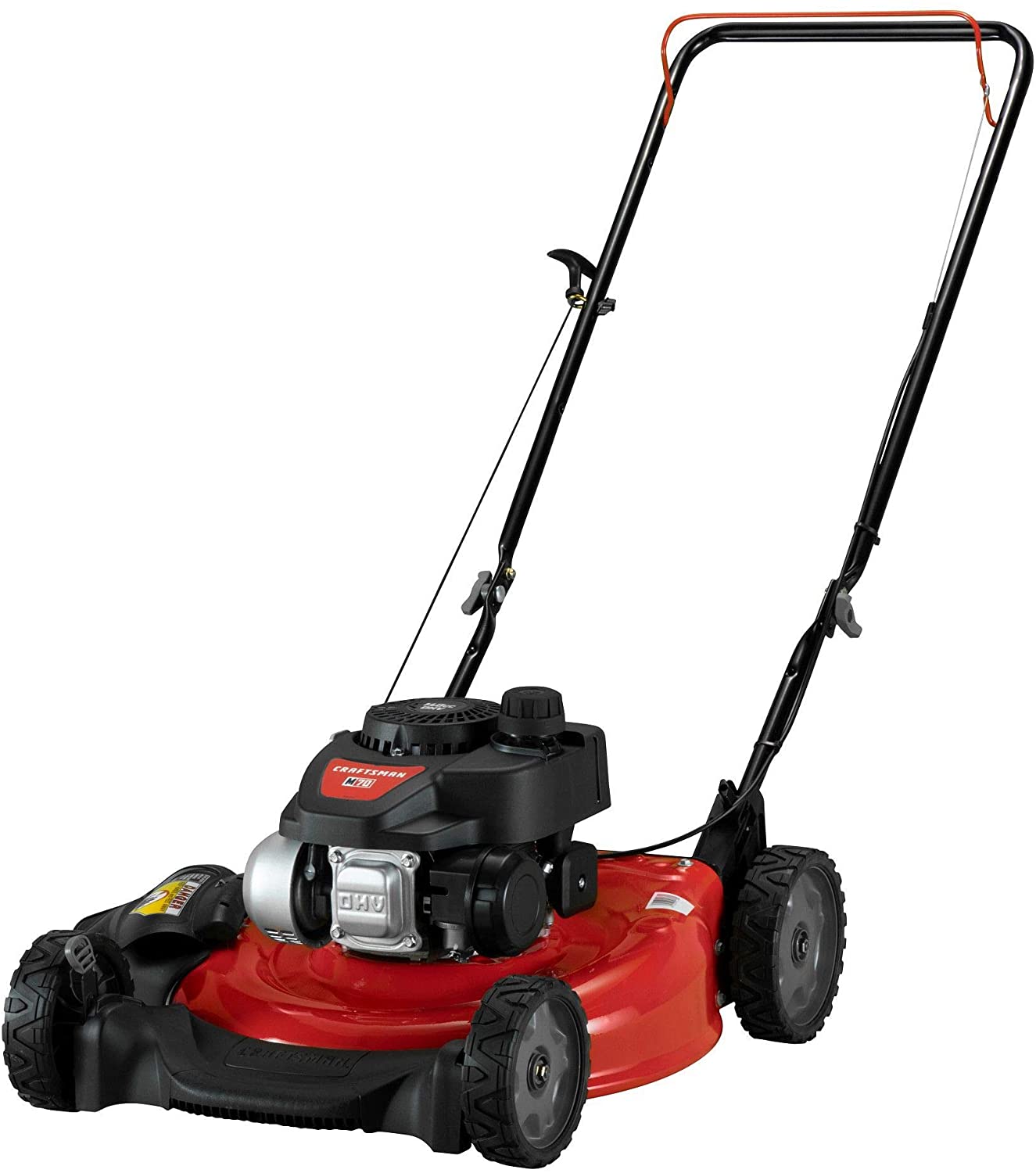 Mowing small or medium-sized lawns with Craftsman 11P-A0SD791 is an effortless process as you can simply set the height at which you want to cut and slowly push the machine.
There are six height adjustment positions to choose from in the range from 1.25 inches to 3.75 inches. However, increasing or decreasing the lawnmower's speed is not possible as it uses a single-speed wheel drive that doesn't allow for speed adjustments.
Craftsman 11P-A0SD791 lets you choose if you want to operate it in the mulch or side-discharge mode, and the unit ships with a side discharge chute.
Even though the unit's 140cc engine may not be as powerful as those that can be found on Toro TimeMaster or Troy Bilt WC28 model, it enables you to perform all mowing tasks while producing a minimum amount of noise.
This is a lightweight and affordable lawn mower that can meet the demands of most homeowners that don't deal with thick grass or weeds frequently.
Frequently asked questions about Troy Bilt WC28 and Toro TimeMaster
Can I sharpen the blade on Troy Bilt WC28 on my own?
Yes, you can, but you are going to need additional tools that don't come with this model to remove the blade from the lawnmower.
What is the maximum size of a lawn I mow with Troy Bilt WC28?
The unit needs 1.2-gallons of gasoline to run for one hour. So, it is unlikely that you can mow an area larger than ½ acre on a single fuel tank.
Is Toro TimeMaster efficient on uneven terrains?
Yes, it is. This lawnmower has a Traction Assist handle that lets you keep control over the tool and maintain the path you were on. In addition, you can adjust the height of the cut to your current needs.
Are Toro TimeMaster lawn mower durable?
All of the parts are made from sturdy materials that can withstand heavy-duty usage.
The Verdict: Which self-propelled lawn mower performs better Troy Bilt WC28 or Toro TimeMaster?
The choice between the Troy Bilt WC28 and Toro TimeMaster is not an easy one, as both lawnmowers have impressive sets of features.
The two-inch cutting difference certainly doesn't make the choice any easier, although Toro TimeMaster's height adjustment range is half an inch wider than Troy Bilt WC28's height range.
The variable speed, efficient blade stop systems, or easy storage options all make these two self-propelled lawn mowers attractive options for a broad range of homeowners. The decision between Toro TimeMaster and Troy Bilt WC28 boils down to their price difference.
Toro TimeMaster is significantly more expensive than Troy Bilt WC28 and you should opt for it if the duration of the warranty period is an important feature for you. Troy Bilt WC28 is capable of excellent performances and it won't burn a hole in your budget.
We hope that our Troy Bilt VS Toro TimeMaster comparison provided you with the information you needed to decide which of these models is better suited to your needs. Leave a comment and let us know.