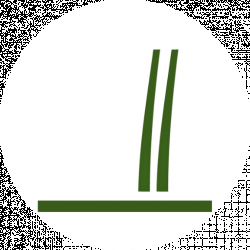 Latest posts by Turf and Till Team
(see all)
Today, we are discussing the Husqvarna 150 BT which is a popular and powerful backpack leaf blower. Its X-torque engine is also very powerful and cleverly engineered to lower the tool's harmful emissions by up to 60%. Raking your yard is hard and time-consuming. Using a leaf blower is much more convenient.
Below, you will find many useful and relevant details regarding this tool's features, pros, cons, value, and more.
Husqvarna 150BT – What Is It?
This is a powerful and effective leaf blower that you can use to keep your garden clean and free of leaves. Husqvarna 150BT is a backpack unit with a lightweight and unique design.
It's also very easy to handle and operate. Due to its lightweight feature, you will be able to carry it around without worrying about back pain.
It is a gasoline-powered leaf blower that weighs only 22.6 lbs. You will be pleased to know that this product has a two-year warranty.
It picks up leaves quickly and mulches them finely. One major perk of this tool is the possibility to extend its warranty as long as you purchase six oil containers as well.
Husqvarna 150BT Specs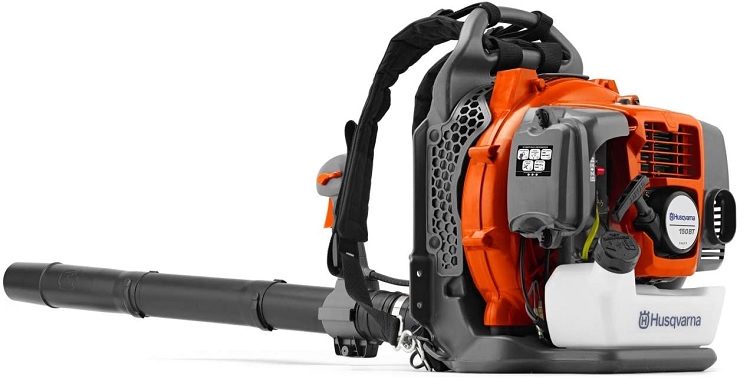 Let's take a look at some of the most important characteristics and functionalities of this leaf blower.
X-Torque Engine
This type of engine represents the company's trademark. With this engine, the leaf blower produces 60% fewer emissions created during the exhaust. It is also an engine that enables the reduction of fuel consumption by approximately 20%.
All in all, the X-torque engine that the Husqvarna 150BT leaf blower comes with is environmentally-friendly.
Air Purge
This leaf blower is very easy to start; easier than other models due to the fact that it removes air from both the unit's carburetor and fueling system, hence the air purge functionality.
High-Blowing Capacity
Besides being easy to use, this blowing tool is also very powerful. It provides a high level of airflow as well as a high airspeed, regardless of the area you're using it on to remove fallen leaves from.
Ergonomic Harness
This is a backpack blower so you must always carry it on your back while using it. Still, you won't feel any pain in your back or shoulders due to the tool's ergonomic harness which is padded for added comfort. The shape is versatile so it will easily fit the back of any user.
The 150BT model comes with a belt that you must fasten around your hip area. This helps you save a lot of time that otherwise you would spend adjusting the product all the time.
Also, to increase the blower's performance, you can simply adjust the length of its tube.
Variable Speed Control
There aren't many gas-powered leaf blowers out there that allow you to control their features. With this option, you can adjust the fan's speed to suit the type of cleaning job that you're about to do. For instance, if your garden isn't very big, you should adjust the blower's airspeed accordingly so that it will work in an economic fuel mode.
Husqvarna 150BT – Pros and Cons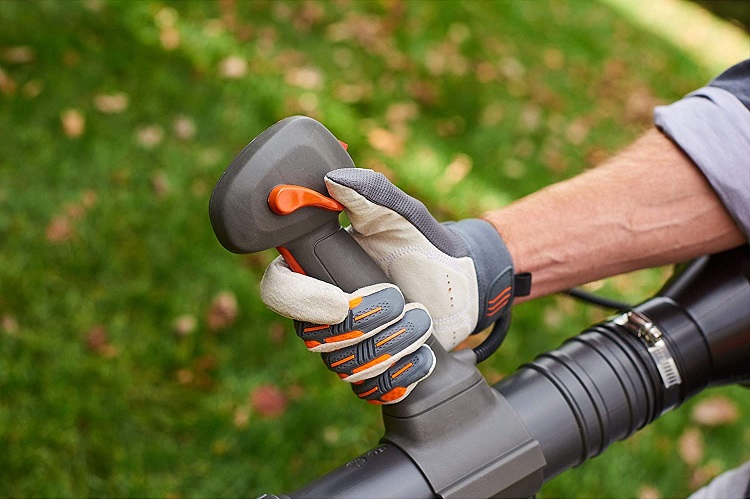 Now that you've discovered what this leaf blower can do, let's see what its pros and cons are.
Husqvarna 150BT Advantages
This blower doesn't weigh much; it is lightweight and created for comfort;
The harness is padded and ergonomic for added comfort;
It is a product that's easy to use and handle;
Due to its lightweight feature, this blower is portable;
Husqvarna 150BT operates quietly so, many users don't feel the need to wear sophisticated hearing protection;
With this leaf blower, you can easily adjust its blowing speed;
In order to lower the vibrations, this product comes with dampeners;
All the controls are easily accessible;
This is a pretty affordable leaf blower compared to many other similar units;
If you need to replace a part of this product, you'll be happy to know that all parts are easily available.
Husqvarna 150BT Disadvantages
The way this blower starts is a bit controversial – some say it isn't hard to do it while others mention it is difficult to get it started;
The lack of a leaf vacuum that could be combined with the blower is something many users have noticed;
Its design is suitable for those users who are right-handed.
The Benefits of Buying the Husqvarna 150BT Leaf Blower
Why should you purchase this model of leaf blower? The answer is quite simple; it comes with plenty of benefits and perks but here are just a few of them that most users are interested in.
It Is the Perfect Solution for Your Yard's Cleaning Needs
This blower is powerful so, you will be able to clean your garden and remove all the leaves from your backyard without too much noise or harmful gas emissions. Besides leaves, Husqvarna 150BT can also remove debris from your yard and it has an effective vacuum system that collects debris.
It Is the Ideal Tool for Tough Jobs
Some cleaning jobs are tougher than others but this leaf blower can do it all. In fact, it is specially created to lower the user's stress and fatigue that you would normally experience with a standard blower. This way, you will be able to do this activity for a prolonged time.
Your arms will also be protected by the tool's anti-vibration system. Therefore, with this unit, you can reach tough areas without getting tired or dealing with pain in your arms.
It Comes at an Affordable Price
Most backpack leaf blowers have high price tags but the Husqvarna 150BT model is sold at an affordable price. That makes it available for a higher number of people who need such a powerful machine. For instance, if your yard is large but you are on a tight budget, you could easily opt for this product knowing that you won't have to sacrifice quality.
Husqvarna 150BT Alternatives
Here are some of Husqvarna 150BT alternatives that you could consider.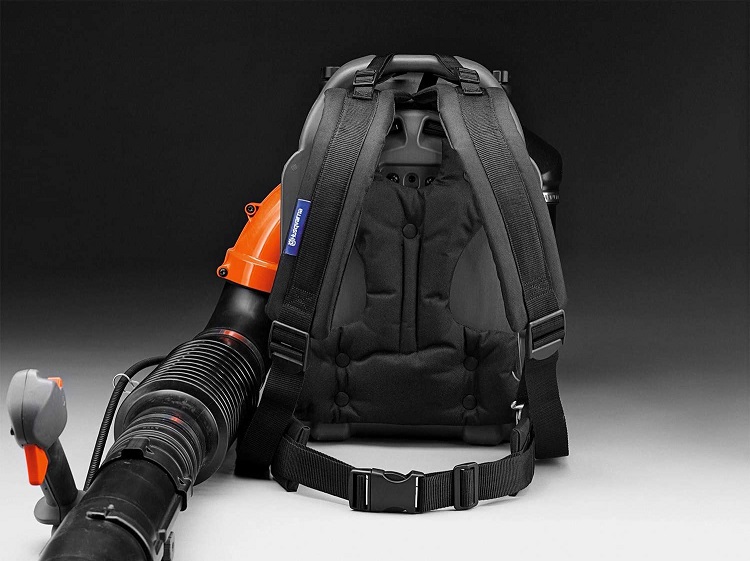 This is a 2-cycle gas leaf blower that's a solid choice for both small and large backyards. The Husqvarna 350BT model is available at a mid-range price. It has the well-known X-torque engine that's very powerful and weighs approximately 22.5 pounds.
Just like the model I have reviewed today, this leaf blower also has lower exhaust emissions. This functionality also increases the unit's fuel efficiency to a maximum of 20%. There are also other similarities with the 150BT version: both products feature hip belts, lower vibrations, and padded harnesses.
There's an offset handle that makes the tool easier to control and prevents fatigue or arm strain. Users can easily adjust this machine's speed.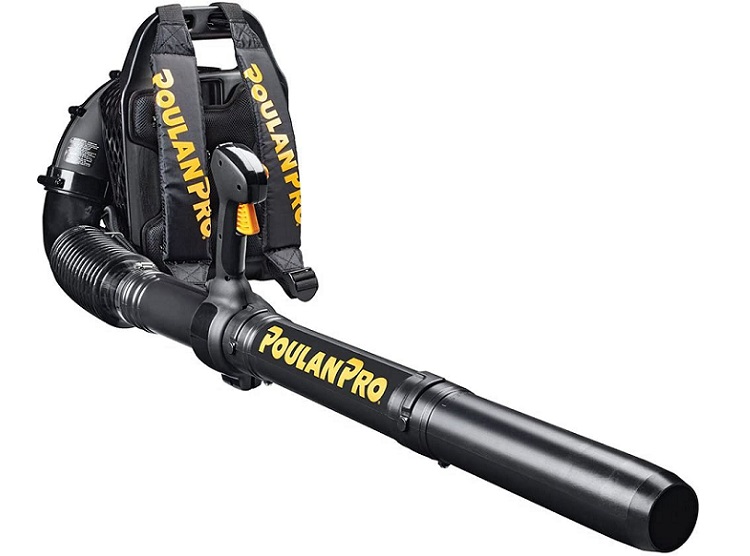 The Poulan Pro PR48BT blower is a very strong tool that has an incredibly competitive price point. Its 2-stroke engine works at 200 MPH and the unit weighs only 22 pounds. Therefore, we can say it is a lightweight leaf blower. The shoulder straps are padded and adjustable while its frame is a heavy-duty one.
There's a variable-speed throttle with cruise control functionality. This combo will lower the user's fatigue. All the features displayed on this machine lead to superior comfort and minimal strain on the operator's body.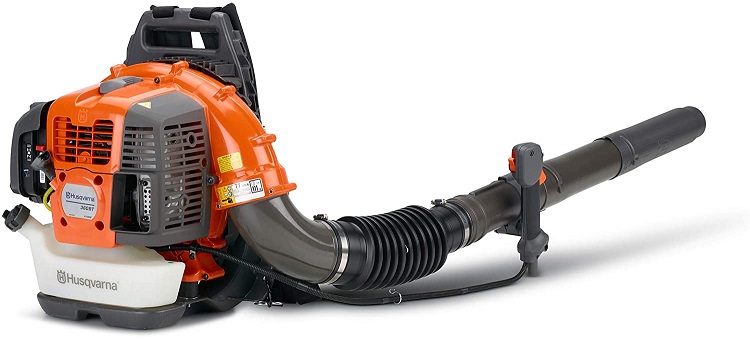 The 360BT model from Husqvarna is another powerful and comfortable backpack leaf blower that has the capacity to remove leaves and debris from large properties. The X-torque engine has two cylinders and behaves amazingly at heavy-duty cleaning tasks.
This blower has a weight of about 23.3 pounds. Its shoulder straps are contoured and completely adjustable so that you can easily customize the unit's fit to achieve greater balance and comfort. It is very easy to start this machine due to its air purge system.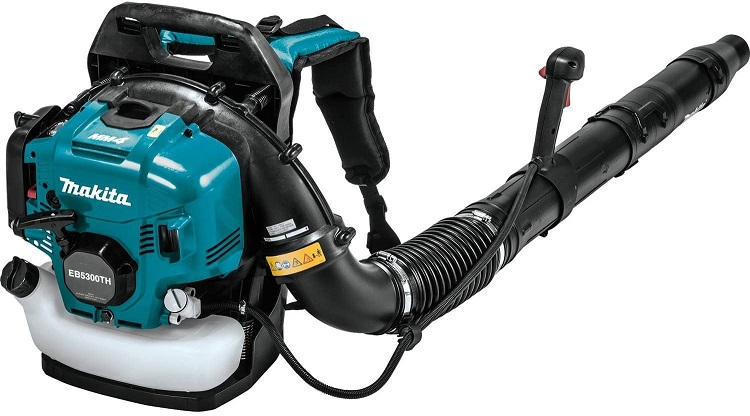 This backpack blower has a 4-stroke engine that leads to cleaner gas emissions. Makita EB5300TH uses only one type of fuel: gasoline. Its air velocity is 184 MPH and the noise level is 70 dB. This machine works quietly. At least, it is quieter than many other similar products.
It isn't as lightweight as other leaf blowers, weighing 26.5 pounds. Its mechanical automatic engine decompression is a valuable feature that allows an easy and quick start. Another perk of this tool is its air filter that has a large capacity. The filter is placed in a convenient spot for easy replacement when needed.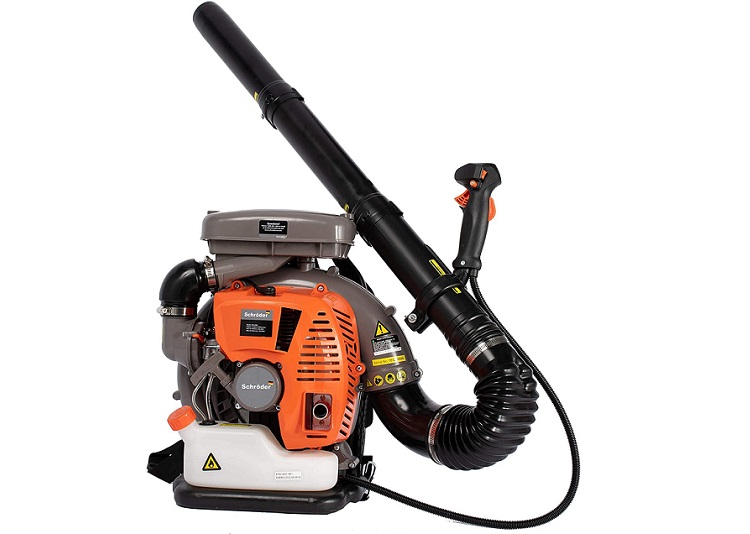 Schröder SR-6400L is an industrial backpack leaf blower with a strong engine and an air velocity of 230 MPH. It has a powerful cleaning capacity and is extremely lightweight, at only 19.5 pounds per unit. Due to its high performance, this machine can move and remove wet leaves and hard landscape debris.
For all the features it comes with, this leaf blower has a very competitive price. The package will come with not one but two blower tube extensions: the first one features a round outlet, whereas the other one has a flat outlet. There's also a carburetor tool that you can use for fine-tuning.
Where to Buy the Husqvarna 150BT?
With all of the recent shipping challenges, this model has been out of stock at my local Home Deport and hit or miss on Amazon. 
The most reliable online purchase I've been able to find is via the reputable NorthernTool company website here. 
Frequently Asked Questions
If you still don't know whether or not a backpack blower is an ideal choice for your needs, please review the following questions to find your needed answers.
Question: How Should You Use and Handle a Backpack Blower?
Answer: Start by finding the right place in your backyard where you want to gather all the leaves and debris. Then start using the leaf blower from the opposite side of that initial location that you've already established in the first step. Use a low yet steady sweeping motion if you want to move all the leaves toward the area where the pile will be created.

To keep the leaves as low as possible, close to the ground, you should always aim the air tube to the top part of the debris. If, on the contrary, you want to dislodge wet leaves, you must aim lower to force air beneath the debris.
Question: Should You Use a Backpack Leaf Blower Instead of a Handheld One?
Answer: Normally, backpack blowers perform better than handheld alternatives because they are more powerful. Unlike a handheld blower, a backpack one is carried on the user's back which is more comfortable, especially for longer use. The weight of the unit will be equally transferred to the body's larger core muscles.
Question: What Are the Differences between Two Popular Husqvarna Blowers: 150BT and 350BT?
Answer: Husqvarna is a popular and reputable brand that markets many products that can help you trim, clean, and tidy your lawn and garden. These two units look almost identical but there are some differences that make them stand apart one from the other:

The main difference between these two leaf blowers is the airflow:

•The 150BT version has a speed of 251 MPH and a 434 CFM airflow, whereas the 350BT model features a 180 MPH speed and an airflow of 494 CFM;
• The 150BT model comes with an ergonomic harness, whereas the 350BT alternative features a low comfortable handle.
Question: Is Husqvarna 150BT Blower Easy to Assemble?
Answer: Once you open the box you've ordered with this product, you will have to put together a few parts but this is the case with many leaf blowers. The first thing you must do is connect the blower and the swivel joint with the flexible hose. All the necessary hardware will be included in the box.

After that, you will have to take the swivel and attach the throttle holder to it using the included screw. Once you fasten the throttle cable to connect it to the hose, you will have to attach the handlebar. Next comes the blower tubes for which you won't need any hardware.

Last but not least, you must adjust the harness and try it on to see if it fits you well. You shouldn't feel too much pressure on your shoulders but the one that exists must be evenly distributed across your back. To secure the unit in place, you should also tighten the hip buckle. There you have it! Now, you're ready to clean the yard.
Husqvarna 150BT Review – Final Thoughts
I hope that my review of the Husqvarna 150BT leaf blower was comprehensive and detailed enough for you to be able to make a decision.
I also hope that the info I've provided above has clarified your potential or actual confusion regarding this particular leaf blower.
Bottom Line Summary: I personally love this leaf blower (available at NorthernTool online here) due to its powerful airspeed and heavy-duty functionalities as well as its lightweight structure that makes it easy to carry it around.
Further Reading: